Alcatel A5 LED review
I don't think you're ready for this LED-y
The phone world is full of gimmicky-sounding stuff – but nothing comes close to the Alcatel A5-LED and its illuminated light show.
This is an absolutely mad phone that packs a wedding DJ's sketchy disco lighting rig onto its back.
That might sound like the phone equivalent of booking a magician for your friend's 30th Birthday: embarrassing for everyone involved. But in action, the Alcatel's light show looks far cooler than it has any right to.
It's a shame, then, that the phone underneath is a bit of a stinker, suffering from serious performance issues and a low-quality camera.
Alcatel A5-LED Design: Super Laser Disco 2000
First off, let's get to the bottom of how the Alcatel A5's LED-covered back works. A 4×9 array of multi-colour LEDs sits behind a thin translucent layer of plastic and mock grille pattern built into the back.
Putting these layers between you and the LEDs is why the Alcatel A5 LED looks far less cheesy than it could, as the light is diffused rather than in-your-face. But, yes, it does and always was going to have a whiff of brie hanging around it.
The LEDs fire off when you take the phone out of standby, when you get a call or notification, or when you play music. An app called Light Show even lets you choose exactly which kind of show the A5 LED puts on.
There are virtual fireworks, a virtual fire and a few that fling waves of colour-changing LEDs down the phone's back, (vaguely) in time with your tunes. For those after a more DJ-like look, one called Rhythm acts like a spectrum analyser, dancing around to the music's waveforms.
Can't you picture the 14 year-old Stormzy wannabes waving it about on the bus as the rest of the passengers quietly lose the will to live?
The Alcatel A5 LED isn't for me. I'm too old and miserable. I have a mortgage. But even I can appreciate Alcatel hasn't done a bad job here with the main event.
It is a pity the rest of the phone's design doesn't have quite the same dynamic sensibility. Coming from using the Sony Xperia XA1, the A5 LED seems tubby.
Apart from the glass on the screen this is an all-plastic phone. But it's not a hugely expensive one, so you might be able to see past the materials. And while its back is distinctive, the front is not. That said, it's plain and inoffensive, with some light-up soft keys below the screen. The back also looks pretty good while the LEDs are sleeping.
The A5's LED back comes off completely too, because it's actually an optional 'case', although aside from the lip around the camera lens it seems just like the phone's normal rear.
Alcatel A5-LED Screen: Not bad, not the best
Move past the light show on the back, and the rest of the phone is actually pretty pedestrian.
For example, the screen is a meagre 720p IPS LCD panel stretched over 5.2 inches – making it a little bit bigger, but a lot less sharp than the Moto G5's.
Front-on, though, I like it. The light pixellation isn't glaringly obvious and the colour tone is pleasant. There's a utility in the Settings menu that lets you jack up the colour saturation a little more if you like, but I'm happy with how it looks straight from the box.
Peer a little closer and you'll see this isn't the best LCD screen going, though. Brightness takes a hit at any angle other than 'dead on', and the backlight is only just bright enough to cope with those screen-testing bright-but-cloudy days.
At an extreme angle there's also some contrast shift visible in the A5's screen. It's the sort of angle you'd only look at the phone from if you end up stuck under a fallen bookcase and need to reach the phone to call an ambulance. But it does tell us this isn't the latest, greatest screen panel going.
Alcatel A5-LED Software: Old Android in a Face Mask
The A5 is hardly cutting-edge when it comes to software, either. It runs Android 6.0 rather than the current 7.0 version, meaning you miss out on Google's revamped notification system.
Alcatel has also stuck a custom interface on top, but all this does is smear some slightly dodgy styling on the OS, rather than totally changing how it feels. The vertical 'white page' apps menu and simple home screens of Android 6.0 are in-tact.
Changes include the option to pick how your apps are arranged in the apps menu (by date, alphabet, or most used) and that the A5 LED goes heavy on themes. Some of the icons really are the design equivalent of the Comic Sans font.
There's a theme store, like you'd find on a lot of custom Android interfaces, but the theme camera app is more unusual.
Take a picture and the ColorCatcher app makes a theme based on the colours in the image. As neat an idea as it is, it makes 90 per cent of you app icons the same colour, which looks pretty terrible. After a few assaults on the senses, I switched back to the default theme.
Alcatel A5-LED Performance & battery life: Sludgecore
The dodgy skin will cheapen Android if you're not careful, but the real issue is how slow the A5 LED makes Android feel. This phone is consistently lumpen, even though it has what sounds like a decent processor.
It uses the MediaTek MT6753, an octa-core 1.3GHz CPU with Cortex-A53 cores and a Mali-T720 GPU, which is then mated with 2GB of RAM.
This should be enough. The A5 LED should, in theory, be quick. But it's not.
Apps can take what feels like an age to load, you'll often be left waiting for the keyboard to catch up with your typing, and the phone is just not responsive enough. At times it's painful to use.
There's no explanation for this in CPU benchmarks, as it scores a perfectly good 2503 points in Geekbench 4, just a little under that of the Motorola Moto G5. It must carry around its system memory in the equivalent of a carrier bag with a load of holes in the bottom.
Proving the problem is not as simple as "the processor isn't fast enough", games like Asphalt 8 run just fine. This means there's some hope that performance will improve significantly with a software update. But let's not hold our breath, eh?
The A5 LED is a bit of a rollercoaster: the OK parts are a reprieve in between the lurch you feel when you find another bad feature. Battery life is another of those bad parts.
Right now it's 2pm and the phone is at 8% battery. Granted, I've been playing about with the LED feature a little, but that's a disaster by any standard.
The A5 LED even seems to drain fairly quickly on standby. Like the general performance, stamina is almost inexplicably bad. There's a 2800mAh battery behind the back cover, which should in theory be perfectly fine for a mobile of this size and resolution. It isn't.
Switch off the LED rear completely then avoid doing anything too taxing and you might get it to last a day, just.
Very slow charging compounds the problem. This might be the lowest-to-charge phone I've used in years, taking several hours to reach full charge rather than the usual two and change.
Are there any good notes to finish? The A5 LED's bottom-loaded speaker isn't truly dreadful, so if you need me I'll be the one annoying pensioners on the bus with LEDs a-pumping.
Alcatel A5-LED Camera: Slow and Steady Gets Bored and Walks Off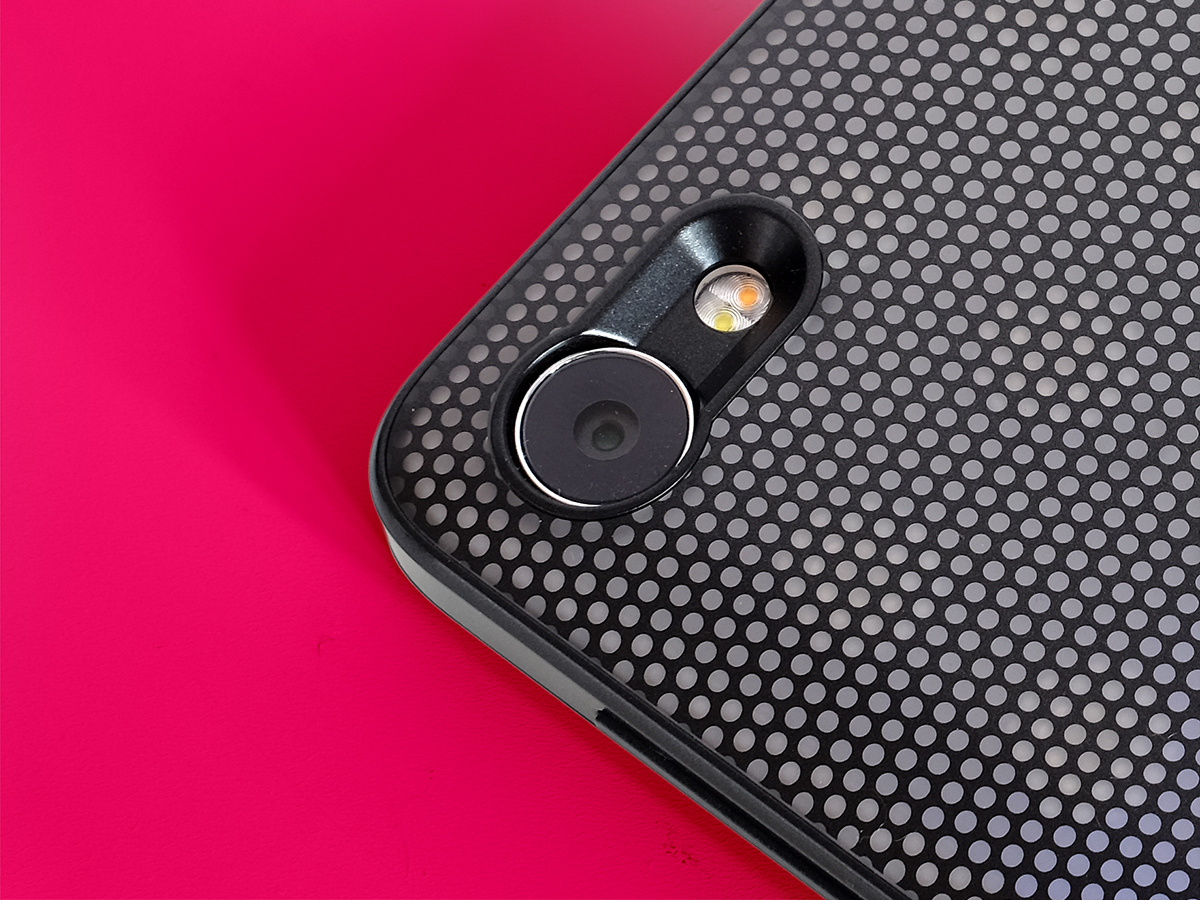 The camera is also severely held back by poor speed. Its app takes a long time to load, there's huge post-shutter-press lag when first shooting a new scene, and checking your images after taking them is unacceptably slow.
Alcatel's camera app is remedial too. It's one of those popular iPhone camera app copycats. The layout is clean enough, but there's no Auto HDR, and using the separate HDR mode for a holiday snap might mean you miss your flight home. It's that slow.
The A5 LED also uses extreme spot metering, where the brightness of the photo is determined solely by the small part of the scene you tap. Sometimes it makes getting a properly exposed photo tricky.
Image quality is thankfully not as bad as the camera's performance. The A5 LED has an entry-level camera on the back that is miles off what you get with the Moto G5 or Sony Xperia XA1, but can still look reasonable on the phone's screen or even a monitor.
However, using its widescreen mode it only captures as many pixels as you'll find in the Sony Xperia XZ Premium's screen, so you can't really zoom in much before everything starts looking blurry. Photos aren't good, but they aren't embarrassingly bad either.
Around the front sits a 5MP selfie camera with its very own LED flash. Image quality is fine given the low spec of the sensor.
Alcatel A5 LED verdict
The A5 LED is a fun gimmick, tacked onto a bad phone – the opposite of what you might expect with a high-concept mobile like this.
Its back looks pretty good when the lights are off, and there are enough light modes for it to work like a cheesy mobile DJ at house parties. But it fails as a normal phone, though.
Aside from feeling a bit chubby next to some, the hardware is fine enough. Performance is what lets the Alcatel A5 down. Bad battery life, laggy general performance and an extremely slow camera make you wonder if the optimisations were properly finished before going on sale.
I'll happily take another look if software updates arrive to fix these problems, but right now, even the budget price isn't enough to make this pocket-friendly rave machine light up my life.
Buy the Alcatel A5 LED here from Amazon (UK)
Tech specs
| | |
| --- | --- |
| SCREEN | 5.2in 1280×720 IPS LCD |
| CPU | Mediatek MT6753 |
| MEMORY | 2GB RAM |
| STORAGE | 16GB onboard, microSD expansion |
| CAMERA | 8MP, f/2.0 rear w/ autofocus, dual-LED flash. 5MP front w/ LED flash |
| OPERATING SYSTEM | Android 6.0 Marshmallow |
| BATTERY | 2800mAh |
| DIMENSIONS | 146x72x7.7mm |
Stuff Says…
Alcatel has packed an LED light show into a phone – we just wish it had done it with a better phone
Good Stuff
LED light show looks better than you might expect
Fair screen quality
Bad Stuff
Poor battery life
Very bad performance
Painfully sluggish charging
Slow, slow camera