Alfa Romeo 4C Spider first drive review
A road-going track star with a removable roof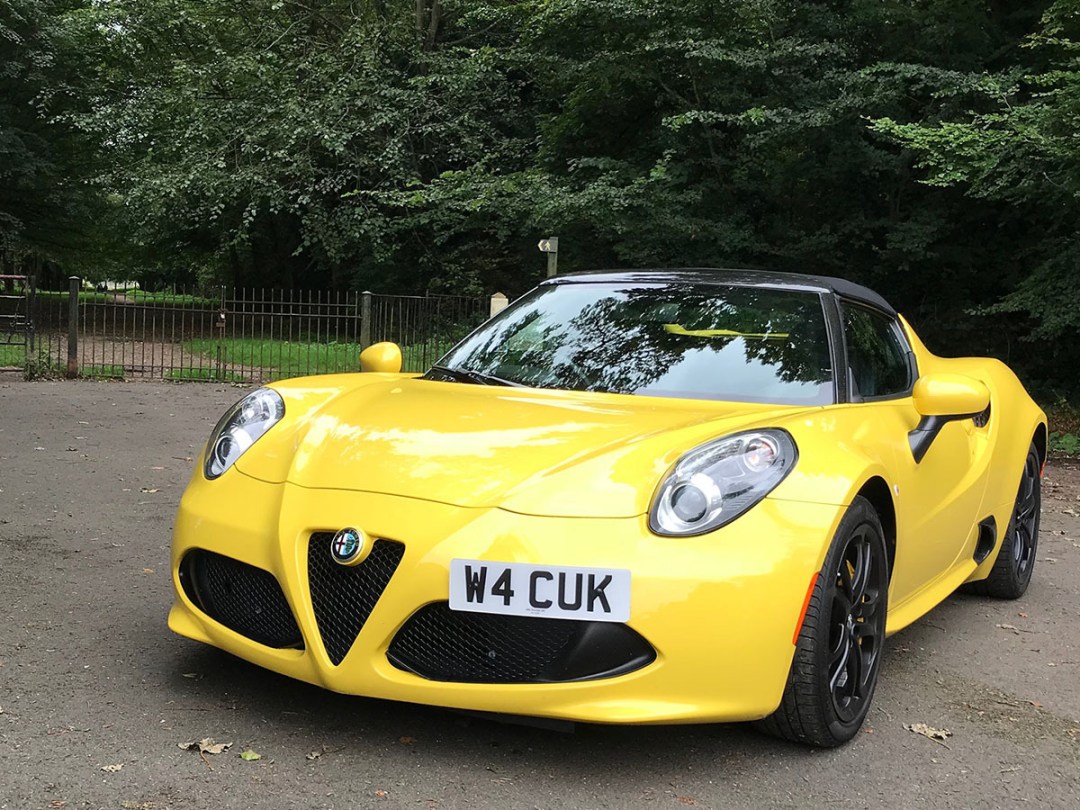 If you know anything about cars, you'll have a certain appreciation for Alfa Romeo. There's just something about the badge. The heritage.
For anyone that doesn't consider themselves a petrolhead, it's still easy to appreciate good looks when you see them. And this car has those in spades.
The 4C is Alfa's love letter to 1967's iconic 33 Stradale: a hand-built, carbinfibre-moulded baby supercar that guarantees attention whenever you get in or out of the driver's seat.
The original Coupe was something of a stunner, but this softtop version lops the roof off – and is all the better for it.
A WORK OF ART
You don't need to get up close to appreciate the 4C's beauty – whether the roof is off or not.
The sculpted nose, the elongated rear, the flared arches and oversized air intakes… add them all together and you get an oil painting of a car.
I've heard people call it a "mini Ferarri", while others think it's overly similar to a Lotus Elise or Exige. Both are compliments, but both are wrong.
The 4C is its own beast, especially with the roof off. In bright yellow paint, there's no way you're going incognito when you're behind the wheel.
The headlights look a lot less bug-eyed here than they did in the coupe version, and I think the black fabric roof works in its favour, too – somehow making the whole thing feel even more exotic.
The black alloys add a bit of an aggressive vibe, and the round brake lights are pure Ferarri. Subtle, this is not – and I love it.
INSIDE THE BEAST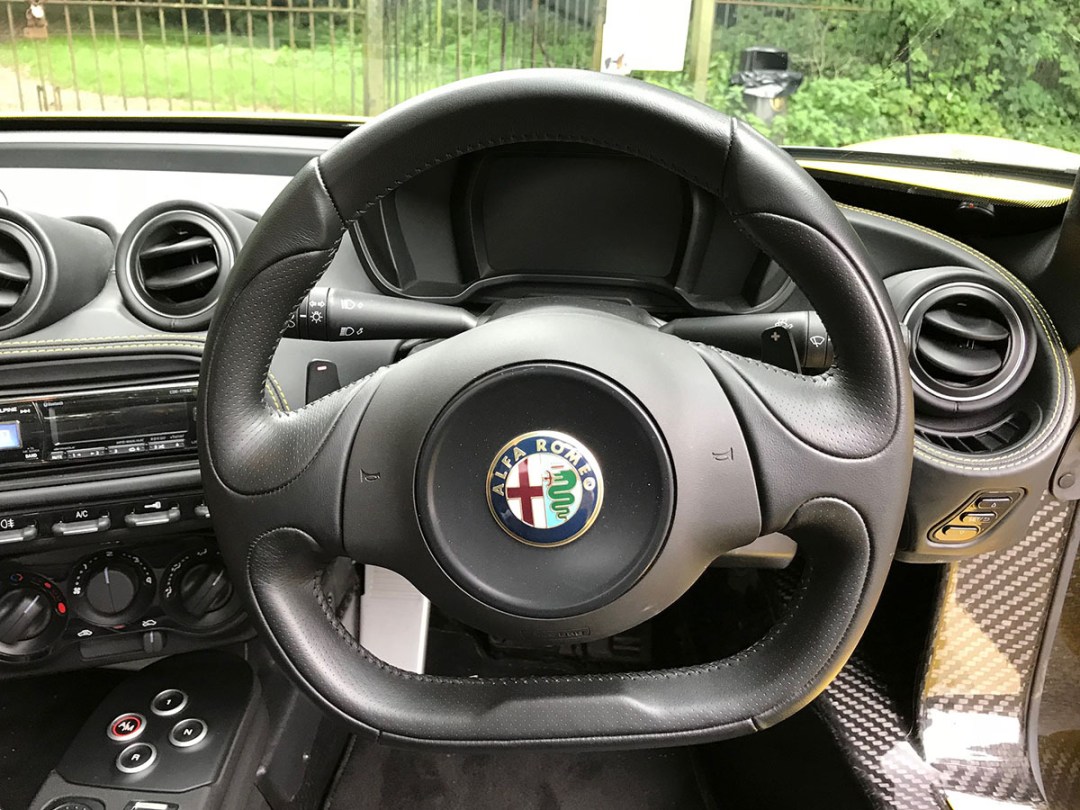 I hope you weren't expecting fine Italian leather and woodcraft inside the cabin – open the door and you're greeted with something that wouldn't look out of place in a Silverstone pit lane.
The 4C is bare carbonfibre, and not afraid to show it. The entire tub is on display, with no panels or material disguising it. The steering wheel isn't flush with buttons, so there's nothing to distract you once you get moving.
OK, some of the switches on the centre console look straight out of a Fiat Punto, which is a little offputting in a 60 grand sports car, but they're only controlling the heating – the ones that matter are much more satisfying, like the paddle shifters that give a satisfying click whenever you change gear.
The steering wheel could be more comfortable, with awkwardly placed spokes where you'd normally rest your hands. That encourages a tighter grip on the wheel, though, which is practically a necessity given how twitchy it can be on Britain's bumpy roads.
This might be a rear-engine car, but you still get a boot – kind of. There's 110 litres of luggage space, which is good for two overnight bags, or four full bags of supermarket shopping. There's no chance you'll get a set of golf bats inside, and the sealed bonnet isn't hiding any extra room either.
TIME TO DASH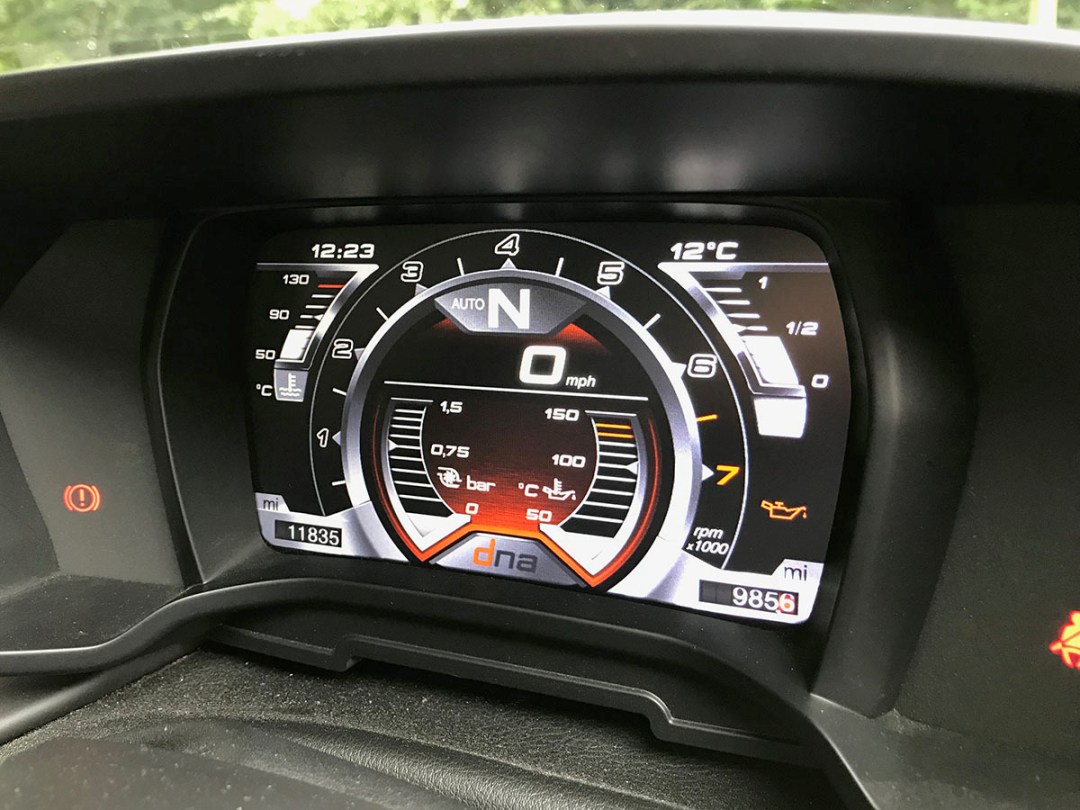 Creature comforts like sat-nav are a no-go. In fact, you don't even get a stereo or air conditioning if you don't ask for them. Alfa will add them both for free if you want them, though. My test car had both fitted.
The stereo, an Alpine unit, is basic, but provides Bluetooth for wire-free music streaming, and has a USB port in the glove box – or rather, glove pocket. It's made of mesh, just like an airplane seat pocket.
The speakers can pump out music at a decent volume, but once you pick up any kind of speed, you'll need to crank it up to drown out the sound of the engine – if you'd even want to.
There's a 12v socket on the centre console if you want sat-nav, which is handy, if a little inelegant for such a good-looking car.
Really, the main event is the digital dashboard, which changes colour and instruments based on what driving mode you're in.
It's not as sculpted as Audi's virtual cockpit, and it isn't as all-encompassing as BMW's iPilot, but it does look mean when you're in dynamic – all red and angry, with turbo pressure and engine temperature in place of fuel economy. Functional is good in a sporty number that's more comfortable at a track day than the M53 to Tranmere.
BRING THE POWER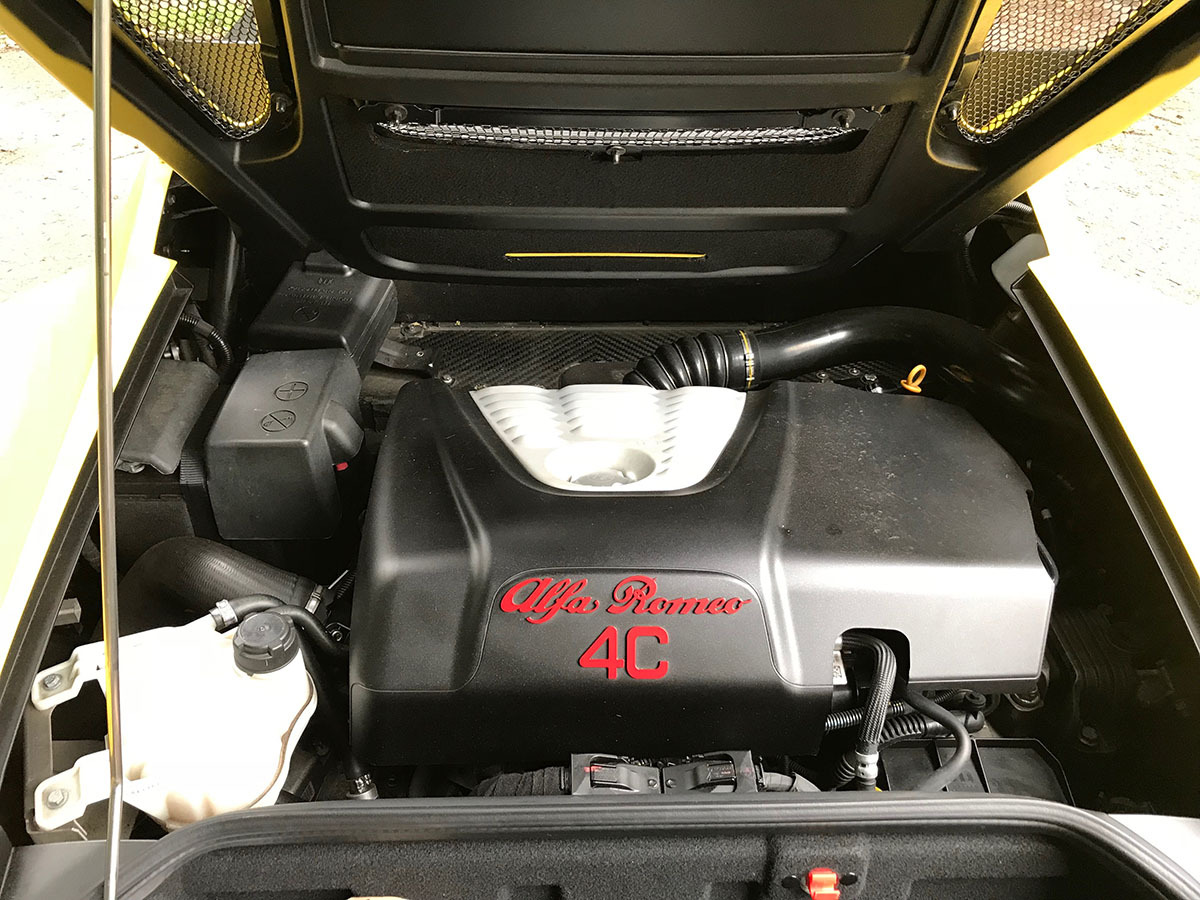 Putting pedal to the metal for the first time in the 4C is an eye-opening, senses-assaulting experience.
I put it down partly to the incredible sub-1 ton lightness and 40/60 weight distribution, and partly to the mid-engine, rear drive layout – but let's be honest, the motor is the biggest part of the equation.
The 1742cc four-pot engine is turbocharged to pump out 237bhp, propelling you from a standstill to 60mph in a neck-snapping 4.5 seconds. It wooshes and blows as the turbo spools up, too, with just a thin sheet of glass between the back of your head and the engine bay. Basically, you hear everything.
Whether you prefer turbo whine to the pops and crackles of a naturally aspirated engine is down to taste, and there's some undeniable lag while it spools up, but personally the woosh of a turbocharger puts a grin on my face every time.
Get too aggressive with the throttle and you'll be throwing the back out at roundabouts in the wet – the acceleration really is quite explosive.
DRIVE ME WILD
In the corners, there's the signature understeer you'd expect from a mid-engine roadster, and there's enough power to unstick the rear with very little effort. It's great fun in all the right places.
The brakes are superb, too, but the automatic gearbox can be a bit lethargic. Stick to manual mode and you'll be rewarded with responsive, oh-so-satisfying upshifts.
Smooth roads allow the 4C to shine, but most of my test route was comprised of potholed city streets and motorway lanes of varying quality – which plays havok with handling.
The steering wheel lurches and tugs at your hands, depending on the surface, which can be exhausting when you're in for a long drive. If you didn't opt for the air con pack, you'll be a sweaty mess when you get to your destination.
It can be amazingly economical, edging towards 40mpg when you drive it carefully – but then when has economy ever been fun?
ALFA ROMEO 4C SPIDER INITIAL VERDICT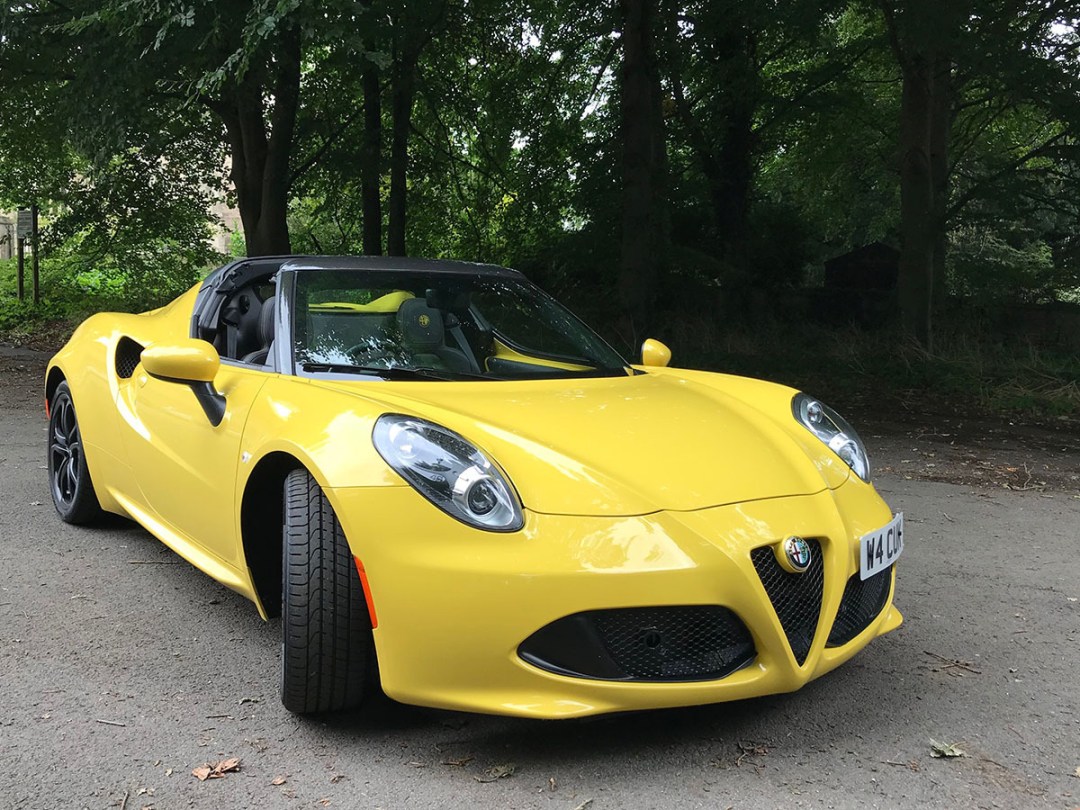 In small doses, the 4C is a fantastic car. Pop the roof off and summer evening blasts down b-roads will be an absolute joy.
It feels like this belongs on the race track rather than the road, though: things are a little too stripped-back, a little too unforgiving. The cabin is bare, there's little in the way of tech, and the lack of power steering makes car parks a nightmare.
When Lotus and Porsche have proved you can have the whole package, Alfa needs to do more to earn your cash – especially for a weekend warrior roadster, rather than omething you'll be using every day. The high price is difficult to justify – even if it does buy a truly gorgeous car that you won't see very many of on the road.
Don't get me wrong: the 4C is brilliant fun, with an addictive soundtrack and equally exhilarating acceleration. You're guaranteed attention wherever you drive it – even if true petrolheads will be asking themselves why you didn't buy a Porsche instead.
Stuff Says…
It's a bit too focused for daily driving, but for sheer excitement, the 4C guarantees smiles every time you start the engine
Good Stuff
Handles brilliantly at speed
Great digital dashboard
Addictive acceleration and noise
Bad Stuff
Steering is ultra-heavy at slow speeds
No standard stereo system, basic tech
Very stripped-out interior