Alfa Romeo Giulia 2.2 Turbo Diesel review
Can Alfa's newest saloon put in the miles in style?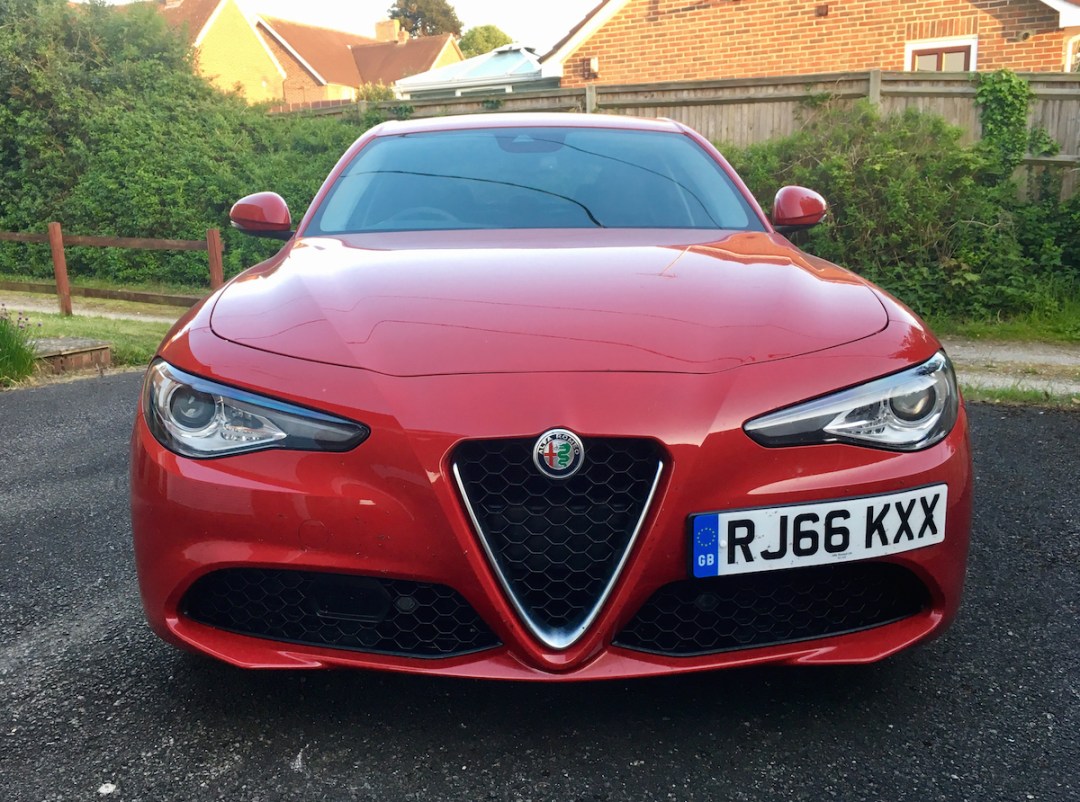 Tell someone that you're having a hard time driving and reviewing an Alfa Romeo and they'll likely give you a quizzical look, before offering to do it for you.
See, Alfa as a marque has such a heritage – a brand built around an image of stylish, aggressive speed machines – that few people would turn down a drive in one of its newest cars.
That, though, is also exactly what makes the Giulia such a puzzling beast to assess. While it's every bit the consummate, luxury cruiser, complete with a full suite of driver aids, in-car tech and comfort-enhancing features, it also feels like a departure from the core of what makes an Alfa an Alfa.
It's fast, of that there's no doubt – but it also cushions the driver in a way that belies the badge on its bonnet.
Having spent a week hauling the Giulia along motorways, through London streets and along Hampshire B-roads, then, here's what I made of Alfa's newest machine.
Saloon styling
Lock eyes on the Giulia and, from certain angles, you might imagine you're ogling a shapelier BMW M-Series. See, while the Giulia bears more than a passing resemblance to the smaller, more sculpted Giulietta, it's an Alfa that largely eschews more aggressive style points in favour of a saloon build that wouldn't look out of place beside the German fleet.
Why? Because, for all that passionate, Italian heritage, this is car destined to put in countless motorway miles – especially in the 2.2l Turbo Diesel variant we tested.
All the same, it retains that lovely Alfa frontage, with the triangle nose and lightly swooping wheel arches. Yes, the back wheels look comically small from certain angles (even in 18-inch Luxury spec), but it's still a pretty beast.
There's nothing to complain about once you step inside, either. Or should that be drop? This is one low-slung runner, and it takes a little while to adjust to the deep position, with the bonnet stretching out in front and thick A-pillars. For parallel parking in Twickenham this is not the best beast to use.
Everything in the cabin feels luxurious, with leather adding plenty of premium to an otherwise plain decor. It feels every bit the consummate commuter wagon, with muted hues and understated design. It's elegant, yes, but not fiery. It says a lot that aluminium shift paddles (one of the few cabin highlights) are a £275 option.
Still, I was more than happy to pick people up in the Giulia. It's a spacious (in legroom and boot space) and comfortable car that you won't resent spending hours in.
Capable cruiser
That remains the case when you hit the asphalt of the motorway. With 180bhp under the bonnet (and a peak torque of 450Nm) it has no trouble out-gunning middle lane sitters.
In fact, perhaps its biggest problem is just how easily it reaches those speeds – and cushions you from the outside world. Cabin noise is next to minimal, while the suspension setup does an astounding job of eliminating bumps and surface changes (there's very little wallow, either: it's cushioned, but stable).
Throw in an auto-first gearbox that would much rather run the show than let you get involved with the flappy paddles and an oddly disconnected steering weight, and you're left with a motor that's got velocity (especially in Dynamic mode) but not in a way you can really sense or feel.
Yes, it's satisfying to hit cruising speed quickly and lane-hop with wanton abandon, but there's no sense that this Alfa has a ragged side. Even if you force the 'box to drop a gear via the paddles in a tunnel, you'll get very little lairiness.
The Giulia only really sounds growly and grumpy when it's just started, or when you put it under load from a low speed – almost coaxing you into putting it into the 'A' mode of its 'DNA' dial (Advanced Efficiency, which makes the loud pedal squashy and unresponsive).
B-road ghost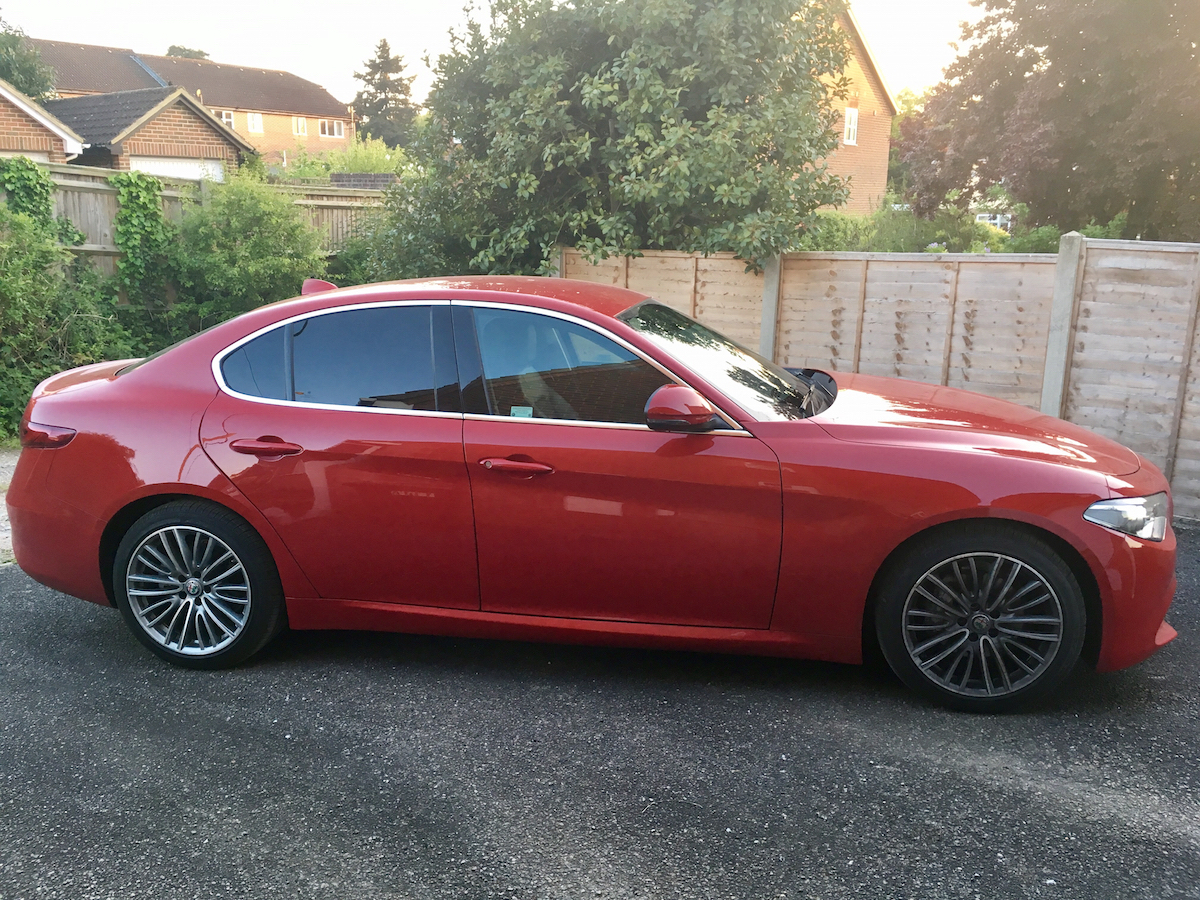 It's probably unfair, then, to hare the Alfa along some B-roads. But it's an Alfa. So we did.
Even in full-manual, that 8-speed gearbox feels reluctant to hand over full control and the steering weight comes into play again here, making hitting apexes around sweeping bends quite the challenge.
That said, there's generally good visibility in the Giulia and, in Dynamic mode, you can properly appreciate that it'll hit 62mph in 7.1 seconds. If anything, feeling disconnected makes its apparently effortless speed more intimidating, because things can get hairy without you even realising that, yes, you did almost try to take a 90-degree left-hander at 60mph.
Indeed, there's an unerring sense of two beasts fighting away inside the Giulia: one, the heritage of Alfa, a turbocharged engine itching to get moving (though less so than the one fitted to the souped-up Quadofiglio); the other, a sense that this is very much a saloon and, therefore, can't misbehave too much.
Eager co-driver
And that's something you won't be able to forget, thanks to the one major niggle that blights the Giulia: its driver assistance systems.
That includes hazard lights which fire automatically under heavy braking – but they're much too sensitive – and emergency braking that's also oversensitive, and which can only be toned down after a hunt through the menus.
There's also ESP that's impossible to turn off. Put in more than a little bit of G-force around a bend (which you can measure with the on-board G-meter) and it'll start shuddering like crazy in a desperate attempt to keep you on the road which, in reality, makes it harder to rely on a constant line through the corner.
All of which only adds to the sense that this Alfa is built for the motorway first. Certain driver aids can be disabled or dialled back via the car's computer system, but that in itself means wrestling with the button-and-dial control combination, which steers you through a host of perplexing menus.
It's not terrible, but for anything more than music selection the system can become quite frustrating. The SatNav, for example, is an odd setup of entry fields and an alphabet arranged around the joystick-come-control wheel. It's not hard to get used to, but it doesn't get any quicker to use.
Similarly, the SatNav itself needs some work. Directions appear between the speedo and rev counter, which is handy, but the main mapping screen didn't always make it clear (particularly at junctions) just what is going on.
Plenty to entertain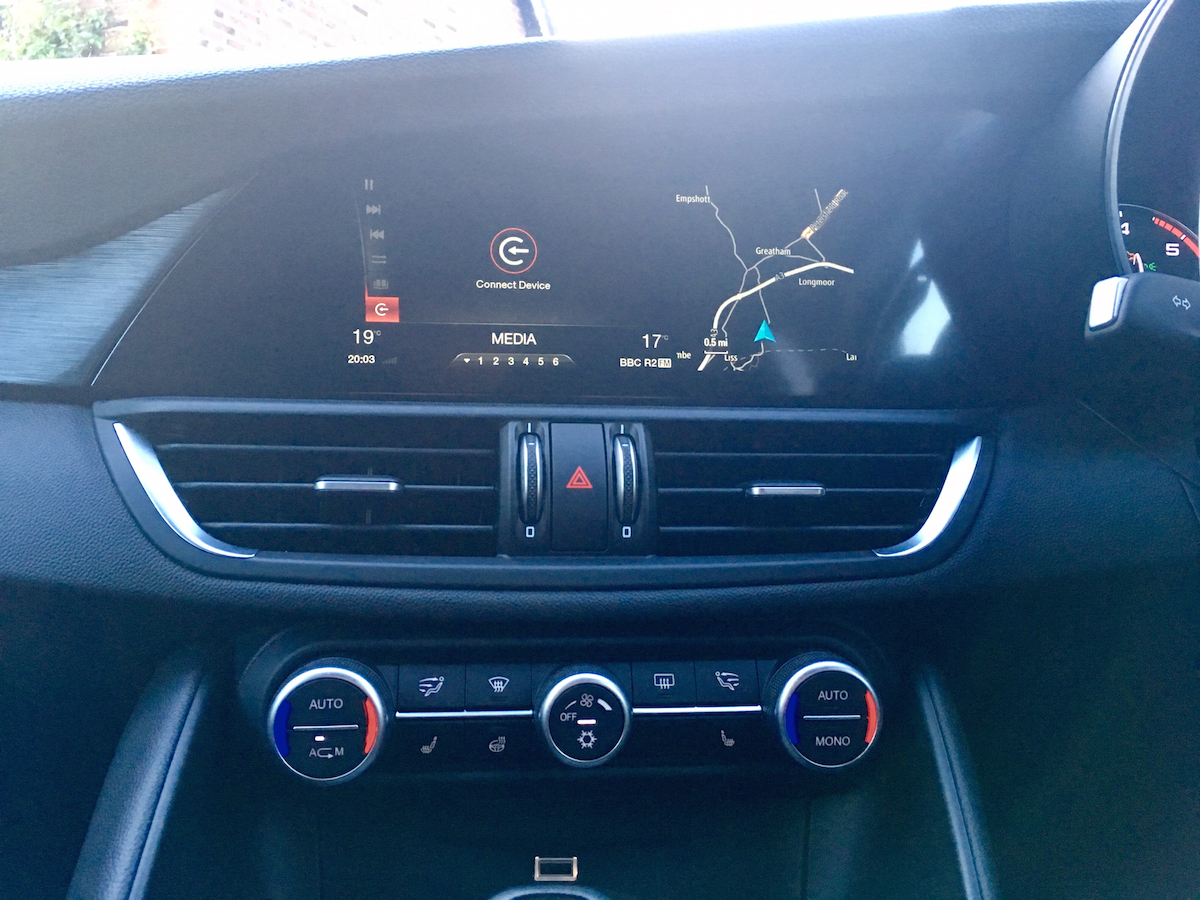 Music, on the other hand, is a treat in the Giulia. Connect a device (via 3.5mm jack, USB or Bluetooth) and you'll find the 8-speaker audio system to have both punch and volume, with little in the way of distortion.
Combined with that low running noise, hitting shuffle was one of the Alfa's joys.
With the 7-inch display in split-screen mode, with music on the left and navigation on the right, things were clear, even in sunlight, and the majority of the controls were accessible from the wheel (skip, pause and volume).
That said, if you want to do anything more than those basic inputs – such as select a new album – you'll need to use the big dial below the gearstick. That means interacting with the unintuitive menu system again which, while driving, simply takes too much of your attention away from the road.
While I'm no big fan of the clunky touchscreens found in many modern vehicles, I'm not sure that this solution is the answer, either. Yes, the dial feels nice and the graphics look premium, but there's no escaping that there's frustration to be found in the setup, bouncing between inputs and button combos.
Alfa Romeo Giulia 2.2 Turbo Diesel verdict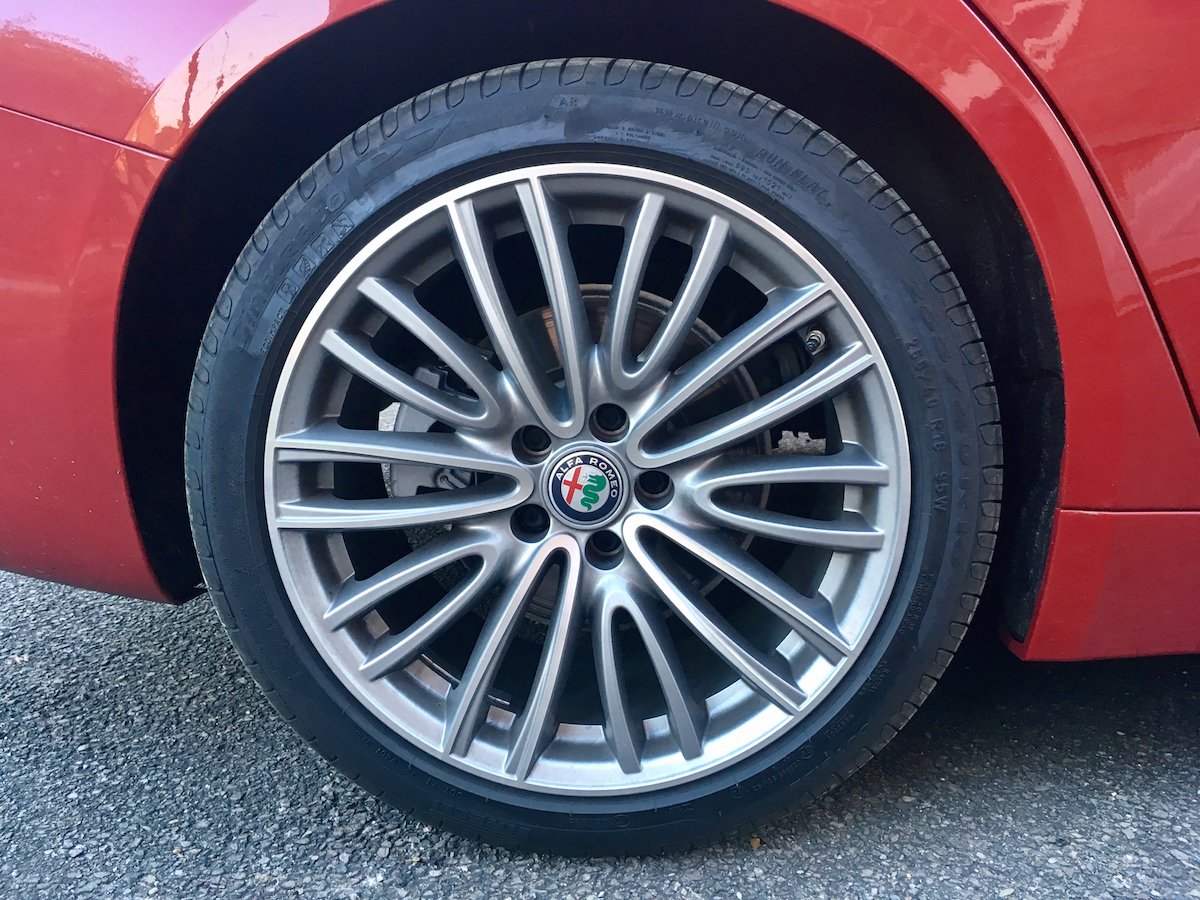 Alfa Romeo's Giulia, then, is more than a little perplexing. It's at once a capable, powerful machine with plenty to spare beneath the bonnet, but also a cruiser disconnected in its comfort and setup.
There's no doubt that, on the motorway, the Giulia does everything right to stand out from the muted crop of German saloons, even if it misses the mark on some of the finer points.
If anything, that crop of driver aids and their interruptive bent gives away the fact that this Alfa always had long, cruising miles at its heart.
Yes, it's arguably a shame that it can't do more away from the motorway (even for just a few minutes, in Dynamic setting) to get the pulse racing, but that doesn't change the fact that, for £30,000, you're getting a lot of car and a lot of comfort.
So, with that in mind, the Giulia is still a worthy purchase. Unless you'd like a 3-series.
Tech specs
| | |
| --- | --- |
| Engine | 2.2l turbodiesel |
| Transmission | 8-speed semi-auto |
| Power | 180bhp |
| Torque | 450Nm |
| 0-62mph | 7.1sec |
| Top speed | 143mph |
| Economy | 67.3mpg (combined) |
| CO2 | 109g/km |
Stuff Says…
A cruiser with grunt, the Giulia doesn't have that typical Alfa aggression, but plentiful comfort and kit does enough to distract you
Good Stuff
Lovely cabin
No shortage of power
Quiet at cruising speed
Decent speaker system
Bad Stuff
Driving experience cushions you from performance
Steering weight feels disconnected
Driver aids overly intrusive
Frustrating menu system