Best VPN service 2023: all the key services compared
We've gathered together the cream of the Virtual Private Network crop - what's the best VPN service for you?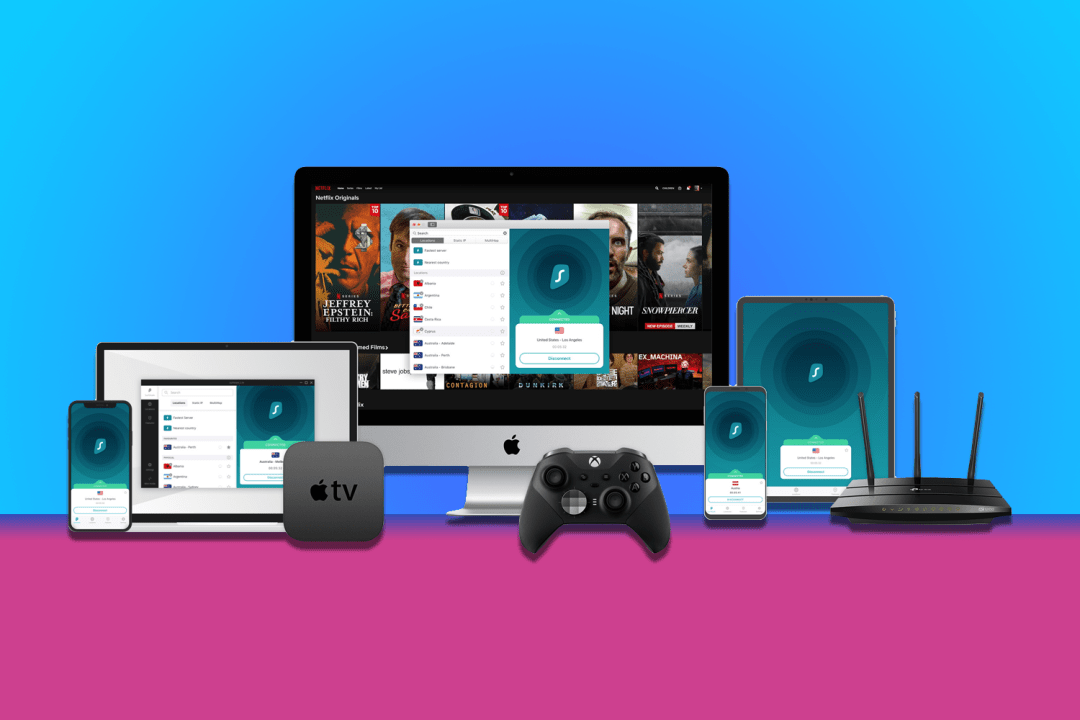 Looking for the very best VPN service to use? You're in the right place. Whether you're looking for complete online anonymity, need to safely surf the web or want to unlock region-restricted streaming content (not that we condone that, mind), there's no shortage of premium, quality VPN services on offer.
The trouble is, there are almost too many options out there, and sifting through them all to choose the one that's best for you can be a bit of a slog. Fear not though, for we've done all the sleuthing for you. So sit back, relax, and cast your eyes over our round-up of the best VPN services. Happy (anonymous) surfing.
Our pick of the best VPN services to get today
1. NordVPN
Number of servers: 5500+ | Server locations: 80+ | Maximum devices supported: 6 | Rolling monthly price: From $3.99 or £4.89
Pros: Great security features | Fast speeds
Cons: Some UI issues
One of the most recognizable VPNs in the game (thanks largely in part to relentless YouTube ad campaigns over the years), NordVPN has won users over with its formidable security options, including a feature which passes your data through two separate VPN servers for a double dose of security.
If that wasn't enough, you also have the option to route traffic over the Tor network, in addition to KEv2/IPsec, OpenVPN, PPTP, and L2TP protocols, along with a kill switch. Nord's service is fast and solid too, with a 30-day money back guarantee and 24/7 support if required.
As with almost all of the best VPN service options, the multi-year plan offers the best value for money, assuming you want to continue using its services after the initial 30 days and don't mind parting with a larger up-front fee.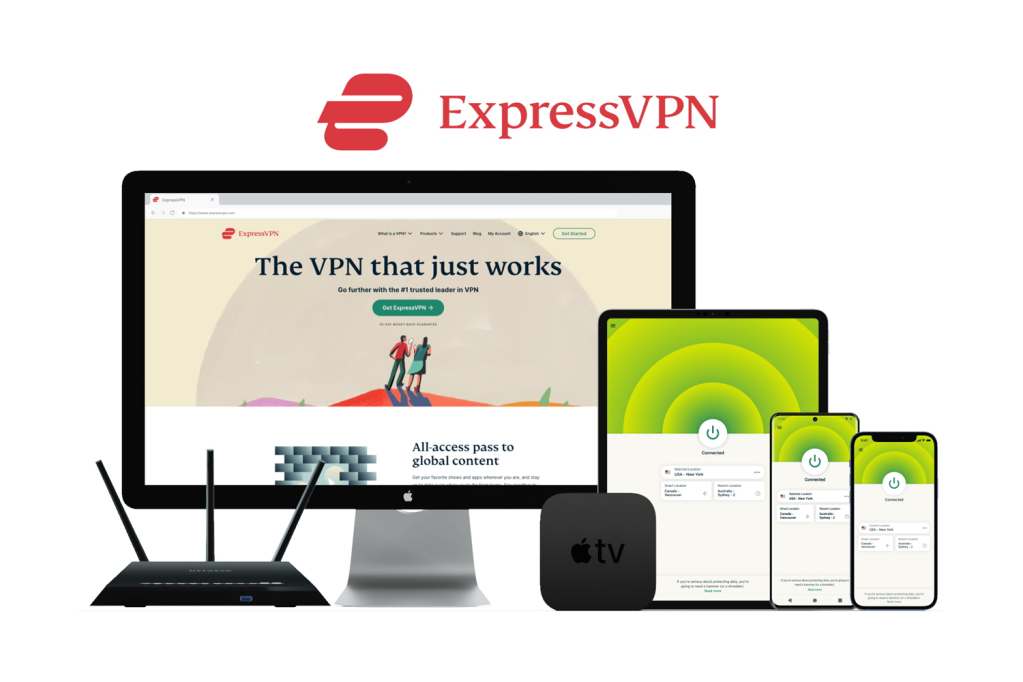 2. ExpressVPN
Number of servers: 3000+ | Server locations: 160 | Maximum devices supported: 5 | Rolling monthly price: $9.99 or £11
Pros: Useful Windows-specific features | Very fast speeds
Cons: More expensive than most
Express VPN is one of the best overall VPN services, and with good reason. For starters, it has 160 VPN locations spread across 96 different countries, with superb server performance across the board, even in far away locations.
The Windows app itself is nicely polished and rammed with useful features such as server recommendations, different protocols, and kill switch options. Another win, is the ability to control things directly from browser extensions, which further streamlines the experience.
If the server automatically changes, which can often be the case when using a VPN, you'll be none the wiser, as the connection itself won't drop. Throw in strong encryption, security protocols and no logging of data, connection IPs and online activities, and you've got one of the best options around, complete with 24/7 live customer support.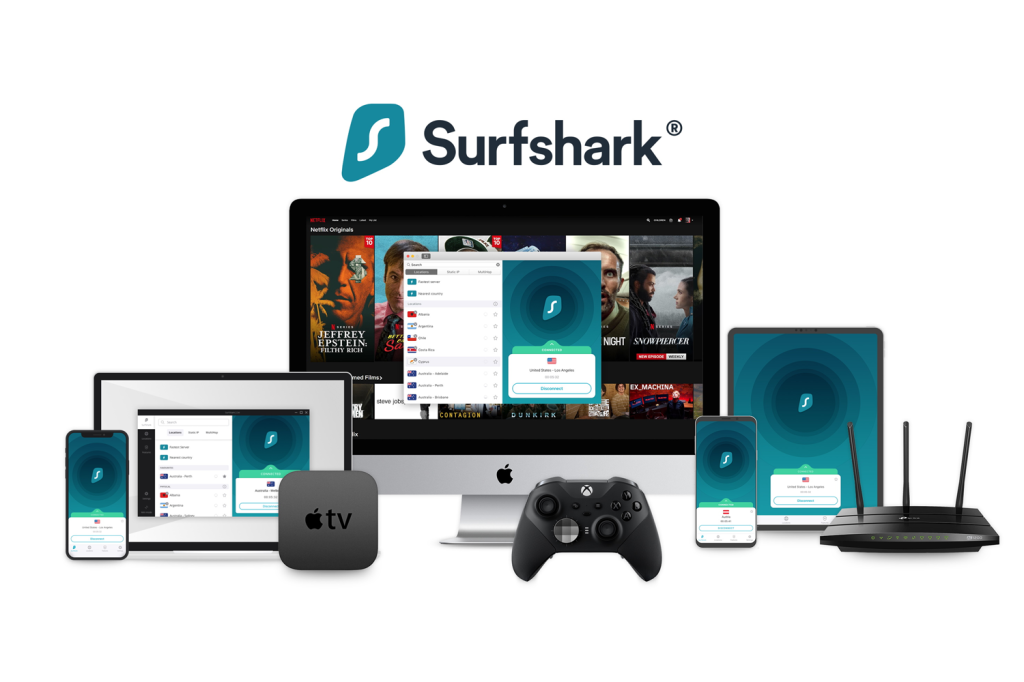 3. Surfshark
Number of servers: 1700+ | Server locations: 100+ | Maximum devices supported: Unlimited | Rolling monthly price: $12.95 or £10.67
Pros: Great bang for buck | Unlimited devices
Cons: May be a little basic for experienced users
Surfshark provides excellent value for money, especially if you commit to more than one year of service, which, as you'd expect, drives the overall cost down significantly. Not only that, but you can use as many gadgets on its service as your hands can handle, thanks to its generous unlimited device policy. Not bad at all.
Easy to set up, you'll be browsing the web anonymously in no time, with decent speeds and plenty of security options for peace of mind, including a choice of OpenVPN, IKEv2 and Shadowsocks security protocols, private DNS, AES-256 encryption, and a kill switch for those moments when your connection many drop.
It might lack the more complex settings that power users may be after, so if you're an experienced tinkerer that likes diving into settings and tweaking options, you may want to look elsewhere. For most people though, this is an ideal starting service, especially when you take its 30-day money-back guarantee into consideration.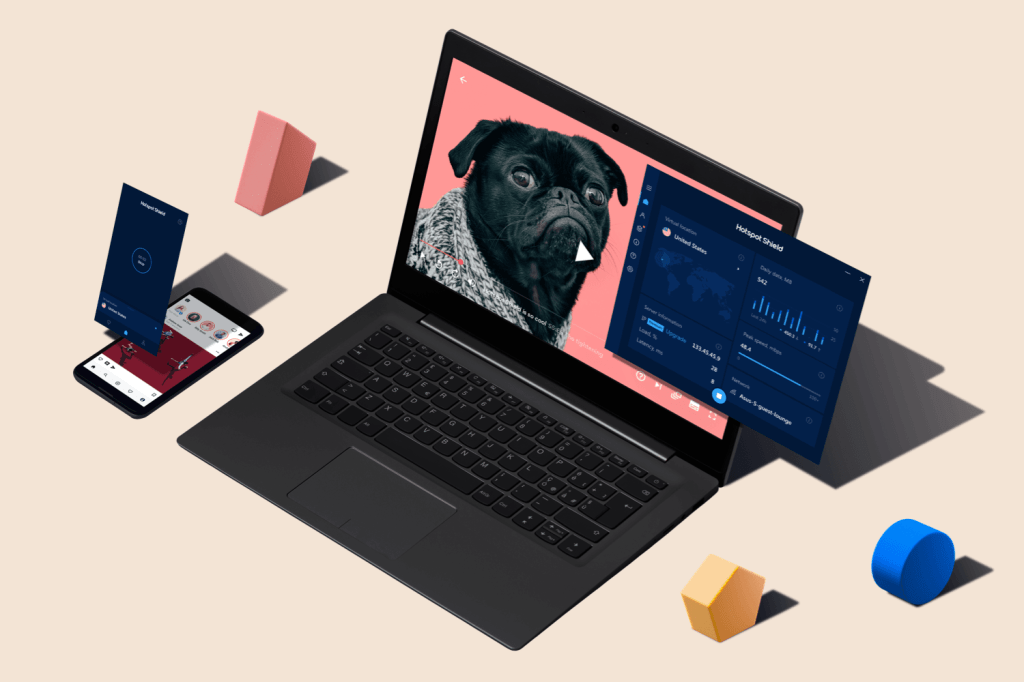 4. Hotspot Shield
Number of servers: 3200+ | Server locations: 130+ | Maximum devices supported: 5 | Rolling monthly price: From $7.99 or £6.99
Pros: Fast steaming access | Plenty of locations | Superb performance
Cons: Maximum number of supported devices may be too low for some
If speed is your priority, look no further than Hotspot Shield. Winner of the world's fastest VPN, it's been verified to offer blazing-fast speeds, making it an ideal choice for power users, gamers, and binge-watchers alike.
Unlimited HD and data streaming means you won't have to pace your activities either, while built-in encryption, malware, phishing and identity theft protection, are extra features that sweeten the deal.
While it only supports up to five devices per subscription, there is 24/7 live chat support on offer — though if you plan to use a whole bunch of devices on a single subscription, you might want to look elsewhere.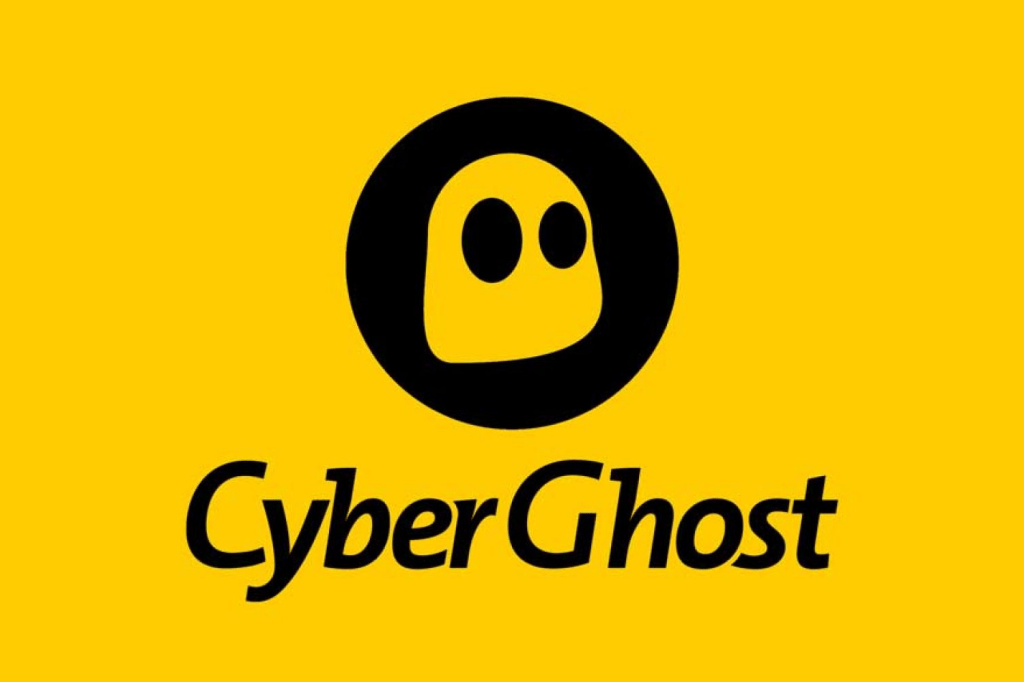 5. CyberGhost
Number of servers: 8900+ | Server locations: 110+ | Maximum devices supported: 7 | Rolling monthly price: $12.99 or £10.89
Pros: Large server count | Lots of tweak options available
Cons: Support could be better | UK Disney+ and Netflix unavailable
CyberGhost, like ExpressVPN, is able to quickly and easily connect to different servers, with numerous security protocols on offer alongside 256-AES encryption, a kill switch, an ad-blocker and a beefy privacy policy.
The service offered is speedy, thanks to a decent amount of servers around the world, although certain features like the ad blocker can occasionally slow things down a little. The app itself is rammed with features, allowing more comfortable users to tinker away to their hearts' content, although VPN greenhorns should still feel comfortable too.
CyberGhost also provides a fairly generous 45-day money-back guarantee for subscription plans for six months or greater, while the one-month rolling plan still offers a reasonable 14-day money-back guarantee.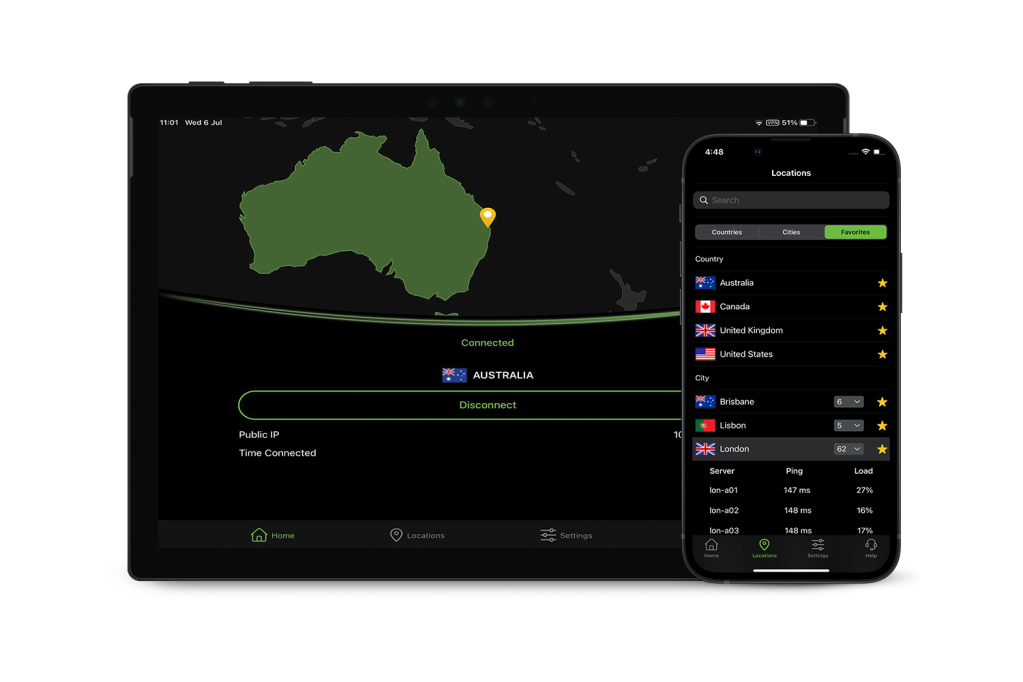 6. IPVanish
Number of servers: 2000+ | Server locations: 75+ | Maximum devices supported: Unlimited | Rolling monthly price: $11.99 or £9.99
Pros: Great app | Lots of features
Cons: May have a learning curve for some
The aptly-named IPVanish certainly fulfils the brief of being one of the best VPN service options around. It has an excellent, polished Windows app that's rammed with settings and features specifically designed for PC users, with basic and advanced settings available for all levels of users. It's an ideal choice for P2P traffic use cases, which includes torrenting and file-sharing services.
From download speed graphs to a Quick Connect menu, a whole host of features are available in an easy-to-use manner, combined with strong speeds and solid security, including a kill switch, 256-bit encryption, a no-log policy, as well as a host of other security protocols.
Some of the features may not be on by default which means you may have to dig around and find your feet, but with a little time, power users will soon find their feet and feel right at home – especially if you take into account the extra languages on offer.
---
How we test the best paid-for VPNs
We've included the best paid-for VPN services that we've used ourselves, where possible. For those that we haven't, we've deep-dived into each VPN service's offerings and features, while comparing them against user reviews, company reputation, and other sources of expertise, like the VPN selections and reviews at security.org.
Best paid-for VPN FAQs
What is a paid-for VPN?
If you already know the answer, then feel free to keep scrolling. But if you'd like a recap, no problem. In short, a VPN is a service that lets you fake your location online, by redirecting your internet connection via the VPN service's servers around the world.
One example would be using a VPN to make it look like you're in a different country, so that you can watch content from streaming services that are unavailable where you live. Again, we're not officially condoning this practice, but it's just one example of a common use case.
If you're travelling abroad to certain countries like China — where some apps and sites like Facebook, Instagram and Google are blocked — VPNs can also act as useful tools for unlocking these restricted services so that you can continue using your favourite apps, while also keeping in touch with people back home.
For more information on this read our guide: What is a VPN? Virtual Private Networks explained.
How to pick the right paid-for VPN
Not all VPNs are created equal. When deciding on a paid-for VPN, the most important factor should be to decide what you'll be using it for. If you're looking to stream Netflix and Disney+ libraries from anywhere in the world, you'll need a service that works in a large number of countries. With ExpressVPN, you can connect to a VPN server in up to 94 countries, with super rapid speed. NordVPN can connect to over 100 countries, but falls short of ExpressVPN's speediness.
If privacy is the main concern, you'll need a service with a high bit encryption length. The industry-standard is AES 256-bit encryption, meaning a hacker will need to bypass 2256 different combinations to break in. In short, compile a list of everything you need a VPN service to do, then see which service matches in our guide.
What's the best paid-for VPN?
Most VPNs have their various pros and cons (ranging from price and ease-of-use to security options and other features), but for most people, the ones that strike the best balance and are beginner friendly include the likes of NordVPN, ExpressVPN, and Surfshark. Without further delay, here's our list of the best VPN services. All prices and information are correct at the time of writing and will be updated regularly. And if you're looking for a free option, then check out our best free VPN service roundup.
Are paid-for VPNs illegal?
VPNs are completely legal in most countries, though you should of course always check the rules and regulations where you live. But while there's nothing wrong with wanting to protect your personal data and privacy, it doesn't mean you should carry out any illegal activities. Cars are legal to drive, for example, but get caught being a getaway driver for a bank robbery, and you'll reap the consequences. In the case of VPNs, feel free to use them for legal reasons, but don't go downloading things like copyrighted material for free.
Can paid-for VPNs protect you from viruses and malware?
Using a VPN has privacy benefits, but it won't do anything to stop you from falling victim to malware or viruses. Surf safely, don't visit any dodgy websites, and always be mindful of what you download and the information you share. These practices apply regardless of whether or not you're using a VPN.
Will using a paid-for VPN make your internet slower?
Using a VPN will make your internet slower, due to the nature of how they work. Re-routing your traffic via one or more servers around the world will naturally take more time, after all. Thankfully, if your baseline internet speeds are decent, then this shouldn't really affect anything like streaming. If you've got a large download like a game from Steam though, you might want to turn off your VPN to maximise the speed and reduce the download time.
Are paid-for VPNs better than free VPNs?
Paid VPNs will, unsurprisingly serve up more features and perks than their free counterparts. In general, paid VPN services offer much more or unlimited data, with higher/no caps on the number of devices you can use. You'll also have access to a far greater selection of locations around the world to choose from. Whether or not you need those extra features, depends on your needs. Check out our guide to the best free VPNs to see what's best for you.