Amazfit Bip review
If you can forgive its rough edges, the Bip is a decent budget fitness tracker...
First impressions are important, but they can also be misleading.
Take the Amazfit Bip, Chinese wearable-maker Huami's fitness tracker, which has recently arrived in the UK. On initial inspection, it's best described as a shameless Apple Watch lookalike with a suspiciously bargain bin RRP.
For its slightly ridiculous name alone I found it to be an endearing little thing, but I didn't expect a great deal. This was a mistake. With a full range of notifications, GPS, heart rate monitoring, multisport tracking and a mammoth, month-long battery life, the Bip has a feature set that belies its inexpensive price point. Even if its inability to run third-party apps means that, like Fitbit's near-discontinued Blaze, it's really a fitness tracker rather than a smartwatch.
Does it work, and can the tribute act do it as well as the original band? I wore one for a week to find out.
Design: Imitation is the sincerest form of flattery
There's no getting around it: the Amazfit Bip has posters of the Apple Watch all over its bedroom. Like Apple's market-leading smartwatch, it adopts a square-with-rounded-corners design, and at a glance it can be difficult to tell the two tickers apart.
Pick up the Bip, though, and you'll immediately notice the difference. The watch itself is quite a lot thinner than its wallet-busting idol, and at 18g the case is seven grams lighter than the smallest aluminum Apple Watch. It's plasticky rather than premium.
As someone who has worn both, I can tell you that it definitely feels like less of a presence on your wrist, too. In fact, I often forgot the watch was there at all until the thunderous vibration it sent through my wrist when a notification comes through, but more on that later.
The Amazfit Bip's standard silicone watch strap feels predictably cheap and cheerful. You can switch it out for something a bit more upmarket, but I'm not sure why anyone would. It never bothered me, although I did miss the holes of Nike's Apple Watch band when I was working up a sweat.
There's a single physical button on the side of the device that's used to illuminate the always-on 1.28in touchscreen and navigate through the menus.
The brightness is fine when the Bip is activated, but on more than one occasion I struggled to make out the time without pressing the button, which isn't ideal. You can tweak the settings so the watch lights up when you look at it, but this is presumably turned off by default to help you save juice.
The glass itself is 2.5d Corning Glass. Like the rest of the watch, it looks and feels budget because that's what it is. Finally, there's an unobtrusive heart rate monitor slapped on the back.
Features: Bip of the iceberg
There's no way of adding new apps to the Bip's pre-installed custom software package, which means it doesn't qualify as a full smartwatch.
Still, while those used to more powerful wearables will notice the things it can't do, I was surprised at how many features Huami has managed to cram in.
The standard watch face gives you the time and your step count for the day, as well as an optional heart-rate reading. You can switch it out for a number of alternative faces, which vary from useful to a little bit useless. I liked the retro-gaming inspired design and found myself coming back to that one.
Swipe up on the home screen to see a list of notifications from an app selection that includes WhatsApp, Facebook Messenger, Facebook, Instagram and Twitter. You can't respond to them from the watch, but the almighty – and as far as I can work out, un-turn-off-able – vibration will make sure you're kept bang up to date with any bickering in the group chat.
You're also able to view and reject incoming calls without reaching for your phone. Don't expect to be paying for your milk with it though, as there's no NFC chip.
Navigate the main menu and you'll find a disappointingly temperamental weather app, an alarm, a timer and a compass (don't bother), as well as as activity tracking options for your runs, walks, cycles and treadmill sessions.
The Bip's IP68 water resistance isn't enough to recommend you take it for a swim. From the Mii Fit app you can check in on your sleep stats and weight – harrowing revelations that I prefer to steer clear of. Two hours of deep sleep? Are you sure?
The Amazfit Bip doesn't do a whole lot, then, but it does a hell of a lot more than I'd expect from a smartwatch carrying this price tag. And it mostly performs impressively.
Performance: The overachiever
With it's simple and intuitive interface, I found the Bip easy to use. The last thing you want to do with a smart watch is lose yourself in needlessly complex menus, and for me this wearable gets the balance right.
I'm no Olympian-in-waiting, but i found it performs pretty well as a fitness watch, with a few caveats. The fact you have GPS on-board is great, but it can take an annoyingly long time for the Bip to find a signal. Allow me too much time to think about whether I want to do exercise and I'll probably end up turning to Netflix.
It's not just GPS that frustrates; I had the same problem with waiting for the app to connect to my watch, which it occasionally failed to do altogether.
Still, I did a number of nicely tracked walks with the Bip, as well a short run, where it was joined on my other wrist by a slightly more expensive Fitbit Alta HR. The Mi Fit app displays your mapped route and running stats in a number of tables and charts, all of which are worthwhile.
I had previously been worried that the watch's pedometer had been overestimating my step count, but at the end of my bitter cold Sunday morning jog the Bip and Fitbit were near enough in agreement about distance covered, heart rate and my average pace.
The latter estimated I'd burned a few hundred more calories than the Amazfit ticker, and I'd be inclined to take the fitness-focused band's side. I can't see the Bip being the new must-have gadget for serious runners, but for £60 I can only applaud its performance.
Battery life: Bippin 'eck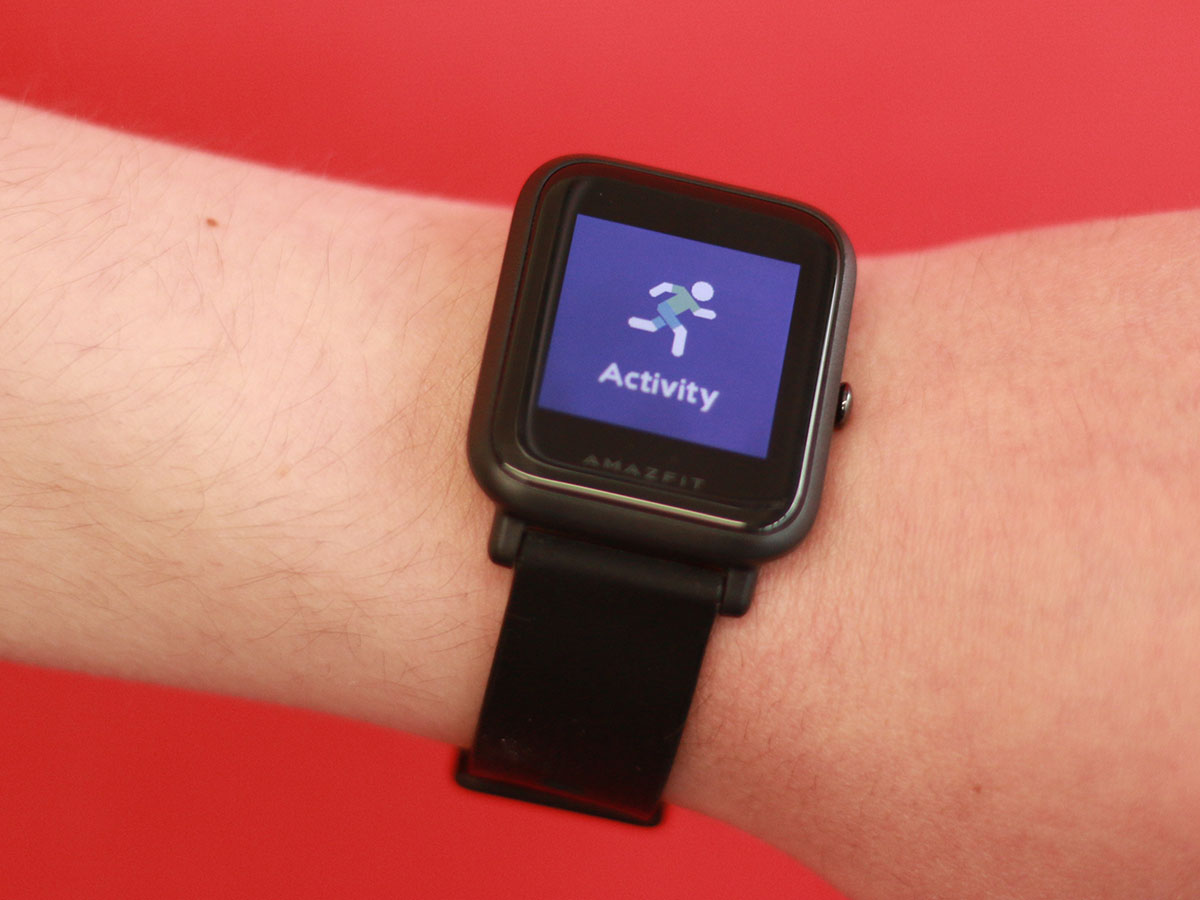 If you were playing smartwatch Top Trumps, the Amazfit Bip would fancy itself against all comers in the battery life department.
It boldly promises 30 days with regular use and up to 45 if you turn off most of the notifications. Does it live up to its own hype? Well, I started using the Bip pretty intensively at about 70 per cent of its capacity, and it finally conked just over three weeks later.
Essentially, this thing can go and go. One slight issue, though, is that the charging can be a bit temperamental, with no clear indication from the watch that it's actually charging. I'm hoping this isn't a more fundamental issue with the battery, and will update this review if becomes a regular problem.
In the main, though, the battery lasted well. So if you find constantly having to add a watch to your list of flat devices a pain in the you know what, this might just be the one for you.
Amazfit Bip Verdict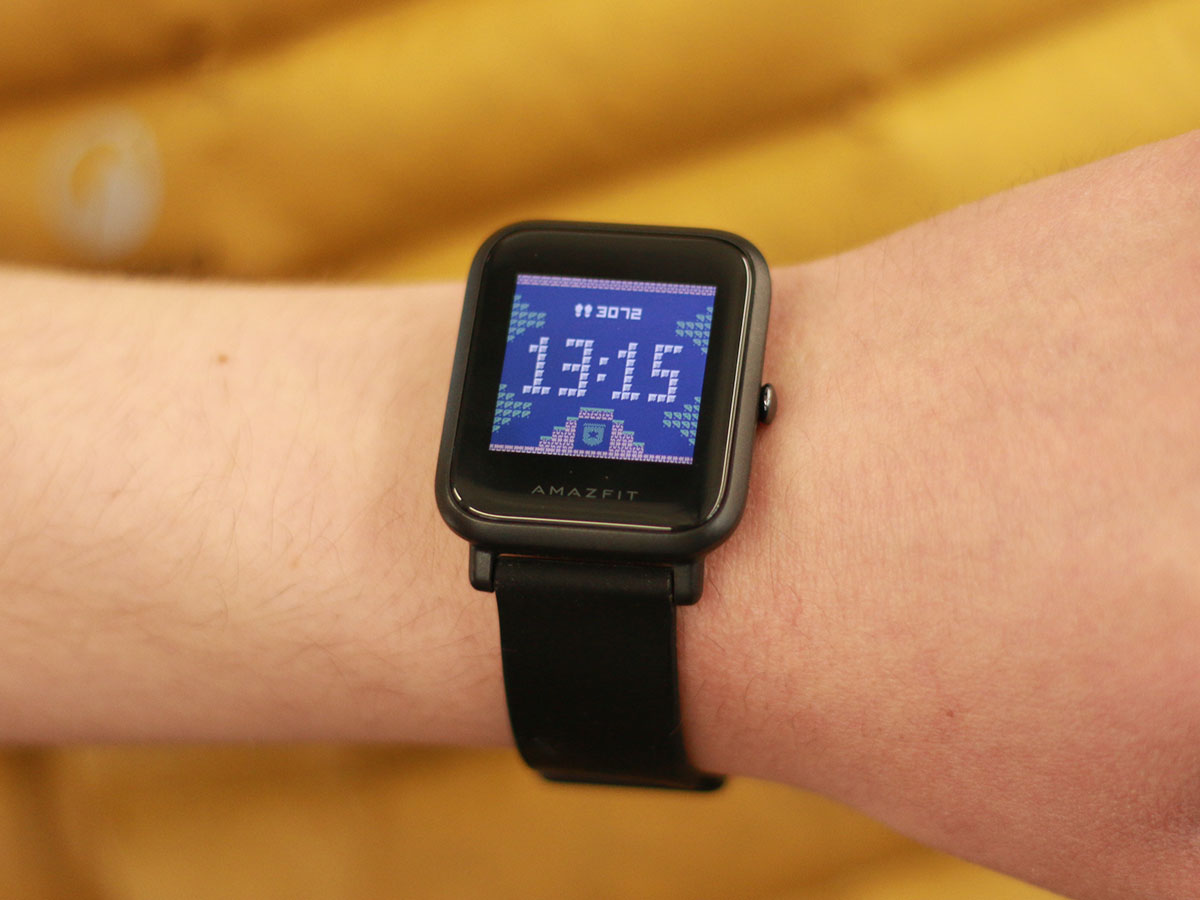 It's easy to dismiss the Amazfit Bip as a Christmas cracker Apple Watch imitator, but that would be doing it a disservice.
Sure, it's not going to win any originality awards for its design, but you should really be thinking about the Bip as a replacement for the now defunct Pebble Watch, or a rival to the Ticwatch E.
It does all of the fitness tracker basics plus phone notifications. And while there are shortcomings in every department – the inability to respond to notifications, a lack of apps, soul-crushingly slow GPS, the slightly temperamental charging – I think they're much easier to accept when you remember how much money you handed over.
For casual fitness tracking, it's great, and the battery life is (occasionally temperamental charging aside) absolutely superb. Put this way: when the Amazfit Bip is eventually succeeded on my wrist by the watch it most closely resembles, I think I might just miss it.
Stuff Says…
Far from perfect, but if you want the fitness tracking equivalent of your trusty old Casio, then this is it
Good Stuff
Great battery life
Uncomplicated menus and simple interface
Impressive tracking
Extremely cheap (did we mention that?)
Bad Stuff
Screen quality reflects cost
Charging sometimes temperamental
Can't run third-party apps
Slow and occasionally buggy
No NFC