Amazfit Stratos review
It's big, bold and one helluva bargain, but your gran was right - you do get what you pay for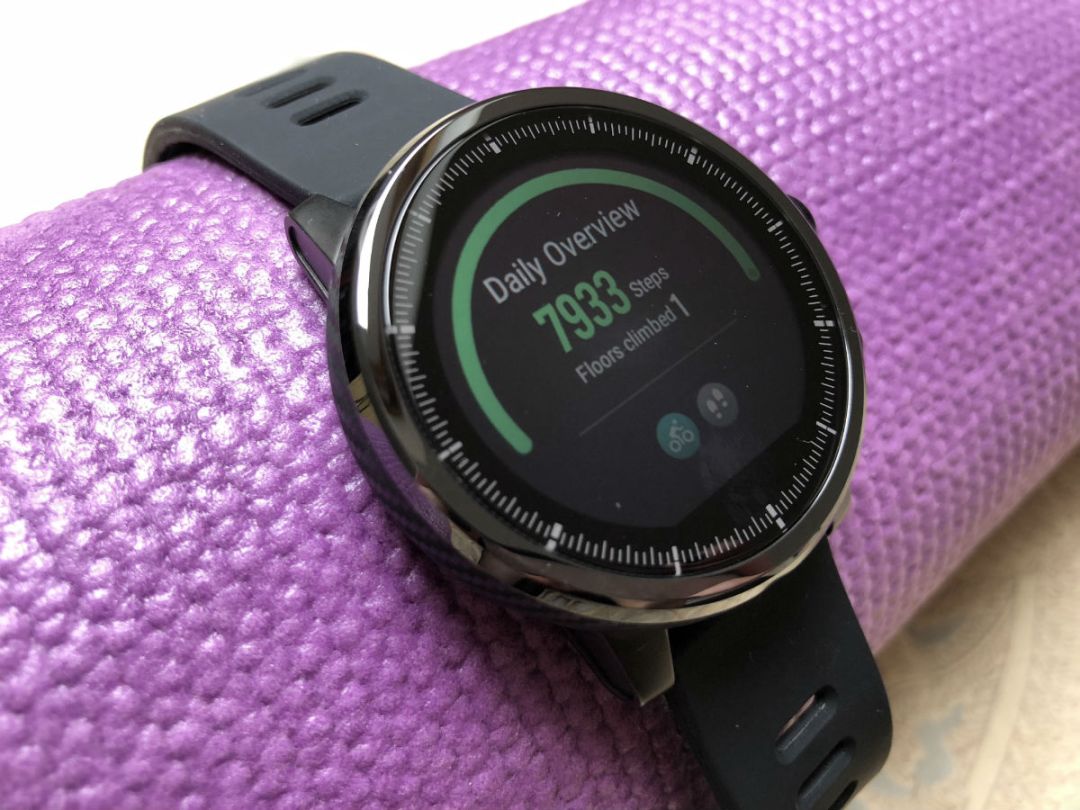 Nope, you're not looking at the latest smartwatch from Garmin, this is the Amazfit Stratos and it's the latest in a line of wearables from Xiaomi sub-brand Huami.
Huami has been on a roll in recent years, launching wearable devices that work well, take design cues from some of the biggest names in the business but, crucially, don't have a huge price tag to match.
If you start to dig deeper, Huami's tech may not have the high-end performance or refined design details you'd expect from pricier brands. But a capable and good-looking smartwatch like the Amazfit Stratos sure makes sense for those who may not have cash to burn but still want to invest in a decent fitness tracking device that looks the part.
And that's what the Stratos is primarily about – fitness. It can track a range of sports and activities, including running, swimming and cycling, as well as many more. It also boasts reliable built-in GPS, a heart rate monitor and battery life that competes with the best in the wearables game at only £169.99. For a bit of context, that's more than £100 cheaper than most of its competitors.
But it's certainly not a one trick pony. When you're not at the gym or pounding the pavement, it'll serve up notifications and has some notable tie-ins with other apps too.
I took it for a test run for 10 days to see whether you do really get what you pay for, or whether the Stratos could compete with some of the biggest and best contenders in the wearable world. And start!
Design and build: The incredible bulk
Design-wise, the Stratos hits the spot. It's not going to turn heads, but it's relatively minamalistic and won't look out of place in the office or at the gym. It is just a touch too chunky for my liking.
Y'see, I have small wrists and after weeks of trying smartwatches that are much, much more streamlined, like the Fitbit Versa, the Apple Watch and the Samsung Galaxy Watch, it feels big.
It reminded me of the first generation of Wear OS watches, like the Moto 360, which looked great on paper – or at least on the table before I put it on – then felt quite monstrous. At 46mm, it's a chunkier option than a few smartwatches around at the moment, but it's fairly normal when it comes to smartwatch standards.
Although it took some getting used to, at 70g it's on the light side (thank goodness) and does come with a very comfy silicone strap. After a few days it only felt too big when I was sleeping and swimming.
That lovely-looking display is made from 1.34inch 2.5D Gorilla Glass with a bezel round the edge and a chevron-style design. This was a nice touch and although the bezel feels tough enough to take a few knocks.
There are three rather big buttons on the right hand side of the Stratos. Compared to some watches, these stick out far too much, which isn't ideal considering I already find this watch a bit too big in the first place. But they did make navigating through the OS a little easier when I was out and about or working out (note how I say 'easier' and not 'easy', but we'll come to that a bit later).
The screen itself has a 320×300 resolution, and the display was disappointing in everything but bright daylight. If you've owned other more premium smartwatches, then you'll definitely notice the difference. Most screens would look dull and fuzzy compared to the Fitbit Ionic. But there were occassions where I didn't even realise the screen was on, especially when I was looking at it from an angle.
Luckily, you can adjust the brightness, but you're never going to get a screen up to the standards of its competitors for half the price. Colours also looked a bit washed out sometimes too, and not being able to read text when you're working out can be irritating.
When it comes to design, it's also worth mentioning the optical heart rate monitor on the underside of the watch, as well as its water resistance rating, which has you covered up to 50m of water should you fancy a spot of freediving.
Software and features: Finger not quite on the button
The Stratos is packed with Huami's proprietary OS. Although it works, it doesn't work well. Especially not to the standards of other smartwatches.
It may seem unfair to keep pitting it against its rivals, but you'd be disappointed if you were used to the intuitive navigation of a Fitbit or Apple product then tried to find your way around the Stratos. It's not that there's anything particularly wrong with the OS, it's just not as intuitive as it should be.
Elements also aren't as neat as I'm used to either. Sometimes parts of texts will be sliced off at the end. Again, when you're sweating and tired and keen to get some data about your workout, it's not ideal. And it's the same story with the buttons. They're responsive and work well, but their purposes change depending on what you're doing.
For example, both the top and middle button are used for scrolling depending on what you're doing. Sometimes the middle button confirms things, but sometimes it takes you back to the home screen. It's majorly frustrating.
It takes some getting used to, and maybe I just needed longer than 10 days for it to become second nature. The navigation is made more awkward by the fact the touchscreen can sometimes lack responsiveness. There were times when it took a good 3 or 4 taps and swipes to get it to do what I wanted it to do.
There isn't an app store as such, but there are a few widgets available through Amazfit that you can activate and add to the watch, like a compass, alarm or weather forecast. Some users might find this choice limiting, but I actually liked the minimal features.
You've got the option to add the basics and, for most people, that's likely to be more than enough for what they need. There are some nice watch faces options to try out. Again, there's a limited amount of choice, but the ones available really cover off the most popular styles, and in the past I've found the choice of watch faces in the tens of thousands to be overwhelming.
Top marks for minimalism again, Amazfit. The Stratos also comes with 4GB of storage data for music. The way you upload music to the watch is easier if you're on a PC, but you can get Android File Transfer if you're on a Mac.
As you'd expect, you can then pair the watch with some Bluetooth headphones to listen to music without your phone, which worked fairly seamlessly when I uploaded some of my favourite tracks – which is more than I can say for some of the other smartwatch rivals.
Fitness tracking and smarts: A superhero
It's got music built-in for running, a good waterproof rating and a sturdy design. This watch is built to be a comprehensive fitness companion and it definitely ticks the boxes if you're looking for a personal trainer that'll fit in your pocket.
The Stratos really is a good all-rounder when it comes to sports. That makes it ideal if you haven't got your heart set on one particular sport. For instance, if you're all about running or swimming, there are plenty of watches built specifically to track those activities from the likes of Garmin.
With the Stratos, you can track the basics, including running, walking, cycling and swimming. But there are also modes to track trail running, a range of indoor activities, football and skiing too. The Stratos can track all of those activities natively, but you can also get more detailed with the data.
For example, there's a function (one of the buttons, it's hard to remember which) that allows you to add lap tracking to your runs. One thing worth pointing out is you have to manually pause the Stratos if you stop working out for whatever reason.
Some users might not like that it won't automatically track that itself, but I actually liked having full control over what was and wasn't tracked rather than experiencing any kind of delay. The hard bit is just remembering which button pauses it, as there's no indication like there is on the Fitbit Versa.
GPS and GLONASS tracking took about 20 seconds to lock onto my location the times I tested it out, but once it located me that was it for the entire run – there wasn't any dropping out.
This is great for such an affordable device and makes it a firm favourite for runners who are put off by the eye-watering prices of gadgets from Garmin and Polar. The app offers a fairly decent display of stats from your workouts. Some might want a bit more detail, but like a lot of things about the Stratos, I liked that the display was minimal and showed me only what I needed to know.
Having said that, if you're disappointed with the data that Amazfit covers, the Stratos can sync up to Strava to give you some more granular results. The continuous heart rate tracking is turned off by default, but you can switch that on, although it will affect the battery. I found the heart rate tracking to be mostly accurate and it measured up well in comparison to a few other wearables I've used.
It seemed to drop out a little during particularly high intensity periods, but quickly measured accurately a minute or two after. If heart rate training is important to you, you can also add a Bluetooth accessory, like a chest strap, which will give you even more accurate results, and can also be fed into Strava.
Thanks to a partnership with Firstbeat, Stratos can also track V02max, which gives you a better gage of overall fitness and recovery time too. That's a really nice addition and means it can really compete with some of the best fitness wearables on the market when it comes to tracking and recovery metrics.
But let's stop focusing on fitness, because the Stratos has plenty of other smarts that are worth shouting about too. For starters, it'll do everything you expect a smartwatch to do these days, like track your daily steps, remind you to move (although you can switch this off, don't worry), tell you how many calories you've burned and keep a close eye on your sleep.
You can also dig into its widgets and set alarms, keep tabs on the weather and switch up the watch face. Handily, it also sends notifications to your wrists, including messages, app notifications and calls. You can't reply to them or create new ones, but it's great to have.
Battery: Five alive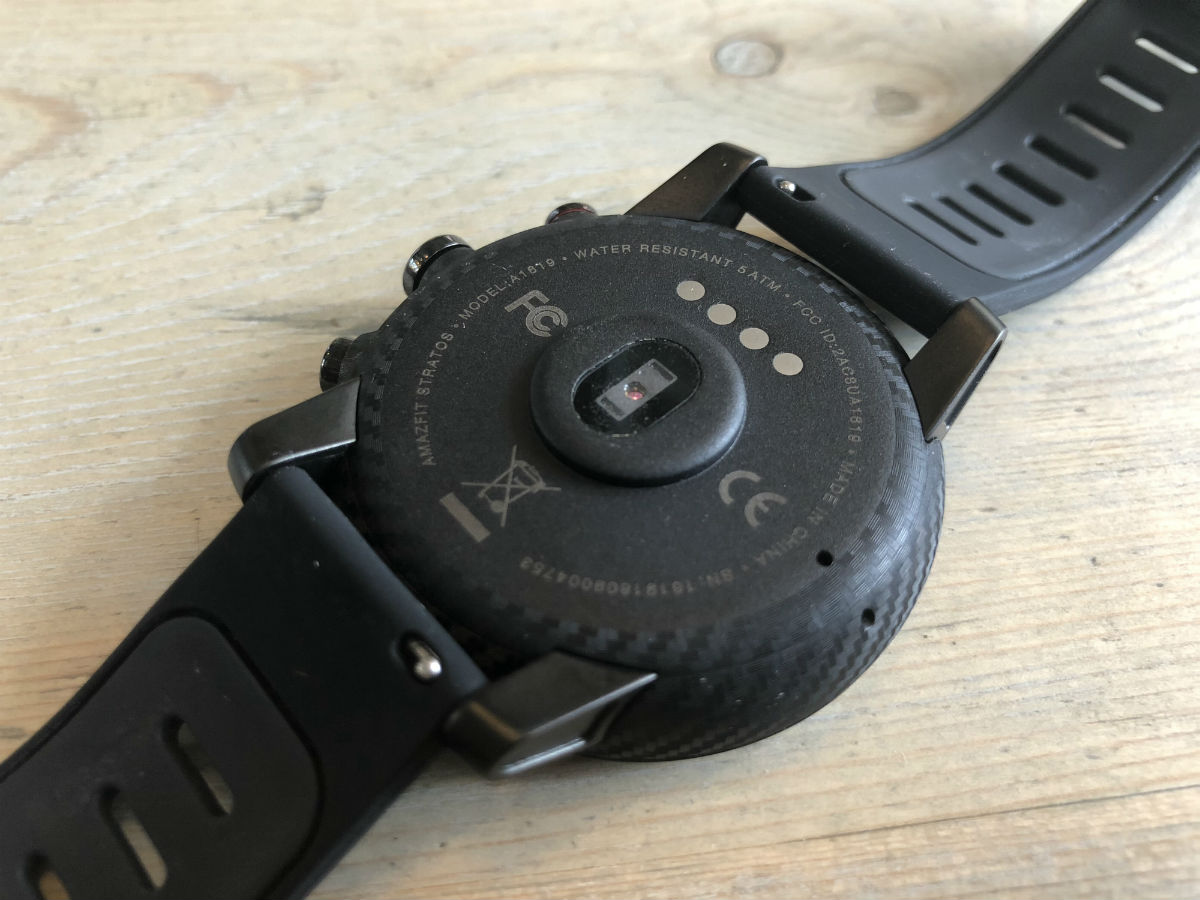 Like all smartwatch battery promises, the amount of time you get out of the Stratos will depend on how you're using it. According to Huami you should expect about 5 days and I found it lived up to that promise during the test.
That's an impressive performance for a smartwatch that serves up notifications, tracks fitness and covers heart rate tracking.
I didn't have chance to test it, but I imagine if you used it just as a watch with a few of the widgets, like the weather forecast or alarm, you might even get a whole week's worth of battery out of it.
Conversely, if you were playing music regularly and taking it out for lots of GPS runs, you'd be looking at only a few days.
Amazbit Stratos Verdict
The Stratos is a decent fitness tracker that looks nice and is (fairly) cheap and cheerful.
Its battery life is great, as is the range of activities it can keep tabs on. It also has some real tracking smarts and heart rate monitor.
Fitness fans will also be happy to hear it teams up well with Bluetooth accessories and Strava. The OS definitely needs work and the display is not as refined as its competitors, though.
This adds unnecessary friction to the UI, which isn't ideal for a device that's meant to be worn 24/7. But then, you do get what you pay for. And if you want to track your fitness with a stylish device and don't have a big budget, this is probably your best value option right now – presuming you have bigger wrists than I do.
Stuff Says…
A good fitness tracker with a bold look for an affordable price, but the screen and UI is sorely lacking
Good Stuff
Good for fitness
Affordable
Great battery life
Nice design
Bad Stuff
Too big for smaller wrists
UI could be better
Screen not good enough