Amazon Echo Dot with Clock review
One less question to ask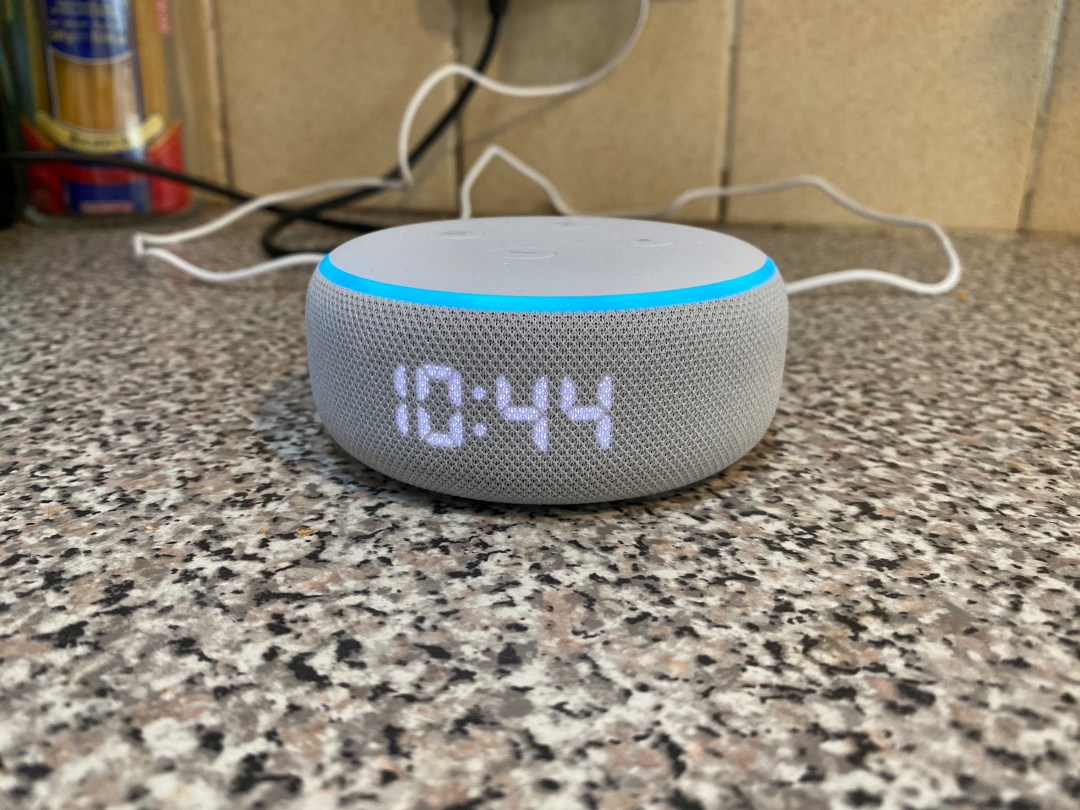 Amazon's Echo Dot has always been far smarter than the hockey puck it most closely resembles.
Thanks to Alexa, it can give you an encyclopedic rundown of former US presidents, book you an Uber and turn off your smart lights so you don't have to lift a finger.
And yet, Amazon says more than almost anything else, Echo users (this reviewer included) are asking Alexa for the time. So it's fair to say that sticking an LED clock on the 2019 iteration of the Echo Dot may go down as the company's biggest no-brainer to date. This essentially turns it into the cheapest smart alarm clock money can buy.
Otherwise this is an identical Dot to its already superb value predecessor, making this is a very easy review indeed.
Design: It's time
Last year's Echo Dot was given a bit of a redesign. Gone was the all plastic look, replaced by a much more visually appealing fabric mesh. 2019's version looks exactly the same, except it has a digital clock living inside that fabric wrapping.
The LED display isn't eye-catchingly attractive, but it doesn't need to be. Its presence simply means you don't need to ask Alexa for the time anymore. And it isn't just there for time-telling either. Ask Alexa for the temperature and it'll momentarily pop up on the display while the AI speaks. Set a timer and you'll see the numbers counting down in front of you. Set an alarm, and a little dot will appear next to the time. For just a tenner extra, that represents a fair amount of additional functionality.
The display adjusts itself according to the brightness of the room, so it won't glow in the middle of the night or appear too dim in sunlight.
On the top of the new Dot you'll find four familiar buttons: volume up and down, an Alexa button and a mic mute. And as ever, they're encircled by a ring that illuminates blue when Alexa is woken up. The top of the device is also where the built-in microphones sit, which notably have picked up my voice far more consistently and reliably than the recent Echo Show 5.
On the back you'll find the power port and a 3.5mm audio jack, should you want to connect the Dot to something with a bit more audio oomph.
The Echo Dot with Clock comes in just one colour: sandstone with the light grey mesh. A darker version would have been nice, but the one we got will blend into any room.
Setup: easy as ever
If you're already in the Amazon Echo ecosystem, adding a new device could hardly be simpler. You just plug it in, open the app and wait for it to be found. All your presets are transferred to the new Echo speaker (in this case the Dot) and you're away.
If the Dot with Clock is your first Echo gadget, you'll just need to spend a few minutes connecting it to your Wi-Fi, filling in personal details, downloading skills and adding your various accounts to the Alexa app. If you share a household with opportunistic nippers, you'll want to check your Prime purchase settings before leaving your Echo Dot unattended.
Occasional bugs aside, the Alexa app great to use; well-designed and easy to navigate, with new features added on an impressively regular basis. Amazon is pretty good at this smart home stuff, at times unnervingly so.
Features: pucking brilliant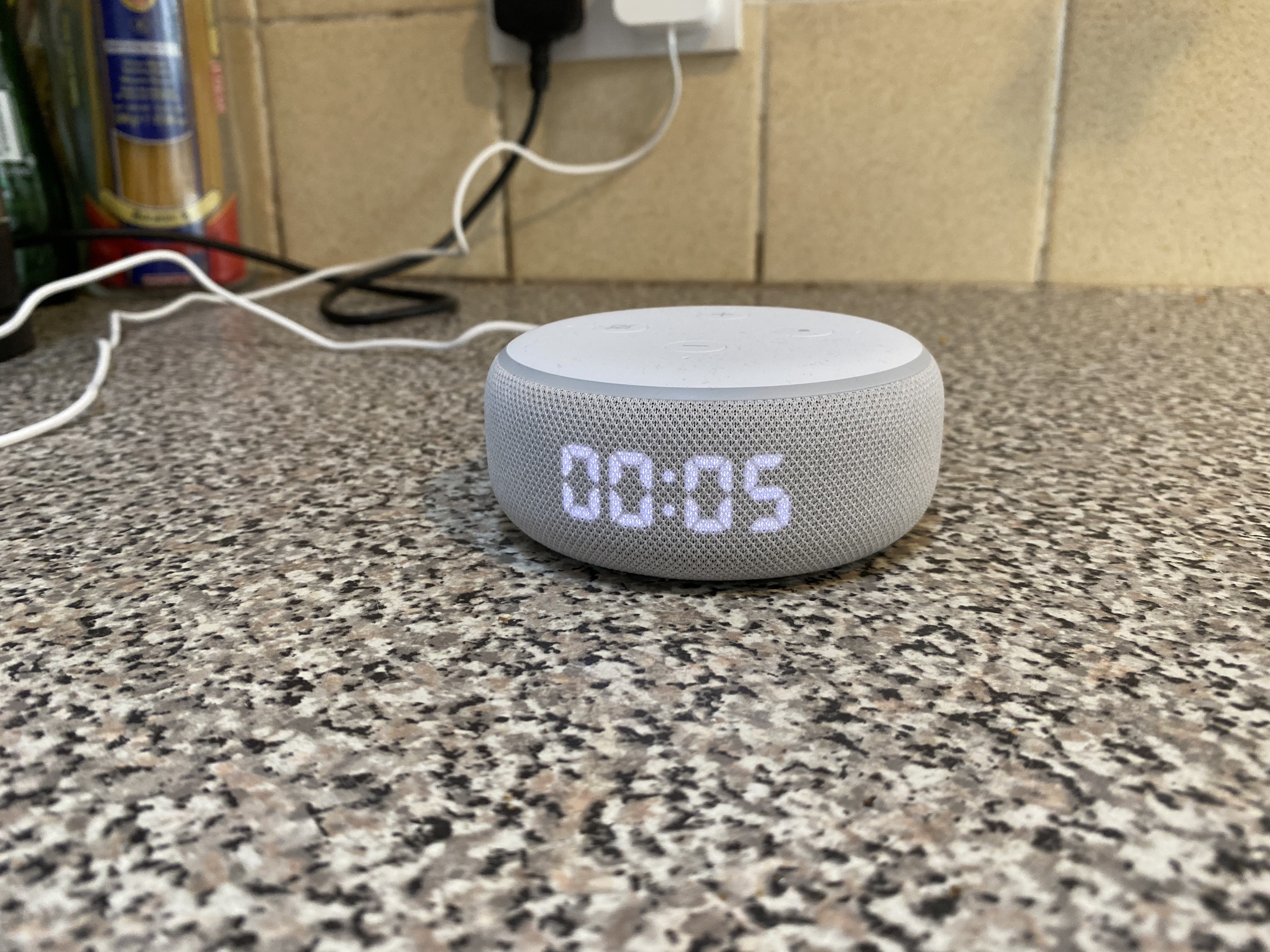 As mentioned earlier, the headline feature of the latest Echo Dot is its LED display, which shows you the time, temperature and timers. If you're using it as an alarm clock, you can give the top a tap (or bash depending on how well you've slept) to snooze any sounding alarms. You could call the new Dot a halfway house between a traditional smart speaker and a smart display, which people are often put off by due to their cameras.
Beyond this, the Echo Dot remains every bit as remarkably talented as its forerunners. You can control music on your Amazon Music, Apple Music, Deezer (stop sniggering) and Spotify accounts, listen to the radio on TuneIn or BBC Sounds, and audiobooks on Audible. It'll read the news, check the weather, read out the football scores (not currently advisable if, like me, you support Spurs) and control your connected Philips Hue bulbs. And of course, Alexa, is always adding to her repertoire of bad dad jokes.
While Amazon is always keen to remind us that there are thousands of Alexa skills to download, a lot of them are extremely naff, so avoid the urge to download everything and focus on the apps you think will make your life easier.
You can pair the Dot with Clock with another, or with last year's faceless Dot 3rd gen if you want stereo sound. If you have two of the newer models and only want one clock showing, you can disable the other either by asking or in the Alexa app.
Performance: admirable effort
It's so effortlessly simple to connect your Echo Dot to a proper audio setup that anyone who can should. If you're one of these people you should just skip to the verdict.
On its own, though, the current Dot is a much improved sonic performer over the original. There's no upgrade in this department this year, but if you're just looking for something to play the news headlines, it's more than adequate, and I'd go as far as to say it can handle a few more morning tunes just fine, too. Though the Dot is lacking in bass and detail, it goes surprisingly loud and sound is actually quite well-rounded.
If you want your Echo device to play music you should get a 3rd Generation Echo or, if the budget will allow, the new Echo Studio. But the little Dot isn't half bad for the size and price. And now it works with every major music streaming service, you might find yourself asking for quick play of a song that pops into your head more often than you'd think.
Amazon Echo Dot with Clock verdict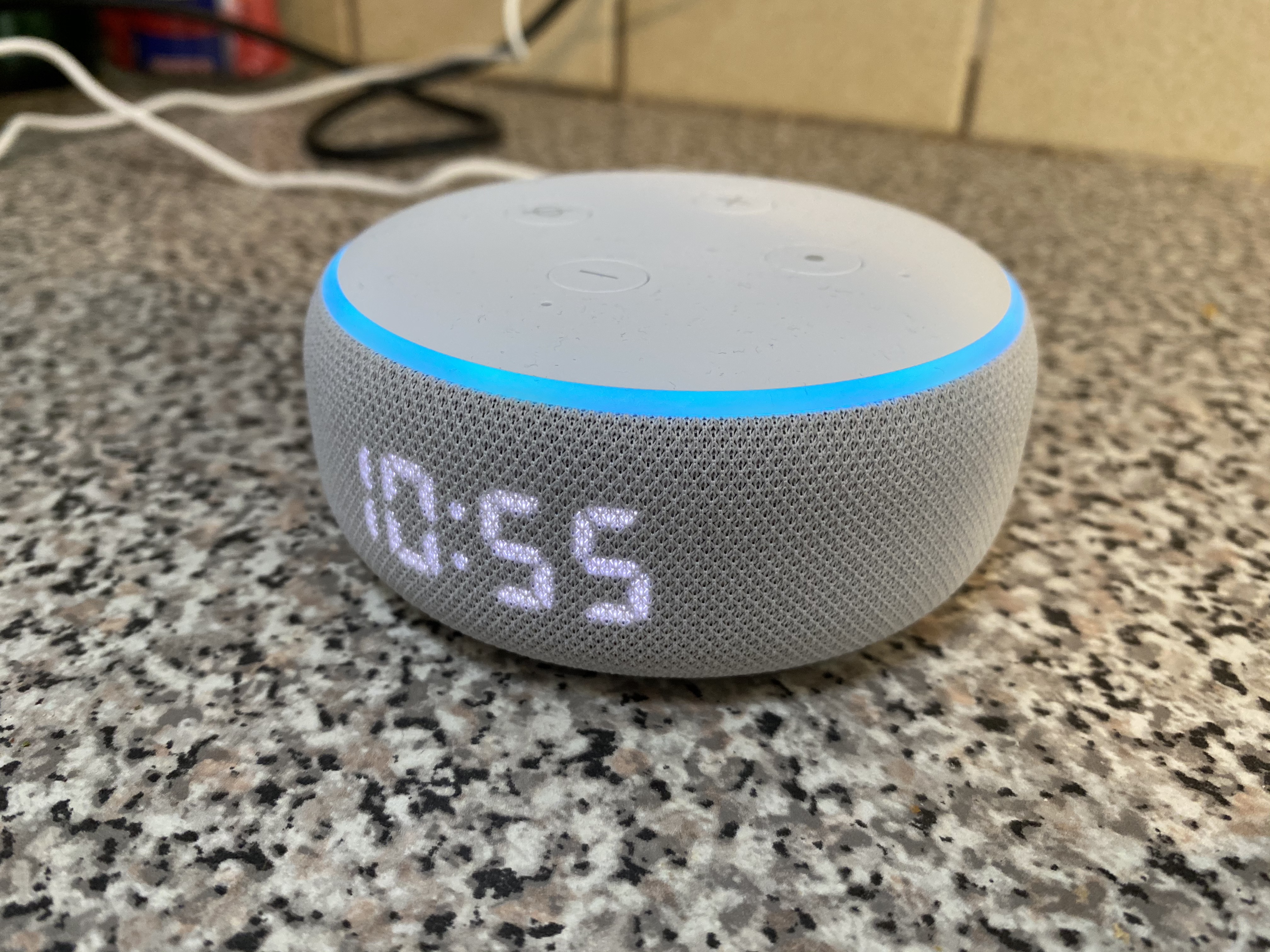 The Echo Dot has for a long time been one of the very best bargains in tech. Now you can get one with a clock on it for an extra £10. If you don't want the clock, save money and buy the cheaper one. Everyone's happy.
Bear in mind that for an additional £35 you can get an Echo Show 5, which doesn't demand much more space and is a proper smart display. I found, though, that the Echo Dot gave a more solid Alexa performance. And then there's Google, whose similarly priced Nest Mini does much the same with the Assistant ecosystem. That device can be wall-mounted too. It's just a case of picking your preferred AI and building your smart home setup around it.
At this price the Echo Dot with Clock is really hard to find fault with, and it's bound to be heavily discounted come Black Friday. For me, I guess the only downside is that I now have one less excuse for being late to work.
Stuff Says…
Unless Amazon gives the next one a top hat, it's hard to see how the Echo Dot gets much better than this
Good Stuff
An Echo Dot….with a clock!
Excellent voice pickup
Works with any music service
Pleasing minimalist aesthetic Decent sound
Decent sound
Bad Stuff
Only one colour
Slightly more expensive