Amazon Echo Link Amp review
Amazon's oddball stereo amp makes for uneasy listening
When Amazon announced roughly a million new products last September, we were only slightly more surprised to find one of them was an old-school stereo amplifier than we were to hear one was a microwave oven.
Six months later, we're still waiting for the chance to do some Amazon-branded defrosting. But at least we now have the chance to build a stereo system with voice control and multi-room possibilities. The real question is: do we want to?
Design and build: the black box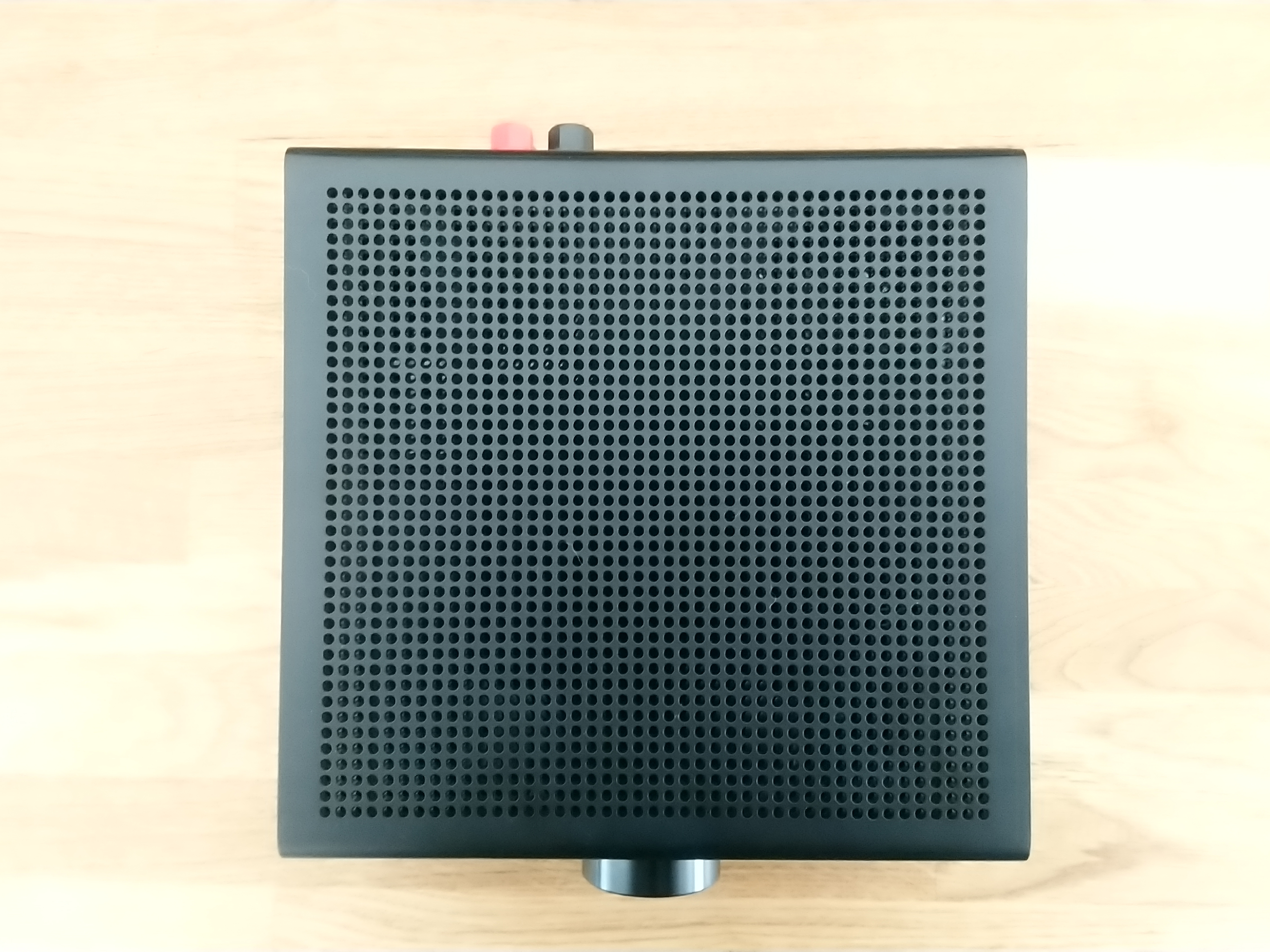 There are two distinct positions to adopt when considering the way the Echo Link Amp has been designed. The first is to celebrate the restraint and understatement Amazon has deployed here – after all, this is a small black unbranded box, with just a volume control and 3.5mm headphone socket on its fascia. The second is to damn Amazon's poverty of imagination – and for the same reasons.
Design flourishes are virtually non-existent. There's a ring of nine small LEDs around the gain control, giving a 27-step indication of volume level – they illuminate very briefly when the dial is turned. The top and bottom of the front and rear panels feature gentle (and pleasant) curves, and the top and bottom panels are vented. That's almost it as far as design goes.
Although its plastics feel depressingly hard and thin, at least there's not much of them: the Echo Link Amp is diminutive by the standards of the amplifiers it's likely to be competing with, measuring just 9cm high by 22cm wide and 24cm deep.
And despite the credit-card gauge of the plastics, and how very prone to collecting fingerprints they are, there's no disputing the way the Echo Link Amp is put together. It feels ready to last a long time.
Features: socket to me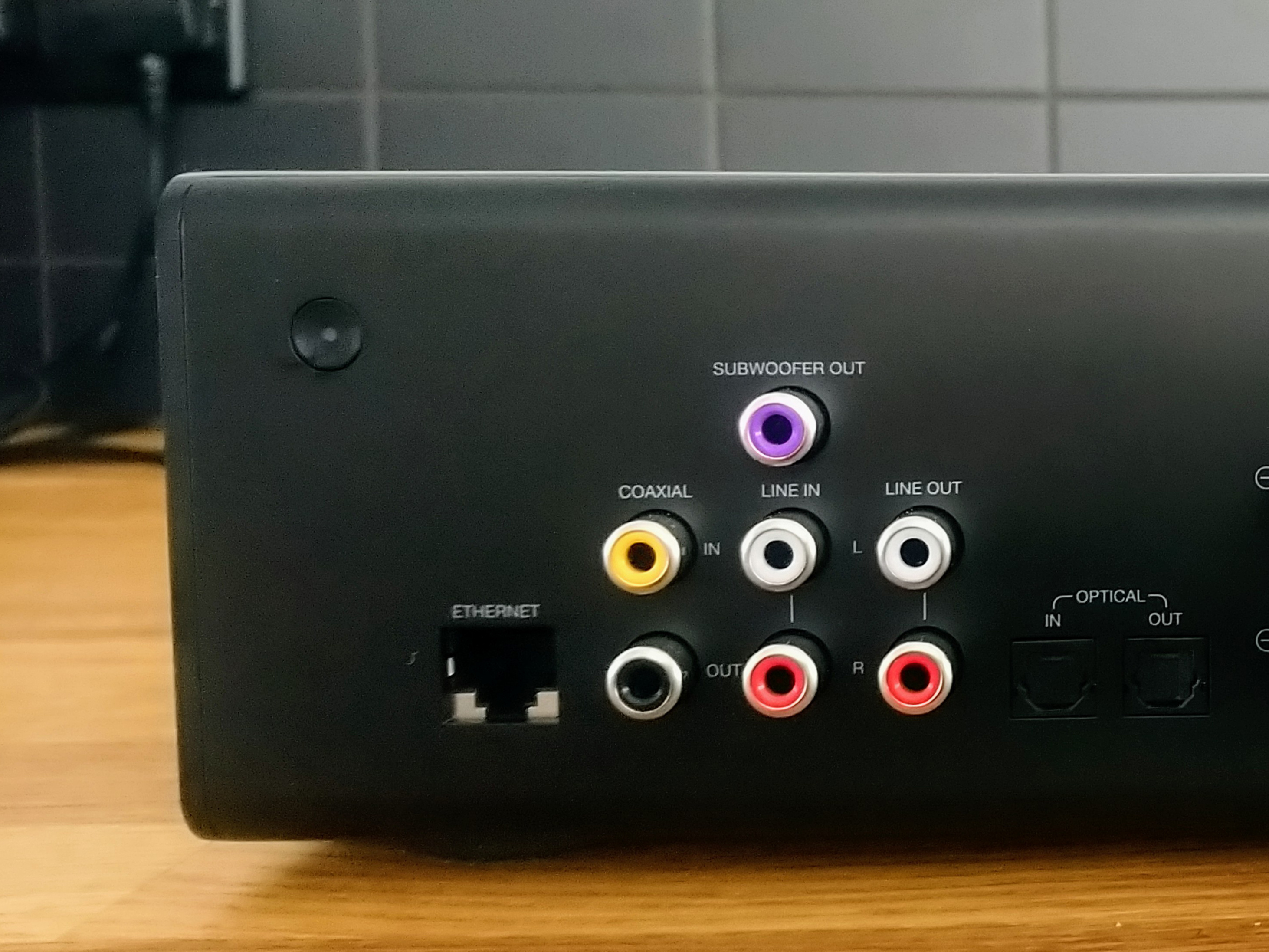 The rear panel of the Echo Link Amp is a fair bit busier than the front. From left to right, there are sockets for Ethernet, digital coaxial in and out, stereo RCA analogue in and out, a pre-out for a subwoofer, digital optical in and out, proper chunky binding posts for speaker cable or 4mm banana plugs, and a figure-of-eight mains lead.
Anyone wishing to involve a subwoofer in their stereo system will need to hardwire it to the Echo Link Amp – for some unaccountable reason it can't wirelessly drive Amazon's (rather good) Echo Sub.
On the inside, there's Class D amplification rated (says Amazon) at 60 watts per channel into a standard 8ohm load. The onboard DAC is 24bit/192kHz-capable, so hi-res audio is on the menu, and there's wi-fi and Bluetooth connectivity too. Bluetooth is of the bog-standard A2DP type, which is a bit retrograde when elsewhere the Echo Link Amp is all hi-res this and voice-control that.
Interface: Alexa in your amp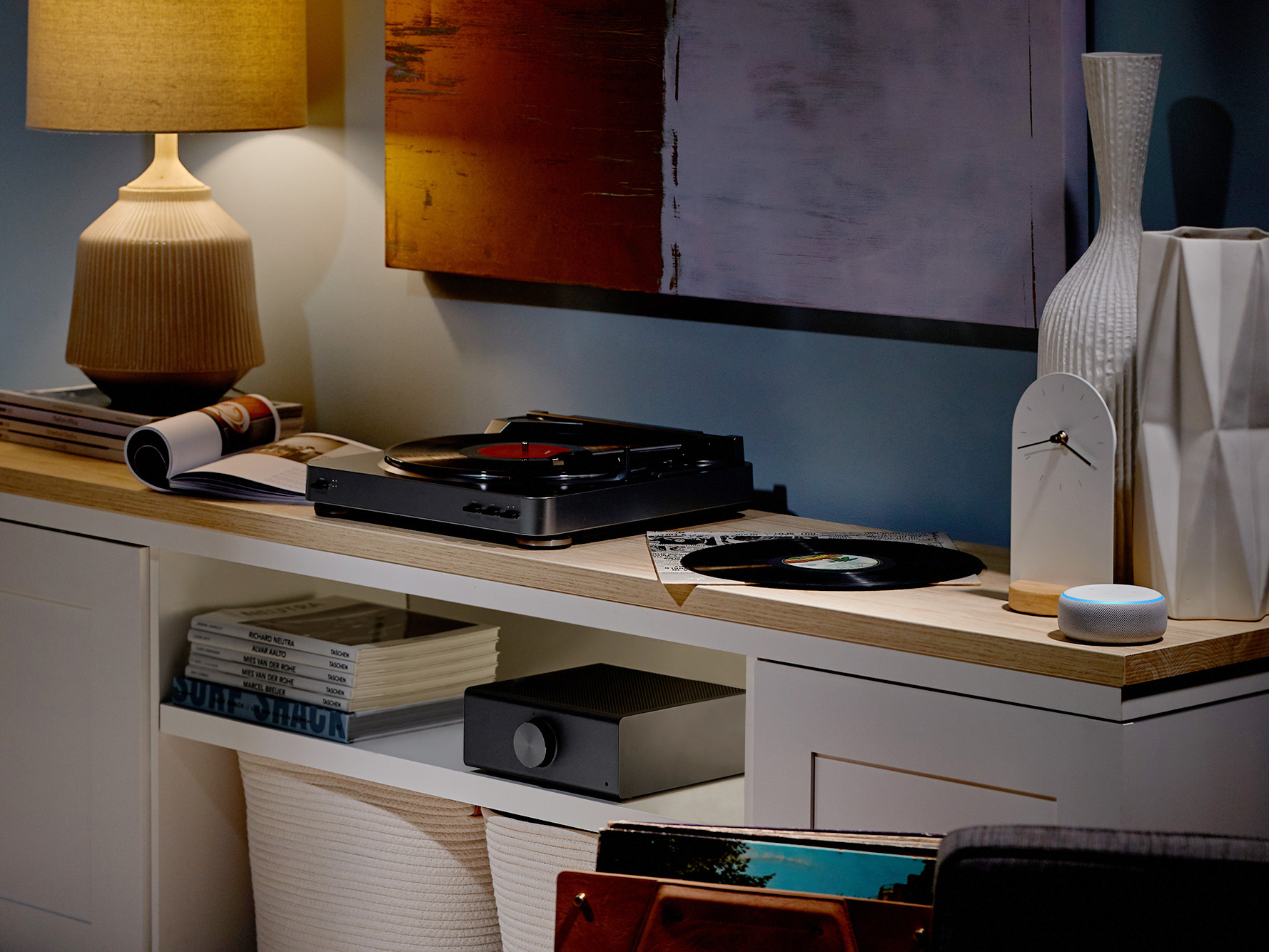 The whole point of the Echo Link Amp is to bring a bit of Alexa-controlled multi-room functionality to an elderly concept. Using the Alexa app to put the Echo Link Amp on your home network is simple and rapid, and from there it's easy enough to designate it to a room or system, prioritise it and use an Echo Dot or Echo Plus on the same network to issue instructions to your amplifier.
In terms of asking Alexa to stream music from a streaming service or from network-attached storage, it's straightforward and successful enough. Echo Link Amp supports – hey! – Amazon Music, Spotify and TuneIn from the off, with the ability to incorporate Apple Music and Deezer also available in the app. It doesn't support any service operating above MP3 quality, though, so no Deezer Hi-Fi and no TIDAL of any type.
And if you've hi-res audio files on your home network, you'll need to get at them via Plex or a similar server – Echo Link Amp has no UPnP smarts. Starting and stopping music, and adjusting volume, is easy enough. But that's about where your voice-control journey ends. Alexa won't skip tracks when streaming, nor can you use your voice to change input. The hierarchy of inputs is streaming, Bluetooth, optical, coaxial and analogue. It's possible to have all three physical inputs occupied and Bluetooth paired – but any music being streamed will take priority.
Only when you end the activity of one input are you able to use an input further down the pecking order. Of course, if you're listening to a CD player via the digital optical input and then command Alexa to play something else, Echo Link will prioritise the incoming streamed signal.
Performance: Tuning out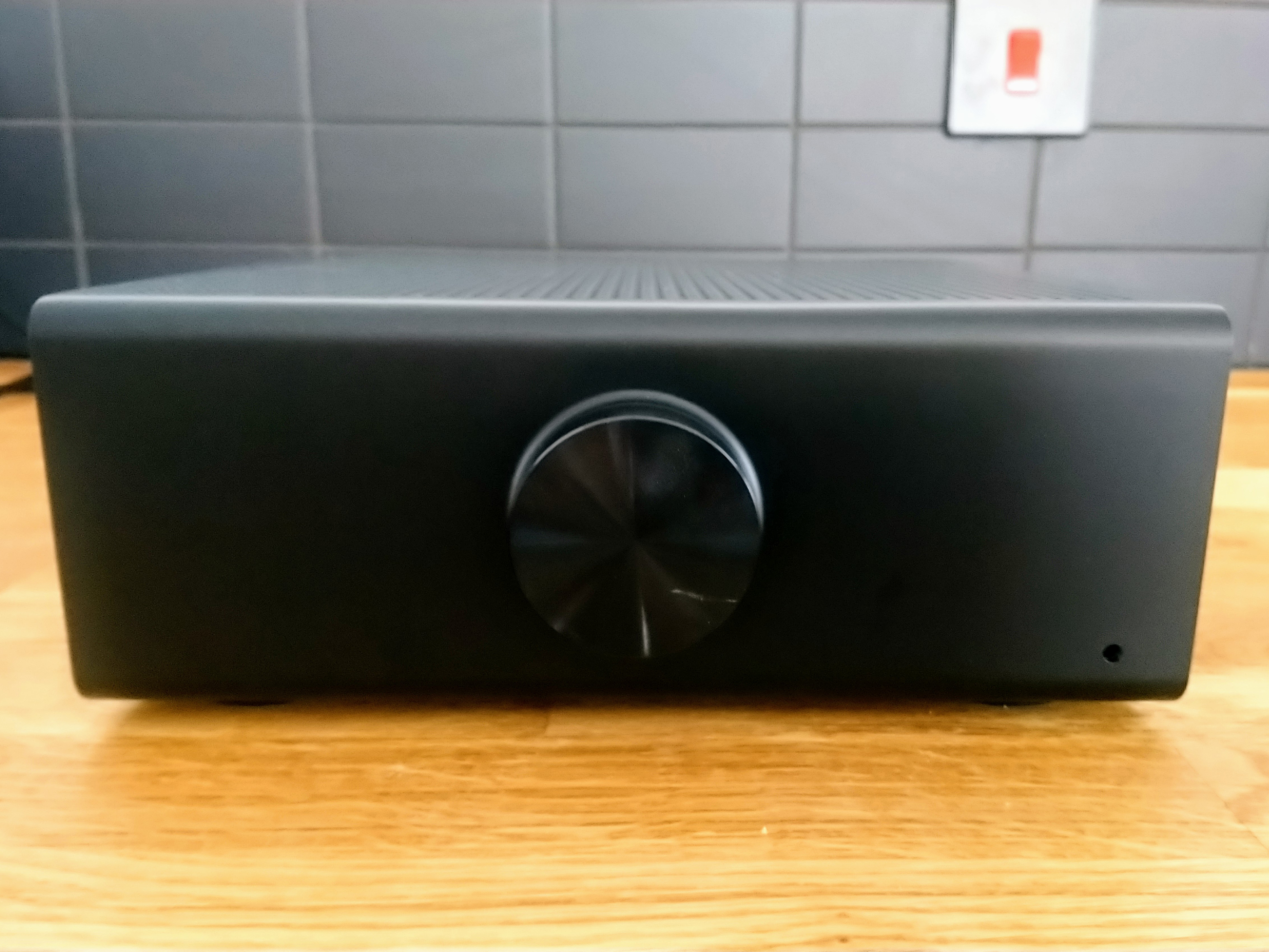 Up to this point, Amazon Echo Link Amp is a reasonably conventional stereo amplifier – despite the fact it's possible to get some music playing simply by asking for it. But once it's up and running, the case the Amazon has made for itself starts to unravel somewhat.
On the plus side, a stream of Young Fathers' Holy Ghost is quite a wide and well-organised listen, with good stereo focus. It punches meaningfully at the bottom end and there's a reasonable amount of dynamism too.
But tonally, the Echo Link Amp is all over the place. For all their weight, bass sounds are blurry and sound divorced from everything higher up the frequency range – and as a consequence there's not much fluency to the way the Amazon makes the tune sound. As you get towards the higher frequencies, the Echo Link Amp gets hard and splashy – so a vocal like this, which is already quite processed, spits and sizzles unpleasantly.
This is just as true even when playing something like Kamasi Washington's take on Clair de Lune, which is a far more forgiving recording. Clumsy bass and gritted-teeth treble make for uneasy listening.
When the going gets complex, the Amazon has no problem identifying individual strands of the recording, but struggles badly to make them sound like a unified performance. In addition, Amazon's claims of 60 watts of power per channel seem fanciful. If there are 120 watts under the bonnet here, they're the shyest and quietest watts I've ever heard.
The Echo Link Amp's volume control, like most stereo amps, starts down at six o'clock – and most 60wpc designs shouldn't need winding up beyond 11 o'clock to get meaningful volume, even if the speakers they're driving are a tricky load.
Getting some proper output from the Echo Link Amp means exploring the dial around to two or even three o'clock. This is far from common. On the whole, the Echo Link Amp sounds unsophisticated. Far more musical stereo amplifiers at this sort of money are available, and some have integrated DACs. They won't have voice control, it's true – but if the Alexa interface means such inconsistent sound, I'd rather have a remote control.
Amazon Echo Link Amp verdict
Amazon's decision to build a full-on stereo amplifier was intriguing – but the result are disappointing, especially where overall sound is concerned.
Talking to your tech is all well and good, but not if it's at the expense of audio.
Stuff Says…
Compact design and voice control doesn't make up for ill-sorted sound
Good Stuff
Tidy dimensions
Alexa voice control
Hi-res audio DAC on board
Bad Stuff
Uneven (and weirdly quiet) sound
No UPnP
Limited Alexa operability