Amazon Echo Plus 2.1 stereo system review
Amazon delivers a convenient, flexible sound system, but what about its audio?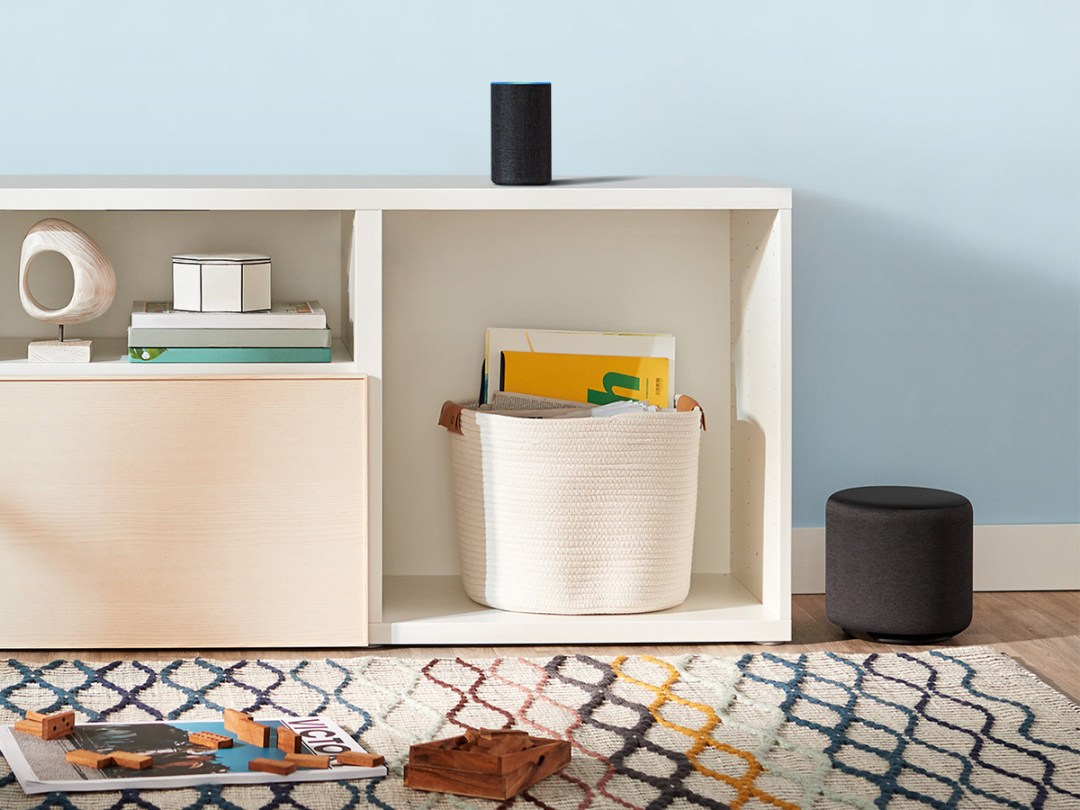 When Amazon recently announced an absolute stack of new Echo products – everything from microwave ovens to Smart Plugs – it became more obvious than ever the company will stop at nothing to become your de facto Smart Home hub.
Which is all well and good. But what about those of us like the versatility and convenience of the Echo range of speakers, but aren't wild about the sound they make?
Well, Amazon has succour for us too. In the Echo Plus 2.1 stereo system it's delivered a pair of updated Echo Plus speakers (called Generation 2) along with a brand new subwoofer (called, entirely sensibly, Echo Sub) which form a very affordable, very discreet stereo system.
No doubt the Echo Plus 2.1 will have all that admirable Alexa versatility and convenience. But can it up Amazon's audio game?
Design and build: same looks, better speaker
First things first: the second generation Echo Plus may be breaking no new design ground, but it's nevertheless a big improvement on the outgoing speaker. Slightly shorter (15cm high) and chubbier (10cm diameter) than the device it replaces, its combination of plastic and cloth may not be the most tactile in the world but it looks good in situ.
On the top plate are four buttons and seven mics. It's surrounded by the familiar Echo Light Ring which give visual cues as to what Alexa is up to. And at the bottom of the cylinder there's a mains power port and a 3.5mm analogue audio output.
The new Echo Sub, meanwhile, utilises a similar mixture of materials in its 20cm high x 21cm diameter enclosure. Its physical connectivity is restricted to mains power and a pairing button.
Like the new Echo Plus, the sub is perfectly adequately made and finished.
The plastics on each are a little hard and feel rather thin, but at the price (£140 each for the Echo Plus gen 2 and £120 for the Echo Sub, or just £300 if bought as a bundle) there's really no arguing with the way this system looks and feels.
Features: connectivity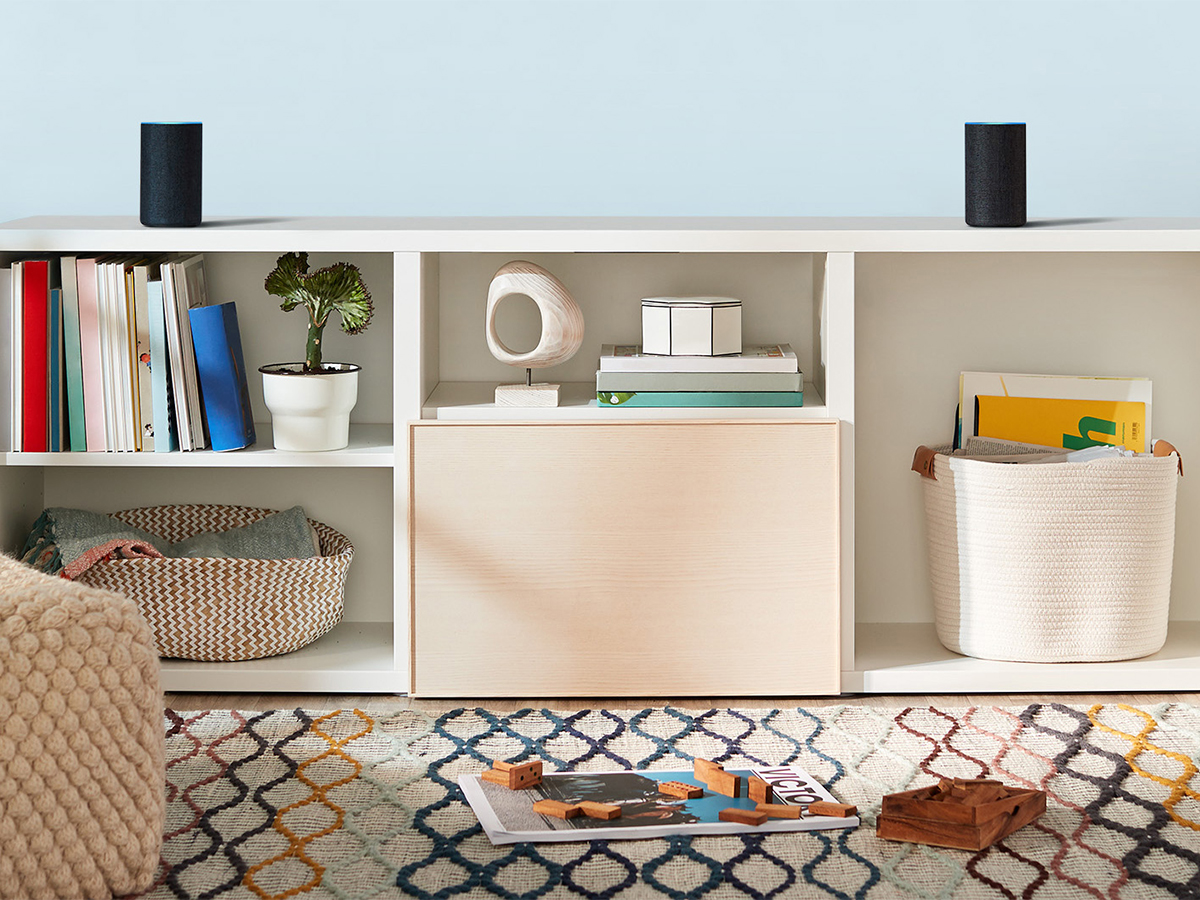 Beneath the cloth and plastic, this second generation Echo Plus contains a downward-firing 7.5cm neodymium mid/bass driver above an upward-facing 20mm tweeter. This arrangement, along with some input from Dolby, is intended to result in the Echo Plus giving an impression of 360-degree sound.
Sitting above both drivers inside the cabinet is a Zigbee Smart Home hub. So any Zigbee-compliant wall-switches, light-bulbs, mains sockets or what-have-you can be controlled remotely with no need for them to sit on your main network. Which is nice.
Bluetooth and dual-band wi-fi connectivity complete a very satisfying Echo Plus gen 2 feature set.
The all-new Echo Sub is the only Echo model that's not controllable via Alexa, and it won't function outside the Echo ecosystem. It's similarly cylindrical to Echo Plus, and is similarly finished in acceptable-if-hardly-luxurious cloth and plastic.
It's packing a down-firing 15cm driver in its four-litre enclosure, powered by 100 watts of Class D clout, which should (claims Amazon) allow it reach down from 200Hz to 30Hz. Which is plenty deeper than any other Echo product.
Interface: voice control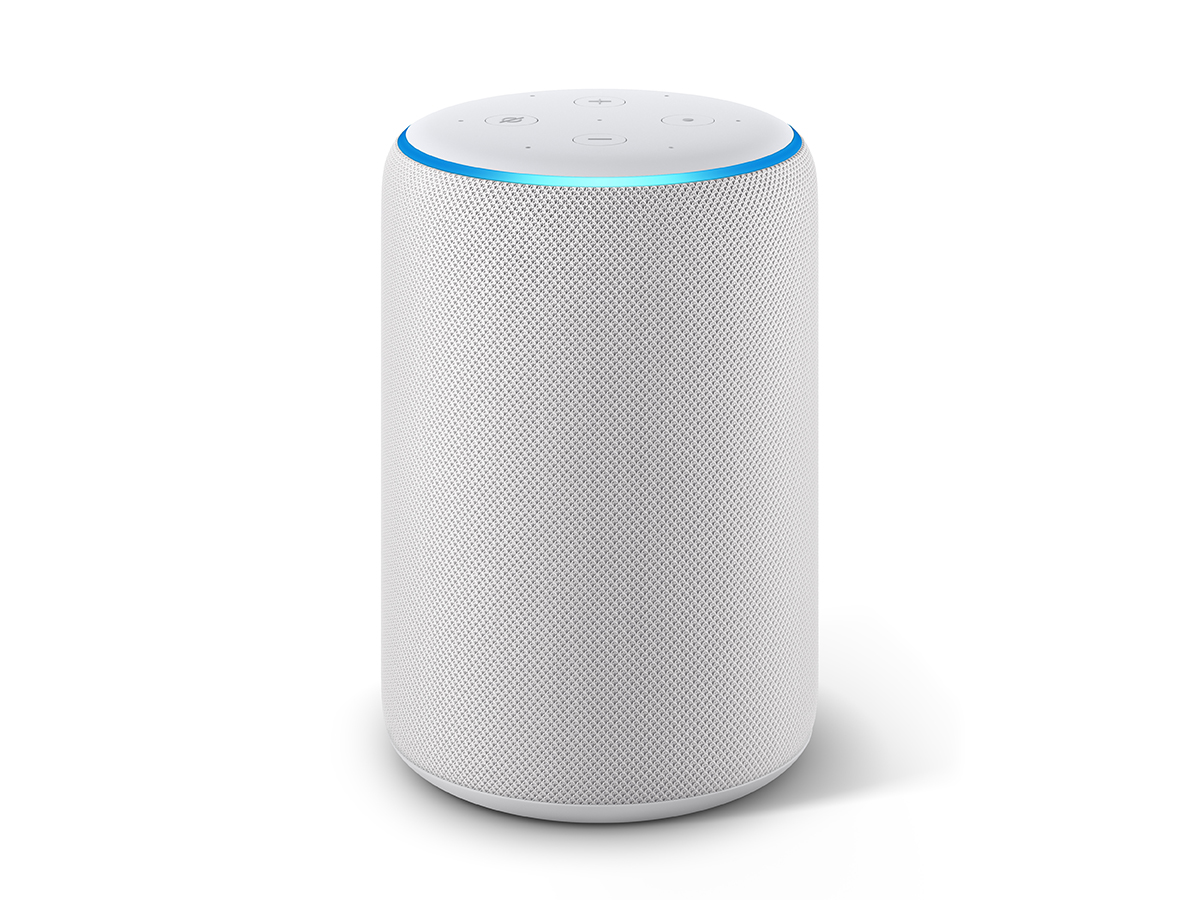 The Alexa app is straightforward enough and stable enough – but, let's face it, no one ever got into Alexa products because they enjoy pressing buttons.
First off, form a system. It's straightforward enough: make sure your Echo Pluses are on your network (they're easily defined as 'left' and 'right' channels), plug in the Echo Sub and open the Alexa app. You're now just a couple of prompts away from forming a 2.1 system (the app can only store one system at a time, though).
Voice control is instinctive and logical – keep it simple-ish and Alexa has absolutely no problem understanding and executing your instructions. The vocabulary she can understand is extensive, too – although some more robust regional accents can cause consternation. Ask a Scottish friend to try a few commands out and see how far you get.
Performance: depth and height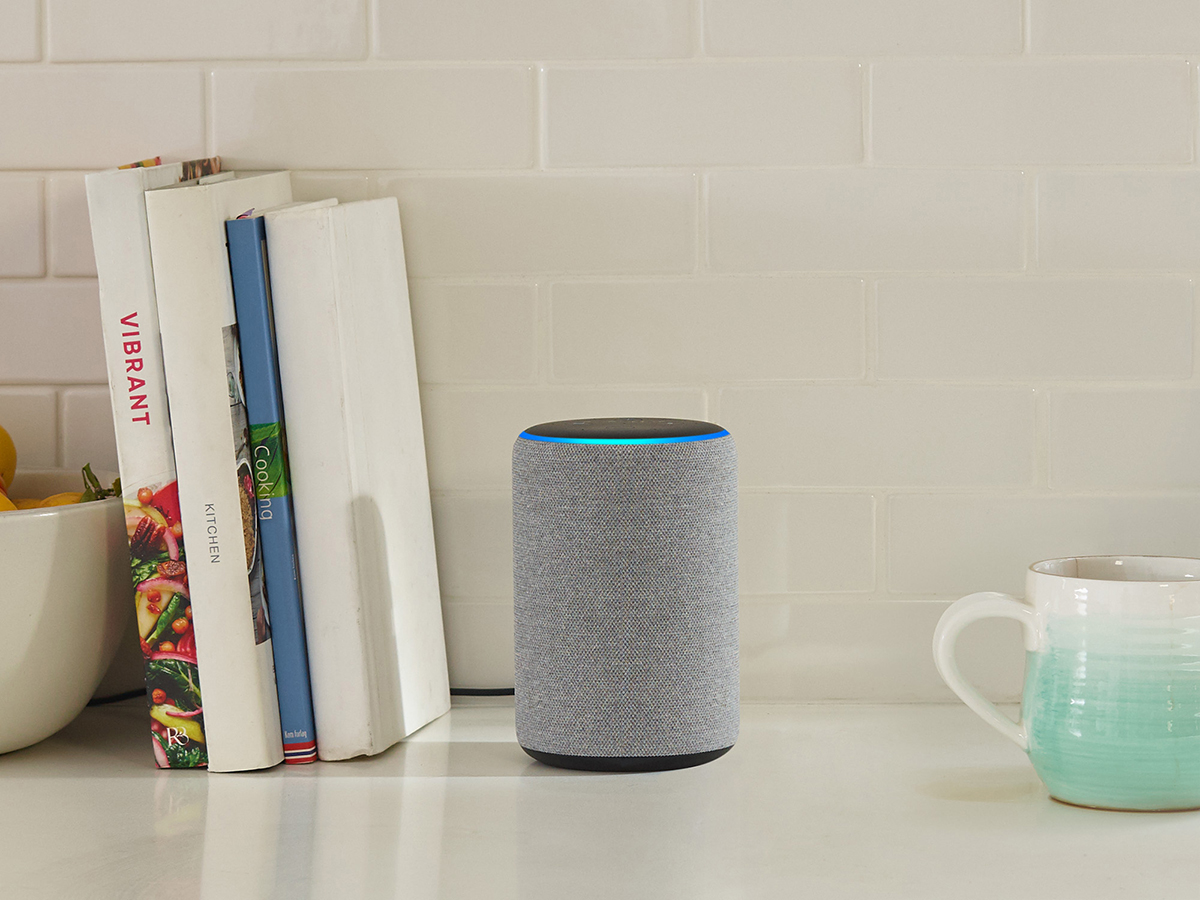 Amazon is not shy when it comes to suggesting the new Echo Plus is an improvement over the old model – and there's no doubt about it, this smaller speaker makes a bigger sound. It's still not the last word in bass extension – any number of similarly priced rival wireless speakers will dig deeper – but it's a bolder and bolshier listen than the speaker it replaces.
Drive it at house-party levels and it will soon get stressed at the top end, and that tendency is only aggravated by playing low-quality digital files – the sort of fare Spotify serves up on its free tier, for example. But it's sweet enough through the midrange, where voices are deftly rendered with plenty of detail and character.
And while that claim of 360-degree listening is a false flag, the gen 2 spreads sound much wider than the original Plus. Which means it's easy to get workable sound no matter where you plonk it.
Turning a couple of Echo Pluses into a true left/right stereo pair means taking a little more care about how you position them, of course. But give them a chance and they'll deliver a truly impressive soundstage, demonstrating good focus and a decent impression of depth and height.
The overall balance of the sound is sensible (as long as you avoid properly neighbour-baiting volume levels). Like an audio equivalent of the Three Little Pigs, they're not too laid-back and not too aggressive – they're just right.
Integrate the Echo Sub, though, and suddenly you've an authentic stereo system worthy of the description. Bass sounds are now delivered in full and with decent force, rather than just being hinted at.
The Sub's combination of small-ish driver and biggish power means it can hit hard but accurately, so even fast-moving bass-lines are distinct and well defined.
It isn't the subtlest subwoofer you ever heard, mind you – it's a little short of detail and texture, and can sound a bit lumpy and monotonal if it's asked to work really hard. And its baton handover to the Echo Pluses isn't the smoothest, either.
By the standards of £300-ish wireless speaker packages, though, it's generally pretty good and capable of being occasionally spectacular.
Amazon Echo Plus 2.1: Verdict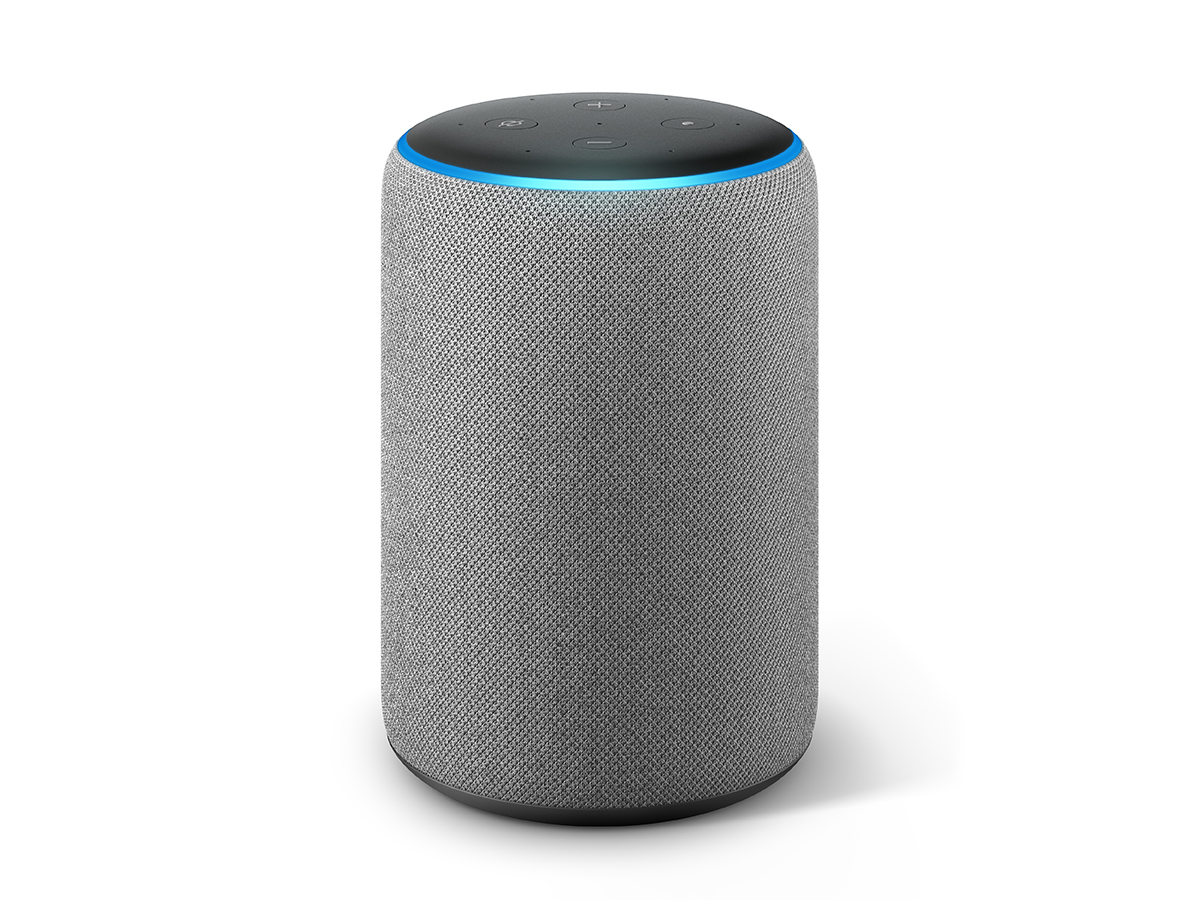 Absolute convenience and flexibility, a really pleasing interface and, broadly speaking, very agreeable sound, for £299. It's not perfect, of course – but the Echo Plus 2.1 system is impressive nevertheless.
Stuff Says…
Full-on stereo sound, wirelessly and with voice control, for £300? Yes please
Good Stuff
Alexa functionality works well
Affordable price tag
Good audio quality
Bad Stuff
Bass quality could be better