Amazon Echo Show 5 review
Does shrinking the camera-packing Show make it a more tempting proposition?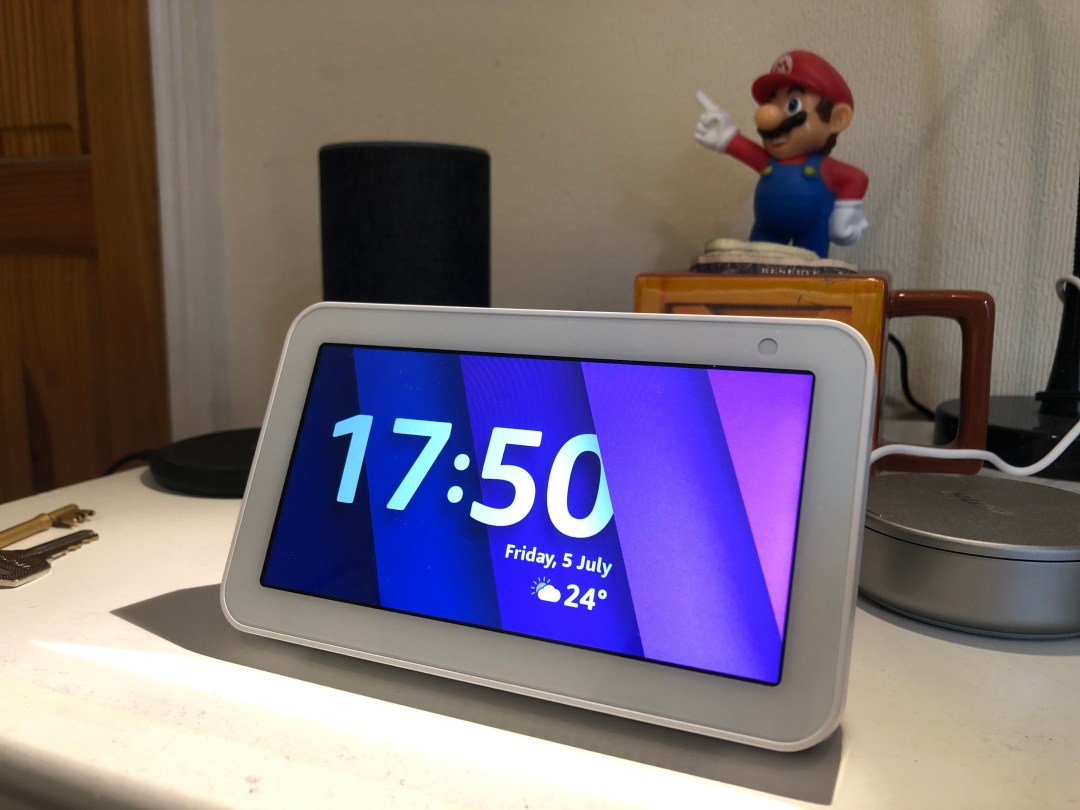 Amazon's Echo family just keeps on growing. If you've got a gap somewhere in your house, there's almost certainly an Alexa-infused gadget you can fill with it.
The latest arrival is the Echo Show 5, a smaller, cheaper version of its 10in namesake and a rival to Google's Nest Hub, Lenovo's Smart Clock and, whether it was meant to be or not, Amazon's own Echo Spot.
While it's not perfect, the Echo Show 5's impressive feature set and low price point make it the Echo Dot of smart displays, and the one most people should buy.
Design: shrunken treasure
The Echo Show 5's diminutive form means it can fit pretty much anywhere you need it. Just 3.4in tall and 2.9in deep, it's easy to accommodate on a crowded kitchen top, your office desk or bedside table. Given its alarm clock credentials (more on that in a bit), I opted for the latter.
The previous Echo Show was already a little on the unwieldy side. Next to its little brother it looks comically enormous. With its 5.5in display and big bezels, the Echo Show 5 look not unlike an iPhone 8 Plus being propped up on a portable Bluetooth speaker. The extra inch and a half it has on Lenovo's Smart Clock makes a difference, though, and you'll be able to comfortably glance at a BBC video news bulletin from across the room.
Amazon has opted for a similar fabric-wrapped back to the big Echo Show, lending it a pleasingly clean, minimalist aesthetic. You plug it into power at the back – no wireless option – and there's a Micro USB port here too. Why, I'm not entirely sure.
Across the bar at the top you'll find volume controls and a slider for enabling and disabling the camera in the top right corner. If your Echo Show 5 is going to live in the bedroom, a camera is always going to be a controversial inclusion, but it couldn't be easier to block it from staring at you while you get dressed. For the ultra-cautious cloud cynics, an additional button also cuts the mic.
And on the subject of mics, there are two here. They won't struggle to pick up your voice close by, but you'll need to raise the volume if you're across the room.
Features: anything you can do
If you've used any Alexa-enabled device before, you'll be bossing the Echo Show 5 around in no time. The always improving voice assistant can do everything you'd expect upon command, from checking the weather, playing music and ordering you an Uber, to tweaking your thermostat and reminding you of Eddie Murphy's last film.
That's not to say Alexa never lets you down. The AI is still an irritatingly poor listener at times, failing to obey basic commands such as "turn off the lamp". Having to repeat yourself multiple times to a human being is annoying. Doing it to a faintly glowing rectangle just before you go to sleep can get a bit maddening.
The obvious benefit of smart displays is that they add a visual layer to the audio. Ask for your Flash Briefing and news will include video, the 7 Minute Workout Alexa skill shows you a picture of how to do whatever exercise you're about to be humbled by, and wikiHow features images alongside its step-by-step instructions. Perhaps best of all, when Alexa for some reason decided to pretend she was about to self-destruct, I got a nice 'Kaboom' graphic to go with it.
I'm not suggesting you should be watching a movie on this thing, but with Amazon Prime Video preloaded you can if you want. Weirdly, I could use voice commands to show me a rundown of the best new things to watch, but actually playing a show required me to tap it on the display. Even if you're unlikely to use the Echo Show 5 for entertainment, pulling up a movie trailer – as I did with Spider-Man: Far From Home just before heading to the cinema to watch it – is neat. It's just a shame that you won't find YouTube on here anytime soon.
While you can do all of the above on any smart display, the Echo Show 5's screen-based abilities greatly outdo Lenovo's Google Assistant-equipped Smart Clock, which costs exactly the same.
And Amazon's device is just as good at the alarm clock stuff. There are numerous clock faces and colour schemes to choose from, each with the option of displaying the date and weather. The Echo Show 5 can automatically adjust screen brightness in accordance to light in the room, and you can have it trigger your morning routine as you wake up. It might, for example, turn the lights on and give you the weather forecast, before tuning into 6 Music. The only thing I found offensive was that a Manchester City chant was one of the available alarm sounds in settings.
The UI is fine, if a little limited. By default, the home screen will cycle between your chosen digital clock face and trending topics, such as the triumphant return of extra-strong Marmite, which you can ask Alexa to tell you more about. Swiping down from the top of the screen allows you to manually adjust the brightness and access settings.
Swiping left from the right-hand side, meanwhile, lets you mess about with smart home pairing, music, video, alarms and routines.
There's no home button physical or otherwise, but I quickly worked out that the command "Alexa go home" did the trick. The emphasis on using voice control is fine by me, but it's a bit annoying that deeper customisation requires the Alexa app. For example, you can toggle any of your saved routines on the Echo Show 5, but adding new steps needs your phone.
Screen and sound: Bit of a squeeze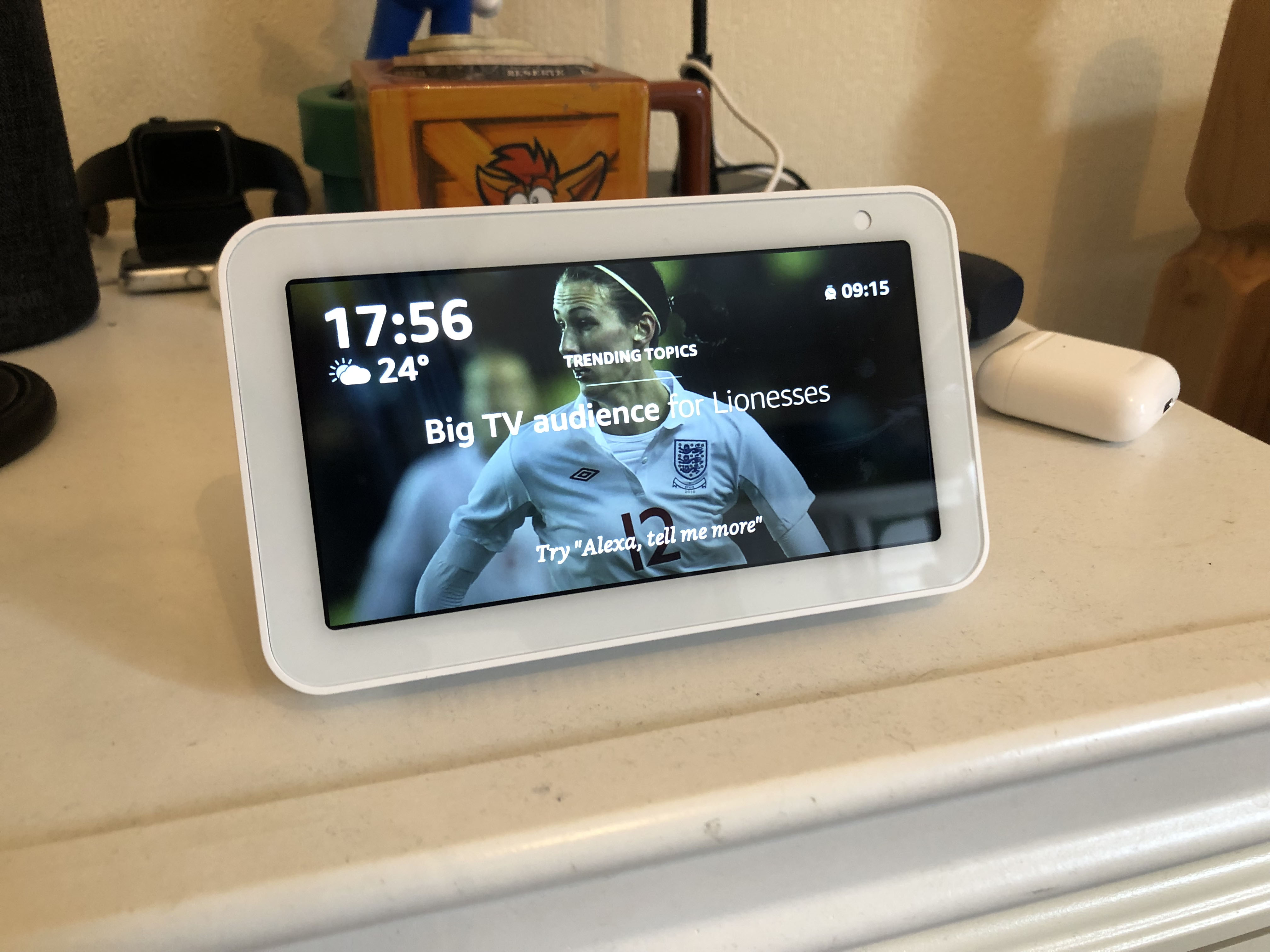 The Echo Show 5's display is comparable in size to your phone, but at 960 x 480 it's much lower resolution. While nothing looks bad, colours aren't particularly punchy and images just lack a bit of life. Given the price tag, though, it seems unreasonable to expect much more.
And for all the flexibility that its diddy design affords you in terms of finding the Show 5 somewhere to live, the display can feel a little cramped, squeezing in more information than was comfortable to read from anywhere but right up close.
Google's Home Hub has been dubbed the perfect digital photo frame, but without Google Photos and only the far less popular Amazon Photos as an option, the Echo Show 5 isn't going to rival it. Still, you can use it for that if you want to, and the display is probably just big enough to make it appealing.
The Echo Show 5 also offers hands-free video calls to those with an Echo Spot or their own Echo Show, or via the Alexa app or Skype. Quality, as you might expect, isn't brilliant, but it's adequate if you choose to use the Show 5 instead of your phone for such things.
Turn the volume up to full and you might be surprised at how loud this thing can get. That said, the lack of bass and detail meant my Chance the Rapper playlist was quickly moved to a dedicated smart speaker. Push it above the halfway point and the sound suffers noticeably. For chatting, podcasts and radio, though, the Show 5 is more than up to the job.
Amazon Echo Show 5 verdict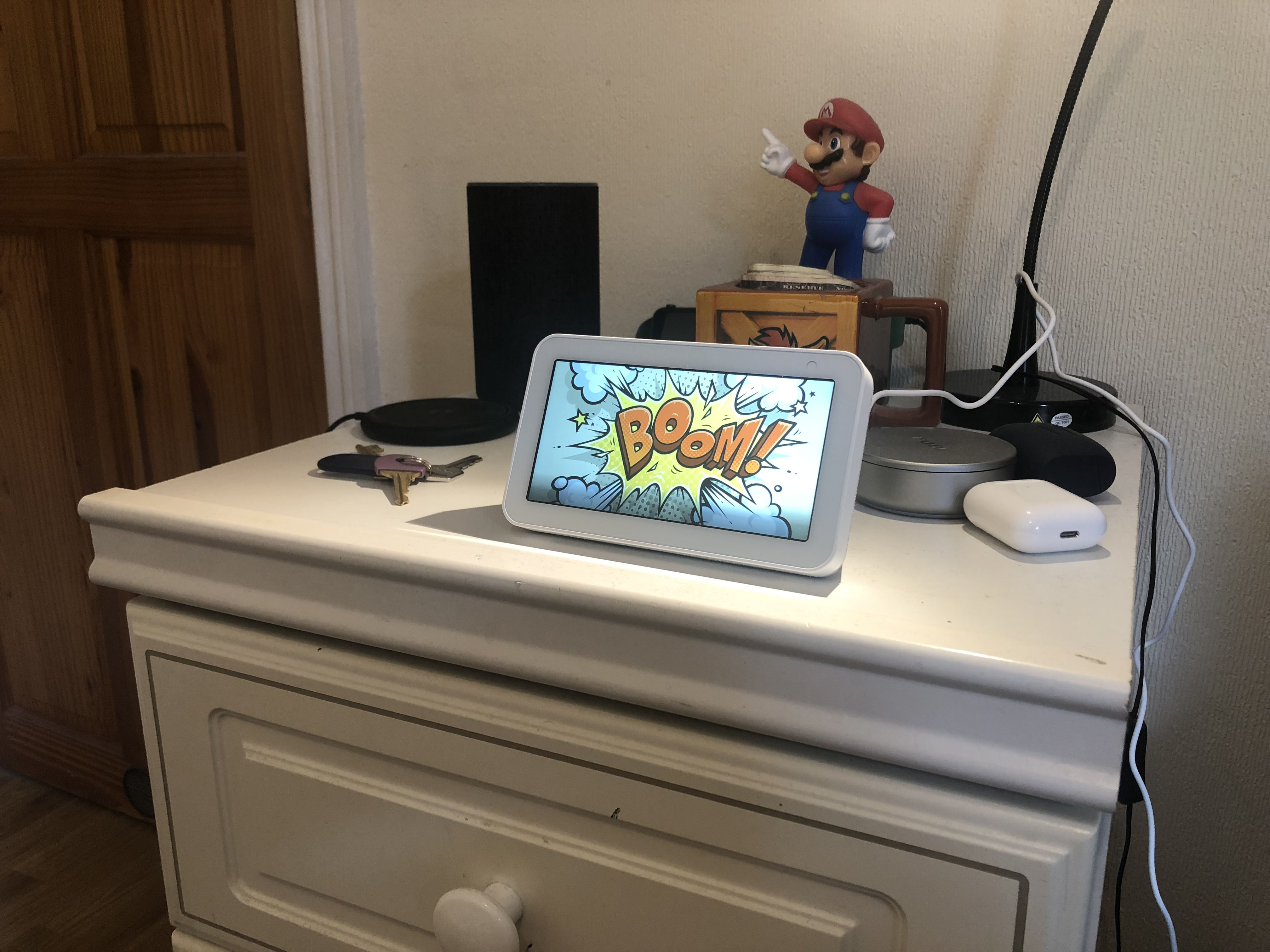 After using the Echo Show 5, shrinking the screen was a no-brainer for Amazon. It means it fits into your life more easily but still allows you to fall back on a visual interface when words just aren't enough.
It's low price and larger display makes it a smarter buy than the Echo Spot, and it's hard to recommend the less capable Lenovo Smart clock at the same cost, especially when the Show 5 is an equally good clock. Paying a considerable chunk more for a full-size Echo Show gets you a device better suited for watching video, as well as dedicated web browsers and a more media-rich screen. But to most people, none of these things are essential anyway.
Improvements could be made, but the Echo Show is the best value-for-money smart display you can buy right now.
Stuff Says…
Aa great alarm clock and a feature-packed smart display that's already a bargain
Good Stuff
Sub-£100 price tag
Plays video
Surprisingly loud
Works brilliantly as an alarm clock
Visual element improves many Alexa skills
Bad Stuff
Resolution isn't great
Won't do your music library justice
Alexa can be temperamental