Amazon Kindle Kids Edition review
Can Amazon's world-conquering e-reader convert a new generation?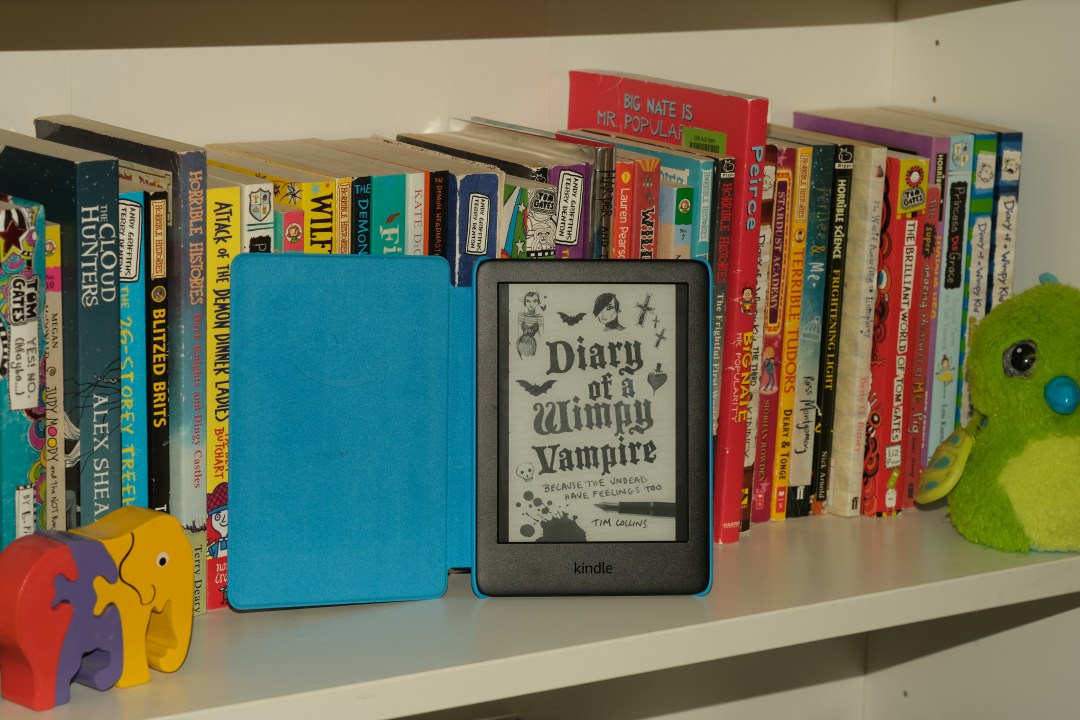 There's absolutely no question that reading is a very good thing for kids – after all, it's educational, broadens their horizons and sparks their imagination.
More importantly, for the parents at least, it also keeps them quiet (for once) and doesn't cost much money.
A new Kindle aimed squarely at children therefore sounds like a good idea – and indeed it is.
The £100 Kindle for Kids comes with a sturdy and colourful case plus a year's subscription to Amazon's Fire for Kids Unlimited service and a two-year no-questions-asked replacement guarantee, all of which should be enough to create a bookworm out of even the most reluctant of readers.
Whether it's good enough value to actually make it worth buying, though, will probably depend on your own reading habits.
DESIGN AND SCREEN: FAMILIAR FRIEND
At its heart, the Amazon Kindle for Kids is just a regular 10th-generation Kindle with a colourful cover and a big marketing budget; almost all of its child-friendly magic comes via the software inside.
That's not to say it's not a nice bit of kit, though. It's now more than a decade since the first Kindle arrived and Amazon's refined it brilliantly over the years.
Though based on the cheapest of the tech giant's three models it's a very capable e-reader, with a 6in display, a built-in light and 8GB of storage. The screen has a 167ppi resolution, which is perfectly acceptable, and it's easy to read whether you're in bright sunlight or hiding under the covers finishing Harry Potter when you're meant to be asleep. It is a little slow to refresh, though.
The Kindle unit itself is an impressively lightweight but reassuringly sturdy thing, with a chunky black frame – there's no white version for kids – and just the one button on the bottom, for waking it.
The case is equally impressive. The hard plastic rear is moulded so that the Kindle fits snugly inside without any danger of it falling out and the inner front cover has a nice velvet feel, plus a magnet to turn the screen on and off when opened and closed. Outside, it's finished with a soft-touch plastic that feels very durable.
Well built though the cover may be, it's frustrating that as of the time of writing it's only available in pink and blue. Maybe there's no sexism intended here and Amazon just likes those stereotypical colours – I'll give it the benefit of the doubt. But even if that is the case, it's still a strangely restrictive offering.
If, like me, you have two daughters who both hate pink in large part because so much of the world still seems to think that it's "for girls", you either have to buy them both the same blue version – and face endless arguments about which one owns which – or buy one of each and upset one. Yeah, sucks to be me.
Fortunately, more colours are supposed to be on the way in January – in the US there are also 'Rainbow Bird' and 'Space Station' options, so hopefully they reach the UK too.
That aside, it's all good on the hardware front. Children are the world's foremost experts at breaking the supposedly unbreakable, but I suspect the Amazon Kindle for Kids would tax even the most creatively destructive of little scamps. Well, unless they dunk it in water – unlike the more expensive Paperwhite and Oasis models, the basic Kindle isn't waterproof.
BATTERY LIFE AND PERFORMANCE: SLOW AND STEADY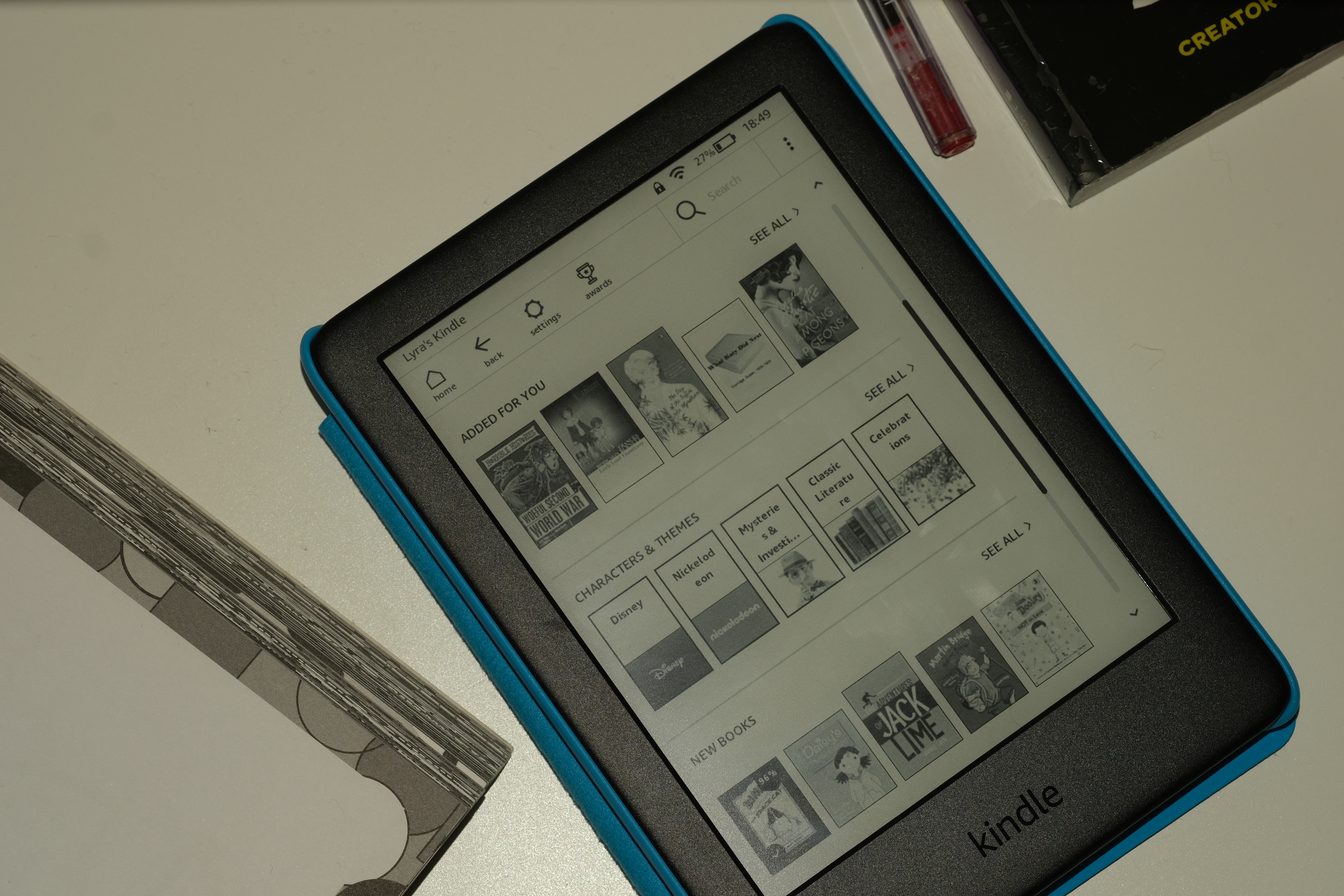 Charging is done via the microUSB port on the bottom and takes around 4hrs from flat. There's no plug supplied with the unit, which is a little stingy, but you do get a USB cable.
Amazon claims it'll last for four weeks on a full charge, but that's based on "half an hour of reading a day, with wireless off and the light setting at 13".
My test subject routinely whacked the screen up to the full 24, left wireless on constantly and read for several hours' a day – consequently, she got more like a week out of it.
Still, given that most tablets and phones will only give you a day or so, a battery life of 1-4 weeks is a pretty easy thing to live with; it never proved a problem in our house.
As with all Kindles, performance is a little sluggish at times. There's a noticeable judder as the screen refreshes between pages, particularly if – as with many kids' books – there are pictures on them. Searching for new titles is also a frustrating experience for those of us more used to octa-core smartphones, with each letter you type seeming to wander in, yawn and take a look around before settling down in its place.
None of that is really a big problem, though – after all, paper books can't do clever things like search or bring up contextual dictionaries at all, let alone do them speedily.
SOFTWARE: DOING IT FOR THE KIDS
Amazon's got a great track record at creating child-friendly software: its tablets are streets ahead of Apple or Android devices and have been for years. Alright, so there's always the suspicion it's all part of a dastardly plot to convert young'uns into future Amazon consumers, but the fact is, it offers a safe, simple and reasonably educational digital space for your offspring to explore.
All Amazon's child-focused devices are built around the Fire for Kids platform and all offer an ad-free environment with an impressive array of parent-friendly features such as the ability to restrict screen time and see what they've been up to.
Fire for Kids works on both tablets and Kindles, albeit in a stripped-back format on the e-readers. Nice little touches include an Awards feature, which gives you trophies for passing reading goals, plus the built-in Word Wise function, which pops up with definitions of terms it thinks you won't know.
All of this is available on a standard Kindle that's been placed into Fire for Kids mode, though – so what you're really paying the extra for here is the Kids Unlimited subscription.
Fire for Kids Unlimited is Amazon's Netflix-like all-you-can-eat (or rather read, or play) service. It usually costs £1.99/month if you have a Prime subscription (and who doesn't?) or £3.99 if you don't, with various deals available if you have more than one child. Buy a Kindle for Kids, though, and you get the first year for free – saving you at least £24.
So, is it worth it? Well, it's definitely worth it in tablet form, where you get access to loads of good games plus the same library of books as you do on the Kindle. But given that you can't play games on an e-reader, that book selection needs to work a lot harder here to justify the cost.
Plenty of big-name titles are available – all of the Harry Potter books are here, for instance – but plenty of others aren't. There's no Hobbit or His Dark Materials trilogy or Narnia books. All of the Big Nate books are available but none of the Diary of a Wimpy Kid titles. There's no The World's Worst Children or The Gruffalo, but there are several old classics such as The Secret Garden and The Railway Children. Still, if your child is a slightly reluctant reader, they'll be pleased to know there are loads of Minecraft books plus comics such as the Beano.
In short, it's exactly like the Amazon Prime Video service – a few great headliners, a few random classics and plenty of rather average fare.
For all that, with so many titles to choose from there's undoubtedly enough to keep most kids happy for a year – after which you can always end the subscription and just buy books on an individual basis.
AMAZON KINDLE FOR KIDS VERDICT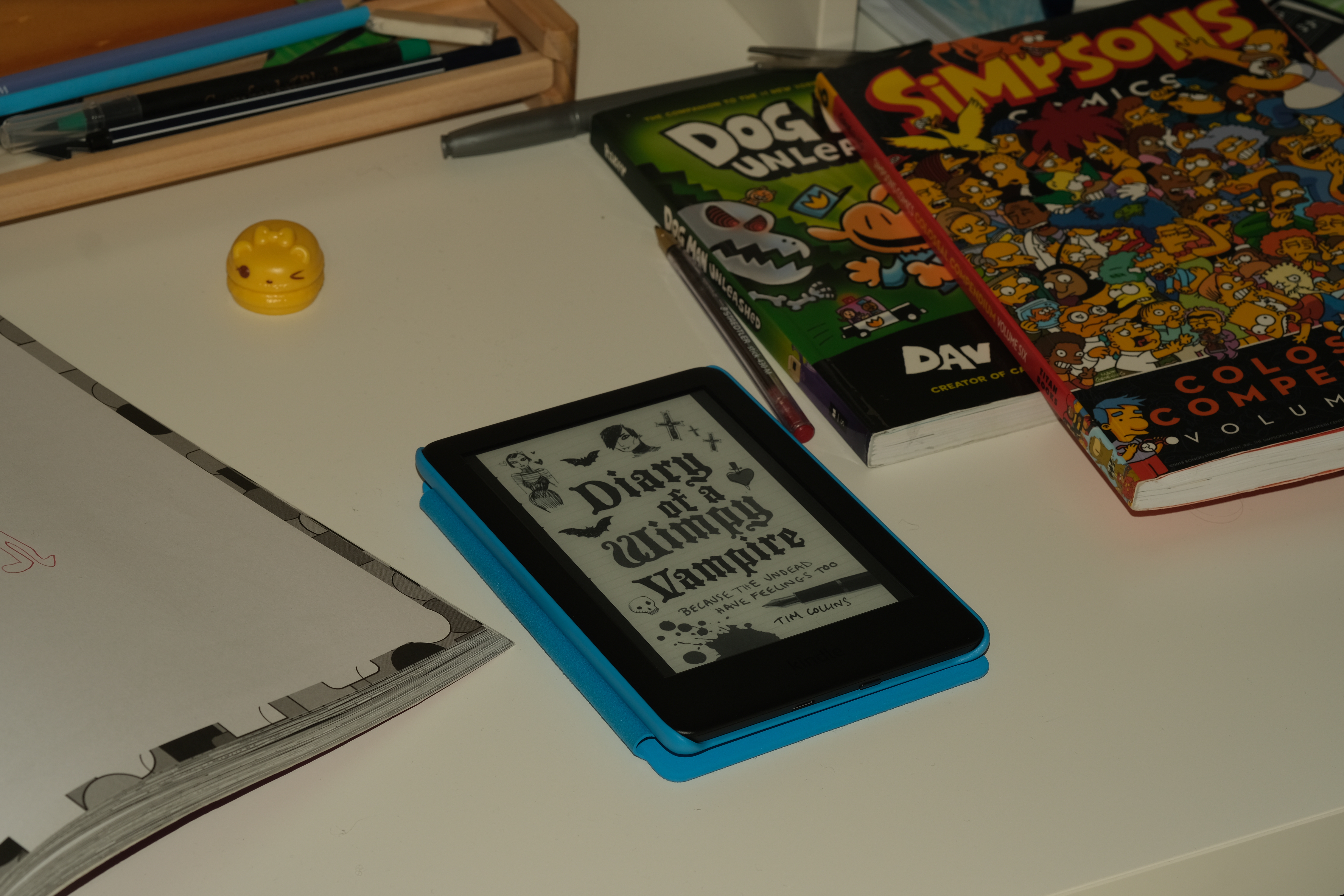 As a product in its own right the Kindle for Kids is a great device. It's well made, has a good screen with a built-in light and a sturdy cover – even if I'd have liked more colour options.
The year's free subscription to Kids Unlimited is enough to justify the extra cost over the adult version of the e-reader (which can also run the exact same software), and the two-year breakage guarantee is a further bonus. And before you decide that you won't need it, consider how many times you've seen your kids do really stupid things – trust me, I know from experience that it's worth having.
However, if your family is anything like mine then you probably already have a couple of old Kindles knocking around – and if you do, then it's a lot harder to justify buying the new device. After all, any old Kindle can run the Fire for Kids software.
If you don't have a spare, however, then the Kindle for Kids makes a lot of sense and is sure to delight plenty of children this Christmas.
Stuff Says…
The Kindle for Kids isn't perfect but it's easily the best e-reader you can buy for children
Good Stuff
Sturdy build
Nice cover
Good screen
Two-year replacement scheme
Safe environment
Bad Stuff
Lack of colour options
Slightly sluggish performance
A few gaps in the library