Amazon Kindle Paperwhite 2018 review
Amazon's most popular Kindle can now join you for bath time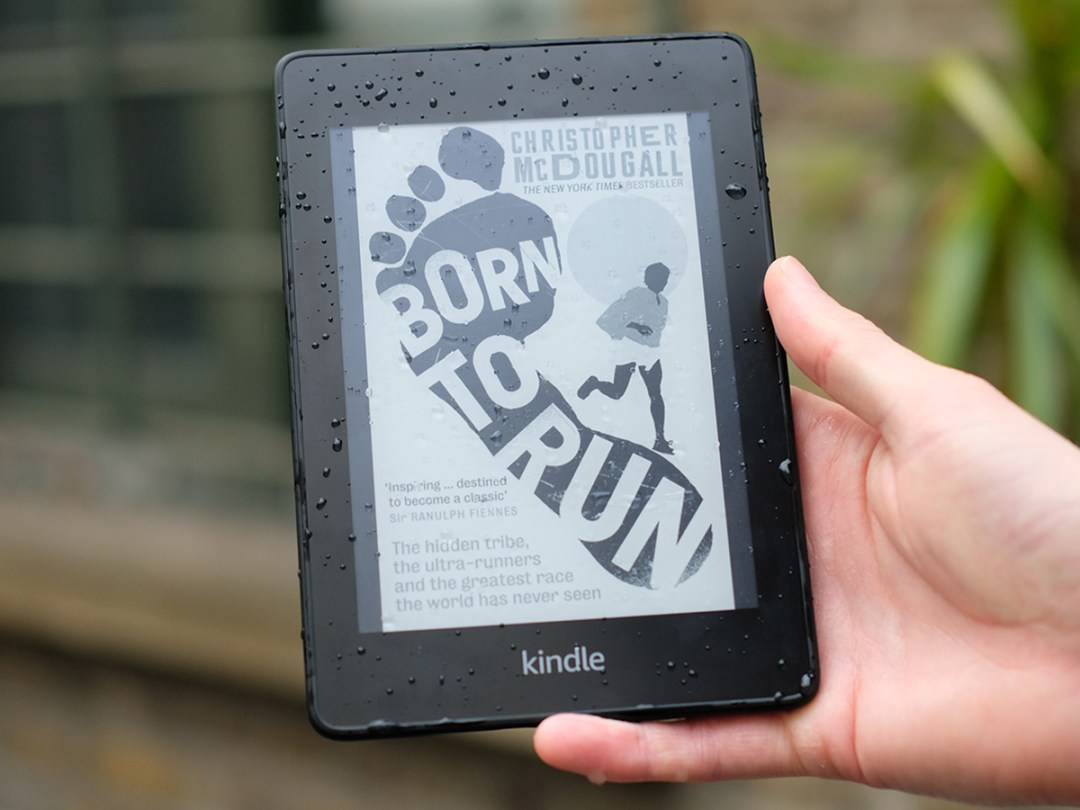 For as long as we can remember, Amazon's Kindle Paperwhite has been the eReader we'd recommend to you, your mum and your remarkably intelligent budgie.
Or to put it another way: if Goldilocks was massively into Philip Pullman novels, we reckon she'd have found the Paperwhite to be just right.
Why? It's markedly better than the cheapest, entry-level model, but still great value for money if you're a dedicated bookworm. And nobody really needs the bells and whistles offered by the much pricier Kindle Oasis, right?
Well, that's not entirely true. There are a few features that old Kindle Paperwhite owners would have been slightly envious of: waterproofing and Audible integration
No longer need your poolside reading be clouded by fear, anticipating a detrimental divebomb from a restless nearby kid. 
The 2018 Kindle Paperwhite adds both of the above features while retaining a very reasonable £120 price tag. You can probably tell where this is going, but read on to find out if we dig the the new word slate.
Design and screen: flush surroundings
While the new Paperwhite sticks with the lightweight and utilitarian overall aesthetic of its crazy popular predecessor, there is one noticeable change.
The inset screen has been swapped for one that is flush with the body, giving the eReader a sleeker, more unified look, as well as making it easier to clean. It's also not going to catch on buttons and the like as you slide it in and out of your pocket. And being scratch and shatter-resistant, it's not like it would matter all that much if it did.
I did notice that the fairly large bezel is a bit of a smudge magnet. While it's not a major issue, I found myself wiping the front of the device more often than I'd like. The plastic back, though welcomely grippy, can also get mucky fast. You can always pick up one of Amazon's various cases if it's really bothering you.
The 2018 Paperwhite is apparently thinner and lighter than last time too. It's not a massively noticeable change in the hand, but then the Paperwhite was already a wonderful thing to wield.
The sole button you'll find on the Paperwhite is the sleep/wake button, meaning the only way to flick through pages is by using the touchscreen. Fortunately, this still works fine once you've sussed out the jabbing sweetspots. Next to the single physical button there remains a micro-USB port. We wish Amazon would make this USB-C.
The screen is 6 inches with a 300 PPI resolution, making it identical to the last model. It's completely glare-free and as good as you're ever going to need from a display used exclusively for reading books. We wouldn't want to pay more money for something slightly more high-res.
The feature that separates the Paperwhite from both the basic Kindle and actual books is its frontlit display, which enables you to keep reading away in the dark. You still have to adjust this manually, but Amazon has added a fifth LED light for better dispersion of light.
Features: Just add water
Probably the biggest addition to the Kindle Paperwhite 2018 is the IPX8 waterproofing, a certification we've been enjoying on our smartphones and eReaders on the premium end of the spectrum for quite a while.
You're probably not going to be reading Peter Crouch's new autobiography while you're snorkelling, but you can now read it worry-free in the bath, while a dunk in the sea will quickly rescue any sandy incidents.
We can confirm that our review Paperwhite has been splashed and submerged without issue.
The other major feature borrowed from the Oasis is Audible integration. The Paperwhite now supports Bluetooth, so you can pair up some wireless cans and have Yuval Noah Harari do the reading for you. There aren't any speakers, so Bluetooth headphones really are a must here.
I listened to a bit of comedian and former doctor Adam Kay's quite brilliant 'This is Going to Hurt', and it works just as you'd expect. Handily, if you own both audio and text versions of the book you can hop between them seamlessly without losing your spot.
All those audiobooks are inevitably going to hog more memory than you're used to, so Amazon has kindly doubled the base memory to 8GB, and there's a 32GB version for the seriously dedicated media hoarder.
Software: Doing it for the kids
If you've used a Kindle before you'll immediately be familiar with the interface.
From the home screen you can quickly access your library, complete with nice monochrome cover art, view your reading lists, and hop into the Kindle store to browse the multiple millions of eBooks Amazon offers.
There are sections for both eBook and Audible recommendations based on your reading history, as well as a fun revolving trivia section right at the bottom. It's uncluttered and easy to get to grips with.
The new home screen makes it easier to customise your reading options, such as font sizes and spacing, and then create different profiles, say, for reading with your kids or going to the gym.
Useful features like an inverted Black and White mode are buried in the settings, so it's worth having a tap around to familiarise yourself when you set up the Kindle.
Battery and performance: Longread
Using a Kindle has never been lightning fast, and don't expect that to change here. Prepare for shorts bouts of lag when turning the page and navigating the menus. Typing in Wi-Fi passwords and book titles, meanwhile, can be a bit painful if you're used to reading on a tablet.
But reading is a far more leisurely experience than darting between apps and websites. You don't need a lightning fast processor, and reading on a Paperwhite is just glorious. E-ink is as good as the real stuff, and to me, being able to effortlessly flick through pages with Kindle in one hand and a chocolate bar in the other is the eReaders trump card over the old-fashioned paperback. Tell me I'm wrong.
Amazon says battery life remains the same as the previous Paperwhite – ages, then. Everything depends on usage of course, but I'd say most people will see their device last a few weeks between charges. Spending a lot of time listening to audiobooks and only reading when you need the brightness cranked up to full will likely deplete it faster.
If you're just reading books for an hour or so every day, you won't be bothered by a low battery indicator very often.
Amazon Kindle Paperwhite verdict
The last Paperwhite felt like the perfect eReader until the Oasis started showing off. Its successor takes nearly everything we loved about that device and improves its forerunner's design, all for a price that won't chip off too much of your credit card.
My Paperwhite hasn't spent a lot of time around water during review, but come summertime, waterproofing will be a godsend. And although I'm someone who prefers to read books than listen to them, Audible integration is great to have.
So, do you upgrade? If the above features entice you, then I'd say go for it. If you avoid water at all costs, you probably don't need to, you weirdo.
It's also difficult to see why someone would splash out an extra hundred or more on an eReader for a few superfluous flourishes. It's just a book, you know?
If you're in the market for an eReader, the Kindle Paperwhite is the one to buy.
Stuff Says…
Still the best overall Kindle when price is taken into consideration, and now it gains the Oasis' best tricks
Good Stuff
It's waterproof!
It's Bluetooth!
Books look great
(Very slightly) improved brightness
Bad Stuff
Still feels a bit sluggish at times
Smudges