App of the week: Vue review
Craft six-second cinematic masterpieces for Vine and elsewhere with this swish video app
Andy Warhol once waggishly remarked everyone would get fifteen minutes of fame. But Warhol was from the 1960s – things move much faster now.
Today, you might just get six seconds of glory by uploading a video to Vine. If you want to maximise your chances of success, though, we reckon you're better off using Vue.
Vine, by its very nature, forces you into certain ways of creating. You tap to record until your six seconds are filled, add some music, tweak trims, upload, and then sit back to await your adoring masses — many of which might be wondering if you've ever heard about 'production values'.
Vue strives for something better, with a smart user interface and sense of focus that's all about the video and merely pays lip service to the social networking side of things. To get started, you choose a filter, most of which ape the look of famous movies (2001: A Space Odyssey; Eternal Sunshine of the Spotless Mind).
You next select a scale: square, 16:9 'widescreen', or 2.39:1 'I think I'm Steven Spielberg'. Finally, you choose how many shots you want (one to four) and record into evenly spaced slots. Which probably sounds like an even more limited version of Vine.
Enjoy the Vue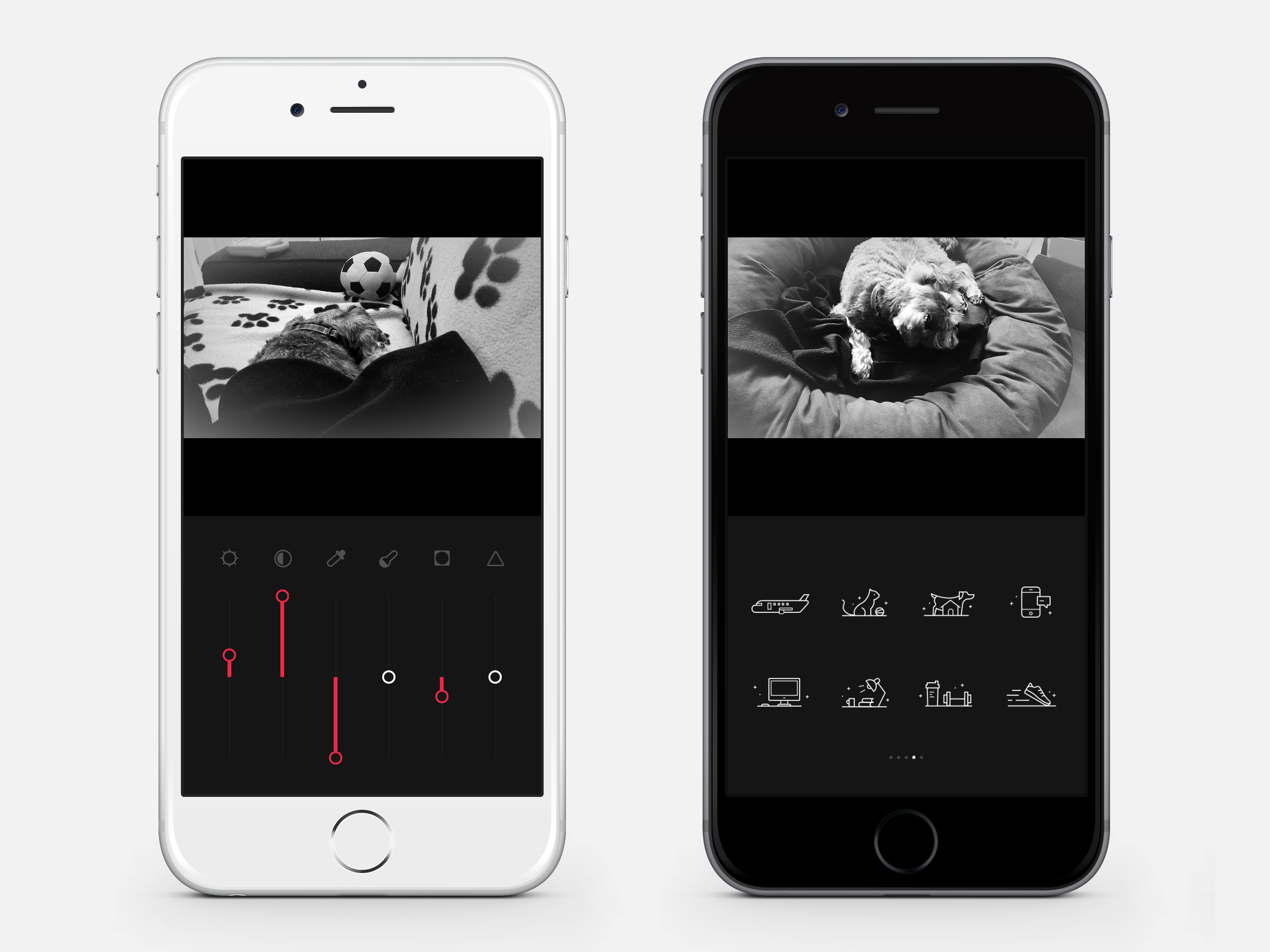 But wait! Vue is far more than a Vine reimagined by a graphic designer who had to have everything 'just so'. You can import videos you've shot in other apps, mixing and matching them with live recordings, or go pre-recorded only – distilling several Camera Roll movies into a six-second miniature epic.
Decisions made, you can then reorder shots, add zoom effects, play with adjustment sliders, and add stickers.
Of those additions, adjustments are by far the best. The sliders are simple to use, and offer plenty of scope to alter your movie's appearance, whether you go all horror with cool colours and vignettes, or pretend to be an artsy indie director through high contrast black-and-white.
The other tools could use more work. The stickers are fun, but limited in number, and there's no option for custom text. Sequencing tools are useful, but you can't adjust a shot's length, and while we're griping, we'd also like to see more control over the cropping of imported footage, and the means to delete any shot within your tiny movie, rather than just the most recent.)
Still, Vue's imperfections haven't stopped us spending plenty of time with the app — probably an obsessive amount, given that it's ultimately about crafting a tiny movie fragment to hurl at Vine, Instagram, Twitter or Facebook.
Vue is available for iOS. An Android version is coming soon.
Stuff Says…
A smartly designed, usable and enjoyable app for creating tiny videos to wow the short-of-attention-span generation
Good Stuff
Well-designed interface
Nice filters and adjustments
Great for fast edits
Bad Stuff
Clip lengths are preset
Imports can end up oddly cropped