Apple iMac Pro review
The clue is in the name when it comes to Apple's most powerful Mac
In computing, terms like 'pro' are thrown around like confetti. That's not the case here. Apple's latest iMac looks almost identical to those that preceded it; but inside, the iMac Pro is a very different beast.
This is not a Mac for the masses. You get a sense of that on clocking the price, which starts at an eye-watering £4,899. Through Apple's build-to-order options, you can get that to top 12 grand. Yet even the entry level model (such that it can be considered 'entry level' in any meaningful sense of those words) has an 8-core 2.3Ghz Xeon W, a Radeon Pro Vega 56, 32GB of RAM, and a 1TB SSD.
For review, Apple sent Stuff a mid-range unit – 10-Core; Radeon Pro Vega 64 graphics; 128GB RAM; 2TB storage. And someone lobbed a trackpad into the box, which was nice of them. Total outlay: a cool £9,188.
Design: my precious
Naturally, the first thing that popped into my head when setting the thing on a desk was: "That looks nice". The stereotype Apple user briefly emerged. Visions entered my head of a bearded hipster using Safari on a nine-grand computer to hunt for yet more new shiny kit with which to beat his bank account senseless.
But there is a point to all this. Apple cares about design. The iMac already looked great, and Apple's managed to squeeze a ton of extra power into a thin, gorgeous case. The new iMac isn't suddenly an inch thicker because it's sporting absurdly powerful innards.
Also, the space grey finish has practical benefits. The obnoxious chin/Apple logo combination fades into the background a little more. That – and the colour better suiting pro app dark interfaces – seems ideal for professionals. And this is very much a machine for professionals.
Performance: A bit wasted
On firing up the iMac and poking around, it responds pretty much instantly. My own 5K iMac (a late 2015 model with 24GB of RAM) is no slouch, but the Pro feels like it never has to think – which you'd probalby expect in a machine costing over nine grand.
But I quickly got the sense this kind of power would be wasted on many people. The odd second saved when opening apps or faffing about with Safari aren't worth the price of a second-hand car. Most of my own work in Photoshop and music apps doesn't need this kind of power. Gaming? Even an amazing Mac can't make up for the relative paucity of titles on the platform.
However, everything changes if your life is spent buried in complex video, audio or 3D. With video, the iMac Pro is capable of editing VR footage on-the-fly. It can chew through 8K video like nobody's business, and smoothly preview changes and effects live, rather than you laboriously rendering shots first.
The lack of judder extends to my own pro app love: audio. I launched Logic Pro X and added a ridiculous number of synths to the Beck demo track. The iMac wasn't fazed at all, but my own iMac fast became a stuttering wreck.
Then feeding my Korg Gadget addiction, I duplicated instances of the power-hungry Lexington module playing a hastily written loop that'd make Vince Clarke wince. My iMac started making horrible farting noises on hitting nine. The Pro managed another five before threatening to blow up my speakers.
Heat and noise: A cool customer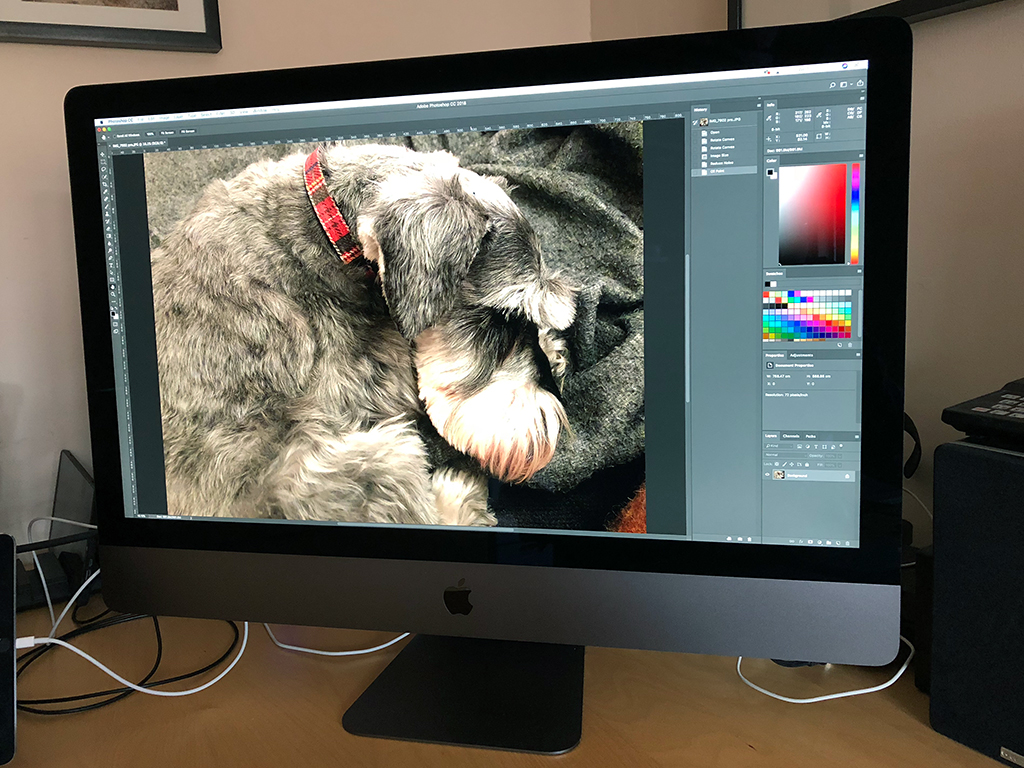 Sometimes, the differences in performance are less pronounced – or are variable in nature. On wheeling out Photoshop and editing some absurdly large photos with over 12,000 pixels on one edge, running Reduce Noise only resulted in the iMac Pro besting my older Mac by 20 seconds, on a job that took 50. But another filter took the iMac Pro nine seconds, while my iMac chugged on for a full minute.
The point, again, is even people who consider themselves pros might not need the full power of an iMac Pro: if you're working on podcasts rather than chart-toppers with dozens of tracks and synths; when editing 4K video with basic effects rather than 8K footage, VR, or 3D; or when using Photoshop but not with complex filters and massive multi-layered compositions.
Still, whatever was thrown at the iMac Pro during review, it stayed surprisingly cool and quiet. The fans seem to blow a bit all of the time, but only to a mildly irritating degree (and I'm reliably informed I'm overly sensitive to such noise). The case rarely got hot, and certainly no more than other iMacs I've used.
Ports: Get yourself connected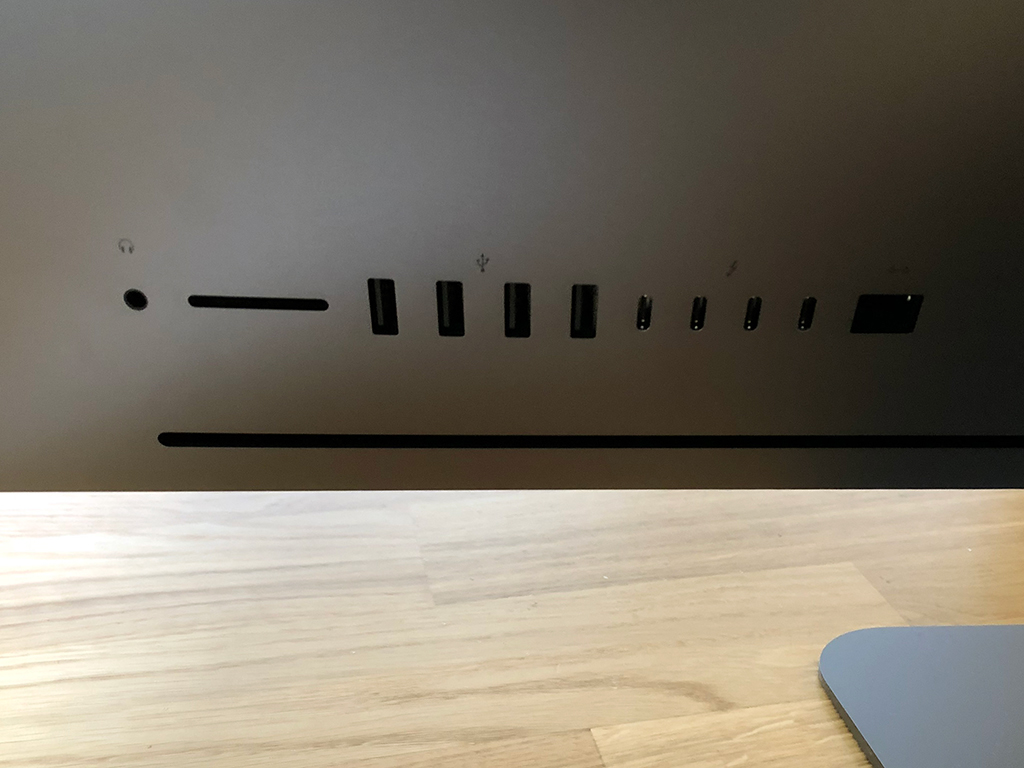 From a specs standpoint, the iMac Pro is also designed with the pro user in mind. You're not going to be upgrading this Mac (even more RAM requires a trip to the Apple Store, because someone needs to dismantle the screen to get inside the thing). But you can connect a ton of other kit.
Round the back, you get the usual headphone jack (no iPhone 'courage' here, fortunately), an SDXC slot, four USB 3 ports, four (rather than two on the 5K iMac) Thunderbolt 3 ports, and 10Gb Ethernet. Apple notes that the Thunderbolt ports are on two independent controllers, and in tandem with the Radeon Pro Vega GPU can drive four 4K displays or two 5K displays. And that's in addition to the iMac's own (broadly superb) screen.
There are some other changes, too: an improvement to the FaceTime camera's resolution and microphones, the latter of which helps with noise elimination; the T2 chip, which boosts security, enabling full disk encryption and tying the SSD to your particular Mac. Again, this showcases that although this Mac looks like one of last year's model's that's had a respray, there are upgrades to justify the price tag.
Apple iMac Pro verdict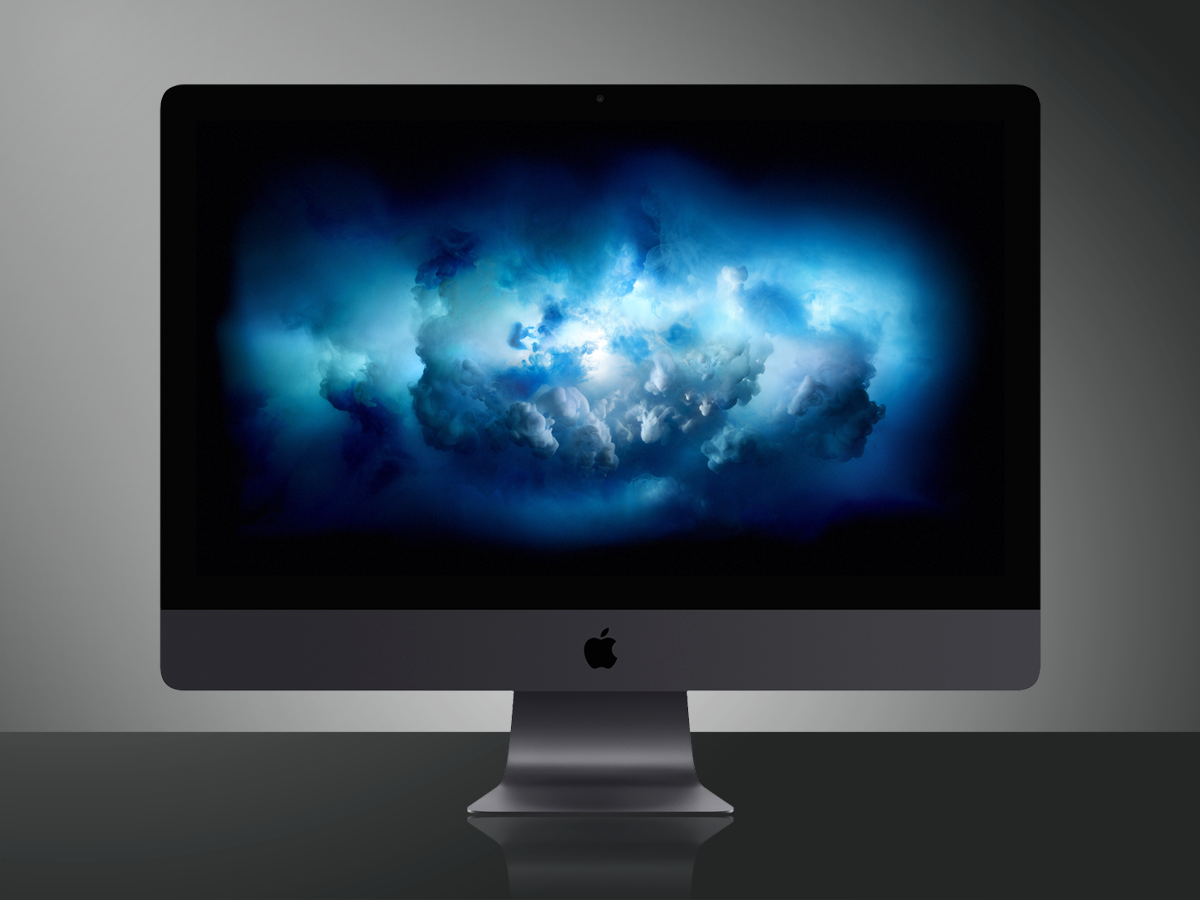 The main question when faced with the iMac Pro isn't whether you want one (of course you do), but whether you need one. Chances are, you don't. And that's fine – this isn't the original iMac, with an eye on the mainstream market. It's a machine designed for people who want high-end performance in an all-in-one form factor that's close to being all screen.
In the Mac space, there's nothing comparable. A new Mac Pro should arrive this year, but who knows when? And if you don't need a Mac that's customisable, there's no need to wait. On the PC side of things, some wags always argue you can build a more powerful system than whatever Apple's selling with a biscuit tin and a couple of twigs; but looking online, the smartest PC experts around have struggled to make savings of much more than ten per cent on a broadly equivalent spec – and also ended up with something that looked like it'd been repeatedly beaten with an ugly stick.
In short, then, if you must have the most powerful Mac Apple's ever made, with workstation-level performance inside a sleek all-in-one enclosure, you won't be disappointed.
Tech specs
| | |
| --- | --- |
| Screen | 27in Wide colour (P3) Retina 5K (5120×2880) |
| CPU | Intel Xeon W (8/10/14/18 core configs) |
| Memory | 32GB, expandable to 128GB |
| Storage | 1TB SSD, expandable to 4TB |
| Connectivity | 3.5mm headphone, SDXC, 4xUSB 3, 4xThunderbolt 3, 10Gb Ethernet |
| Dimensions | 65×51.6×20.3cm, 9.7kg |
Stuff Says…
It might look like the same old iMac, but this is a hugely powerful, great-looking machine. But only open your wallet if you really need one.
Good Stuff
Great performance across a range of tasks
Excellent integrated 5K display
The enclosure now looks even better
Bad Stuff
Single-core performance boost isn't huge
Lack of upgrade potential may irk pros