Apple iPad (10th gen, 2022) review: Super lite Air
The Apple iPad (10th gen) rework is ace compared to rivals, but it's expensive and leads to some range confusion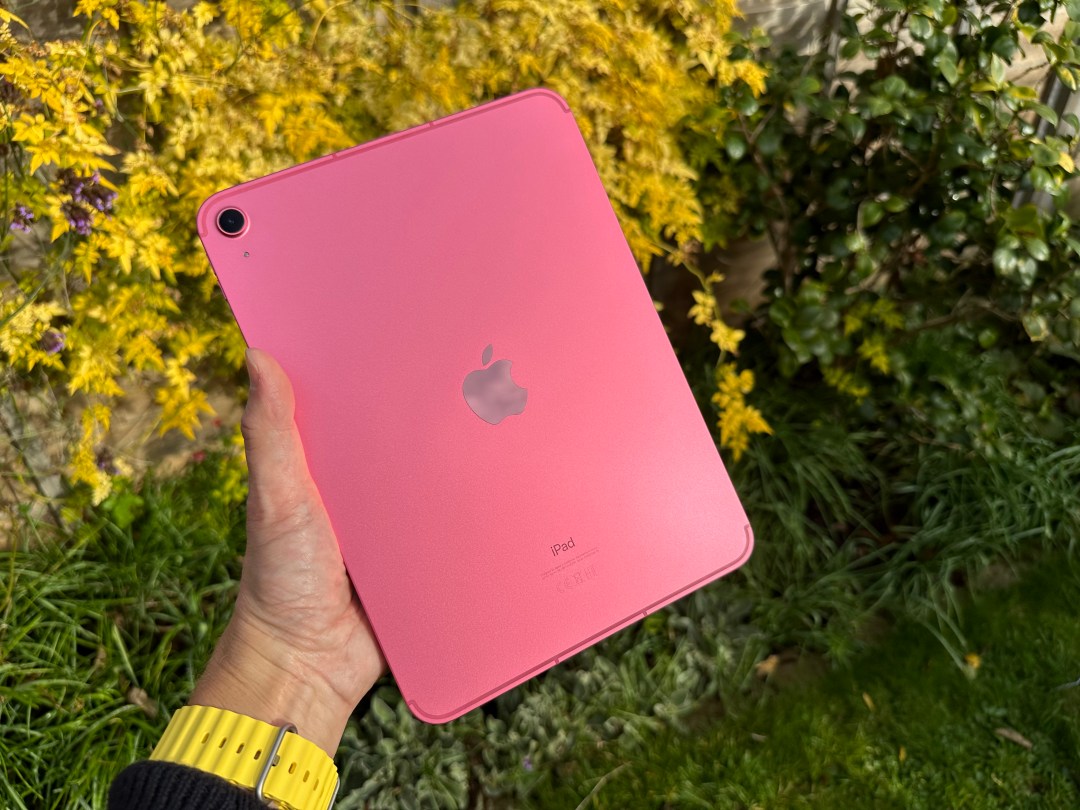 A dozen years after the original iPad, the home button has finally disappeared from this latest model, the Apple iPad (10th gen). We've come a long way from something dismissed as just a bigger iPhone.
This model brings a complete and much-needed overhaul to the 'standard' iPad range. Except this is not quite the base iPad – the 9th generation model is still around (yes, complete with its traditional home button). It's not that Apple doesn't want to say goodbye, it's because this one is too high-end in terms of price starting at $449/£499 (as with Apple's other recent launches, UK pricing is currently very high versus the US though you always need to bear US Sales Tax in mind).
The 9th gen is surely on borrowed time, but it does make sense it's still around – many of its buyers are schools or people getting it because it has a more reasonable price point and can be bought for around $300/£300 depending on sales; this new model will have to drop down in price in order to replace it. The 10th gen model then, clearly fits with Apple's strategy of taking things more premium, not less.
What's on offer here is essentially a slightly stripped-down iPad Air and there are several reasons why it makes sense and several reasons why it doesn't. We'll naturally cover them all in this review.
Design and display
The Apple iPad (10th gen) design is very similar to the other full-screen iPads we've seen over the last couple of years, but is ever so slightly (1mm) thicker than the iPad Air, probably due to the different display used. You've got the angular and rather smart design we've got used to with the iPhone, iPad Pro and iPad Air ranges and it is excellent to see it appear in the iPad range.
This iPad is available in a few nice colours including a rather shocking pink (which is our review model, as you can see) as well as blue, yellow and a more regular silver. We think blue would probably be our pick, it's smart but isn't grey!
The 10.9in retina display is larger than the 9th gen 10.2in iPad, which itself was an upgrade on the original 9.7-inch size of the iPad. It boasts a 2360 x 1640 resolution 264ppi display. It isn't a laminated display, doesn't have an anti-reflective coating (it does have the anti-fingerprint oleophobic one though) and supports sRGB colour. It's a 500nit display, which isn't the brightest if you're outside in the sun, but is absolutely fine elsewhere.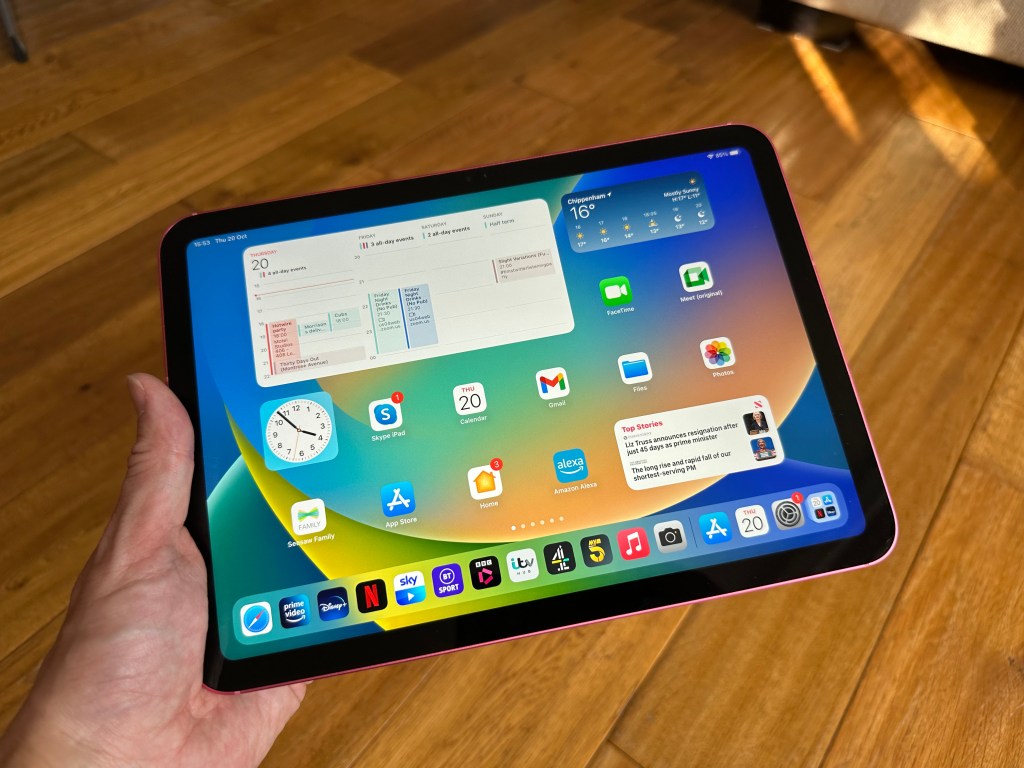 The iPad range hasn't had the same USB-C phobia that the iPhone has and this redesign has inevitably meant that USB-C has appeared, just as it has for all new iPads in recent years bar the 9th gen iPad. It's very welcome. A smart connector is also present on the side of the device that enables connection to the Magic Keyboard Folio accessory that we've talked about in more detail below.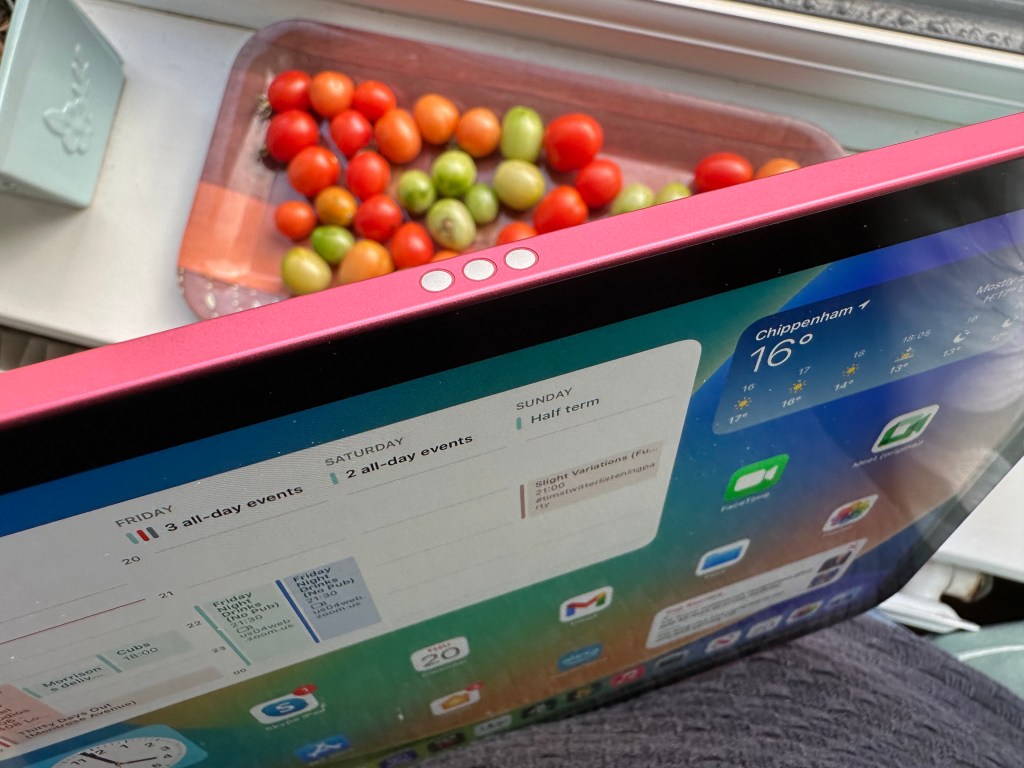 Despite this iPad having four sets of speaker holes, it has stereo rather than quad speakers. With the move to the newer design, it's also worth noting that there's no headphone jack. We think this is a bit of a challenge at this price point. Naturally, Apple would like you to go and buy some AirPods and chances are that most people reading this article will have some wireless headphones. However, we still know of stacks of children and adults that use wired headphones (sadly of variable and sometimes dubious quality).
Performance and battery life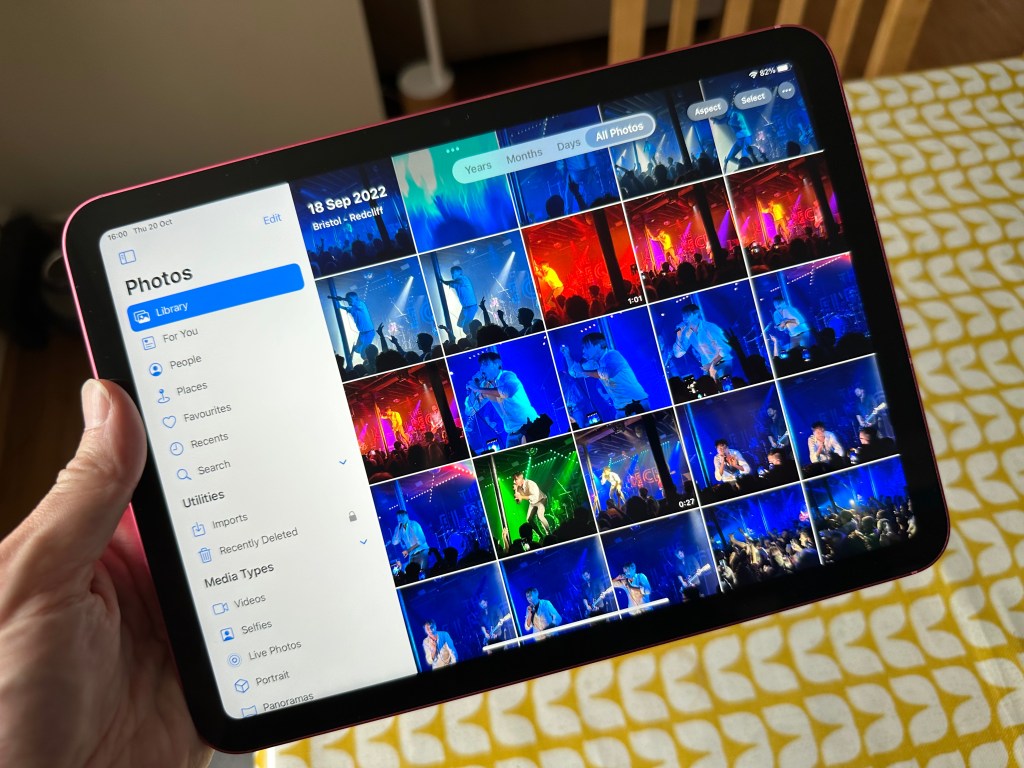 As we mentioned, the new iPad's similarities to the original 'all screen' 2020 iPad Air are striking – it sports the same A14 Bionic hardware. Coincidentally, we've been using the 2020 Air since it was launched and we can confirm it can cope with everything you can throw at it. The performance of this model, therefore, is predictably great and things like editing 4K video or dealing with large images is simply not a problem.
While it seems a bit too cosy on the 10.2in display, this larger 10.9in size is absolutely fine for having two apps side-by-side in Split View and if you've got a keyboard case, then you would be hard-pressed to tell you haven't got a more expensive iPad. Although iPadOS 16 was delayed from its original date, it's not the biggest update to iPadOS, but there are plenty of enhancements all the same and the fact remains that for all but the most ardent multitaskers it's an admirable tablet operating system.
TouchID is still supported rather than FaceID and with the absence of the home button, it's been placed on the power button as with the last two generations of iPad Air. This is a good implementation. You do need to ensure you put your finger firmly on the button to get a good contact and this takes a short time to get used to.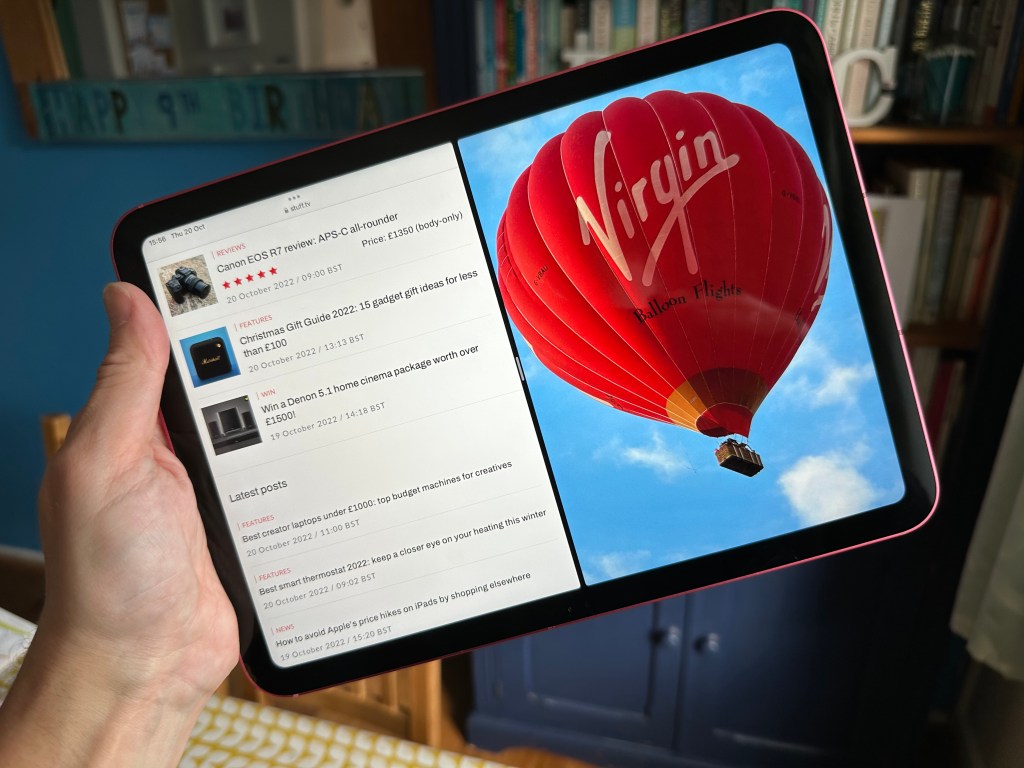 As you'd expect, this iPad is available in both Wi-Fi only and Wi-Fi plus cellular versions. New is 5G support, which is also a welcome drip-down from the newer Air and Pro models. It also supports Wi-Fi 6.
Battery life remains predictably consistent – the iPad once again is cited to have 10 hours of battery life when using it on Wi-Fi which checks out – we found one day when we used if for work a lot we got a few hours less than than this and prolonged viewing from a streaming service or similar will inevitably reduce this.
Cameras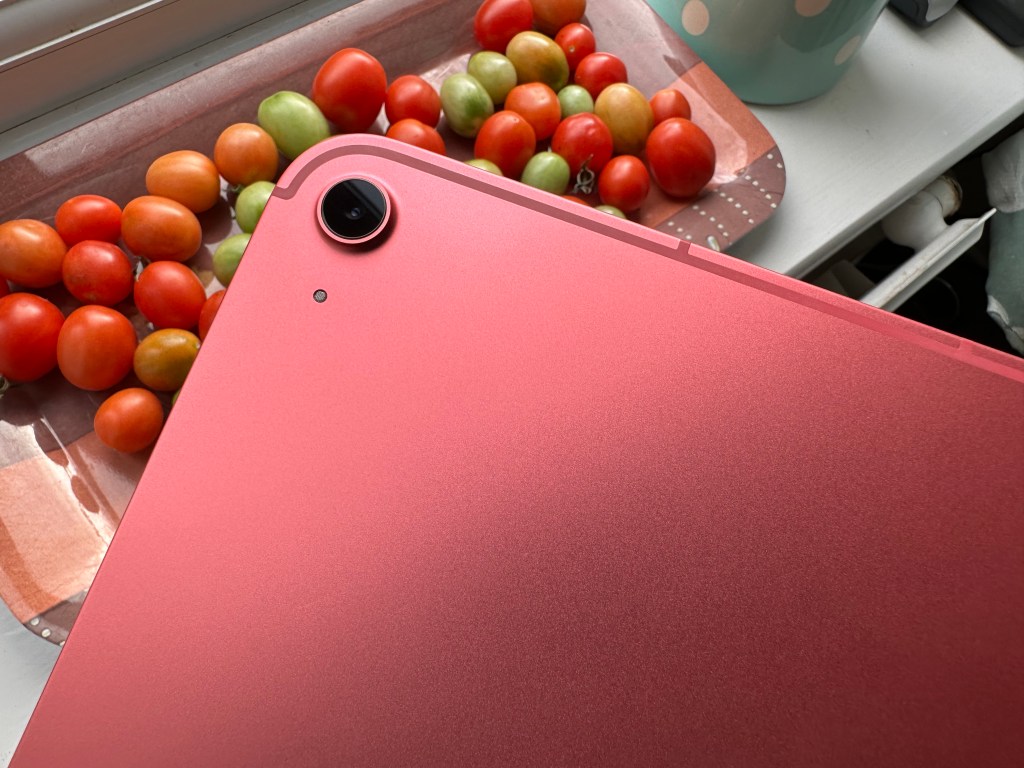 The Apple iPad (10th gen) cameras have been refreshed and both front and back units are now 12 megapixels which is a welcome step forward. Images are clear and crisp and everything is nice and quick – gone are the days when iPad photos were a poor relation to those from smartphones. The rear camera can also shoot video in 4K which is an upgrade from the 9th gen iPad and there's stabilisation tech too.
Interestingly, the Full HD video-capable front camera is now a landscape one. This can be an issue if you hold the iPad in portrait, but obviously, the huge majority of us would do a video call with the iPad in landscape. It also boasts Apple's Centre Stage so you're kept in the frame as you move around. This works really well, but isn't unique to Apple; Facebook's Meta Portal range has a really good implementation of it.
Accessories and Apple Pencil support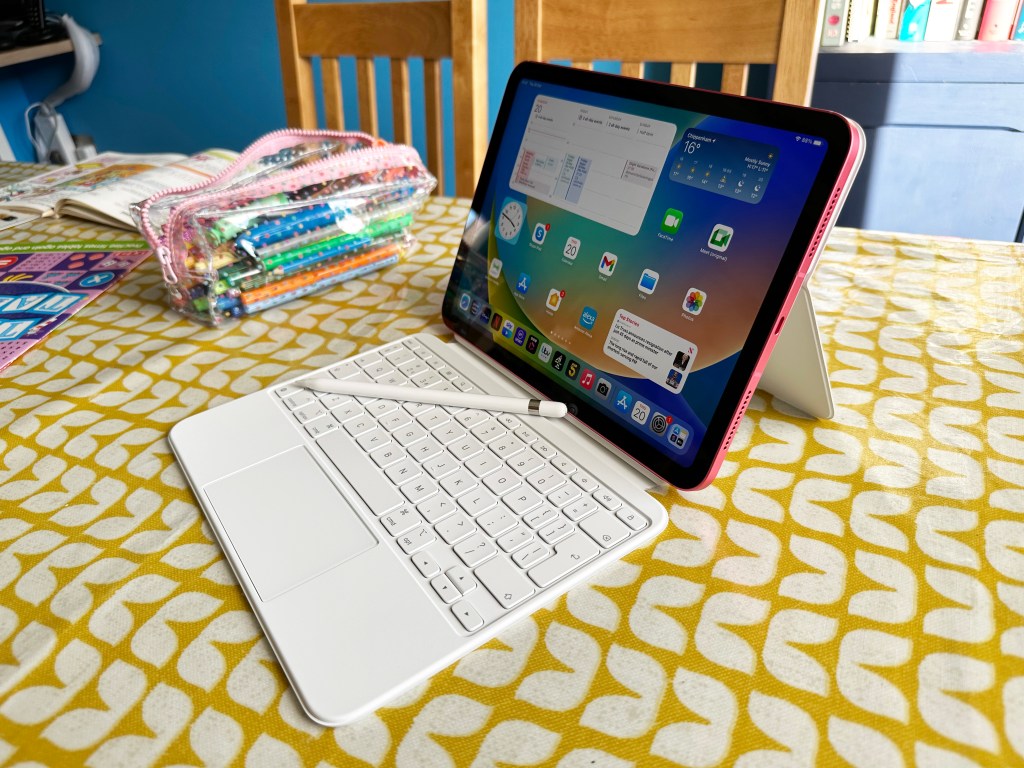 As with the iPad Pro and Air before it, the iPad range is increasingly being presented as a laptop replacement and that inevitably means adding a keyboard. And there's a new keyboard for this iPad, the eye-wateringly expensive $249/£279 Magic Keyboard Folio.
The keyboard cover – which is excellent to type on – is in two parts, one of which provides the iPad with a Microsoft Surface-style kickstand.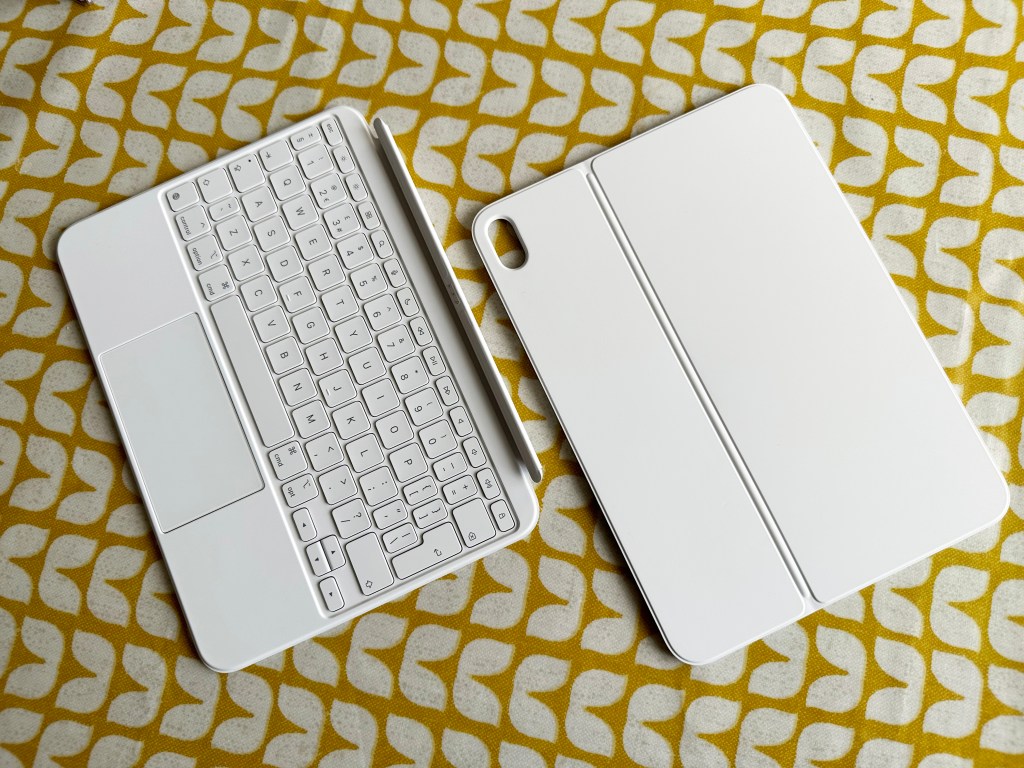 The Magic Keyboard Folio also has a function row which is desperately needed for the iPad Pro, but isn't available on the iPad Pro's Magic Keyboard (yes you heard that right). It's a welcome change here, though if you are buying this iPad plus a Magic Keyboard you are certainly in laptop territory and probably want to be thinking about getting a deal on a M1 MacBook Air. You'd get more storage and full multitasking with macOS (Apple's new and much-maligned Stage Manager feature isn't available on non-Pros with the exception of the M1 iPad Air).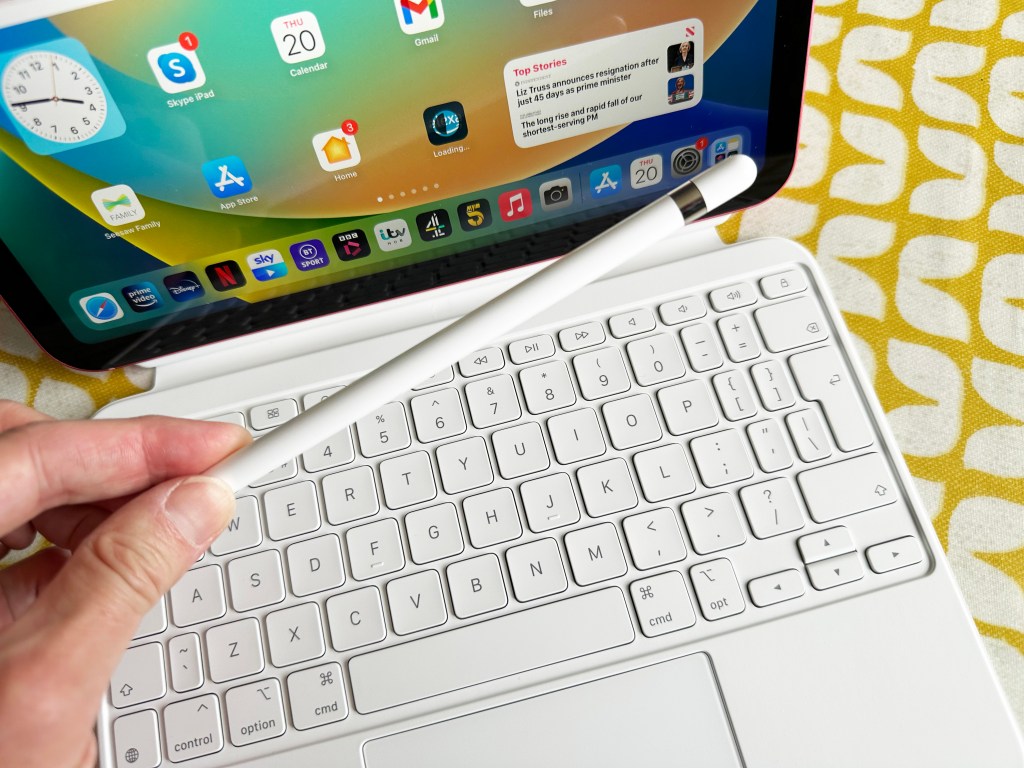 Sadly, this new iPad only supports the first-generation Apple Pencil. This is unfortunate, to put it mildly. This is basically because this iPad still has an air gap between the layers of the display (as mentioned above it's not a laminated display) and so, like the 9th gen iPad, it can't use the 2nd gen Apple Pencil. It's a compromise based on price, presumably – plus otherwise the 10th gen model would be too much like the iPad Air but without the newer M1 chip.
But it creates a very strangely divided system where the brilliant iPad Mini can use the 2nd gen Pencil but this model can't. And what's even crazier is that the 1st gen Apple Pencil charges by Lightning. That means you have to either use an iPhone charger or, if you want to charge from the iPad, use a dongle that, of course, Apple will charge you for (this is only if you already have a Pencil – if you don't an adapter is now being included in the Pencil 1st gen box). At some point, decisions have been made that weren't very joined up.
Apple iPad (10th gen) verdict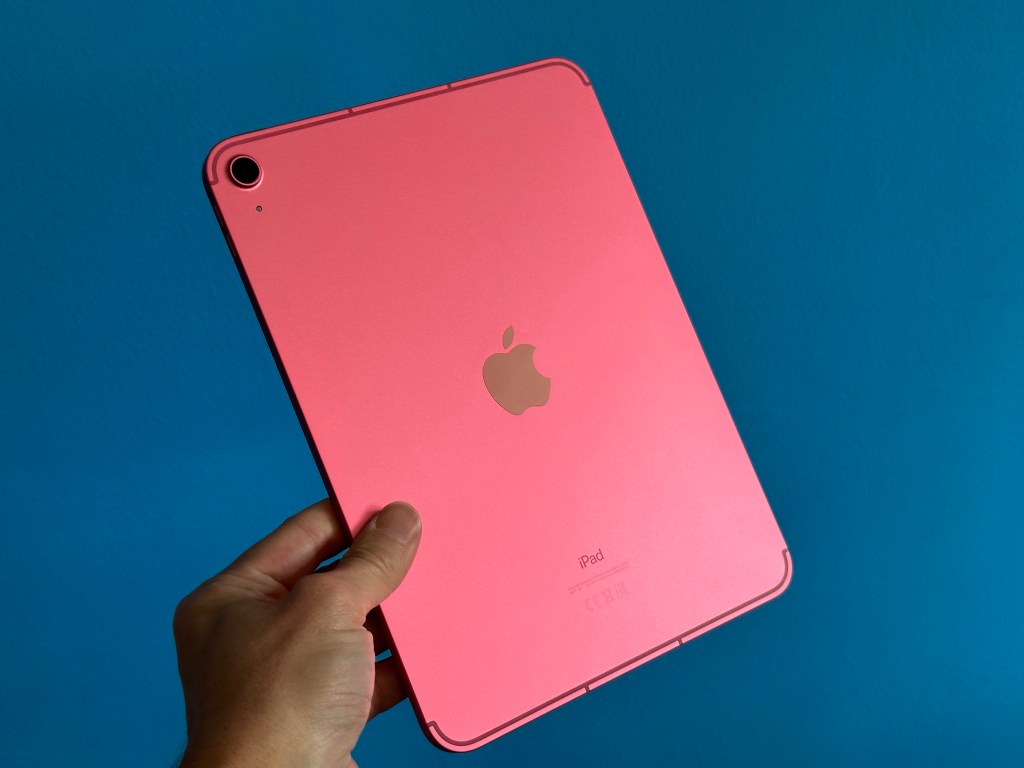 Apple's new iPad, then, is predictably good. But it's also disappointingly expensive and it's a shame this model doesn't use the 2nd gen Apple Pencil. But there's much more positive than negative here – this is a big upgrade over the 9th generation model with various welcome enhancements, such as the landscape camera and the more powerful processor. The move to USB-C for the standard iPad range is, of course, welcome.
The similarities to the 2020 iPad Air are striking (even if the screen tech is different) and it's great that the newer iPad design has finally moved down to the 'standard' iPad range. It's a sensible option if you don't want Apple Pencil support at all, want that bigger display or don't want to or need to stretch to the iPad Air. And it's always worth remembering that despite Apple's more premium iPads, this is all the iPad most buyers will ever need.
Stuff Says…
A much-needed and predictably excellent re-work of the entry-level iPad but pricing is high compared to the 9th generation.
Good Stuff
A significant upgrade
Move to USB-C
Fresh colours
Bad Stuff
Pricing is a lot higher than 9th gen
Inevitable confusion between this and iPad Air
1st gen Apple Pencil support only
Apple iPad (10th gen) tech specs
| | |
| --- | --- |
| Platform | Apple A14 Bionic |
| Display | 10.9-inch 2360×1640 pixel liquid retina |
| Camera | 12MP Wide camera, ƒ/1.8 aperture (rear), 12MP ultrawide, ƒ/24 aperture, 122° field of view (front) |
| Models | Wi-Fi, Wi-Fi and 5G cellular (nano SIM and eSIM) |
| Capacity | 64GB, 256GB |
| Connectivity | USB-C, 802.11ax Wi-Fi 6, Bluetooth 5.2 |
| Dimensions | 249 x 180 x 7mm, 477g |