Apple iPad (2018) review
The 'iPad for everyone' is now even more of a crowd-pleaser...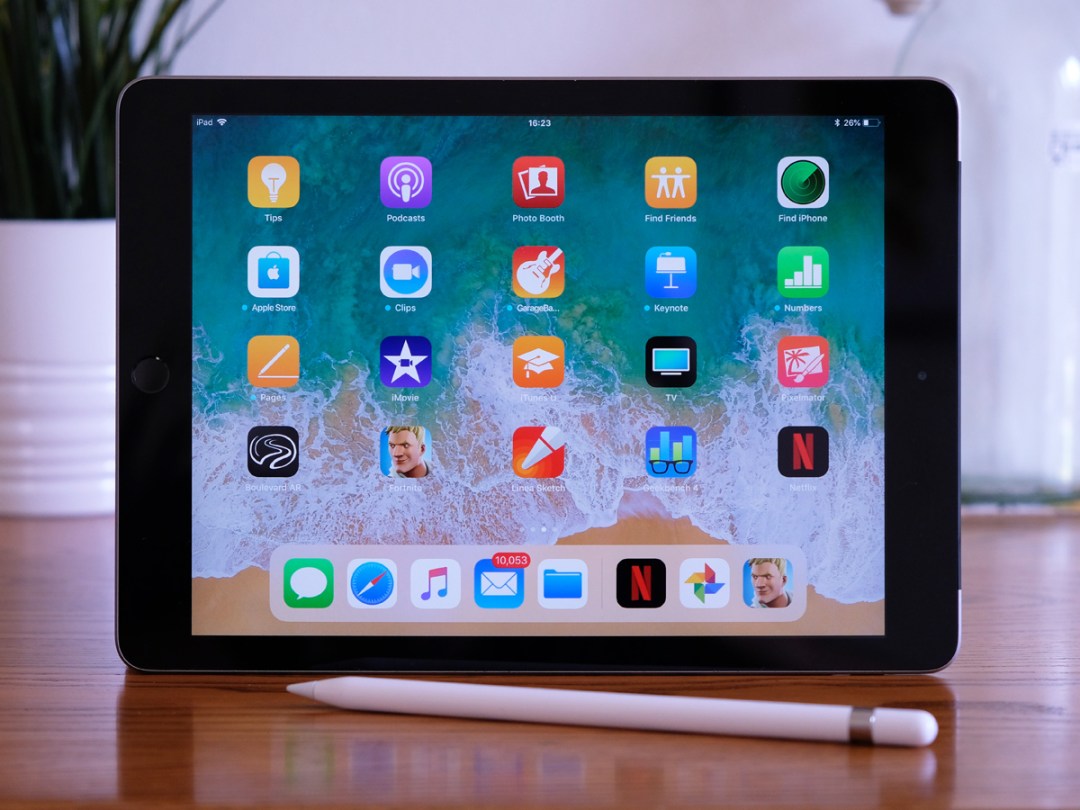 Like bezels and human attention spans, tablets have felt like they could soon become an endangered species, pushed into extinction by perfectly evolved smartphones.
But Apple's iPad family has other ideas. Last year's iPad Pro (2017) made a very convincing claim for becoming your futuristic laptop replacement.
And now its cheaper brother, known simply as iPad, has made subtle tweaks that promise to turn it into an 'affordable' (by Apple standards) creative tool.
Yes, the basic iPad is no longer just your portable Netflix feeding bag. With a faster processor and support for Apple's Pencil (£89), a toy previously reserved for the iPad Pro, it's now primed to work with a whole raft of artsy, educational and AR apps.
Will this be enough to distract you from the fact that it still looks like an iPad from 2013? I spent a week scribbling on one to find out…
Design: haven't we met before?
No, we haven't accidentally used the photos from last year's iPad (2017) review – this year's version is physically identical to its predecessor.
This means you effectively have a tweaked iPad Air from 2013. Sounds like a bit of a swindle, right? Well, as the old saying goes, it's what's on the screen that counts, and this design is such a classic that it doesn't really feel dated.
Sure, it's a little chunky and heavy compared to the iPad Pro, but externally all you're really missing is a smart connector for an external keyboard (you're stuck with slightly clunkier Bluetooth ones instead) and two stereo speakers on the top.
If anything, I prefer this iPad's flush camera to the Pro's protruding one (see above). There are, of course, some reasons why the iPad (2018) is £300 cheaper than the base level iPad Pro, and these are mostly to do with its screen…
Screen: natural reflection
Put the iPad (2018) and iPad Pro 10.5in (2017) side-to-side and, on first glance, there aren't any major differences.
Both are Retina LCDs with 264ppi resolutions that render text crisply and bring games and web pages to life with their clarity and searing brightness.
Over time, though, the standard iPad's screen starts to reveal some minor but noticeable inferiorities. Without its sibling's anti-reflective coating, it struggles to achieve the same contrast in brighter conditions.
Some other handy screen tech is also missing: there's no True Tone mode to automatically adjust the screen's hues according to the ambient light around you, and it also lacks its sibling's 120hz refresh rate.
Are these massive deals? For most people, no. The iPad (2018) still easily has the best tablet screen around at this price point, with rich colours and solid blacks. Only OLED displays like those on the pricier Samsung Galaxy Tab S3 can really trump it.
But there are some people who'll genuinely benefit from the Pro's superior screen tech – graphic designers, or anyone who wants a tablet for creating (suitably enough) pro-level artwork.
That's because this cheaper iPad's screen isn't laminated, which means there's a small gap between the screen and glass. You can see this in the bottom right-hand image above, which compares the iPad Pro (left) with the iPad (2018) on the right.
Stuff's resident artist and skull-drawer Ross describes using an Apple Pencil on the pricier iPad Pro as like drawing on paper. With its slower refresh rate and slightly 'stickier' feel, the iPad (2018) doesn't quite recreate that sensation.
Let's be clear – if you haven't already used an iPad Pro, you're unlikely to feel there's much missing on the iPad (2018). It's a great creative tool, particularly at this price, with virtually no latency. You should just be aware, particularly if you're a Procreate whizz, that the iPad Pro remains a cut above when it comes to Pencil pushing.
Performance: soft power
Another area where the 'Pro' iPads earn their moniker is raw power. Still, unless you want a tablet to be your main computer, the standard iPad (2018) again has more than enough grunt for your gaming, reading and Netflix needs.
Thanks to that new A10 processor, it happily zips through most tasks, be that a Fortnite session, multi-layered Pixelmator creation, or one of the growing number of AR apps that bring such delights as dissecting a virtual frog on your kitchen table. An AR version of Surgeon Simulator is surely next.
Indeed, our benchmarking suggests that the iPad (2018) is slightly more powerful than the original iPad Pro from less than three years ago. That's impressive stuff at this price – I've certainly struggled to get it spluttering, despite flinging two apps into split screen mode and playing some of the App Store's most intensive games.
Doing that will, of course, hit the battery life, but this iPad more than lives up to its ten-hour billing too. In my tests, it got closer to twelve hours of video playback on medium screen brightness. So, unless you're planning a Grid Autosport all-nighter, expect it to easily last you a full day.
Features: laptop lite
So what else can you do with the sixth-gen iPad?
That depends a bit on which version you go for, and how tempted you are by accessories like the Apple Pencil.
Strangely, there's no 'sweet spot' 64GB model, with your storage options either 32GB or 128GB. If you can stretch to another £90, then the latter is likely the one to go for.
Doing this will help you explore this iPad's workhorse potential, which is backed up by iOS 11's new features. Touches like the file manager, ever-present dock and app multi-tasking all help the iPad feel more like a proper computer, if that's what you're after.
Apple is clearly keen to push this iPad Pro-like serious side too, as it's just brought Pencil support to Pages, Numbers and Keynote. This lets you add annotations or sketches to any docs you're flicking through, which all works well enough – although it's been many years since I've chosen to use iWork apps over Google Docs or Excel.
There a couple of other reasons why the iPad Pro is a better laptop replacement than the standard iPad. This one doesn't have a smart keyboard connector, which means you're stuck with Bluetooth ones. And with only half the RAM of its sibling, it also doesn't have quite the same multi-tasking powers, with background apps freezing if you have more than two windows open.
Elsewhere, you get the same cameras as those found on last year's iPad, which means an 8MP snapper on the back and a 1.2MP FaceTime number round the front. These are fine for shooting the odd HD video or video chats, but then using an iPad to take holiday photos is also high on our list of unacceptable tech crimes.
The competition: hitting the sweet spot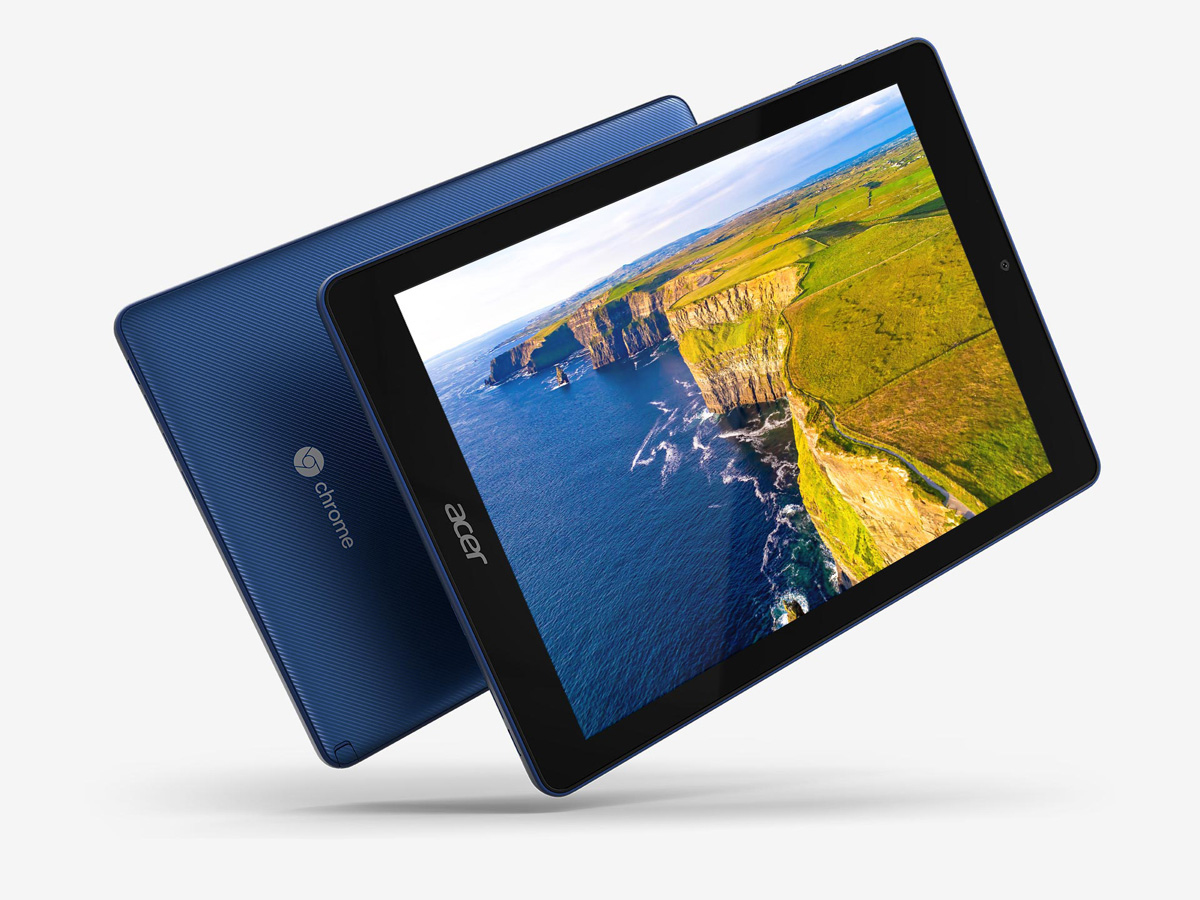 Apple's iPads have largely been competing with themselves in recent years, and that's no different now.
But while this version is cheap in iPad-land, it could still be overkill, depending on what you need a tablet for. If that's just basic web browsing and Netflix-on-the-plane, then the £150 Amazon Fire HD 10 might well suffice for less than half the price.
There's also a new contender on the horizon in the form of Acer's Chromebook Tab 10 (€329, due May 2018), which is the first ever slate to run Google's Chrome OS. While that comes with a bundled Wacom stylus and the promise of AR, no other tablet looks capable of competing with the riches found in Apple's App Store anytime soon.
If it's a massive variety of games, creative tools and Pencil-compatible work apps you're after, then this iPad is still well worth its comparative premium.
Apple iPad (2018) verdict
It might not look like it, but Apple's affordable iPad has changed – what was once a tablet for 'sit back' media-scoffing is now a smaller, cheaper iPad Pro with new creative powers.
Sure, there are compromises, like its inferior screen tech, lack of extra speakers and that missing smart connector for external keyboards.
But, for most people, these aren't so big that they justify spending at least £300 extra on the snazzier iPad Pro. That model's now for strictly for anyone who wants a full laptop replacement or a professional artistic tool.
For everyone else, this versatile and powerful slate is just the ticket for digital dabbling in that still potentially fertile ground between smartphones and laptops.
Tech specs
| | |
| --- | --- |
| Screen | 9.7in LED-backlit display with 2048×1536 pixel resolution |
| CPU | A10 Fusion chip |
| Memory | 2GB RAM |
| Storage | 32GB, 128GB |
| Camera | 8MP, f/2.4 rear camera, 1.2MP, f/2.2 rear camera |
| Dimensions / weight | 240mmx169.5 mmx7.5 mm, 469 grams |
Stuff Says…
The best iPad for most people – if you want a versatile tablet for work and play, this is it
Good Stuff
Powerful enough to handle most tasks
Has way more apps than other tablets
Pencil support gives it new versatility
Bad Stuff
Still no anti-reflective screen coating
Small gap between screen and glass
No multi-user support