Apple iPhone 5 review
Enhanced, refined and more powerful than ever, the iPhone 5 has reclaimed the smartphone throne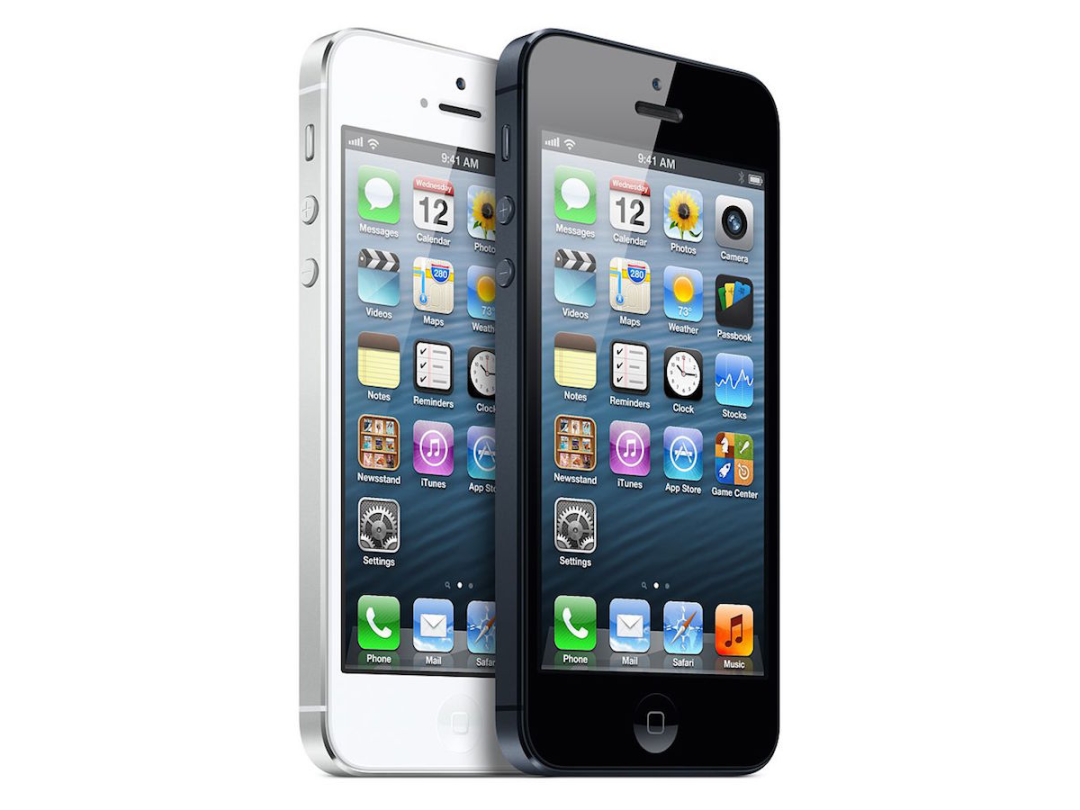 The iPhone 5 needs no introduction. It's the most talked about phone on the planet right now.
Android has attacked the iPhone more viciously than ever this year, resulting in the HTC One X and Samsung Galaxy S3 knocking it from the pinnacle of our smartphone top ten. Apple needed to reply with something special, something game-changing – and here it is.
The iPhone 5 is longer, leaner, faster, packs super-quick 4G networking and the brand-new iOS 6 operating system. It's probably the most leaked and most speculated-upon gadget in history. But it does seem to be missing that one knockout feature that would guarantee its place in the smartphone history books. Has it done enough to be a chart topper again?
iPhone 5 screen
This is the first iPhone without a 3.5in screen, and the first to adopt the 16:9 widescreen format preferred by Android rivals. The width of the screen is the same as ever, and has the same resolution as the 4S (640 pixels), but the height has been increased from 960 to 1136 pixels, yielding a 4in display with the 'Retina' credentials of its predecessor. It's not quite 720p HD, but it's not far off (roughly 80% the number of pixels, fact fans).
The screen somehow feels closer than ever. A new manufacturing process means the touch sensors are now one with the LCD, which means the whole assemblage is thinner. It's still incredibly crisp, and it's more colourful. Blues and purples particularly ping, compared to the iPhone 4S and photos look that bit shinier as a result. Compared to the yellowish Samsung Galaxy S3, whites are whiter and colours are generally more natural.
The biggest change, of course, is the extra space. When moving from an older iPhone, the taller screen seems a little peculiar at first, but it's a matter of minutes before you wouldn't go back. We reckon it's a sensible size: 4in in a 16:9 ratio is just about big enough for movies on the move, and the extra space accommodates an extra line of apps and a few extra entries in lists and calendar views, all the while staying small enough for comfortable one handed use.
Could Apple have usefully gone bigger? The Galaxy S3 suggests it could, particularly for films and games, but Apple has its smaller-handed users to consider, and the resolution would also have had to increase to retain that Retina moniker. Oddly, the extra space isn't utilised by the landscape keyboard, which just has a couple of grey buffers to either size. A missed opportunity, we reckon.
Also, it's only Apple's own apps that take advantage of the extra screen space right now. Existing apps are confined to the central area of the screen with black 'untouchable' strips at either end, but essential iOS downloads are bound to be updated to fill the whole iPhone 5 display sooner than you can say 'widescreen Angry Birds Space.'
iPhone 5 design and build
Glance at the iPhone 5 and it could very easily be a 4S: the flat edges and rounded corners are iconic to the point of being a little bit dreary. The back is where the action happens, as the glass has been mostly replaced by a panel of wraparound aluminium, leaving only glossy top and bottom strips.
On one side there's a slightly smaller (and less substantial-feeling) lock/mute switch next to the recognisable volume controls, while on the other there's a slot for the new nanoSIM – if you're planning to upgrade to the iPhone 5 you're also going to need a new SIM card.
Pick it up for the first time and the reduced weight and thickness is rather striking. The 112g weight and 7.6mm thickness mean it's neither the lightest nor slimmest phone in Gadgetland, but it's not far off, and it is noticeably more pocketable than the Samsung Galaxy S3.
All told, the handset doesn't feel that aluminiumy, certainly not in the way a MacBook Air does, but the quality of finish is exemplary, particularly around its diamond-cut edges. It looks and feels as though the iPhone 5 has been styled for stealth rather than showing off, but we suspect that will please as many people as it disappoints.
We're torn as to whether it's an improvement over the 4S, though. On the one hand, it's a fresh look, and that back panel is drop-dead beautiful. On the other, the 4S' extra weight lends it a more substantial feel, and we worry about how long the 5's anodised finish will stay pristine. Let's call it a draw.
iPhone 5 dock connector
Thunderbolt and Lightning, very very frightening? If you've just bought a pricey iPhone dock it might be, because the iPhone 5 has ditched the almost-10-year-old 30-pin connector and replaced is with the tiny, all-digital Lightning connector, which means your new phone isn't going to fit.
Apple is launching two adapters, but they're expensive at £25 or £30 (although there are good DAC-flavoured reasons for the prices) and big enough to at best ruin the look of your sexy sound setup, and at worse ensure it doesn't fit at all.
But change is occasionally necessary, and Lightning is certainly more elegant than the 30-pin. It's reversible, it feels robust, and on the bright side it means we can expect a whole raft of new docks in the near future (Apple announced partnerships with audio luminaries Bose, Bowers & Wilkins and JBL on launch night). Lightning-to-HDMI and Lightning-to-VGA (yep, apparently one or two people out there still use VGA) adapters are also planned.
Straddling that Lightning port is a pair of tiny chassis screws, and beyond that are two sets of machined grilles, covering a microphone and a speaker. The latter won't get anyone body-popping, but it is loud and clear enough for hands-free calls, sat-nav instructions and irritating everybody on the bus. The 3.5mm headphone socket is, for the first time in iPhone history, on the bottom edge rather than the top.
iPhone 5 EarPod earphones
But what should you plug into that headphone socket? Apple would implore you to try out the all-new EarPods, which come as standard. They look great, and they're a huge improvement over the old bundled buds, but they're not perfect. Apple has opted for one-size-fits-all comfort, so the EarPods sit outside the ear canal rather than burrow right in. That means there's very little noise isolation, so you'll be able to hear what everyone around you is chuntering on about and they'll be able to hear you listening to Luther Vandross.
If you're the make-do type when it comes to headphones you'll be getting far better sound quality from your bundled buds this time around, but if you have even a passing interest in sound quality you should budget for a better pair.
iPhone 5 speed
The new processor, Apple's A6, makes a palpable difference to the overall speed of the iPhone 5. Compared to the iPhone 4S there are shorter in-app loading times, smoother 2D and 3D graphics and a general reduction in waiting when you're zipping around from one app to another. Siri opens immediately, adding attachments to email is completely lag-free, the camera is up and running almost instantly, and that chip means it's now also capable of snapping a full-res shot during 1080p capture. If that doesn't sound quite exciting enough, allow us to be more definitive – this is the fastest, smoothest, most seamless smartphone experience money can buy.
A little bit of casual benchmarking using the GLBenchmark Egypt High test yielded a score of 6766, while the iPhone 4S got 1158. The Offscreen test was closer: 16681 vs 8346. This looks like a lot more than day to day usage bears out, but it suggests that there's headroom for the iPhone 5 to do some pretty impressive stuff.
iPhone 5 camera
On paper the iPhone 5's snapper looks very similar to the iPhone 4S' – same 8MP resolution, same f/2.4 lens. But there have been upgrades. 1080p video is excellent for a phone, matching the Samsung Galaxy S3's footage in good conditions and beating it whenever the lighting conditions throw up challenges such as high contrast or general gloominess.
The iPhone 5 is equally capable when capturing stills, with a neat new Panorama feature and the ability to dig up detail from twilight and indoor scenarios that's remarkable by smartphone standards. Just look at these sample images for a comparison: iPhone 4S above, iPhone 5 below.
On the downside, the lens is still in the wrong place. It looks neat tucked into that corner, but it makes the phone hard to handle in landscape mode – and it's all too easy to blot out vital footage with a drifting digit.
iPhone 5 iOS 6
Even more familiar than the iPhone 5's design is the grid of apps that makes up its iOS homescreen. The way iOS works hasn't really changed since 2007, and iOS 6 sticks pretty rigidly to the programme. While certain Stuffers are among those looking for a more fundamental update that would give the iPhone a 'living' feeling as seen in Android's widgets and Windows Phone's live tiles, beneath iOS 6's familiar looks are a number of handy tweaks.
There are obvious touches, such as the 'New' flash that appears across across the icons of any app you've just downloaded, and the sticky gum visual that stretches from the top of the email app as you drag down the list to pull in new messages. Then there's the new 'Do Not Disturb' feature hidden in the settings menu, which allows you to specify how contactable you are to different callers.
Social features have had subtle upgrades, too. Facebook is now just as integrated as Twitter, allowing you to post photos direct from the (also subtly upgraded) Photos app and using Siri. Friends' birthdays appear in Calendar and phone numbers in Contacts. Got too many friends? Birthdays every day? You should have thought of that before you befriended them all.
The shared Photo Stream can be set to send a notification to your nearest and dearest whenever you add a new photo, Facetime now works over 3G as well as Wi-Fi, and there's a VIP inbox into which messages from your chosen contacts are automatically filtered and that notifies you whenever you receive an important missive. Just as usefully, you can now assign different email signatures to different accounts.
Nothing is exactly revolutionary, though. Apple has decided that iOS isn't broken and so hasn't issued a fix. To be fair, it's a brilliantly intuitive operating system to live with; it's just that the widget-based homescreens of Android are more exciting, more instantly informative and more, well, new. For now this link in the iPhone's chain is holding, but it's weakening.
iPhone 5 App Store and iTunes
Both the onboard iTunes and the App Store apps have been given a refresh and now look much more like their desktop counterparts, pulling in more information on each page and reading less like a list. There are now numerous flickable carousels to browse and tabs to click on for more comprehensive user reviews and ratings. As with many of the iOS tweaks, these changes are so intuitive that you might not even notice at first, but in the long-run this is a slicker, more user-friendly and better looking digital shopping experience.
As for apps in general, they mostly run with those aforementioned untouchable black bars – but that doesn't stop the variety and quality on offer being head and shoulders above those on Android and Windows Phone. The huge pile of entertainment and productivity that is the App Store remains iOS' killer feature.
iPhone 5 Maps
Much has been made of the severance of Google Maps from iOS 6, and rightly so – navigation is now a fundamental feature of the smartphone experience. Google Maps got the heave-ho so that Apple could introduce its own map app, and for users the switch is something of a mixed blessing.
The headline feature is 'Flyover', which introduces interactive 3D city models. Coverage is currently limited to a handful of cities worldwide, and the practical applications of the tech are limited, but we challenge your jaw not to drop as you zoom in and spin your map around the circumference of London's Gherkin. A gimmick? Sure, but one that we've fallen for wholeheartedly.
On the other hand, Maps can also be used as a full-on sat-nav, with voice-augmented turn-by-turn navigation, ETA, live traffic updates and more. It's decent, but a distance behind Google Maps in terms of its search skills and knowledge of the vagaries of local dead ends and one-way systems. Better than the Gmaps of iOS 5, but still behind the competition.
iPhone 5 Siri
iOS 6 has also brought with it some neat new features to make Siri far more useful. For example, we asked the poorly constructed question "What are the best films showing around here later on today?", and Siri almost immediately presented us with a list of films showing that evening in our two nearest cinemas, ranked according to their score on Rotten Tomatoes. Dredd was ranked higher than The Dark Knight Rises, but we're not going to hold Siri accountable for that.
We followed up with "How did Tottenham do at the weekend?" and were treated to the glorious 3-1 scoreline Spurs recorded over Reading two days previously, closely followed by a deflating look at the Premier League table. Services are limited (the football results are Premier League-only), but we do also get the local businesses functionality that our US cousins have been enjoying since launch. Most importantly, there's been a significant improvement in Siri's ability to turn convoluted questions and commands into worthwhile responses, making the whole experience more natural and conversational.
iPhone 5 4G and connectivity
Possibly the iPhone 5's most trumpeted feature is 4G LTE, theoretically capable of pulling data from the ether at up to 100Mbps. We couldn't test it out as EE's 4G nano-SIMs aren't yet available, instead making do with O2's DC-HSPA. This theoretically tops out at 42Mbps, compared with the iPhone 4S speeds of 14Mbps HSPA, and while we got nowhere near either speed, the 5 was noticeably faster loading pages on the go than the 4S was.
There's also a boost for home users thanks to dual-band wireless-n Wi-Fi. Again, this makes for extremely nippy downloading – in our experience, the iPhone 5 installed new apps in about half the time that the iPhone 4S took.
Call quality is supposedly also top-of-the-line on the iPhone 5, although we have to say, we didn't notice. It supports HD Voice services, using a better audio codec to make speech clearer. Again, we didn't get to test this, but as it was, phone calling seemed just fine. There was no noticeable 'death grip', and the dialler has also been neatly redesigned for the bigger screen.
iPhone 5 NFC?
If you, as we, were hoping Apple was going to give NFC the shot in the arm it so desperately needs, we have bad news – waving your iPhone at the contactless pay machine in Marks & Spencer will get you nothing but odd looks from staff. However, Apple has added an app to iOS 6 called Passbook, which allows you to keep all of your loyalty cards, gig tickets and boarding passes in a single, digital wallet. Think of the British Airways app, which makes checking in and progressing through the airport a simple, paper-free affair, and you're on the right lines.
Passbook is also location- and time-aware, so will fling up your boarding passes when you're at the airport or show you your cinema tickets just before the show. In theory, anyway – it wasn't live at time of testing.
iPhone 5 battery life
In our tests the iPhone 5 lasted just as long as its predecessor, and you can expect to get 8-10 hours of normal use out of it and up to five hours of heavy use, watching YouTube over Wi-Fi for instance. Most will need to charge it every evening, but eco-users could eke out an extra day. It won't generally be gasping for a charge at bedtime unless you've been indulging in serious gaming, tweeting or sat-navving during the day.
iPhone 5 price
The iPhone 5 is not cheap. If you're going SIM-free, prices start at £530 for the 16GB version and rise to an eye-watering £700 for 64GB. Perhaps unsurprisingly, the 32GB version seems to be the best value option at £600.
Many will be going down the contract route. To cut a long story short, an iPhone 5 contract will still cost you more than one for any other phone, and that's before you factor in EE's 4G tariffs, which haven't yet been announced but are expected to add around £10 a month to a standard 3G contract.
iPhone 5 verdict
So, is the iPhone 5 worth the money? Absolutely. And has Apple done enough to reclaim the top smartphone spot with the iPhone 5? It has, but not quite in the imperious style of the past. Android has gained so much in the last 12 months that the iPhone went from being unbeaten in years to being beaten twice in the space of a few weeks, and its live widgets and open platform will continue to sway people towards other contenders,
But while the iPhone 4S was beaten, it wasn't beaten by much, and the refinements and upgrades it's undergone to produce the iPhone 5 are enough to see Apple overthrow the Android upstarts. It might not floor you in pictures, but in the flesh, the iPhone 5 is a delight. And if it feels just right, it performs even better, with flawless operation and a screen that's downright stunning. It's not flashy and it's not radical, but it is a significant improvement over what was an already excellent device, and it still has the best selection of apps available on any handset. All of that adds up to the best smartphone on the market – at least for now.
Additional testing by Will Findlater, Tom Parsons and Sophie Charara.
Stuff Says…
Enhanced, refined and more powerful than ever, the iPhone 5 has reclaimed the smartphone throne
Good Stuff
Performs wonderfully
Looks great in the flesh
Significant improvement
Bad Stuff
Stiff competition
Expensive
Apple iPhone 5 tech specs
| | |
| --- | --- |
| Bluetooth | 4.0 |
| Main camera resolution | 8 MP with AF, LED flash, f/2.4 aperture |
| Screen | 4in, 1136 x 640 (326 ppi) |
| Standby time | Up to 225 hours |
| Storage | 16GB/32GB/64GB |
| Talktime | up to 8 hours on 3G |
| Video resolution | 1080p HD video |
| Wi-Fi | 802.11a/b/g/n; 802.11n on 2.4GHz and 5GHz |
| Dimensions | 123.8mm x 58.6mm x 7.6mm |
| Weight | 112g |
iPhone 5 review – what do you want to know?
WAYNESTER: Does Maps in iOS 6 give you the nu mber of miles and estimated time to a destination like Google Maps? 
In a word: yes. We just entered in a destination and it gave us three suggested routes with estimated times and the number of miles as well as a '3D' view and turn by turn navigation accessed from a tab in the bottom left of the screen. Very similar set-up.
WAYNESTER: Is the iPhone 5's audio quality when listening to MP3s/ Lossless files with headphones better than the iPhone 4S?
Listening to the same files through the same headphones does prove that there's quite a big difference in the audio delivery of the iPhone 4S and 5. The 5 is cleaner, crisper and more detailed. It's definitely a more accomplished, 'hi-fi' sound, but it's also just a little trebly at the top.
With good headphones and decent quality recordings that shouldn't really be a problem, but you'll want to make sure you don't go for a pair of earphones that lean towards sounding a bit bright. In terms of which is 'better', we'd say the iPhone 5 – just take a little extra care when ripping/downloading tracks and choosing headphones.
Jamie Gordon: How far can you throw it?
Our Reviews Ed can throw the iPhone 5 about four yards – but that's because he throws about as well as a one-armed squirrel.
John Donnison: Are the keys on the iPhone 5 keyboard any bigger than the iPhone 4S?
Not in portrait mode as the display hasn't increased in girth but thanks Stuff Facebook fans for helping us make this discovery: the keys are wider in landscape mode. As we noted above, they don't fill the entire space but there's definitely more room for chubby fingers than on the iPhone 4 and 4S.
Darren Tucker: Did the iPhone 5 come with the adapter to stop all our docks becoming obsolete?
Apple annoyingly isn't bundling the Lightning adapter in with the iPhone 5 so we haven't had a chance to test it out yet. It's selling for £25 so it's just one more expense that you'll have to add on. We asked Apple why it has set such a steep price so read our story on the adapter here if you want to know more. 
Mark Beynon: Does the iPhone 5 take a microSIM?
We wouldn't recommend cutting up your microSIM and jamming it into the iPhone 5 – not only is the new nanoSIM slimmer, it's also shorter. See our snap above of the two side by side, complete with SIM trays.
Emma Griffiths Tysoe: Are the iPhone 5 setup screens similar to the iPhone 4/4S?
There's one or two new options like PhotoStream (if we remember rightly) to contend with but otherwise you'll see the usual screens asking you to pick a language, geographical location and set up iCloud etc. Shouldn't take too long to set up and demo then.
What's the iPhone 5's start up time?
You'll see the Apple logo almost instantly but it takes a good 20-22 seconds to fully boot up to the homescreen. Not particularly quick but we tend to leave our smartphones on standby when we're not using them anyway.
Ian Yak Houghton: How's the iPhone 5's battery life?
We tested the iPhone 5's battery life by watching YouTube over Wi-Fi – which we'd class as pretty intensive use – and for that, you should get about five hours out of Apple's latest blower. For day-to-day use (a mix of messaging, calls, browsing, gaming) we'd say that you'll still be putting your iPhone to bed every night to get juiced up for the next day.
For the record, Apple states that the iPhone 5 has an improved battery life over the iPhone 4S: up to 8 hours browsing time over 3G versus 6 hours on the iPhone 4S and up to 8 hours on 4G LTE.
Christopher Maddocks: Will it blend?
We think you took a wrong turning somewhere around the internets.
John Saunders: Does Passbook work in the UK and with what?
Yes, Passbook will work in the UK once iOS 6 has launched this evening at 6pm. We have spoken to Apple but at this point it is not in a position to say exactly which services will be using it initially. Anyone is free to add Passbook functionality to their apps, and Passbook can also be used without the need for a service provider (eg. a coffee shop) to have its own app.
Paul Cunningham: Is the iPhone 5's new length a problem? Will iPhone 4S cases with backup batteries be impractical?
For smaller hands it can be a bit of a stretch to reach the top of the screen with the thumb when used with one hand. The new size will make it incompatible with existing cases and certain docks.
Andy Bean: What sound does the iPhone 5 make when you throw it into the bin by your desk?
Nothing at all. Our bins are lined with the softest velvet that money can buy.
Chris Barnes: Is there enough innovation and enough of a difference over the 4/4S to warrant shelling out for the iPhone 5 now?
iOS 6 wil still offer the same features like Facebook integration, Maps and Passbook on your 4S, so if you're not desperate or still in a contract it's not a must-buy. Pick one up though and you might find it hard to resist. If build quality matters to you then it's worth the upgrade for that alone.
Becca N Kris Richens (and a few others): Can i have it?
We're afraid that Stuff Office Cat has run off with it and won't let any of us get near him. We're too scratched up to try again.
Utsav Kankaria: Please can you benchmark the iPhone 5 against the Samsung Galaxy S3 and Samsung Galaxy Note 2?
We focused on our experiences of browsing, multi-tasking, downloading apps and playing iOS and Android games on the iPhone 5 and the S3 in our review but we did throw in some figures for you to pour over too (versus the iPhone 4S) – in our section on speed. We'll update this with benchmarks against the S3 soon but in the meantime, plenty of others – like Geekbench – have hit the web. You'll see different results every time so we wouldn't make any decisions based on these.
We're still waiting for our Note 2 review unit from Samsung so you'll have to hold on for that too.
Jo Mse Black-Smith (and a few others): What's the iPhone 5's camera like?
The short answer is: one of the best we've used. The iPhone 4S has always been excellent in daylight but Apple has added some improvements this time round. We've devoted a whole section of our review to the iPhone 5's skills as a snapper and though we moaned about the placement not moving (meaning your finger might make an unwanted guest appearance in a ton of shots), we were really impressed by its low-light abilities. Check out the sample images taken in a pretty dark (and scary) Stuff stockroom above.
1080p video also matches the Galaxy S3 and the iPhone can now take stills while recording like the HTC One X.