Apple iPhone X review
Apple says bye to bezels and buttons, and is all the better for it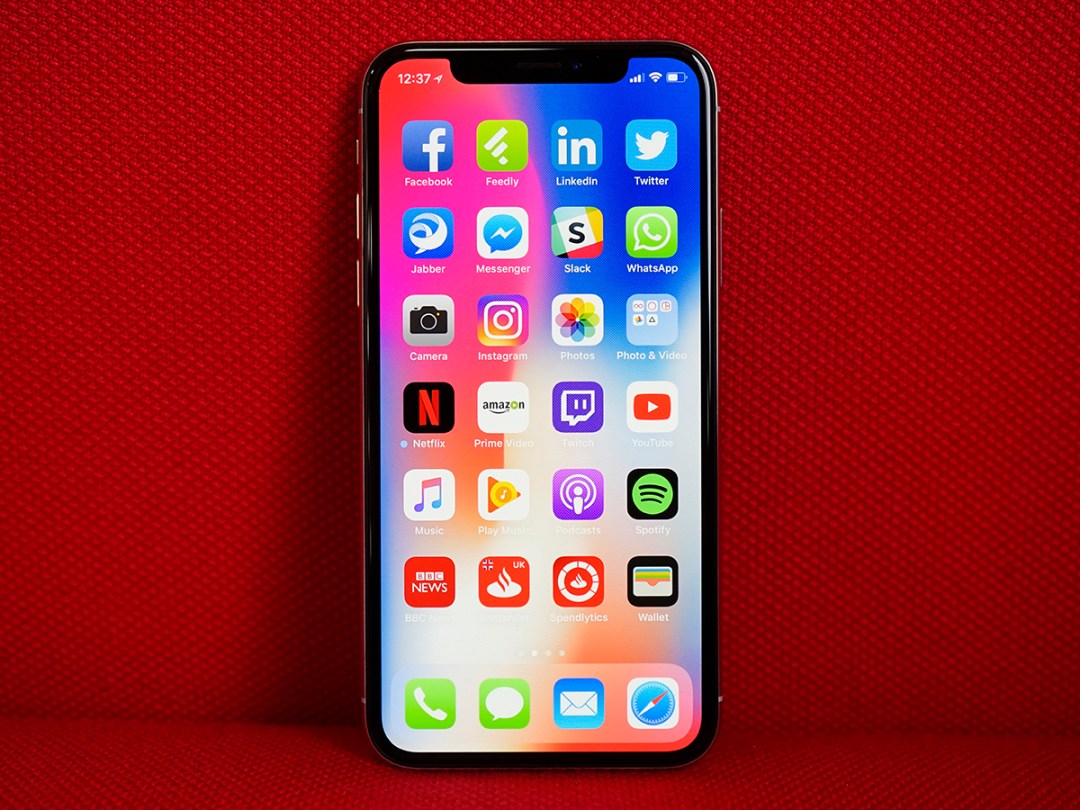 Twenty years ago, Apple's slogan was "Think different" – who knew it would be so appropriate two decades down the line?
The X is the biggest shake-up for the iPhone since, well, ever. It ditches the signature home button, waves goodbye to bezels and scans your face instead of your fingers. Toto, we're not in Kansas anymore.
These sweeping changes aren't just for show, though. They completely transform the way the iPhone works, basically forcing you to forget a decade of muscle memory.
That might sound like a big ask, but it's worth the effort: the X might not be without a few quirks, but it's comfortably the best iPhone to date.
SCREEN: OLED THE WAY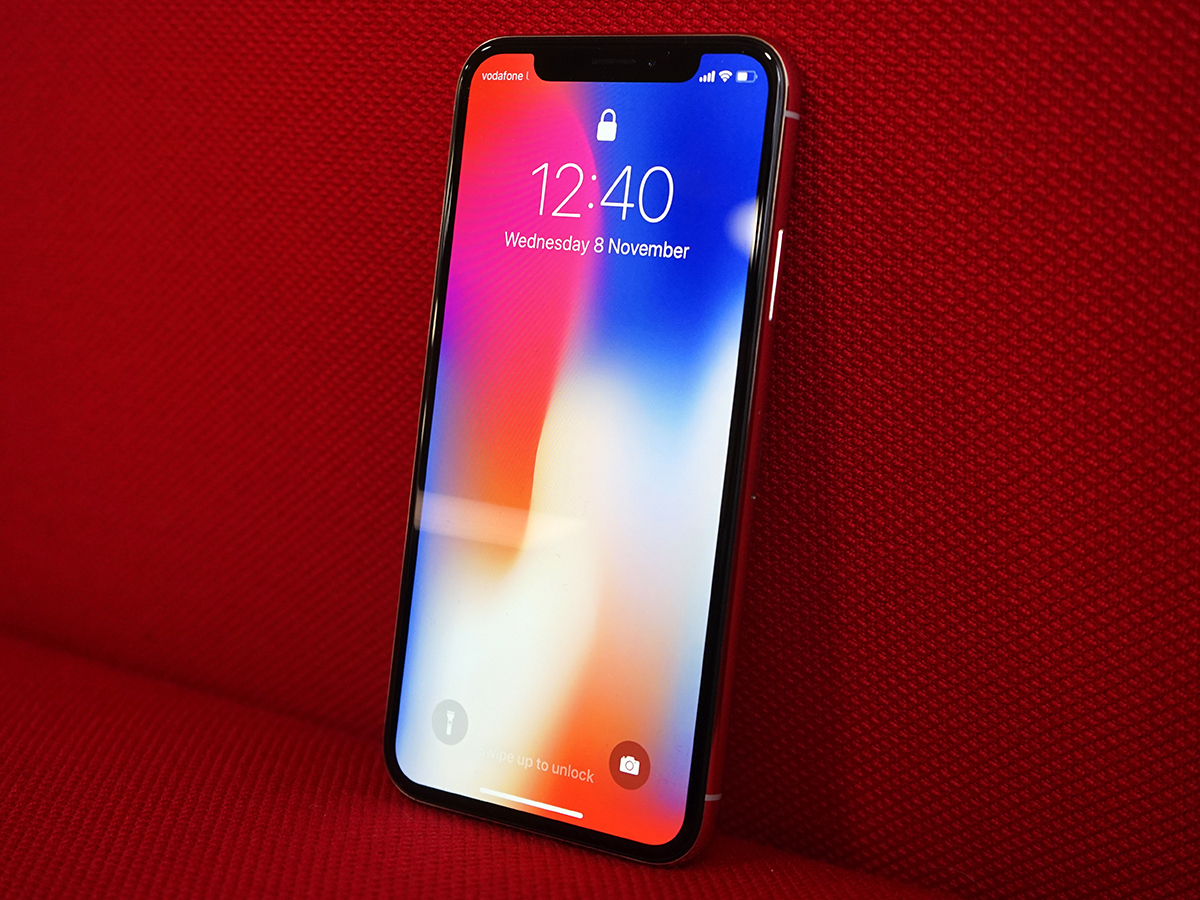 Let's get the obvious out of the way: that notch. Impossible to miss, right?
The X might have the thinnest screen bezels of any iPhone, but it could only get there by ditching the physical home button. That also meant getting rid of TouchID fingerprint scanning, so instead we get FaceID facial recognition.
It takes two cameras (one regular, one IR) an IR dot emitter and separate IR flood illuminator to accurately scan and recognise your face in less than half a second, and all that tech takes up space.
The way it bulges out into the display is certainly unique. It's a bit like Marmite – you either love the distinctive look, or you hate the way it intrudes on your screen space. After a week with the phone, I'm in the former camp – although the effect it has on software is another matter.
Open an app that hasn't been updated yet and you'll get massive black borders at the top and bottom of the screen, or left and right when you're in landscape. The notch is unmissable in this mode when you open Safari, with certain web pages looking downright ugly.
Apps that use Apple's autolayout fill the screen, but not always how you'd expect – sometimes blocking out the battery indicator or losing UI elements offscreen. Even apps that have been updated can look a little funky.
The fact that big names like Spotify didn't have updated apps ready to go on launch day is a bit of a joke.
But anyway, back to the screen itself. It's a 5.8in panel, technically making it larger than the iPhone 8 Plus, but the 19.5:9 aspect ratio means it's more like an iPhone 8 stretched vertically. Add in the notch and that's quite a lot of dead space in certain apps and games.
Honestly, though? It's difficult to mind that much – the screen is absolutely phenomenal. That's mainly down to the switch from LCD to OLED, giving the X the impeccable contrast and deep, inky blacks that have been impressing us on Samsung's Galaxy phones for years.
Resolution has leapt up to 2436×1125, a big change from the iPhone 8 Plus and its 1080p panel. Pentile panel tech might not resolve as much detail as an RGB LCD screen, but some clever anti-aliasing on Apple's part means it's difficult to spot any lack of detail.
OLED panels can end up so looking ridiculously vibrant you'll want to wear sunglasses whenever you look at them, but Apple has been pretty restrained here: photos and videos on the X still pop with colour, but they stay on the right side of realistic.
TrueTone colour calibration helps here, automatically tweaking the colour temperature to match the ambient light around you. It's a subtle effect, but you'll notice the difference when you flick it on and off in the settings screen.
It gets impressively bright for an OLED panel, too. I had no problem reading the screen outdoors on a sunny day.
That brightness comes in handy for HDR video – the X supports both HDR10 and Dolby Vision. Netflix is already updated, and works great on a good connection, with a great range of colour and more depth to dark scenes.
For all the pitchforks and torches banging on Google's door over the Pixel 2 XL's off-angle colour shift, the iPhone X isn't immune from the effects either. It's not quite as prominent, though, and on a smaller screen it's harder to spot unless you're actively looking for it. Viewing angles are otherwise exceptional.
SOUND: JACK TO THE FUTURE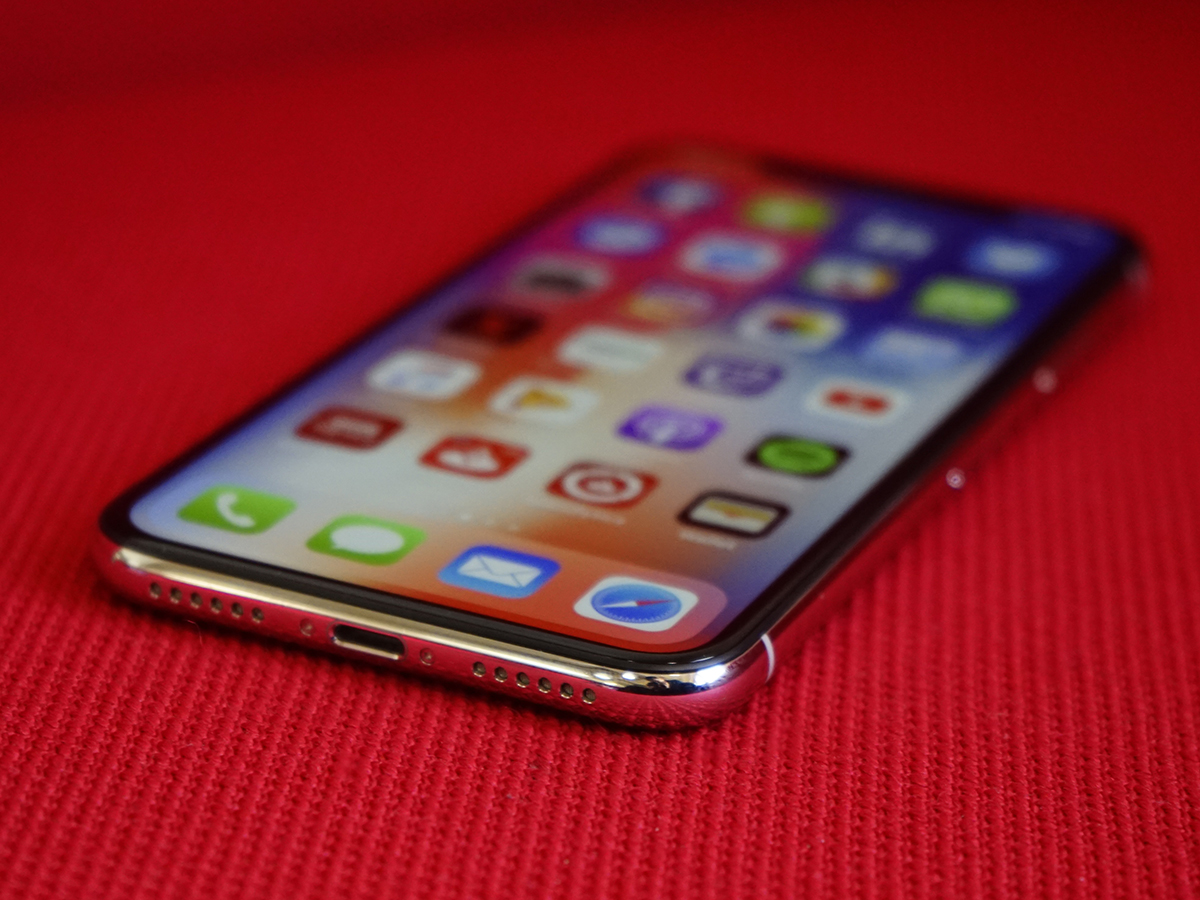 You're nuts if you thought Apple would ever backtrack on its decision to ditch the headphone port – the X sticks to Lightning, and you're going to like it or lump it.
You do get a pair of Lightning earbuds in the box, which are decent enough for a freebie, although you don't have to spend very much to get a significantly better pair. Just remember not to lose the 3.5mm jack adapter (also included) if you want to keep listening.
If you're ready to go cable-free, headphones with a W1 wireless chip are your best bet: either Apple's AirPods if you like in-ears, or the Beats Studio 3 wireless for on-ear listening. They'll last longer and deliver better wireless range than anything using basic Bluetooth.
The X isn't bad on its lonesome, either, thanks to the improved stereo speakers. They pump out a much fuller sound than previous iPhones, and can even manage a bit of bass – although one is still found at the bottom of the phone, so remains in danger of being muffled by your mitts when you grip it.
SECURITY: I'M GONNA NEED TO SEE SOME ID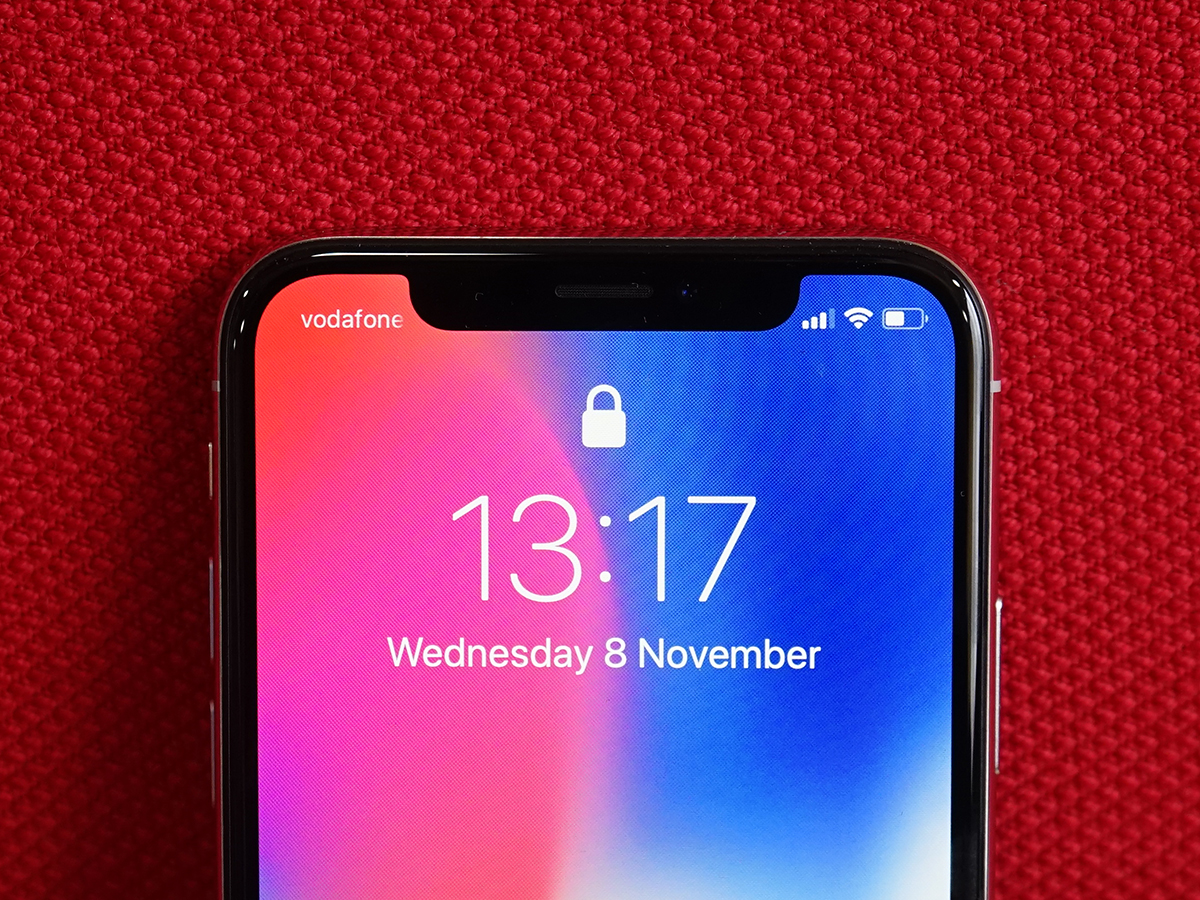 With no home button, the X makes you rethink how to use your iPhone. And it all starts with FaceID.
Instead of tapping the fingerprint sensor, you now raise the phone, tap anywhere onscreen or press the side button to wake it, then swipe up from the bottom of the display to get past the lock screen.
Normally, in the time you've done all that, FaceID has fired out thousands of tiny infra red dots, scanned them with an IR camera, and mapped your face. All your contours, curves, bumps and ridges make for a unique ID that's even more difficult to fool than a fingerprint sensor.
As you've only got one face (I hope), you don't have to consider which hand you'll be picking up the phone with, or to hold it in a certain way so your finger lines up with a physical button – handy if you found the iPhone 8 just a little bit too small, or the Plus that little bit too big.
When FaceID works, it works brilliantly, taking less than half a second to recognise you and unlock the phone. Over time, it'll get better at recognising you, tracking things like hair and beard growth so as not to get confused. Go for a shave and buzzcut and you might need to retrain it, though.
It worked through sunglasses, while I was wearing chunky headphones, and with a hoodie covering my hair, but leaning my hand on my chin could sometimes defeat it.
Lying in bed, I would often hold the phone too close to get a match, and it's harder to unlock while sat on your desk than the old TouchID system.
It might not be 100% accurate, but it's still better than any other face scanner we've tried on a phone, including the ones found on some Samsungs. When it does fail, you've got to tap in a passcode – just like you would with TouchID.
It's not exactly elegant, but it's rare enough not to be annoying – unless you're stood at a London Underground ticket barrier, with a queue of people behind you. Double-tapping the side button to invoke Apple Pay and waiting for a face match feels a little bit slower than the old TouchID system, but maybe that'll change once it becomes second nature.
All these face-scanning shenanigans might sound serious, but there's a lighter side to it all too. Fire up iMessage and you can play with Animoji: animated emoji characters that you can move with your face.
By motion-tracking your facial features, the phone can animate your eyes and expressions perfectly, recording your voice in sync for sending as messages to your mates. It's purely for fun, and all but guaranteed to annoy your non-iPhone X equipped mates, but undeniably cute at the same time.
SOFTWARE: ARE YOU READY FOR A CHANGE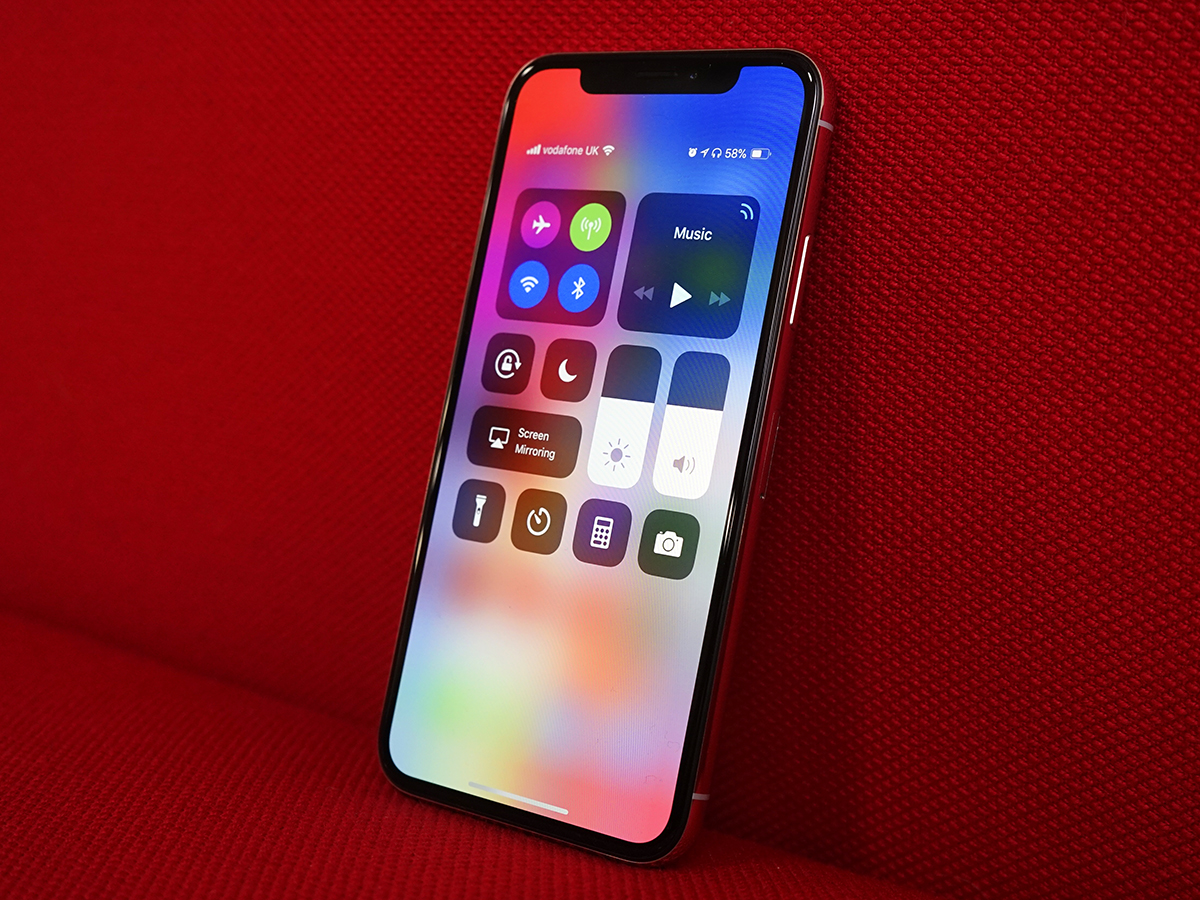 With a physical home button out of the picture, you've got to get used to a whole new system of swipes and gestures for navigating iOS 11. Some are obvious, and some aren't.
You swipe up from the bottom to go home, and swipe down from the top to reveal Control Centre – the opposite direction you're probably used to by now. A swipe and hold reveals your open apps, and a second tap and hold lets you close 'em.
A floating bar hovers at the bottom of the screen, reminding you how to escape whatever app you've got open at the time. It fades out in most full-screen apps and games, but never truly disappears, unless you're in a supported video player like YouTube or Netflix. Annoying. Swipe up once and it fades back into view, then swipe a second time and you'll head back to the home screen. It's a handy way to avoid accidentally quitting out of games or full-screen videos.
I rarely use a phone for more than a few weeks before the next handset needs testing, so I haven't struggled with the muscle memory some longtime iPhone owners have built up. If you bleed Apple, it might take you a few days of fumbling before you stop reaching for a home button that isn't there.
It's kinda funny, really: swipes and on-screen gestures are much more common on Android than they ever were on iOS, so anyone jumping ship from Google to Apple will have an easier time of it than die-hard iPhone owners.
On the other hand, if you wear an Apple Watch, you're already used to the new Siri and Apple Pay gestures – they're now exactly the same. Double tap the side button to invoke Apple Pay, or hold it down for Apple's AI assistant.
Otherwise, iOS is the same super-slick operating system it has ever been, and its eleventh iteration is no different. We've gone into more detail here if you want an in-depth review, but essentially it all just works. Sure, Android might be a bit more flexible with customisation, and more lenient with *cough* questionable software, but for sheer ease of use, iOS still has the edge.
DESIGN & BUILD: DEFINED AND REFINED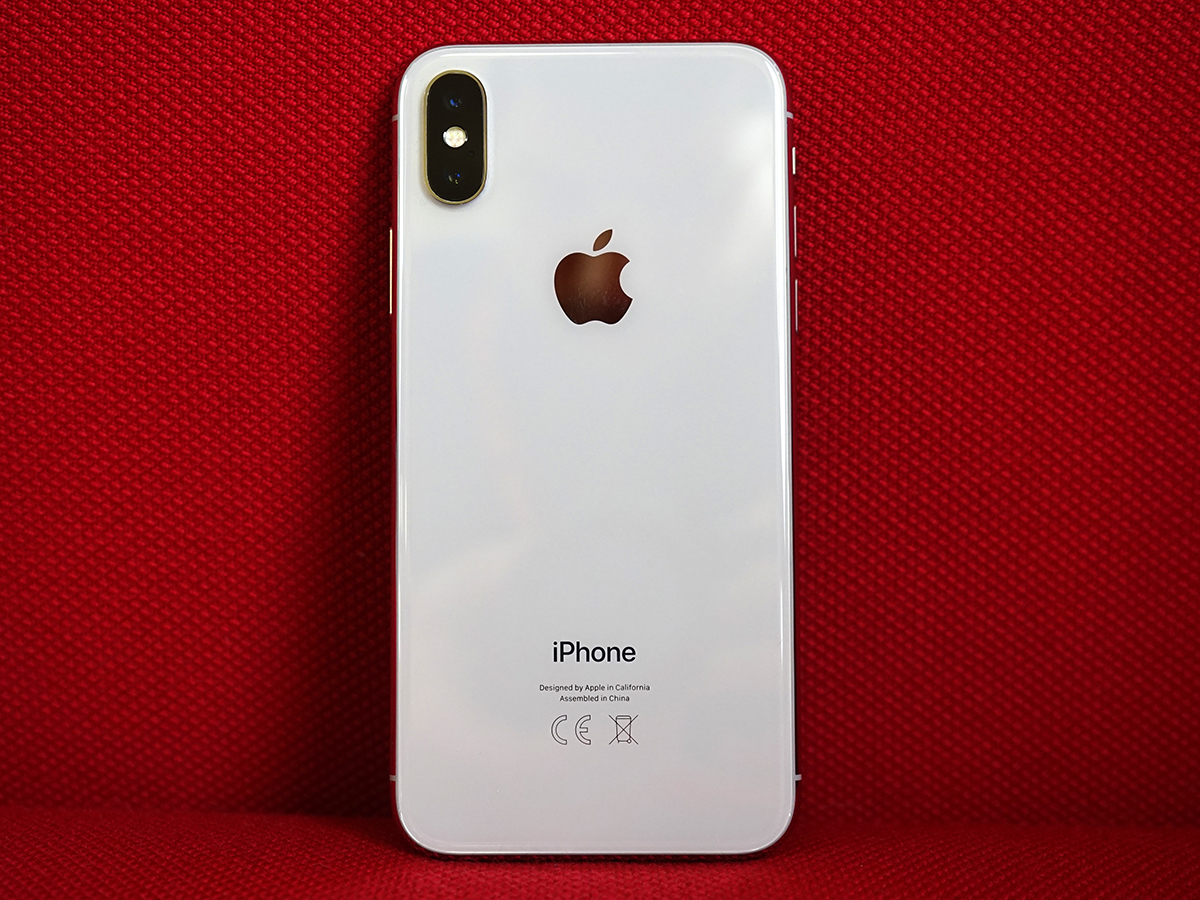 Only slightly larger than the iPhone 8, and the teensiest bit thicker too, the X is a great halfway house between big-screen phablets and more fist-friendly compact phones.
The compact dimensions make it much easier to get a firm grip on than the big and bulky Android competition, which should hopefully mean your expensive new toy won't go tumbling towards the floor – unless you're especially clumsy. It's rated IP67 water resistant, too, so will survive a temporary dunking down to 1m.
Up front, the display bezels aren't quite edge-to-edge, and they don't curve around the sides like Samsung's Galaxy S8, but they're practically non-existent compared to the beefy old-school ones of previous generation iPhones.
Look beyond the eye-catching screen, though, and the X doesn't deviate too far from Apple's tried-and-tested design – it mainly just ups the ante with more premium materials.
That means a repeat of the whole glass-and-metal sandwich look, only with a polished stainless steel frame instead of the iPhone 8's matt aluminium. You'd pay £300 more for the Stainless Steel Apple Watch over the standard aluminium version, so this goes a long way to making the X feel like a more premium device. The rear camera lenses have also been flipped to make room for the complex TrueDepth front snapper.
The differences are subtle, sure, but not so much there's a danger of going incognito when you pull your phone out of a pocket. You'll feel it, too – the glass doesn't quite sit flush to the frame, with a noticeable lip around the edge.
Apple reckons the glass used in the X is more resistant to scrapes and scratches than any other phone. I haven't exactly attacked it with a scalpel, but it has stayed box-fresh after a week of use – a big improvement over Huawei's mocha brown Mate 10 Pro, which is already looking a bit worse for wear after two weeks' use.
Still, drop it from a significant height and it's going to shatter. That's just physics.
Add up all these tiny tweaks and you get a slick handset that's still unmistakably Apple, and easily among the best-looking phones around – if not quite as jaw-dropping as the Galaxy S8 and its curved display.
It still managed to divide opinions in the Stuff office, though. Some staffers thought the shiny sides of the silver version felt like a retro throwback to the original iPhone, and others hated the off-centre camera bump – which makes the phone wobble if you try to use the phone while it's lying flat on a desk.
CAMERA & VIDEO: MAKE MINE A DOUBLE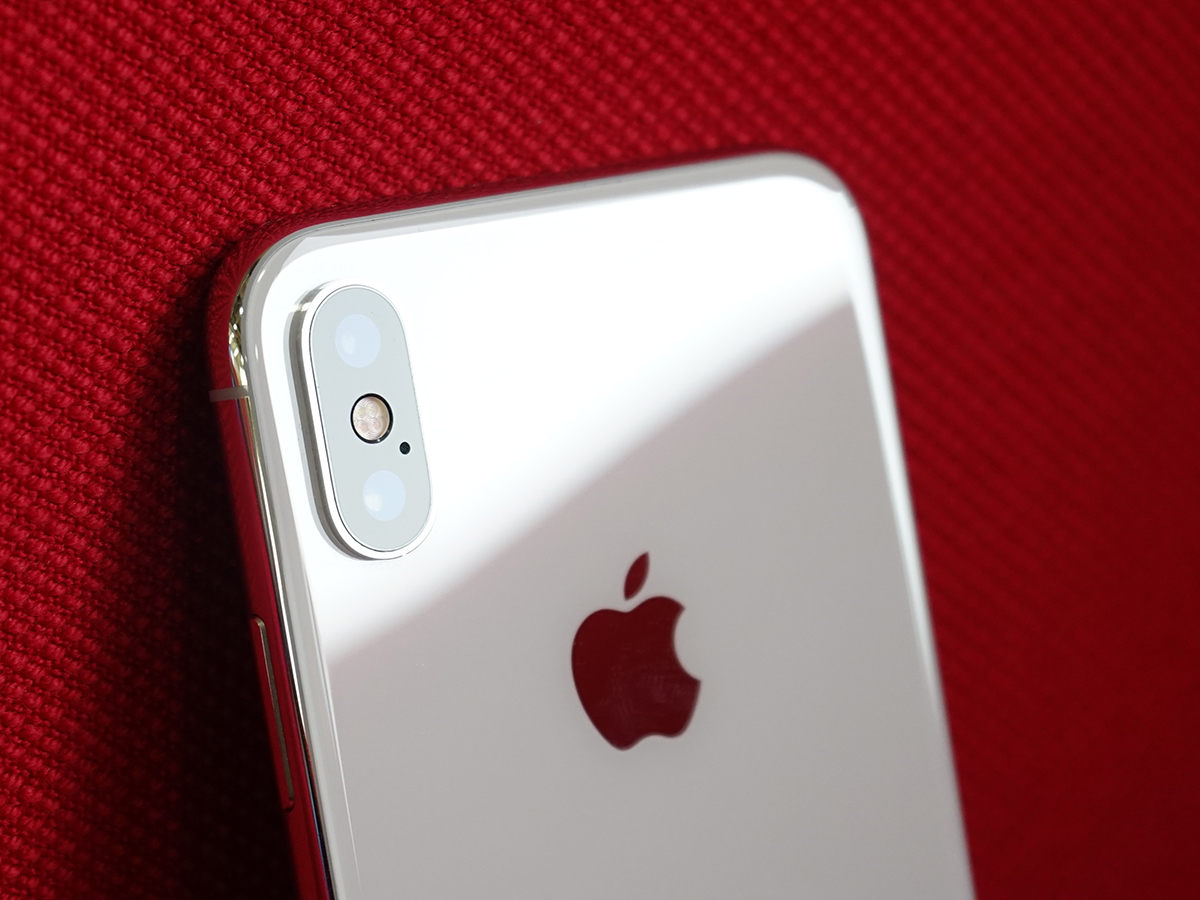 It might have some very clever tech up front, but the iPhone X doesn't mix things up as much when it comes to the rear cameras.
You get the same twin 12MP setup as the iPhone 8 Plus, with one wide-angle, f/1.8 and one telephoto, f/2.4 – up from f/2.8 in the iPhone 8 Plus. Only here, Apple has added optical image stabilisation to both sensors, instead of just the wide-angle snapper.
The sensors are larger and faster than last year's iPhone 7, come with a new colour filter for more saturated colours, and have deeper divisions between the individual pixels. This helps stop light bleeding between them, and gives dynamic range a boost too.
HDR mode is always on now as a result, and does a fantastic job of capturing scenes that would fox a lesser camera. Even shooting directly into the setting sun, the X had no trouble exposing detailed shadows – without also blowing out the sky to compensate.
In good light, the X is up there with the best smartphone cameras – impressive enough if it were sticking to JPEG, but even more so because it actually uses Apple's own HEIC file format, which takes up half the storage space of a JPEG photo.
Pictures are sharp and detailed, with rich, vibrant colours, although they err slightly towards oversaturation – we think the Pixel 2 XL has more natural, neutral hues. Google's phone also wins out on zoomed-in detail, with the iPhone appearing slightly smoothed-out in comparison. The differences are minor, though, and you'll only notice when you dial in at a pixel level.
Exposure is rarely an issue, and contrast is exceptional too, adding real depth to your shots.
Dark scenes have a not unreasonable amount of noise, but everything is still quick to focus and the results remain sharp. The quad-LED True Tone flash can always step in for a natural fill if it gets too dark.
For outright quality, Google has the edge, but the X is a lot more versatile. The 2x telephoto lets you get closer to the action than the Pixel 2's single wide-angle lens, and the X-specific OIS makes it that little bit better at capturing crisp shots in low light than the iPhone 8 Plus.
Apple wins on the video front, too. The X can shoot 4K clips at an impressive 60fps in the storage-friendly HEVC format, compared to the Pixel's 30. It'll even do 120fps slo-mo shooting at 1080p – only Sony's Xperia XZ1 goes slower, and that has to drop the resolution to 720p to do it.
CAMERA FEATURES: PORTRAIT PRO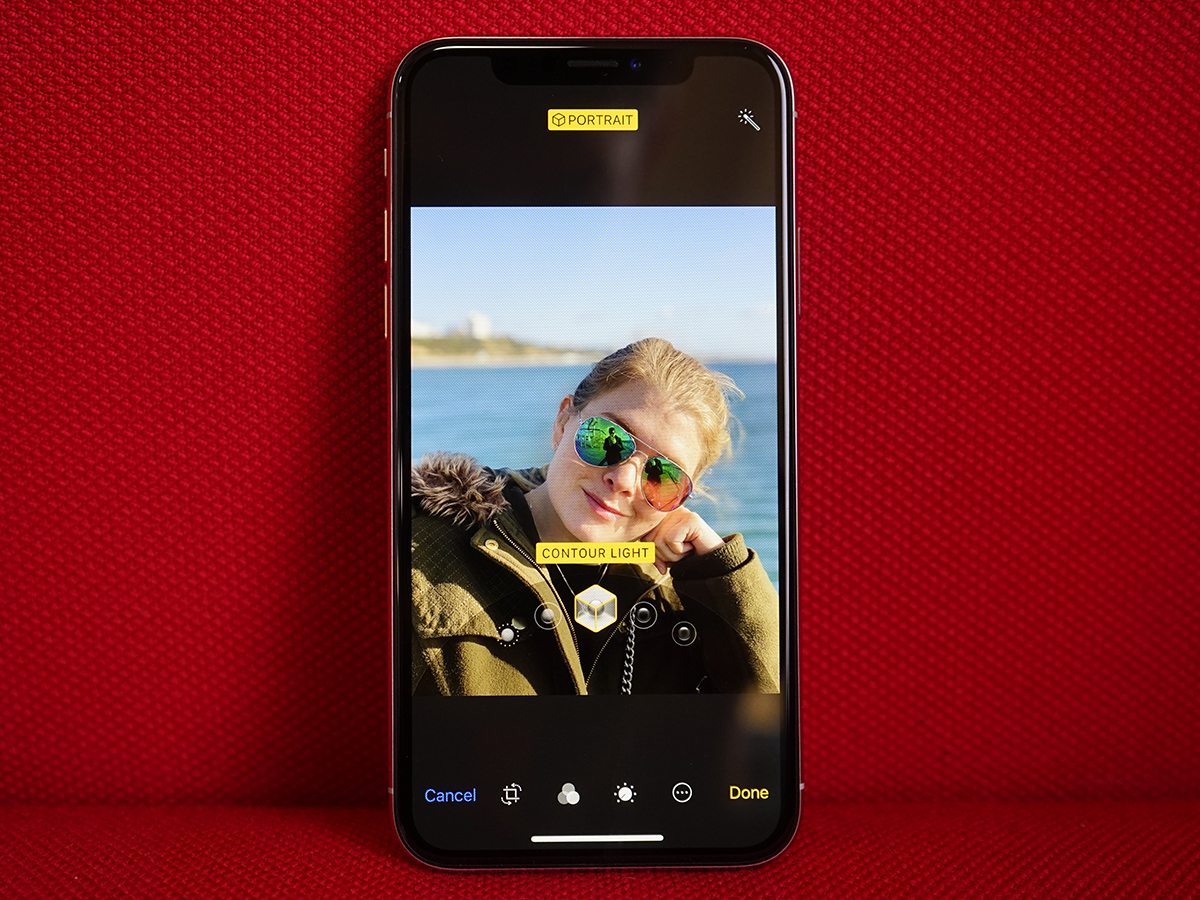 iPhones have had a Bokeh-blurring portrait mode for a while now – or at least the twin-cam Plus models have, anyway. The X ups the ante by letting you do the same to your selfies.
The TrueDepth front cam uses its IR depth-mapping to work out which bits to blur, with similar accuracy to the dual cameras around back – although the resulting snaps aren't quite as clear because of the smaller 7MP sensor.
The blur effects are a lot less aggressive and more natural than those of the Galaxy Note 8, which can look like you've smeared the lens with Vaseline, but it can still be caught out by loose hairs and fluffy clothes.
Portrait Lighting made its debut with iOS 11, albeit in beta form and only for the iPhone 8 Plus' rear cameras; with the X, it's an option for both front and rear.
Four bits of tech create a depth map of your face to mimic the effects of studio lighting: Studio Light brightens your features, Contour Light ups the contrast, Stage Light blacks out the background, and Stage Light Mono does the same, but in black and white.
Sometimes these effects look great, and sometimes they don't. The Stage Light and Stage Light Mono in particular depend on getting a perfect cut-out of your face, and sometimes the depth map just isn't up to the task.
For a feature that's still in beta, though, it's a cool addition that selfie-lovers are going to have lots of fun with.
PERFORMANCE: IT GOES UP TO ELEVEN
Underneath the dramatic new look, the iPhone X isn't all that different to the 8 or 8 Plus.
All three use Apple's A11 Bionic CPU, which run iOS 11 like a peach. The six-core monster of a chip has two high-performance cores that do most of the heavy lifting, and four efficiency cores that keep things ticking over in the background.
Games that would have been a bit stuttery on an iPhone 7 are now silky smooth, image editing apps render without any delay and even iOS 11's new party trick AR apps look nigh-on flawless. There's not a thing in the App store that should give this any trouble.
If you go by benchmark numbers the raw performance is truly impressive, although the differences between iOS and Android mean it's not quite an apples to apples comparison. Phones running Google's operating system should still watch their backs, though.
The X has the same 3GB of RAM as the iPhone 8 Plus, which might not sound like a lot when much of the Android world has 4GB, 6GB or even 8GB, but it's more than enough to keep iOS 11 smooth when swiping between multiple open apps.
BATTERY LIFE: WIRELESS WONDER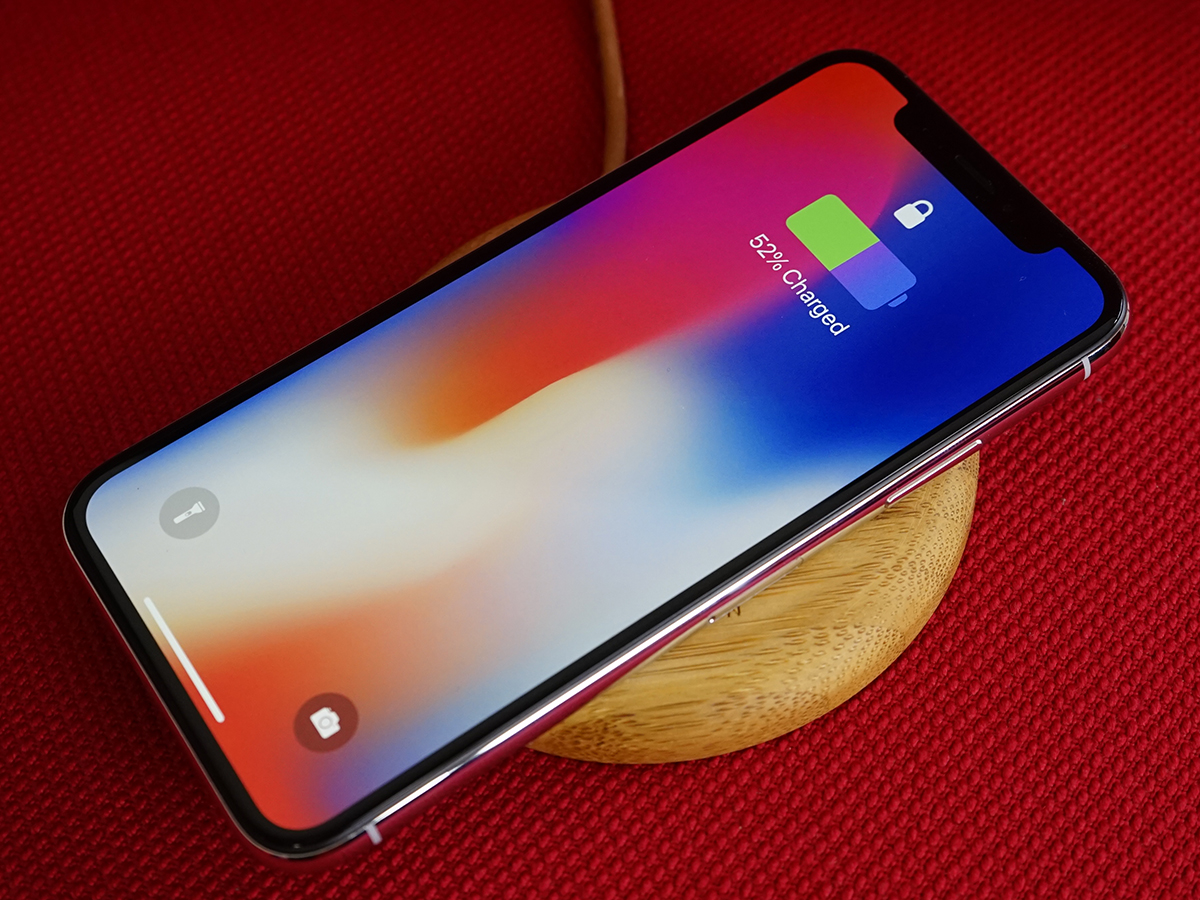 Apple has somehow managed to squeeze a bigger battery (technically two, battery fans) into the X than that in the iPhone 8 Plus – 2716mAh to 2691mAh – so you'd expect it to last even longer away from the mains. Ah, if only things were that simple.
In a video rundown test, the X did indeed fall somewhere in-between the iPhone 8 and 8 Plus, but that's not the whole story – for more general use, the X has impressive stamina and even better standby battery life.
It will easily last an entire day, even when snapping photos, playing games and streaming video over 4G. Go easy on the more intensive apps and you'll still have juice left the next morning. It's not quite on par with Huawei's Mate 10 Pro, which can manage two days between charges, but it's still very good.
Wireless charging makes topping up a breeze, too. You don't get a charging pad in the box, but thankfully Apple has used the Qi wireless charging standard – meaning no messing around with proprietary Apple kit that costs a fortune. It's not as quick as Samsung's 15W charging, but still perfect for overnight top-ups without reaching for a cable first.
If you do need to refuel in a hurry, the X supports fast charging too – but only if you've got a USB-C to Lightning cable and a USB-C power adapter that supports USB power delivery. Apple's own cable and plug combo will set you back a wallet-busting £75.
PRICE & COMPETITION: STORAGE WARS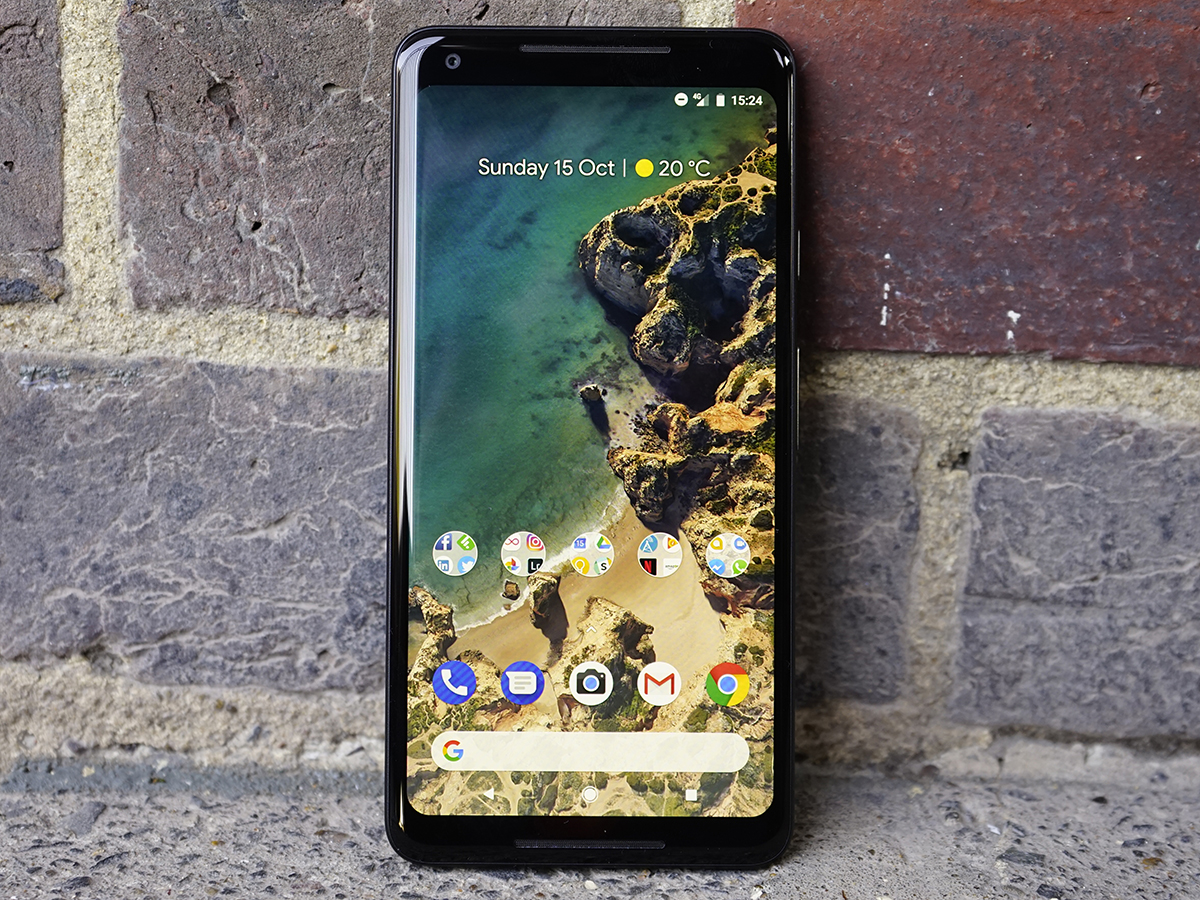 The X sits at the top of the iPhone food chain, so you'd better believe it carries a premium. It's available in two choices: 64GB for £999 and 256GB for £1149. Ouch.
The 64GB base model should still be enough for most people, once you add in iCloud online storage for your photos, and iOS 11's new app offloading feature. This keeps your app data, but temporarily deletes the app itself to free up space when you're running low.
Whichever model you go for, we're still talking a significant chunk of change. If you're after a gorgeous phone but aren't tied to Apple's ecosystem, you can pick up Samsung's Galaxy S8 for half the price.
Google's Pixel 2 XL is significantly bigger, and has a few issues with its OLED display, but it takes fantastic photos and costs £200 less than the basic X.
If you're addicted to all things Apple, you could save some money and go for the iPhone 8. It doesn't look as flashy, and won't let you send animated poo emojis, but the software is near-identical and it has that familiar TouchID home button. There's less of a jump from the iPhone 8 Plus to the X, so the £200 difference might be easier to swallow.
APPLE IPHONE X VERDICT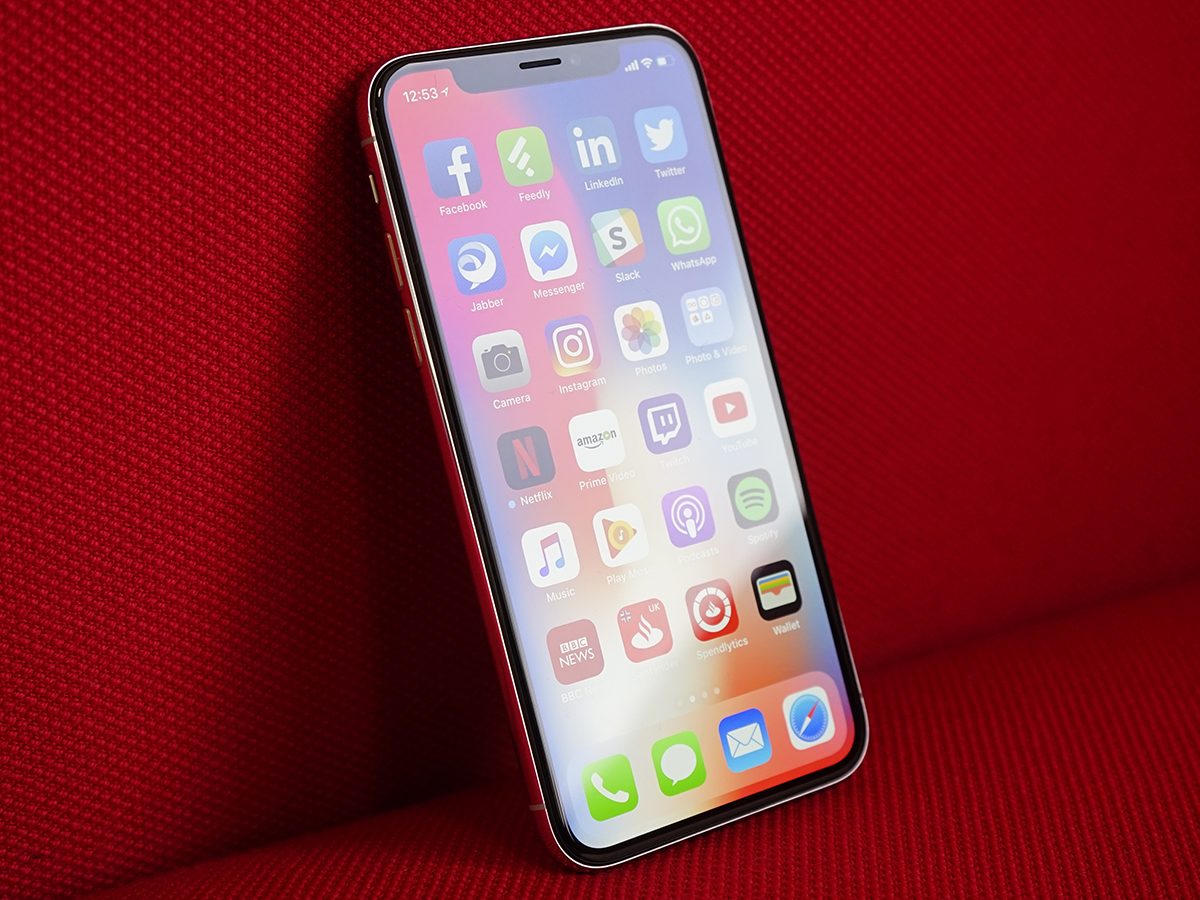 By letting go of long-standing features such as a physical home button, Apple has brought its smartphone bang up to date. The X has the best screen of any iPhone, ever, and it looks the part too – even with that notch.
FaceID works better than any other facial recognition system you'll find on a phone right now (even if it's not perfect), and the dual rear cameras take excellent photos – if not quite as natural or detailed as Google's algorithm-assisted Pixel 2 XL.
Beyond some cute face-tracking fun with emoji, though, the X doesn't have many unique features you won't also find on the iPhone 8 and 8 Plus. Both get that fancy new A11 CPU and wireless charging, and neither forces you to relearn a load of gestures to get around iOS.
They're a hell of a lot cheaper, too. You're paying a premium here for that bold new look, FaceID, and not much else.
It's not like that ever put anyone off buying an Apple product before, though, is it? If you want the best iPhone, you're going to have to find the cash – the X has set the bar, and the iPhone 8 and 8 Plus just can't jump high enough.
Tech specs
| | |
| --- | --- |
| SCREEN | 5.8in OLED with HDR, TrueTone, 3D Touch |
| PROCESSOR | Apple A11 Bionic hexa-core |
| MEMORY | 3GB RAM (estimated) |
| STORAGE | 64GB / 256GB on-board |
| CAMERA | 2x12MP rear w/ OIS, quad-LED flash. 7MP TrueDepth front |
| OPERATING SYSTEM | Apple iOS 11 |
| BATTERY | capacity TBC. supports wireless charging, fast charging |
| DIMENSIONS | 144x71x7.7 mm, 174g |
Stuff Says…
An iPhone that finally goes toe to toe with Android on raw specs – but the X gives up some of that signature Apple ease of use to do it
Good Stuff
Gorgeous screen – even with the notch
Versatile camera takes great photos
Slick OS runs beautifully on powerful hardware
Bad Stuff
Apps look odd without updates
FaceID isn't 100% accurate
Super expensive