Apple MacBook Air 13″ (2018) review
The lightest MacBook finally gets its long-awaited update - is it a breath of fresh Air?
Fans have been waiting years for Apple to show some love to its most affordable laptop, and now, a whole decade after the Air was first revealed, the new generation has arrived.
Design, hardware and software have all received significant updates that bring the company's most popular MacBook bang up to date – but in the process, the price has skyrocketed. Oh – and in an attempt to earn a few greenie points, it also rocks an 100% recycled aluminium alloy shell.
Factor in the increasingly blurred lines between MacBook, MacBook Air and MacBook Pro models, and buying a new Apple laptop has quickly turned into something of a minefield. It's time to find out if this is this still the MacBook for the masses.
DESIGN & BUILD: APPLE TO THE CORE
An all-new look feels like the ideal way to celebrate the Air's tenth birthday: while once cutting-edge, the old model's looks have dated, and been left for dust by the newer, sleeker MacBook Pro.
This new model borrows just about every design cue it can from Apple's premium laptops, and even gets the same three colour choices as the 12in MacBook: space grey, gold and silver.
Machined from a single block of recycled aluminium, the Air is undeniably sleek. It's slimmer than a ballpoint pen at the rear, and wedge-shaped to slim those proportions down to a miniscule 4mm at the front. There's no backpack that won't have room for one of these inside it.
It barely tips the scales at 1.25kg, too. While the 12in MacBook is even smaller and lighter still, there's not a lot in it, and you'll have no complaints carrying the Air around with you all day.
The design similarities continue when you lift the lid, with a MacBook Pro-matching keyboard that's bookended by stereo speakers, a giant glass touchpad, and skinny black screen bezels.
The Air stands out from the base 13in Pro thanks to a TouchID button in the top right corner of the keyboard, letting you log in to macOS with a digit instead of a password. It works just as quickly here as it did on any iPhone, before FaceID took its place. TouchID isn't completely integrated into macOS yet, so you'll still be asked for a regular password in certain apps and Settings pages, but expect that to change in the not too distant future.
This is the first MacBook Air to charge over USB-C, meaning the old MagSafe adaptor has effectively been killed off. You get two USB-C ports, and either can recharge the laptop, but they're rather close together: plug in a particularly chunky peripheral and you might end up obscuring the second port.
Photographers won't like saying goodbye to the built-in SD card reader, which will need to be replaced with a dongle, but at least you get a headphone jack on the right side of the machine…if that's any consolation?
APPLE MACBOOK AIR (2018) DISPLAY & SOUND: READY FOR RETINA
Ask 100 MacBook Air owners what one feature they'd want to see upgraded in a new model. Go on, we'll wait. For this most unlikely of Family Fortunes quiz questions, we're betting "the screen" would see you through to the Big Money round.
The old Air's 1440×900 resolution was decidedly old hat, and has been eclipsed by dozens of similarly-priced Windows laptops that managed to squeeze WQHD or even 4K panels into the budget. Well, now the Air has the screen it deserves. At 2560×1600, the Air's retina display treads a sensible middle ground between 1080p and 4K resolutions, which would probably be asking too much of its low voltage CPU.
The ugly, chunky bezels of the old model are gone, too with the now much skinnier black borders not distracting you from what's on-screen. There's a significant step up in terms of detail here, with four times the pixel count versus the old Air. Putting it next to our previous gen Air, it suddenly feels alarmingly fresh and lust-worthy.
Pictures look pin-sharp, with vibrant but accurate colours that are much more expressive than the last-gen model. You don't get the ambient light-matching True Tone tech seen in the MacBook Pro, though. Brightness here is also limited to 300 nits, compared to the Pro's 500nits. That's still plenty bright enough for office working, but less suited to professional colour work.
Viewing angles are fantastic, so you should have no problem finding a workable position.
An uprated set of speakers deliver similarly impressive audio, with an impressive degree of stereo separation and decent amount of volume. For plenty of old Air owners, their laptop is their only device for watching movies and streaming video; this new model more than delivers when it comes to multimedia.
KEYBOARD & TOUCHPAD: Butterfly Effect
The biggest change for anyone migrating from an older MacBook Air? That'll be the new keyboard and touchpad.
It now uses the same buttterfly switch design as the 12in MacBook and MacBook Pro, which is much slimmer and with far less key travel than before. A new silicon barrier should keep dirt and grime from getting underneath the keys, and hopefully prevent some of the issues MacBook Pro owners have reported.
If you're used to smashing keys with the force of the Incredible Hulk whenever you type, this'll feel a bit like typing on glass, and it can make quite a racket, too – albeit not as much as the original 12in MacBook, which was loud enough to warrant earplugs.
Size-wize it's ideal, though, and we had no trouble getting our word count up to speed after spending the last few weeks working on an older-generation Air.
The all-singing, all-dancing touchbar second display remains exclusive to the top-end MacBook Pro, and that's probably a good thing: adding it here would only bump the price up further, and give battery life a kicking for not much return.
The all-glass touchpad brings Force Touch to the air for the first time, letting you apply a bit of extra pressure to activate new menu options or shortcuts. The huge pad is perfect for zipping around the desktop, and is still the most accurate and responsive you'll find on any laptop.
PERFORMANCE: A FAMILIAR FORMULA
The new Air starts with a dual-core Intel CPU ticking along at 1.6GHz. But hang on a minute: that's lower than the 1.8GHz chip that powered the old Air. What gives?
It's because Apple has switched to Intel's eighth-generation processors, which are more efficient at lower speeds. That means performance is on par, but battery drain is significantly lower. And besides, 1.6GHz might not sound like much, but Turbo Boost tech means that lowly clock speed can crank all the way up to 3.6GHz when you need the extra grunt.
The CPU is paired with 8GB of RAM, which is still the entry-level standard for all of Apple's laptops. Sure, adding more would help with multitasking or demanding apps like Photoshop, but we're betting most Air owners will be sticking to the simpler stuff.
Anyone thinking of adding more (yours for £180) should seriously consider stepping up to a MacBook Pro instead, where the extra CPU shove will make a bigger difference to performance. Not that the Air is sluggish, mind.
While filling your desktop with resource-hungry apps will of course slow things down compared to a MacBook Pro, there's more than enough power here to run a handful of apps at once. Safari web browsing is smooth as you like, the Photos and iTunes apps open rapidly and even working on a sizeable Photoshop file felt responsive.
There's just about enough power to play some games, too. Blizzard's action RPG Heroes of the Storm defaulted to low graphics settings and 720p resolution, but was slick enough to enjoy a few rounds online.
Epic's monumentally popular Fortnite is playable too, as long as you're prepared to drop the details, accept frame rates in the 30s and put up with some considerable noise from the Air's internal fan. Is this a gaming machine though? Absolutely not – but it'll scratch the itch if you really want it to.
128GB of super-fast SSD storage is respectable for a base model machine, although Apple does ask a considerable amount of cash to step up to 256GB (£200), 512GB (£400) or 1.5TB (£1200!). An external hard disk or USB-C flash drive would be far cheaper.
BATTERY: 24 hour party sequel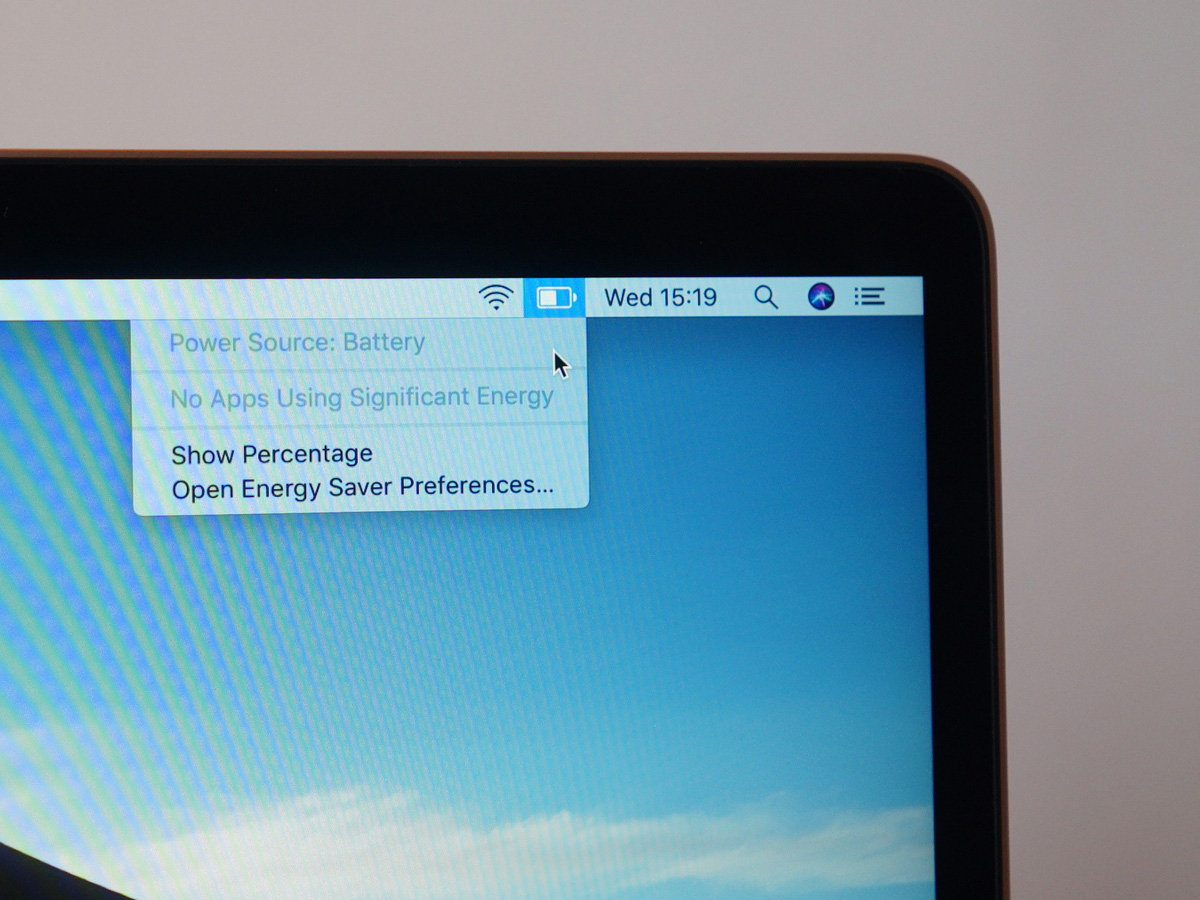 What the last-gen Air lacked in performance, it made up in longevity. It could comfortably outlast the more powerful MacBook Pro away from the mains, and this new version can do the same.
Apple rates it for 13 hours of video playback, or twelve hours of 'wireless web working' – basically a mix of the typical tasks a user would fill their day with. That's three hours more than any current MacBook Pro, and longer than the 12in MacBook to boot.
If you want to work without being tethered to a plug socket, then, the Air is the MacBook to go for.
In our tests, which threw in some Photoshop editing, a quick round of Fortnite and some streaming Netflix, the Air still managed north of eleven hours. It's not quite as long-lasting as Microsoft's Surface Laptop, but still comfortably enough to get you through a full working day.
OS & SOFTWARE: MEET MOJAVE
MacOS Mojave has been doing the rounds for a few months now, so of course it comes installed on the Air right out of the box. That means you get the same slick, user-friendly operating system as before, only now with a few extra goodies.
That includes an eye-friendly Dark theme, a redesigned Mac App store that makes finding new apps that much easier, desktop stacks for quickly organising your messy files and folders, and the improved gallery view for Finder.
The latter is an evolution of Apple's clever-looking, but not-so-clever to use cover flow view, giving you a more detailed look at your files without taking up the entire screen.
You also get Hey Siri, letting you talk to your Air and have Apple's virtual assistant talk back. It's always listening (unless you tell it not to) and is just as adept at recognising your assorted mumblings as an iPhone or iPad. Siri is less of an airhead these days.
There are no major new apps to get your head around in Mojave, so anyone coming from an older MacBook should feel right at home here. Windows users will typically take a bit of time to adjust to Apple's way of doing things, but for ease of use, it's well worth the effort: macOS is an excellent operating system.
Apple MacBook Air (2018) verdict
As if there was any doubt: this is, hands down, the best MacBook Air yet.
It looks every bit as premium as the MacBook Pro, and the fantastic screen is a quantum leap from the old generation's basic panel. That keyboard is a treat for your fingers, too.
At £1099, though, it's not cheap. The price has leapt massively from the previous generation, and is now only £100 less than the entry-level MacBook Pro, which has significantly more power for anyone looking to do more than the basics.
The new Air also makes the 12in MacBook a little redundant: it's more expensive, but isn't nearly as powerful, only slightly smaller, and lacks the convenience of touch ID.
That essentially means that if you're happy with macOS (and why wouldn't you be, it's ace) the Air is absolutely the go-to MacBook for the majority.
Tech specs
| | |
| --- | --- |
| SCREEN | 13.3in, 2560×1600 LCD |
| CPU | 1.6GHz dual-core Intel Core i5 |
| MEMORY | 8GB RAM |
| GRAPHICS | Intel UHD Graphics 617 |
| STORAGE | 128GB PCIe SSD |
| OPERATING SYSTEM | Apple macOS Mojave |
| CONNECTIONS | 2x Thunderbolt 3/USB-C ports, headphone jack |
| BATTERY LIFE | Up to 12 hours |
| DIMENSIONS | 304x212x15.6mm, 1.25kg |
Stuff Says…
Not as affordable as the Air used to be, but this latest version justifies the added expense with a stunning design, screen and features. More than enough MacBook for most people.
Good Stuff
Screen a significant step up from previous gen Air
Classy design with outstanding keyboard
Same great battery life, despite hardware upgrades
Bad Stuff
No longer as affordable as the Air once was
Only slightly faster than before
Loses ports in the name of thinness