Apple Watch Series 5 review
You were always-on my mind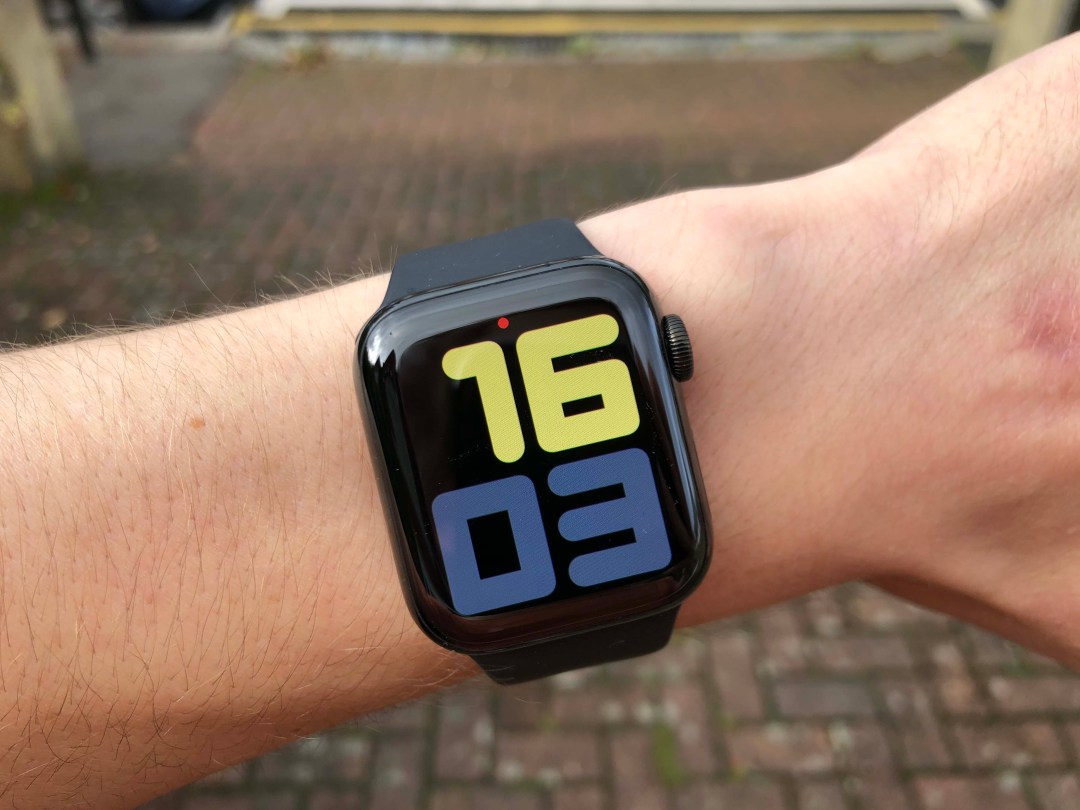 Apple's domination of the smartwatch market is akin to PSG's of Ligue 1. Only instead of Mbappé and Cavani, Apple has a seamless relationship between hardware and software and really impressive health features.
You'd be forgiven, then, for fearing that Cook and co. would rest on their laurels after the excellent Apple Watch Series 4. But while Series 5 isn't as significant an upgrade as last year's model (after all, that was arguably the first smartwatch that could genuinely save your life), it does have one significant addition: an always-on display.
By no longer requiring you to flick your wrist to see the time and any notifications that may have popped up, the Watch S5 becomes a lot more like, well, an actual watch. And because of the clever tech powering it, the new screen doesn't annihilate your battery either.
Also new is a built-in compass, while the watchOS 6 update adds a host of new features that make the Watch even smarter.
The Apple Watch is still great then, but has its maker done enough to entice you to upgrade?
Design: Don't switch off
Last year Apple introduced a much more all-screen design to its wearable, stretching the OLED right out to the corners of the watch face. It was thinner to boot – a noticeable upgrade on the Watch S3.
By contrast, out of the box the Watch S5 is near indistinguishable from its predecessor. The dimensions are the same, there's a button for quick app-switching and fast access to Apple Pay, you still get satisfying haptic feedback from the Digital Crown, and it's still doing absolutely nothing to appease those who prefer circular watches.
Turn it on, though, and you'll quickly realise that the Watch S5 is a very different beast. That's because until the battery conks, it stays on. Very much the Bullfrog (look it up) of screen tech, the new Always-On Retina Display never actually sleeps. Apple uses what's known in the business as a low-temperature poly-silicon and oxide (LTPO) display, which allows the refresh rate to adjust from as high as 60Hz to as low as 1Hz.
The pairing of an ultra-low power display with an ambient light sensor ensures the watch isn't gulping juice like your five-year-old nephew. More on battery life later but, spoiler: the S5 performs admirably.
When your wrist is lowered the screen dims just enough to keep the time and whatever complications you have easily viewable at a glance. Raise or tap it and the Watch illuminates to full brightness. Occasionally it wouldn't register my eyeline straight away, but not often.
I'm not sure Kermode and Mayo have come up with a conduct rule relating to Apple Watch displays, but they'll probably be glad that cinema mode still makes the Watch go completely black unless you tap it – a mode you may well find yourself using in dimly lit restaurants and the like, too.
While it's true that the Apple Watch S5 is far from the first smartwatch to go always-on, it's a bit of a revelation for anyone used to previous models. For one, you can now easily check how much longer you have to endure a meeting at work without making your disinterest obvious to everyone at the table, but the always-on display is so attractive because of how Apple has re-designed most of the watch faces to properly utilise it.
Choose the new Numerals Mono face, for example, and the colour that fills its big, bold numbers will drain away when the display dims. Raise the Watch and colour is restored. I'm also a big fan of the Mickey Mouse face's always-on makeover, which now darkens everything except Mickey's time-telling hands when the display is in its ambient state. It's subtle but brilliant.
Sadly, the always-on functionality isn't much use in apps, even Apple's own. For example, if you have Apple Music open on your Watch, as I often do when I'm walking, it'll simply blur out the playback screen when you're not looking at the device, so all you can see is a plain digital clock. It does the job of course, but it doesn't look great, and the first time it happened I thought the Watch had malfunctioned in some way. Hopefully Apple will do something a bit more interesting with future updates.
Otherwise, the only thing to note, as ever, is that it's advisable you try on both the 40mm and 44mm sizes before making a decision. I say this because I've dropped down to a 40mm from a 44mm S4 and it's actually a better fit for my scrawny wrists. Neither version is comically enormous, and both have expansive and brilliantly colourful OLED displays. But if you're going to be wearing the thing every day, you should get the one that looks and feels best on you.
Ceramic and titanium join the ever-present aluminum and stainless steel variants, all of which differ in weight and can be customised with a dizzying number of straps. Good luck out there.
Features: (true) North star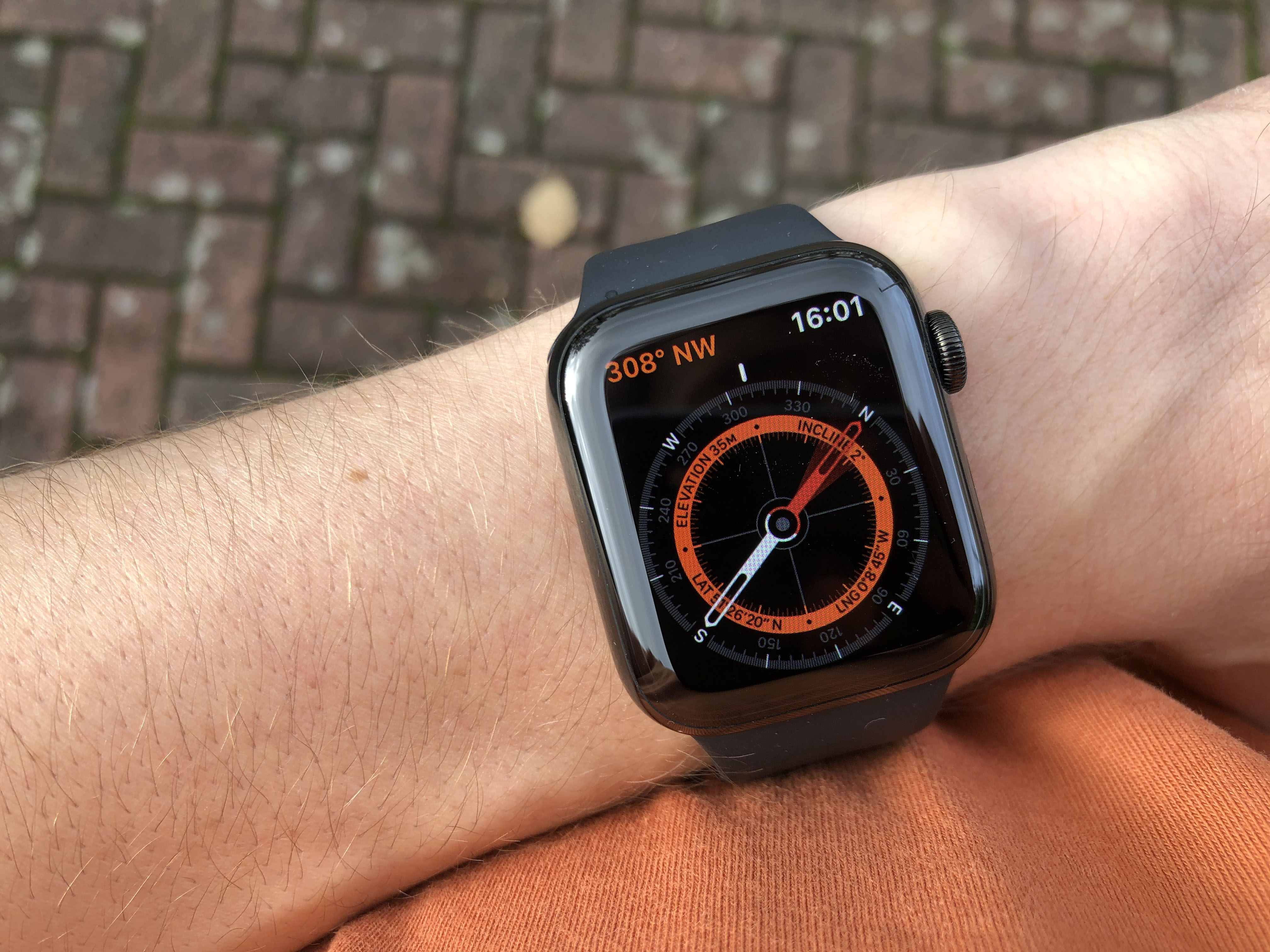 If you won't be persuaded by its amphibian-emulating display, Apple is banking on the S5's orienteering credentials to sway you. As well as the built-in GPS from previous watch iterations, the new wearable also has a proper compass. Open its dedicated app and you're shown which way you're facing, your incline, and latitude and longitude readings.
The Watch S5 is also capable of showing you your current elevation, in addition to elevation gain, which previous models could handle. There are several Compass complications you can add to your watch face so you'll never need to be lost for more than a few seconds.
While they're likely only going to be appreciated by Cub Scouts and hardcore hikers, the new navigation features work as well as you'd hope. And you don't need a cellular or Wi-Fi connection to access them.
Cellular S5 watches are now able to make international emergency calls from nearly anywhere in the world (Apple's official line is 150 countries), regardless of where they were purchased. And you don't even need to have activated the cellular plan for it to work. Apple has always seen the Watch as a wrist-based guardian, and things like this only strengthen that claim.
In terms of hardware, not much else is new, but that's hardly a complaint. The heart rate monitor, independently functioning (and mostly accurate) GPS and accelerometer ensure the latest Apple Watch remains a great pick for fitness types, while the ECG monitor – groundbreaking when it was introduced for S4 – is easy to set up and will inform you of any irregular heart rhythms it detects before it's too late.
Fall detection, the excellent S4 innovation that will ask you if you're OK after detecting a fall and automatically call an ambulance if it doesn't receive a response, is just as impressive here as it was last year. Hopefully you'll never have to find that out for yourself, though.
Apple continues to eschew building its own sleep-tracking app, so you'll have to keep using the numerous third-party offerings if that's something that is important to you. Why we still haven't got it remains a mystery, but I'm inclined to think that an all-day and night battery is something Apple hasn't quite been able to make a reality in its labs. Maybe next year.
Software: is it loud in here?
If the Watch S5 is lacking somewhat in hardware additions, there's plenty of watchOS 6 software enhancements to tuck into – for Apple Watch owners both old and new.
The most notable addition is a dedicated App Store on the Watch itself, meaning you no longer have to download apps on your iPhone and sync them across. From the home screen you can search either by scribbling or dictation, and there's a curated list of popular apps you can scroll through.
Problem is, it's not as fast as I'd like and, as you'd expect, browsing for new apps is more enjoyable on a phone than a comparably puny watch screen. You're going to have to get used to it though; click the App Store tab on the Watch iPhone app now and you'll be politely encouraged to do one, with Watch-specific apps now limited to a store category on the big screen. You'll still need your iPhone handy for password inputs though.
Next up is the new Noise app, which enables Dr. Apple Watch to look after your hearing too. It constantly monitors ambient noise in your environment and notifies you if the decibel level could damage your hearing with long-term exposure.
I tested it in the home end at the Tottenham vs. Bayern Munich Champions League game and was duly informed that the noise level in my vicinity when Spurs took the lead could be problematic for my lugs. Strangely, when Bayern scored their seventh goal of the evening it wasn't quite so concerned.
Meanwhile, Siri's had a bit of a glo up. The assistant has merged with Apple-owned Shazam so you can now ask it what song is playing and add the results to your library. It's no better than having the Shazam complication – as I did on practically every watch face that would allow it on previous Apple Watches – but it was pretty reliable in my tests. You can also ask Siri to search for topics and scroll through web results on the Watch.
You'll find a new tab on the Activity app on your iPhone called Trends, which gives you a detailed breakdown of your activity and overall fitness trajectory over a 90 day period compared to the last 365 days. The Cycle Tracking app allows female Apple Watch users to easily log information about their menstrual cycles on the Watch and see a full breakdown in the iPhone Health app. My editor will be testing this feature and updating the review accordingly.
As mentioned earlier, there are a multitude of new watch faces to pick through, but another OS update goes by without Apple allowing third-party alternatives. Five generations into the Watch, Apple has designed enough of its own to please most people, but I'd hesitate to call any of them perfect, and it'd be great to see what developers could come up with if given the chance.
A calculator, Voice Memos, an Audiobooks app and various graphical spruce-ups (the Now Playing screen is much-improved) round off what is a sizeable update.
Performance and battery life: 18 hour-rated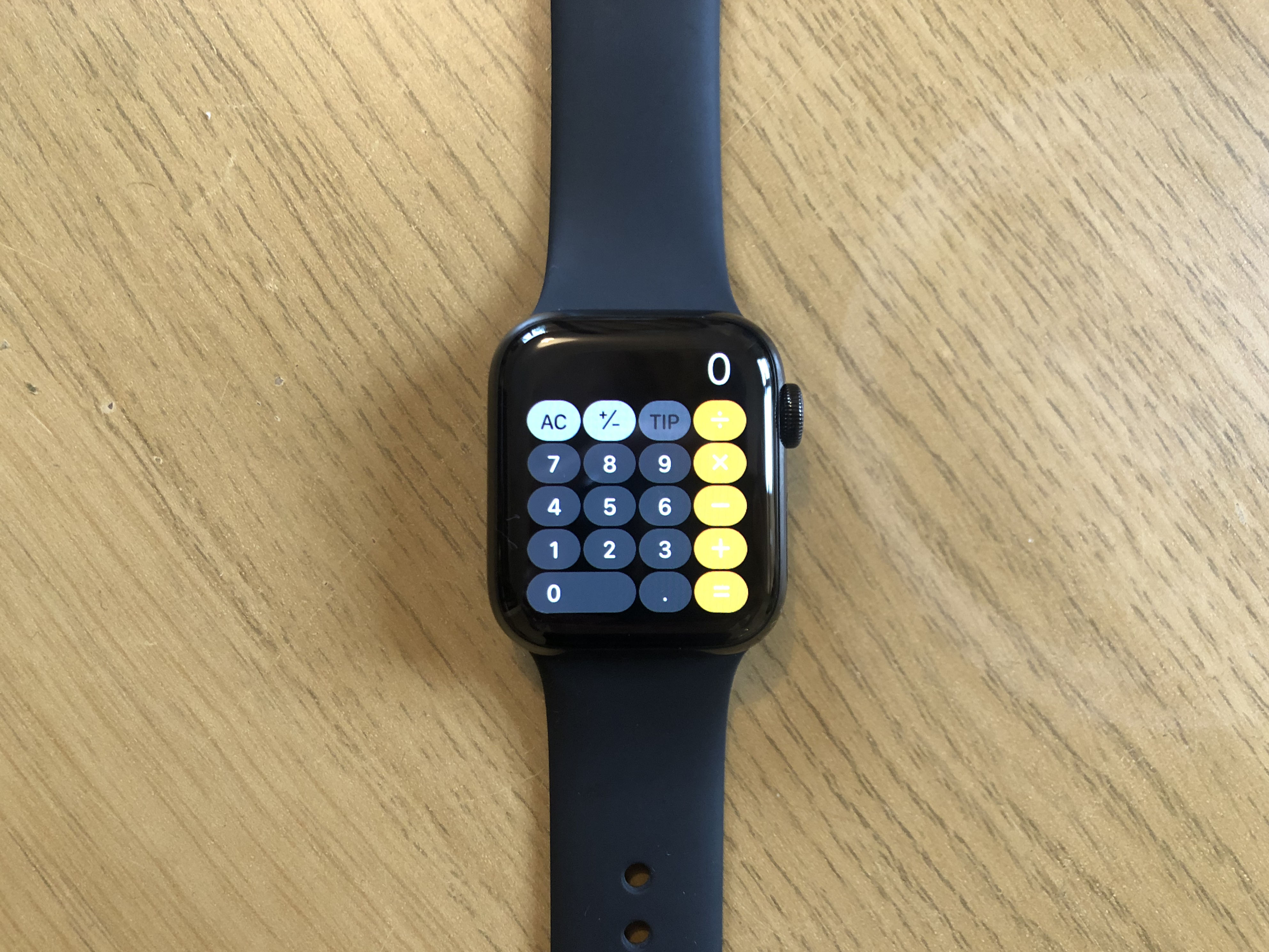 As useful as an always-on display is, I don't think many people would happily sacrifice a sizeable chunk battery life for it. When the Apple Watch S5 was unveiled, Apple assured us it would last all day, and after wearing one for a fortnight I'm happy to say that this holds up.
On an average day where I'm mainly just receiving notifications and controlling podcasts and music, the Watch will probably be at around the 38% mark when I put it back on the dock in the evening. After a GPS-tracked 40-minute jog where I had it continuously streaming downloaded music, it was on about 83% from a full charge.
It's going to vary day-by-day, but as long as you're remembering to charge it every night the Watch S5 isn't going to conk on you. Just know that it's definitely a step down from its predecessor. On overseas work trips where I needed the adaptor for my phone overnight and therefore couldn't charge the S4, it would often still last well into the following day. I wouldn't have that confidence with the S5. And there are other smartwatches out there that can go for days between charges.
The latest Apple Watch has a new processor, but I didn't notice any drastic speed increases. It's still the slickest, smoothest smartwatch out there, and didn't crash or freeze on me once.
Storage has been upgraded to 32GB, which is good news for people who don't feel the need to invest in the cellular model and therefore have to download music and podcasts to watch if they want to exercise phone-free.
While I think it's true that few people really need the LTE Watch, it should be noted that getting media onto the Watch is no less of a pain on the S5. You still need to have it docked for your music to properly sync, and even then it doesn't always work.
Shelling out for a data plan means you can access your entire music library wherever you are. If, like me, you've arrived at the park only to realise that just three songs have downloaded to your Watch, you might think the expense is worth it.
Apple Watch Series 5 verdict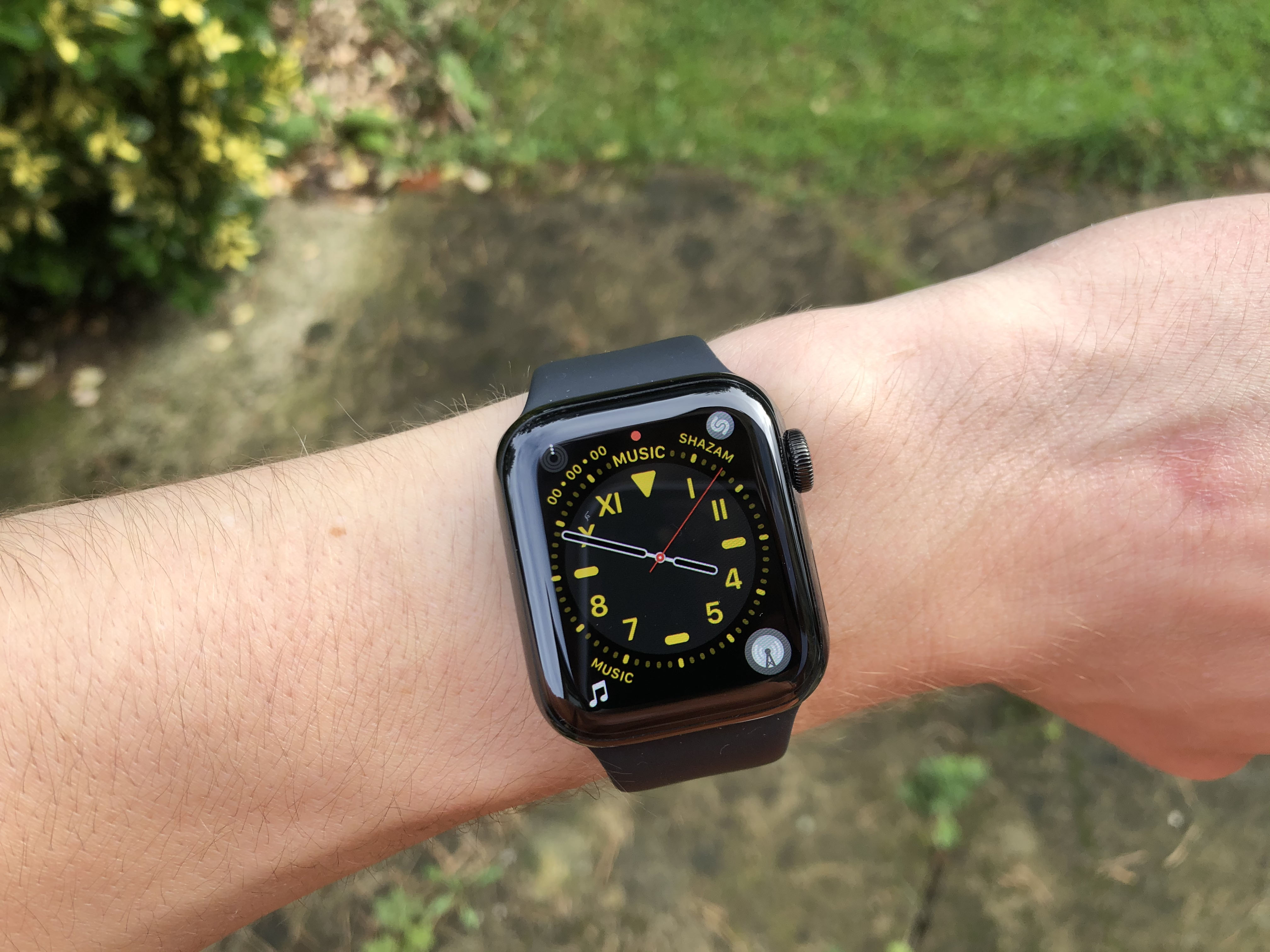 If you use an iPhone, the Apple Watch remains the best smartwatch by some margin. It's not cheap, and there are more advanced fitness-focused wearables on the market, but it works beautifully within Apple's ecosystem and (save for downloading music) does everything you want it to with minimal fuss.
The question is, does the Watch S5 do enough to justify an upgrade? If you bought an S4 and have no major issues with wrist-flicking, then probably not. The S5's always-on display is a welcome addition, but it's hardly essential, and unless you're lost in the woods, neither is a compass. Most of the Watch's best new features come from watchOS 6, and they work on the older model too.
If you own an S3 or older, the temptation of a bigger screen that never sleeps may prove too much to resist. And with everyone else playing catchup, there isn't a safer investment in tech right now.
Tech specs
| | |
| --- | --- |
| Screen | 1.78in (44mm) / 1.57in (40mm) 448×268 (44mm) / 394×324 (40mm) OLED w/3D Touch |
| Chipset | Apple S5 |
| Storage | 32GB |
| Operating System | watchOS 6 |
| Battery | Non-removable Li-lon 18h |
| Features | Accelerometer, gyro, heart rate (2nd gen), barometer, compass |
| Dimensions | 44x38x10.7mm 47.8g (44mm) 40x34x10.7mm 39.8g (40mm) |
Stuff Says…
A minor upgrade, but an always-on display makes the best smartwatch even better
Good Stuff
Always-on, baby
Battery life is still good enough
Noise-monitoring, period-tracking and better Siri among the watchOS 6 improvements
It's an Apple Watch – they're really good
Bad Stuff
S4 lasted longer between charges
New App Store not great
Still no third-party watch faces