Ashes Cricket review
Test Match Special indeed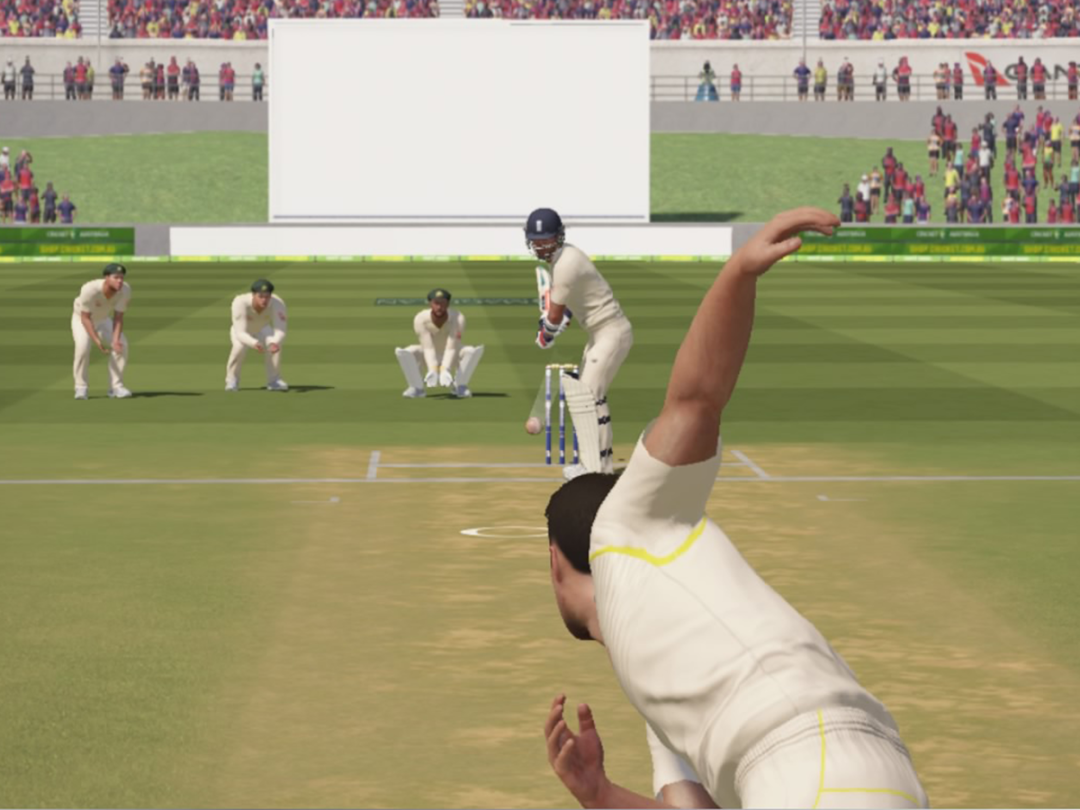 Ah, the Ashes. So many memories of falling asleep to the sound of English wickets falling and waking up to the sound of Australian runs being hammered. 
But it'll be different this time round, won't it? After all, England have got the world's best all-rounder in Ben Stokes and… oh, OK, let's not go there.
Still, Ashes Cricket is here to soften the blow. It's the best cricket game I've played in years, and even the fact that it's made by an Australian development team – Big Ant – doesn't put me off. Turns out it's just another thing those Aussies are better than the English at. 
So realistic it's like living inside Aggers' suitcase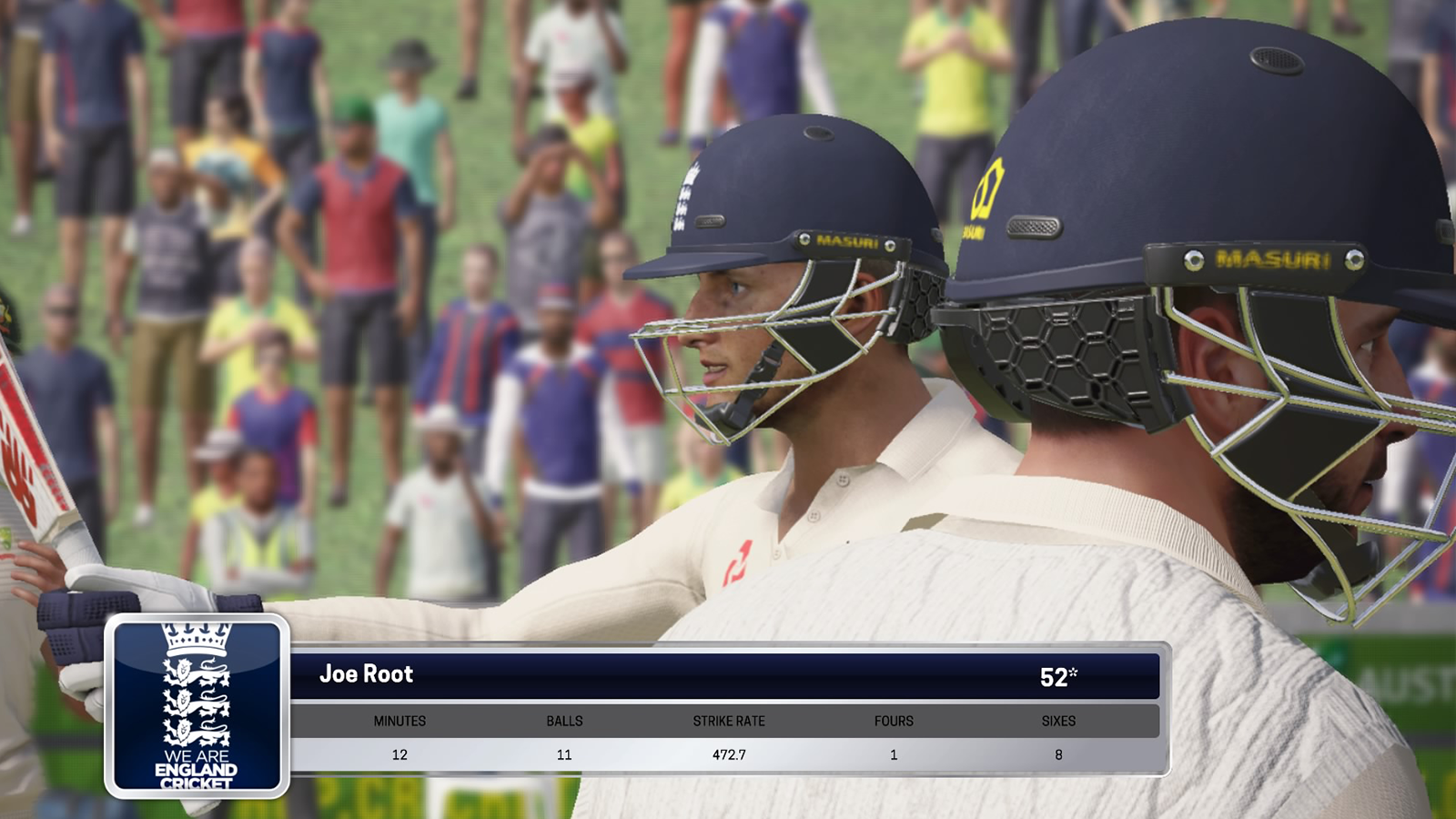 What you get here is an incredibly in-depth cricket simulation, covering all aspects of the game from the headline-grabbing Ashes series itself right down to a career mode which sees you start as a lowly club slogger.
Almost everything about it is impeccably observed. Play a club game and the crowd will consist of one man and his dog; fire up the first Ashes test at The Gabba in Brisbane and you're plunged into a cauldron of noise and barely disguised hatred.
Graphically, it's a bit hit and miss. Most of the English and Australian players are instantly recognisable, but it lacks the almost photo-realism of FIFA 18, and nobody seems to have more than one expression. It's like they've all visited a Botox clinic before taking to the field.
Still, some of the in-game animations are excellent, with the (presumably motion-captured) batting strokes and bowling actions looking and feeling just right. The fielders move well and the sound, from the thwock of a six to the chants of the Barmy Army, is spot on.
Against that, even when playing the Ashes series itself the on-field action is sometimes less alive than it should be. The crowd is two-dimensional, for instance, and it lacks the super-slick presentation of EA's sporting offerings.
Commentary is a good example of this. You get passable ball-by-ball coverage by Aussie legend Michael Slater, former England batsman James Taylor and former Australian batswoman Mel Jones, but there's none of what makes cricket commentary so compelling; no little asides about the state of the game or insights from their own careers or flights of fancy about cake and buses. It wouldn't have been too hard to write a few dozen of these into the script, surely? Instant replays can also be dodgy, often showing just the wrong bit of the action.
The only other niggle is that I've experienced the odd glitch from time to time, notably of the bowler randomly swapping sides between balls or the fielders getting locked into a kind of pass-the-parcel game where they just keep throwing the ball to one another. Nothing a small patch won't fix, though.
The true beautiful game
Where Ashes Cricket really excels is in its gameplay – and much of that is down to the control system.
Big Ant Studios has previously made two Don Bradman-branded console games, and has sensibly overhauled the controls for this one to offer a new novice-friendly option in addition to the old 'Classic' method. The new one is definitely easier to pick up: when batting you use the left stick for direction and the face buttons for type of shot, for instance defensive or aggressive. When bowling, the face buttons control line and length, while the stick determines which type of ball you'll send down.
It's all very reminiscent of the classic Brian Lara games of the '90s, and makes perfect sense even if you're not a cricket nut. It's certainly what the game needed if it's to appeal to a (slightly) wider audience.
That said, it does lack nuance and tends to reduce the batting to a simple 'hit everything over the boundary unless you get a yorker' mentality. Fun, but it's more Twenty20 than Test cricket. For that reason, I'd still recommend trying to master the Classic method.
This is way, way harder to get your head round, but offers a far greater level of control. When batting, you use the left stick for footwork and right for shots, with various buttons acting as modifiers. There's a lot to remember, but once it clicks it feels incredibly intuitive, as you move your feet and bat in perfect harmony. Then, usually, hole out to mid wicket.
Bowling is even more complicated, but again it goes a lot deeper – you can even position your fingers on the seam for those Jimmy Anderson-style reverse-swing deliveries. I've never played a cricket game which felt as much like the real thing, and I've played nearly all of them.
Fielding is simpler, with the computer taking charge of most of it unless you're feeling particularly masochistic. But you do get to take catches yourself, moving the left stick towards a target in slow-motion for a wholly satisfying conclusion; nail one in the slips and you'll feel like a sporting great. Weirdly, you're never told that you need to appeal when taking a catch, a fact which cost me several wickets in my first few games; an auto-appeal option seems like one of the few that's missing here.
Ultimately, you're getting almost two games here – a pick-up-and-play arcade mode and a full simulation – depending on which control method you use. And both are incredibly good fun. (If you're a cricket fan; they'll likely seem tediously dull if you're not.)
Games tend to play out much as they do in real life. For instance, wickets often fall in clusters, helped in large part by the fact that each player has a confidence meter. Early on, you'd struggle to connect with a beach ball, but as you ease into the innings your timing will improve and you'll be far more likely to clear the fielders. The same goes for the bowlers, with a wicket seeming to add an extra yard of pace to your run up.
All told, it feels ultra realistic. Chasing a big total is stressful and requires you to play patiently and sensibly; finishing off the tailenders can be frustrating until you remember to just bowl straight and fast; playing a leg spinner is a quick way to concede runs and pick up the odd wicket. The only thing it's lacking is the ability to sledge.
Options: More complicated than Duckworth-Lewis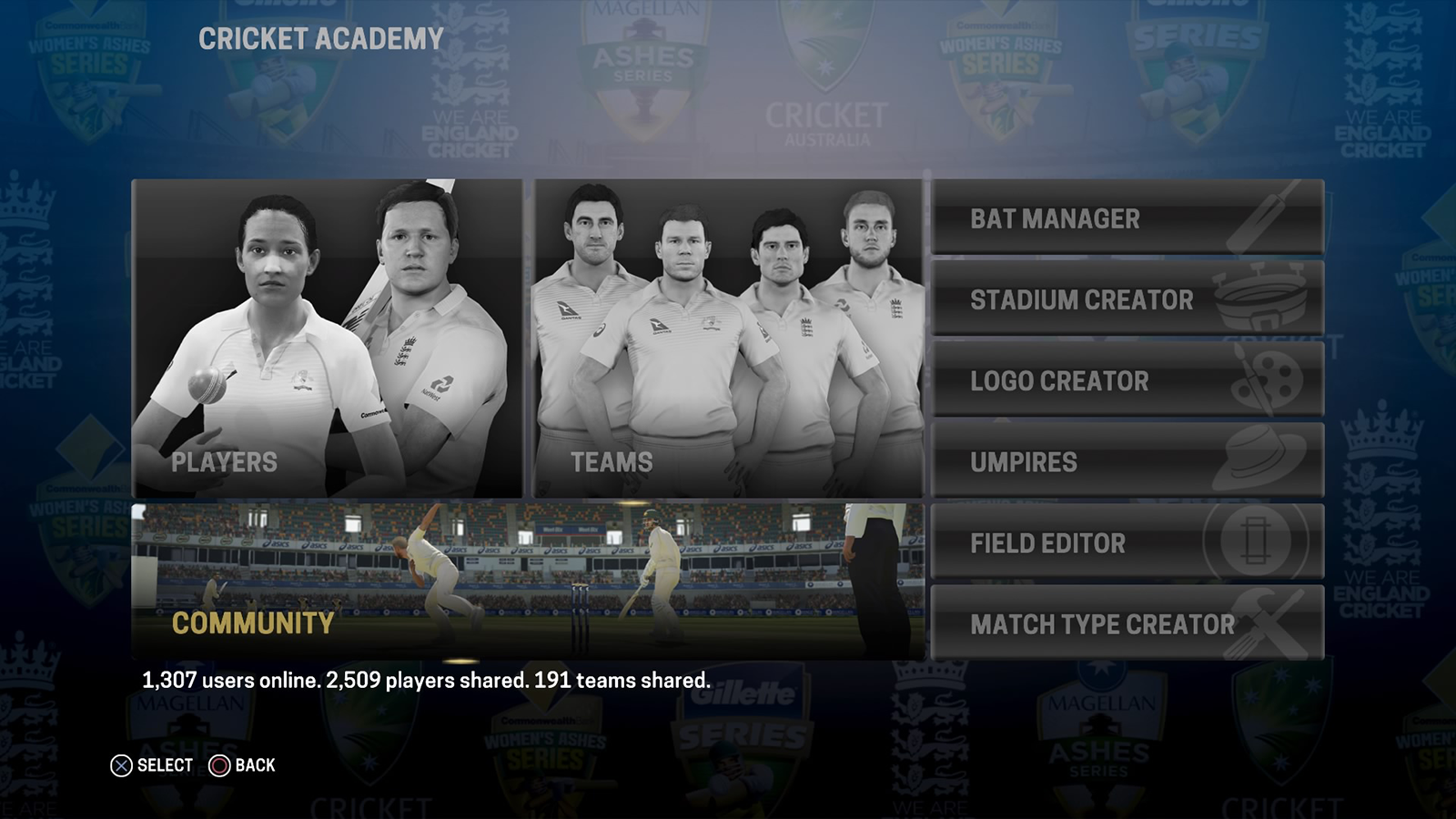 If the controls are comprehensive, then the game options are positively exhaustive.
You can play every type of match, from a 5-over slog to a full Test series. You can take charge of a single Test, one-day or Twenty20 outing, with women's or men's teams, or build an entire career playing only as yourself. You can create your own field placings, tweak computer AI and spend hours honing your skills in the nets. Hell, you can even design your own grounds, placing a three-tier grandstand in front of a mountainous backdrop and selecting the invididual sponsor logos on the advertising, if you choose. But come on, life's too short for that.
And you can also play online – again, with near-limitless options for doing so. Most people will probably just go for a 5-over smash-fest, because even one of those takes about 30 minutes to complete and in my experience there aren't that many opponents to play against. Certainly, you shouldn't expect to be matched in a FIFA-esque 20 seconds – the match-up clock times out at 10 minutes, and I rarely found an opponent sooner than about 3-4 minutes.
But you can, if you want, create your own game then wait for someone to challenge you. Anyone fancy playing a full test as an all-time West Indies XI against my England's 1930s squad on a soft pitch with light cracks in cloudy conditions in Adelaide? I'm ready and waiting. You can also set up a game then challenge a mate to take you on, and will likely have more luck finding an opponent this way.
Once online the action is noticeably slower, with loading pauses between each ball, but the actual action itself doesn't suffer at all. There are even online leaderboards to haul yourself up, and if you don't mind the ignomy of losing by 70 runs in a 5-over game, then it's an entertaining way to pass an hour or two.
The only real black mark against the game when it comes to the options on offer are that outside of the England and Australia teams it lacks any licences. Cleverly, there is instead a Community area, where people can upload and download user-edited names and likenesses. Thus far only a few squads have been done – I'm still waiting for that England 1930s team to be corrected – but it's early days yet, and is a far neater solution than Pro Evolution Soccer's insistence on making you download squads on your PC then transfer them by USB stick.
Ashes Cricket verdict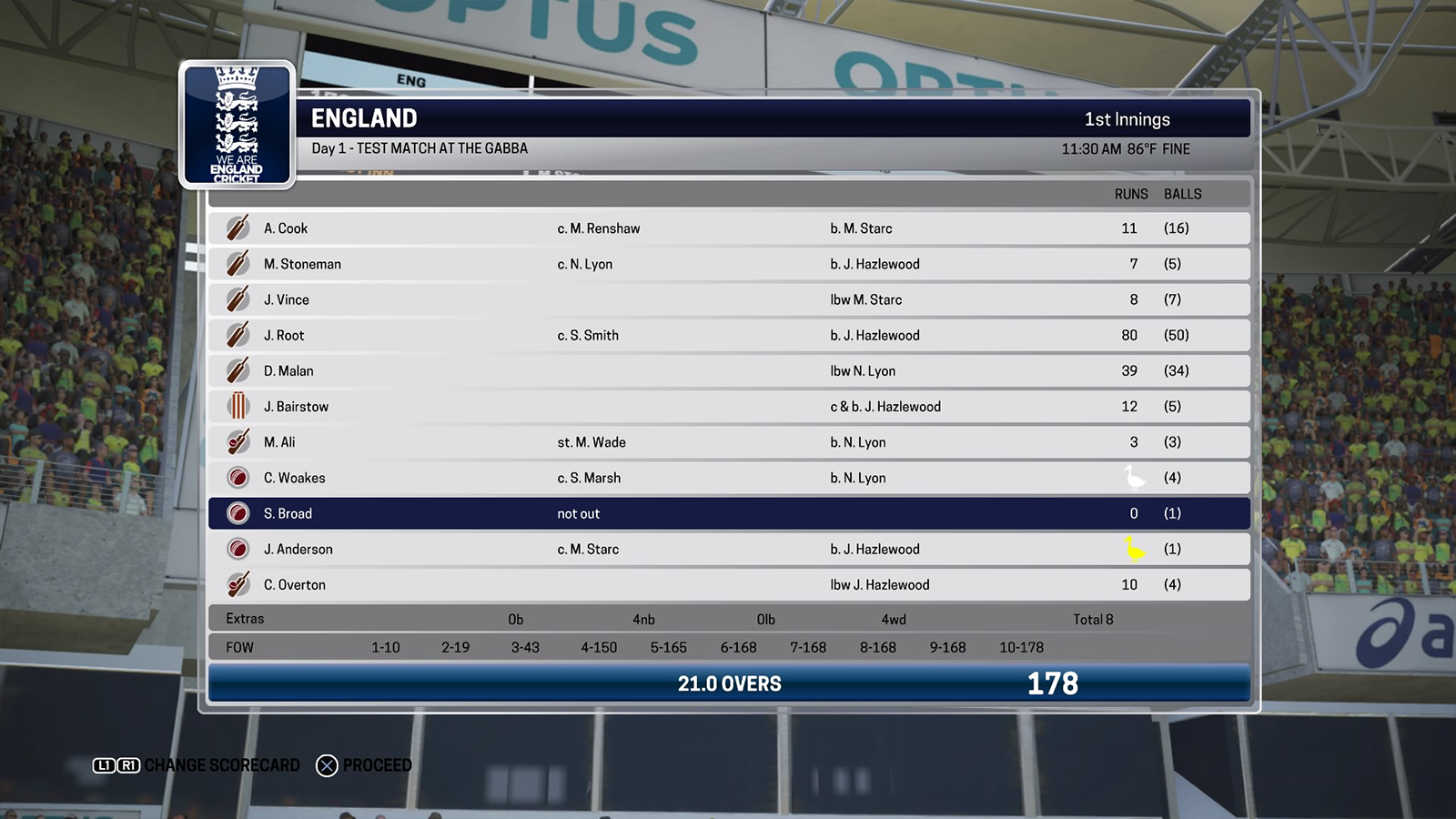 The best sports games capture the essence of the sport as much as the gameplay. Take FIFA, which these days is a relentless whirl of Sky-style production values and boy-done-good story modes, and where the mega-popular Ultimate Team spin off is like a never-ending version of Deadline Day.