Asus ROG Flow X16 review: too good to be true?
A pricey device that tries to get laptop and tablet gaming right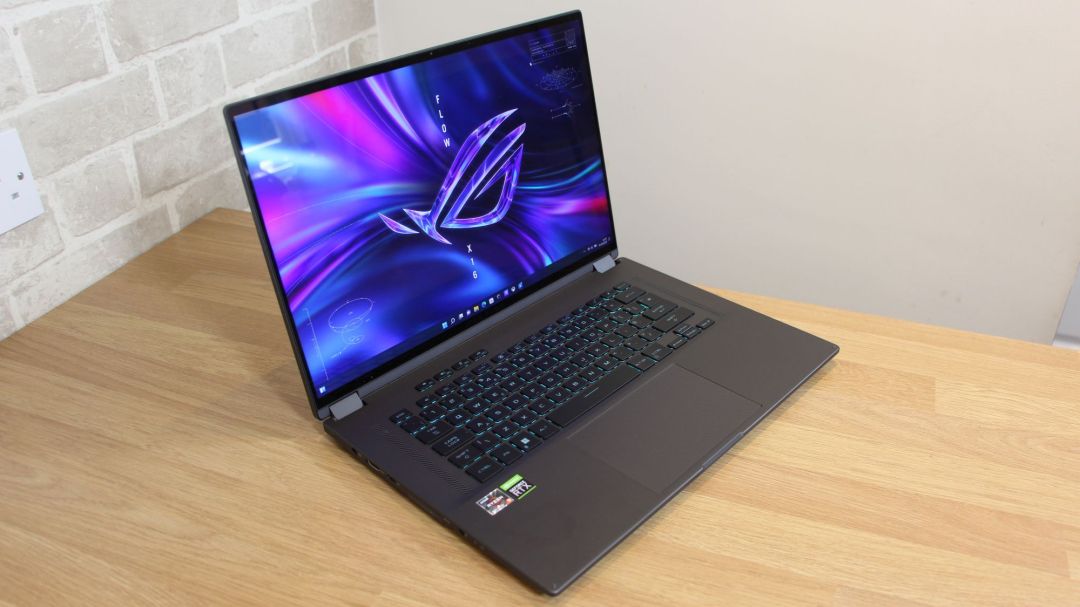 Gaming laptop design tends to concentrate on cramming as much hardware inside a laptop without the outside melting, but Asus has taken a different approach with the ROG Flow X16 – because this notebook combines gaming hardware with a hybrid form factor.
The ROG Flow X16 doesn't just serve up some hefty, high-end gaming silicon – it's also got a touchscreen that can rotate through a full 180 degrees. And that's a smart move, because it means the Flow can work as a huge tablet or tented up for media viewing or controller-based gameplay.
There's lots to like about this laptop, at least on paper – but to get your hands on this slick, switching notebook you'll have to pay dearly. And, no matter how you stack the Flow up against other gaming laptops, that's awfully expensive. Can it justify the cost?
Design & Build: Flipping Marvellous
There's no denying the X16's sheer class. The exterior uses a mix of aluminium and magnesium alloy, and there's none of the exuberant RGB LEDs that you'll find on other laptops – the Flow is all about clean lines and mature textures.
Swing open the lid and you'll find smooth, easy movement and impeccable build quality. That's all the more impressive when you consider that the Asus weighs 2.1kg and is only 19.4mm thick – those figures undercut most gaming notebooks.
The convertible mechanism will be a boon for lots of gamers. Flip the display into a tented or propped-up position and you can use the Asus like a little TV screen and play with a controller. Fully rotate the screen and it's perfect for touchscreen games on the sofa.
If there's one area where the Asus is a bit inconsistent it's connectivity. Positively, the rig has two USB-A ports and one discrete USB-C connection that handles DisplayPort and power delivery. It's got a microSD card reader, too.
Beyond that, though, there's no wired Ethernet, and the second USB-C port is hidden behind the ROG XG Mobile flap. That's a proprietary port that connects to Asus' external XG Mobile graphics dock. But there's little performance difference between the dock and the Flow X16. Aside from its USB-C functionality, this laptop's XG Mobile port is entirely redundant.
An SD card reader would be better for creatives, and the HDMI 2.0 port misses out on the future-proofing of HDMI 2.1. And while the webcam supports Windows Hello, its 720p resolution means quality isn't good.
You'll get more connectivity on the Medion Erazer Beast X30, which has wired internet and more USB ports. The top rigs from Razer and Alienware are also better, with HDMI 2.1 outputs and speedier USB connectivity.
Performance: Flow State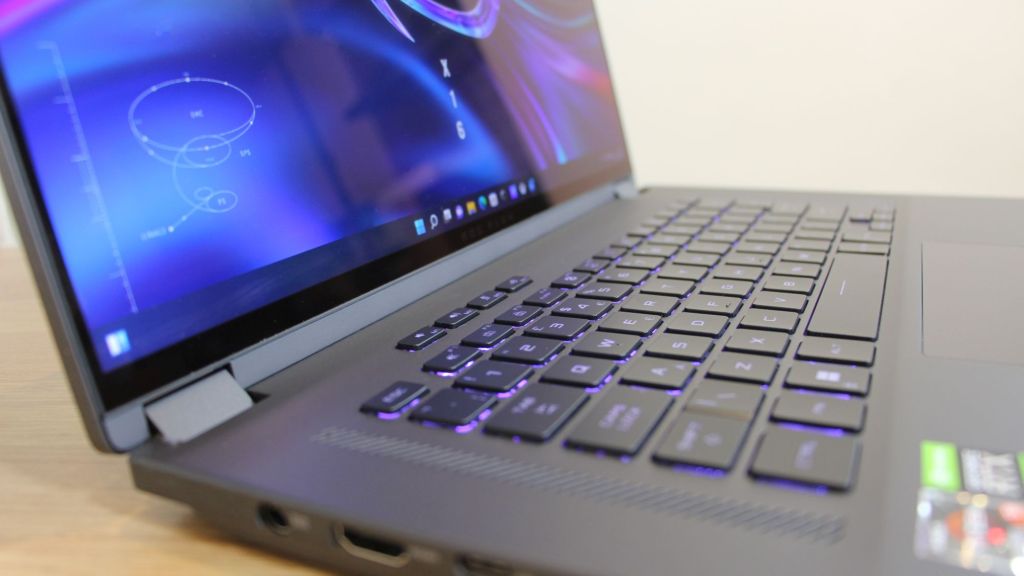 The Flow X16 that we've reviewed is the beefiest model Asus produces – which means it's got a GeForce RTX 3070 Ti graphics core with 8GB of memory. And, in this laptop, it operates at its peak power level of 125W.
The processor is suitably high-end, too. AMD's Ryzen 9 6900HS has eight multi-threaded cores and a peak speed of 4.9GHz – it should have no issues with tough workloads.
There are no surprises elsewhere, but that's no bad thing. The 32GB of DDR5 memory offers huge speed for creative workloads. The 1TB SSD is fast and reasonably capacious. Wireless networking comes from Wi-Fi 6E and Bluetooth 5.2, so the Asus is bang up to date.
You won't have any gaming issues. At the laptop's native resolution of 2560×1600 the Asus zipped through Red Dead Redemption at 51fps with every setting at maximum, and it averaged 58fps in Assassin's Creed Valhalla – so you'll be playing top games for years.
Don't worry if you're an esports fan, either. The X16 ran through Rainbow Six Siege at 230fps, so it's got ample speed to sate the 165Hz display and to output to faster panels. You'll also get a bit of extra pace from this portable if you deploy its Turbo performance mode.
The CPU's Geekbench single- and multi-core results of 1,556 and 10,067 are excellent, and mean that the Asus has plenty of power for multi-tasking and creative work.
The X16 is fast, but it's not flawless. When the laptop pelts through games in its default performance mode the underside and the metal above the keyboard both become extremely hot. There's noticeable fan noise, too, although a headset will deal with that.
Ramp the rig up to its Turbo mode and heat levels remain high and the noise is even louder, although the fan output isn't ruinous. On the other end of the scale the Silent mode does a great job, albeit with reduced gaming output – it's well-suited to casual gaming.
There's no area where the X16's performance is awful, but you can certainly go further in all areas if you're willing to ditch the convertible form factor and shop elsewhere. The Medion we've already mentioned includes an RTX 3080 Ti for the same price as the X16, and the Alienware's RTX 3080 Ti variants start at £3099, so it's not a huge leap from the Asus.
On the processing side of things, Intel's latest Core i7 and Core i9 chips are faster. The AMD silicon remains great for creative work, but Intel is currently the best laptop choice for maximum CPU pace.
The battery is a mixed bag, too. The X16 didn't even last an hour when gaming, which is no surprise, but it lasted for more than four hours while working and nearly eight hours while playing media – so if you stay away from games you'll probably get half a day of use from this rig.
Screen & Sound: Bright and Breezy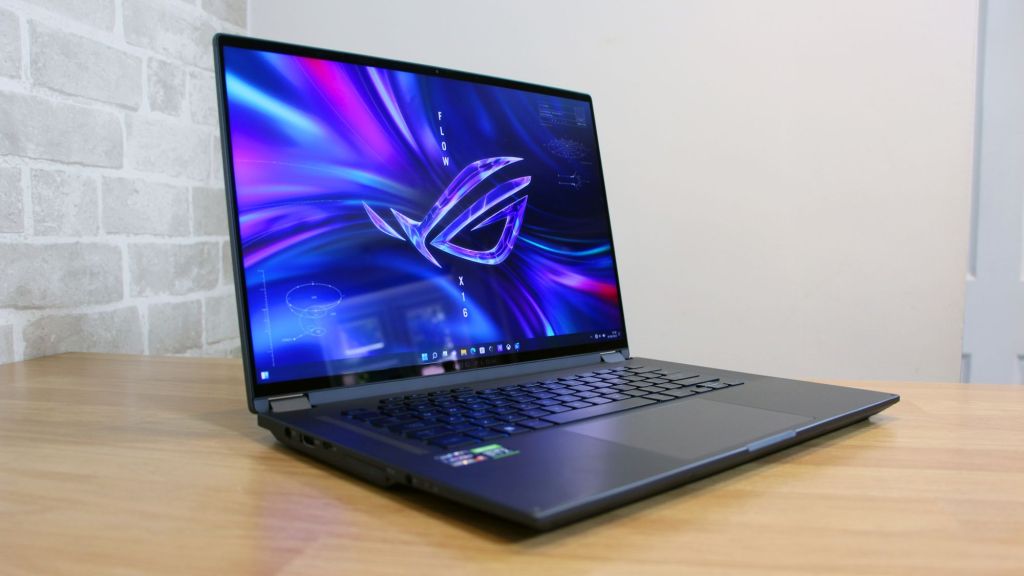 The display has a fantastic specification. The 2560×1600 resolution is crisper than most gaming notebook panels and the 16:10 aspect ratio delivers more vertical space. It's a touchscreen, it's protected with Gorilla Glass, and it has a 165Hz refresh rate and 3ms response time – ideal for mainstream gaming.
Asus claims a 500-nit brightness level, and that stacks up in benchmarks – the display's peak brightness sat at a dazzling 543 nits. Combine that with a black point of 0.5 nits and you've got a rock-solid contrast ratio of 1086:1. And while that black point could be deeper, it doesn't have a huge impact – games look brilliant.
The delta E of 3.06 is good – fine for games, if not quite good enough for colour-sensitive creative tasks – and the X16's panel rendered all of the sRGB and DCI-P3 colour spaces, so it'll produce every shade that games need.
The speakers are good too – the quartet of speakers inside this rig deliver solid bass and a well-defined mid-range that doesn't become tinny at the top end. A headset will be better, as always, but this audio kit is perfectly usable.
Keyboard & Touchpad: Tap Happy
There isn't much to say about the keyboard. The buttons are fast, they've got 1.7mm of travel, and they've got a satisfying and consistent typing action – you can hammer away for hours, especially thanks to the machine's impressive build quality.
The rig has extra buttons for opening the Asus Armory Crate app and adjusting volume, but there's no numberpad, and the single-zone RGB LED lighting isn't particularly sophisticated.
The trackpad is large and responsive, and its buttons do a decent job of replicating a gaming mouse – but a proper gaming mouse is still miles better.
Asus ROG Flow X16 verdict
The Asus ROG Flow X16 has a slick, impressive design that enables loads of gaming versatility. The hybrid form factor is underpinned with powerful internals, a great keyboard, and great screen and speaker quality.
There's no denying the Flow's quality, but it's not perfect: the display could be a bit better, the chassis could be cooler and quieter and connectivity could be improved. And you'll certainly get more gaming power if you spend similar cash on a conventional laptop.
This does mean that the Asus ROG Flow X16 occupies a luxurious niche in the laptop market and that most people would get more value elsewhere. But if you do want a versatile, slick gaming hybrid, this should be at the top of your list.
Stuff Says…
A slick, impressive design but it's not perfect: many will get more value elsewhere.
Good Stuff
Sleek hybrid form factor
Impressive gaming and processing power
Good screen and keyboard
Bad Stuff
Rivals are faster and cheaper
Sometimes hot and loud
Inconsistent connectivity
Asus ROG Flow X16 tech specs
| | |
| --- | --- |
| Screen | 16in, 2,560 x 1,600 165Hz IPS |
| Processor | AMD Ryzen 9 6900HS, 3.3GHz |
| RAM | 32GB |
| GPU | Nvidia GeForce RTX 3070 Ti 8GB |
| Storage | 1TB |
| OS | Windows 11 |
| Battery life | Up to 8 hours |
| Connectivity | Wi-Fi 6, Bluetooth 5.2, 2 x USB 3.2,21 x USB 3.2 Type-C, 1 x HDMI 2.0, 1 x microSD, 1 x audio |
| Dimensions | 355 x 243 x 19.4mm, 2.1kg |