Asus ROG Phone II review
Super-powered gaming machine
If you're serious about your mobile gaming and want a leg up over your online opponents, Asus' ROG Phone II is the ultimate gaming handset of 2019.
This is the first smartphone to come packing Qualcomm's jacked-up Snapdragon 855+ chipset, giving it more grunt than a Bavarian pig farm. A whopping 6000mAh battery means all-day gaming is perfectly possible, while the 120Hz display spurts crisp, silky smooth visuals at your peepers. Frankly, most rivals like the Black Shark 2 can't touch it for specs, performance and dedicated features.
And that's only the tip of a very dense gaming iceberg. I've blasted my way through countless Android titles, all in the name of journalism, to conclude that the ROG Phone II is undeniably the greatest gaming mobile of all time. But of course, all of that awesome tech doesn't come cheap.
Design: Smartphone or spacecraft?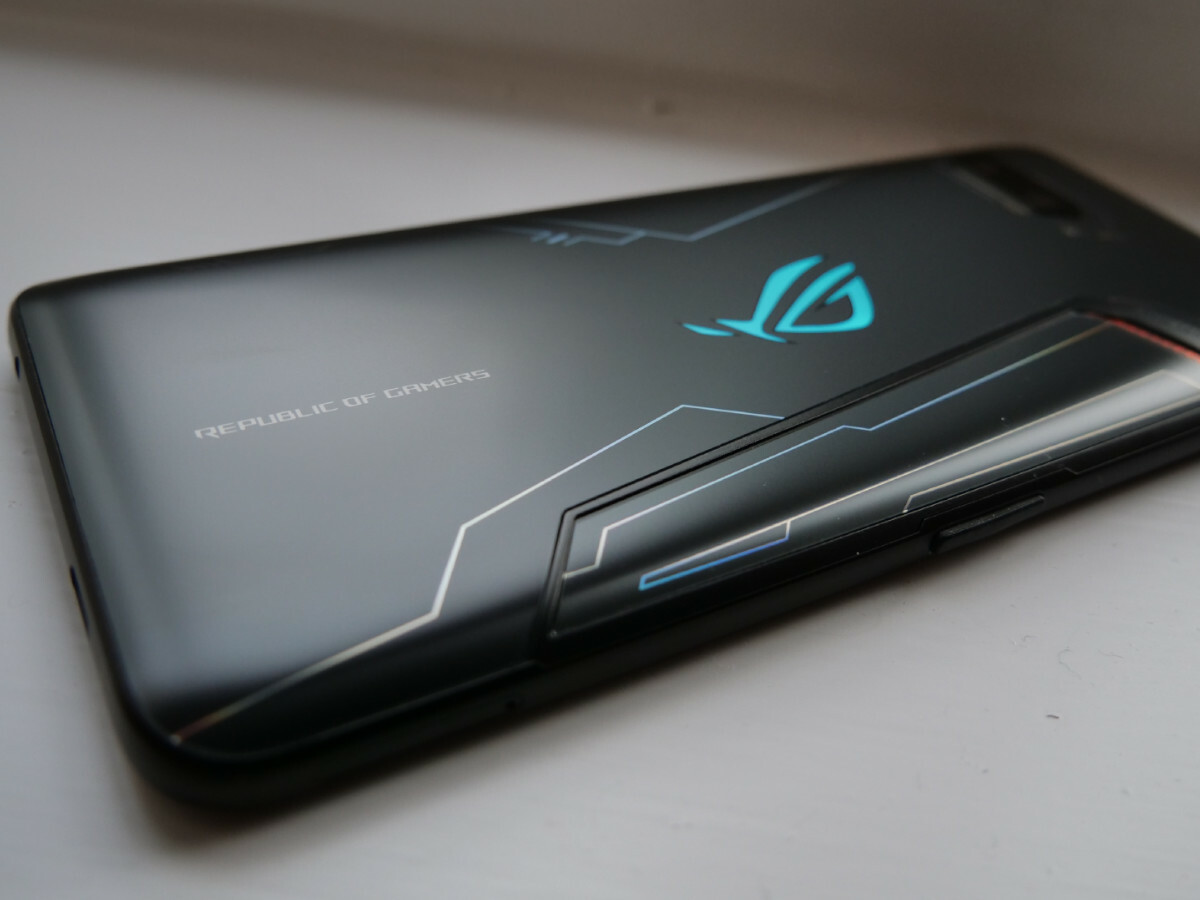 Gaming devices aren't exactly renowned for subtle, minimalist design, and the ROG Phone II certainly doesn't buck that trend. This 6.59in beast almost looks more like an alien vessel than a smartphone, mostly thanks to the asymmetrical glass rear. From the angular camera grille to the microchip-style pattern, Asus has added all kinds of frills to help the handset stand out. And that's before you even touch on the LED logo, which doubles effectively as a massive notification light.
It's the kind of finish you'd see on a gaming laptop, although thankfully the phone's frame is curved where it counts, so it's comfortable to clutch. As long as you don't have weedy biceps, that is. At 240g, this is one of the heaviest handsets ever launched. I was pleased to see a one-handed mode on there, an essential feature if you're trying to text and control a hyperactive child at the same time.
Display and audio: Media monster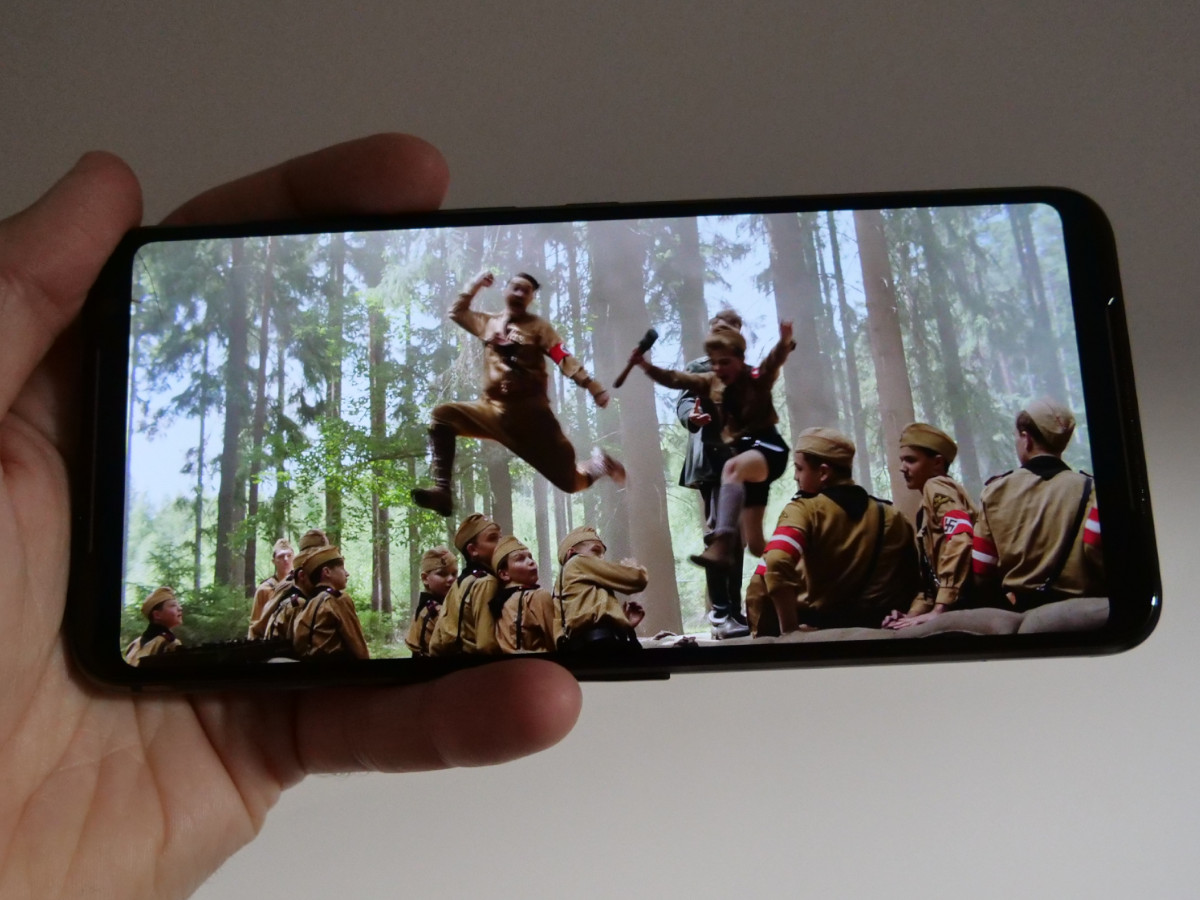 Unlike most flagship devices, the ROG Phone II serves up a perfectly flat display that doesn't curve around the sides. This is better suited to gaming, as those edge-hugging controls remain responsive and easy to poke.
You get a 6.59in AMOLED screen with 2340×1080 pixel resolution and HDR10 support. Colour reproduction is accurate and contrast levels are sharp, so pictures, video and games look wonderfully natural. Like the best gaming smartphones you also have a 120Hz refresh rate for ultra-smooth visuals, while the 240Hz touch response rate means any poke or swipe is instantly registered. In other words, you can't blame the phone when you miss that headshot by a split second.
While the new ROG Phone actually offers up a headphone port (something most premium devices have ditched), I was perfectly happy using the built-in stereo speakers for games and movies. They're front-firing, so you get a full-bodied sound without risk of palm-muffling. Plus that stereo effect is seriously impressive.
However, I did find that the Bluetooth connection for headphones was a little patchy in busy areas. My music occasionally distorted or cut out whenever I hit a crowded train station or airport, so I'd recommend plugging in rather than going wireless.
Performance and features: Gamer's delight
Gaming phones need to really pack a punch when it comes to performance, and the ROG Phone II comes up trumps. This is the launch handset for Qualcomm's Snapdragon 855+, which boasts improved processing power and graphical clout compared with the still-pretty-amazing Snapdragon 855 found in most flagship smartphones.
Games like PubG Mobile play on top detail levels with a super-stable frame rate throughout, as you'd kind of expect. Chances are you won't see any slowdown for years to come, although plenty of performance-boosting features are packed into the ROG just in case. It's just a shame Asus didn't add in 5G connectivity too. Support may be limited right now in the UK, but this would have made the ROG Phone II even more future-proof.
You can grab all kinds of nifty accessories for this handset, including the Kunai Gamepad which is ideal for fast-paced titles like PubG. Also helpful are the Air Triggers, two pressure-sensitive areas on the edge of the phone that act like shoulder buttons. These can be mapped to any in-game virtual button and customised to react to different pressure levels. Thankfully Asus has improved the haptic feedback as well, so now you get an instant rumble.
The phone's software is also geared towards gamers, including the excellent Game Genie tool which can be conjured up mid-game with a deft swipe. This doesn't allow you to cheat your pants off like the Game Genie of yesteryear, but delivers a great range of very useful features: you can block calls and notifications so your gaming session is undisturbed, or check out the current frame rate and core temperature if you're a stats nerd. Wannabe YouTube sensations can even record their mad skills at up to Full HD resolution, complete with commentary using the effective quad-mic setup.
Asus' ROG UI perfectly compliments that flamboyant hardware. From the neon-tinged app icons to the in-your-face wallpaper, it's a distinctively cool interface. You can also opt for the standard Zenfone launcher if you'd like something a bit more subdued. Either way, you get a bolstered version of Android Pie, complete with plenty of bonus features, including a dark mode, face recognition and gesture recognition.
Battery: Keeps its cool
One area where some gaming phones are a serious let-down is the battery life. Thankfully Asus has crammed an absolutely gigantic 6000mAh cell inside the ROG Phone II, which allows you to play non-stop for just shy of nine hours. Using the bundled AeroActive adapter, you can even shift that USB port to the edge of the phone, for comfortably charging the device while you continue fragging fools online.
On battery power, the ROG Phone II thankfully doesn't get toasty while gaming. You get a proper 3D Vapor Chamber cooling system, complete with an actual rear vent to expel that hot air. Even after two or three hours of non-stop action, the glass rear was only slightly warm around that vent. And if you're charging and playing simultaneously, the AeroActive's built-in fan helps to keep the heat from rising.
Cameras: Twin shooter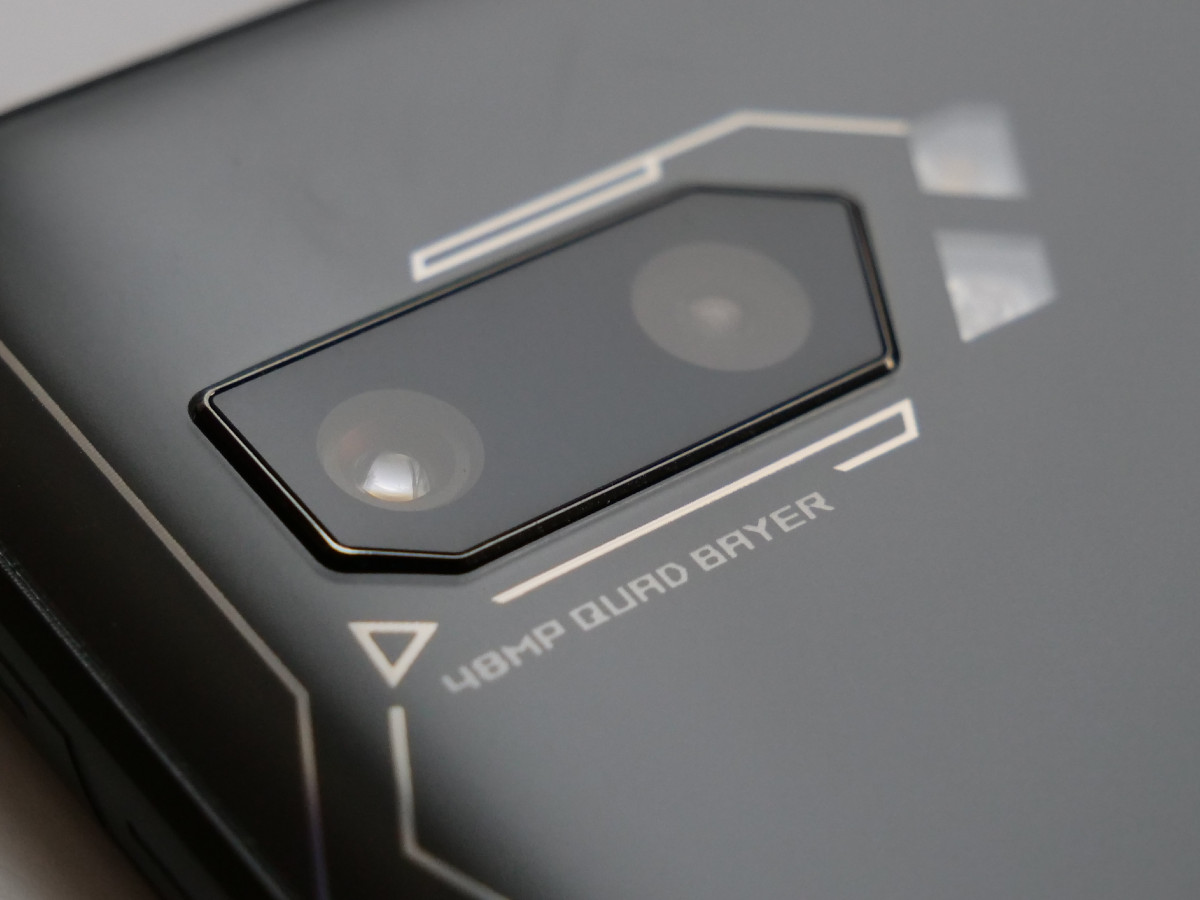 Gaming smartphones rarely deliver a dependable camera, but Asus has wisely reused the Zenfone 6's excellent dual-lens shooter for the ROG Phone II (albeit without that flip-around motor). This combination of 48MP primary lens and wide-angle secondary snapper works a treat for everyday pics.
My test photos packed plenty of detail and even in tricky lighting conditions you get wonderful results. That HDR+ mode can combat any harsh contrast, while the night mode helps to brighten up a dim scenario – although admittedly isn't as strong as Huawei or Google's version.
For your home movies, you can shoot 4K resolution video at up to 60 frames per second, for sublimely natural-looking results. Image stabilisation is strong even at that Ultra HD level, so you can keep on recording while you chase your sprogs about.
Asus ROG Phone II verdict
If you're a mobile gamer, the ROG Phone II is simply the best piece of kit you can buy right now. This is a super-premium device in every regard, so it doesn't come cheap, but rivals can't match it for performance, battery life or accessory support. Even oft-neglected areas like the camera tech get a big thumbs up.
Stuff Says…
Improving on the original ROG Phone in pretty much every way, this is the ultimate mobile gaming machine
Good Stuff
Untouchable performance
Unique gaming features
Fantastic battery life
Bad Stuff
Big, heavy brute
Will empty your wallet
No 5G