Asus ROG Zephyrus M16 review: speed leader – for now
Nvidia's hottest new GPU makes an impressive debut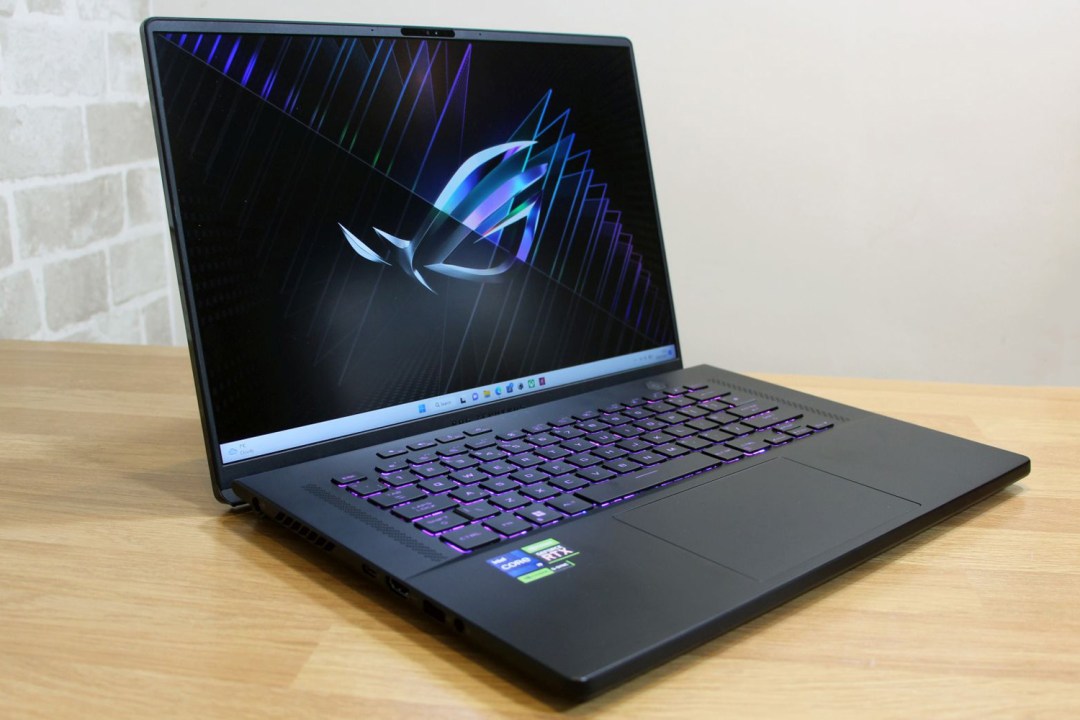 Every time new gaming tech gets released, companies race to cram it inside their laptops. The Asus ROG Zephyrus M16 has beaten rivals to the punch with Nvidia's top-tier GeForce RTX 4090 GPU, and that's not the only bit of exciting hardware on show. Next to the graphics core you'll find a top-notch Intel processor, and on the lid you'll find more than 1500 customisable LEDs.
Cutting-edge rarely comes cheap, of course, but this year gamers are being asked to part with more cash than ever. To get your hands on the M16 tested here you'll have to fork out £4100 – and even a version with the slower RTX 4080 will set you back £3300. Those are eye-watering amounts, and likely to climb higher once rivals from Alienware and Razer arrive.
Is there enough here to justify that sort of scratch?
Design & Build: Business at the front, party at the back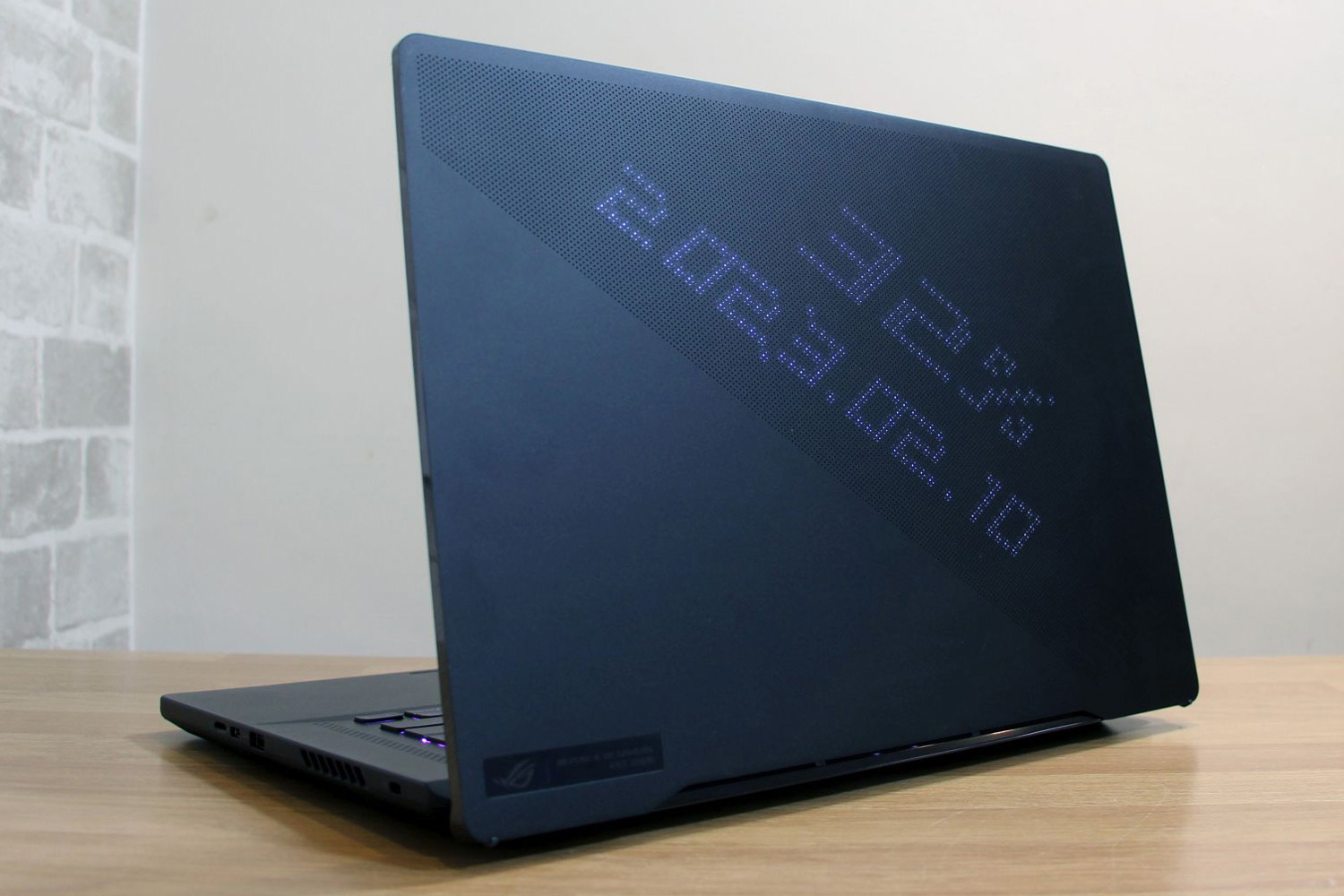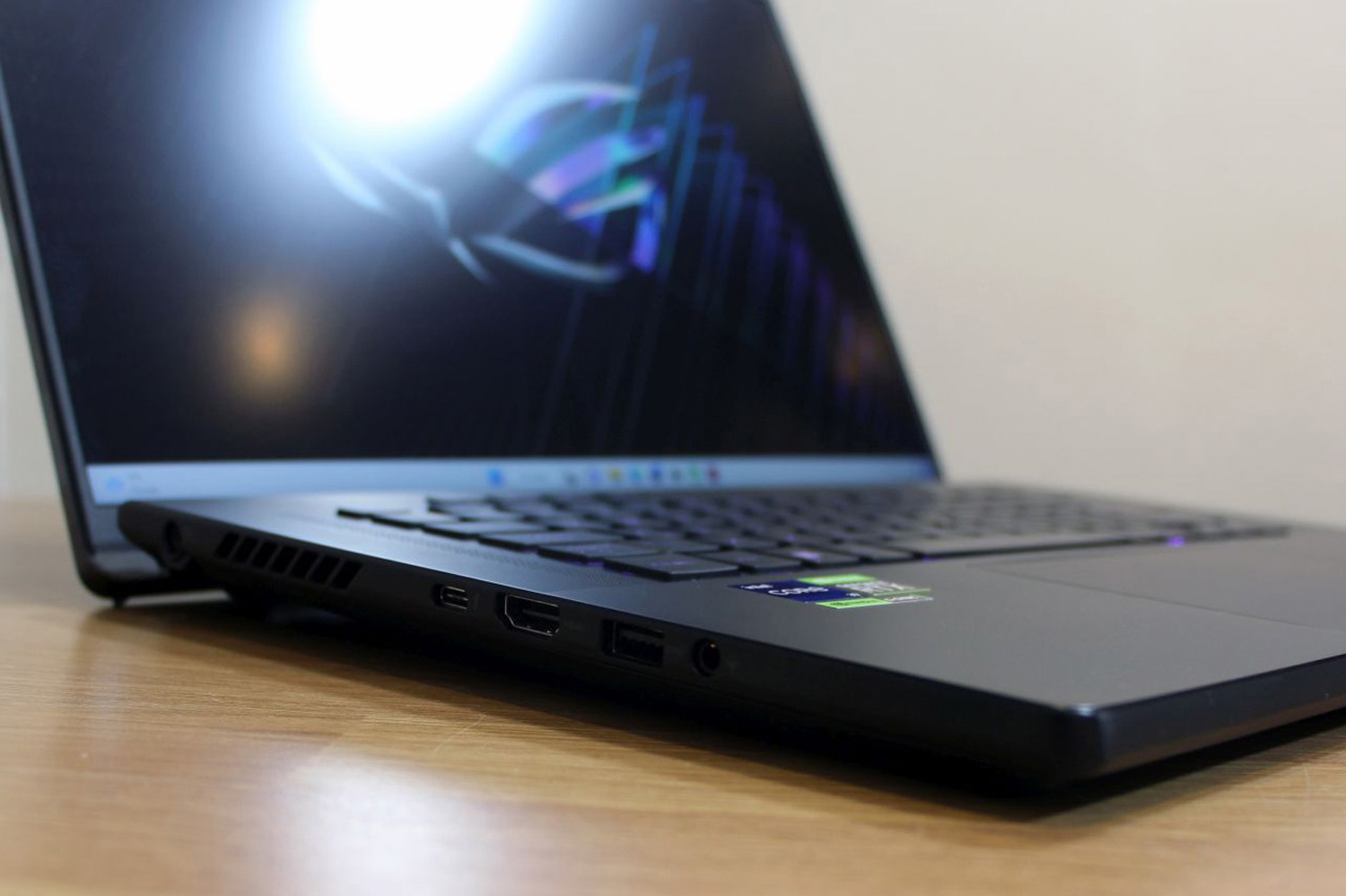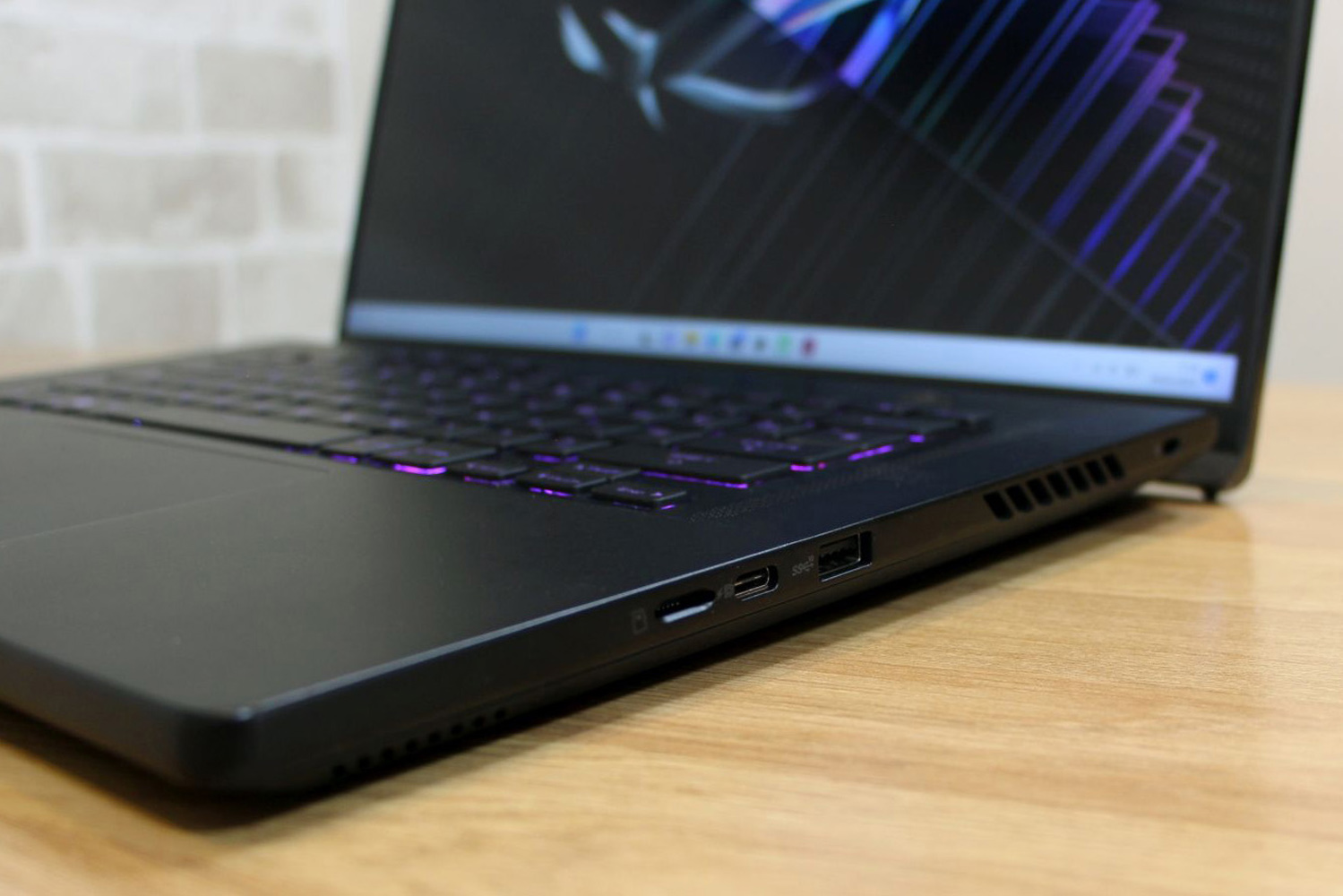 At first glance the M16 is a surprisingly mature rig. Its chassis boasts clean lines and neatly-milled grilles made from brooding black aluminium, and the only coloured lighting you'll find is in the keyboard. The good looks are bolstered by superb build quality, with hardly any flex in the panels.
Impressively, the Asus only weighs 2.3kg and it's just 22.9mm thick, so it doesn't take up the space of a full desktop replacement. A 16in screen meant it was never going to be the most portable gaming laptop, but you can still toss the M16 in a bag without having to take everything else out first. That does have performance ramifications, though – more on those below.
Want more flamboyance from your laptop? Turn the M16 around around: the lid is adorned with 1,711 white LEDs, hidden behind 17,000 CNC-milled holes. Asus calls it the AniMe Matrix, which can be customised with pre-set animations, your own text, a virtual pet or even the machine's vital stats. It's easy to manage and pretty cool at first, but there's no real point to it beyond showing off – because it's always facing away from you.
The M16 is also a bit underwhelming in some practical areas. There are two full-size USB ports, a single USB-C and a Thunderbolt 4 port at the sides, alongside a microSD reader and HDMI out, but there's no wired internet – a big deal for gamers wanting the best multiplayer experience. Internally there's Wi-Fi 6E and Bluetooth 5.2 alongside a Windows Hello webcam, but no fingerprint reader. The Alienware and Razer rivals we mentioned earlier are set to bring full-size SD card readers and 2.5Gbps wired internet, although they'll be heavier and cost more to boot.
Screen: LED-ing the way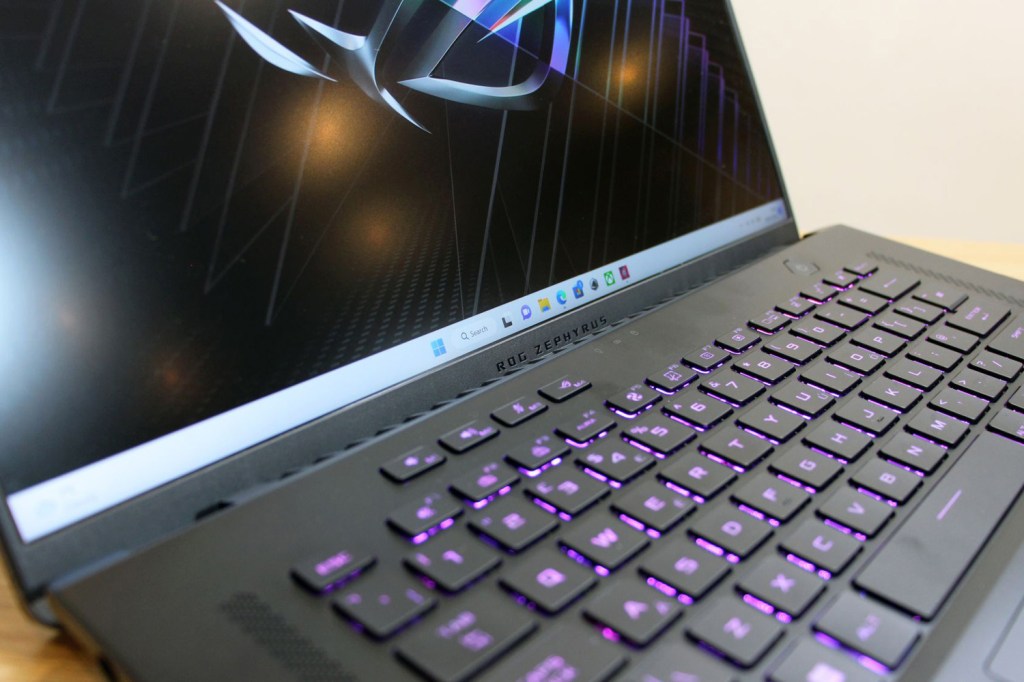 Look underneath the lid, rather than the gimmicky lights on top of it, and the Asus ROG Zephyrus M16 is altogether more impressive. The 16in display uses Mini LED tech with 1025 dimming zones for effective HDR, plus it can manage a rapid 240Hz refresh rate at the 2560×1600 native resolution.
Load a game and you'll get the sort of brightness, bounce and dynamism usually found on high-end TVs. Everything looks fantastic in SDR mode, where brightness soars beyond 600 nits and the contrast ratio ramps up to 22,888:1. Peak brightness doubles in HDR mode, and colours are reasonably accurate, with a Delta E of 3.65 being great for gaming if not for creative work. Only esports pros wanting even faster 360Hz or 480Hz panels need look to the forthcoming Alienware m16, but right now we don't think there's a more well-rounded gaming laptop display than this.
It's paired with decent audio kit, too: the pair of 2W woofers deliver punchy bass, the two tweeters churn out solid mid-range clout, and there's a decent high-end with enough volume to fill a room.
Performance: The speed leader – for now
The GeForce RTX 4090 at the heart of the Zephyrus M16 uses Nvidia's latest Ada Lovelace architecture, with 9728 stream processors and a hefty 16GB of video memory. As well as devouring even the most graphically intense games, it can happily output to 4K displays and VR headsets, and take advantage of Nvidia's DLSS 3.0 tech, so should be able to keep pace with new games for years to come.
At the M16's native resolution, there's not much the RTX 4090 can't do. It averaged 88fps in Assassin's Creed Valhalla at Ultra settings and rattled through Red Dead 2 at 83fps. Horizon Zero Dawn is tough, but the M16 averaged 101fps – and a 260fps result in Rainbow Six Siege provides ample evidence of esports pace.
That's not a whole lot higher than what we saw from the MSI Raider GE77 and its previous-gen RTX 3080 TI – but then those scores were earned using the default Performance profile, which locks the graphics core to 85W of power draw. Turbo mode ups that to 120W, with an extra 25W available for boosting, so 145W overall. Valhalla result rose to 107fps as a result, its Horizon score improved to 110fps and Rainbow Six ran at an astonishing 297fps.
Just be prepared for more noise. The M16 is pretty easy to live with in Performance mode, where it's no louder than any other high-end rig, but it churned out distracting fan noise with Turbo deployed – which makes gaming with a headset a must. Also keep in mind that other, chunkier gaming laptops will soon arrive with the ability to run their RTX 4090s at the maximum 175W power limit, so should manage even higher frame rates.
The Intel Core i9-13900H CPU is no slouch here, despite never really attaining its full potential – the other price of having such a slim chassis. In synthetic tests it competes well with beefier systems, so is still a superb choice for almost any creative workload. The 32GB of DDR5 memory and 1TB SSD are what we'd expect from a high-end machine too. The M16 is powerful, then – but give it a couple of months and it'll probably be outpaced. If you're keen for speed, keep your wallet closed.
Don't buy the Asus if you need great battery life, either. You'll get ninety minutes of gaming from this rig, and less than an hour if you push the internals. In everyday workloads you'll be lucky to see lunchtime after a 9am start.
Keyboard & Touchpad: Zoned out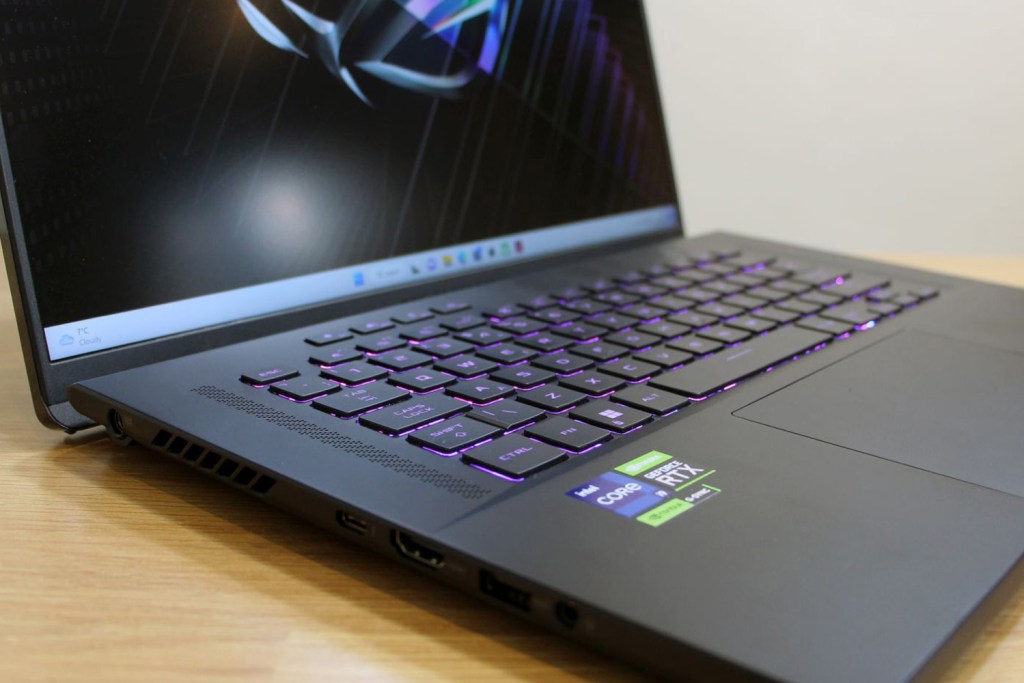 A good keyboard is crucial for gaming, but the M16 doesn't quite deliver. It's got a snappy, fast and consistent action that'll handle long gaming sessions, but the cursor and return keys are small and you don't get a number pad. This isn't a dinky machine, so we wonder why Asus didn't move the speaker grilles and fit a larger keyboard layout instead. Anyone who wants to customise lighting won't be happy with a single-zone backlight, either.
Razer uses a similar layout, but adds per-key lighting, while Alienware's rig has optional low-profile CherryMX mechanical key switches that will almost certainly be nicer to type on.
The trackpad is fine, but anyone who takes their gaming seriously should attach a USB mouse instead.
Asus ROG Zephyrus M16 Verdict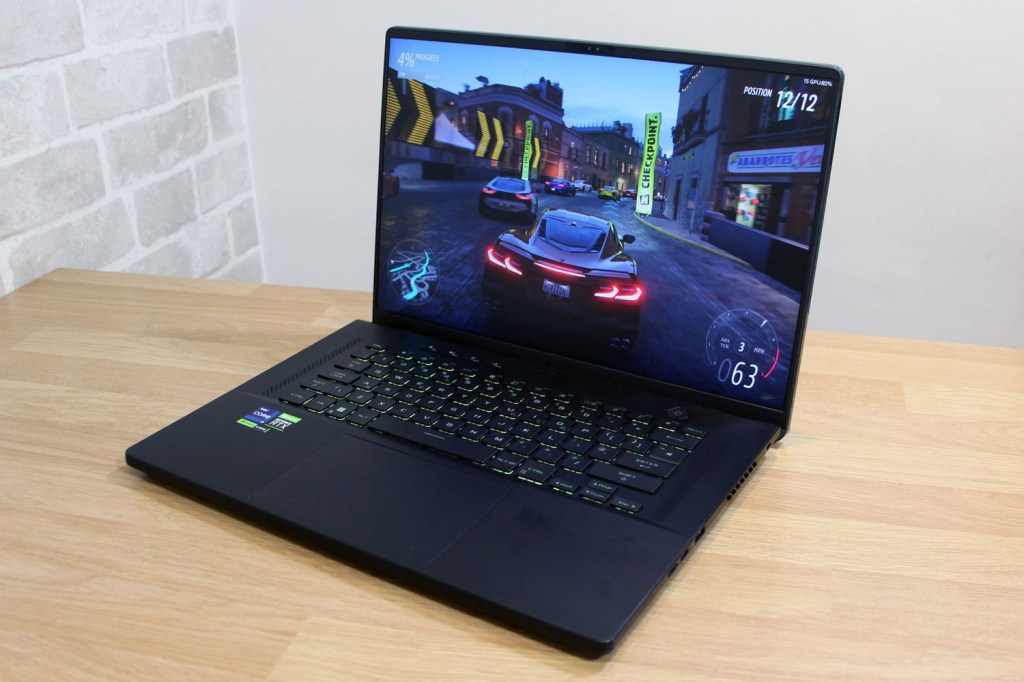 The ROG Zephyrus M16 impresses in key areas, with the RTX 4090 offering fantastic gaming pace and the Core i9 processor demolishing desktop tasks. That Mini LED screen is also the best display you'll find any gaming laptop now. If you want a slim and smart-looking machine right now, you probably won't do better.
Performance compromises have been made in order to keep the M16's size and weight in check, though. Rivals (including Asus' own no-compromise Strix models) will soon offer GPUs and CPUs with even more power, and they'll have better connectivity too. They'll be more expensive, of course – and bulkier. But when you're already spending this kind of cash, you're going to want the most grunt going.
Buy one if you'd like a portable powerhouse, and don't mind the gimmicky AniMe Matrix LEDS – but keep in mind 2023 still has plenty more to offer.
Stuff Says…
No shortage of gaming grunt, and the miniLED screen is amazing – but this slim, sturdy notebook will almost certainly be outpaced by beefier competitors
Good Stuff
Superb gaming and processing power
A bold, high-quality Mini LED display
Slim, light and sturdy enclosure
Cheaper than forthcoming competitors
Bad Stuff
Rivals will be even faster
Occasionally hot and loud
Mediocre connectivity and ergonomics
AniMe Matrix is underwhelming
Asus ROG Zephyrus M16 technical specifications
| | |
| --- | --- |
| Screen | 16in, 2560×1600 Mini LED w/ 240Hz |
| CPU | Intel Core i9-13900H 14-core (6 performance, 8 efficiency), 2.6GHz |
| Memory | 32GB DDR5 |
| Graphics | Nvidia GeForce RTX 4090 16GB |
| Storage | 1TB |
| Operating system | Windows 11 Home |
| Battery life | Up to 5 hours |
| Connectivity | 1x Thunderbolt 4, 1x USB-C/DisplayPort, 2x USB 3.2 Gen 2, 3.5mm headphone port, microSD card slot, Wi-Fi 6E, Bluetooth 5.2 |
| Dimensions | 355x246x22.9mm, 2.3kg |