Asus Zenbook Pro 14 Duo OLED review: perfect for productivity
What's better than one OLED laptop screen? Two of em, of course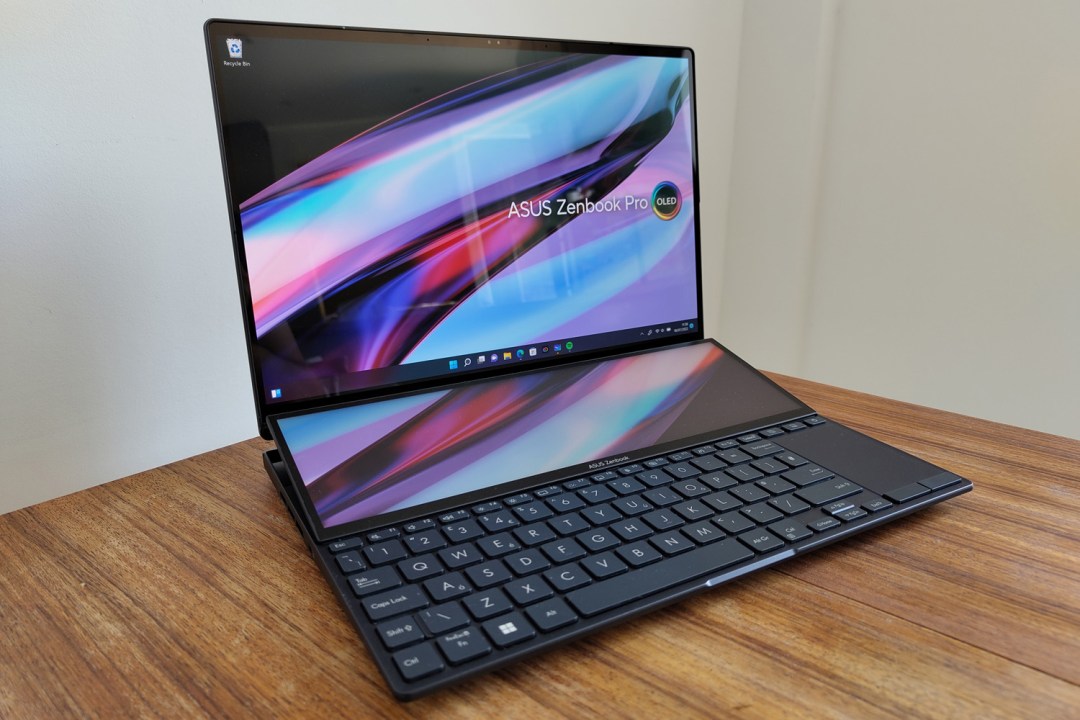 Every now and then you see a laptop that makes you think 'what on earth is that?' The Zenbook Pro 14 Duo OLED is one of those laptops. With a keyboard that has made way for a second, half-height display, it feels a lot like a two-monitor setup, but one you can easily stash in a rucksack.
After years spent tinkering with strange dual-screen machines, Asus has made this design seem more appealing than ever, with a focus on performance and cooling, courtesy of a clever folding mechanism. It has also matched the top and bottom screen, so you're getting the same experience no matter which one you're working on.
There might be drawbacks to doubling up on displays, but there are plenty of advantages too.
Asus ZenBook Pro 14 Duo OLED design: raise the roof
When closed, the Zenbook Pro 14 Duo OLED looks like any slim laptop. Open it up and the second display glides up slightly, at an angle that's comfy for touchscreen or stylus use. This isn't just for the ergonomic angle: the space beneath is used to pull in cool air from one side and blow hot air out the other.
You can fling apps from the top screen to the bottom one with a key tap, or turn it into a giant touchpad. Run Discord while playing a game, scroll Twitter while Zooming your nan, make it a bespoke control panel for Photoshop… it'll do anything you'd use an external monitor for, only it's built right into the laptop. Asus also has a handful of bespoke apps that work hand-in-hand with Adobe, so you don't have to mess around with moving panels and windows every time you open a project.
At around 1.75kg this isn't the lightest 14in laptop, but it's still compact enough to sling in a backpack. It's largely made from composite, but still manages to feel premium.
Putting the HDMI output and (proprietary) power port on the back makes sense, as it keeps cable clutter to a minimum when sat at a desk. It's less convenient for the microSD card slot located next to it. You get a 3.5mm audio port, plus two Thunderbolt 4 Type-C ports and a single USB-A at the sides.
While we like the convenience of USB-C charging, at least you're not giving up connectivity here to keep the laptop on mains power. The charging brick is reasonably svelte, too.
Asus ZenBook Pro 14 Duo OLED display: double trouble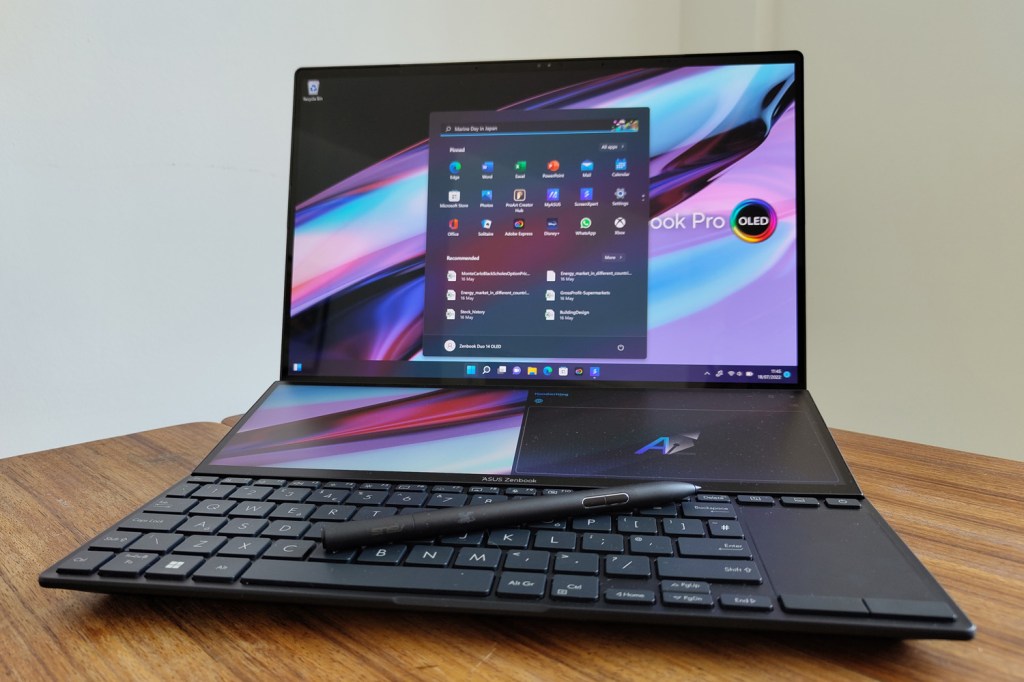 The Pro 14 Duo's main screen is an OLED treat for the eyes. At 14.5in it sits between ultraportables and larger laptops, but has skinny bezels that guarantee your gaze isn't distracted from all the pretty pixels.
The 2880×1800 resolution is a great middle ground between 1080p and 4K, packing in plenty of detail without overworking the graphics card, and the 120Hz refresh rate means scrolling is buttery-smooth. An OLED display also means you get blacks deeper than a piece of bread that's been toasted for 2hrs. It covers the entire DCI-P3 colour gamut, gets super-bright and plays nicely with HDR video. Oh, and it's a touchscreen.
Then there's the second display, which is no second-class citizen. It's got the same 120Hz refresh rate, same colour accuracy, and same brightness – a big improvement over Asus' first dual-screen effort, which was much dimmer. At 2880×864 it's just as detailed as the main panel, and responds whip-crack quick to touch inputs. A different screen finish does a better job of hiding reflections than the main screen, and feels more natural to write on with Asus' digital stylus.
The rectangular layout means you're not going to be browsing the web on it (unless you really like scrolling) but it's perfect for holding your Premier Pro timeline. It's a natural fit for Spotify playlists, email clients and chat apps while you're getting work done on the main screen, too.
Sound packs a punch, too. The down-firing drivers have been given the thumbs-up by Harman Kardon, and get impressively loud for such a slim machine. They've got decent bass presence, and while the mids take priority, higher-end notes are still crisp.
Asus ZenBook Pro 14 Duo OLED keyboard & touchpad: tight fit
To make room for that second screen, Asus has had to get clever with the keyboard. The entire thing has been shifted right to the bottom. That leaves nothing to lean your hands on while typing, so you're going to want a palm rest – or even a separate keyboard for tapping up more than short emails.
The keys themselves are pleasantly bouncy, with a good amount of travel. The half-width shift key can mess with your muscle memory a bit, and the function keys are diddy, but once you get used to the layout it's easy enough to type on – as long as you're sat at a desk. Using this laptop on your actual lap isn't especially comfortable.
The touchpad has also been squeezed into the bottom right corner. Bad news for lefties, and good reason for everyone to pick up a mouse, unless you're happy to use the second screen as a touchpad. It's half the width of a typical laptop touchpad, and even with a high sensitivity, there's not much room to waggle your finger around.
Asus ZenBook Pro 14 Duo OLED performance: no compromise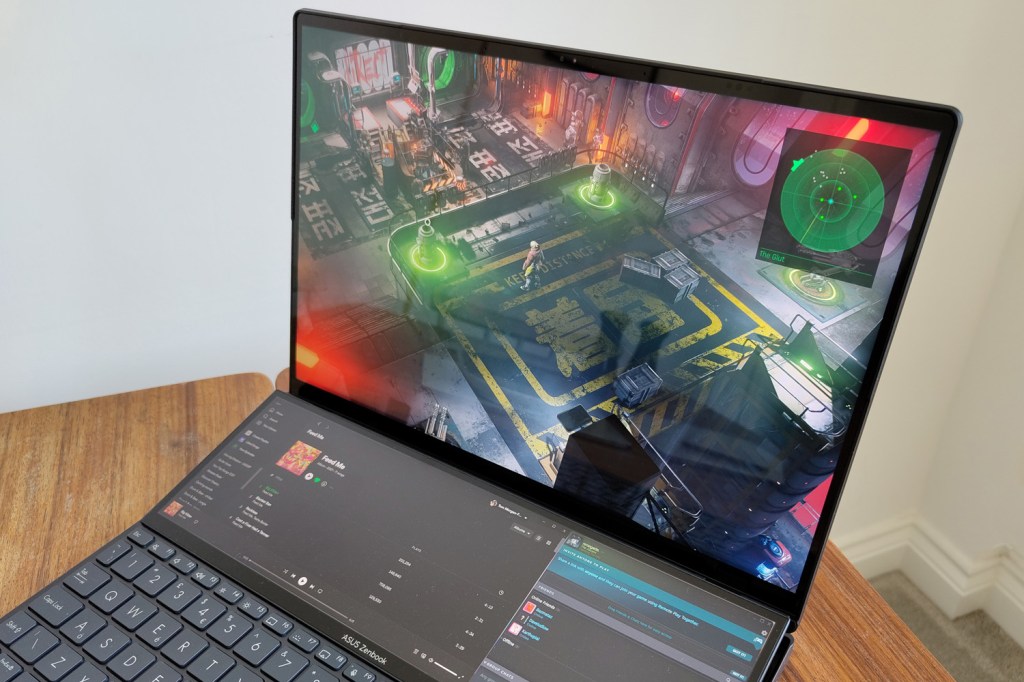 It might be a svelte machine, but Asus has found room inside the Zenbook Pro 14 Duo for some killer hardware. There's a 12th-gen Core i9-1200H running the show, which is about as fast as Intel's mobile CPUs get, and it's paired with equally speedy DDR5 memory and an NVMe SSD. You can stick with Intel's integrated graphics if you like, but gamers and creatives will head straight for machines equipped with an Nvidia GeForce RTX 3050 Ti dedicated GPU.
The combination wipes the floor with anything this skinny from the Windows world, and gets astonishingly close to matching the mighty M1 Pro-powered MacBook Pro 14. Complex photoshop actions were no trouble at all, and it'll handle 4K video editing at a rapid pace. A screen full of Chrome tabs can't slow it down either.
Gaming frame rates are impressive, too – as long as you're realistic over resolution and ray tracing settings. The 3050 Ti can't always run smoothly at native res, but drop things down to 1080p and titles like Cyberpunk 2077 and Elden Ring are perfectly playable between medium and high details. Nvidia's DLSS upscaling can also do a lot of heavy lifting here.
Blimey, it gets noisy though – and thermal throttling can still happen even when the fans are going full pelt. It's still mighty fast, but other laptops can manage sustained performance for longer without sounding like a jet engine.
Temperatures aside, the Zenbook's major weakness is battery life. Simply put, it's rubbish unless you turn the ScreenPad display off. With both screens on, you're looking at around five hours of general use, and considerably less if you're pushing the hardware.
Disable the second screen and you'll eke closer to seven hours out of it, but that's still behind what you'll get from the current crop of Windows thin-and-lights. An M1-powered MacBook Pro will stomp all over it – but if you only make occasional jaunts away from a mains socket (pretty standard for creative types) it won't be a dealbreaker.
Asus ZenBook Pro 14 Duo OLED verdict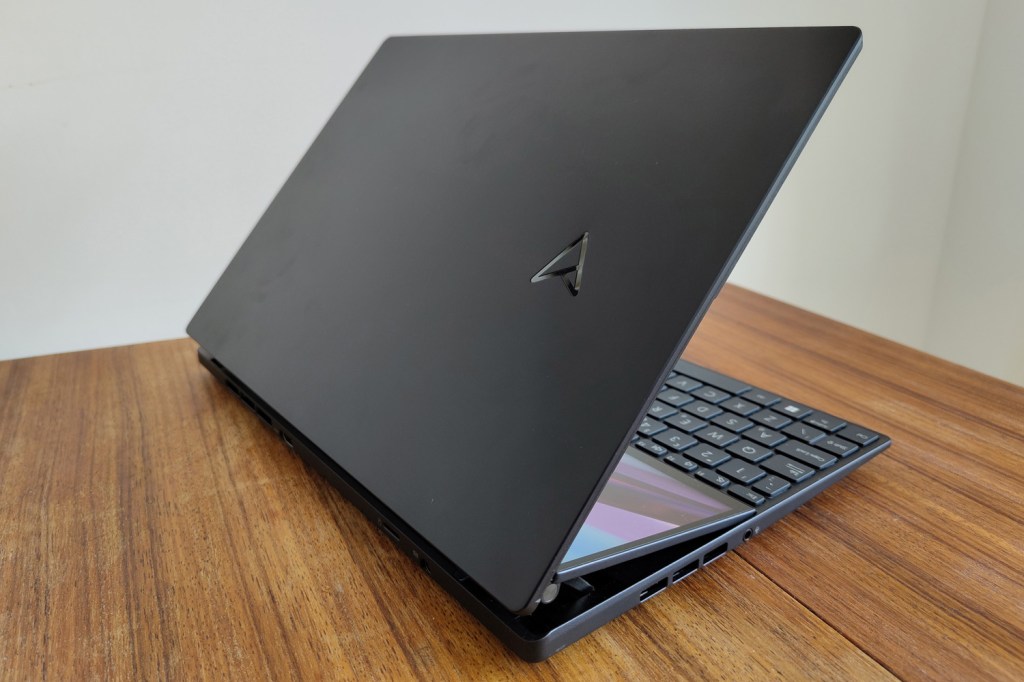 Clearly a Zenbook Pro 14 Duo OLED is not for everyone – but it's still an amazing piece of work that really does make a huge difference to productivity.
If you spend all your time in Premier Pro, or have worn down the alt-tab keys on your current laptop, that second screen will be a game-changer. Performance is also superb, even if it needs to crank the cooling fans to dramatic levels to keep temperatures in check.
Battery life that isn't so stellar, and an awkward keyboard layout are simply the prices you have to pay for a dual-screen setup.
Additional reporting by Tom Morgan-Freelander
Stuff Says…
A real powerhouse, and creative sorts will love the Zenbook's second screen shenanigans – even though it compromises elsewhere to make room for them.
Good Stuff
CPU/GPU combo deliver superb performance
Gorgeous screens major on productivity
Bad Stuff
Battery life is on the short side
Keyboard and touchpad compromised by second screen
Asus ZenBook Pro 14 Duo OLED technical specifications
| | |
| --- | --- |
| Screen | 14.5in, 2880×1800 OLED + 12.7in, 2880×864 OLED |
| CPU | 12th-gen Intel Core i7 / Core i9 |
| Memory | 16/32GB |
| Storage | 512GB/1TB SSD |
| GPU | Nvidia GeForce RTX 3050ti |
| Operating system | Windows 11 |
| Battery | 4 hours (stated) |
| Dimensions | 324x225x17.9mm, 1.7kg |