Beats Flex review
Beats goes affordable, but are the Flex a bonafide bargain?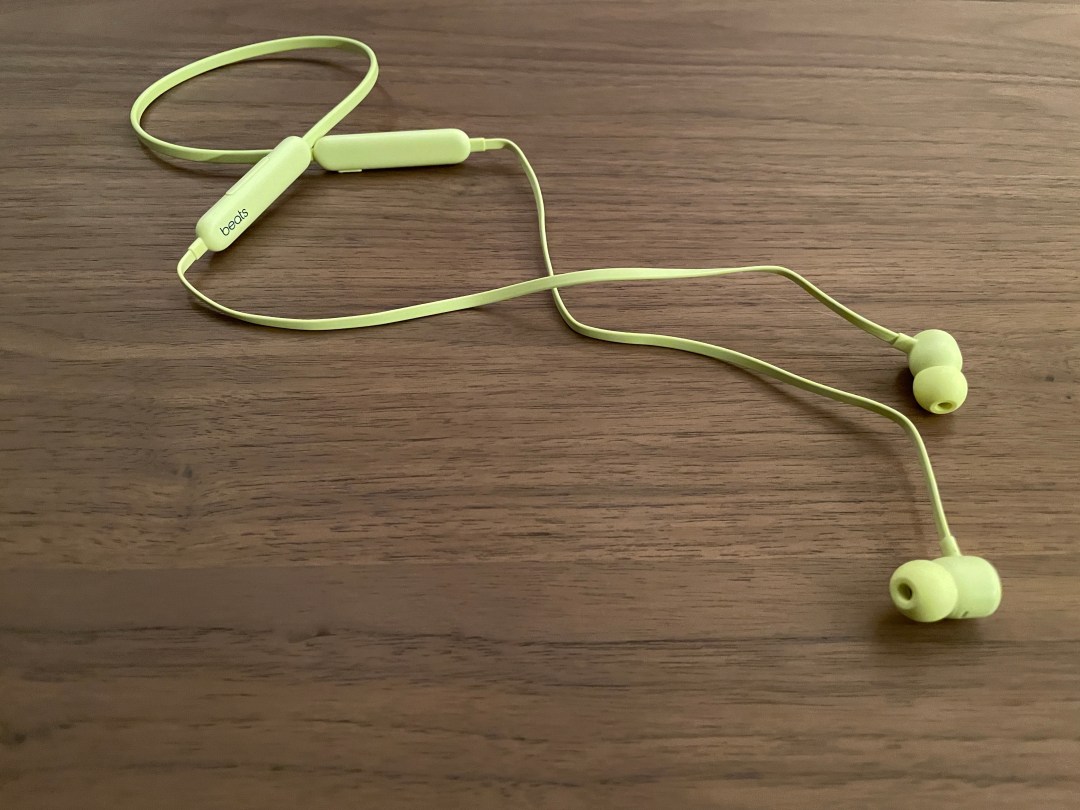 Beats doesn't really do bargains. So dropping a pair of pocket – and wallet – friendly fifty quid wireless earphones feels completely out of character. And yet here we are, and here are the Flex – we live in unprecedented times.
During the early days of its Beats by Dre Monster-made devices, price tags remained stubbornly premium despite some questionable reviews, and let's be honest, the brand was living off its famous co-founder's name.
If there's one thing you expected to remain intact when Apple bought Beats in 2014 (yes, that long ago) it was the asking price of its products, but actually that's not how it's played out. If anything the brand has become more competitive, with a newly refined sound, cultivated in Cupertino. We're well into the next episode.  
The Flex are based on the Beats X, which cost £130 when they were released three years ago, featuring an early iteration of Apple's W1 chip. The W1 is still here, but battery life sees a leap from eight to 12 hours, and that's just one of the many upgrades found on the Flex for a massive £70 saving on its (kind of) predecessors.
Design: I don't think you're ready for this jelly
The Flex look almost identical to the X – basic buds minus the secure-fit ear hooks found on a pair of PowerBeats.
There's a mic, in-line control buttons and Beats branding on the left module, a power and pairing button on the right module, and a neck-hugging adjoining cable in between.
The magnetic buds that debuted on the X make a welcome return, and the cable is a little longer than you might expect as Beats' style is for it to curl round and sit on either shoulder. Sounds fiddly, but in practice the Flex do this naturally, and that's down to what they're made from.
A super-elastic metal alloy mix of nickel and titanium, called Nitinol, gives the Flex a jelly-like form. So rather than the cable flopping about all over the place whipping unsuspecting passers by, the Flex have bouncebackability (credit: Iain Dowie) and always maintain their shape.
The other advantage here is being able to screw them up until they resemble Mr Messy, before chucking them in a bag or pocket, safe in the knowledge they'll spring back into shape the second they emerge from the depths of your chosen form of transit.
Despite a durable plastic coating and six spare silicone tips, it's worth noting the Flex have no IPX rating, so they're not sweat or water-resistant. A shame, but then neither were the more expensive X, so if you want workout earphones perhaps consider the Powerbeats range.
The Flex are available in four colours – Beats Black and this rather ravey Yuzu Yellow now, grey and blue arriving early next year.
Features: All-day flexing
Beats says a new proprietary acoustic platform offers accurate bass and precision across all frequencies (more on that below), while the drivers measure 8.2mm.
Laser cut micro-venting and the off-centre angle of the buds is said to offer ear pressure relief and aid audio delivery. No qualms with the first claim; the Flex are lightweight, immensely comfortable and despite a snug, secure fit with decent levels of passive isolation, they leave very little earprint – we'd happily wear them all day long.
So it's just as well that's exactly what the 12-hour battery life is there for. Factor in a Fast Fuel 10-minute charge for 1.5 hours of playback and a USB-C charge connector included and the Flex are in fine fettle on the power front.
This commendable juice management is partly due to Apple's W1 chip and a Class 1 Bluetooth connection that's rock solid on iOS or Android, along with an auto play/pause function that kicks in when the buds are magnetically connected around your neck.
Full Flex functionality is plug, play and all part of the package on most Apple devices, and that includes SBC and ACC support for high-end sound quality. Switch to Android with the free Beats companion app and while you don't lose any functionality per se, there's no aptX or aptX HD to bump the Bluetooth audio quality.
The built-in mic has been engineered to combat windy conditions, while there's Audio Sharing with another pair of Beats headphones or Airpods – equally decent when watching movies together on the train or off out for a run to the same the playlist.
Performance: Lacking metal
Streaming tracks through Apple Music on the iPhone 12 Pro, the Flex sound better than AirPods. Hands down.
A dose of digital processing is there to fine-tune the frequencies and provide enough audio separation. Beats isn't rewriting the rulebook here, but on a pair of fifty pound earphones things are rarely this well balanced.
Jorja Smith's 'Lost & Found' feels atmospheric. There's a real depth to proceedings, with a nice nuance to her vocals and Beats' signature high bass output ready and willing when required. No more so than on the more expansive soundscapes of Pan Amsterdam's jazz-influenced 'Ha Chu'.
Switching to metal with Metallica's eponymous fifth studio album, however, and the Flex's shortfalls come to the fore. Everything just feels a bit, well, flat. You feel shortchanged on all frequencies and the experience is a complete departure from what came before. It's baffling.
Sitting somewhere in the middle is Public Enemy's 'What You Gonna Do When The Grid Goes Down'. Chuck and Flav's vocals are entirely on point as is the rumbling bass, but what should be big guitar solos are immediately lost.
Overall, be prepared to experience some well-defined highs and wonderfully wobbily lows, but at the expense of mids lacking much of an impact.
Verdict: Flex for a nifty fifty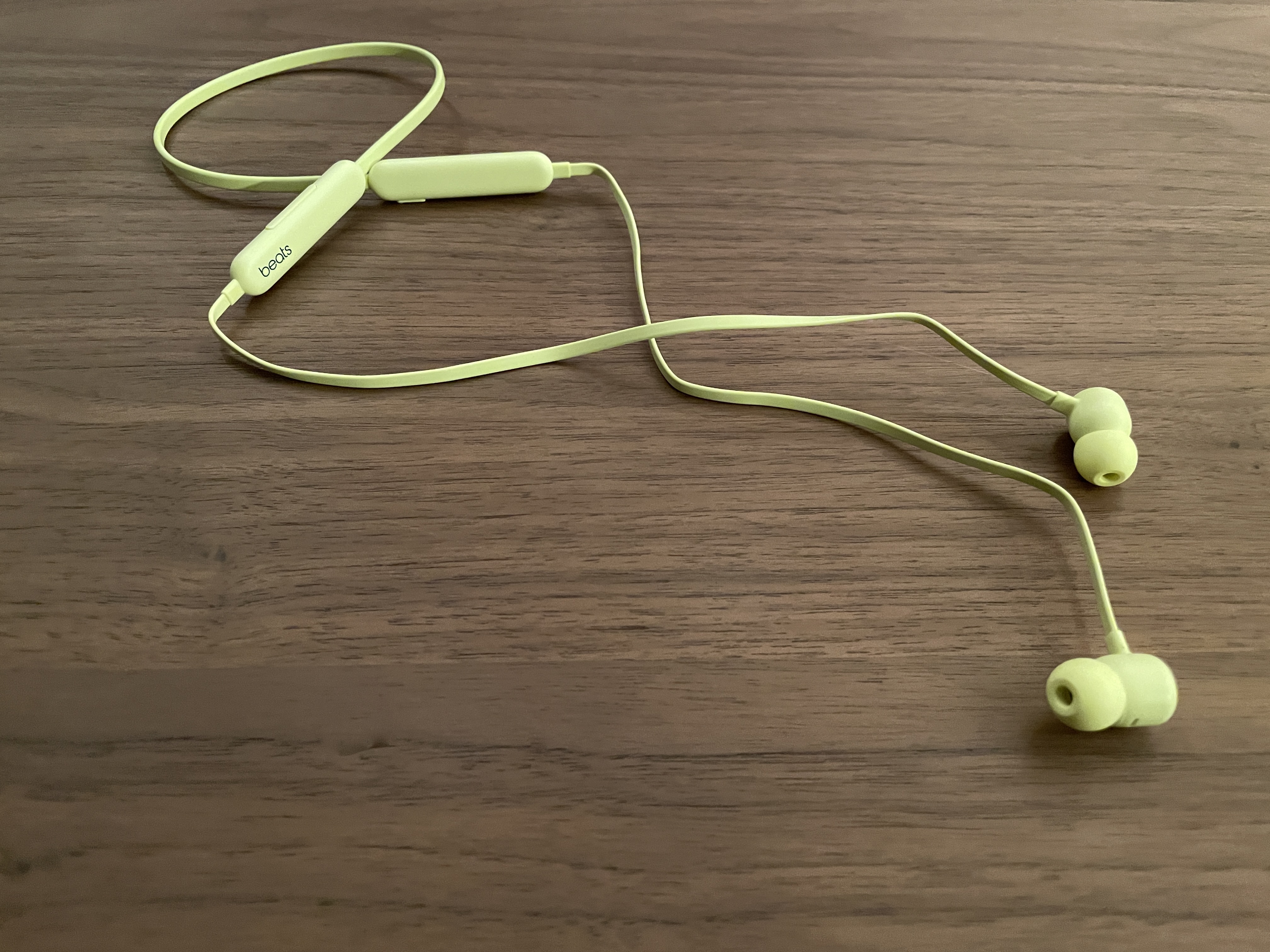 The Flex are Beats most affordable earphones to date, and they're ever so close to being considered a bonafide bargain.
The design is clever, the materials miraculous, and the price tag palatable. They're feature-rich, pack generous battery life, and paired with the right device and right selection of music feel like a steal for fifty sheets.
Deviate from the script, however, and holes begin to appear. It makes sense Apple-engineered buds should work best with its own devices, but a bit more democracy wouldn't go amiss in 2020.
Sound-wise, stick to processed beats and you're well served, but dare to go eclectic with your song selections and the end experience feels muted.
Stuff Says…
So close to being brilliant, the Flex still represent fifty quid well spent
Good Stuff
Attractive price
Versatile design
Commendable battery life
Bad Stuff
Hit and miss sound
Not true wireless
No sweat or water resistance