Blaze Entertainment Evercade EXP review: slots of fun
Retro gaming handheld returns with a flash redesign, 18 Capcom games, and an invite to rotate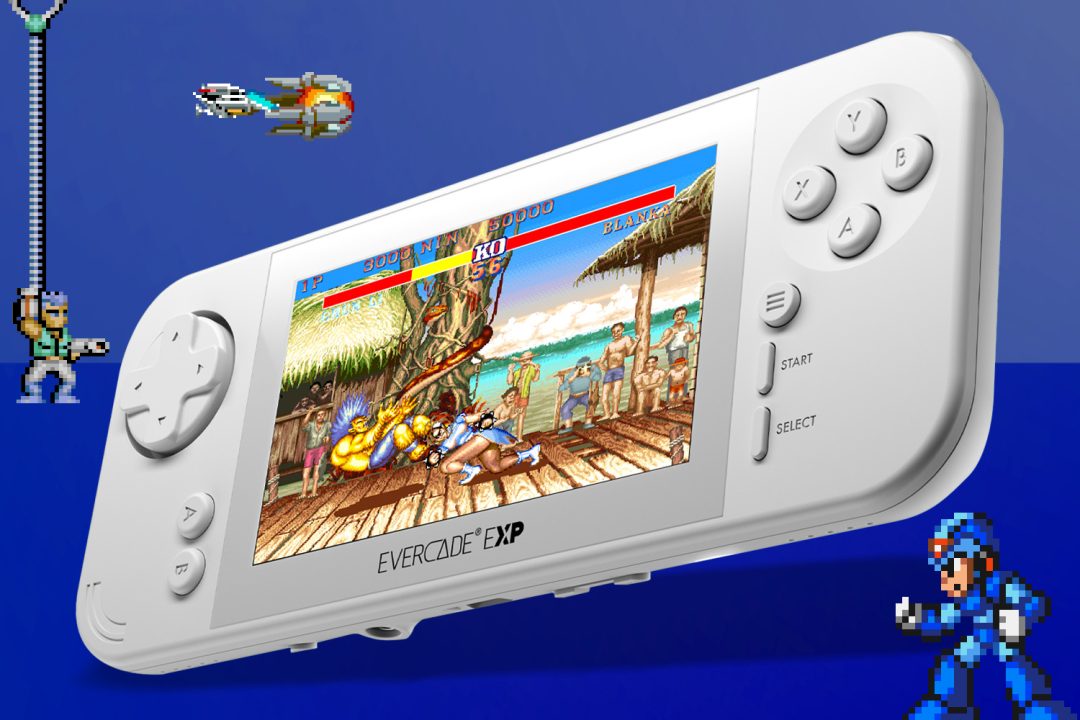 We liked the original Evercade, but did wonder if it would find a market. Yet through its low price point and dedication to physical media, the system secured a loyal following. This led to telly console follow-up Evercade VS, and now this second handheld: Evercade EXP.
But how do you improve on a cheap handheld that harks back to ancient times and demands you plug in cartridges, like a gaming throwback? Judging by the EXP, you start by removing 'cheap' from the equation. This updated unit looks more expensive than its predecessor and is sturdier in the hand.
You then build on what you had, perhaps by adding a killer feature. Here, we get TATE mode, which, alas, is not named after Stuff contributor Matt Tate. You instead pronounce the word 'tah-teh', derived from the Japanese 'tateru' ('to stand'). This makes sense when you realise it's all about playing games in portrait, to make optimum use of screen space.
But how does the Evercade EXP play in a broader sense, when you turn the thing on? Let's find out…
Level up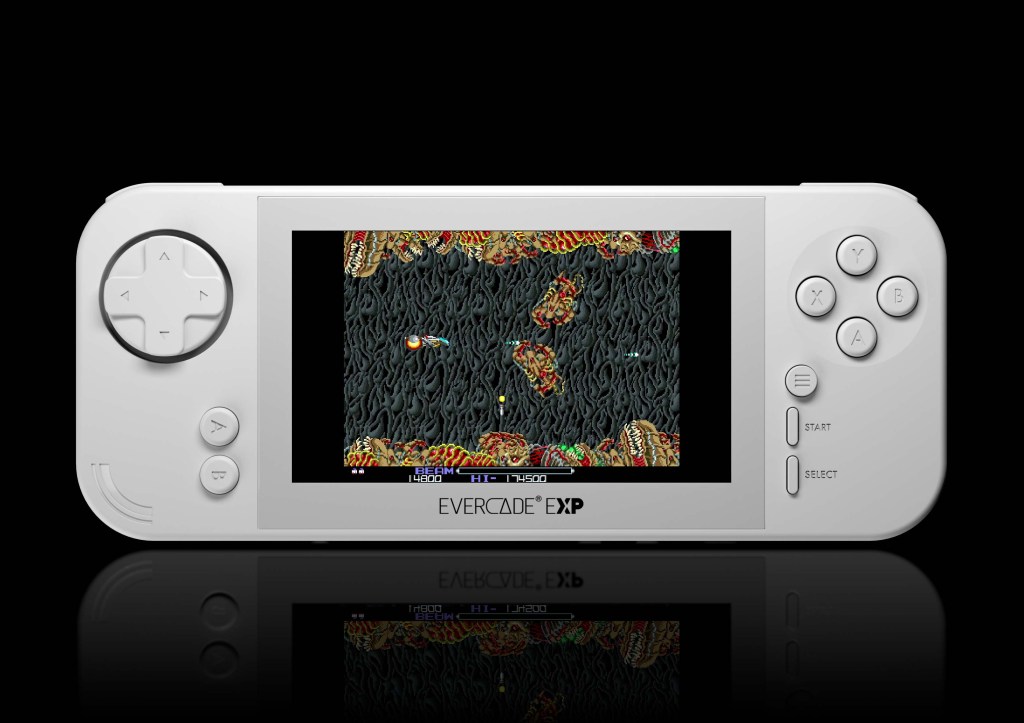 The EXP display is brighter and has a higher resolution than the original Evercade's: 800×480 rather than 480×272. It won't give a modern smartphone much to worry about, but the screen's solid for the retro titles you'll play on the EXP. There are no issues when you view the screen at an angle.
You get two sets of A/B buttons – the one on the left is for the console's TATE mode, which is manually activated with another button. Playing in portrait is great and gives vertical shooters room to shine – and finally makes existing Evercade titles like Burgertime and Caterpillar fully playable on the system.
Weirdly, the button types all feel different, but they're all responsive. The TATE A/B ones are too cramped though. Also, buttons don't always do what you'd expect when playing games that originated on different systems. Fortunately, Blaze has confirmed button remapping is coming to the EXP.
An EXP menu includes a section for hidden games, and a tantalising 'coming soon' banner. It's also where 18 included Capcom titles live. They're built in, not on a cart, which will annoy folks who've bought into the physical-only nature of Evercade. Still, you do at least get a printed manual.
As you might expect, the EXP has concessions to modern gaming, such as save states. But it also has options that enforce authenticity. You can set a coin limit, or start a game in 'competition mode', which blocks you from using save states. Good luck finishing Bionic Commando with that on…
Game time
There are countless handhelds you can stuff full of ROMs found online, giving you free classic games to play until the end of your days (while yelling yo-ho-ho). Evercade does things properly, by licensing titles and crafting tailored collections.
The downside is you don't get everything you'd like. No Nintendo or Sega. No arcade titles by Taito or Namco. Some collections are rocky too. A Gremlin one omits home micro games retroheads know the company for. The C64 collection inexplicably hides one of its best games as a 'bonus' and mixes classics (Impossible Mission) with junk.
But for every flub, there's a success. The range of carts has expanded impressively since the Evercade's launch. There's now a solid selection of arcade titles. Blaze has also delved into new games for old consoles – such as with the first (and excellent) Mega Cat collection, Xeno Crisis (twinned with Tanglewood), Indie Heroes, and Morphcat Games (Micro Mages).
With the EXP itself, you get a whopping 24 bundled titles. There's the Irem Arcade cart (also sold separately) with 10-Yard Fight, Battle Chopper (aka Mr. Heli), In the Hunt, Lightning Swords, Moon Patrol and R-Type. And then there are the 18 built-in Capcom games: arcade versions of 1942, 1943, 1944: The Loop Master, Bionic Commando, Captain Commando, Commando, Final Fight, Forgotten Worlds, Ghouls 'n Ghosts, Legendary Wings, MERCS, Street Fighter II: Hyper Fighting, Strider and Vulgus; 8-bit (NES) titles Mega Man and Mega Man 2; and 16-bit (SNES) games Mega Man X and Breath of Fire. That's a lot, even to a veteran retrogamer.
Our picks on where to start include Street Fighter II: Hyper Fighting, which ramps up the seminal one-on-one fighter to make it even more demanding with a faster pace and new special moves; horizontal scrolling shooter R-Type gives your thumbs a workout as you attempt to blast the evil Bydo to oblivion; Commando gives TATE mode a reason to exist as your lone soldier weaves his way through the action, taking down enemies, like Arnie on speed; Moon Patrol is a veteran – an enjoyable arcade test from 1982 that has you simultaneously leap over holes and blast aliens; Bionic Commando is a cracking platform game with a twist – you can use a bionic arm to grab ledges and swing like a sci-fi Tarzan; and Mega Man X lets you get your console on, its SNES action-platform larks still feeling fresh and exciting after almost 30 years.
Blaze Entertainment Evercade EXP verdict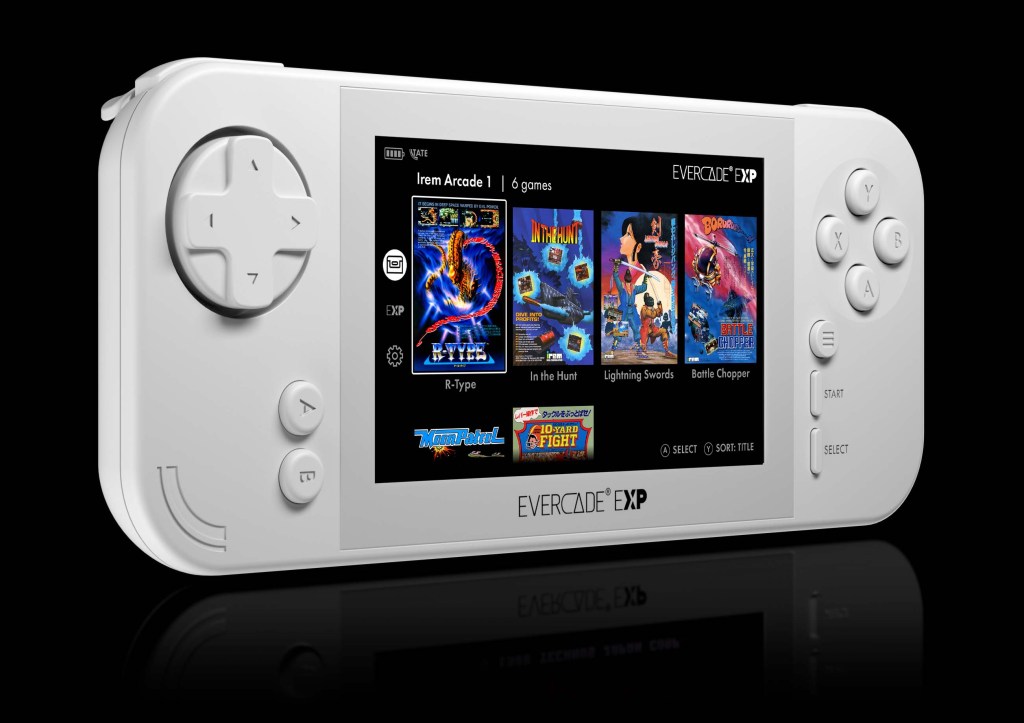 There's a lot to like about the EXP. It's comfortable to play on for hours, and although the D-pad can be a touch fatiguing, it's precise. A speedier CPU makes the UI snappier. And several flaws from the original are gone: the screen is better; the unit feels more rugged; there's USB-C charging; and you now update firmware over Wi-Fi – which also makes the EXP compatible with 'game of the month', first seen on the Evercade VS.
Downsides? The speakers are only OK and there's no Bluetooth headphones support. There's no external controller support either, which means although you can connect your EXP to a telly via HDMI, two-player fun is out of reach. Virtual scanlines cause display issues with some games. And we can't avoid mention of the higher price (£129.99, compared to the Evercade's £59.99 – although much has changed in consumer hardware pricing since 2020…), nor the Capcom games being digital-only, which erodes a key aspect of Evercade.
Truthfully, though, it's hard to care about those gripes. Software issues will be fixed. We imagine Blaze must be thinking of a solution for two-player games. As for Capcom, that's down to licensing limitations. Taken in isolation, we'd instead argue 18 Capcom titles bring significant value to the EXP. After all, we've seen mini consoles at a similar price point. Purely as a dedicated Capcom unit, the EXP is an enticing prospect.
But the Evercade EXP remains far more than that. It's a rare handheld with character (if not as much as some) that nods to nostalgia but doesn't drown in it. This is a thoughtful upgrade, which retains the original's authenticity, and moves the hardware on in meaningful ways. It's imperfect, but so are all those old games. Yet some are great too – as is the Evercade EXP, where it really matters.
Stuff Says…
A love letter to gaming's past (with one eye on the present) and a marked improvement over the original console – although you do pay for the higher quality.
Good Stuff
Much improved screen
TATE mode is excellent
18 built-in Capcom games
Bad Stuff
Properly chunky bezels
No two-player option
No Bluetooth support
Evercade EXP technical specifications
| | |
| --- | --- |
| Screen | 4.3in 800×480 IPS |
| Processor | 1.5GHz |
| RAM | 4GB |
| Connectivity | miniHDMI out (720p), Wi-Fi, USB-C charging |
| Battery life | Up to 5hrs |
| Dimensions | 192x78x20mm, 270g |