BMW M235i Convertible review
The BMW M235i Convertible may not be as all-out insane as its M-badged siblings but that doesn't make it any less fun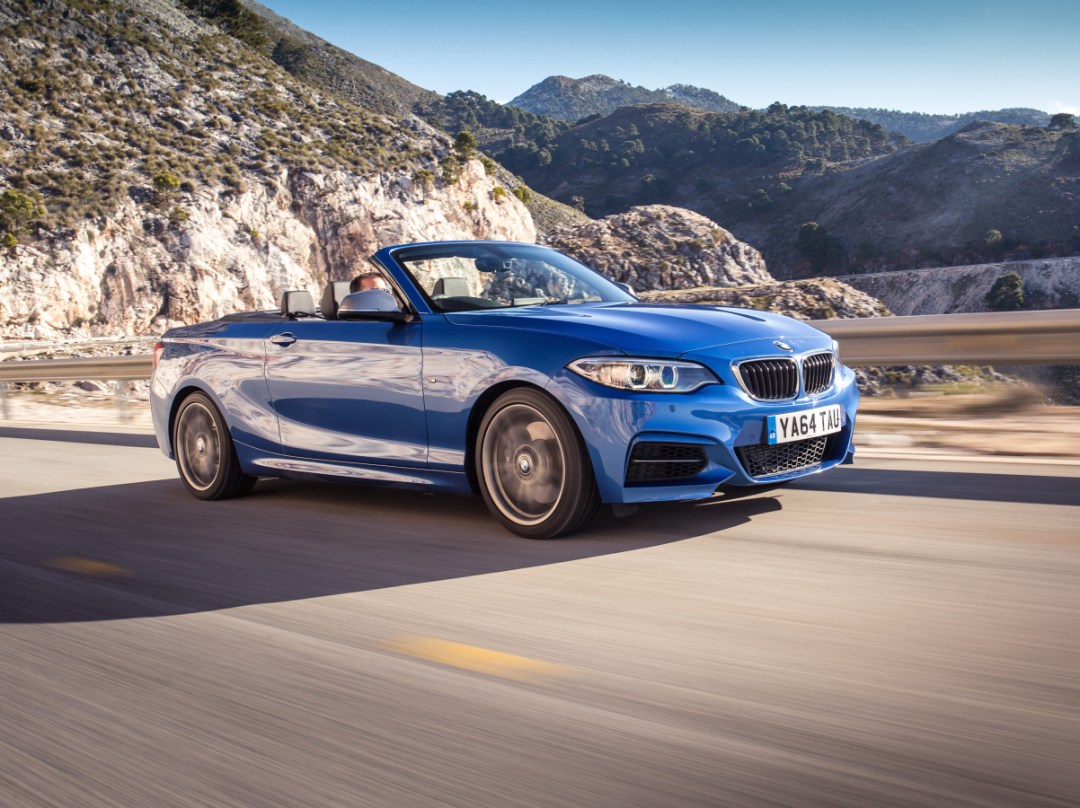 There was once a time when only the most ferocious BMW models wore the coveted M badging, but these days the M is a bit more fluid.
If you want a Beemer that looks all sporty but is actually mild-mannered enough for you insurance company to not laugh in your face, you want an M Sport. The full-blown M-badged cars at the other end of the spectrum turn every trip to Tesco into a noisy, frenetic adventure.
Wouldn't some sort of middle-ground be nice? Yes? Then you want an M Performance car.
The BMW M235i Convertible is an M Performance car: it's no way near as bonkers as the M4 Convertible but does still sport a 321bhp 3.0-litre twin-scroll turbo six-cylinder engine that is more than enough for an enjoyable blast along your favourite route.
But does that make it worth its £37,710 price tag?
Designer drop-top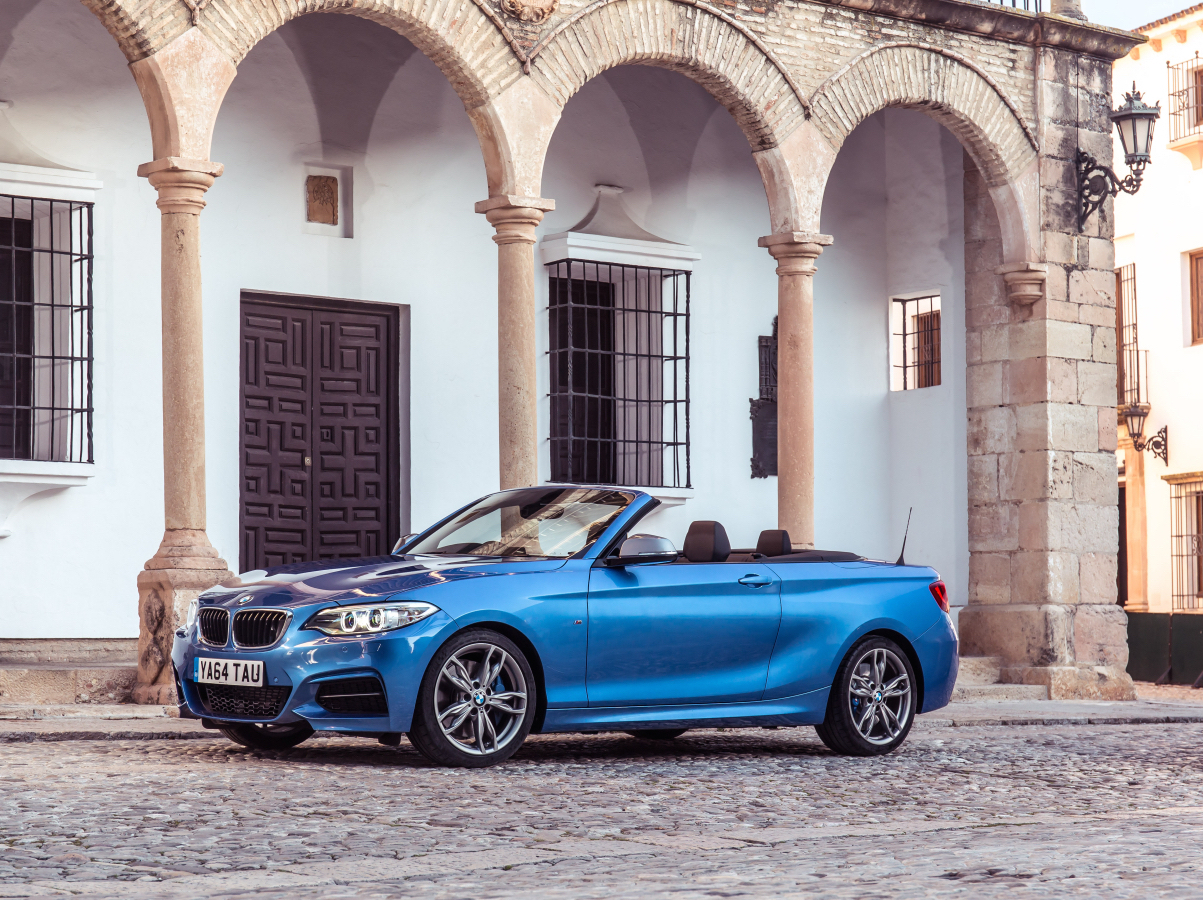 There's no denying BMW's new 2 Series is a pretty little thing. It's compact 3 Series styling, sharp angles and heavily sculpted flanks make it easy on the eye no matter what angle it's viewed from.
The M235i sits at the very top of the 2 Series range (there's no firebreathing M2… yet) – and boasts special M Sport suspension, bucket loads of M-badging and a number other racy additions to set it apart from the rest of the gang.
Of course, the large majority of your money goes towards that 3.0-litre twin-turbo engine, which is a real peach.
Practical performance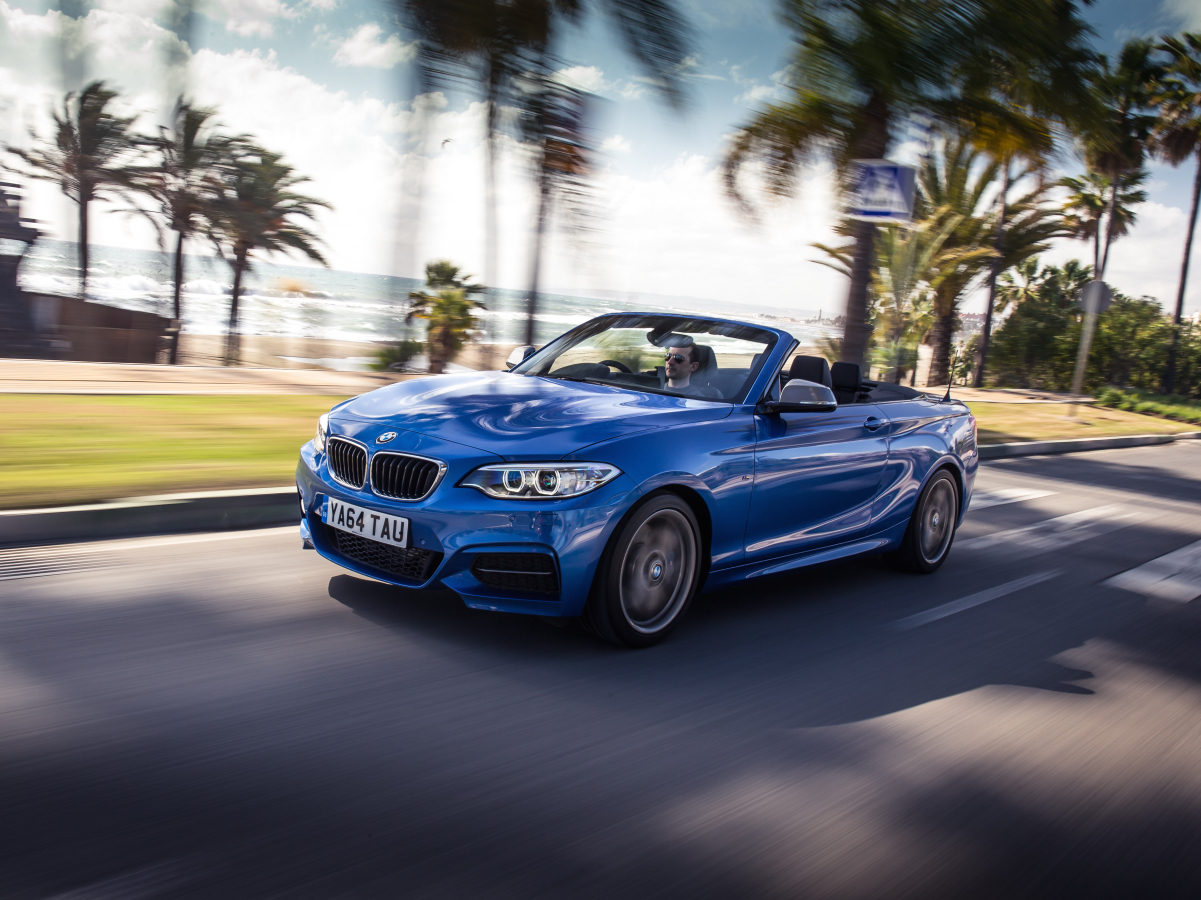 The M135i was the model to kick-start BMW's "not quite M-cars, but still suitably bonkers" way of thinking, and it was a ferocious thing despite its diminutive appearance.
The M235i isn't as mental as it's hatchback predecessor but that's no bad thing. It cruises around town with little in the way of road noise or crashing from the sports-tuned suspension and it can return a respectable 35.8mpg when driven carefully.
But toggle the Sport or Sport+ button and the engine completely changes character, the steering firms up and the roar from the pipes fills the cabin. Under really crazy acceleration, the rear squirms around a bit and the traction control warning lights up like a Christmas tree – just a small reminder that this is still an M product after all.
Fancy fabrics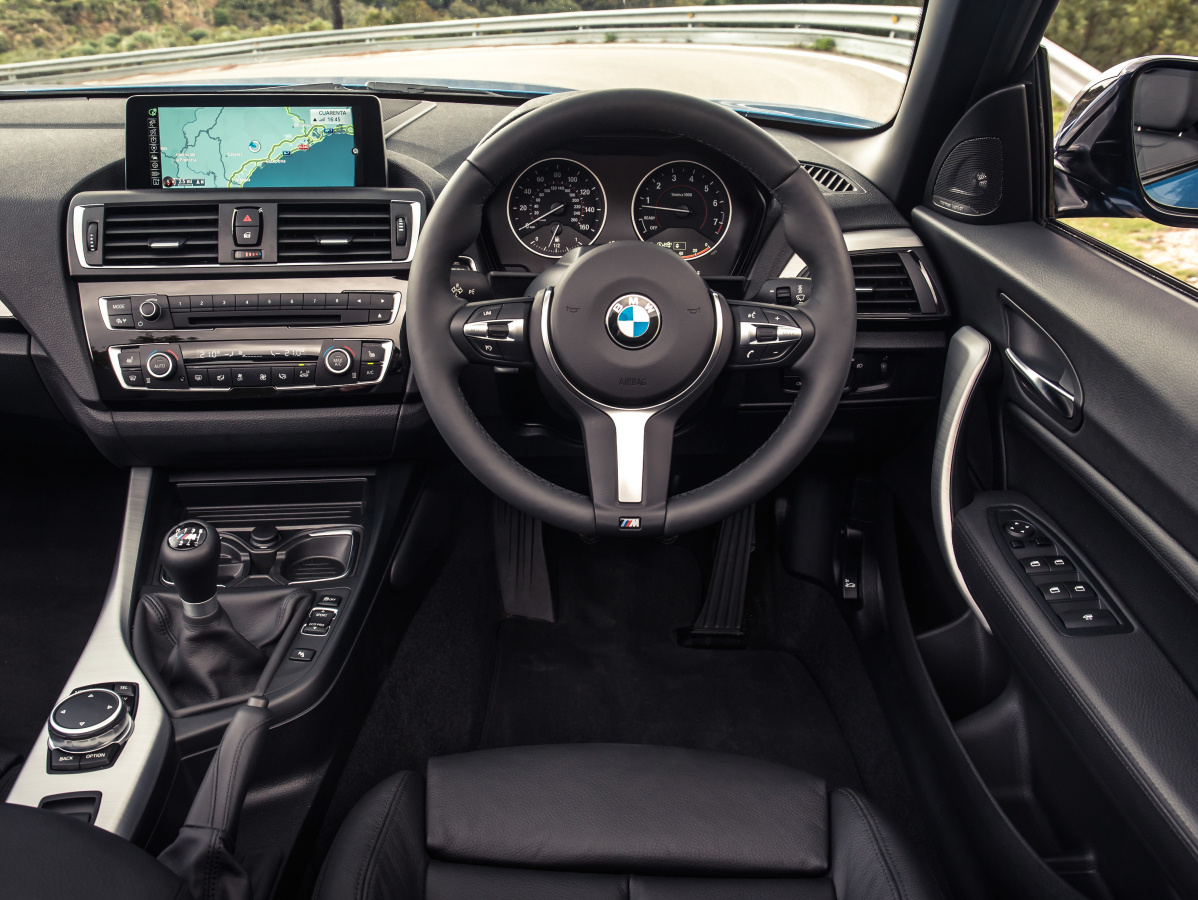 Engineers at BMW have been working hard to reduce the amount of noise that plagues most convertibles and they've done a fantastic job with the 2 Series. The new roof, which annoyingly takes a tiresome 20 seconds to fully retract, features five layers of sound deadening fabric, so nearly all wind and road roar is blocked out.
It's surprisingly peaceful on longer journeys but when the mood takes, it's great fun to drop the top (which you can do at speeds of up to 30mph) hit the Sport button and floor the accelerator until the revs tickle the 7,000rpm mark. It's highly addictive.
Connected cockpit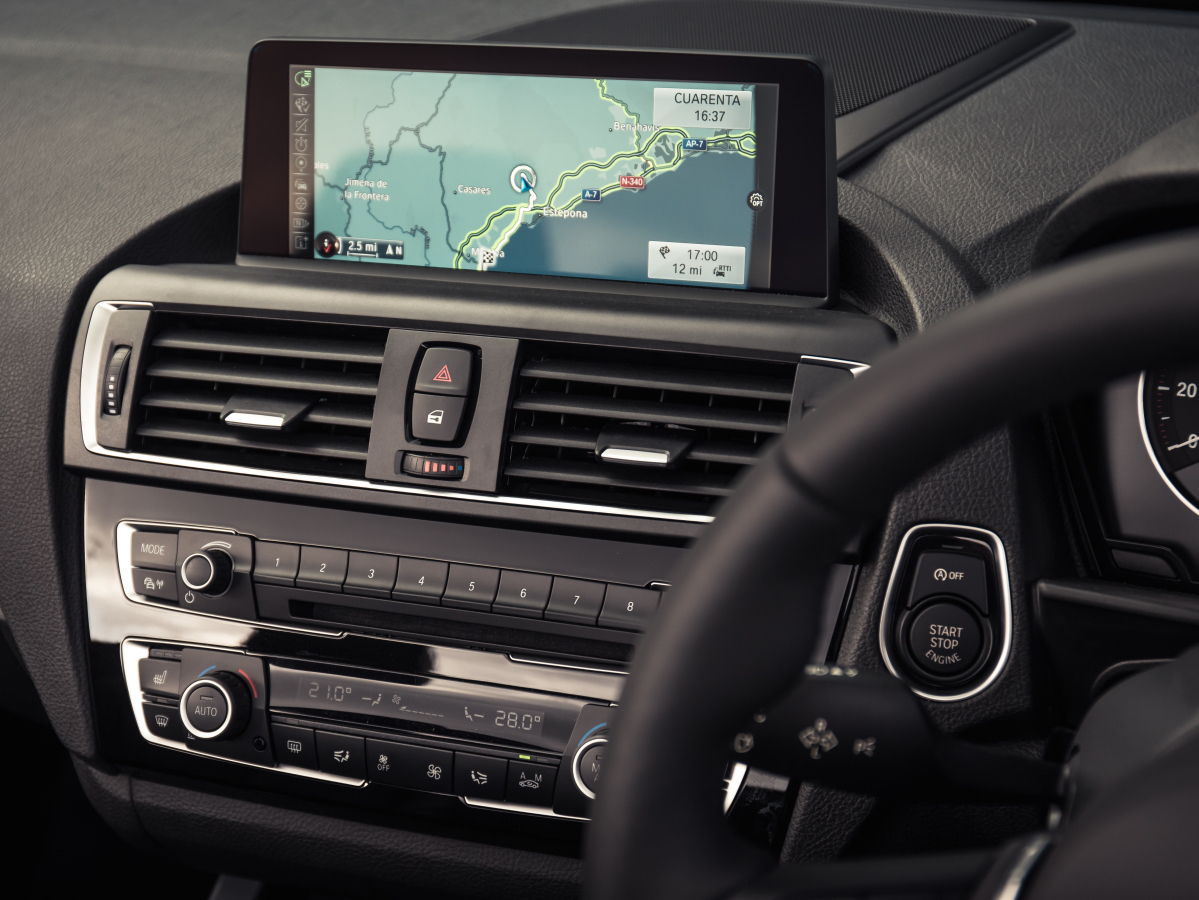 BMW's ConnectedDrive system remains one of the best found in any car today. The easy-to use jog wheel works intuitively with the 8.8-inch flat screen and all of the menus are clear and easy to access on the move.
The new 2 Series is also the first to come with a built-in LTE-ready SIM card, which allows free-of-charge wireless updating of navigation data. The new map data is relayed to the vehicle wirelessly via the SIM card, so there is no need for manual installation from external data storage devices.
For a small monthly fee, occupants can also enjoy high-speed LTE wireless Internet access and tap into online functions, such as web radio, Facebook and Twitter, via the infotainment screen.
Unfortunately, most BMW interiors are starting to look a bit identikit but at least the M235i benefits from the M Performance steering wheel and lots of racy badging throughout.
Speed on demand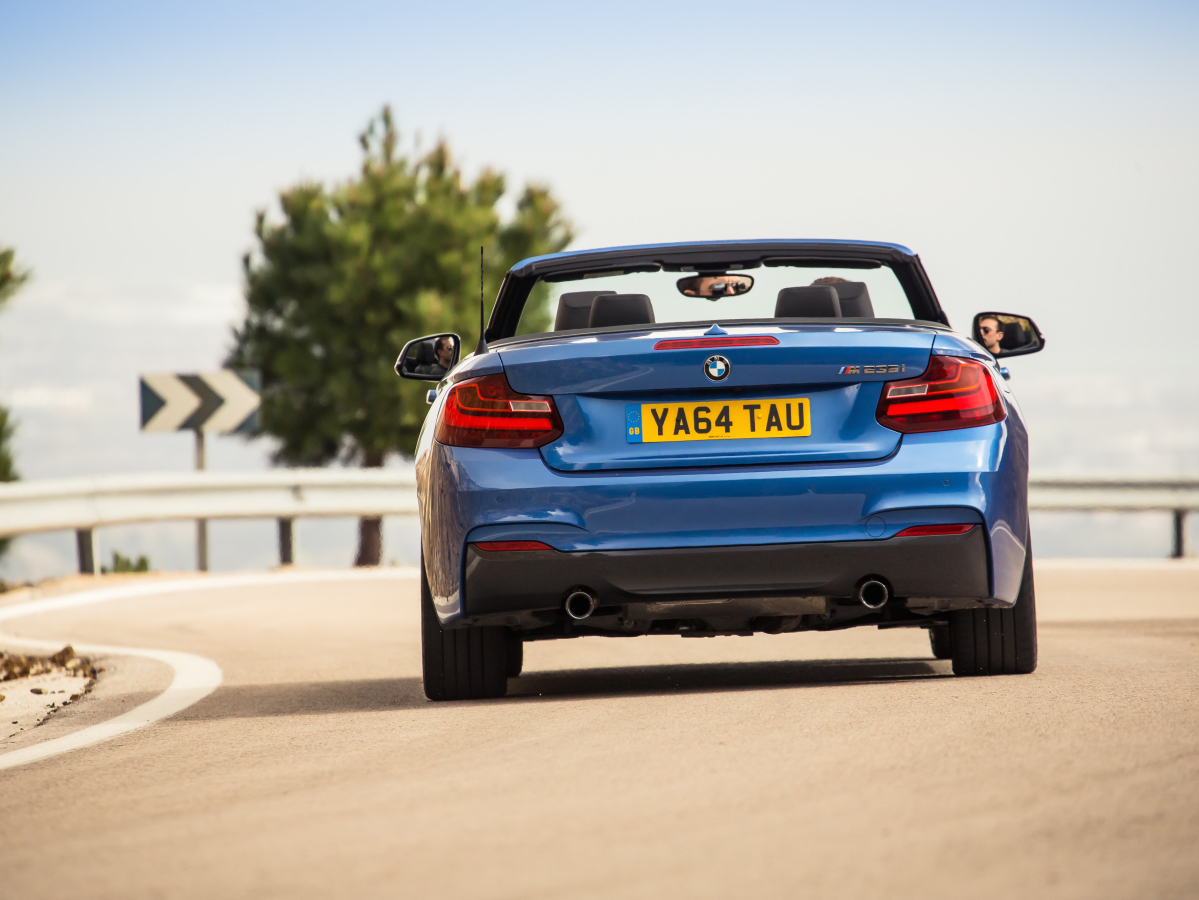 The BMW is definitely quick when it wants to be – 0-62mph is completed in 5.0-seconds flat, 0.4 seconds faster than the Audi S3 Cabriolet, which is by far its closest rival.
It can also go on to an electronically governed top speed of 155mph and features a rowdy launch control system when the optional eight-speed automatic Steptronic sport transmission is specified. Although we're still a sucker for a BMW six-speed manual, which is so easy to use.
Verdict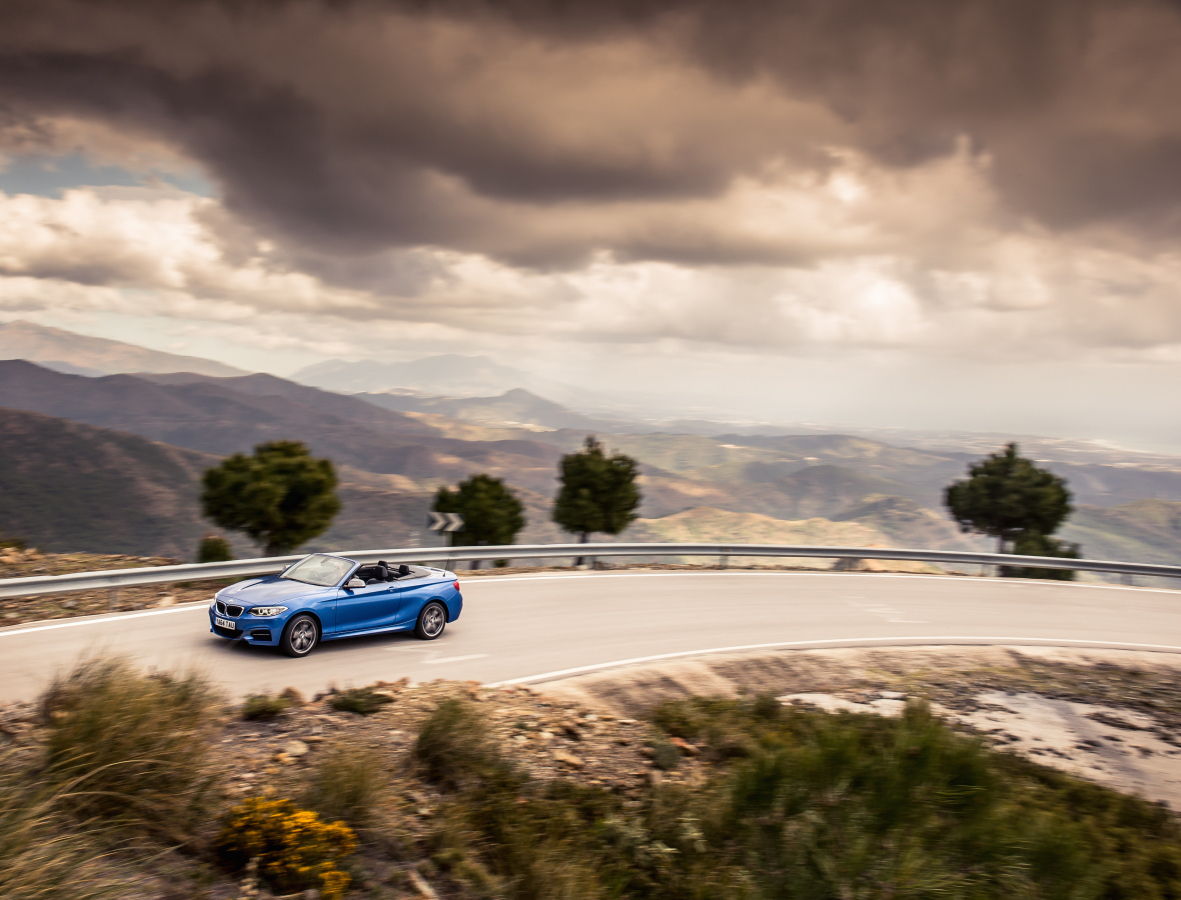 The BMW M235i is an excellent little convertible with bags of style and character – but it's ruddy expensive.
That said, it can smash the 0-62mph sprint in a Porsche Boxster-baiting 5.0-seconds and cart four people around in relative comfort. It also packs a brilliant infotainment system and a cracking optional Harman Kardon stereo system for any audiophiles out there.
On top of that there are very few alternatives around that can rival its great mix of head-turning looks, all-out pace and everyday practicality. It's definitely worth a test drive if you want drop-top thrills but don't want to meander towards a full-fat sports car.
Tech specs
| | |
| --- | --- |
| Engine | 3.0-litre six-cylinder turbo |
| Top speed | 155mph |
| Transmission | Eight-speed auto/six-speed manual |
| Power | 321bhp |
| Torque | 450Nm |
| 0-60mph | 5.0 secs |
| Economy | 35.8mpg |
| CO2 | 184g/km |
| Weight | 1620kg |
Stuff Says…
A handsome – but expensive – convertible that will happily take on both sports cars and hot hatches in the performance stakes
Good Stuff
Cracking looks
Thrilling performance without the scares
Packed with BMW's latest in-car technology
Bad Stuff
Mighty pricey
Not up there with a full M car for performance
Four will fit but the back seats are a bit cramped