Bose Frames review
Sunny business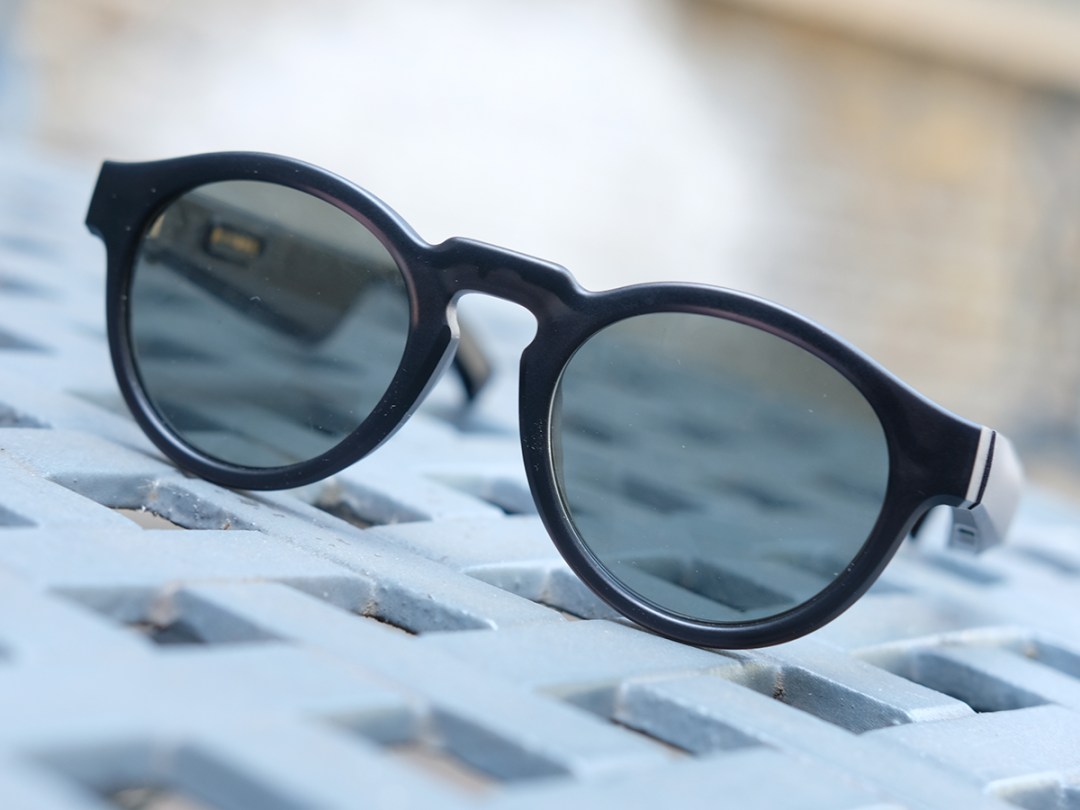 For a long time, sunglasses could be easily grouped into two categories: dirt cheap ones you buy because you know you're eventually going to break them anyway, and expensive, ultra-fashionable ones you buy in the hope that it'll make you more careful not to break them.
With its Frames, Bose has added a new category: sunglasses that handily double up as wireless headphones. Each arm contains an impossibly teeny Bose system that fires sound directly into your ear and leaks almost nothing to those around you. There's a multi-function button for pausing and skipping songs, microphones for phone calls and arguing with voice assistants, and a 9-axis motion sensor.
The Frames are also the first consumer product to integrate Bose AR, the company's augmented reality platform. There are already a handful of apps available to download, but in time Bose hopes developers will build audio-focused apps for gaming, travel, entertainment and education. The ambition is there, then, but do the Frames deserve a much-coveted spot in your suitcase this summer?
Design and build: You're so plastic
It doesn't matter how clever your shades are if you wouldn't be seen dead wearing them. And it's fair to say that smartglasses often look better suited to a schlocky sci-fi film set than a sunbed in La Manga.
Happily, Bose has opted for a minimalist aesthetic with the Frames. They're available in two styles, the rounded Rondo and the Wayfarer-style Alto. Both block up to 99% of UVA/UVB rays and are both scratch and shock-resistant. Always useful. While I preferred the style, I found Alto to be a bit too wide for my face so opted for the Rondo. Order without trying them on first at your own risk.
Despite the tech crammed into each arm, the Frames only weigh in at 45 grams, so while you can definitely see the added bulk from the side, you can't really feel it. The matte plastic build does feel a little on the cheap side, though, and the Frames definitely aren't cheap. I do however like the gold-plated hinges, and putting the charging pins on the inside was a wise design decision.
In terms of lenses, you can opt for a Blue Gradient, non-polarised lens for both styles, or a polarised option for each – Mirrored Silver for Alto, and Mirrored Rose Gold for Rondo. I found the lenses on my review sample to be too transparent for my liking, but that won't bother everyone. Bose hasn't committed to a prescription lenses option at the time of writing.
The only button you'll find on the Frames is the gold multi-function button on the underside of the right arm. I'll delve more into what it does in the next section.
Features: Nifty shades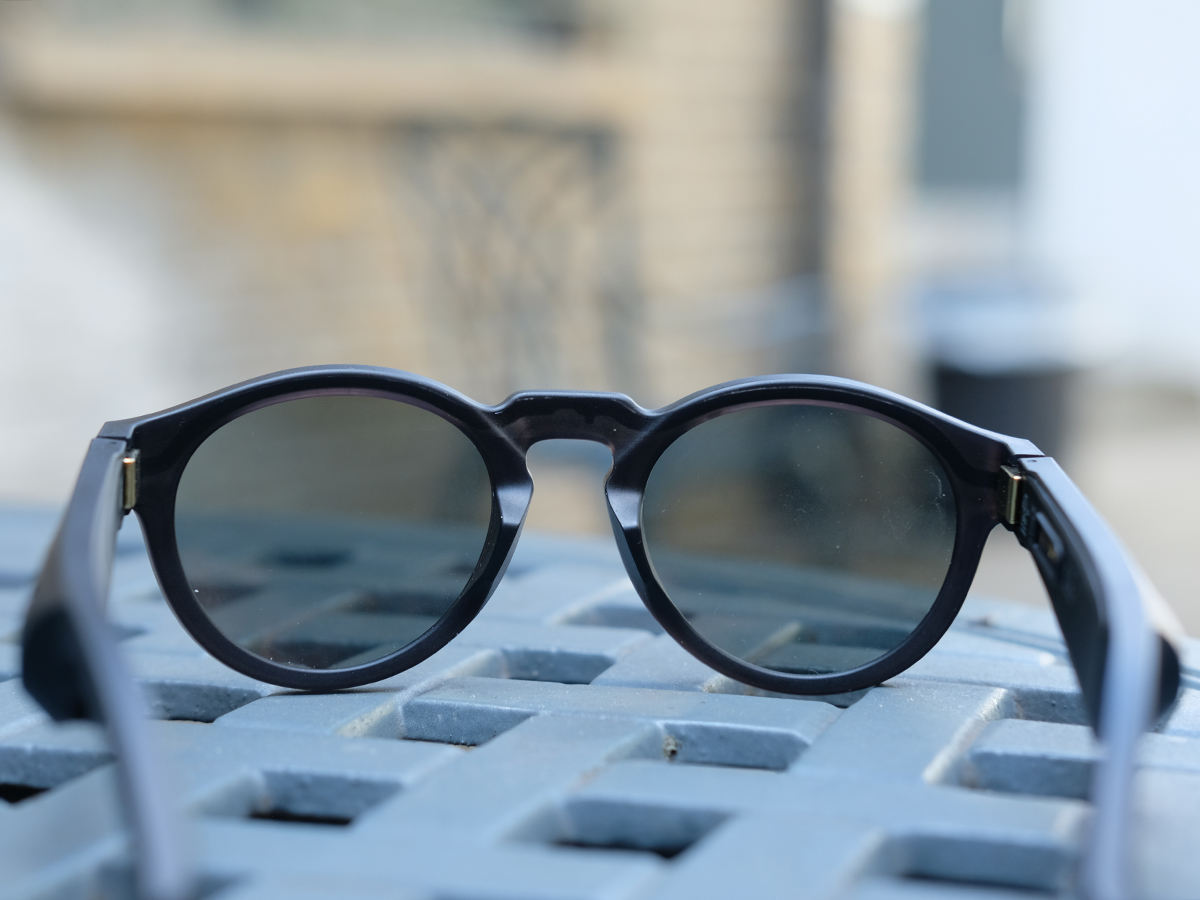 It's easy to grasp the main appeal of Bose's Frames. Their open-ear design means you can catch up on Desert Island Discs without removing yourself from the sound of the world (and unsympathetic oncoming buses) around you.
Rather than using bone conduction, a miniscule 16mm speaker in each arm pushes audio into your ear, with the design of the acoustic system meaning there's virtually no noise leakage. Nobody need know you're revisiting Hanson's oeuvre unless you crank the Frames right up, and even then Bose says you won't get more than 1% creeping out.
Bear in mind, though, that although you're more aware of your surroundings than you would be wearing headphones, having the volume set higher than 80% makes it easy to miss things. And to anyone unaware that you're wearing musical shades, it just looks like you're point blank ignoring them. I had to awkwardly apologise to several receptionists in Stuff Towers.
The Frames pair to your phone just like any Bluetooth device, and once set up you can stream your music and podcasts, as well as take calls and talk to Siri and Google Assistant. They're useful for real-time navigation too, provided the glasses can piggyback your phone's GPS.
Everything is controlled with the gold button. Pressing it once turns the frames on, press again and they'll start playing whatever you were listening to most recently. Press once more to pause, double press to skip a song and triple press to go back a track. Hold the gold button and your pre-set voice assistant will make itself available. It works well, but a volume rocker would have been nice.
Put the sunglasses upside down on a table and they'll turn off after a few seconds, but there's no auto-pause feature, which might niggle if you're used to wearing AirPods.
As well as standing in for your cans, the Frames have a second function, which concerns Bose's so far notably underserved AR platform. Normally we think of augmented reality adding a virtual visual layer to whatever you're looking at – Bose is all about audio.
Available apps so far – viewable in the Bose Connect app – include various audio navigation tools and interactive experiences that make use of the Frame's accelerometer and gyroscope.
There's also a golf app that can give you shot advice when you double tap the right arm, and offers feedback on your positioning based on the direction your head is facing. None of the apps feel close to essential right now, but it's very early days, and just using Google Maps without needing to look at a screen is great.
Performance and battery life: noise complaint
While there is something undeniably cool about listening to music on the go without having to put anything in or over your lugs, the Frames probably don't do quite enough to replace a decent pair of headphones.
It's not that they sound bad. In fact, it's hard not to be impressed by the volume Bose's micro-acoustics can produce. Problem is, everything gets a bit mushy when you push them to over 80%, and there's next to no bass. It's fair to say The Chemical Brothers' new album probably didn't come across as the veteran ravers intended during my testing.
The Frames are great for podcasts, though, which I now use them almost exclusively for. And the first time you open a video link in one of your WhatsApp groups while walking and don't need to pop in a pair of earbuds to hear it is a bit of a revelation.
Bose rates battery life at 3.5 hours, which I found to be accurate. 15 minutes charging gives you an hour of playback, and two hours will do a full recharge. It's hardly terrible, but good luck remembering to charge your sunglasses.
Call quality on the Frames was more than adequate – just be prepared for some puzzled looks from people who think you're having a very audible conversation with yourself about what time to see John Wick: Chapter 3 at the cinema.
Bose Frames Verdict
Without much in the way of competition, Bose's Frames are difficult to rate. But here goes: if you like the idea of a reasonably stylish pair of sunglasses that also happen to play music, they're really quite a good first effort, so much so that it's a shame they're redundant as soon as you walk into a building.
Having your ears roam wild and free while you catch up on football podcasts is weirdly liberating, and although they probably won't do your music library justice, they're safer than headphones around traffic.
Less compelling at the moment is Bose AR, but it'll be interesting to see what developers come up with if these shades really take off. It'd be great if, say, the Frames could act as an audio guide on a city break, filling you in on local landmarks as you pass and look at them.
Suddenly my trusty Ray-Bans seem a bit talentless.
Stuff Says…
They might sound gimmicky, but the Frames really work, and could be a big hit on the beach this summer.
Good Stuff
Decent enough sound
Comfortable
Clean, low-key design
AR has loads of potential
Great for podcast listening
Bad Stuff
Lack of bass means songs lack thump
Not many apps to download
Average battery life
Not cheap