Bose Portable Home Speaker review
All around you, everywhere
Gadgets throw fancy new innovations at us all the time, but few things get us as excited as a built-in handle.
And it's the nice fabric-wrapped handle that really gets to the crux of what Bose's Portable Home Speaker is bringing to the overwhelmingly crowded speaker market. It's a wireless smart speaker with room-filling 360 sound, and the handle serves as a constant reminder that you can carry it around the house with you without sacrificing any of the functionality –  or outside of it as a regular Bluetooth speaker. 
This is of course a near-identical pitch to that of the Sonos Move, and that 5-star speaker is a very difficult act to follow.
But Sonos can have no more worthy rival than Bose, and while we're pretty sure that its prohibitive price point will put a lot of people off, we've enjoyed our time with the Portable Home Speaker, or PHS as it will now be known.
Design: get a handle on it
If you were unsure about the 'portability' of the Hulk-like Sonos Move, you can rest assured that Bose's offering is definitely more on-the-go-friendly. It's fairly tall at 7.5in, but feels compact, and weighing just 1.06kg, it's easy to carry around by its bucket handle.
Available in silver or black, the PHS is easy on the eye, with the same attention to detail as Bose's NC 700 headphones. The cylindrical anodised aluminum enclosure is smooth to the touch on the top half of the speaker, and contrasts nicely with the grille that wraps around its lower half.
Spin it around and the only port you'll find is a USB-C charging point. As with any smart speaker, the top of the device is where the action happens. The PHS' rubbery buttons sit within an Amazon Echo-aping light ring that illuminates when updating, responding to a voice command or changing the volume.
You have an on/off/standby button, a Bluetooth pairing button, play/pause/volume controls, a voice assistant button and a mute for the impressively responsive mic array.
The PHS has an IPX4 waterproof rating, so no need to worry about dipping back into Kraftwerk's back catalogue while you're soaking in the bath, or having it by the pool come summer.
Features: "Alexa, let's go for a walk"
If you want to use the PHS as a straight-up Bluetooth, AirPlay 2 or Spotify Connect speaker, you can. Just pair it up in settings for the former, or look for the indicator in the Apple Music or Spotify app, and you're off.
To get the full range of features, though, you'll need to set it up as a new device in the Bose Music app. It's here that you can choose your voice assistant (Alexa and Google Assistant are both built-in), share the speaker on your home Wi-Fi network, and add services like Spotify, Amazon Music, Deezer (ahem) and TuneIn for radio and podcasts. If you choose Alexa as your voice assistant, you'll be able to search for songs and albums on Amazon Music handsfree.
Once you've set up voice control, you can use your PHS like you would any smart speaker. Ask it questions, control your smart lighting, check your calendar: if a Google Home or Echo device can do it, so can Bose's speaker. And unlike most of those devices, you can bring your assistant of choice with you everywhere you go, provided there's a Wi-Fi signal present.
The Bose Music app also lets you pair the PHS with other Bose smart speakers and soundbars, so if you happen to need the loo halfway through an episode of Pointless and don't want to miss an answer, you can take the TV's audio with you.
As mentioned before, the mics on the PHS don't struggle to pick up your voice even at high volumes, but if it is too loud, there's always the button. We did find the app to be a bit buggy at times, sometimes failing to recognise the speaker. And we had to restart the initial setup process several times for the same reason. You can't queue songs or view your library natively in the app either, which is a bit disappointing.
Performance and battery life: crowd-pleaser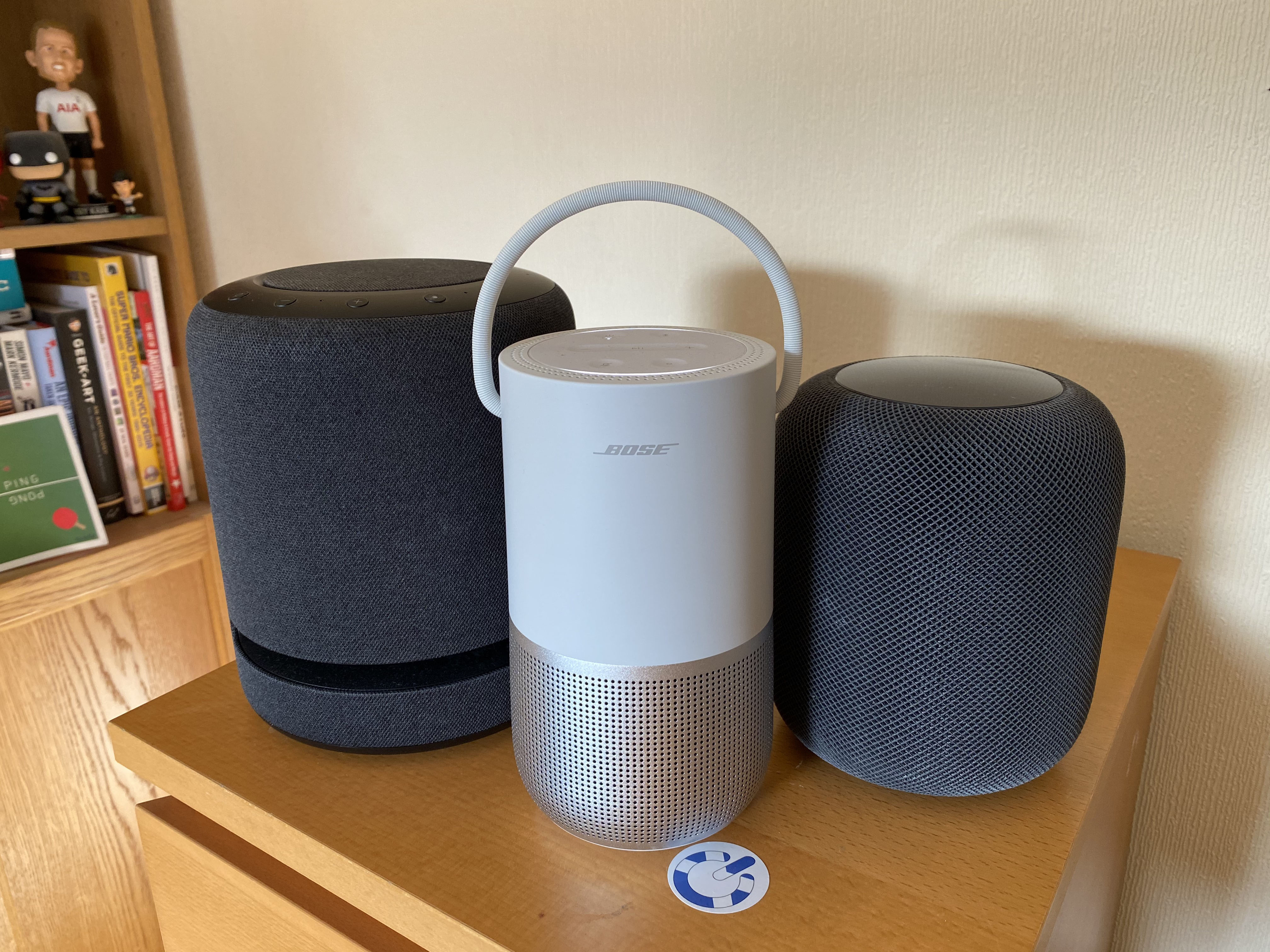 For the things you're likely going to use it for – a soundtrack to your cooking, something to blast while you get ready for a night out, a bit of morning radio, background music at a summer BBQ – the PHS is a totally solid all-round mono performer.
The proprietary deflector does a commendable job of pinging sound in every direction, and both the low and high end are handled with a similar level of finesse. Most of the time we used it as a bedroom speaker, but it still comfortably filled a much larger living room.
Bass is surprisingly warm and authoritative, but not quite to the same extent as you'll find on Apple's HomePod and the Sonos Move. It's a very Bosey sound: very accomplished, if not always hugely rousing.
Does the performance justify the high price? Probably not. Great as the PHS is, it's not hard to find a speaker in the same bracket with a bit more drive. But Bose's is more stylish than an Ultimate Ears joint, and easier to move than the Sonos Move. If you want a battery-powered smart speaker, this one has it all.
Bose says the PHS will last for 12 hours wirelessly between charges, which will obviously vary based on usage and volume. But I found it to be an accurate estimation. Each time you turn the speaker on it'll tell you how much juice you have remaining, and by short pressing the power button you can put it into standby mode, reducing power consumption but still allowing voice assistant access.
Bose Portable Home Speaker verdict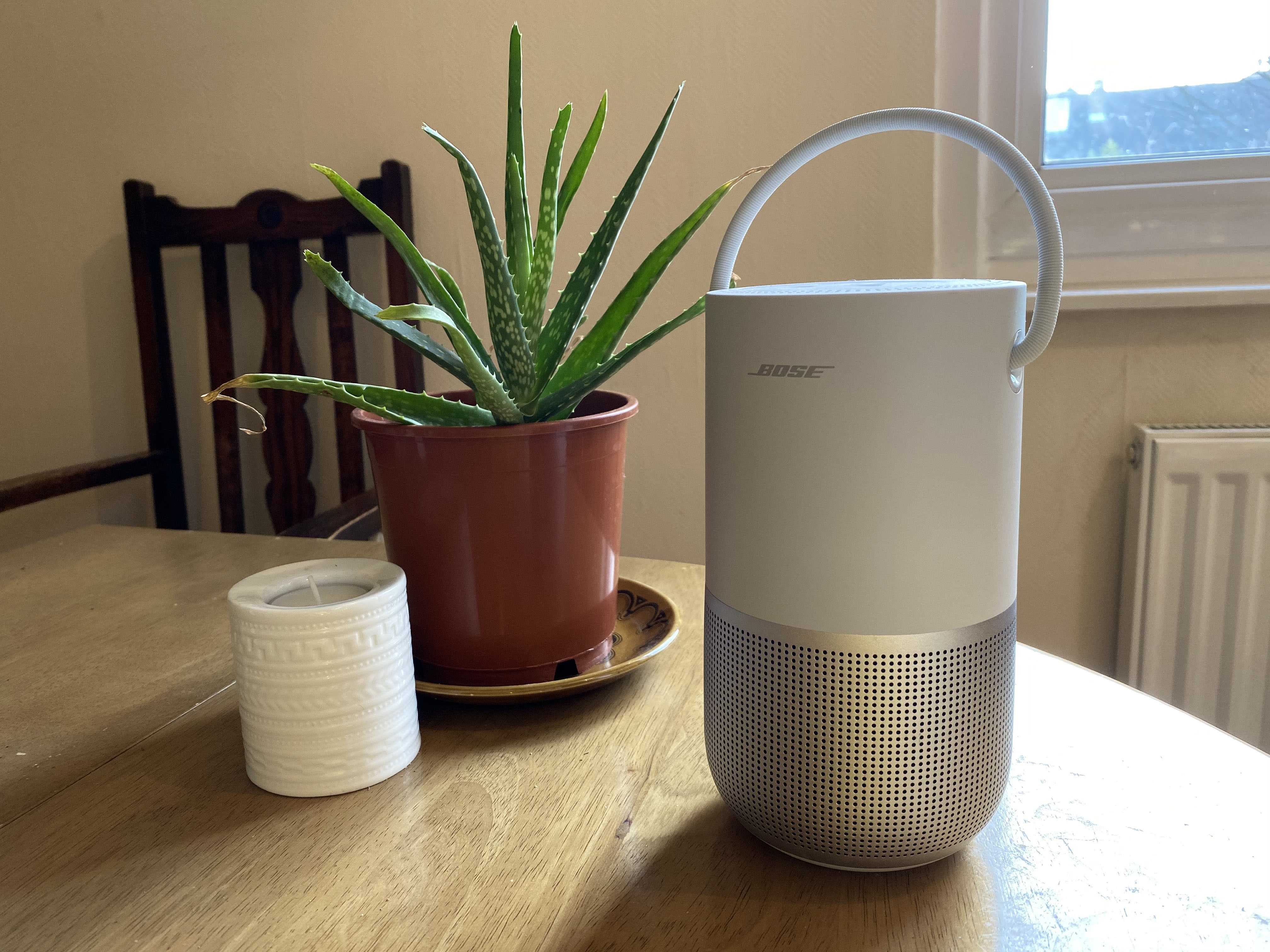 It's not cheap, but if you're looking to invest in a high-quality smart speaker that doesn't need to be kept on a leash, there's a lot to like about the PHS.
It looks and sounds good, the smart stuff works as well as you'd hope, and – need we remind you – it has a handle.
Sonos' Move is still top of this category, but you can pick up a PHS for around £30 less on Bose's website. And if you do, we don't think you'll be disappointed.
Stuff Says…
Not perfect and definitely not cheap, but the feature-packed Bose Portable Home Speaker is still very easy to like
Good Stuff
Premium and very portable design
Room-filling 360 sound
Alexa and Google Assistant all over the house
IPX4 means it can go outdoors too
Bad Stuff
Very expensive
You can find better-sounding speakers that cost less
Bose Music app is average