Bose QuietComfort 45 review
Silence still golden?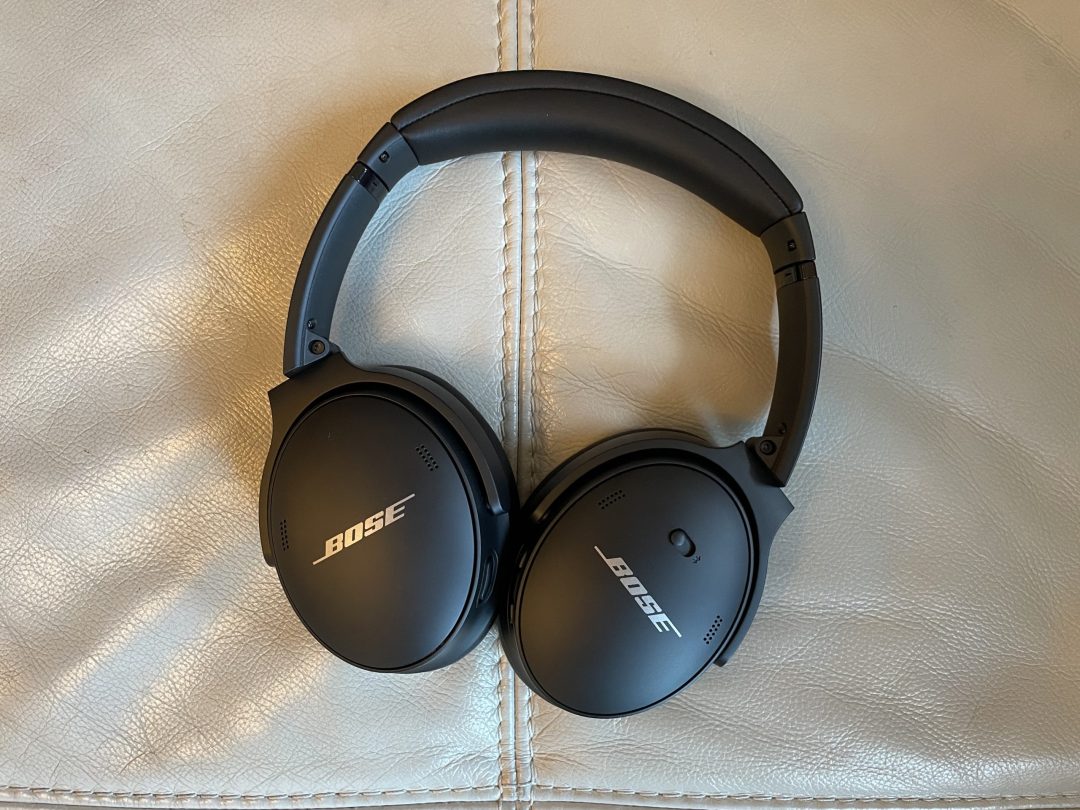 Name us a pair of noise-cancelling headphones more ubiquitous than Bose's QuietComfort 35 headphones and we'll hand you the keys to Stuff Towers.
Their comfort-first design, great battery life and superb noise-cancelling made the QC35s, now over five years old, an enduring classic that you still see sat on the heads of commuters nationwide today.
Bose then launched the Noise Cancelling Headphones 700, a more premium and customisable pair of noise-cancellers, and while they impressed us, there's just something about the simplicity of the QC35s that keeps us coming back to them.
And so a true sequel in the shape of the predictably named QuietComfort 45 headphones is definitely welcome. The QC45s look a lot like their predecessor and offer a similarly streamlined feature set, but there are far more ANC headphones competing for your cash these days than when the 35s first rolled up. Has Bose done enough to keep its everyman cans on top?
Design: If it ain't broke
If you were trying to pick out the Bose QC45s from a police lineup-like arrangement of Bose headphones that also featured their predecessors, you could easily pin the crime on the wrong cans. Which is to say they look very similar to their predecessors. But that isn't a complaint. Like their forerunners, the QC45s manage to be lightweight, plastic-heavy and unfussy without looking cheap.
The glass-filled nylon headband feels sturdy without exerting much force on your head, while the synthetic leather earcup cushions are soft enough to ensure you can comfortably plonk them over your ears for long periods of time. We wouldn't go as far as to agree with Bose's claim that 'you'll almost forget you're wearing them', but like Sony's WH-1000XM4, the QC45s score are exceptionally wearable headphones.
Unlike the NCH 700s slick but occasionally awkward cylindrical steel rods, the QC45's arms are about as thick as the headband, and audibly click as you adjust them, making it very easy to do so while you're wearing the headphones. The earcups both pivot and fold inwards so Bose's are about as portable as over-ear cans can be.
Bose has also opted not to lift the touch controls from the 700s and instead sticks with the QC35s' trusty physical buttons. The playback/voice assistant button sits in the middle of the volume controls on the underside of the right earcup, and on the other cup you'll find the multi-function ANC/Aware button, which we'll get to in a second – but that's it for controls. You also get a 3.5mm jack and a USB-C port for charging.
Features: Less is…less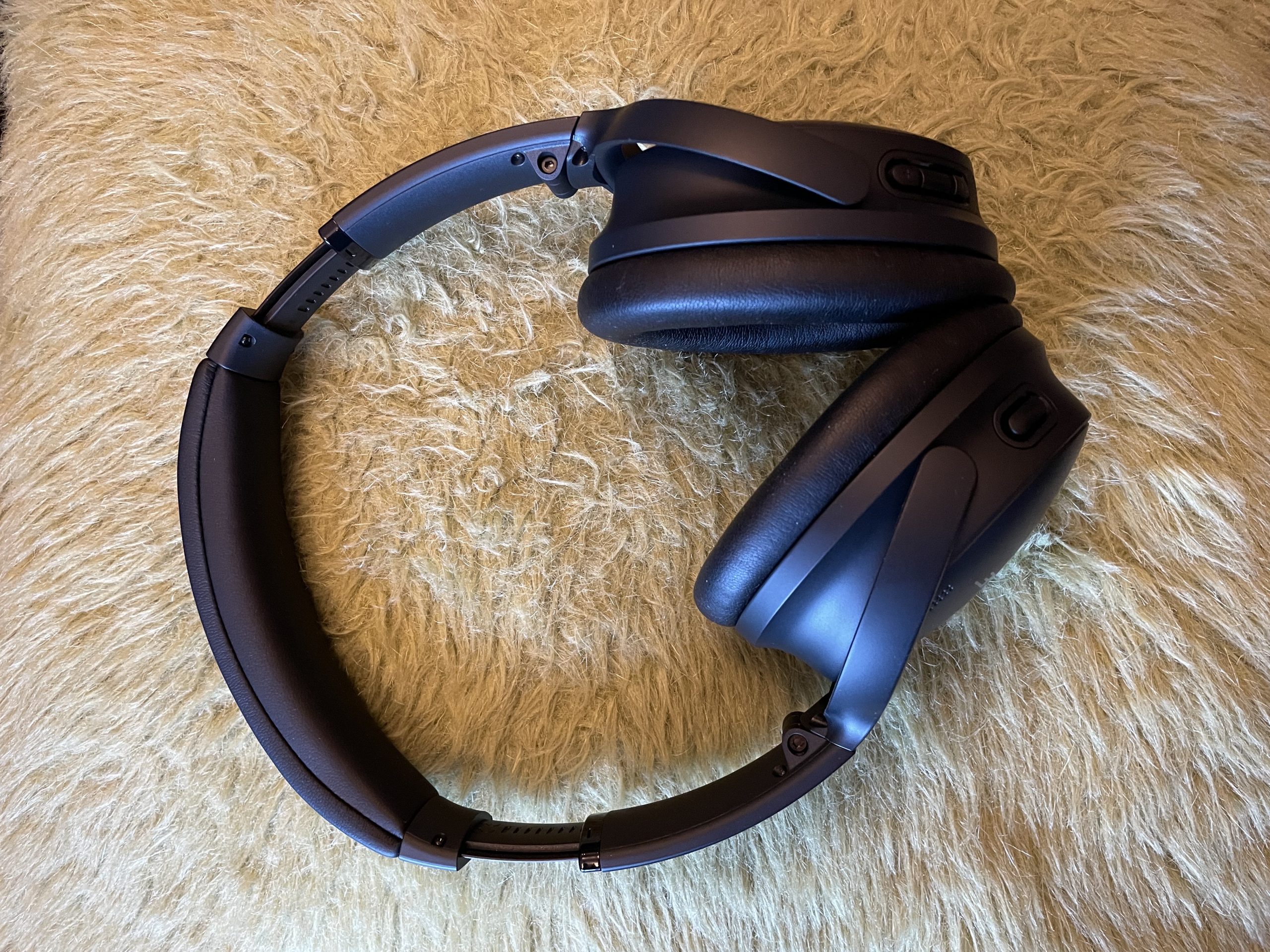 As you'd expect, the QuietComfort line of Bose's headphones has always primarily been focused on effectively blocking out the sounds of baby wails, dog barks and boring water cooler chit chat so you can listen to your music in peace. And thankfully that's still the case. But for the QC45s Bose has also added Aware Mode, which is basically a transparency feature for when you need to let in some of the outside world.
A button on the left earcup is used to activate either Quiet Mode or Aware Mode, but unlike many of the QC45's rivals and Bose's own NCH 700s, there are no adjustable settings for either mode. You either get full noise-cancelling or Bose's take on what a transparency mode should be. Now on the latter point, we actually like the mix Bose has settled on. Often the passthrough mode on headphones seems to amplify ambient noise far too much, almost making you feel like a superhero who could hear a spider three miles away.
But the QC45s ensure you get a healthy mix of your audio and what you need to hear outside of it. Still, we've got used to being able to fine-tune this stuff ourselves, and the same goes for ANC. You can't simply turn noise-cancelling off either. It's either Quiet or Aware, with nothing in between.
There's no EQ in the barebones Bose Music app either, which is a bit of a letdown. We get that the QC experience is all about straightforwardness, but the 45s are far from budget-priced, and in this bracket an adjustable EQ should really come as standard. You also shouldn't expect automatic pausing when you remove the headphones here, or even an auto-off function when you haven't put them back on for a while. There's nothing like Sony's "Speak-to-Chat" feature – which pauses audio automatically when you start talking to someone – here either, although to be honest we can take or leave that one.
The QC45s are Bluetooth 5.1 headphones that support the AAC and SBC codecs, but there's still no aptX or aptX HD for high-res streaming. You can connect to two devices simultaneously (if you want to add a third device you'll need to kick one of the other two off), and we encountered no issues with multi-point during testing. It works really well, and each time you turn the headphones on Bose's helpful robot voice will tell you which devices you're currently connected to.
You can use your phone's native voice assistant by long-pressing the multi-function button but there's no hands-free Alexa or Google Assistant functionality built in.
Performance and battery life: in it for the long haul
It's a shame you can't tweak the noise-cancelling settings to your liking, but there's no doubt that Bose is still among the best at the business at cocooning you from your noisy surroundings. We were able to reduce washing machines and the clanging of builders outside to a barely noticeable murmur, and while we haven't pitted the QC45s against the ultimate enemy of any ANC headphones, the plane cabin, yet, we'd be pretty confident that they'll do a fine job of tackling the engine's incessant whirring.
So yes, Bose's noise-cancelling is still astonishingly good, and an additional external microphone improves voice pickup on calls. The QC45s isolate your voice while a noise-rejecting algorithm filters out environmental hubbub. The NCH 700s are still the kings of call quality, but as long as you're not having a meeting next to an orchestra rehearsal the QC45s are a solid performer.
Where sound quality is concerned, to our ears the QC45s sound very similar to their predecessors, which means that while they're certainly not the most detail-packed headphones, nor the bassiest, the QC45s are a very balanced all-rounder with no frequency demanding too much attention.
We listened to all of Wolf Alice's Blue Weekend in one sitting and the QC45s immersed us throughout, even if they're not quite as impactful as something like Sony's WH-1000XM4 cans, which remain our favourite overall noise-cancellers. But if you prefer your music to wash over you rather than grab you by the neck – and on a nine-hour flight the former might be preferable to some – then the QC45s are a very good pick, especially when you pair the sonic performance with the supremely good noise-cancelling.
As for battery life, up top 24 hours on a full charge is a slight improvement on the QC35 II's already impressive 20. They charge fully over USB-C in 2.5 hours and a 15-minute charge will return you three hours of choice. All of the above means the QC45s are very likely to remain a firm favourite of frequent flyers.
Bose QuietComfort 45 verdict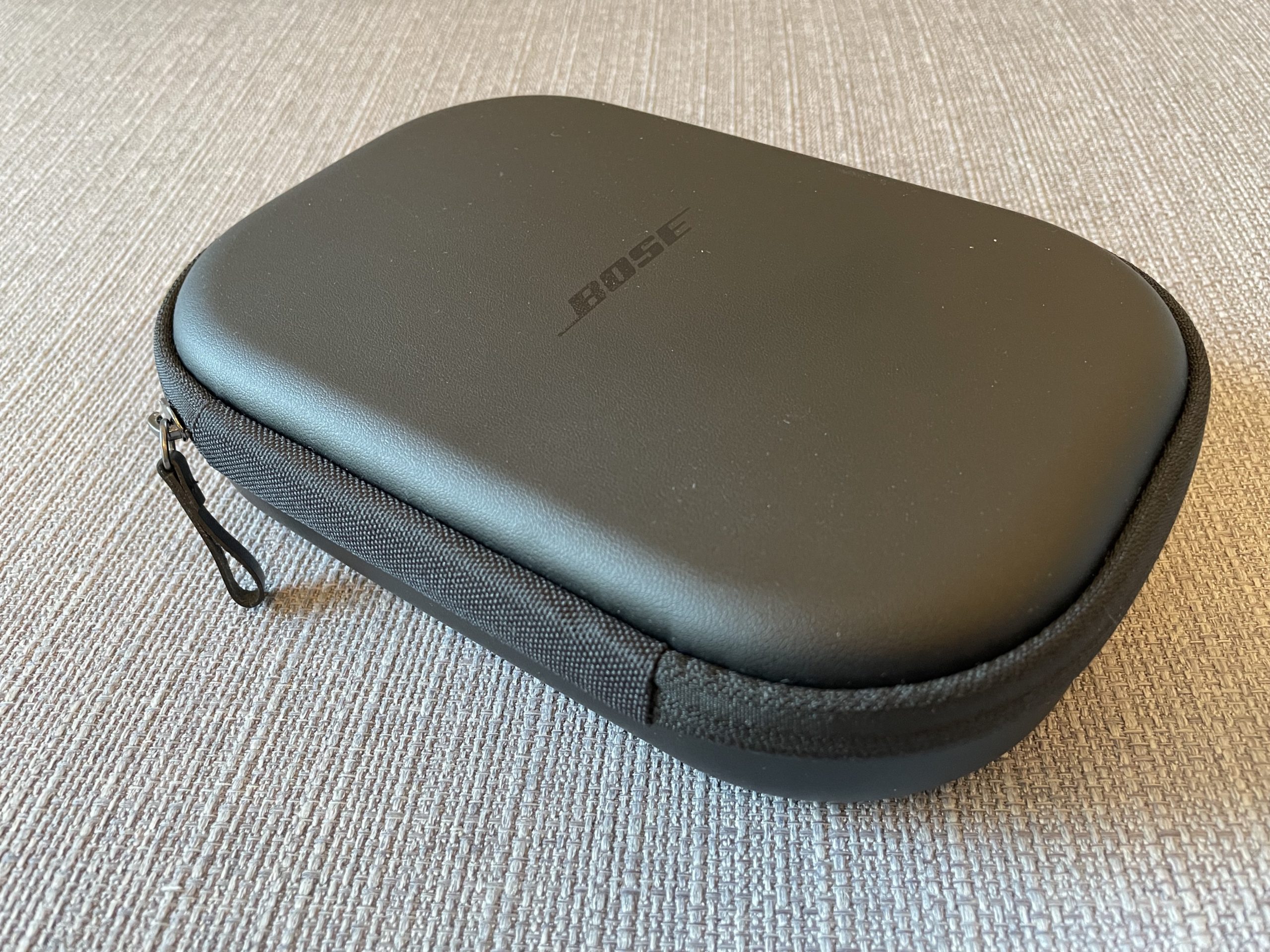 Bose's QC45s are destined to be a big seller for all of the same reasons as their predecessors. They're extremely comfortable, incredibly easy to use and if they're not the very best noise-cancellers on the market then there isn't a lot in it. Throw in great battery life and you can't really go wrong.
Critics argue that Bose's signature sound lacks a bit of power and dynamism in comparison to some of its rivals, but we think most people will be really happy with the QC45's sound, no matter what musical genre they throw at them.
What is an issue, however, is the lack of features. No in-app EQ, no auto-pausing for speech or wear detection, and no customisation options for ANC or passthrough. They won't even turn themselves off if you forget to do it. Sony's XM4s, which are QC45s closest rival, can do all of that and they only cost an additional 30 sheets (and that's if you can't pick them up cheaper in deal). Some of this could surely be added in a future firmware update, but we do think that Bose might have gone a bit too far with its back-to-basics approach. This a far more competitive market than the one the QC35s arrived in.
Still, if a big feature set doesn't matter much to you then the QC45s are a very solid pair of headphones that do everything they can do very well, and will probably last you until the Q55s.
Tech specs
| | |
| --- | --- |
| Dimensions | 18.4 cm H x 15.24 cm W x 7.62 cm D |
| Weight | 240g |
| Charging | USB-C |
| Bluetooth version | 5.1 |
| Battery life | 24 hours |
Stuff Says…
Lacking a few features we've come to think of as standard, but Bose are still right up there when it comes to no-nonsense noise-cancelling
Good Stuff
ANC still fantastic
Very durable design
Good all-round sound
Great battery life
Bad Stuff
Similarly priced alternatives offer more features for the money
Can't turn noise-cancelling off without activating Aware Mode