Bose Sleepbuds review
Sweet dreams?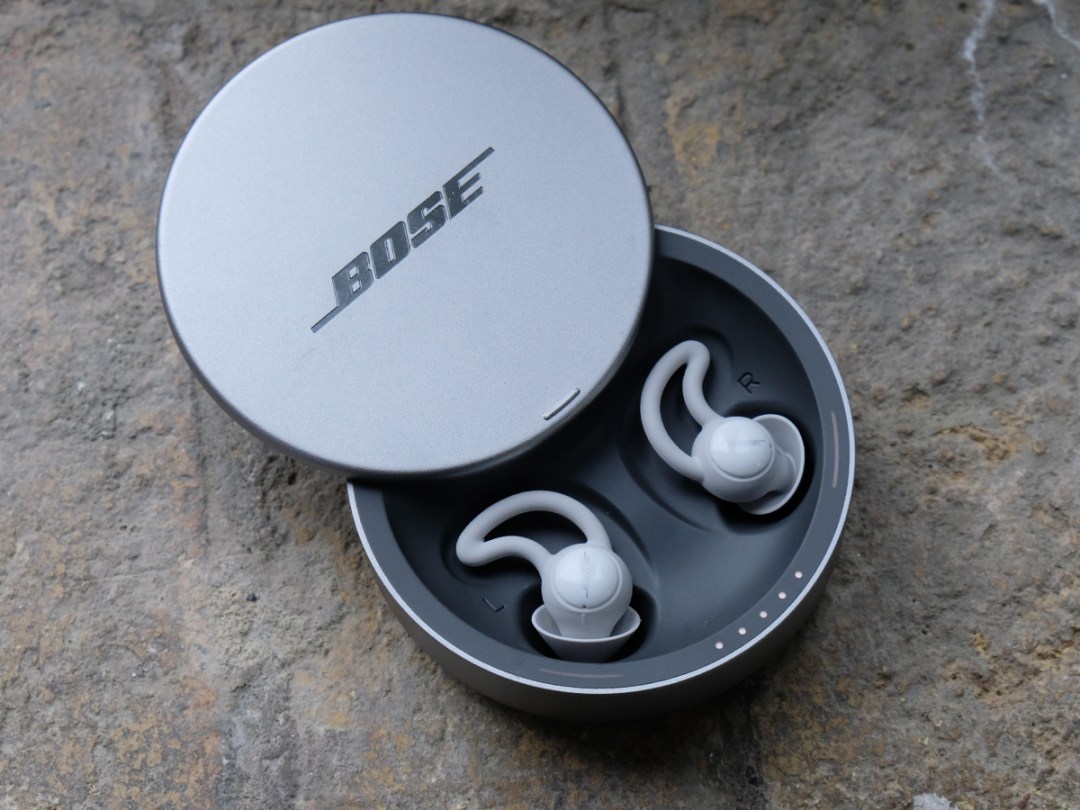 We're used to turning to Bose's cans when we want to block out the sound of London Underground announcers and rabbiting colleagues, but the company's latest product is all about giving you a better night's kip.
Born out of an immediately successful crowdfunding campaign, the Bose Sleepbuds are like no earplugs you've seen before.
Rather than employing the noise cancelling tech used in its headphones, Bose's totally wireless buds mask the sounds that routinely interrupt your sleep.
Replace the wretched sounds of rutting foxes, car horns, your snorier half's heavy breathing with soothing sound loops engineered to keep you pleasantly gliding through the land of nod.
Given the decidedly eye-popping price tag, the question is: are the Sleepbuds so good at it that bad sleep sufferers should leg it out to buy a pair?
After reluctantly coming to terms with the fact that every second of the 24 hour day is now fair game for gadget testing, and then unsuccessfully arguing to my boss that I should be paid overtime for working in my sleep, I plugged in a pair and slowly drifted off…. 
Design
If you're going to be wearing something all night, you don't want it to be aware of its presence. For this very reason, Bose has designed the Sleepbuds to be soft, snug and absolutely tiny, with each weighing just 1.4 grams and measuring just over a centimetre wide and high.
There are three silicone StayHear+ Sleep tip sizes included in the box and it's imperative that you work out which best fits your lug before you start using the buds. Once you've inserted them, you twist slightly until each wing is comfortably tucked in.
The minimalist Sleepbuds are undeniably well designed, but if you toss and turn in your sleep as much as I do, you do feel them, and I'm pretty sure I woke up a couple of times in the middle of the night because of nagging discomfort. As a notoriously light sleeper, I should stress that there's every chance it could be totally different for you. But if you've had trouble with earplugs in the past, I'm not convinced these things are a perfect solution.
The puck-shaped magnetic carry case is absolutely great. The lid slides up to reveal two magnetic docks in a way that rivals Apple's AirPods case in the strangely satisfying department. And if you own a pair of AirPods, you know how strangely satisfying that case is to fiddle with. We're in the big leagues here.
Dropping each bud into its corresponding dock will begin charging them, and there are five LED indicators across the bottom that show how much juice you have left in the case, as well as strips on each side that illuminate to let you know you're in business.
Features
To set up your Sleepbuds, you need to download the Bose Sleep app, available on iOS and Android. It's here that you can select from 10 sounds to play through the buds while you dream away. It's strange idea at first, but one you get used to.
While I'd like to see Bose add to the range available in future updates, the selection is pretty decent. Campfire, Rustle and Shower (all fairly self-explanatory) were the ones I found most relaxing, but there should be something in there for everyone.
All of them are preferable to traffic and badly soundtracked house parties, although I found Tranquility – the only slightly musical loop – to be more creepy than relaxing. Maybe that's because Bose has used an ominous looking lake that could be the opening scene to a horror film, and I'm a massive wimp.
You can determine whether the loop plays continuously throughout the night or for a certain amount of time, and you have to set the volume in-app too, as the Sleepbuds don't feature buttons of any sort.
There's an option to set an alarm, too, which you hear through the buds rather than your phone's mic. Handy if you need to leave the at the crack of dawn and prefer to sneak out all stealthy.
It's a shame you can't ask the alarm to wake you up gradually; I found the Sleepbuds to be even more offensive on a Monday morning than my regular alarm clock. At least I can punch that.
Beyond the above, there's very little the Sleepbuds can actually do. You can't play music, you can't track the quality of your sleep, and you can't design your own sounds. Clever though the tech may be, it makes that whopping great price tag pretty difficult to defend.
Performance
The Sleepbuds are noise isolating rather than noise cancelling, which is a confusing one to get your head around.
What you need to know is this: where a pair of QC35s reduce the ambient noise trying to interfere with your Chas & Dave power hour, the Sleepbuds mask it with loops that match the frequency of the sounds that typically keep you awake. And there's no denying that they succeed at this.
If I did wake up while wearing them it wasn't because I could hear my flatmate stomping towards the shower at the ungodly hour of 6am, something that happens nearly every day when I'm plugless. Granted, I live in a relatively quiet area, but unless you've got someone playing the trombone at the end of your bed I think the Sleepbuds do exactly as advertised.
If you live near a busy road, in a rowdy house share or with a serial snorer, and you don't mind feeling like you have a pair of peas in your ears all night, these things could work for you.
Bose says you get 16 hours of use on a single charge, which seems accurate. Of course, if you choose to have them turn off after a couple of hours (as I now prefer to do) you'll get closer to that than if sound plays throughout the night.
I did experience a few connectivity issues, mainly the app taking too long to identify the Sleepbuds. If this isn't fixed with updates, it could become annoying.
Verdict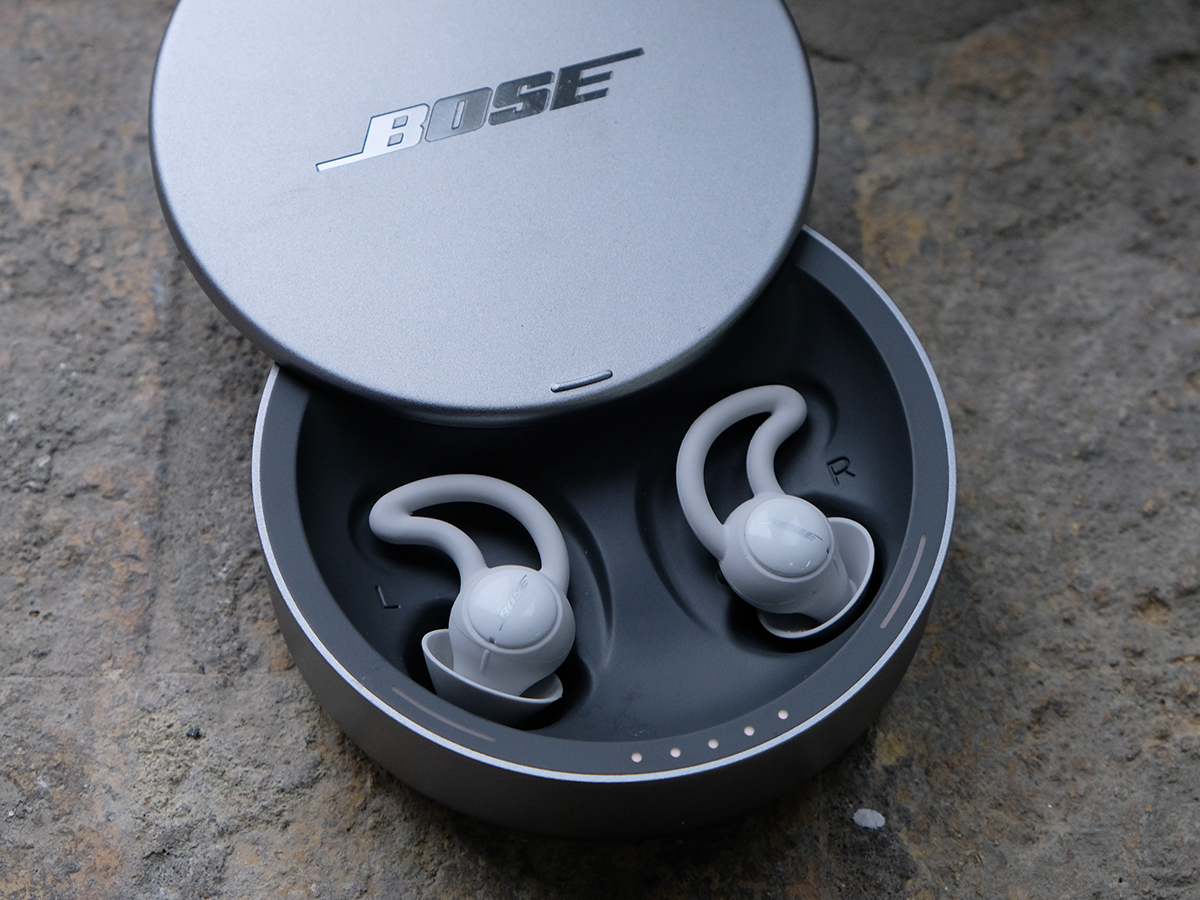 The Bose Sleepbuds do exactly what they say on the tin, and I'm genuinely interested to see if they kickstart a whole new product category. Sleep deprivation is seemingly a permanent feature on the news agenda at the moment, so the more tech companies get involved, the better.
It's a shame that price point is the unignorable elephant in the room (rather than an actual elephant, because the Sleepbuds would probably do an admirable job of masking one of those). You need to be someone who really struggles with slumber to fork out the best part of £230 on a pair of wireless earbuds that do nothing except replace sounds with other sounds.
And while the app is well designed, there isn't a whole lot of functionality. I'm not saying that earplugs should double up as headphones, but it'd be nice to have at least have a few more customisation options.
It's hard to criticise the build quality. These things are featherlight and can fit any ear. But you still know they are in there, particularly if you're lying on your side, and whether or not that bothers you will be entirely subjective. For me, it occasionally did.
Based on the mixed results I experienced, I don't think the Sleepbuds will work for everyone, but they will almost certainly help people who are regularly kept awake by late-night racket. I can see them being useful on long-haul flights too.
£230 is a lot to ask. You have to decide whether a good night's sleep is worth it.
Stuff Says…
Bose's Sleepbuds are undoubtedly clever, but they're very expensive considering the limited feature set, and won't necessarily improve your sleep
Good Stuff
Featherlight and comfortable to wear, at least initially
Noise masking does work
App interface is clean and uncluttered
Great case
Solid battery life
Bad Stuff
Some people will still find them uncomfortable when worn all night
No physical controls
No gradual alarm
No sleep tracking
£230 is a lot of money