Canon EOS 1D X Mark II review
A top-spec camera that's got the need for (shutter) speed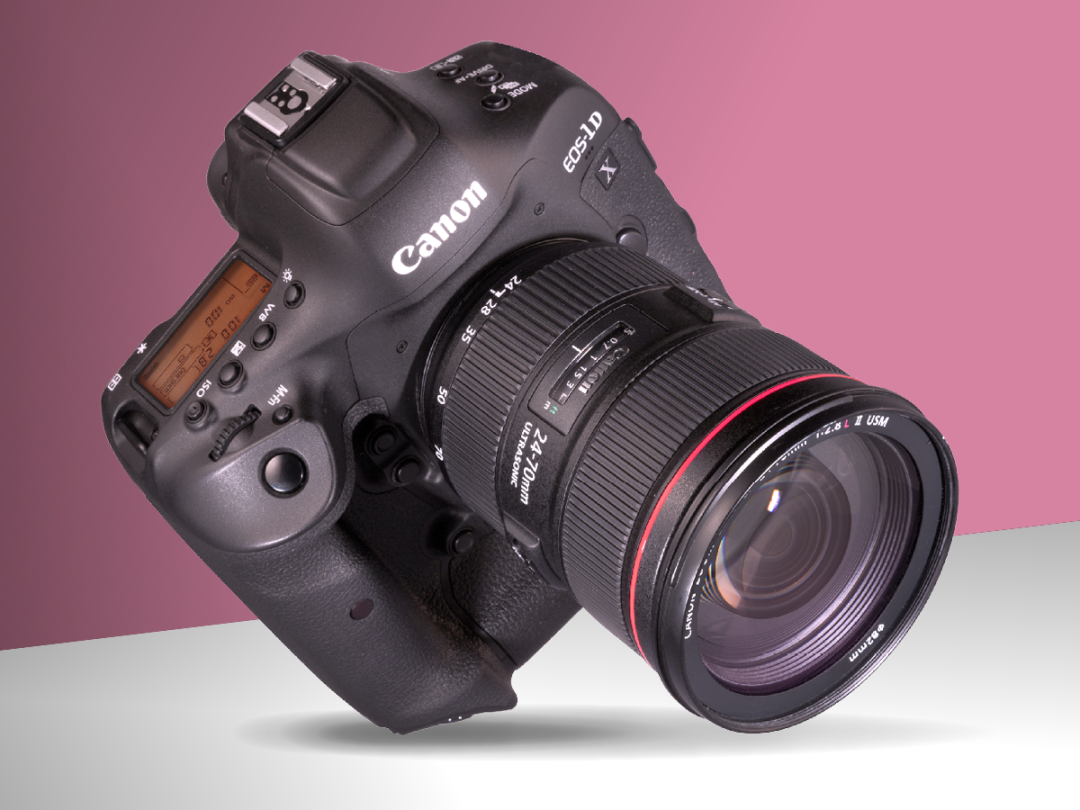 Spend most of your waking hours looking through a camera viewfinder, and have a spare £5k kicking about? Then why not spend it on one of the two brand new behemoths of the camera world?
Both Nikon and Canon have unleashed top-notch, pro-spec DSLRs for 2016, just as anticipation for the huge sporting events kicking off this summer hit fever pitch.
First in the ring is the Canon EOS 1D X Mark II. It's not just a replacement for the 1D X, Canon's most tech-packed camera for photography pros. No, it's also giving the videography-centred EOS 1D C the shove too, thanks to some rather tasty 4K recording chops.
Sounds like the kind of camera most snap addicts would kill to own, right? We gave the 1 DX a thorough workout to see whether it could live up to its considerable price tag. Without doing a murder to get a hold of one, of course.
FAST AS LIGHTNING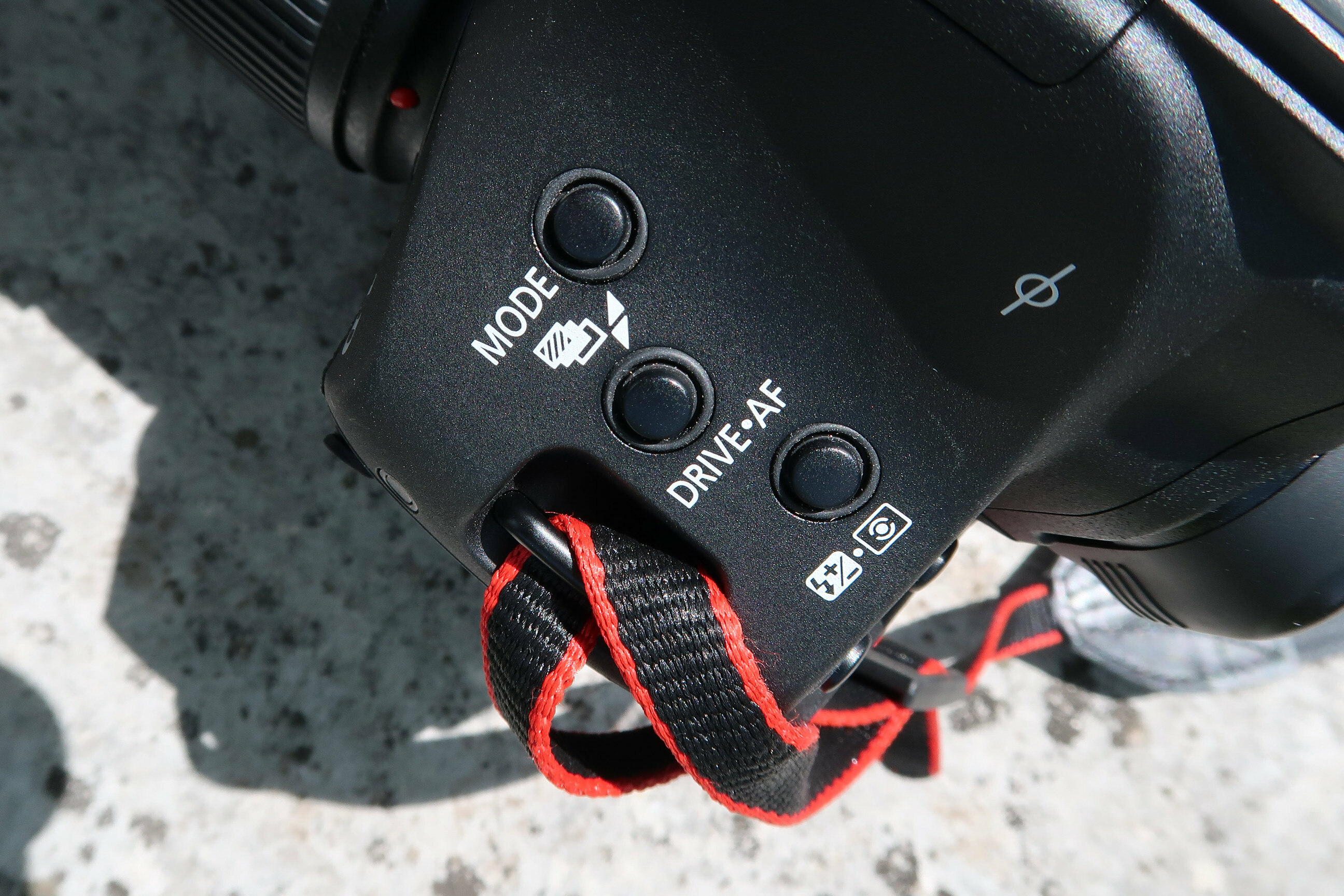 The 1D X II's arrival has been timed to perfection: apparently there's some kind of foot-to-ball tournament carving a wave of fan frenzy through France this month, and Quadrennial Usain Bolt Fiesta (some people prefer to call it the Olympics) is bound to attract some attention later in the year too.
Cameras like this are built purely to get sports photographers drooling with envy, thanks to additions like CFast memory card compatibility. With the right card, you'll get a whopping 14fps continuous shooting rate, or 16fps when you're in Live View. That gives you roughly 12 seconds and 170 RAW shots to play with, which is long enough to capture Bolt leaving the blocks, crossing the finishing line, and pulling his victory stance. Nifty.
Don't feel like investing in a bunch of new format memory cards? Don't worry – the 1DX plays nicely with traditional CF cards. It's got two slots, with one for each, although you'll only get those super-high frame rates if you make the jump to CFast.
BUILT LIKE A BRICK CLICK-HOUSE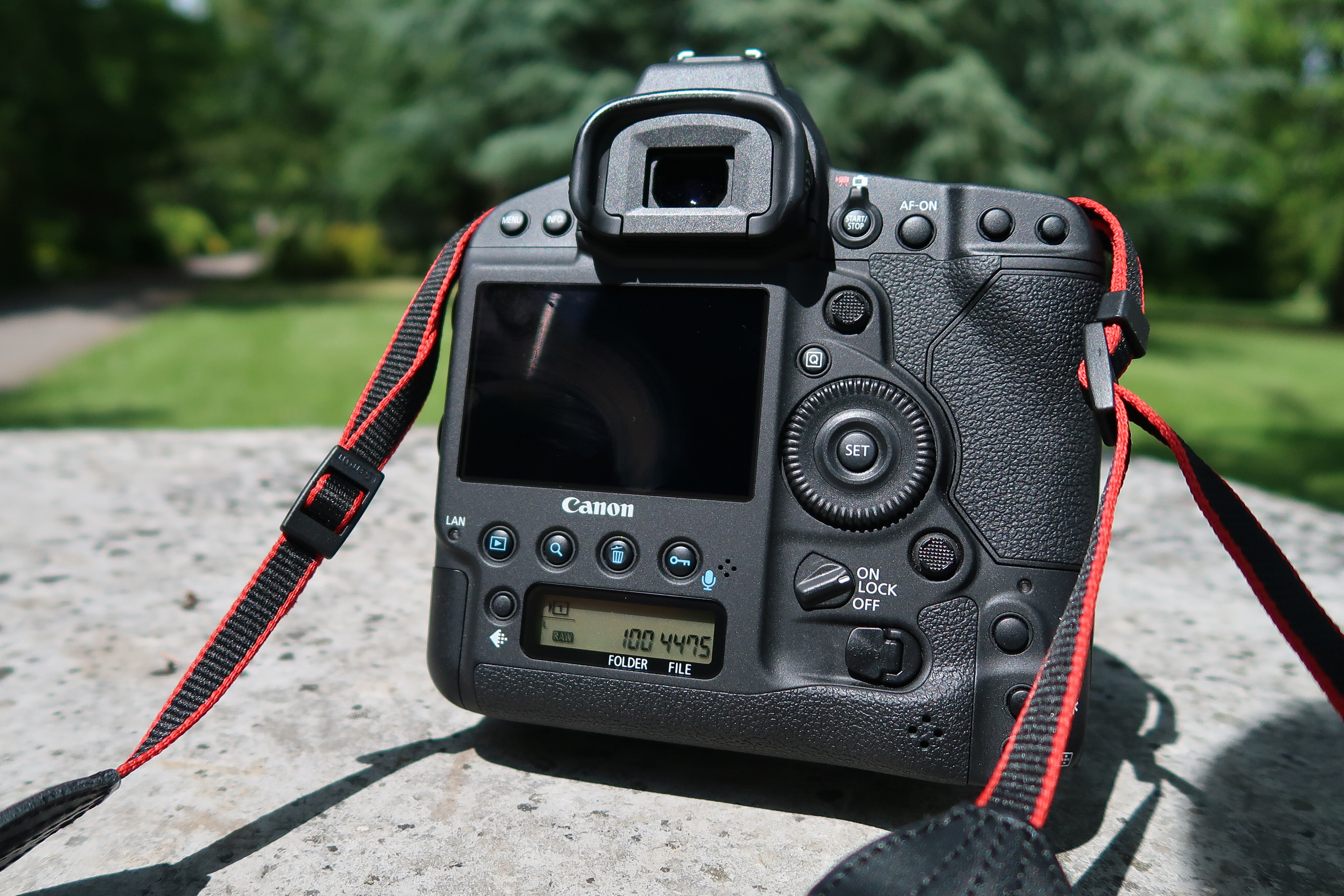 Let's be honest, this isn't a camera for everybody. We all might want to own a Ferarri, but spend our miserable commute behind the wheel of a clapped-out Ford Fiesta. It'll probably be picked up by 1D X owners after the latest bit of kit – or maybe 5D owners taking the next step up.
That's mainly why Canon hasn't gone wild and changed the button layout, overall design, or even the dimensions – the pros don't want to relearn where everything is before heading out on a shoot. Handling has been tweaked a little bit, though, with slightly larger joysticks that makes them easier to find with your thumbs when you're not directly looking at them.
You definitely wouldn't call this camera petite – it's more of a behemoth. That means you get direct control through buttons and dials for almost every single setting, which is almost a fair trade for your overloaded camera bag and aching shoulders. You can customise quite a few buttons to match your own particularly fussy needs, too.
It's got duplicate controls on the chunky battery grip, so you don't have to contort your arm like a circus performer when you've flipped the camera on its side for portrait shots. Those grips are moulded to perfection, too, sitting beautifully in your hands.
ALL THE SMALL THINGS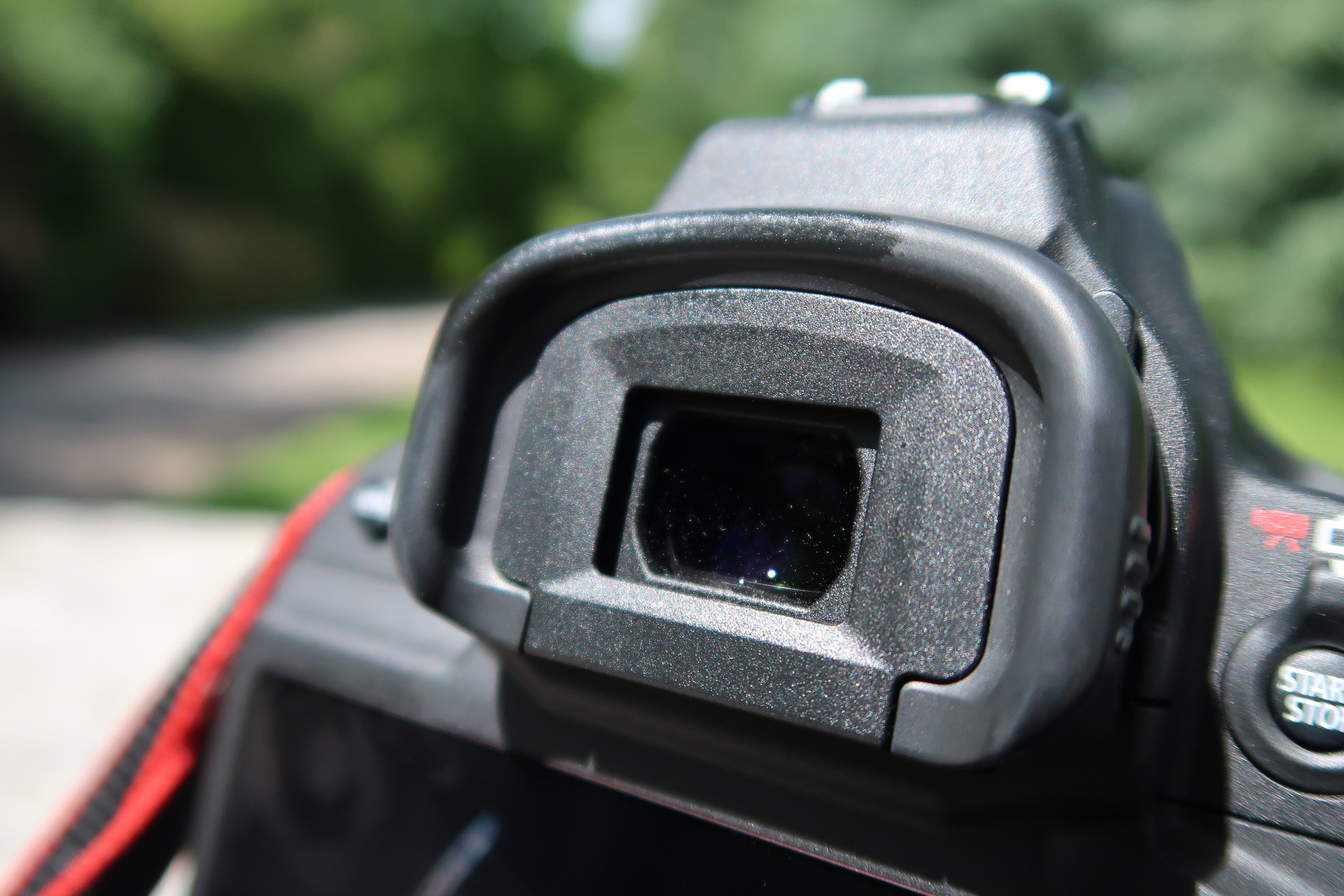 Canon has made a few changes inside, too, but these are mostly little upgrades rather than major overhauls of what came before.
You still get that all-important full frame sensor, but pixel count has seen a modest bump from 18MP up to 20.2MP. You probably don't want many more megapixels in this kind of camera, especially when the 5DS and 5DS R are on hand to fill that void.
There are 61 autofocus points, just like there were on the 1D X Mark I, but they cover a bigger area of the viewfinder this time around. Tracking focus has also been given a speed boost so you stay locked on your target for longer.
The native ISO range is the same as well, topping out at ISO 51,200, but Canon's snuck in a one-stop-greater expansion setting. That means you can go all the way up to ISO 409,600. Sure, that's a pretty high number, but it's small fry compared to Nikon's (admittedly ridiculous) D5 ISO range, which tops out at over ISO 3,000,000. Don't stress about this too much, both cameras can capture impeccable low light shots.
THE JUICE IS LOOSE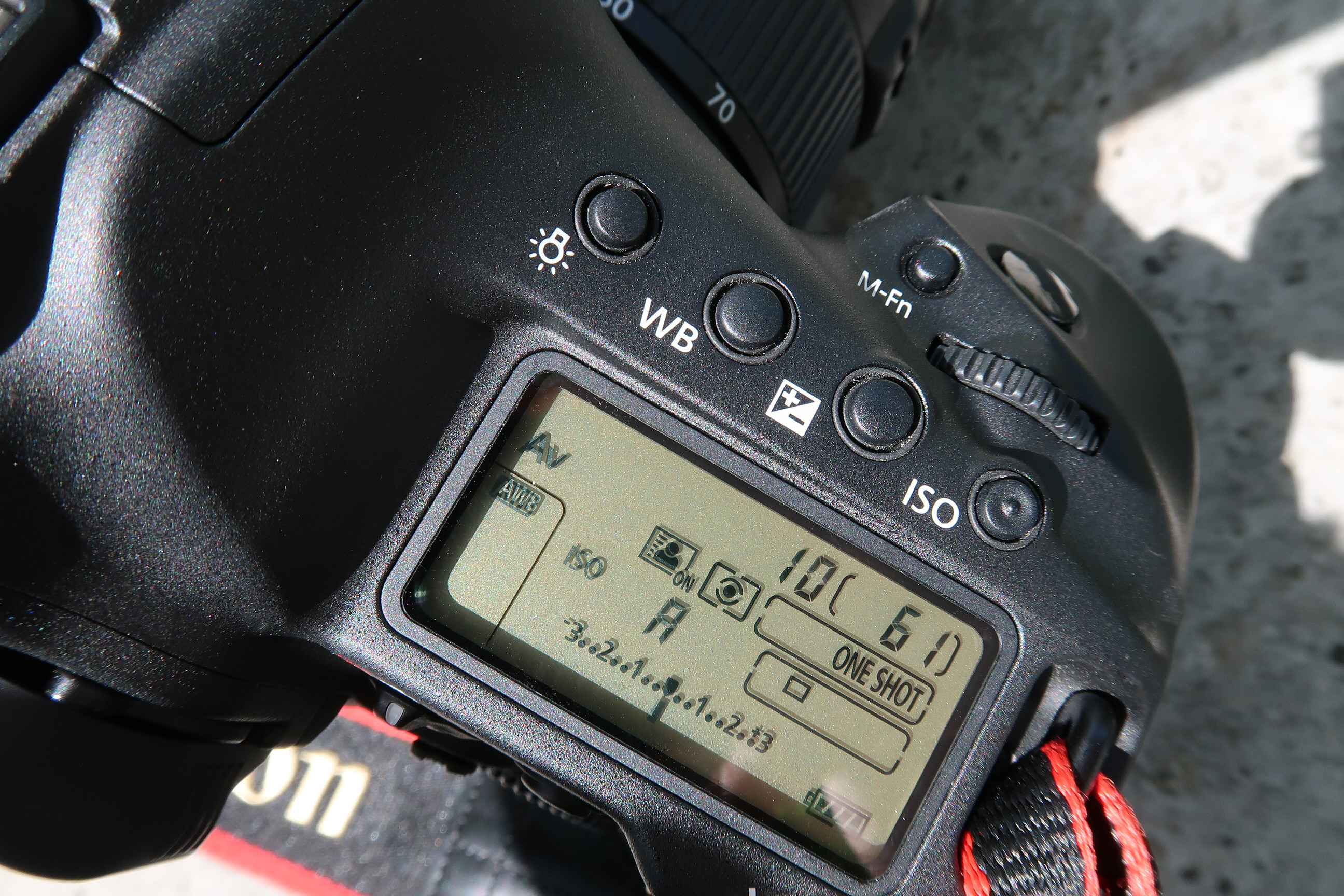 Touchscreen tech used to be reserved for camera newbies upgrading from smartphones, where the idea of real buttons was just too much to take it, but now we're seeing it on snappers of all levels – including bulky brutes like this 1DX. It makes a first appearance on a full-frame Canon here, but feels a bit backwards.
Tapping in Live View sets the autofocus point, but you can't pinch-to-zoom when reviewing your shots, swipe between pics, or choosing settings in the menus. It all seems a little half-arsed to us.
The screen is fixed, but its super-high resolution is great for composing your shots in live view, or checking back on the pics you've just taken. You get a lovely bright viewfinder, too, with a 100% field of view – but we'd expect no less at this price.
The one sticking point is battery life. 1210 shots between charges would be huge news on almost any other camera, but most pro photographers will take a lot more than that in a single day of shooting. Nikon's D5 will keep on rocking all the way to 3,780 shots per charge, which puts the 1DX II to shame.
That means you're almost definitely going to have to buy a spare battery or two, but that's a lot less awkward than having to tell the newlyweds you didn't catch them cutting the cake because you ran out of juice during the speeches.
Image quality is fantastic – as it damn well should be. We've got vibrant colours, and wonderfully detailed images, here. Low light shooting is great and, although the D5 should be better in theory, when we're talking about ISO speeds that people are actually going to use, the 1DX II performs incredibly well.
You'll get impressively noise-free images all the way up to ISO 25,600. A little image smoothing creeps in when you pull out a magnifying glass on standard printing and display sizes, but it's still a very, very good showing.
Of course, professional photographers sometimes end up producing images for building-size billboards – something that'll probably require Canon's 5DS or 5DS R. If studio work and portraits aren't your bag, though, don't sweat it. For the average wedding, newspaper, wildlife journal or sports reporter, the detail here is exactly what you need.
It helps that tracking focus has taken a big step up, and generally autofocus locks into place without question. Focusing is quickest if you're using one of Canon's pro-level "L" lenses, which is reasonable to assume if you've just dropped £5k on the camera. Even if you don't have the readies for the best possible lenses, speeds aren't exactly sluggish when you're using cheaper glass.
4K-ing brilliant
It's not just photos where the 1DX II kicks ass. It's a dab hand when it comes to 4K video too.
Not heard of 4K yet? Where have you been!? It's the video recording format du-jour, and one of the areas Canon gets the one-up on Nikon. The D5 can only record for a pitiful three minutes, whereas the 1DX II can record for just shy of 30 minutes. A lot more useful for videographers.
Another neat trick is "Frame Gab", letting you dive into your 4K footage and rip out 8.8MP stills. It's beyond handy when shooting high-speed subjects like sport and wildlife, but without built-in Wi-Fi, you've still got to faff about with Compact Flash cards to get those stills onto a laptop or phone – or splash out a wad of extra cash for a Wi-Fi transmitter.
That's bad news for news and sports photographers who need to file pictures from the scene. Apparently it's because the rugged, weatherproof construction blocks out Wi-Fi signals: whether that's a worthy trade-off for a camera carved out of magnesium will depend how often you brave the elements.
Canon EOS 1D X Mark II verdict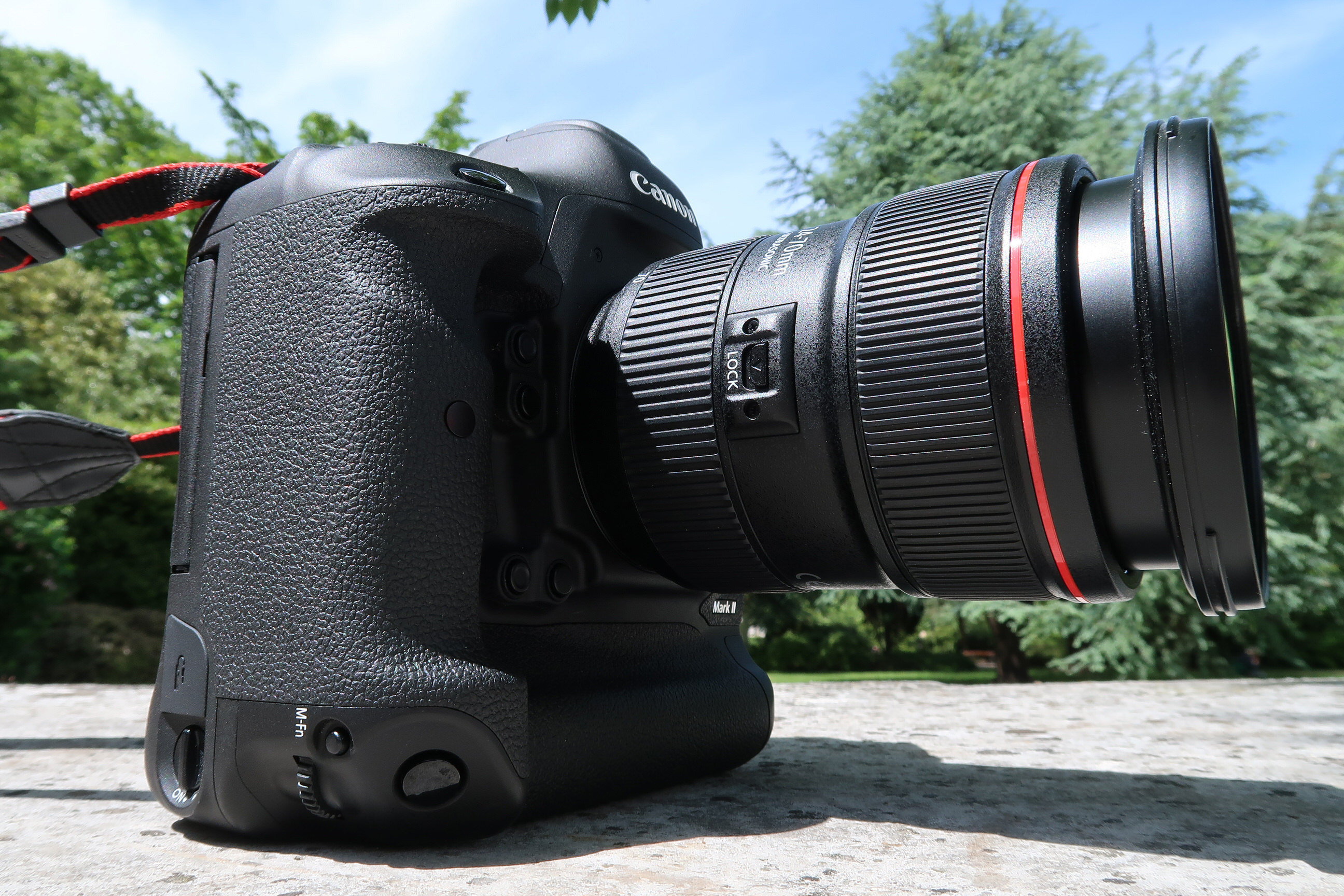 Take each little incremental change by itself, and the 1DX II doesn't really look like a leap forward from the original. Add them all together, though, and you've got a very tempting upgrade, or step up if you're shooting on a 5D.
Parting with your cash will depend on what kind of photography you like to shoot. Something of a portrait or wedding specialist? You might be better sticking with what you've got – at least until the price drops a little.
In spite of the so-so battery life, the lack of Wi-Fi, and that low-functioning touchscreen, there's a lot to love – and image quality is of course superb. That pretty much makes it a no-brainer for sports pros, with the main upgrades coming to fast shooting speeds, burst depth and tracking focus.
Expect this very capable camera to be lining sporting arenas across the world this summer.
Tech specs
| | |
| --- | --- |
| Sensor | 20.2MP full-frame (35.9 x 23.9mm) |
| ISO sensitivity | 100 – 51200 (50 – 409600 expandable) |
| Shutter speeds | 30 seconds – 1/8000 (plus Bulb) |
| Max frame rate | 14fps (16fps in Live View) |
| AF points | 61 |
| Video | 4K (4096 x 2160), plus full HD (1920 x 1080) |
| LCD | 3.2-inch Clear View LCD II, approx 1620k-dots |
| Viewfinder | Pentaprism, 100% coverage |
| Wi-Fi | No |
| Memory | 2x Slots (1x CF Card, 1x CFast Card) |
| Dimensions | 158 x 167.8 x 82.6mm; 1340g (body only) |
| Battery life | 1210 shots |
Stuff Says…
A worthy replacement for the 1DX, with stunning image quality and superb handling.
Good Stuff
Outstanding image quality
4K all the way
Bulging with buttons
Bad Stuff
Baby battery
Where's the Wi-Fi?
Temperamental touchscreen