Canon EOS M100 review
This stripped down system cam is just a bit too light on features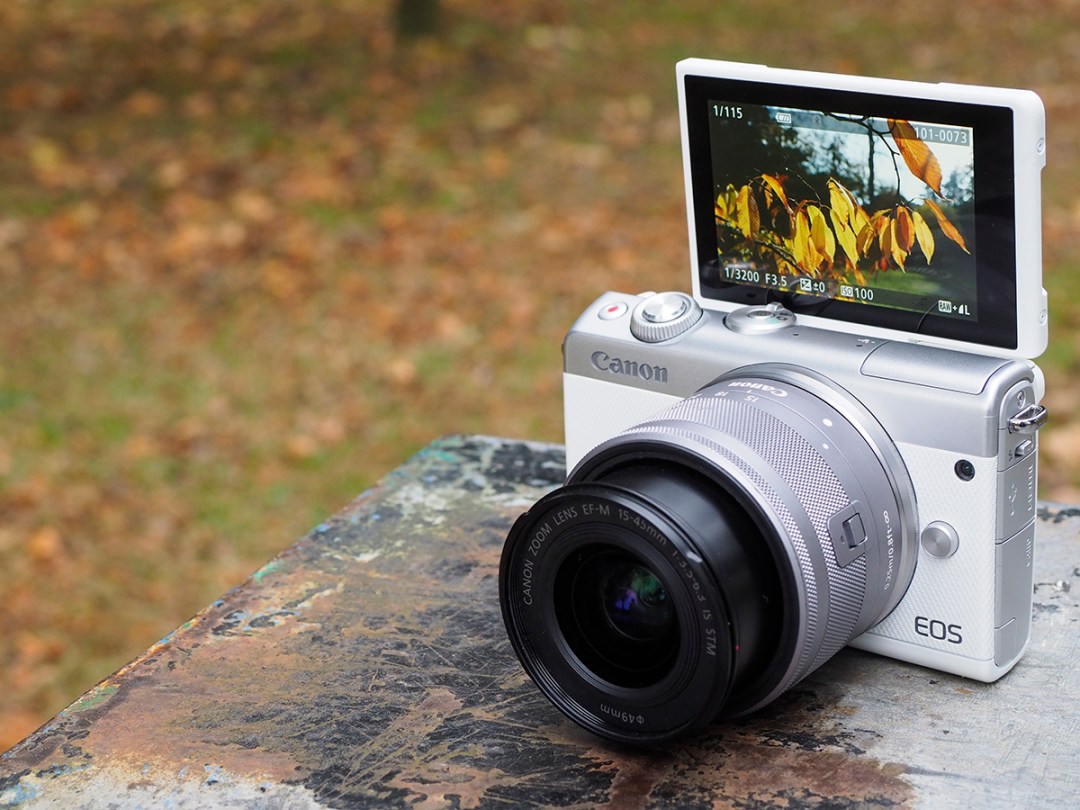 Damn those smartphones and their pesky cameras! With almost everyone having a decent snapper in their pocket these days, convincing people to upgrade to a 'real' camera is harder than ever for the likes of Canon.
Not that it doesn't do perfectly well making dazzling DSLRs like the EOS 5D Mark IV. But at the other end of the scale, Canon also needs a gateway drug to show why dedicated cams are better than phones.
Enter the EOS M100. Its name might sound like a motorway junction somewhere off Sunderland, but thanks to its combination of teeny dimensions and a DSLR-sized APS-C sensor, it's a genuinely exciting prospect. 
Inside that 302g body are a range of other features designed to tempt you from the sheer convenience of your smartphone, including a DIGIC 7 processor, speedy Dual Pixel CMOS autofocusing and a flip-up screen for composing selfies (if you must).
So does it deserve to be the new photo-taking engine of your social media empire?
Canon EOS M100 design: bon petite
Whip off the EOS M100's lens and you've basically got a compact camera that you could easily slip into your pocket.
Of course, you'd have to find somewhere else to store the lens, unless blurred abstracts are really your thing.
There's no grip on the front of the camera, which is a bit of a shame – but since it's so small, you probably won't miss one as much as you would on bigger cameras.
The M100 arguably looks a little unbalanced, even when using the standard kit lens, so you may want to look into some of the smaller M-mount pancake type lenses for ultimate portability.
As standard, the M100 comes with the same lens as the M10 it replaces – that's a collapsible 15-45mm lens which offers an equivalent focal range of 24-72mm once a Canon APS-C crop factor of 1.6x has been applied. That's a very workable standard length to have at your fingertips.
The lens will need to be extended before you can use it – so it's best to leave it out when you're walking around shooting, rather than packing it down each time.
The M100, like other EOS M cameras, uses its own mounts, meaning that if you're already an existing Canon EOS DSLR user, you won't be able to just attach the lenses straight to the body of the camera. There's an optional mount available, but, given the small size of the M100, it's probably not something you'll be aiming to do.
Still, if you've invested big bucks in a super telephoto lens and for some reason you want to be able to use it with an ultra-tiny body, it's possible.
As this camera is ostensibly aimed at the beginner photographer, everything about the design has been taken back to basics. You won't find hundreds of dials and buttons at your fingertips to confuse you.
There's a dial with just three options on the top of the camera, surrounding the on/off button. Here you'll find the Scene Intelligent Auto mode, the standard shooting mode (from which you can choose semi-automatic and manual modes, scene modes and so on), and movie mode.
There's also a scrolling dial around the shutter release button, which you can use when you're in certain shooting modes – for example, using it to control aperture when shooting in aperture priority mode.
Flip to the back, and there's a familiar layout for anyone who's used Canon cameras before. You've got a quick menu button, a main menu button, a button for quickly accessing the cameras connectivity options, and a playback button.
The majority of the rear of the camera is taken up by the 3in tiltable touchscreen. From here, you can control certain aspects of the camera, include setting the autofocus point – you can even use the screen to fire off the shutter itself, which is particularly useful when you've got the screen facing forward to capture your own face.
The one obvious downside? There's no viewfinder whatsoever, and no hot shoe option to add one on. The M100 is very much a point-and-shoot sort.
Features: big sensor, but no 4K
So how does the EOS M100 plan to entice you from the comfortable familiarity of your smartphone?
Probably the most exciting thing, certainly in terms of picture quality, is the EOS M100's sensor size. It's many times larger than the one inside your smartphone, which means it can produce much better images in a range of different conditions.
It's got the ability to shoot at 6.1fps, which isn't exactly going to put the fear of god into a sports photographer, but is actually pretty good for an entry-level camera and should allow you to get a few snaps of a moving child or animal.
Both Bluetooth and Wi-Fi connectivity are available, making it quick to send your photos over to your phone for the all important quick share to social media.
The fact that the screen flips all the way to the front is great news for those who want to create a high quality selfie – it's a huge step-up from the quality of the average front-facing phone camera, that's for sure.
Canon is pretty reticent to include 4K video technology in its lower-budget cameras, despite the fact that it's becoming a pretty common format that most smartphones offer.
Instead, you've got Full HD at 60p – more than enough for short video clips. If you're a dedicated video blogger who desperately wants 4K, though, you might want to look elsewhere – all Panasonic Lumix cameras offer 4K shooting, for example.
The M100 uses Canon's dual pixel AF (autofocus), something which it's been using with Live View in some of its recent DSLRs. It's quick and snappy to focus in a range of different conditions, and while it's not as quick as focusing through a viewfinder on a DSLR, that shouldn't be an issue for the most of the subjects you're likely to be shooting.
Unlike lots of other mirrorless cameras on the market, the EOS M100 doesn't have a silent shutter option. So when you take a photo, there's an audible shutter noise – not ideal if you're trying to shoot in quiet or discreet locations.
It's a little strange not to see the same interface we've seen recently on entry-level DSLRs like the EOS 200D. That is, explanations of how certain settings work, which is a great way to learn about photography if you're new to it.
Perhaps Canon expects most M100 users to stick with fully automatic mode and not give those other options a second thought, but it's a shame nevertheless.
Image quality: Punchy and vibrant
As we've come to expect from Canon's APS-C sized sensors, the M100's puts in a pleasing performance in a range of different conditions.
Colours are rich and vibrant, being nicely saturated without looking unrealistic, while there's a great amount of detail.
I'd recommend switching to the 'Fine Detail' picture setting to get the most detail out of the sensor, but the 'Auto' picture setting is very good too.
In low light, you'll want to stick to ISO 3200 or below for the best images. At ISO 6400 and above you can start to see some image smoothing in key areas of your image. That said, if you're only sharing small size images, you can get away with shooting at up to ISO 12800. ISO 25600 is best avoided altogether unless you're absolutely desperate.
Automatic white balance copes well with different lighting conditions, producing accurate colours even when faced with artificial lighting, or tricky conditions such as overcast days.
Similarly, Canon's all-purpose metering mode does a steady job of producing accurate exposures in the majority of conditions, with perhaps just a touch of exposure compensation being needed in very high contrast conditions.
Of course, this being a camera intended mainly to be used by beginners, you may find you come to rely on the Scene Intelligent Auto mode and not faff about with altering settings yourself. In which case, the camera does well to come up with the best settings in the majority of conditions, leaving you free to concentrate on composition.
Canon EOS M100 verdict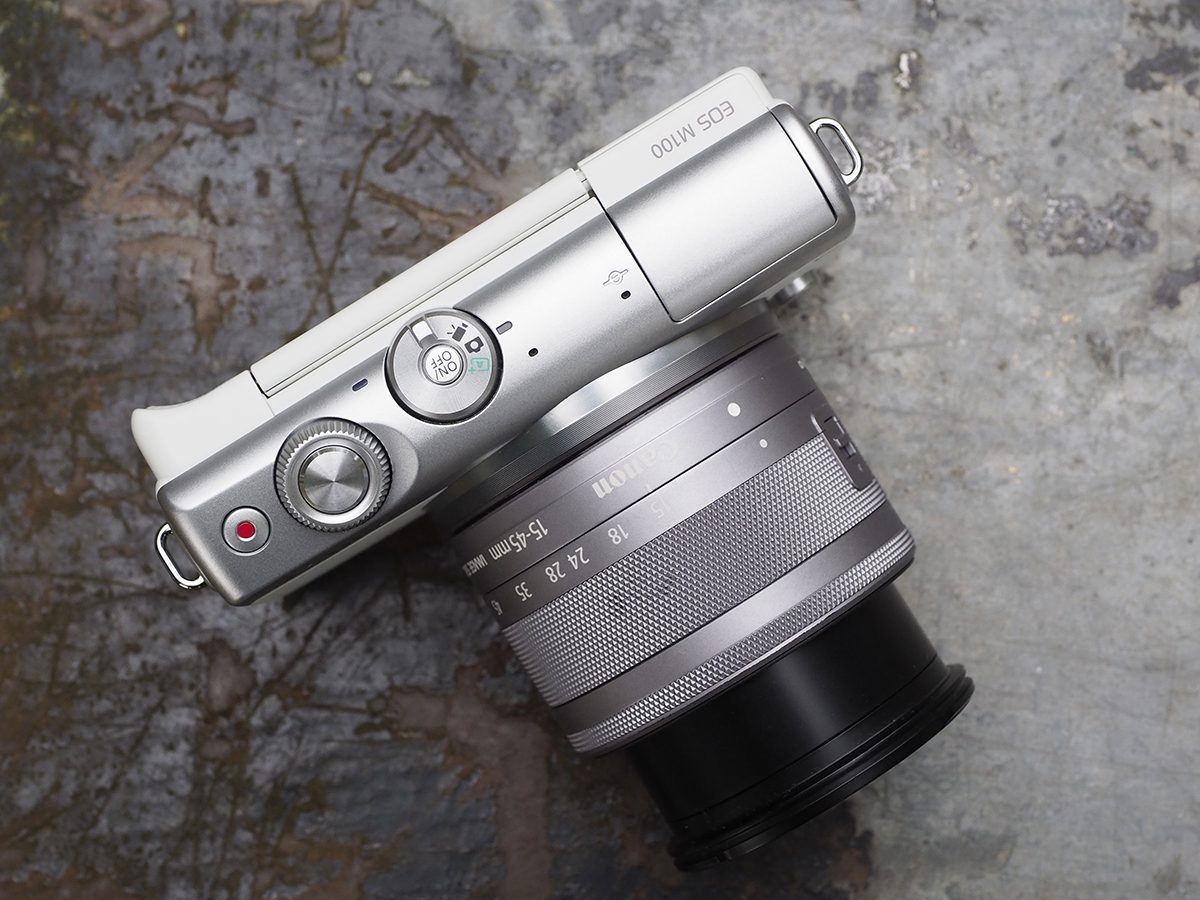 The Canon EOS M100 is a nice enough camera, but it fails to truly excite.
If you're using a smartphone and feel a little limited by what a small sensor can deliver, but don't want the huge bulk of a DSLR or large CSC, the EOS M100 could still potentially be up your street.
It produces very good images, and is very easy to use right out of the box without any kind of specialist knowledge – both of which are big plus points.
That said, it's still not small enough to slip into a pocket once you've attached even a small lens, so you're still going to have the inconvenience of an extra device.
You may also find that you relatively quickly outgrow the M100. After all, if you're going to bother having an extra device with you, you might as well make it something that you really get involved with.
With a lack of a viewfinder, a relatively stunted set of dials and buttons, and no 4K video shooting, you may find yourself quickly looking elsewhere for something a little more advanced.
Stuff Says…
It's small and produces nice photos, but M100 otherwise lacks enough truly exciting features to tempt you from your smartphone
Good Stuff
Small size
Large sensor
Easy to use
Bad Stuff
No viewfinder (or option to add one)
No 4K video
You might quickly outgrow it