Corsair ONE review
Small, quiet and powerful in one package? Corsair does the trifecta for its first off-the-shelf gaming PC
Small. Cool. Powerful. The three things we most want to see in a gaming PC. It's easy enough to get one right. Most pre-built systems can manage two at best. The Corsair One? It does all three.
Nailing this trifecta was no easy feat, requiring the kind of custom engineering someone building their own rig would struggle to match.
Buying off-the-shelf might not be as satisfying as doing it yourself, and it goes against the mantra of Corsair's usual customer base, but I'm not sure that matters: the One comes incredibly close to PC gaming perfection. Here's why.
CORSAIR ONE DESIGN & BUILD
Forget your typical towers, and say goodbye to traditional Small Form Factor shoeboxes: the Corsair ONE goes for a vertical design that crams a heck of a lot for hardware into a tiny space.
Standing 38cm tall, and taking up less desk space than a dinner plate, it's practically impossible to buy a smaller case that still has room for a top-end graphics card – and the cooling gear to actually keep it running.
The whole thing is built from bead-blasted aluminium, which is cool to the touch and feels as sturdy as a tank. It's a world away from the plastics and cheap metals you'll find on most DIY cases. The matte black finish should easily fit in with the other kit sat on your desk – and will feel at home next to your TV, too.
You can't lay it horizontally, which might make it tricky to find a home for it if you did want to pair it with your big screen, but that's a small sacrifice to make for excellent cooling and incredible performance.
Corsair might throw more LED lights at its keyboards and mice than your average Christmas tree, but it has been impressively restrained for the One. Two thin strips of blue light are all you get: they're soft enough to avoid becoming a distraction when you're gaming at night, but it's a shame you can't change the colours – you'll have to match your existing peripherals to the case, not the other way around.
CORSAIR ONE INTERNAL HARDWARE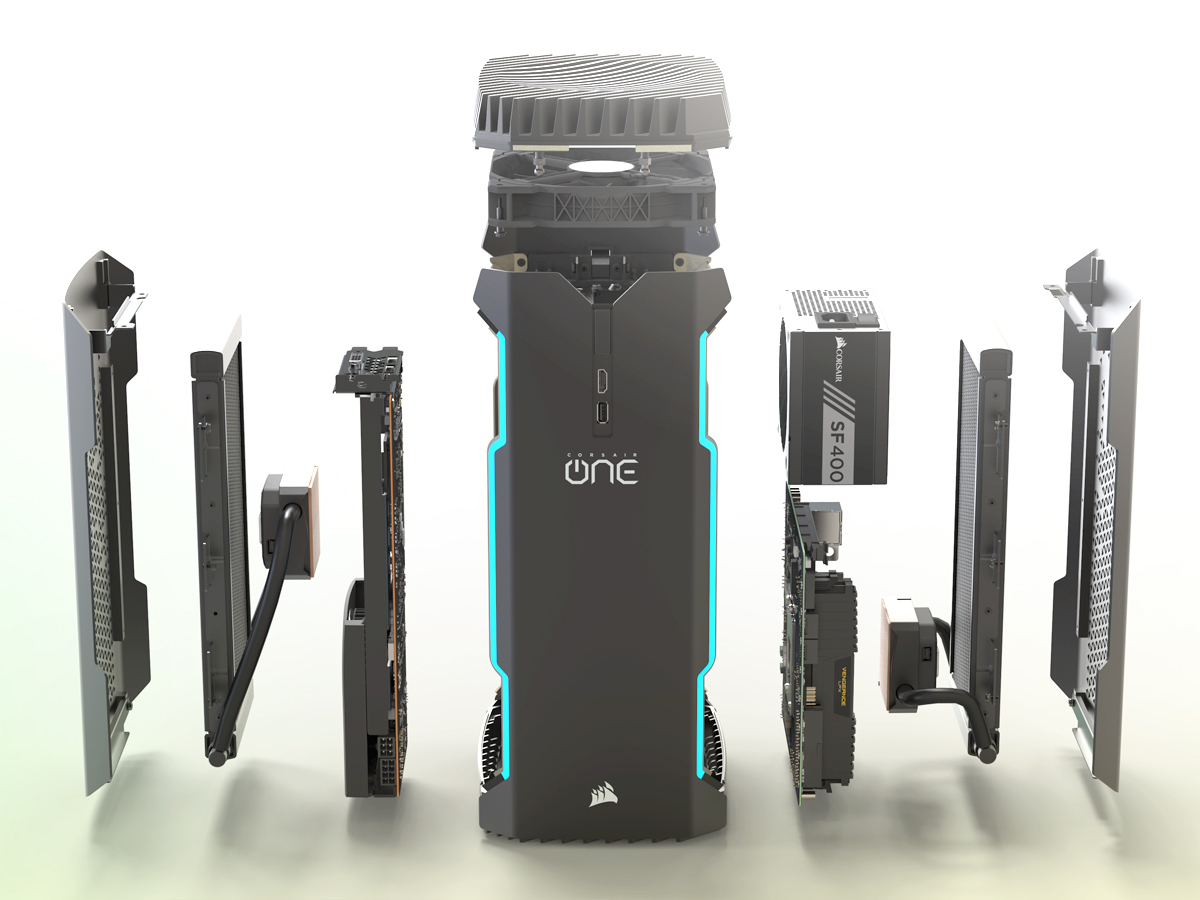 Take one look at the spec sheet and you can tell Corsair isn't messing about when it comes to power.
The base model One comes fully stocked, with a 3.6GHz Intel Core-i7 7700 running the show. It can Turbo Boost up to 4.2GHz for extra grunt when you need it, and is paired with 16GB of RAM and an Nvidia GeForce GTX 1070 graphics card.
That's easily enough for 1080p gaming, and it'll barely break a sweat at 2560×1440, but come on – Corsair wasn't really going to call it a day already, was it?
That's why there's a Pro version on offer, one with an overclocker-friendly Intel i7-7700K and a full-fat GeForce GTX 1080 GPU – turning the already zippy One into a fire-breathing 4K powerhouse. The 240GB SSD and 1TB hard disk of the base model get doubled to 480GB and 2TB respectively, too.
There's also a web-only exclusive model that ditches the mechanical hard disk altogether, opting for one huge, super-speedy 960GB SSD instead.
All three use mini-ITX Z270 motherboards, and find room inside the tiny chassis for an SFX power supply – meaning no lumpy external power bricks to deal with.
With desktop components crammed inside, you can upgrade just about every individual part later down the line – if you don't mind getting your hands dirty and disconnecting Corsair's intricately designed cooling system, that is.
CORSAIR ONE COOLING & ACOUSTICS
Gaming PCs typically cool your hardware with more fans than a wind farm, but that takes up a lot of space – and makes a racket once they spin up to full speed. Liquid cooling is a quieter alternative, but off-the-shelf kits aren't exactly compact.
Instead, Corsair designed its own, specifically for the One.
Inside, the case is split into two, with the graphics card on one side and the motherboard, CPU, memory and power supply on the other. Each side gets its own slim liquid-cooled radiator, covering the length of the chassis. There's just a single fan, sat at the top.
The idea is to create negative air pressure, forcing cold air in through the side panels and exhausting hot air out through the top. Without sounding like a jet engine, thanks to software that keeps an eye on each individual component. It tweaks the fan speed for the best balance of noise and cooling.
Quite simply, this is the quietest gaming PC I've ever had the pleasure to use. Left on the Windows desktop, the One idles at 20 decibels – that's like someone whispering to you from three feet away. With even the slightest bit of background noise, you just won't notice it at all.
Even when you're web browsing, watching videos or working, and the fan spins up slightly, it's difficult to hear. When you do catch it, the fan noise isn't unpleasant, either – there are no nasty whines or rattles here.
Cool and quiet don't normally go together, but the One manages it. The CPU idles at about 38 degrees, and hits 65 after an hour or two of gaming – nothing to worry about in a chip that's rated up to 98 degrees. It's a similar story with the graphics card, which topped out at 75 degrees after a particularly lengthy Battlefield One session. That's some 20 degrees cooler than the air-cooled GPU in my mini-ITX system.
Because the system stays so cool, the CPU and GPU can run at their boosted clock speeds for longer – meaning more free performance, without having to overclock.
CORSAIR ONE PERFORMANCE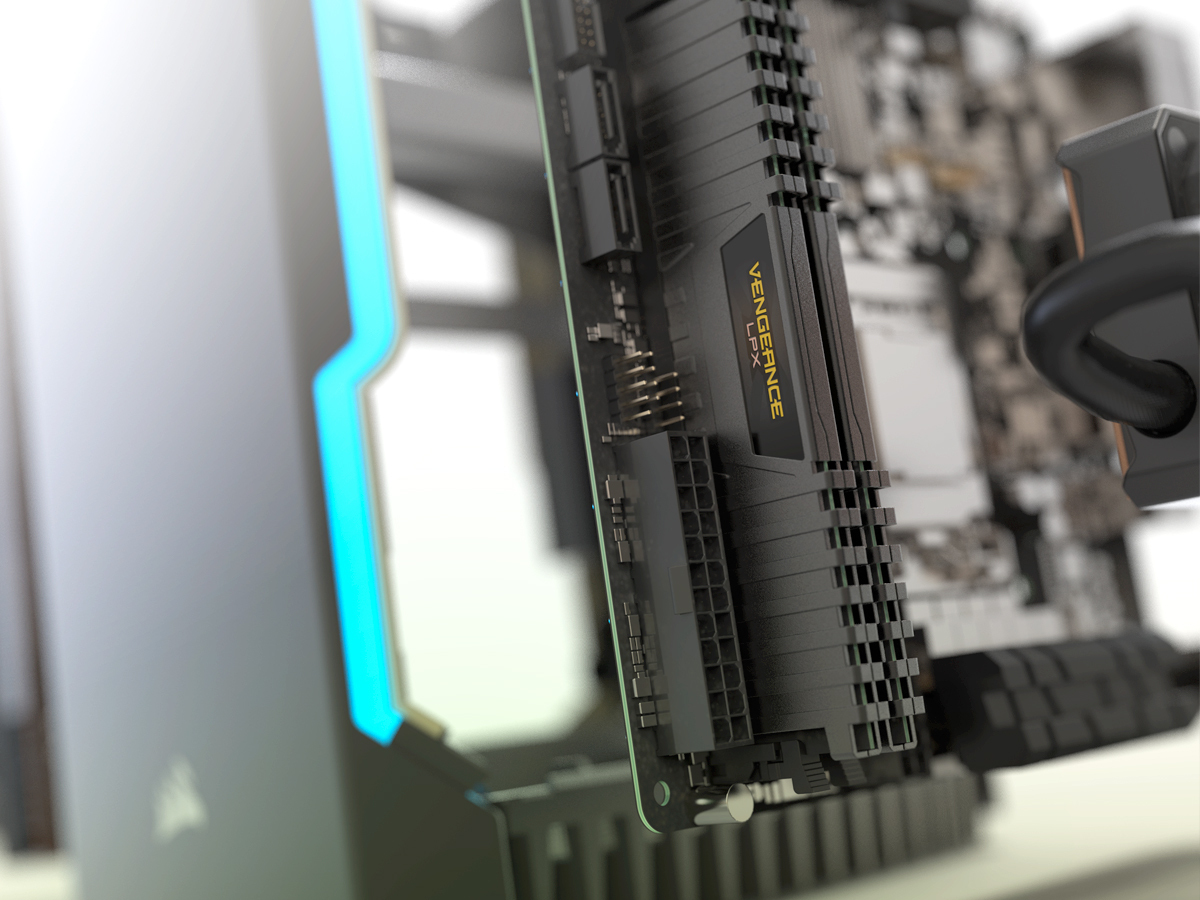 With the GTX 1080 cranking out polygons at an astonishing rate, I didn't have any games that the One couldn't play smoothly at 1920×1080 or 2560×1440 resolutions.
My current go-to timesink, Battlefield One, averages around 160fps at 1080p, even with everything turned up to the max. 2560p? No problem – you'll still get over 100fps. 4K is possible without having to dial back any of the detail sliders, and it only took a few minor tweaks to net a smooth 60fps.
Open world RPG The Witcher 3 looks absolutely phenomenal with all the detail settings cranked up, and refused to drop below 45fps even at 4K resolution. This might be slightly too low for a standard monitor, but if you've got a fancy Nvidia G-Sync screen, you won't get any screen tearing or stutter.
DirectX 12 games like Gears of War 4 are perfectly playable, too. This is approaching the limits of the GTX 1080, at least for 4K gaming, as I managed around 40fps, but that's still a hell of a lot of power. If you're planning to play on a 2560p display, you should be able to play anything in your gaming collection smoothly.
It helps that the One is free from bloatware, sponsored apps or pre-installed anti-virus software out of the box, which all have the potential to impact performance.
You get a pure Windows desktop, with Corsair's LINK software for tweaking the system's lighting, and a shortcut to all the game installers you could need: Steam, Origin, Uplay and Battle.net are all present and correct.
CORSAIR ONE VR PERFORMANCE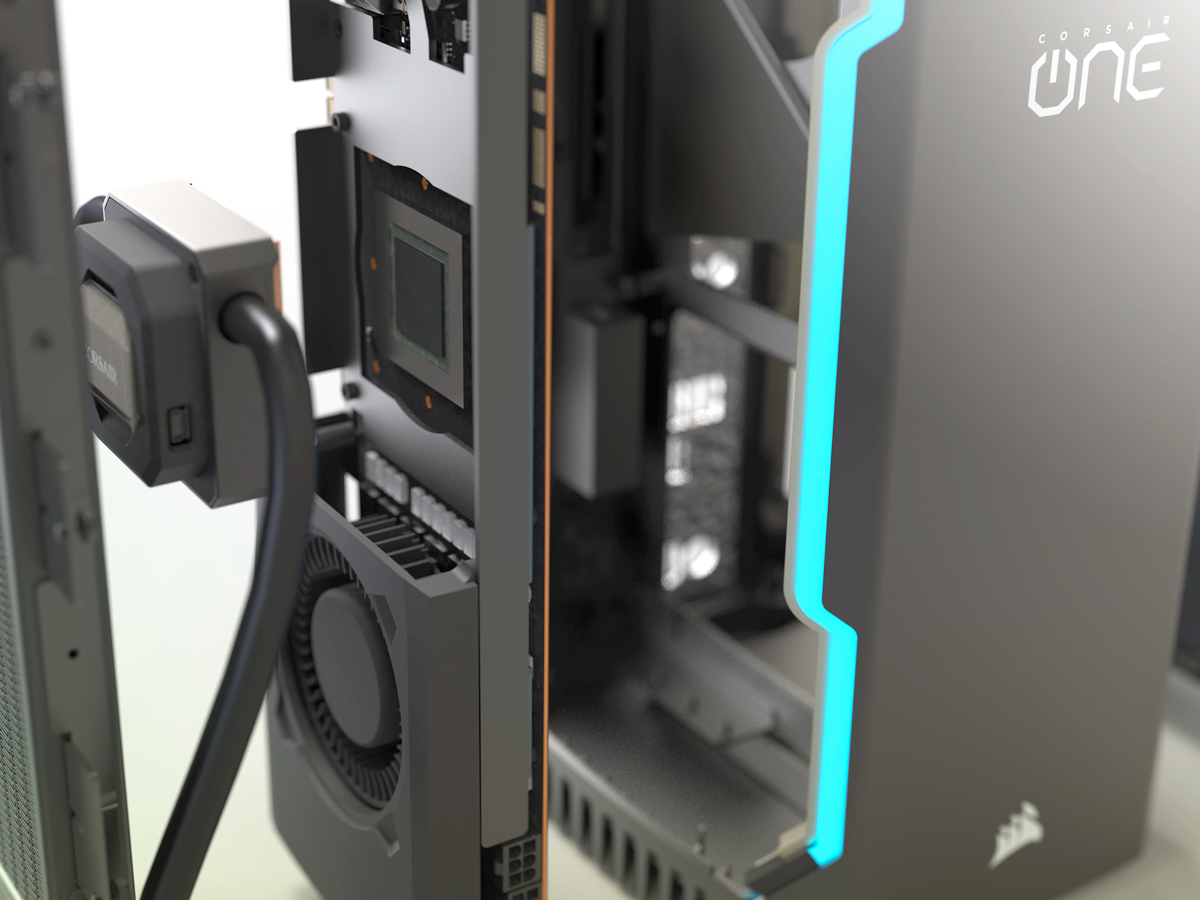 The USB3 and HDMI ports on the front of the case are the first clue of the power lurking inside this thing – you've got everything you need for virtual reality staring you right in the face, with no need to go digging around at the back.
Whether you plug in an Oculus Rift or HTC Vive, the One has more than enough power to run any VR game out there at a silky smooth frame rate. The GPU might have been working hard, but the cooling system could always keep it in check. There's no chance you'll hear it working over the sound from your Oculus headset or Vive in-ear headphones.
It's a lot harder to measure frame rates in VR, but everything I tried maintained its frame rate – meaning 90fps or better. You'd have to force supersampling, where the scene is rendered higher than your VR headset can display for added clarity, before you'd hit a non-playable frame rate. Behind-the-scenes tech like asynchronous warp kicks in long before that, anyway – right now, this is all the kit you need for VR.
CORSAIR ONE VERDICT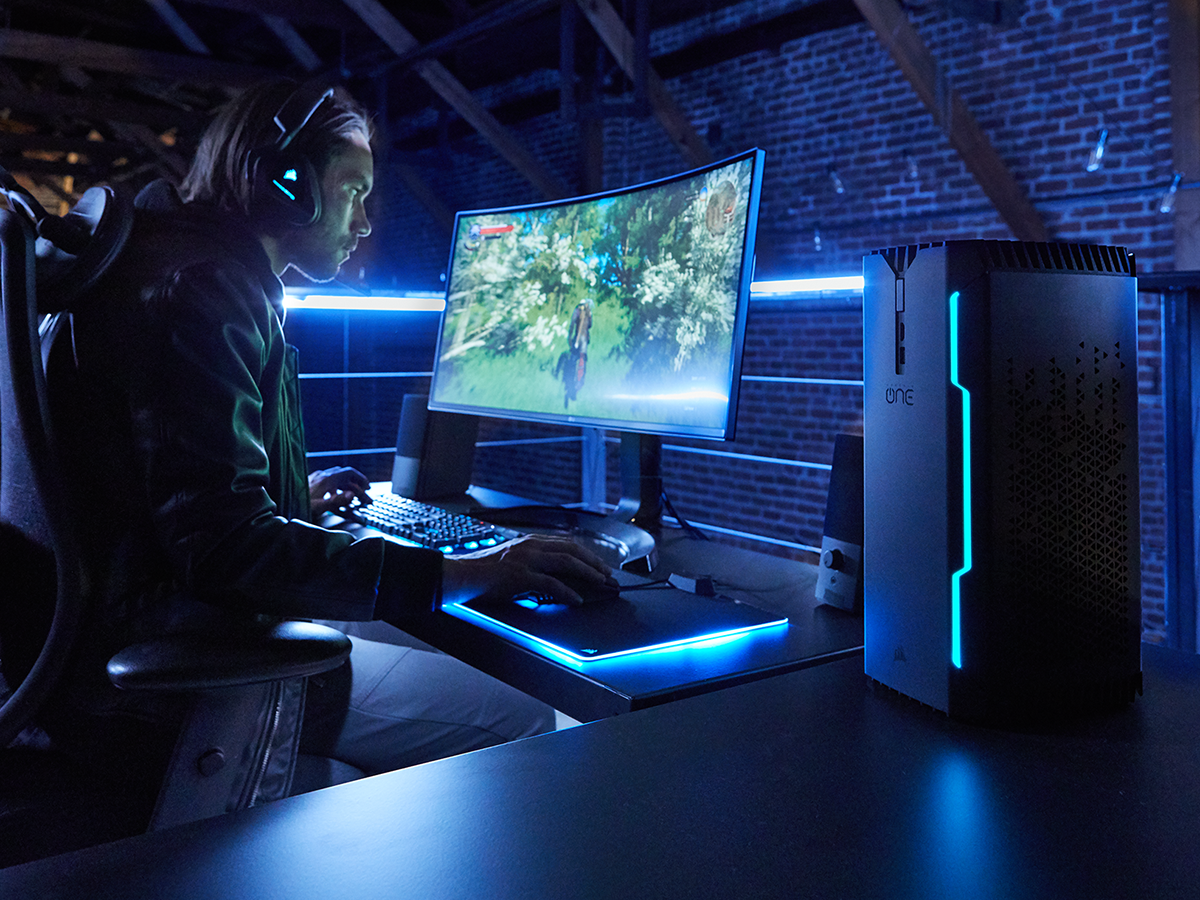 For a first attempt at a complete gaming PC, Corsair has absolutely nailed it with the One.
It's about as close as it's possible to get to the perfect small system, with enough power to run almost any game at high resolutions, a cooling system that won't make your ears bleed, and a compact case that you can (almost) fit anywhere.
Would it have been nice to get a matching Corsair keyboard and mouse thrown into the mix? Maybe. Would the new GeForce GTX 1080 ti have made the One an even more potent machine? Absolutely, but you're certainly not left wanting for power as it is.
It's expensive, sure – but then you'd spend £2000 building something with similar power, and it wouldn't be anywhere near as quiet. Or small.
Dedicated PC builders might turn their noses up at a pre-built system like this, but unless you're machining your own parts, you're simply not going to be able to match it for performance, size and cooling potential, while also keeping the volume down.
Tech specs
| | |
| --- | --- |
| CPU | 3.6GHz Intel Core i7-7700K quad-core w/Hyper-threading, Turbo Boost @ 4.2GHz |
| MEMORY | 16GB DDR4 RAM |
| GPU | Nvidia GeForce GTX 1080 |
| STORAGE | 480GB SSD, 2TB Hard Disk |
| OPERATING SYSTEM | Microsoft Windows 10 Home 64-bit |
| CONNECTIVITY | 2x HDMI 2.0, 2x DisplayPort 1.4, 1x USB-C, 4x USB3, 2x USB2, Gigabit Ethernet, 5x 3.5mm audio jack, S/PDIF, PS/2, 802.11ac Wi-Fi, Bluetooth |
| DIMENSIONS | 200x176x380mm, 7.4kg |
Stuff Says…
Probably the closest a PC gets to replacing your games console – it might not sit under your telly, but when 4K games play this well, and this quietly, you won't care
Good Stuff
Incredible power in a small, near-silent system
Enough grunt for 4K or VR gaming
Almost impossible to build something smaller with off-the-shelf parts
Bad Stuff
You can match the hardware specs for less cash
Can't customise the LED lights
A challenge to upgrade later