Crosscall Trekker-X3 review
Can this rugged French phone hit the rocks and roll?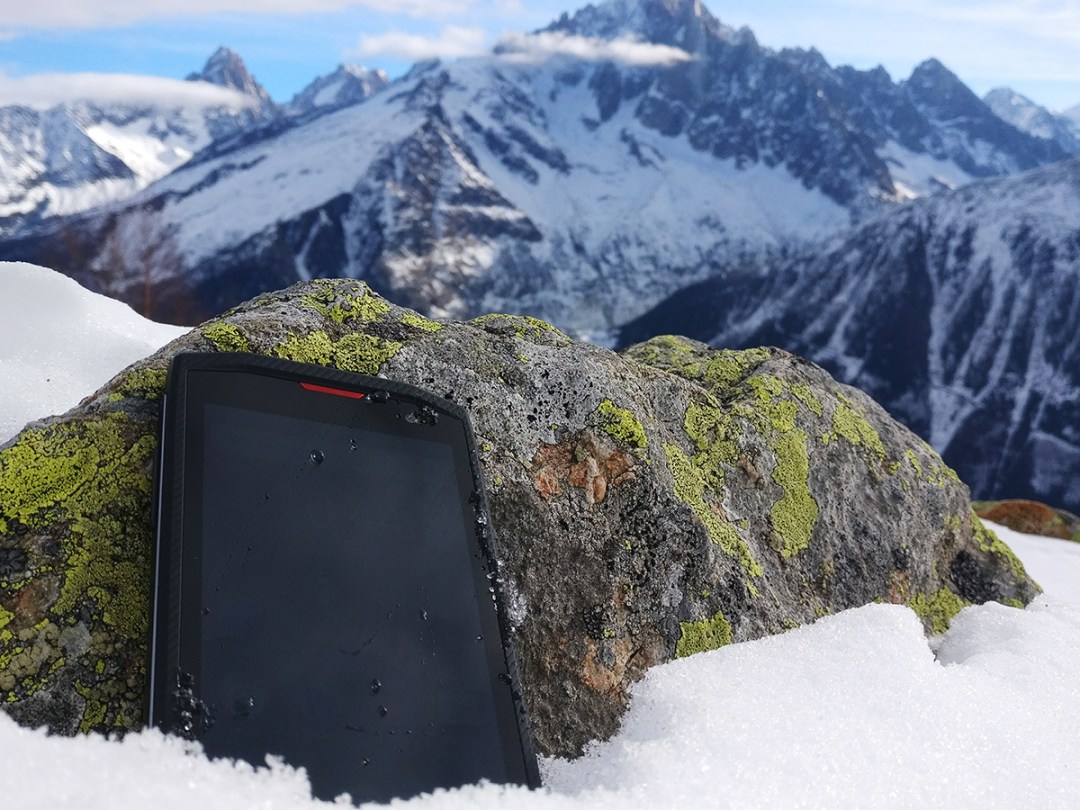 It's a funny thing, the tough smartphone.
See, what most people want is a slim, pretty device with just enough toughness that it'll bounce, rather than break, when things go sideways on a night out in Shoreditch.
What do you do, though, if you want something a whole lot tougher – and don't care for the svelte smartphones clutched by commuters everywhere? Something that'll happily hit rocks, plunge into icy streams and bathe in a sandy blizzard – and live to tell the tale?
Well, you could take a cheap Android phone, stick it in a hard-as-nails case and hope for the best. Or, you could spend €550 on the highly specialist – and ridiculously tough – Trekker-X3 from Crosscall.
Why would you do the latter? Because, far more than a wrapped-up mobile, it's got the sort of features to keep mountain-climbers, off-piste skiers and gorge-walkers on track – and get them home again.
So, with that in mind, we took the Trekker-X3 to the launch of the 2017 Freeride World Tour in Chamonix, France, to put it to the test.
Crosscall Trekker-X3 review: Body, build and toughness
Pick up the X3 and its tough credentials will hit you like a punch to the gut from an angry polar bear. This thing is hefty.
With a 5in screen it was always going to err on phablet territory, but there's nothing slim or light about the X3: at 14.3mm thick, it's roughly as deep as two stacked iPhones and – coming from a OnePlus 3T – its 230g weight feels properly solid.
It's no ugly lump, though. A textured back, rubberised shell and red highlights give it a surprising dose of style for something so solid, while metal bumpers on either edge offer more than a hint of premium kit. It's sort of like a really good pickaxe: it's specialist, but you can appreciate the craftsmanship.
And that build quality means it's seriously rugged, too. It'll take a dunk in 1m of liquid – whether chlorinated, salty or oily – as well as fending off dust, dirt and drops. Oh, and it'll work all the way down to -10°C.
Yes, it won't slip into your trouser pocket – but it will get a lot of attention down the pub. Especially as you drop it in your pint to prove that it's waterproof.
Crosscall Trekker-X3 review: Sensors and usability
So it'll take a hard knock. But many a rugged mobile has faltered in the past when it comes to usability. Thankfully, that's very much not the case with the Trekker-X3.
Everything has been designed with tricky situations in mind. There's no fingerprint sensor – that would mean taking your ski gloves off – but the screen itself is highly sensitive. So much so, in fact, that it can be used when wet and with thick gloves on – and it works.
Yes, it requires a bit of fumbling, but it means mountain-top texting without freezing paws.
That little red button on the side is useful, too: it's a customisable input that can do things such as launch the camera or turn on the torch. It is a little too easy to press, which can result in unexpected pocket shots, but it's the sort of clever touch that makes the Trekker-X3 stand out.
Crosscall has also stuck a suite of sensors into the X3 for those who don't trust the internet. Don't want to ask Google for the temperature? Take your own reading, using the in-built thermometer. Then measure the humidity. Then the altitude.
Why you'd need that data is another question, the answer to which probably requires technical, outdoors-y clothing and an immunity to low-oxygen nausea. Still, the sensors are accurate and add yet another string to the X3's go-anywhere bow.
Crosscall Trekker-X3 review: Camera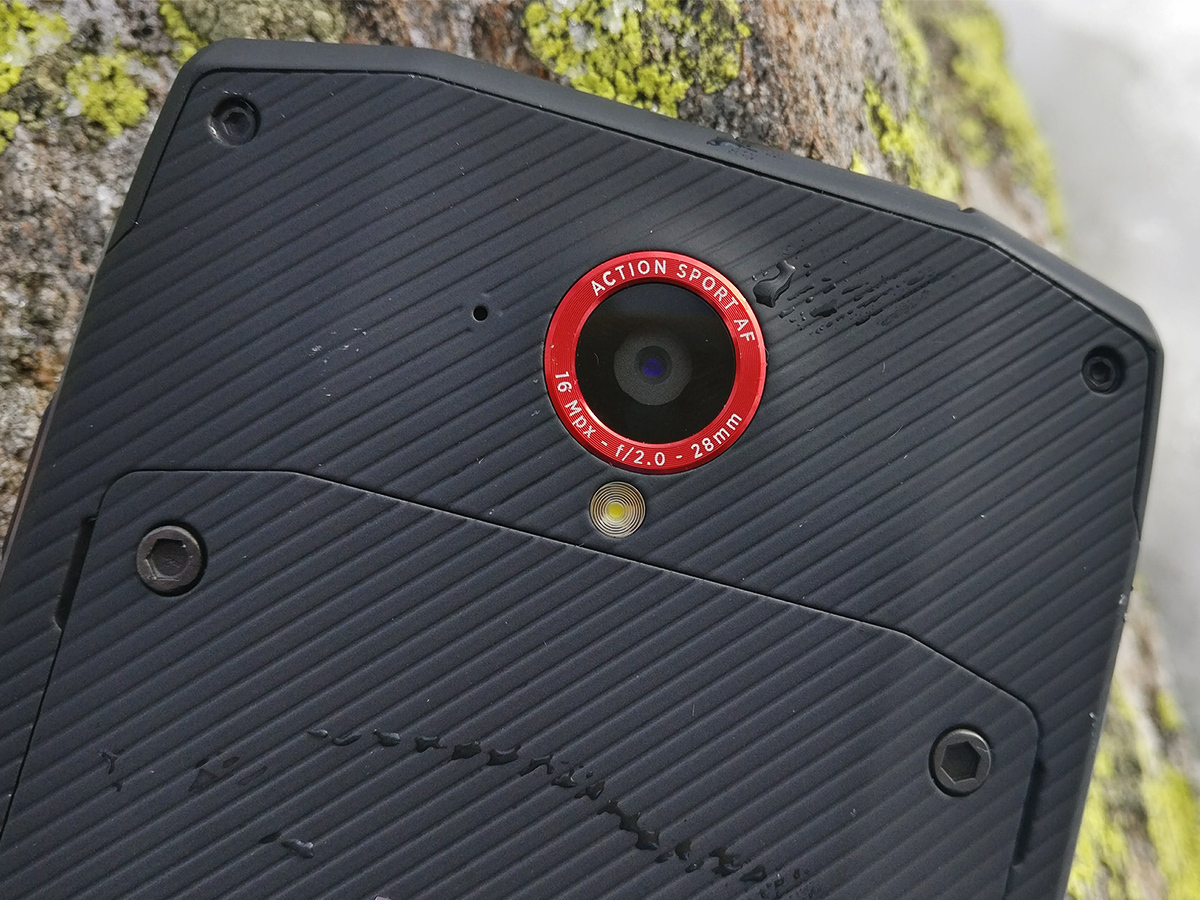 Less convincing is the X3's camera. According to Crosscall, the aim was to make a fast lens which – while not delivering shots to rival the Samsung Galaxy S7's – would do plenty well enough in active environments.
Sadly, it falls short of even that relatively low bar. Sure, it'll take shots good enough to share online and, in good, bright conditions its snaps are just about convincing enough to plaster over Facebook.
In any other conditions, though, its 16MP rear shooter struggles with low-light grain – not to mention a sluggish camera app that gets easily confused when you rotate from portrait to landscape.
On automatic settings, images tend to lack soul, with washed-out colours. What's more, despite that fast lens, motion blur is relatively common, even in static environments. There's a general lack of sharpness, too.
And that's a real shame, because it's the one thing that really lets the X3 down. Most people who decide to buy Crosscall's latest flagship won't be expecting high-end glass – but they'd probably like their Mont Blanc holiday pictures to be bright, clear and sharp enough to share online, and that's not something that's guaranteed.
Crosscall Trekker-X3 review: Battery life and power
Still, at least you'll have plenty of time to re-frame your photos: the Trekker X3 has a battery that'll go for days. With a 3500mAh cell inside, it'll easily do two days of tasking off a single charge – while, stick it into battery saver mode, and you could easily squeeze more than a week of emergency phone usage out of it.
Better still, it charges via USB-C to deliver a rapid boost, which is a boon if you're in a rush to get back outside. We didn't quite match the claimed 75% capacity in 20 minutes – but, using the bundled fast charger, you will get seriously speedy juice.
The box doubles up as a wireless charger, too, which is a smart way to zap it back to full if you can't be bothered fiddling with the really thick rubber flaps that cover the X3's ports to keep it watertight.
As for power, the X3 isn't blisteringly quick, but it largely gets the job done. A Snapdragon 617 chip pairs with 3GB RAM to deliver generally reliable performance. It can stutter under stress and, whether because of the chip itself or the amount of rubber on the case, things can get a bit warm around the back.
Still, it only really struggles when switching between heavy apps, with individual apps and games running smoothly enough – even at five degrees below zero.
Crosscall Trekker-X3 review: Screen and software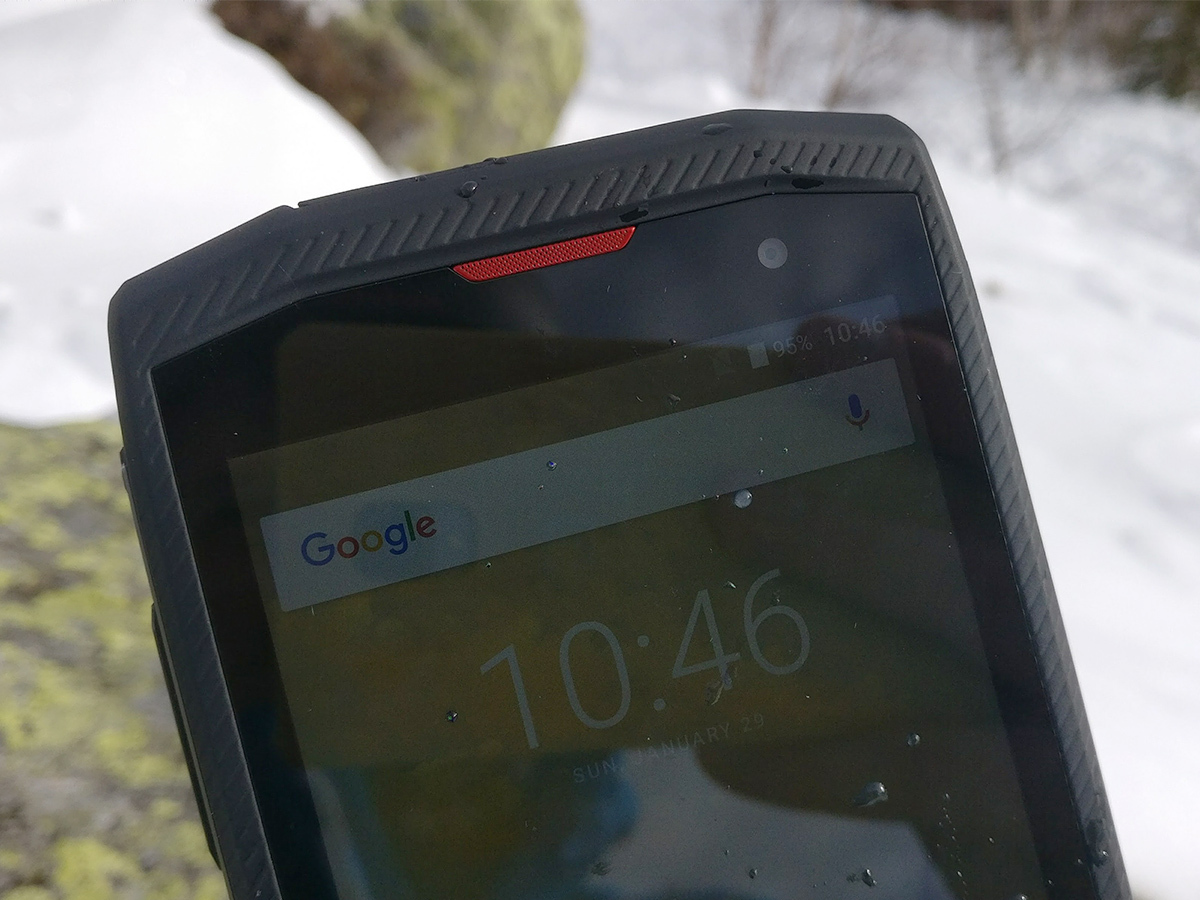 If you're after the latest Android software, look elsewhere: the Trekker-X3 is resolutely stuck to Android Marshmallow – so none of Nougat's slicker interface and nifty tricks, such as Quick Reply notifications.
Really, though, that's not a huge concern when you're scrambling up a Scottish slope with rain lashing down. Marshmallow is plenty stable enough for the X3's needs and it's mercifully un-skinned, so you still get that pure, breezy Android experience on the 5in screen.
Speaking of the screen, it's not going to set your world on fire – but, with a Full HD resolution, the Gorilla Glass 4 display is good enough to ogle all the way up the chair lift.
It's sharp and there are no noticeable pixels, and, while the glossy front is a little more reflective than we'd like, it's far less of a fingerprint magnet than many other mobiles.
The one problem? Certain pairs of polarizing sunglasses – as you're likely to be wearing if you're a proper Bear Grylls character – match the alignment of the X3's display, meaning it appears blank in portrait mode. Turn it landscape and you're fine, but it's a bizarre and slightly frustrating occurrence on an otherwise well-thought-out device.
Crosscall Trekker-X3 review: Verdict
It's worth remembering that everything the X3 can do, it can do underwater, in a sandstorm and at sub-zero temperatures. That doesn't make it a better phone as such; rather, a seriously capable one.
Should you buy it rather than sticking a cheap Android phablet in a rugged case? If you're just off backpacking in Thailand, no. If you're regularly outdoors and want a phone that'll last a weekend or longer off a single charge, won't wimp out at the sight of water and has nifty skills to make your life easier, absolutely yes.
This is no gimmicky mobile: whether the wet-touch screen or the on-board sensors, there are plenty of features crammed into the X3's TPU-wrapped shell that make it a consummate off-grid performer.
What's more, despite being built for hairy situations, this is a mobile that feels premium. From the packaging – which includes a pair of waterproof earphones that have no right to sound as good as they do – to the build quality, Crosscall has done a stellar job of making a phone that, apart from the camera and the odd stutter, feels like it's worth every cent.
It's about as far from the mainstream as you could make a mobile phone – and that's probably why it's so good at what it does.
Stuff Says…
A cookie so tough it bullies the other biscuits, Crosscall's Trekker-X3 is specialist – and seriously good at it
Good Stuff
More rugged than Bear Grylls on a mountain
Stacks of charge to get you down the slopes
Sensitive screen works when wet – and with gloves on
A surprising number of stylish flourishes
Bad Stuff
Red run performance
Fiddly port flaps
Stuck to Android Marshmallow
Disappointing camera performance