DJI Mavic Air review
Clear a space in your backpack for DJI's best drone yet...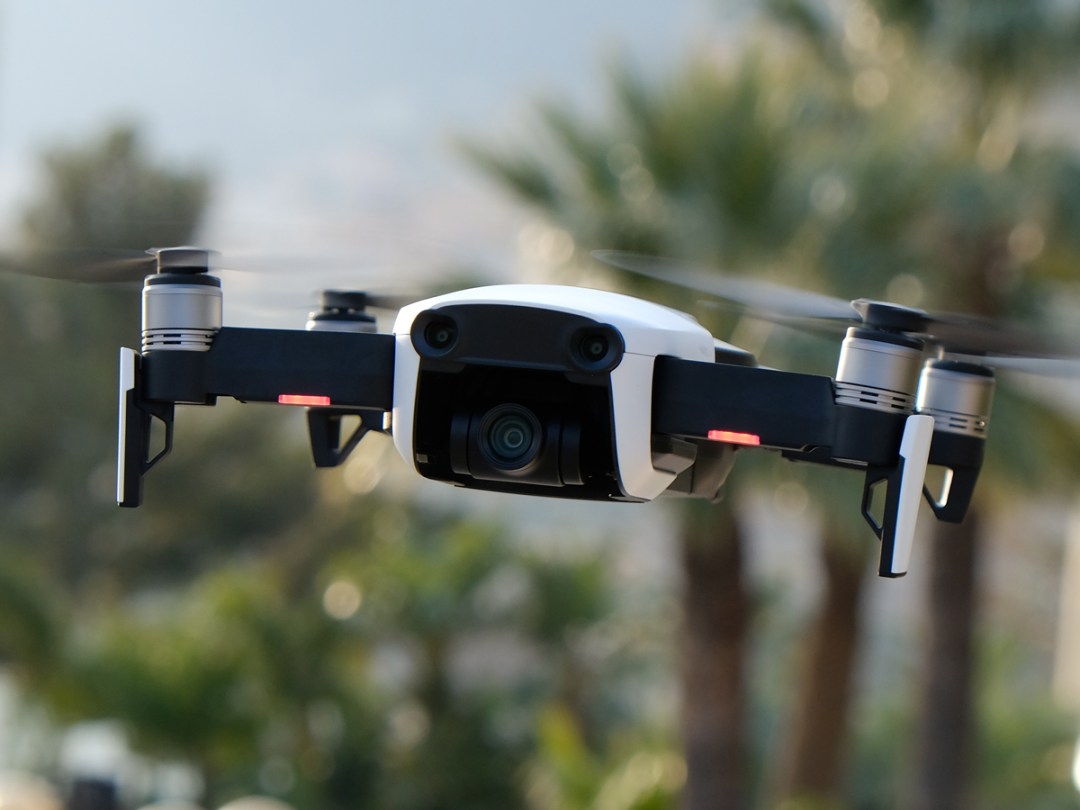 The question for most gadget fans isn't whether we want a drone (of course we do, it's a flying super-camera) but what our justification is for buying one. 
There are three main answers to that: we want a fast and nimble RC toy to zip around fields for the fun of it, a flying camera to capture amazing souvenir videos and stills from our travels, or a way to capture pro-quality aerial footage for work.
The Mavic Air comes the closest out of any drone so far to satisfying all three of those things – and it does so despite being, when folded down, barely the size of a water bottle.
How does it do it? The main reason is that DJI has combined the best tech from the 4K-shooting Mavic Pro with the best software features of the more beginner-friendly Spark.
This means you get an approachable drone that can shoot epic travel videos, even if you have less-than-epic piloting skills. And also one that, with a flick of the controller's Sport button can zoom around an RC playing field at over 40mph in Sport mode.
The Mavic Air isn't absolutely flawless and still suffers from the same practical restrictions as other drones, like limited legal flight zones (see boxout below).
But it is the best all-round drone hobbyists can buy…
Design: Micro machine
Take the Mavic Pro's brilliant folding design, sprinkle it with the Spark's colourful charm, and what do you get? The best-looking drone yet.
As you can see, the Mavic Air has almost pocketable dimensions when folded up, and slips into a backpack faster than us dashing into a pub during a downpour. At 430g, it weighs less than a pint too.
It might look like a toy (particularly in its Flame Red paint job), but the Air is incredibly well built and has a few subtle improvements over the Mavic Pro that make it much more travel-friendly.
Its 4K camera is now much better protected and comes with a clip-on plastic guard. The controller's joysticks unscrew to make it easier to slip into a backpack. Its hot-swappable battery mechanism is more decisive and secure. And dampeners on the three-axis mechanical gimbal (a crucial improvement over the Spark's two-axis affair) create video that's so buttery smooth it should come with a cholesterol warning.
That main 4K camera is far from the only one on board too. The Mavic Air is packed to the gills with infrared sensors: two on the front, two on the back, and two more underneath. These give it a Lionel Messi-like spacial awareness that ensure it's super-stable when hovering or flying.
They also, thanks to a new Advanced Pilot Assistant System (APAS), help it automatically fly around obstacles like trees and concerned faces. Clearly, the Mavic Air has seen videos of my piloting skills.
While it's a natural evolution of the Magic Pro and Spark, the Air feels like another healthy step forward for drone design. It reminds me a little of the first compact system cameras – while there are no interchangeable lenses here (just a fixed f/2.8 one), it packs pro-level features into an unprecedented, travel-friendly form factor. And that's to be applauded (yes, even you, slow-clapping GoPro).
Features: panoramic appeal
The Mavic Air's killer combination is shooting 4K video from a three-axis gimbal, which is something we just haven't seen from a drone of this size.
But there's more to gadgets than spec sheets, and DJI has put in some software graft to make sure the Air is a genuinely practical travel camera, for both stills and video.
Firstly, that video. Like the Spark, the Mavic Air packs a ton of autonomous skills that are the equivalent of your camera's 'auto' mode. There are two new Quickshots, which are short, one-button cinematic sequences.
'Asteroid' zooms out from your target, and by stitching together a spherical panorama, combines this with a 'tiny planet' effect. 'Boomerang', meanwhile, sees the Air circle around you in an arc – perfect for dramatic wedding shots.
If you don't want to press any buttons at all, there are also improved SmartCapture gesture controls (see below) and a new Advanced Pilot Assistant System (APAS) – flick this on and the Air will attempt to fly around any obstacle in its path.
Looking to shoot longer videos or fly it further? While the Air's max range using Wi-Fi from your smartphone is 80m away (or 50m high), the range stretches to 4km if you use the bundled controller. Although, according to UK laws, you technically still need to keep it in your line of sight.
Buying a Mavic Pro just for stills photography would be a bit like getting a PS4 for Netflix, but it is now a very capable sky-based compact camera too. You can shoot 12MP photos, flick on HDR mode to bring out some extra detail from murky scenes, and shoot 32MP sphere panoramas alongside the usual 180-degree ones.
Two final bits of good news are the 8GB internal storage and the 21-minute battery life. That might not sound long, but it's a big improvement on the Spark and not far off the 27 minutes promised by the larger Mavic Pro.
As ever with drones, it's best to pack one or two spare batteries, lest your film short gets downgraded to a 20-second gif.
The controller: crucial sidekick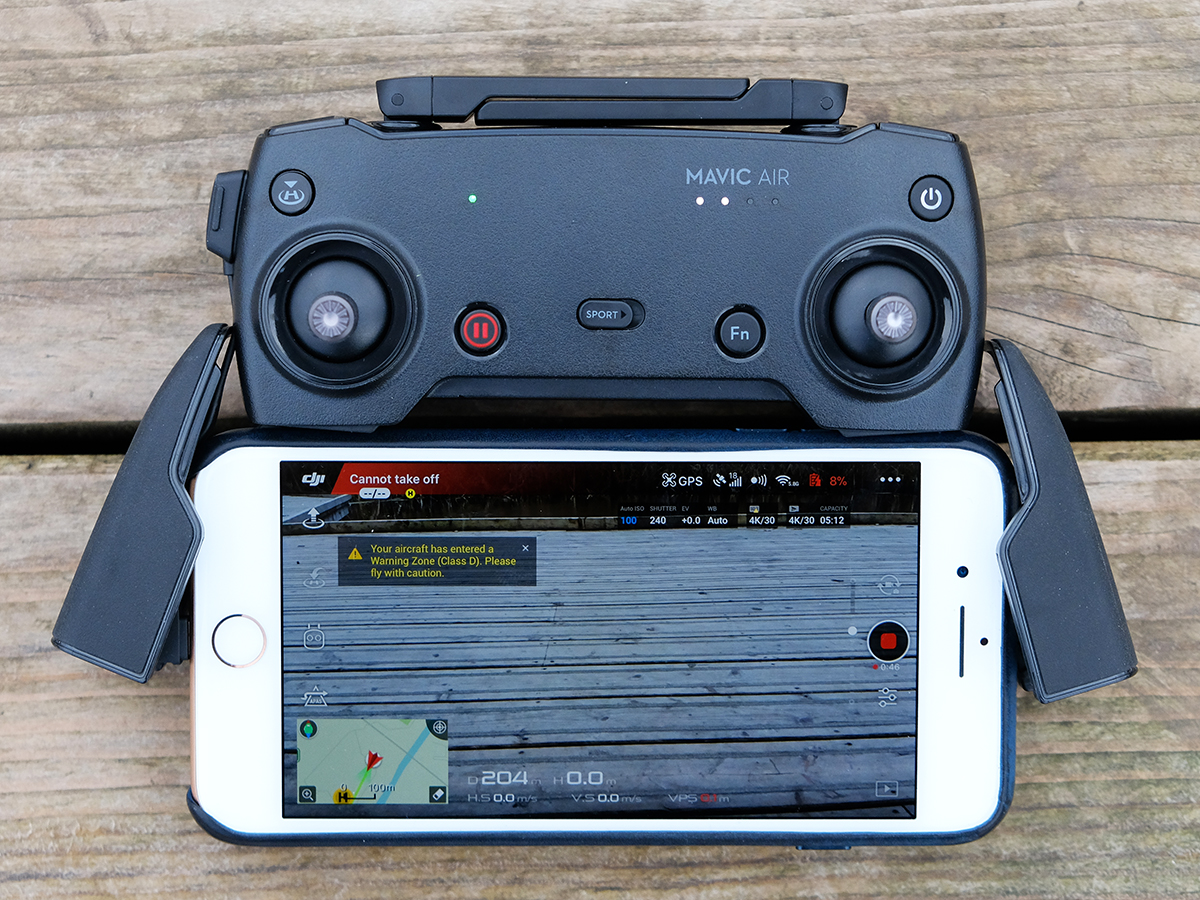 So the Mavic Air is smaller than the Spark and beats its 1080p resolution from a two-axis gimbal with 4K from a three-axis affair. But one of the other main differences is that the Air comes with a controller.
Adding this to the Spark would cost you an extra £130 and, unless you plan on solely relying on autopilot Quickshots, it's a crucial for flying your drone properly and boosting its range beyond 80m.
The sticks give you far greater control than a touchscreen and there are lots of handy physical buttons that ensure you don't need to squint at your screen. Shoulder buttons start video or take a snap, there's an emergency 'home' button on the top left should you panic, and Sport mode in the centre unlocks its 42.5mph top speed.
You don't get the Mavic Pro controller's built-in screen for flight telemetry, but popping your phone between the clamps underneath gives you a live feed and most of the stats you'll need.
Performance: smooth operator, rough edges
Unless you're a pro videographer, the Mavic Air offers the best video and stills performance of any drone you can buy right now.
It's particularly at home in brighter conditions, where its 1.2/3in sensor really picks sharpness and detail that matches the Mavic Pro (and thanks to its higher 100Mbps bitrate, perhaps even surpasses it). The 3-axis gimbal keeps things incredibly smooth too, even in windy conditions.
Still shots are also helped by an HDR mode for added punch and a greater selection of panoramic effects than those available on its siblings.
On the downside, gloomy conditions and scenes with varying brightness levels are more of a challenge for the Mavic Air. Its sensor size means dynamic range isn't always great and videos can start to look a little monochromatic.
You do have the option of pushing up the ISO manually or shooting stills in RAW to help you fix any issues after a flying session. But there's definitely still a place for the Phantom Pro and Advanced's 1in sensor if you're looking for lots of shadow details in all conditions.
The flipside of the Mavic Air's high video quality is that you'll quickly burn through storage – a one-minute videos takes up about 1GB. Good job, then, that DJI has added 8GB internal storage to the Mavic Pro, though carrying a bundle of microSD cards is still a must.
And how is it to fly? In the main, it's an absolute joy, even for relative novices. The Air is incredibly stable for one so small, handling breezy conditions better than the Spark. Its auto modes and many sensors, particularly the new ones on the back, mean it rarely feels out of control too.
That's not to say it's completely crash-proof – sweeping sideways movements can still result in tree-based incidents, if you're not careful. Still, the new APAS (Advanced Pilot Assistance System) means you don't have to think quite as hard about planning flying paths – rather than just stopping at obstacles, the Air will negotiate a smooth route around one, as long as it has a decent run at it.
The Wi-Fi connection, whether through your phone or the controller, is very reliable too. I only had one occasion where I lost touch with the drone and the app crashed. While nerve-wracking, you'll soon find just how reliable the Mavic Air's return home function is, with the down-facing sensors doing an amazing job of scanning the ground for its exact take-off spot.
The downsides: not quite free as a bird
Aside from its price, there are few practical downsides that prevent the Mavic Air from being a crossover, mainstream gadget hit.
Firstly, while its 21-minute battery life is an improvement on the 16-minute Spark, in reality you'll more realistically get about 15 minutes in the air after connecting, taking off and landing.
Put in in Sport mode, and that'll drastically reduce too. Sure, you can buy extra batteries, and I'd recommend getting the £949 Fly More Combo pack if at all possible. But that takes it up to the cost of a very good compact system camera.
Then there's the noise factor. Unlike the Mavic Pro Platinum, there's no option of low-noise propellers. While the Mavic Air can only be faintly heard when up in the sky, it does basically sound like a lawnmower when taking off or landing. It's just something to bear in mind if you're planning to use it in public places or at events.
This is also partly why many places, including Royal Parks in the UK, have now banned drone flying, which means you can be a bit restricted on where you can fly. Still, the DJI Go 4 app handily has built-in guidance for that, and you'll be fine as long as you follow the latest guidance…
Where can I fly the Mavic Air?
It's fair to say the laws about where you can fly drones, particularly in the UK, are a little vague.
While there are even differences between London boroughs, the general rules are that you should always have your drone in your line of sight (making FPV goggles a slightly grey area), at least 50m from people and properties, 150m from crowds and built-up areas, and below 120m in height.
Of course, definitions of crowds might differ from person to person, but there are guides available both from DJI and The Drone Code.
In reality, then, you're largely restricted to playing fields, parks, coastlines and private land. But it's funny how much of that you can suddenly find when you've got a shiny new drone to fly.
DJI Mavic Air verdict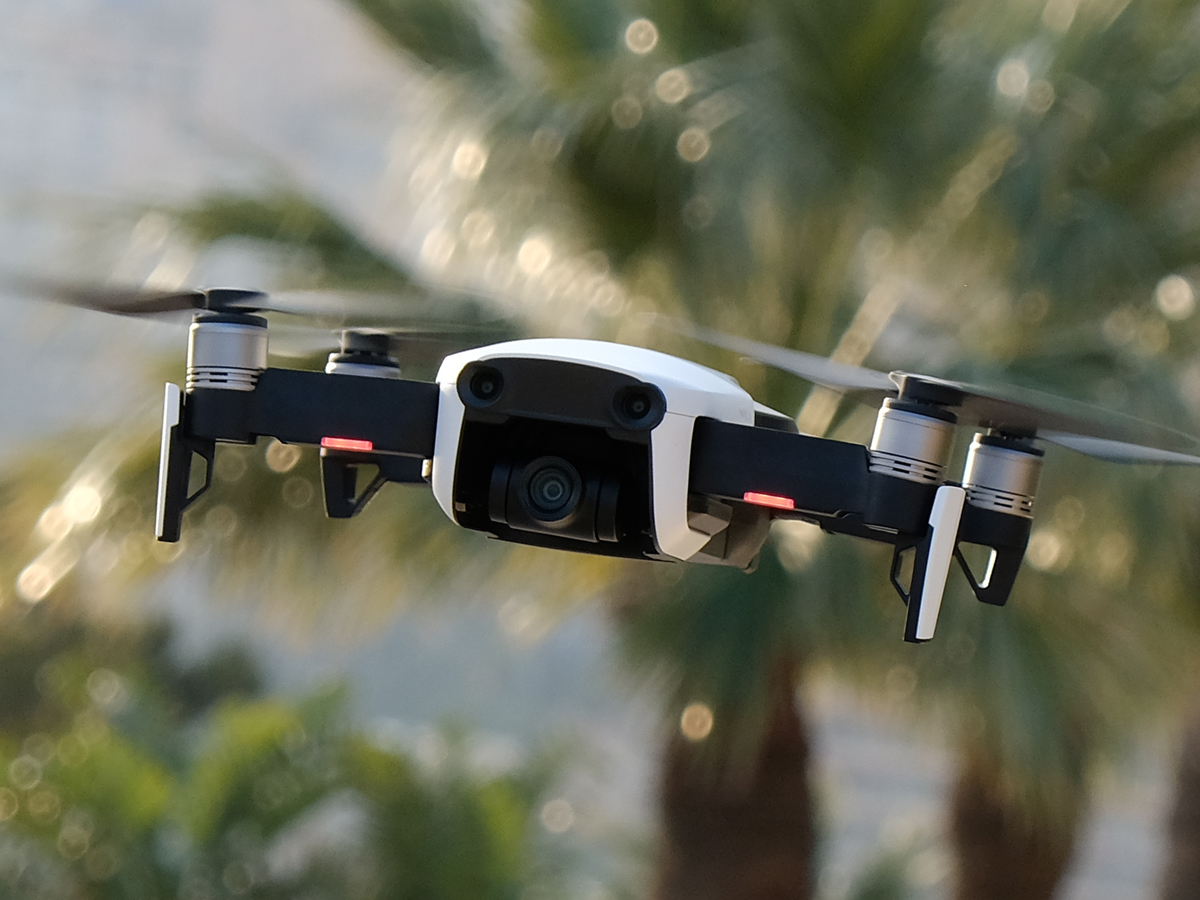 The Mavic Air is DJI's most impressive drone yet.
By combining the best bits from the Spark and Mavic Pro, it's made a cracking gadget for both beginners who want stunning aerial travel videos and those who just want to fly a nimble drone full pelt around the local park.
It's such a good all-rounder that it's actually hard to recommend getting either the DJI Spark or the Mavic Pro ahead of it, unless price or battery life considerations put you off. Once you've added a controller to the Spark, the Mavic Air is only £190 more – and the video quality, portability, extra range and longer battery life more than justify that.
The recent Mavic Pro Platinum does promise lower noise levels and 30-minute flight time, which are two of the Air's main weaknesses, but at £1200 it's a significant jump up.
Which leaves the Air as our current favourite flying, autonomous 4K camera. It's an amazing gadget that slips into a hiking backpack and can shoot videos that would have, until recently, required serious flying skills and a film studio budget.
Now, where to take it next…
Stuff Says…
The best non-professional drone you can buy, the Mavic Air takes flying cameras to new gadget heights
Good Stuff
Incredibly portable
Very good video and stills quality
A cinch to fly
Bad Stuff
Battery life still quite restrictive
Quite noisy when nearby