DJI Mavic Mini review
Light enough to go unregistered
Thanks to a few morons with nothing better to do than fly their drones around airports, the UK's laws now state that any UAV weighing over 250g must be registered with the Civil Aviation Authority.
If you fancy yourself as a casual flyer and all that sounds too much like hard work, DJI's got your back with its excellent new 249g Mavic Mini.
Yes, you read right, DJI has undercut the law by just 1g, and it's done so by taking some of the best bits from the Mavic Air and squeezing a few features out to hit that weight.
With a starting price of £369, it's also the most affordable DJI drone, but with no 4K video recording or object tracking, it isn't without a couple of compromises.
Design: Like a Mavic, only mini
In standard DJI fashion, the Mavic Mini is basically a Transformer. With its good guy, light grey finish it's definitely an Autobot, and it unfolds from a palm-holdable, bug-like mechanoid into a 'Honey, I Shrunk the Quadcopter' drone in four swift swivels.
Around the back there's an exposed micro SD card slot, a micro USB port (why no USB-C DJI?) and a battery door. Sensors at the bottom help it land with elegance and grace, unlike Parrot's Anafi, and there's a power button too.
Finally, at the front is a camera, steadied by an Osmo Pocket-a-like three-axis gimbal, which is guarded by a removable plastic shield.
Features: Stayin' alive
There are a lot of headline features here but that 30-minute flight time on a single charge is definitely up there when it comes to oooof-factor, as most small drones conk out very quickly.
It's also worth noting that if you opt for the Mavic Mini Fly More pack from DJI – which costs £459, £90 more than the base price – you'll get three batteries and a charging hub included. That translates to up to 90 minutes of flying.
The Fly More pack fun doesn't stop there. The charging hub doubles up as a power bank, and it also ships with 360-degree propellor guards to protect your Mini – very handy for novices and a must if you think you'll find yourself flying in enclosed spaces.
In the box, you also get a controller that unravels to hold your phone. Its antennae poke up, its joysticks screw on and it pairs with the app via a plug-and-play connection. While it takes a minute to set-up, it worked every time, with the Mini shipping with Lightning, micro USB and USB-C cables to cater for every kind of phone.
As the phone screen becomes a viewfinder for the drone, it receives an HD feed, though how well it's able to hold a connection will depend on how digitally polluted your environment is. If you're flying in a space with loads of networks, you might find your link breaking up at about 40m. In more secluded spots, our connection held in excess of 50m.
If the connection does fail, the clever DJI Go Lite app will save your home location and ensure the Drone comes back to where it took off.
Camera: Steady-on
The DJI Mavic Mini may be impressive, but it's definitely no Mavic Air or Pro. The drone's 12MP 1/2.3in sensor shoots video at a maximum resolution of 2.7K, not the 4K of its bigger brothers. It also caps out at 30fps, so if you want higher 60fps frame rates for slow-motion edits, you'll need to drop to 1080p resolution.
The Mini also misses out on some features many drones offer, most notably, object tracking. This means you can't wander wistfully on the coast and have your drone follow you – you'll need a pilot for that. The Mini's app also offers no control over the style of footage captured. The DJI Osmo Action, for example, gives you the option to shoot with a Cine profile, which made videos look lovely and flat. The Mavic Mini captures what it captures, and that'll have to do.
Luckily, in well-lit conditions, it most likely will do, with footage held together incredibly steadily and looking nice and sharp with a healthy amount of punch. There are three flight modes: Position, Sports and CineSmooth. Position is the default, Sports speeds up the Mini and CineSmooth slows it down, reducing breaking times for more luxurious pans.
In addition to standard video capture, four QuickShots have returned from the Mavic Air. These are pre-defined, high-impact flight paths and they look ace. Rocket sees the Mavic Mini fly straight up into the air with the camera pointing downward following you. Choose Circle, and the drone circles around you at a constant altitude and distance. Dronie will make the Mini fly backwards and upwards, with the camera tracking you, and our favourite, Helix, sees the Mini spiralling around you for a proper Ben Fogle Castaway 2000 shot.
As with most drones, low light is the Mavic Mini's Achilles heel, but it's still as good as it needs to be for its price.
Verdict: As good as it gets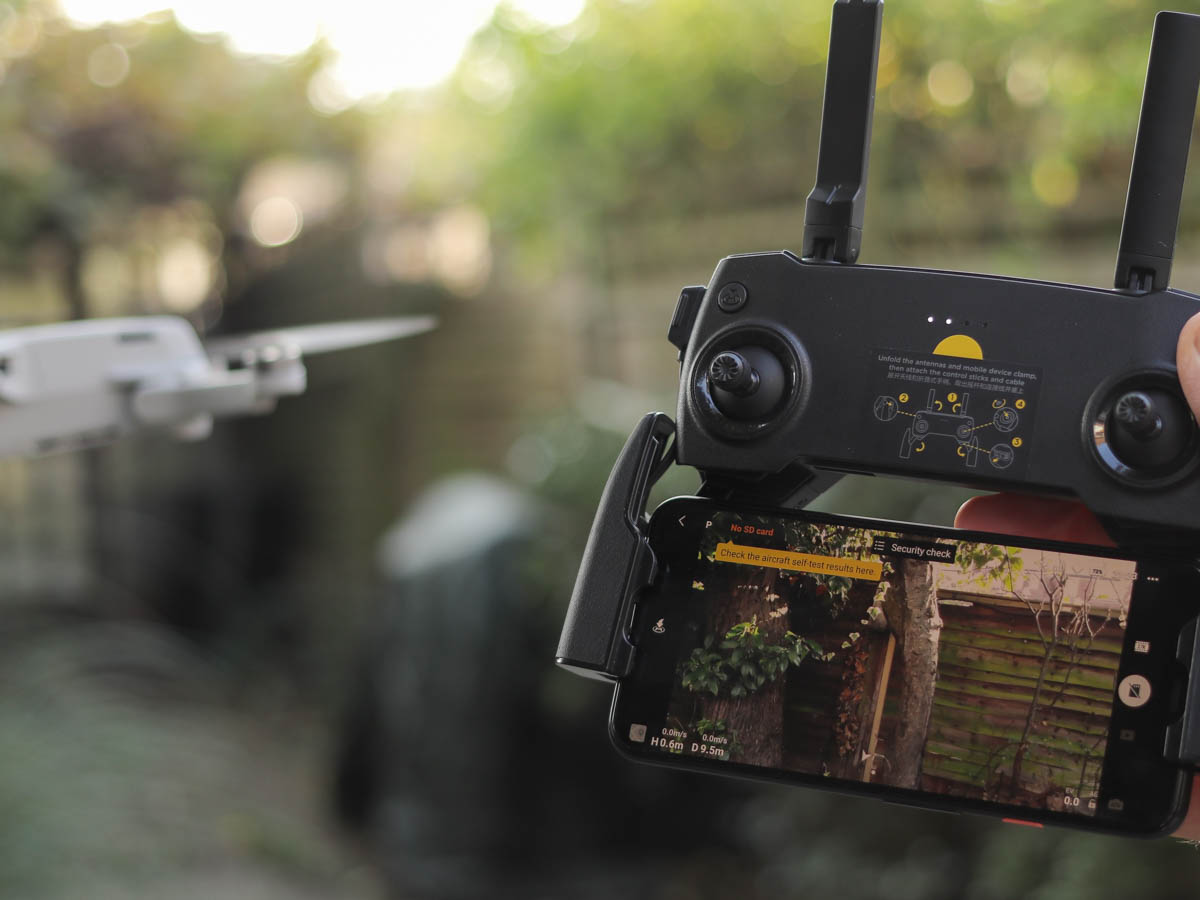 The Mavic Mini definitely won't be for everyone. If you want maximum control over your footage, have no qualms about registering your drone, need 4K capture at 60fps, are OK with spending the best part of a grand and consider object tracking a must-have, you'll want to look elsewhere.
If, however, you want to get a fantastic balance of user experience, features, convenience and quality at a stomachable price, the Mavic Mini is the most accessible premium drone we've used to date.
Stuff Says…
Dinky drones don't come more feature-packed, and bigger drones need to be registered, making the DJI Mavic Mini a drone in a league of its own
Good Stuff
Absolutely dinky
No CAA registration needed
Fantastic stabilisation
Great battery life
Bad Stuff
No 4K capture
No object tracking
Limited image control