DJI Osmo Pocket review
Can this dinky drone cam beat your phone cam?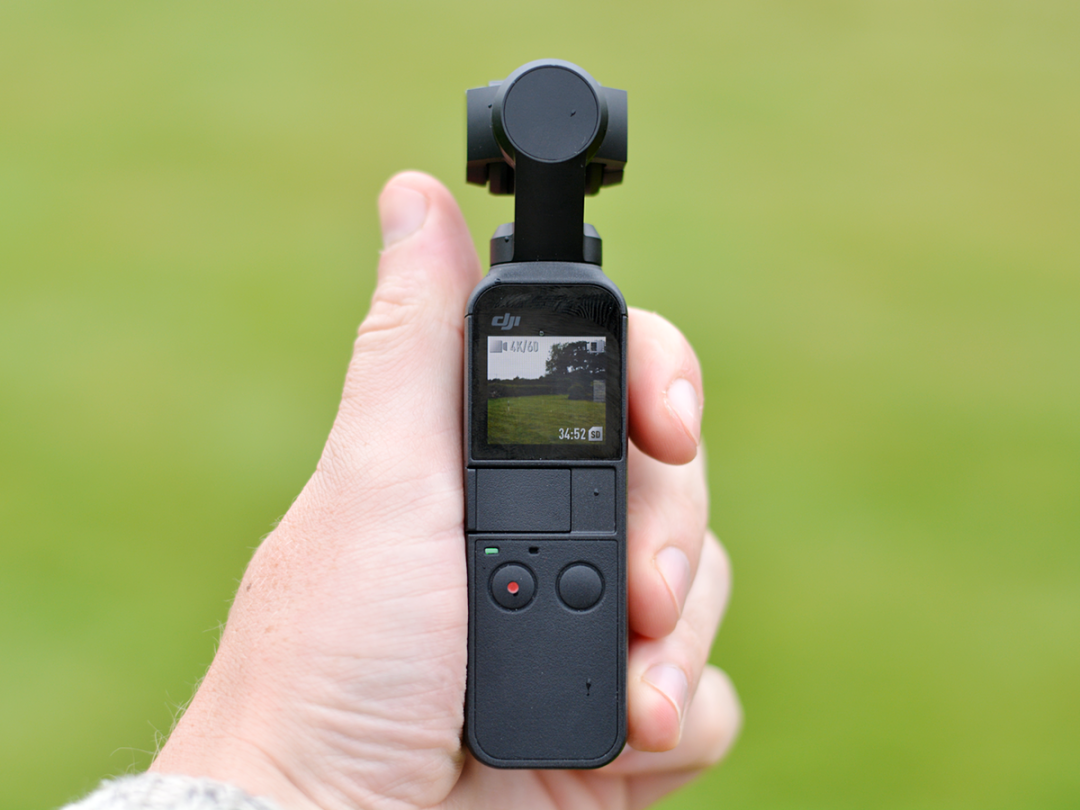 How do Hollywood film crews get such wobble-free shots? With rigs, cranes and lots of counterweights. Great for reducing cinematic motion sickness, not so great for DIY directors who want to travel light.
But that doesn't mean your backyard blockbuster has to go all Blair Witch: meet the Osmo Pocket, a compact cam that blends the portability of a GoPro with the kind of shooting stability usually reserved for one of DJI's drones.
Topped by a three-axis mechanical gimbal and small enough to slip into, well, a pocket, the Pocket promises truly smooth 4K footage without the big-screen bulk. But does the dinky thing deliver – and is it worth the cash to better your smartphone?
Design and durability: decent fit
Out of the box, the Pocket immediately matches its moniker: at just 12.2cm tall and 116g light, this thing is properly compact. If you can fit a Double Decker chocolate bar in the front of your jeans, you can comfortably find space for the Osmo, even with that hinged gimbal at its head.
Whether you'll want to stuff it down your denims is a different question. Its shell feels sturdy enough, but it's no rugged GoPro (not that it claims to be) and that robotic arm harbours all sorts of delicate tech that won't fair well if squashed by a wallet. Better to harbour the Pocket in its bundled carrying case, which adds a little bit of bulk but means your gimbal won't go wonky.
Of course, such compact proportions don't come without compromise. The Pocket fits neatly and firmly in the palm, its two front buttons making it easy to switch between shooting modes, flip the lens around to face you and start/stop recordings, but its touchscreen is truly tiny.
Sure, the display is just big enough to scroll through settings and accessing the menus soon becomes intuitive, but it's much too small to do delicate stuff, especially if you possess less-than-slender digits. For that, you need to attach either your smartphone or the optional Control Wheel to the front-mounted accessory port, which makes panning and tilting a whole lot easier.
Quality and performance: pocket rocket
That little LCD also makes it tricky to check the quality of footage you've shot. Then again, you don't really need to: transfer clips over to your laptop or phone and you'll find almost everything captured by the Pocket is sharp, smooth and better than what your smartphone can do.
Swipe twice to the left and you'll find a range of resolutions and frame rates, going all the way up to 4K at 60fps. Fiddle around elsewhere and you can choose between fine and superfine, while enabling Pro mode lets you tweak colour temperature, white balance and exposure if you fancy.
Leave it on auto, though, and the Pocket delivers what you'd expect from a DJI cam – namely high-quality video in almost all lighting conditions. Its 1/2.3-inch sensor adapts quickly to changes in brightness and only shows signs of struggling in low light, where things can get a bit grainy.
Naturally, recording in the highest settings will batter the battery – and the Pocket has a propensity to get quite warm when you're truly pushing it – with an hour of shooting about the best you'll get at 4K. Drop it down to HD, though, and you can squeeze a couple of hours out of a single charge while still getting clips good enough to share.
Stabilisation: steady as it goes
But what about that headline stabilisation? It is, in a word, fantastic. With the mechanical gimbal working in three axes to physically counteract movements – occasionally fighting intentional motion, too – the resulting footage is so steady that it's sometimes hard to believe it came from a handheld camera.
Whether you're walking through city streets, sprinting through trees or cycling in the summer breeze, the Osmo Pocket frequently delivers video of outstanding stability. Toggle to tell it the pace you're going and you're all set to get jitter-free footage.
A trio of gimbal modes is at your disposal to achieve the effect you want, too: FPV for a first-person experience, Tilt Locked for fixed-pitch shooting and Follow for do-it-all stabilisation that follows and smooths your hand movements. Each has its virtues and all three deliver the kind of stabilisation your smartphone can only dream of.
And that's especially noticeable when you enable the Pocket's subject-tracking smarts. Double tap on a face or object on the screen and it'll lock on, keeping said face or object in view as both you and it move around. It's largely reliable and brilliantly effective, whether you're shooting yourself or something else, and takes the pain out of framing.
Any flaws? Audio quality is only average with the microphone picking up plenty of wind noise, so you'll want to buy the 3.5mm accessory (or use the included USB-C adapter with a third-party one) and use an external mic if you're planning to use the Pocket for pieces to camera.
Otherwise, the only glitch came when the gimbal failed once or twice to recalibrate to centre, likely a symptom of the complex motors inside and nothing a quick switch-it-off-and-on-again couldn't fix.
Shooting modes: options galore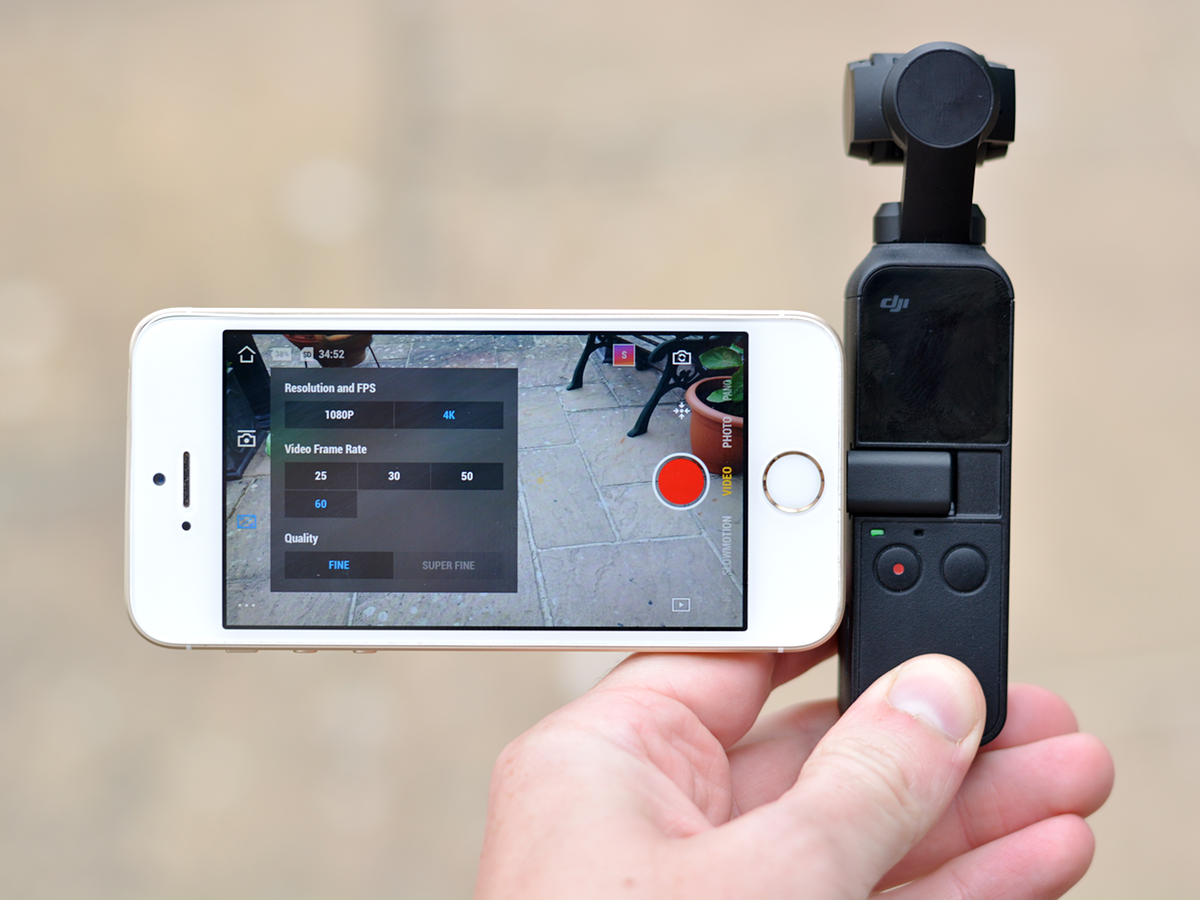 When you're not filming event highlights, the Pocket can step in to make even the mundane look magical.
Dive into the menus and you'll find the option to take 12MP photos, snap automatic panoramas, shoot in slow-motion and capture timelapse videos. The last of these features is particularly impressive, especially if you deploy the Motionlapse mode: set a start and end point for your clip by manually moving the gimbal and tapping on the screen, choose a shooting interval and the Pocket will capture a timelapse while gradually panning, for a properly cinematic effect.
Keen to try it out? The Wireless Module (part of the expansion kit) doubles up as a handy base while also allowing remote smartphone control.
And, on the topic of smartphones, the Osmo Pocket enters another realm when you connect it to your blower by means of the bundled Lightning or USB-C adapters. It's a slightly awkward solution that sees your mobile stuck out at a right angle on the little nubbin, but it's worth it: fire up the Mimo app and you'll find all of the above shooting modes at your fingertips and, in many cases, both easier to control and with additional functionality. ActiveTrack, for example, takes on a different dimension on a phone screen, with the option to draw a square around an object you'd like to track.
The app is also where you'll find Story Mode, which offers a raft of video templates with preset gimbal moves. It's as easy as picking a theme, shooting each clip and waiting as the app stitches them together before firing out a nifty mini-vid, complete with zippy transitions. It's not as customisable as many might like, but the results can be pretty impressive and would take a wee while to replicate manually with editing software.
That said, the Mimo app is not immune from glitches. It crashed on a couple of occasions, while a few of the pre-progammed story motions simply didn't translate to a physical action on the camera. Generally it's a case of simply restarting the app, but it's a frustrating niggle for what is otherwise strong partner software.
DJI Osmo Pocket Verdict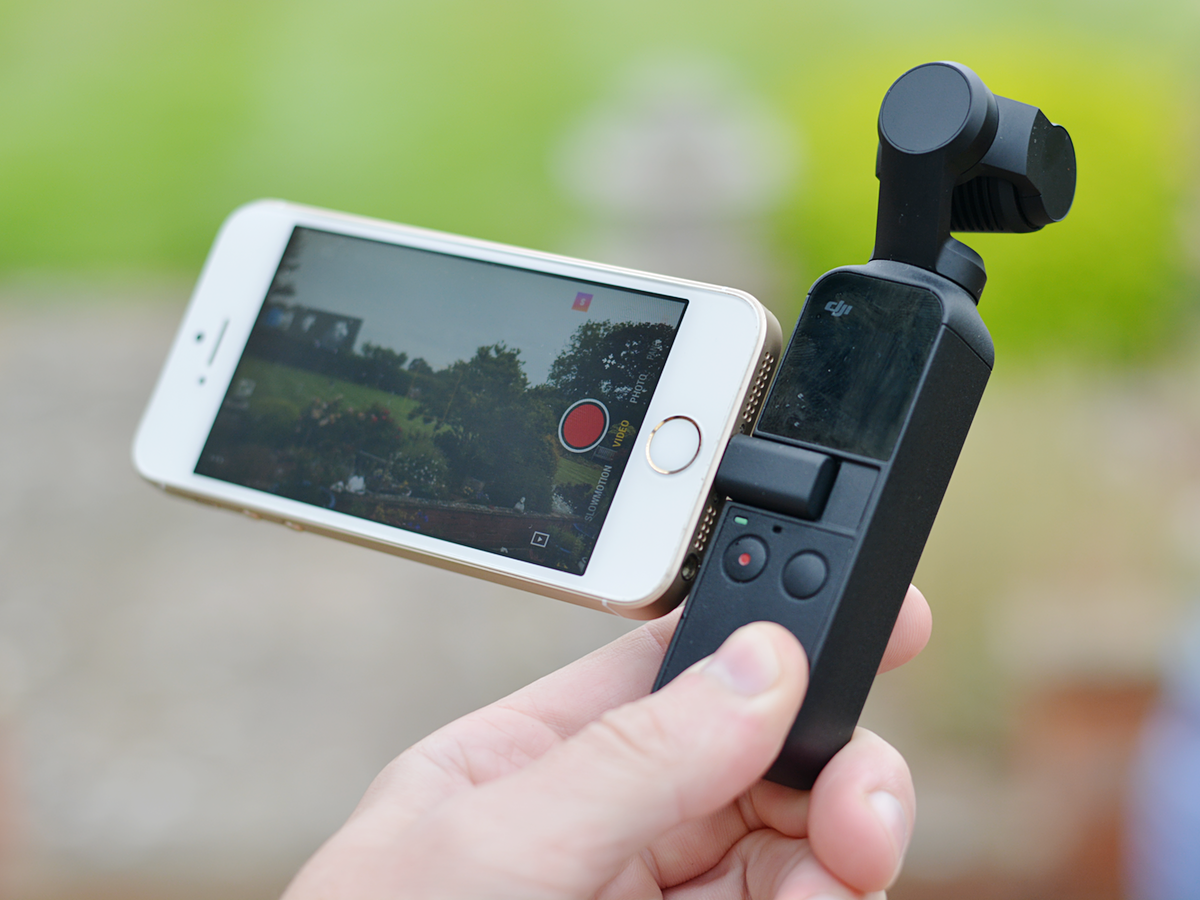 In truth, the biggest problem facing the Osmo Pocket is necessity. It's fun, intuitive and impressively capable, delivering footage so stable it makes tripods jealous. But who is it for?
Videographers won't be tempted away from the quality and versatility of pro kit; thrillseekers will want something more durable; vloggers will bemoan the lack of livestreaming; and, while the smartphone crowd might like the idea of smoother shooting, the £329 price tag makes the Pocket far from a pocket-money purchase.
So it's a niche thing, neither accessory nor standalone camera, priced like a proper compact but best used with your mobile. Does that make it a bad product? Absolutely not. In fact, it was the most enjoyable filming experience I've had since my very first camcorder, sprinting gleefully across the garden while in awe of the little gimbal's stunning stability. I'm just not sure I'd pay for it.
Stuff Says…
Silky smooth shooting in a pint-sized package, the Osmo Pocket takes a novel niche and fills it well – if expensively
Good Stuff
Super-smooth and ever-steady
4K footage looks delicious at 60fps
Shooting modes make Hollywood shots a cinch
Bad Stuff
Fiddly to control without accessories
Things gets toasty on the highest settings
App can be pretty glitchy