DJI Spark review
Didn't think you wanted a drone? You do now...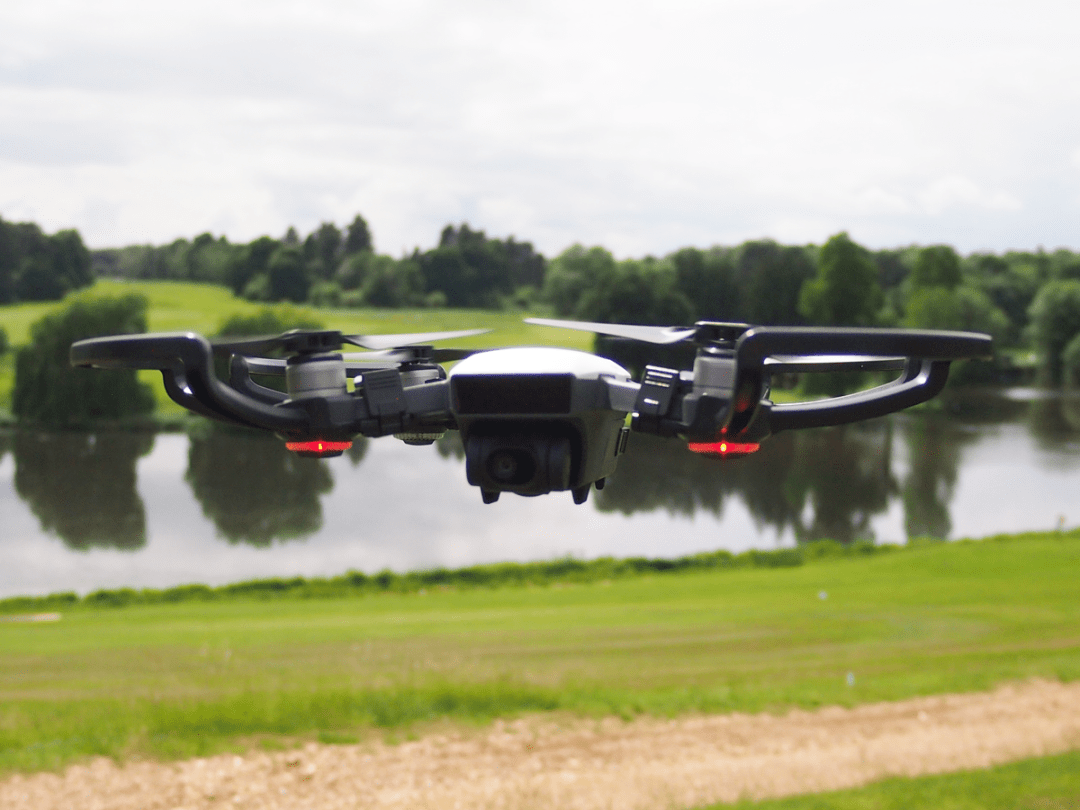 Updated 19/7/17: we've now taken the Spark's controller (available as part of the £699 Fly More combo pack) out for a spin to see how it compares to using the smartphone app. Scroll down to read our findings in the 'DJI app and controller' section below.
For most of us, drones are still a bit like camcorders were in the '80s – great gadgets to have around, as long as someone else is responsible for them.
They're just a bit, well, needy. First, there's the cost. Then carrying the thing around. Followed by finding somewhere to fly it. Then, most likely, a humiliating tree-based incident.
But the Spark is different. DJI's previous mini drone, the Mavic Pro, is a real zinger, but it costs over £1000 and comes with a slightly intimidating controller.
With the Spark, that controller is an optional extra, because it's aimed at complete beginners. You can control it with just a few taps of your smartphone (or even a wave of your hand), thanks to some excellent auto-flying modes.
This alone would be enough to make it a bundle of gadget joy, but it's also impossibly tiny. And despite weighing the same as a compact camera, it's packed with high-end tech, including a two-axis gimbal for steadying its 1080p video.
The Spark may not be perfect, but it is one of the most fun gadgets I've played with in years…
DJI Spark design: more than a flying GoPro
When you consider what the Spark can do, it is astoundingly small and light. Mini drones aren't new, but ones this capable are. Its rivals may as well be paper aeroplanes.
At 300g, the Spark is less than half the weight of the Mavic Pro and is 200g lighter than its closest rival, the Parrot Bebop 2.
Those smaller dimensions don't quite make it pocketable – unlike the Mavic Pro, you can't fold down its rotors, so it's only slightly more portable when tucked into its case. But it easily fit into my small cycling bag, and was barely more noticeable than my water bottle. It's really what the GoPro Karma should have been.
So what has DJI packed into a drone that weighs the same as our favourite compact camera? A ton of sensors, for a start. There's a forward-facing vision system (to stop it flying into things), a downward-facing camera that helps it auto-return to the exact spot it took off from, and the main 12MP, 1080p camera.
That camera is stabilised very nicely by the two-axis gimbal. And you also get GPS and Wi-Fi, for sending a livestream of its view to the iOS and Android app – or even FaceBook Live.
Of course, DJI hasn't quite overcome the laws of physics – the two main drawbacks are that it can't record 4K, and its 16-minute (maximum) battery life.
That first limitation is perfectly fine – the Spark's 1080p video is more than good enough for YouTube and social media. But in practice, that battery life means you really do need a couple of spare batteries. These cost £55 each, or you can get two plus the controller with the £699 'Fly More' bundle. Suddenly, it's very much in two or three birthday presents territory.
Still, you'll be able to show whoever kindly bought a Spark that it's far from a plastic toy – this is a really well-built little thing. In two unplanned meetings with a tree, the result on both occasions was merely a broken propeller blade, which cost just £9 for a pair. The Spark also comes with propeller guards, which even seasoned drone flyers would be wise to clip on.
DJI Spark gesture controls: could be more handy
The Spark's sci-fi party trick is its 'gesture mode', which lets you control it using hand signals. That's right, no controller or smartphone needed – just your arms and, well, quite a bit of patience.
The idea is to give you an easy way to take aerial stills or selfies (video isn't possible in gesture mode yet), without having someone in the shot faffing around with a smartphone.
When it works, it does feel like you have telekinesis. Hold the Spark in your palm and, once it's registered your face, its props will start whirring and you can release it into the air. You can then move it around with your palm, wave it away to take an aerial selfie from a few metres back, and ask it to take a shot by making a rectangle with your fingers (which doesn't at all feel ridiculous).
Sadly, all of this all only worked for me about half of the time. At least with the Spark's current firmware, it's simply too easily distracted either by other people or bright sunlight, or a combination of the two.
The feedback system of red, yellow and green LEDs takes a little getting used to, and you have to keep a very regular distance from the Spark to avoid losing your gesture mode connection. Without any rear sensors, it's also not wise to do this around trees or expensive chandeliers.
Still, none of this really matters. Why? Because 'gesture mode' is merely the icing on an otherwise amazing flying cake…
DJI Spark auto modes: your robo-director in the sky
The great thing about the Spark is that it isn't just a dumbed-down version of DJI's more expensive drones.
Like the Mavic Pro, there are stacks of 'auto' recording modes, and it even has some new 'set piece' shots that, right now, you can only get on the Spark.
You can see these four 'QuickShot' modes in the video above. In each one, the Spark will perform a 30-second routine around your chosen subject (which you choose by dragging a square around it), resulting in a clip that might just convince Facebook friends that you're Alfonso Cuarón's nephew.
In 'Rocket', the Spark will fly vertically upwards with the camera facing down. With 'Dronie', it'll fly backward and upwards away from you, like a 100m-long selfie stick. And with 'Circle' and 'Helix' it'll fly around you, with the latter providing a dramatic, 'final scene' arc.
'Helix' did admittedly provide me with my only Spark-based 'Fenton!' moment, when it decided that it quite liked the scenery and flew out of range behind a tree. But like a returning superhero, it then reappeared above a tree as its 'return to home' mode kicked in.
You can easily spend a weekend just playing around with these QuickShots, but they're just tasters for the Spark's more powerful auto modes.
Like the Mavic Pro, it also has 'ActiveTrack', a much-improved mode that first debuted on the Phantom 4 and lets you choose a moving subject to lock on to and follow. Similarly, 'TapFly' lets you touch a point on the screen for the Spark to fly to at its current altitude, while using its sensors to weave around obstacles.
All of these work incredibly well. Together, they give you loads of options for making a short film with varied cut scenes, rather than just a classic 'waving at the drone' aerial shot. Drones must be sick of people doing that.
There are a few limitations. When controlled by the smartphone app, the Spark has a max range of about 100m, which does quickly run out. The Spark can also take a little while to respond to fast-moving objects like cyclists, which means you'll often get a following shot.
OK, so you're not quite going to recreate the motorbike chase from Skyfall. But these modes are brilliant for making pro-looking snippets that can be woven together into a little, soundtracked souvenir film of your barbecue, beach visit, bike ride or football match.
You'll be able to watch this back on a TV too, because the Spark's video quality is great. The gimbal keeps your footage buttery-smooth, unless there's a real gale blowing. And while it can't record 4K and struggles slightly as day turns to dusk, the Spark does have the same size image sensor as the Mavic Pro. This means good dynamic range and extremely crisp videos with lots of detail.
Ready to move beyond the Spark's auto modes? Just like a proper camera, there are lots of manual controls to be discovered too…
DJI Spark app and controller: taking things into your own hands
The DJI Go 4 app can initially look intimidating to beginners. But there's no need to worry – the app is very well laid out, really responsive, and you very rarely feel like the Spark's out of control.
This is helped by the two 'get out jail' buttons on the left: the 'land' button, and the very comforting 'return to home' button. The former sees the Spark land on the spot that's directly below where it's currently flying, while the more powerful 'RTH' (effectively its 'force quit' button) sees it rise high above any trees, before hunting down the exact spot it left from.
It has an uncanny ability to find home, and with good reason – like DJI's other drones, the Spark uses its downward-facing camera to take a snapshot of the area around its 'home' point, which it references when coming into land. Time and again I was amazed to see it land on the exact little grassy mound I'd first placed it down on.
The Spark can also be your manually-controlled, RC flying machine too. Little joysticks appear in the app's live view, but it's the optional controller that unlocks DJI's equivalent of the Tesla 'ludicrous mode'.
With this controller you can enter 'Sport' mode, which increases the Spark's range to 500m in Europe (or 1.2 miles in the US), and its top speed to a nerve-wracking 31mph.
It doesn't come cheap though. Bought as part of the Fly More Combo bundle with the Spark, two additional batteries, a case and a few more accessories, it'll set you back £699. That's a lot of cash, but it's well worth going for if you can afford it.
The controller is a simple beast. You tuck your phone into its rubber grips to use its smart controls – such as ActiveTrack and QuickShots – and then use its sticks actually pilot the thing. Naturally, these things give you a lot more precision than with the DJI Go app and make piloting the Spark that bit more fun. With the added range it gives, you're truly free to zoom around wherever you please..
This controller and the Spark's forthcoming compatibility with DJI's Goggles mean you're not going to outgrow it in a hurry. The price tag might seem steep but, unless you're a drone racer or videographer, the Spark is probably all the drone you're ever going to need.
Where can I fly the Spark?
The laws about where you can fly drones in the UK are still a bit vague, to say the least. In fact, there are variations between different London boroughs, let alone countries.
But the general rules are that you should always have your drone in your line of sight (which makes FPV goggles a bit of a grey area), at least 50m from people and properties, 150m from crowds and built-up areas, and below 120m in height.
Of course, what constitutes a 'crowd' is also down to interpretation, but there's lots of guidance available for the confused. Non-drone owners can check out The Drone Code for the six main flying rules. And if you do buy a Spark, DJI has built lots of info into the app.
There's a map showing no-fly zones, and the app also senses what kind of zone you're in, even disabling flight if you're near an airport.
In reality, then, you're largely restricted to playing fields, parks, coastlines and private land. But as DJI told us, expect to see some clarification on UK drone laws later in 2017, once the government has wrapped up its consultation (after, you know, sorting out the small matter of Brexit).
DJI Spark verdict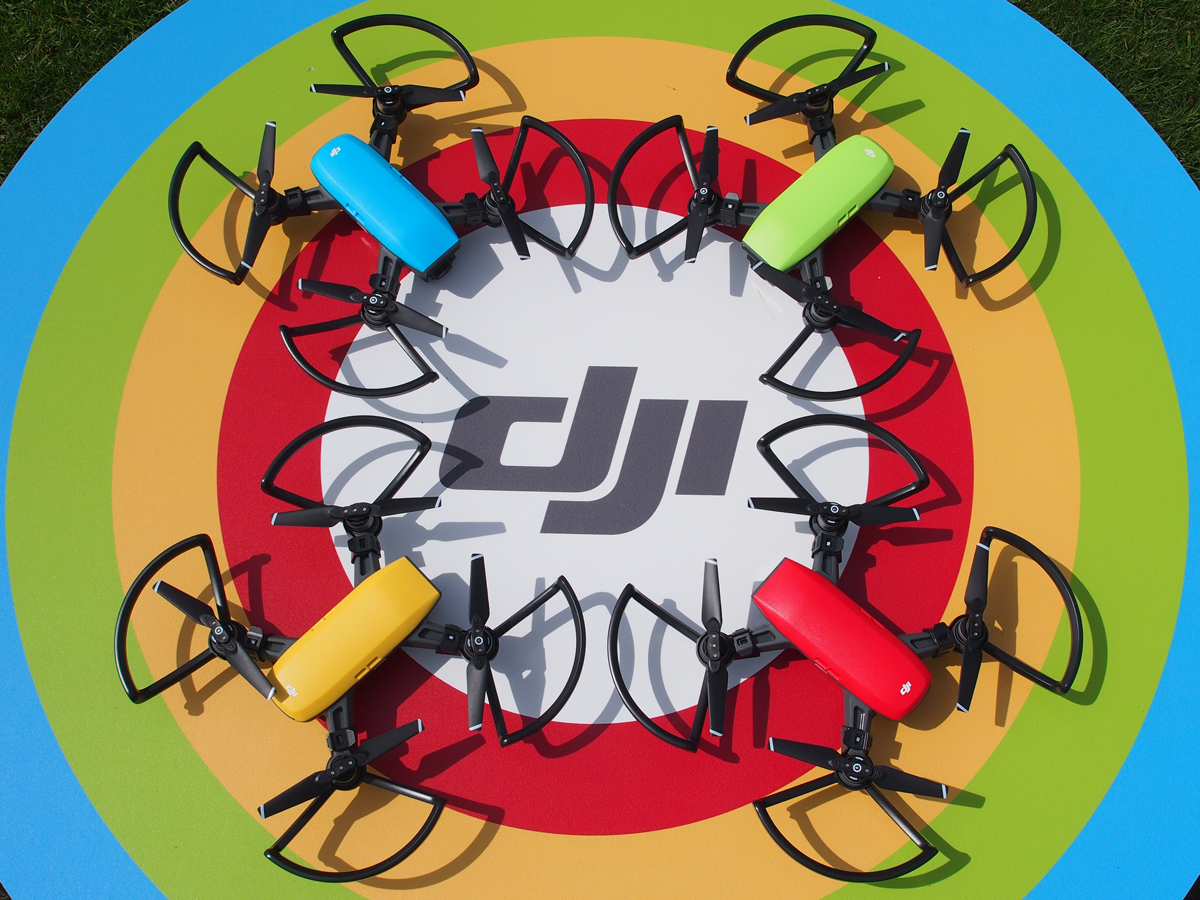 The Spark has found the drone sweet spot and auto-landed right on its bullseye.
In some ways, it's the equivalent of our favourite compact system cameras – loads of auto modes for hassle-free flying, but with enough manual controls to tempt anyone looking to hone their drone skills.
You could even say it has spiritual similarities to the Super 8. That classic little handheld camera gave amateurs an exciting new way to make home movies in the '70s, despite limitations like a three-minute recording time.
The Spark has some limitations too. Its 10-15 minute flying time means I wouldn't recommend buying it without at least one spare battery. The gesture controls need some fine-tuning. And it can be pretty damn noisy when flying at low altitude.
But it's just so much fun to use, and capable of producing such great videos from barely more than three taps of your smartphone, that you quickly forget all this and start daydreaming about where you can take it next.
That's a sign of gadget greatness, and it'll surely sell like flying hot cakes later this month. I suggest you join the queue while the summer is still young.
Tech specs
| | |
| --- | --- |
| Camera | 12MP with 1080p video (30fps) |
| Range | 100m (smartphone), 500m (with controller) |
| Dimensions/weight | 143x143x55mm/300g |
Stuff Says…
A perfect beginner's drone, the Spark has flown down from gadget heaven
Good Stuff
Excellent auto-flying modes
Incredibly small and light
Crisp and colourful HD video
Manual options for levelling up
Bad Stuff
Battery life means you need spares
Noisy at low altitude
Expensive, particularly in the UK