Emotn N1 review: silver stream
Is the Netflix licensed projector a stream dream?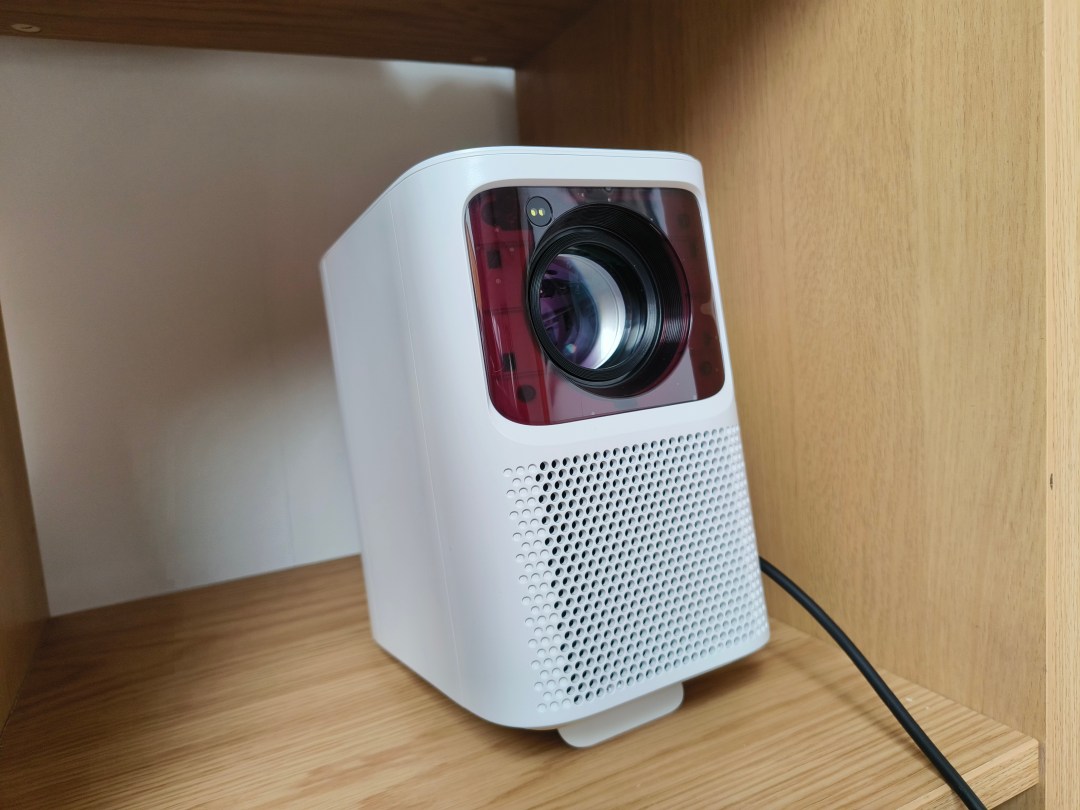 Not satisfied with disrupting the entire film industry as we once knew it, Netflix is now coming for the cinema screens themselves. Well, home cinema screens at least: the Emotn N1 projector is Netflix certified, with an official license from the streaming giant.
Streamer-friendly USP aside, the N1 is also a debut effort by its maker, a a sub-brand of Chinese tech company Dangbei. Having now left home soil and available to buy in Europe, is the standalone Emotn N1 the new must have upgrade for box-set bingers?
Design and connectivity: shelf friendly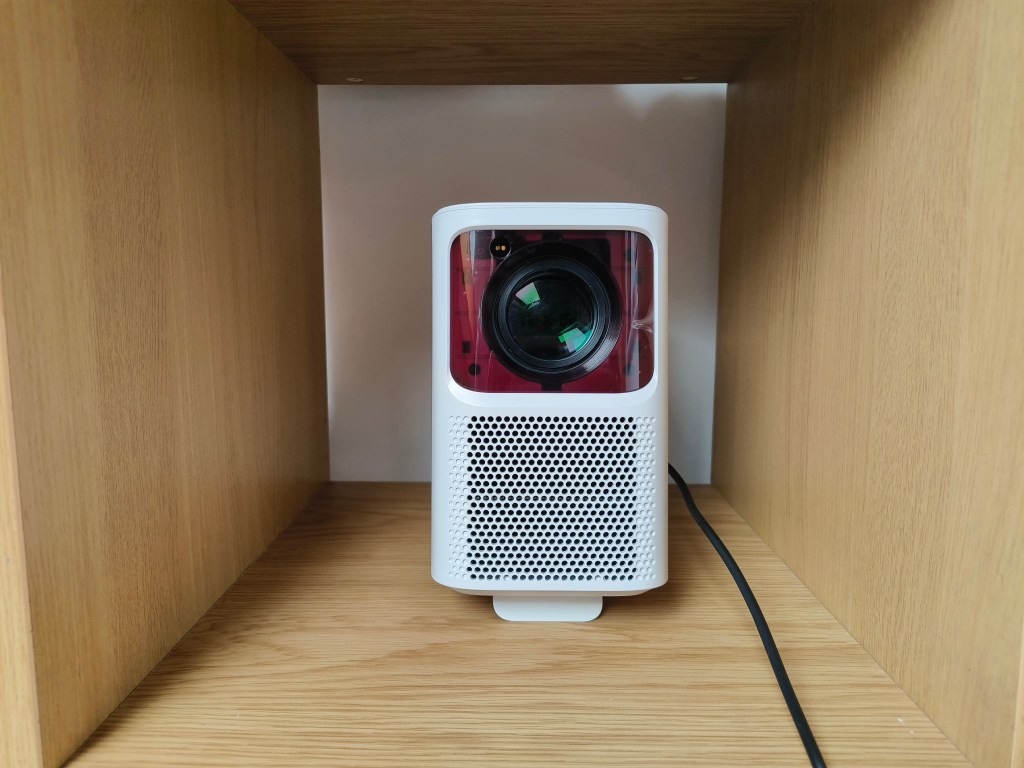 At 182x125x192mm, the Emotn N1 fits snugly on a bookshelf, and at 1.92kg is lightweight enough to sit on a wall-mounted shelves without worry. Not too dissimilar in design to a Sonos One speaker, the Emotn N1 is a refreshing change to the bulky and basic look seen on other projectors. The simple stand feels a little flimsy, but adds a useful amount of tilt if you'll be sticking the projector on a low shelf. A 1/4in tripod thread on the bottom means most mounts and stands are supported.
Connectivity is decent enough given the compact dimensions, with an HDMI input, USB-A, Ethernet and an analogue line out at the rear. Using it with a Chromecast, PlayStation 5 and a laptop worked without a hitch. There's also Wi-Fi and Bluetooth for cable-free streaming, or using the two 5W drivers built into the projector as a wireless speaker for your other tech. You can also cast through the Emotn N1 from your phone.
Setup: plug in baby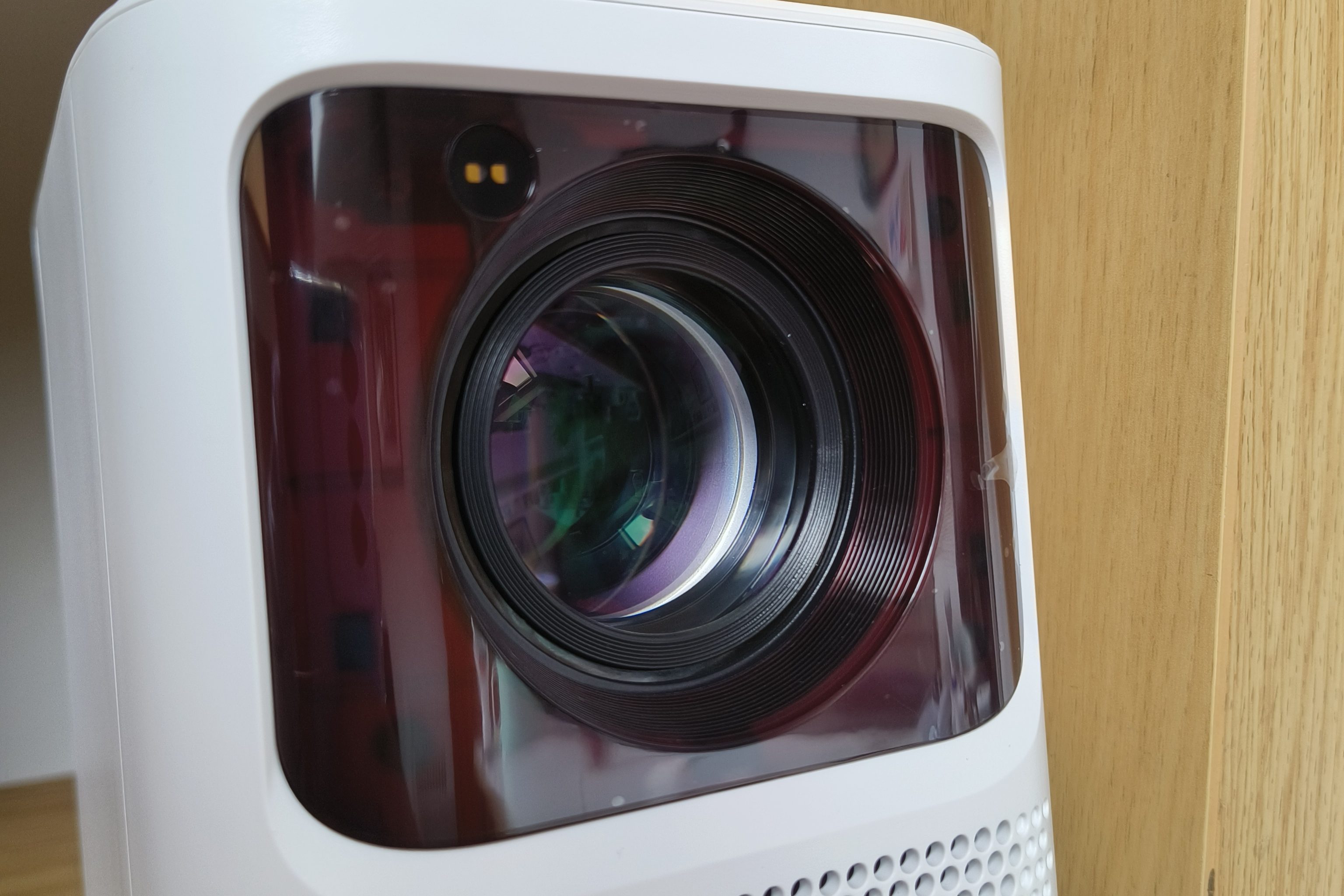 The Emotn N1 favours simplicity: plug it into the mains, press a small circular power button on the top, and the projector whirrs into action. With Netflix built in, you don't actually need to hook up anything else if you're just looking to tackle a constantly growing watchlist.
Setting up the remote is a slight chore, though. It connects over Bluetooth but isn't paired to the projector out of the box, and took a few attempts for it to be recognised. There's also a noticeable delay between the two, which makes turning the volume up and down frustrating. Inputting account emails and passwords was also troublesome, although at least these are one-and-done hurdles. We opted to use a third-party remote over the supplied Emotn one, which meant yet another controller added to our collection.
At least you're then swiftly directed to the Netflix sign-in screen, so you can get into your library within a few minutes.
Features: no stress Netflix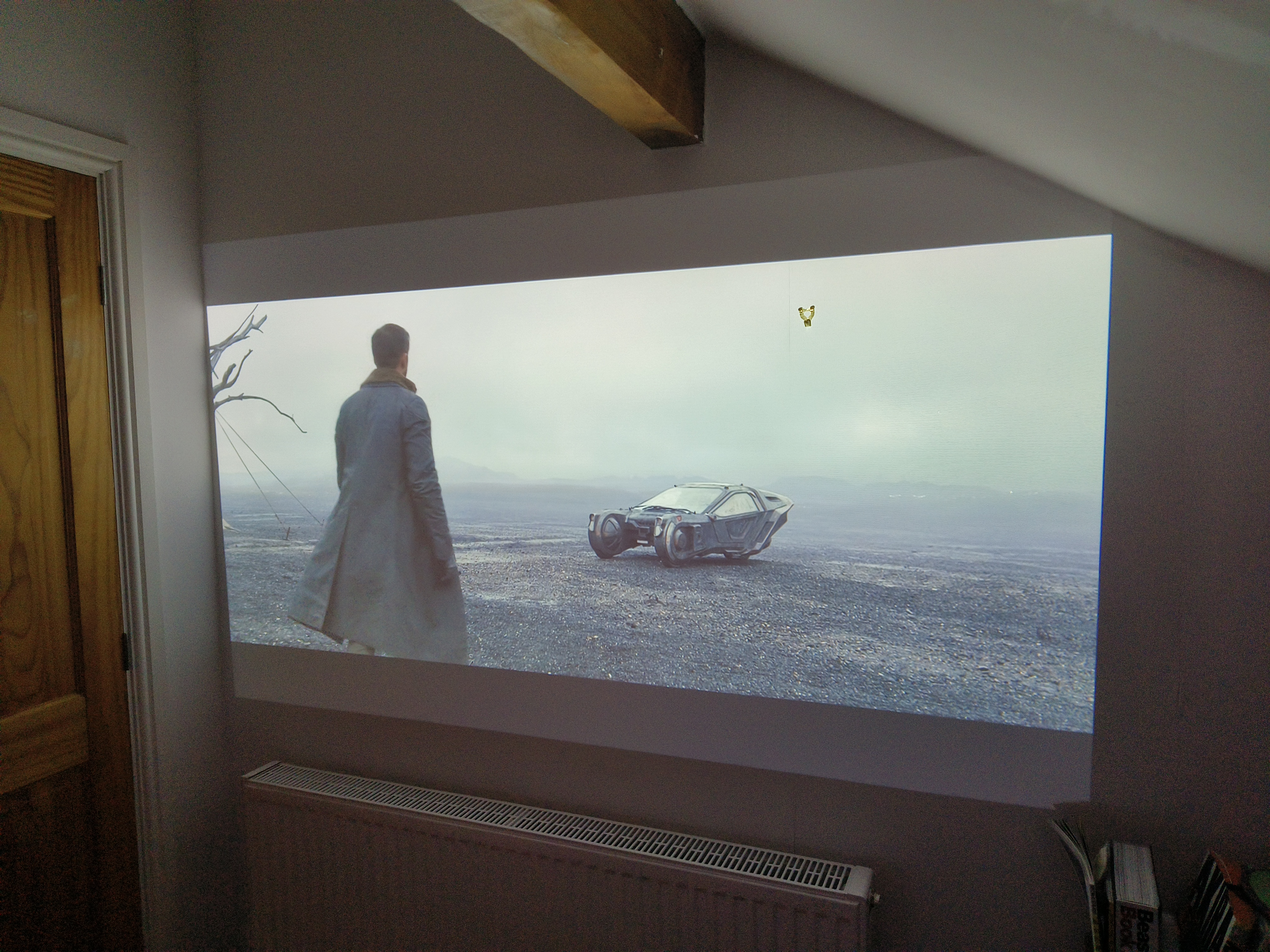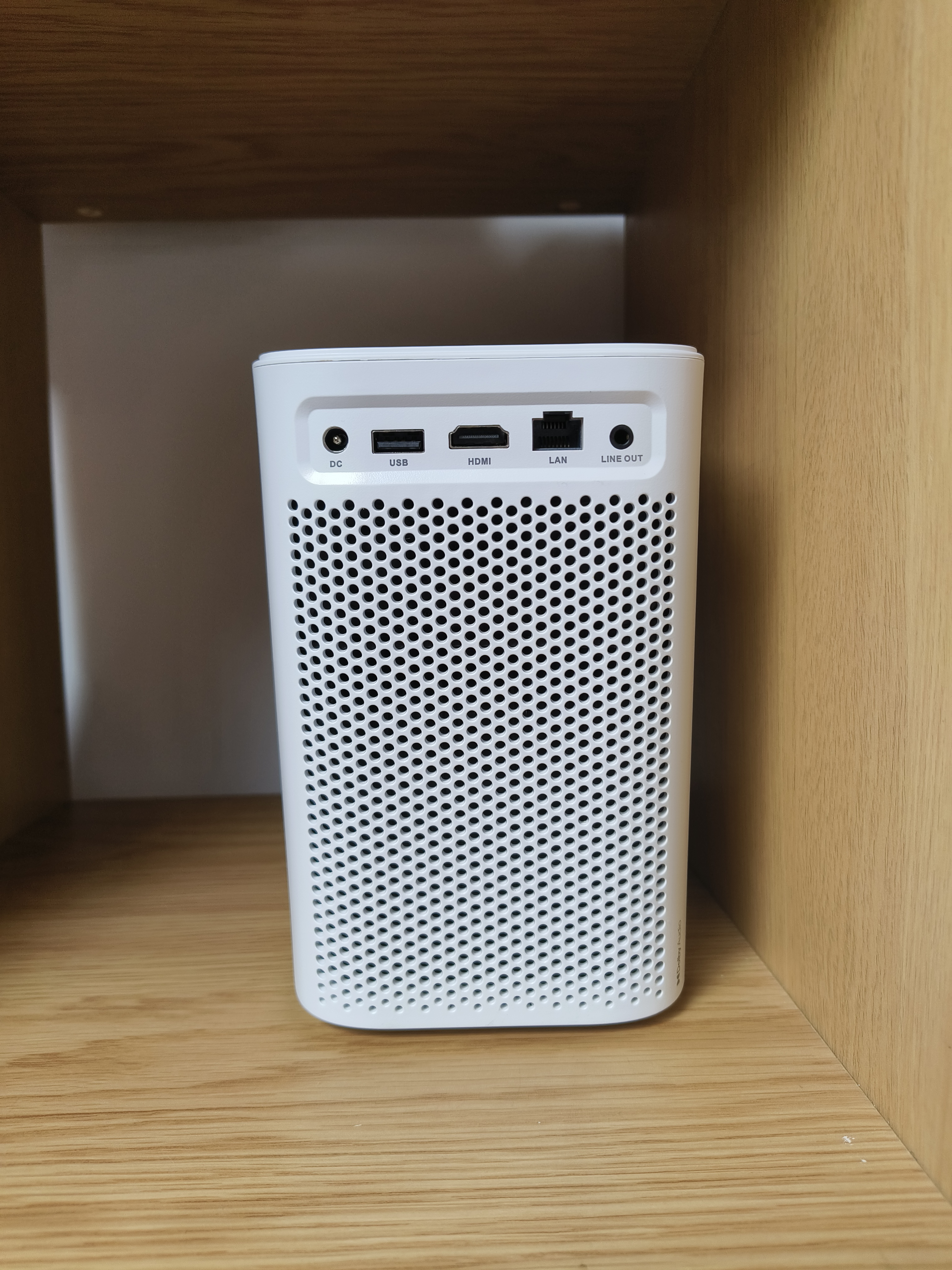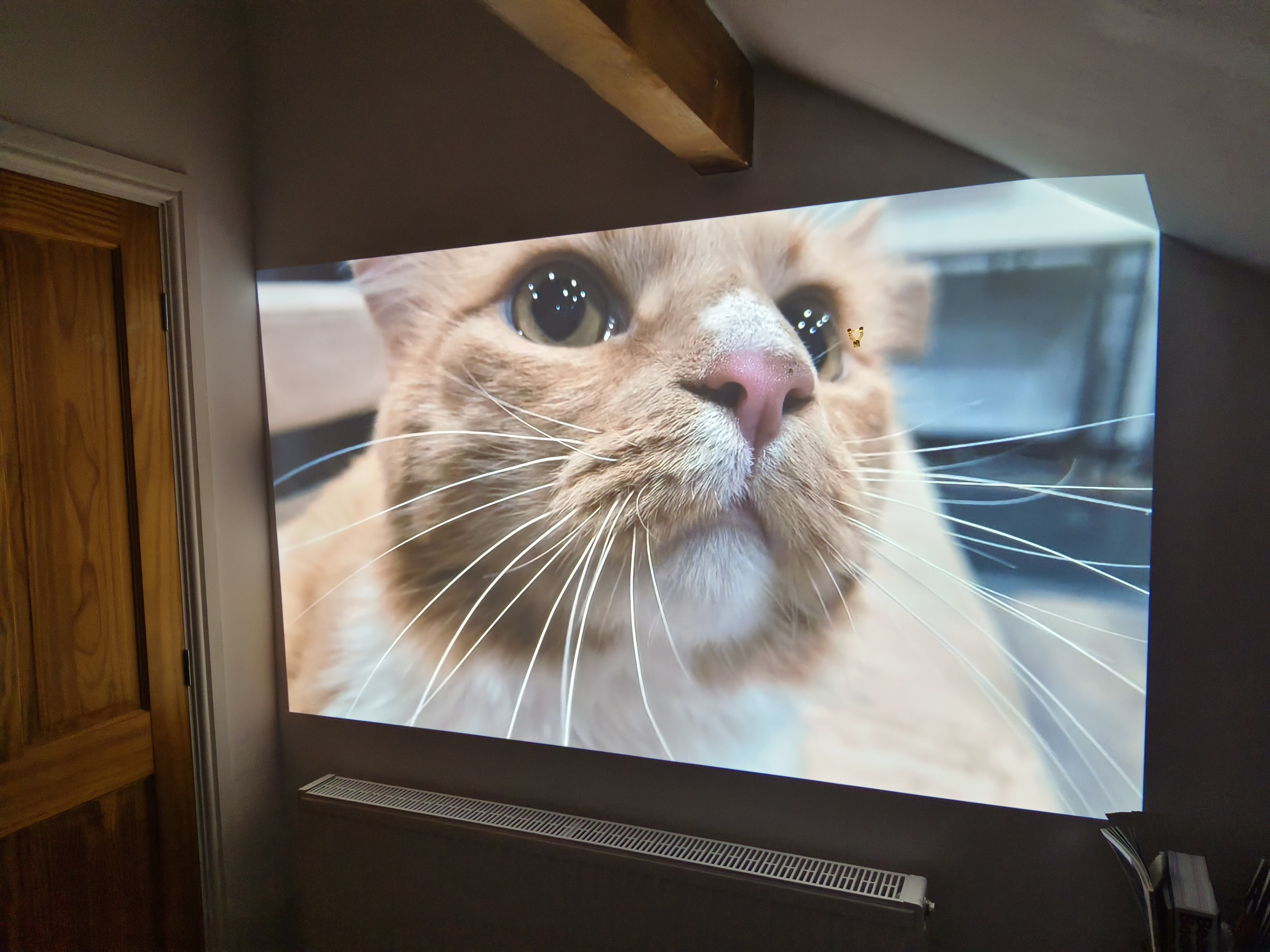 The Emotn N1 is designed with streaming in mind. A price point that would appeal to younger viewers only bolsters that claim, but a major selling point is that it's officially licensed by Netflix. The service comes oven ready – although there's no free subscription here, sadly. It works seamlessly, and we didn't experience any of the glitches we sometimes find from dedicated dongles.
There's direct access to Amazon Prime and YouTube through the onscreen menu and remote hotkeys as well as Netflix, but not much more. You'll need to use the Emotn browser to log in to services like Disney+ and Hulu if you're signed up to multiple services. It's a pretty convoluted process, one that can be fixed by plugging in an external streaming stick – but that slightly defeats the point of having Netflix built-in.
It's as quiet as a whisper in use, and doesn't distract from what's happening onscreen. Fan noise is something that has always griped us with pico and mini projectors, which rarely have powerful enough speakers to drown out their cooling systems. Far greater a distraction, though, is how much heat the N1 kicks out.
We were never concerned it was about to overheat in any way, but the N1 can turn a non-ventilated room into a makeshift sauna long before you've finished an entire season of must-see TV. Given how the Emotn N1 favours complete darkness (which we'll come on to later), cracking a door or window open during daytime viewing comes at the expense of image quality.
Because it needs direct power to work, outdoor cinema nights with the Emotn N1 are also restricted to the length of an extension cable. That's a shame for such a small, lightweight projector – although of course adding a battery would mean it wouldn't be so small and lightweight any more.
Screen and sound: lightmare
The Emotn N1 has a native 1080P LCD and 500 ANSI lumens LED lamp, which can project images from 60-120in across. It supports HDR 10 content, and has a refresh rate of 60Hz. That's an impressive enough spec sheet for the price, but means you're largely restricted to dark rooms.
A crack of daylight renders the screen pretty unwatchable, regardless of brightness settings and distance from your projector screen or wall. That's to be expected from a mini projector, but will come as bad news for anyone hoping to condense their TV setup to something only slightly bigger than a dictionary. You're going to want blackout curtains to use it before nightfall. Our DIY effort, comprised of a blanket and sellotape, did the job – even if we chipped some paint off the wall in the process (don't tell the landlord).
At night, though, is where the N1 shines. It favours bright and primary colours, which are rich, detailed, crisp and bold. TV shows such as I Think You Should Leave, which is filmed in bright and natural settings, offers a fantastic viewing experience. Muddy and grainy shots are more unpredictable, though. Dark or grey landscapes are sometimes hard to decipher, and can lack depth. But they do remain sharp, thanks to the time-of-flight laser autofocus and auto keystone correction features. Those with awkwardly-shaped rooms will have to accept the hit to image quality that digital keystone brings.
The N1 won't do justice to a current-gen console, being stuck at 1080p and 60fps, but the 120in projection size does help immerse you in games.
Dolby Audio comes built-in through dual 5W speakers, which for lazy sofa viewing is pretty adequate. Audio can bleed into the noise of the fan, which is to be expected when they're both coming from the same sound source. On the whole, audio is clear and powerful, but it won't fill the room.
Emotn N1 verdict
For occasional cinema nights and bedtime viewing, the Emotn N1 is more than capable. Netflix certification brings a certain seal of approval that's missing from the swathe of similarly-priced machines from unfamiliar brands available on Amazon. It's also much more stylish and subtle than many other projectors out there, at least for under £500.
Ultimately though, the Emotn N1 is a home viewing extra instead of a replacement for your primary screen. That is, unless you want to sit in darkness while binging Love is Blind. Adding battery power for outdoor cinema nights would also have make it more versatile. As it stands, it's more a movie night novelty than must-buy blockbuster.
Stuff Says…
Sleek, discrete and with a great picture in the right conditions, the Emotn N1 punches above its weight (and price point) for casual use – but don't expect it to replace your telly.
Good Stuff
Bright and crisp picture in the right conditions
Slick design
Quiet
Price on point
Bad Stuff
Redundant in daylight
Limited apps
Quickly heats up a room
Emotn N1 technical specifications
| | |
| --- | --- |
| Screen size | 60in-120in |
| Resolution | 1920×1080 |
| HDR | Dolby Vision, HDR10, HLG |
| Inputs | 1x USB2.0, 1x HDMI, 1x DC-IN, 1x LAN, Wi-Fi, Bluetooth |
| OS | Linux |
| Dimensions | 182x125x192mm, 1.92kg |