FIFA 18 review
UPDATED: Will FIFA 18's new World Cup add-on keep you playing right up until the start of the new season?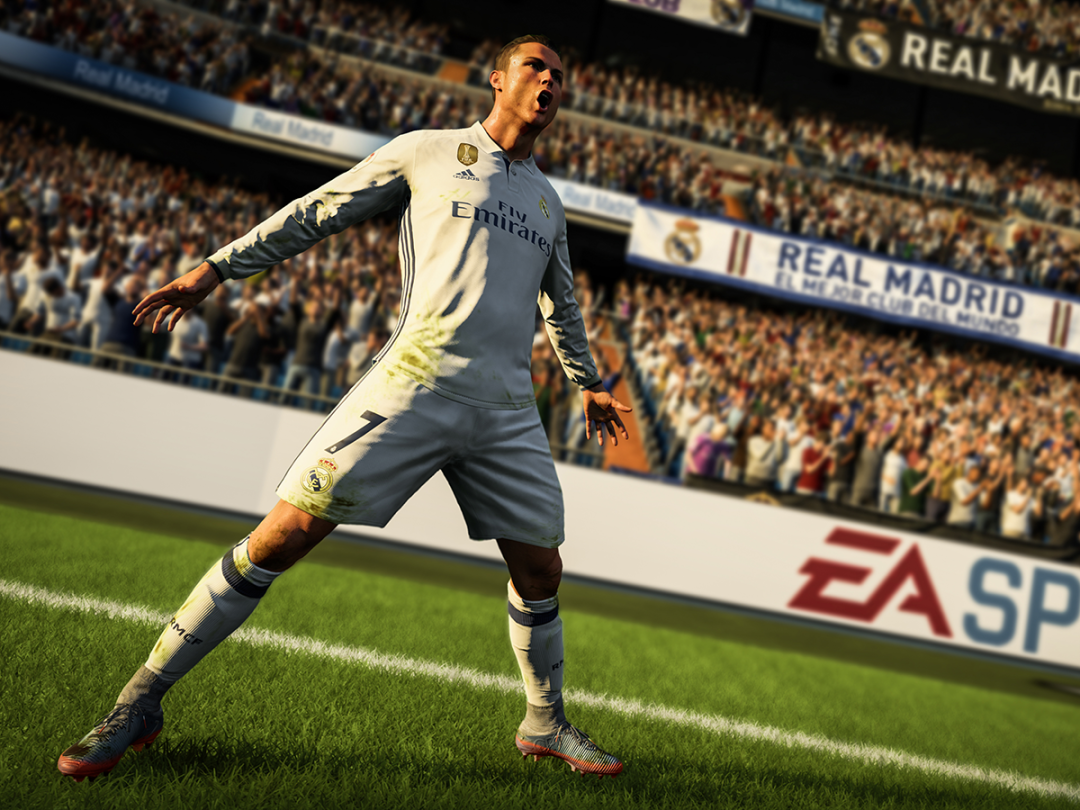 Liverpool manager Jurgen Klopp once compared his brand of football to heavy metal.
"I always want it loud," he said in 2013 when describing the differences between his all-action Borussia Dortmund side and Arsene Wenger's Arsenal. "He likes having the ball, playing football, passes. It's like an orchestra."
If Jurgen picks up a copy of FIFA 18 he'll discover that it's possible to have both, because playing EA's latest football sim is very much a game of two halves.
Symphony of destruction
Against computer-controlled teams, EA has made a football game that rewards confident passing and considered but incisive build-up play.
Teammates make probing runs, intelligent movement will get you everywhere, and pace is a weapon – but not one without counter. Hold on to the ball until just the right time and you can play defence-splitting through-balls that will give Andres Iniesta a touch of the green-eyed monster. There's your orchestra.
Go online, however, and FIFA 18 is basically all about running at the opposition shouting. Pace rules as opponents relentlessly sprint at your defence, deploying the same few skill moves over and over again until they can get one-on-one with your goalkeeper and shoot for goal. There is very little nuance.
With defenders comparatively slow to maneuver their bodies, and often a bit on the clumsy side, nimble forwards are often in behind with relative ease. We've even seen Brighton's Glenn Murray beat his man with a sudden burst of pace, and even the man himself will admit that's probably a stretch.
Online FIFA isn't just heavy metal, it's got those awful twiddly guitar solos that go on forever.
If looks could thrill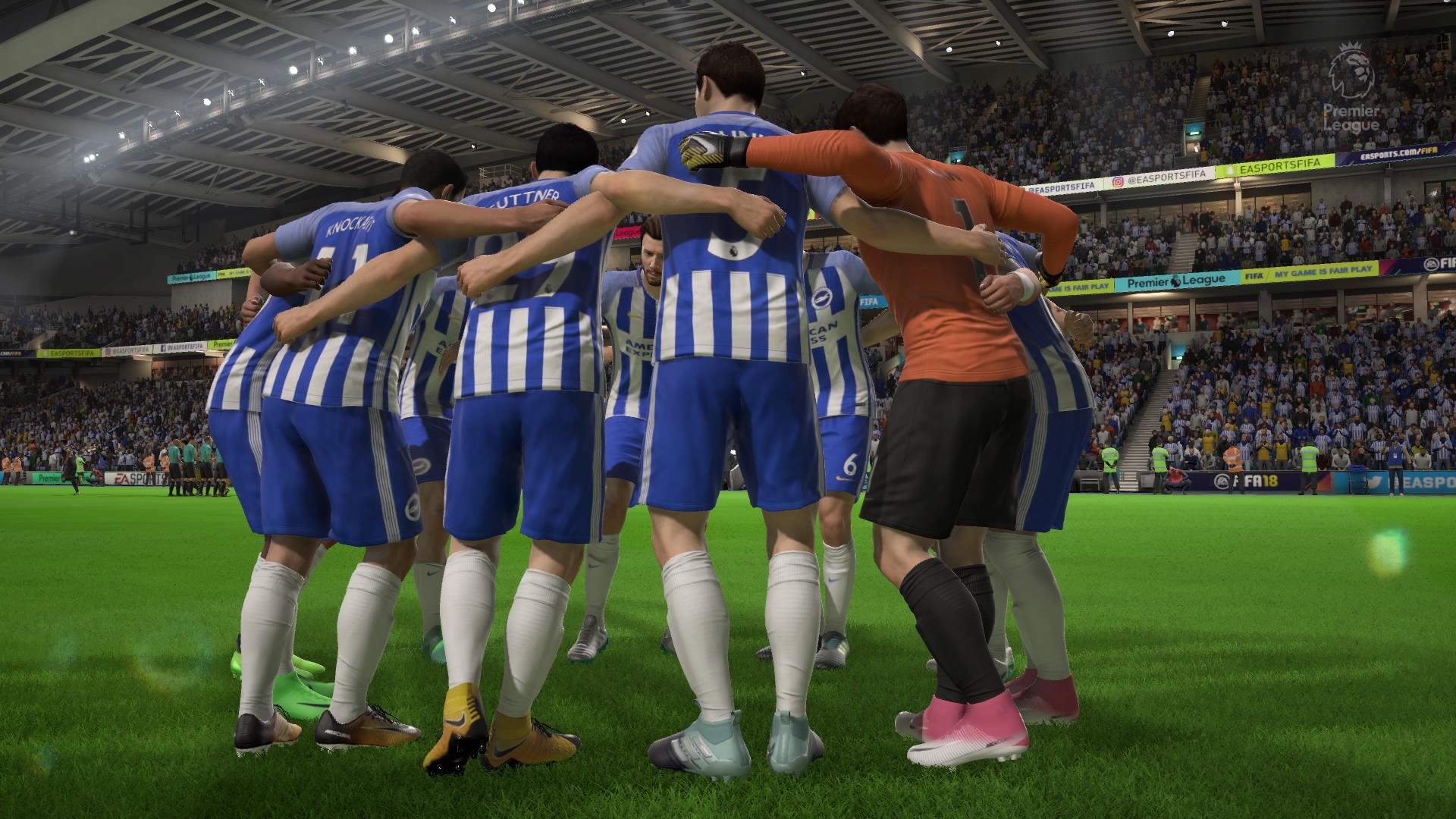 Regardless of whether you're playing online or offline, yet again EA has absolutely nailed the presentation in FIFA 18. In fact, it's never been better.
After a hectic intro sequence, the first thing it gets you to do is stand over a free-kick during the Madrid derby. You are Cristiano Ronaldo with the ball at your feet on the edge of the 18-yard box, but because it doesn't know you play with alternate controls (you're not a heathen), you dink it gently into the arms of the waiting Jan Oblak.
It's not the best start, but it's hard not to be impressed by the life EA has injected into the Bernabeu, or almost any one of the countless other real-world stadiums that are featured in the game, particularly when you run into the crowd to celebrate.
Flags and banners cascade down from the upper tier at Boca's Bombanera, LA Galaxy's Stubhub Arena is bathed in Californian sun, and even the more run-of-the-mill grounds get localised advertising hoardings to really add to that sense of immersion.
In fact, branding is everywhere in FIFA 18, just like the real thing (depressingly). Play a match between two Premier League teams and the graphics even include the necessary hashtag, but it all works together to create a package that practically reeks of football – at least of the televised variety. Sometimes it's barely distinguishable from the product that Sky and BT sell you every weekend.
Career advice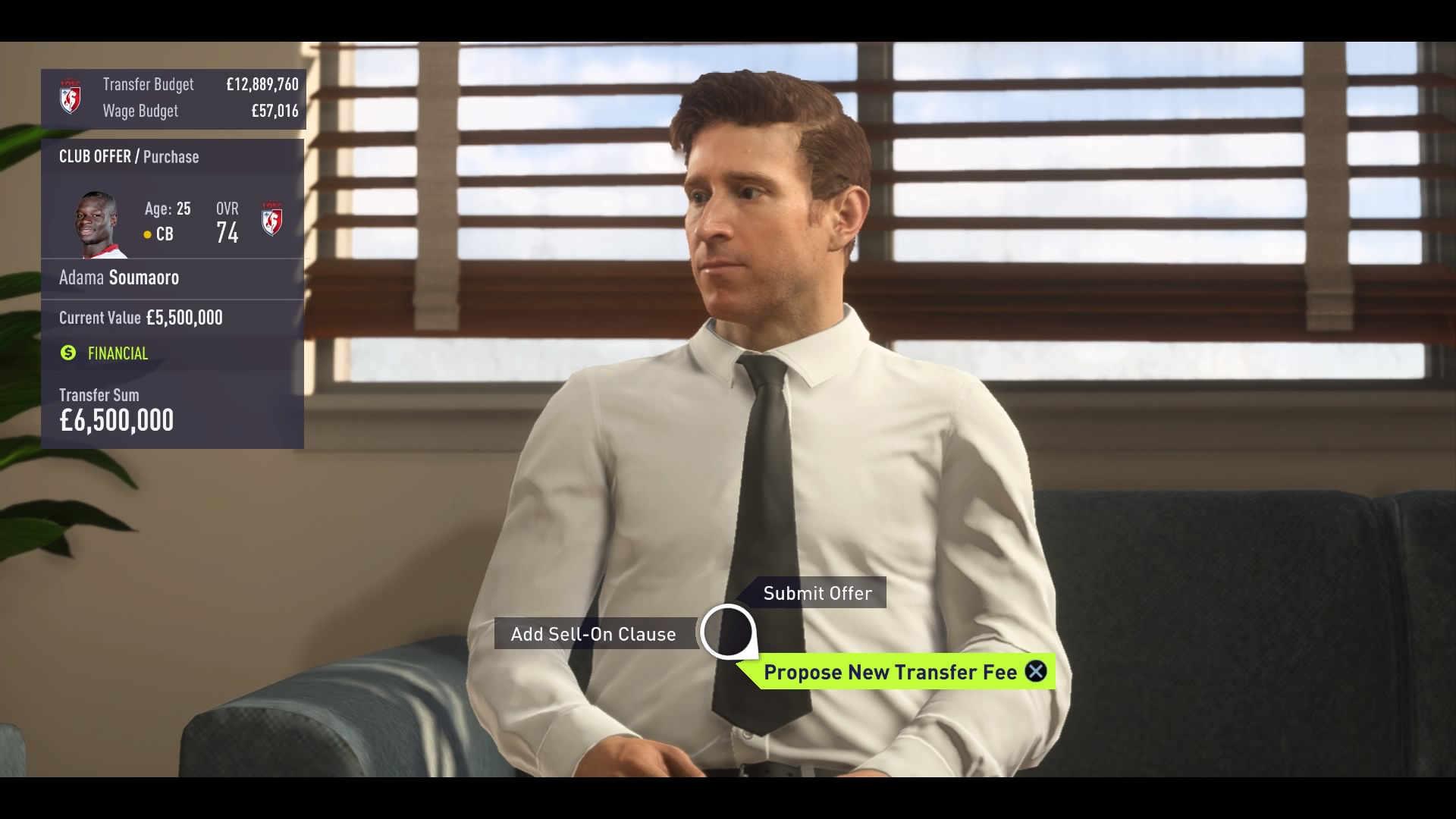 Of course, there are some elements of realism that don't necessarily add to the game for the better.
Career mode now includes a 'brand exposure' expectation from your club's board, so if you've taken charge at Manchester United, presumably you'll be required to secure an official breadsticks partner for Estonia as well as winning the Premier League title. Sometimes it'd be nice to forget that side of football.
The most noticeable change, though, is the addition of interactive transfer negotiations, in which you sit down with the opposition coach and thrash out a deal through RPG-style dialogue trees, before doing the same with the player and his agent.
This will be a welcome addition if you've ever wished FIFA could be a bit more like Skyrim – although with Wayne Rooney only recently returning to Everton for the twilight of his career, you might need to look elsewhere to sign an orc – but we can see it getting tiresome quite quickly. At least you can skip through the cutscenes and just get down to business.
These meetings also offer a good chance to inspect player and manager likenesses up close, although it's only during matches when players are in short sleeves that you'll get to see an accurate recreation of someone like Nicolas Otamendi's A to Z of rubbish tattoos (hardback on shelves in time for Christmas).
Animations have come on a step, though, and it's easy to get lost watching endless slow-mo replays of your goals. Fewer limbs seem to merge with torsos, and the way players tangle in the air as they rise for a header lends the game a real sense of physicality, which isn't always delivered believably through the rather odd 'hold the left trigger to be strong now' mechanism that was added a few FIFAs ago. It still often just seems to make players get their feet muddled. Besides, do human beings really just turn strength on and off like that? Pro Evo's more organic approach to using a player's power seems more natural to us.
In general, movement can still be a bit skatey, particularly without the ball, and defenders still insist on using their feet to pass the ball back to the goalkeeper when their head would make much more sense.
Perhaps that's for the best, because when the ball is in their hands they can still be infuriatingly slow to get the ball out to your back line. Those looping throws that hang in the air just long enough for the opposition to intercept are still all too common.
As the ball breaks to the ref from a corner and you rage at him for not controlling it, you'll also realise that EA still hasn't fixed that thing that sometimes makes him wear a shirt that's almost indistinguishable from one of the teams on the pitch. Seriously, how difficult can it be?
Return Journey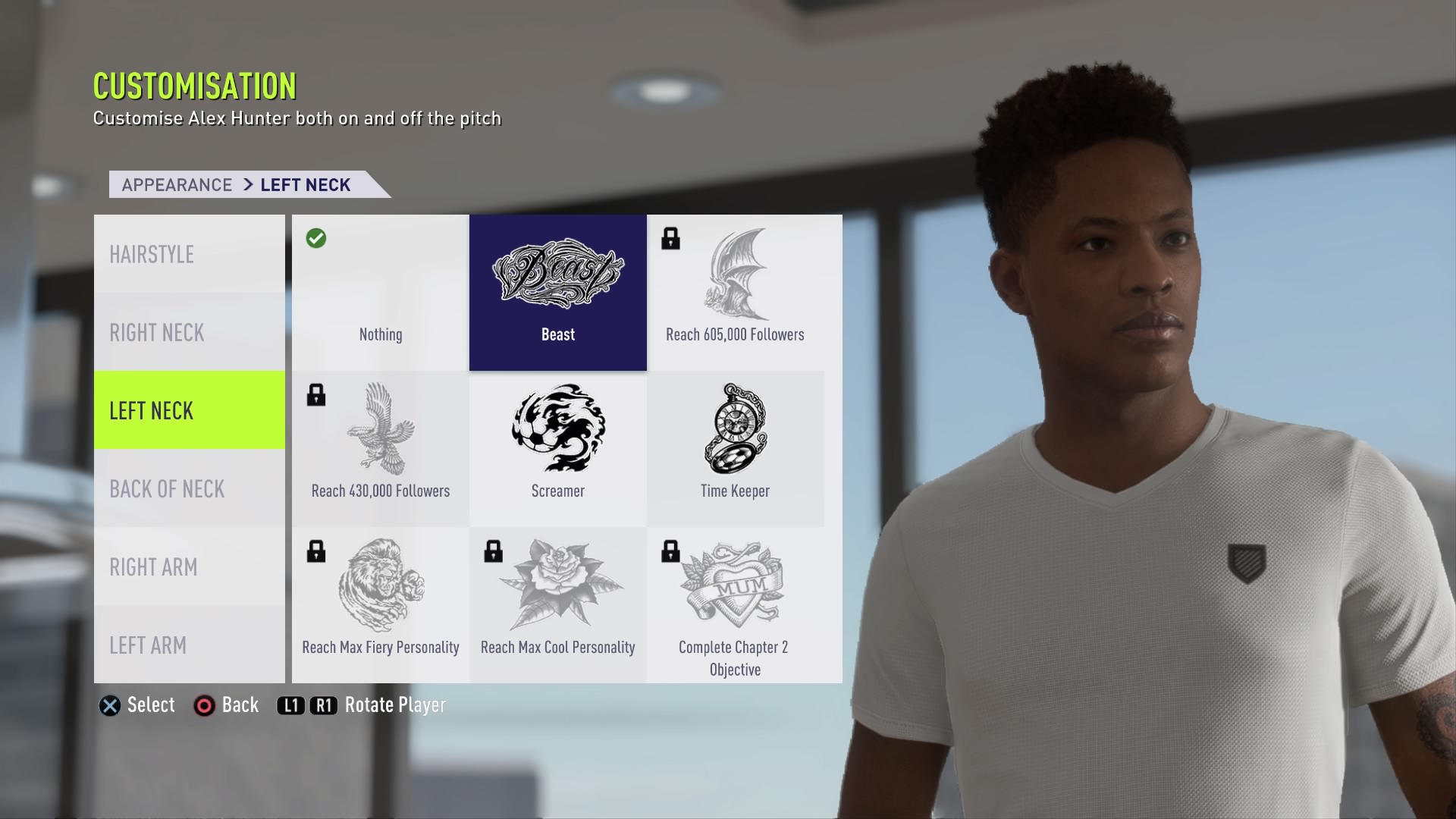 FIFA 18 sees EA doubling down on The Journey – the soccer soap-opera-meets-RPG mode that debuted in last year's game. After Ultimate Team (which actually makes EA money) it's the biggest option on the main menu and EA has gone all out to get some of world football's biggest names to appear in it, including Antoine Griezmann, Thomas Muller and, er, Rio Ferdinand.
It starts with a 'previously on…' sequence that doesn't really do that good a job of explaining what happened in FIFA 17's version, before dropping you into a pre-credits three-on-three game on the streets of Rio, where Alex Hunter has chosen to spend his holiday.
The Journey has undoubtedly been created by people who understand football. There are references to exit trials and cold rainy nights in Stoke, while its attitude towards the Championship is familiarly disparaging.
Manager feedback during games and training sessions is genuinely useful for people trying to get better at the game and although the interactions you control are a little too sporadic and it's hard to get a real sense of how meaningful they are, it should provide longevity for those put off by the flow of one-dimensional opponents in Online Seasons.
Perhaps it's just not aimed at me (it's definitely not) but the main problem with The Journey is that though Alex Hunter is completely made-up, he exists in a world where my team plays. That means it doesn't quite align with what I want FIFA as a game to do. I'd prefer to take control of the team I support and sign the real-life players that I'd like them to buy, rather than guide this made-up millennial through his squeaky-clean career.
Maybe if it allowed me to tweet pictures of Alex covered in tenners on the floor of a casino at 5am, or set off fireworks from his bathroom window, I'd be more inclined to stick with it. Come to think of it, why has nobody made a Mario Balotelli simulator yet?
Sexy FUTball
It's impossible to talk about FIFA without mentioning Ultimate Team – EA's fantasy football for the LadBible generation.
Very little about FUT has changed in FIFA 18: you still put together a squad of players by opening packs or winning them at auction, using in-game coins that can be bought with real cash or earned on the pitch.
The only real new addition is its Squad Battle mode, which allows you to play offline games against teams put together by real-life FUT users – a nice way of mixing the two worlds that provides yet another reason to keep coming back.
It's hugely addictive, almost worryingly so, with its system of bronze, silver and gold level squads meaning you don't have to chase the elite level players to put together a team that feels like your own.
FIFA 18 World Cup update – winner or loser?
Released just in time for the excitement to start kicking in, the World Cup update for FIFA 18 is available to download for free now.
The squads were clearly put together before Gareth Southgate announced who he'd bought plane tickets for, because Joe Hart starts in goal for England and Jack Wilshere's on the bench. Awkward.
With 22 reserves to choose from in each squad, you can easily right whatever wrongs you think the boss has made, but without the ability to draft in any alternatives, there's very little you can do to address the chronic lack of natural attacking width in Southgate's side.
That can make playing with England feel just as stodgy as you might expect, but with 48 other teams to choose from, including 17 that didn't qualify such as Italy, Wales and the Netherlands, you can take part in customised versions of this summer's tournament.
Online matchmaking seems to be a bit more laissez faire than normal. Playing as Nigeria or Denmark (they have the best kits) we were frequently drawn against Spain, France and Brazil. You have to play the best teams at some point if you're going to win it, but you can imagine how tedious it gets coming up against the Give It To Neymar brigade over and over again. It's exactly what spoiled the online mode on PES 2018.
The most curious inclusion is a special World Cup version of Ultimate Team. As EA's real money spinner you can see why it's there, but because everything is now centred around national teams, the whole fantasy football conceit no longer makes much sense. Chemistry is based on nationality or confederation, but seeing Paul Pogba, Marco Asensio and Xherdan Shaqiri wearing England shirts is just a bit odd, especially considering you take on the regular national sides in single-player games.
It's a more limited version of FUT as well, with no marketplace for buying and selling individual player cards – you have to rely entirely on packs, which means you have to rely on pure luck to build a squad. There's also no crossover with your standard FUT side, which will surely mean it has limited appeal for anyone who's spent the past nine months constructing a team of world-beaters.
In general, though, it plays exactly like FIFA 18, so don't expect any hints as to which direction EA might be taking the next game in. This is not FIFA 18.5. As a free add-on, it should keep you entertained over the next month or so, but don't expect to be playing it after the trophy has been lifted in Russia on 15 July.
FIFA 18 verdict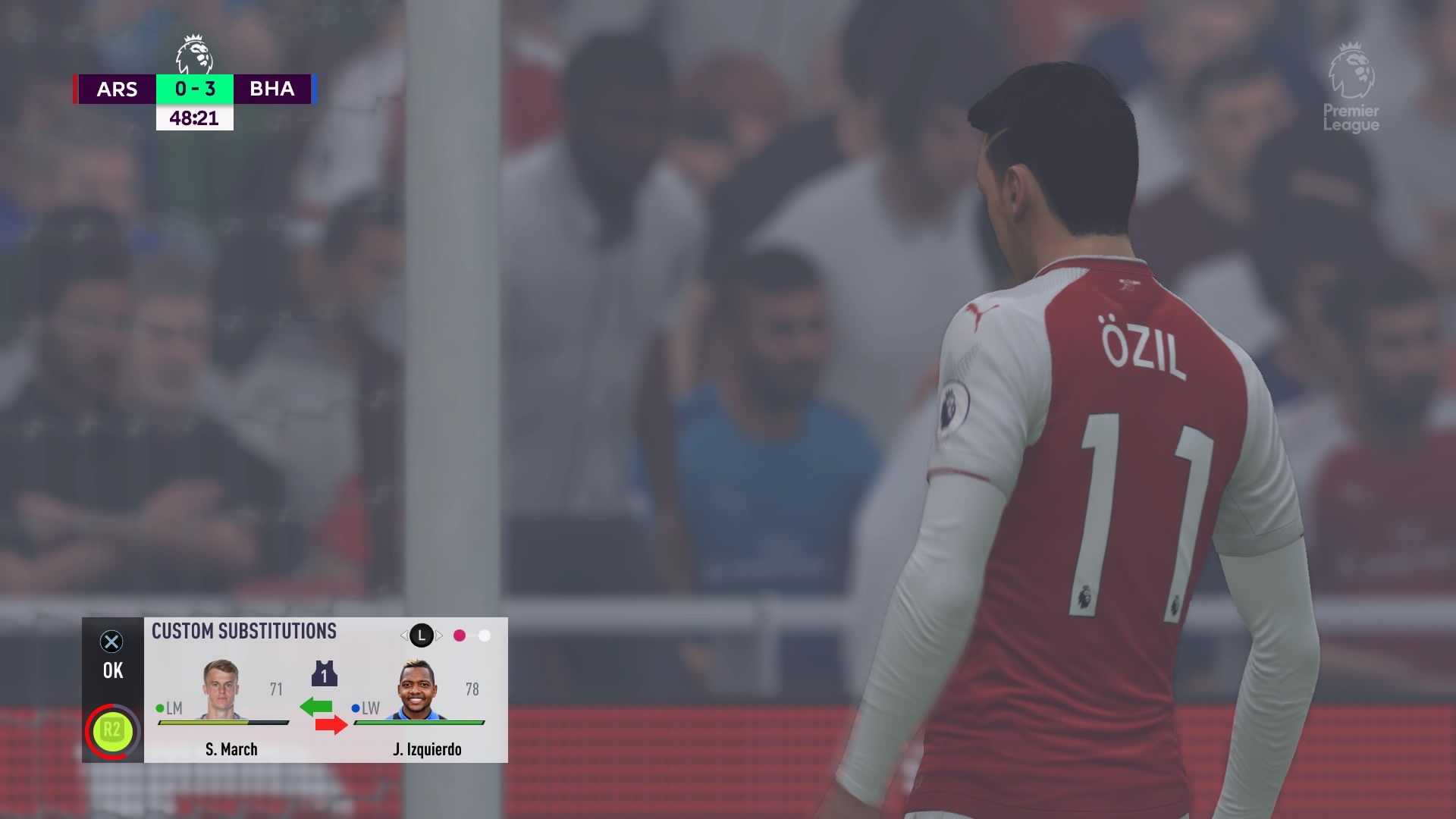 All of that adds up to a game that feels a little like it's lacking a marquee signing that will make you go out and buy it, but for most people that's not a big deal – the series has already got its claws into them.
Offline, it's definitely an improved experience. There's a more considered pace to the game, crossing is better but still not perfect, and there's more intent to the passing – although those driven ones do have a tendency to go to teammates they weren't intended for.
The new quick subs (activated by holding the right trigger) also really speed up the flow of the game, but the online trend towards breakneck attacking, almost to the exclusion of any tactical variation whatsoever, is just as offputting as Pro Evo's mismatching.
But money talks in football and FIFA 18's perfectly replicated badge of authenticity and myriad ways to play will be more than enough to keep fans coming back – and they won't be disappointed.
To put it in terms that Jurgen Klopp would understand, FIFA 18 is a bit like that album Metallica made with the San Francisco Symphony – it's backed by an orchestra, but the loudest sound coming from the speakers is very much heavy metal.
Stuff Says…
Great going forward but flawed online play exposes frailties at the back
Good Stuff
Impeccable presentation
Slicker passing and build-up play
Loads of game modes
Bad Stuff
Online play is very one-dimensional