FIFA 19 review
Can FIFA 19 add another trophy to its bulging cabinet?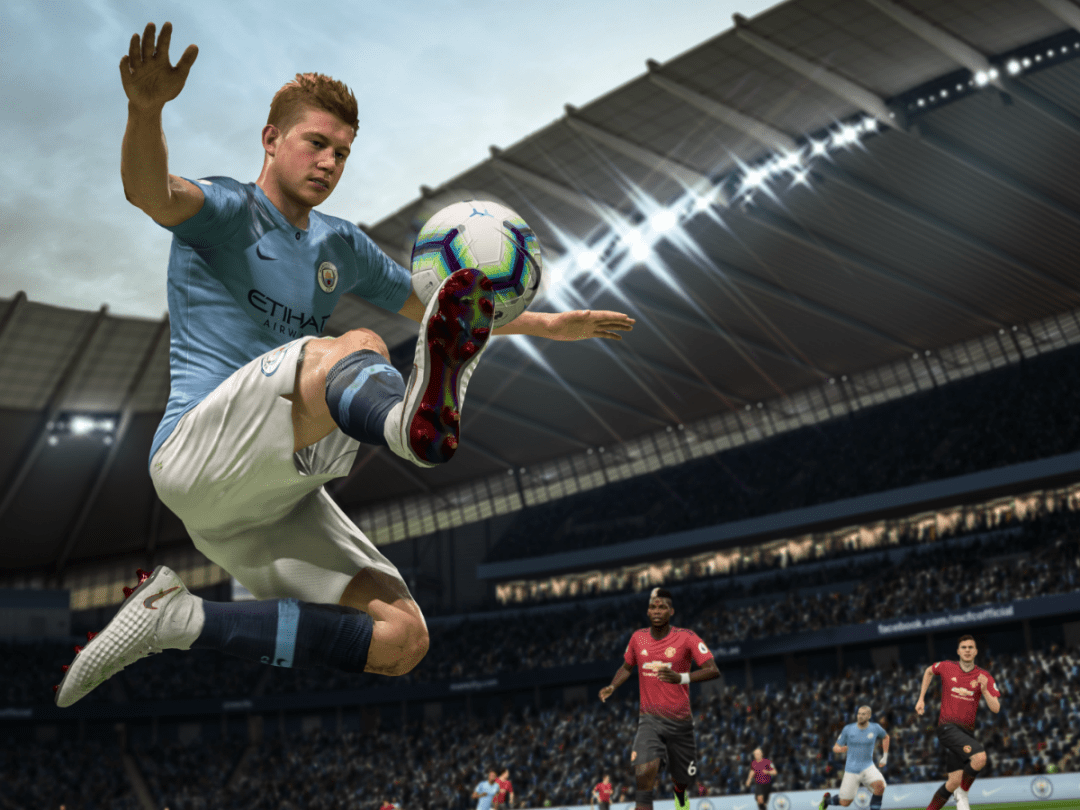 Not all winning teams are truly great.
Zidane's Real Madrid might have won three Champions League titles in a row, but did they change the way people think about how football should be played? No.
FIFA 19 finds itself in a similar position. EA Sports has assembled another game full of winning features, but is it anything greater than the sum of its parts?
What time do you finish?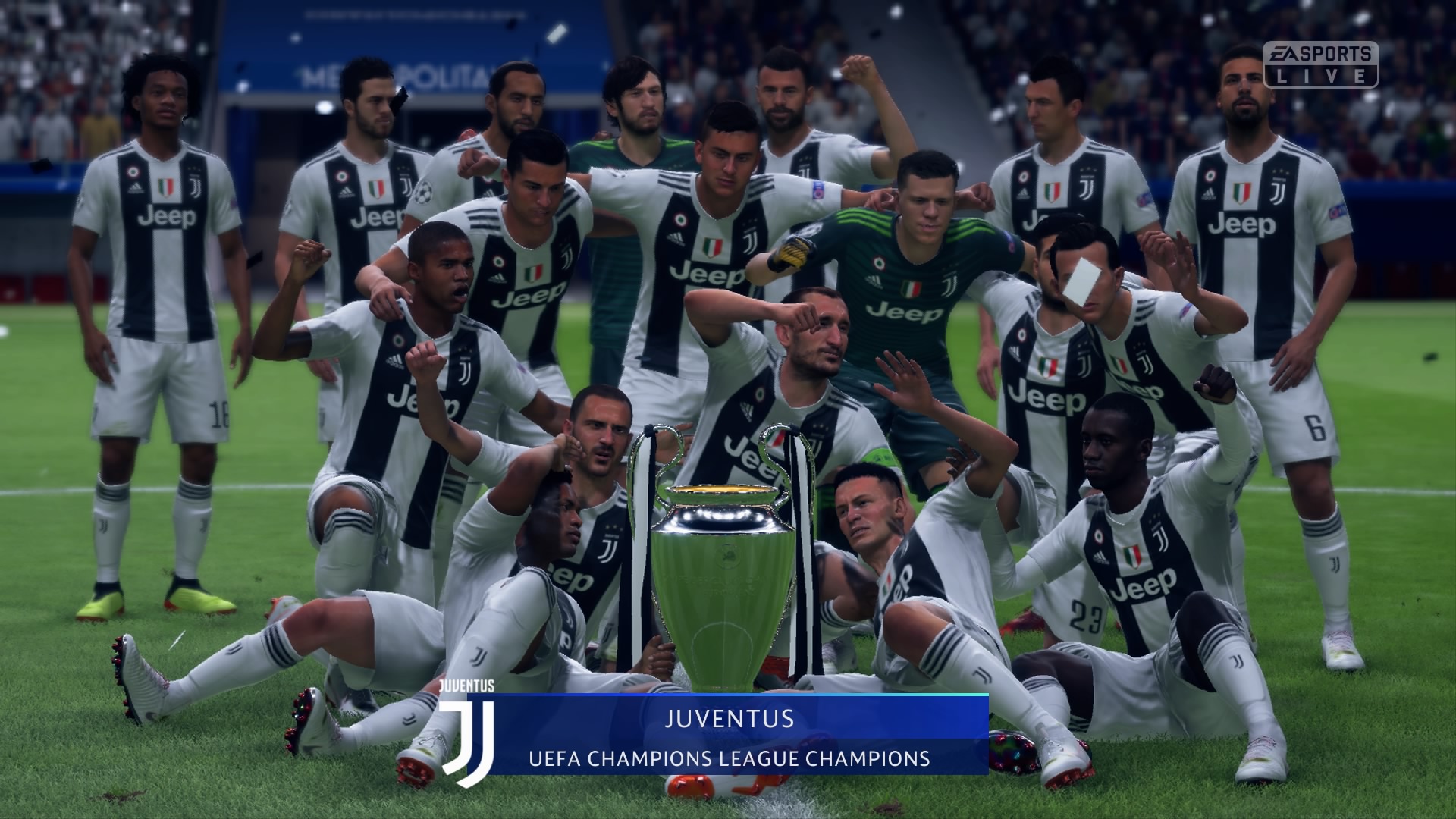 FIFA 19's biggest signing is its Champions League licence, which pops up everywhere from standalone tournaments to The Journey, so it throws you in at the deep end with a prediction of this year's final: Juventus versus PSG at the Wanda Metropolitano in Madrid, with a huge Ronaldo tifo overlooking the pitch.
Considering he's on the front of the box it's no surprise that you take control of the Italian champions and must score the required CR7 goal(s) to win the cup, lest he come over all Gianluigi Buffon and accuse the game of having a dustbin where its heart should be. Assuming you're a FIFA n00b, the Trainer is turned on by default, but even if you've been playing for years it makes sense to leave it turned on for this first game, because it's the perfect opportunity to start practising with one of FIFA 19's biggest gameplay additions: Timed Finishing.
This is a new way to shoot that increases your chances of scoring – as long as you get it right. Get it wrong and you're more likely to scuff the ball pathetically wide. It's fairly simple to grasp but very difficult to master: press shoot once to wind up your shot and a second time to unleash it. If it becomes overpowered, that could prove a problem, but it feels like there are enough variables involved in getting it right each time – player ability, positioning, opposition defenders – that the chances of that should be fairly slim.
It's still sure to be a divisive addition that some players will struggle to get to grips with and just turn off, but that's the key thing: you don't have to use it, even when it's active. For more accomplished players, though, it feels like something that should be obligatory, particularly in the higher divisions of Online Seasons, adding an extra level of skill to your effectiveness in the final third.
A touch of class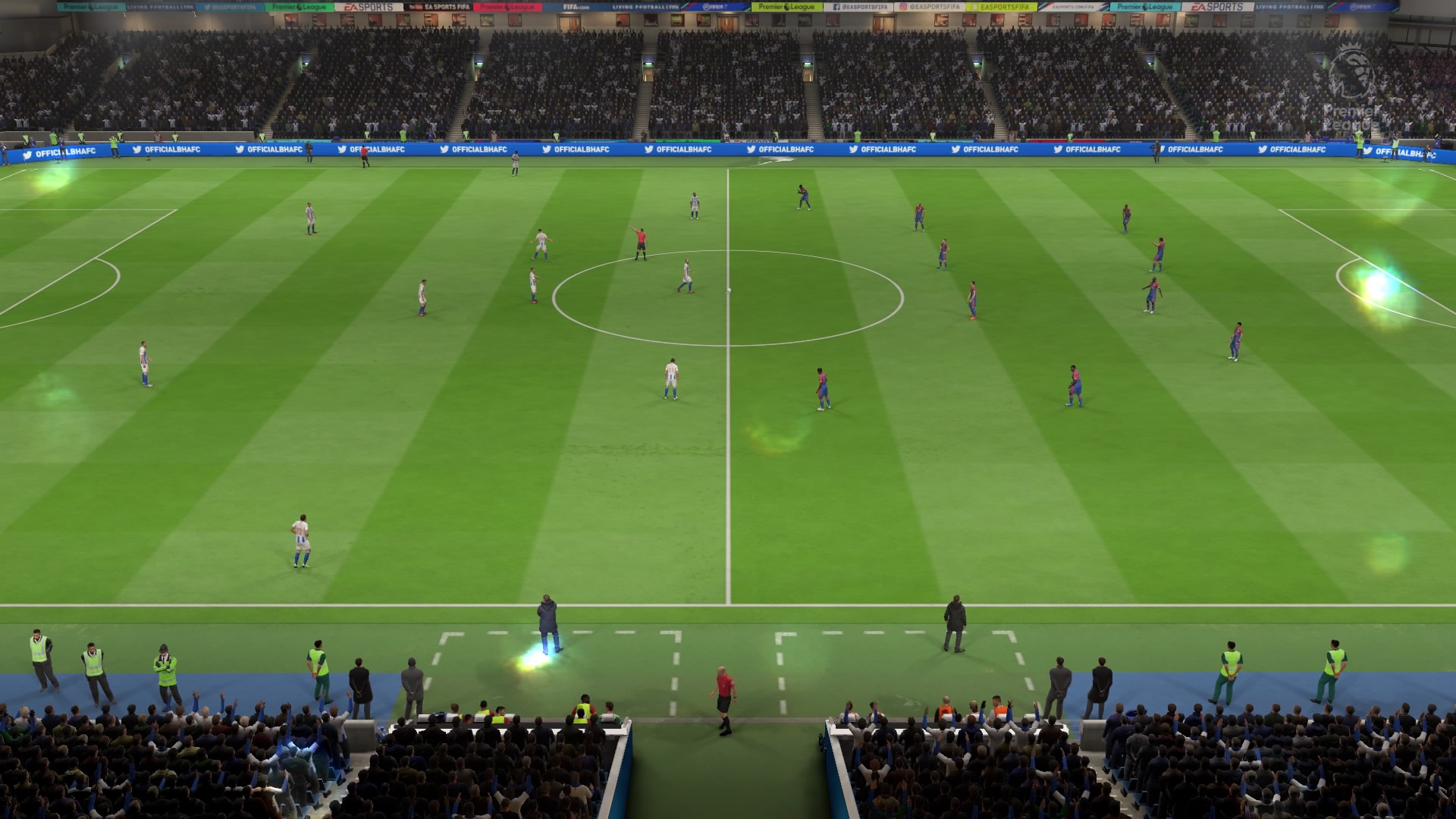 FIFA 19's other headline gameplay changes are Active Touch and an overhauled approach to 50/50 balls. Both have a noticeable effect on the way the game feels to play.
Things feel a bit looser in possession, with the ball less likely to stick to the feet of a player, particularly if they receive it at speed. Active Touch means they have more ways to manipulate and control the ball, though, so you'll see defenders chest the ball away from opposition attackers; strikers take small touches with one foot in order to set up a better shot with their other; and wingers stick out a leg in an effort to control the ball with their heel. It all helps to keep the game flowing.
Of course, it doesn't always work. First-time passes on the volley are more likely to skew off at an angle and hurried clearances can easily be sliced into the air giving strikers a second chance to gobble them up. Passing moves can often feel either right on the verge of perfection or one misplaced pass away from all falling apart. It means games can be quite scrappy, although that may change as people get to grips with the new mechanics.
Even with the new Timed Finishing, long shots are far less effective than they were on FIFA 18. That's a good thing, because it did seem like even the most agricultural hoof-it-and-hope centre-half could fire one into the top corner with relative ease given enough time and space.
Crossing has been revamped too, so it actually feels like a viable tactic now, rather than the game of (low) percentages it was on FIFA 18. Early balls are particularly dangerous if you've got an imposing target man or runners breaking into the box.
Overall its feels like a game with more tactical variation than before, something you can exploit using the new Dynamic Tactics, which makes it easier to switch on-the-fly using the D-pad. Pace isn't quite so pronounced either, which can only be a good thing for Online Seasons.
The journey continues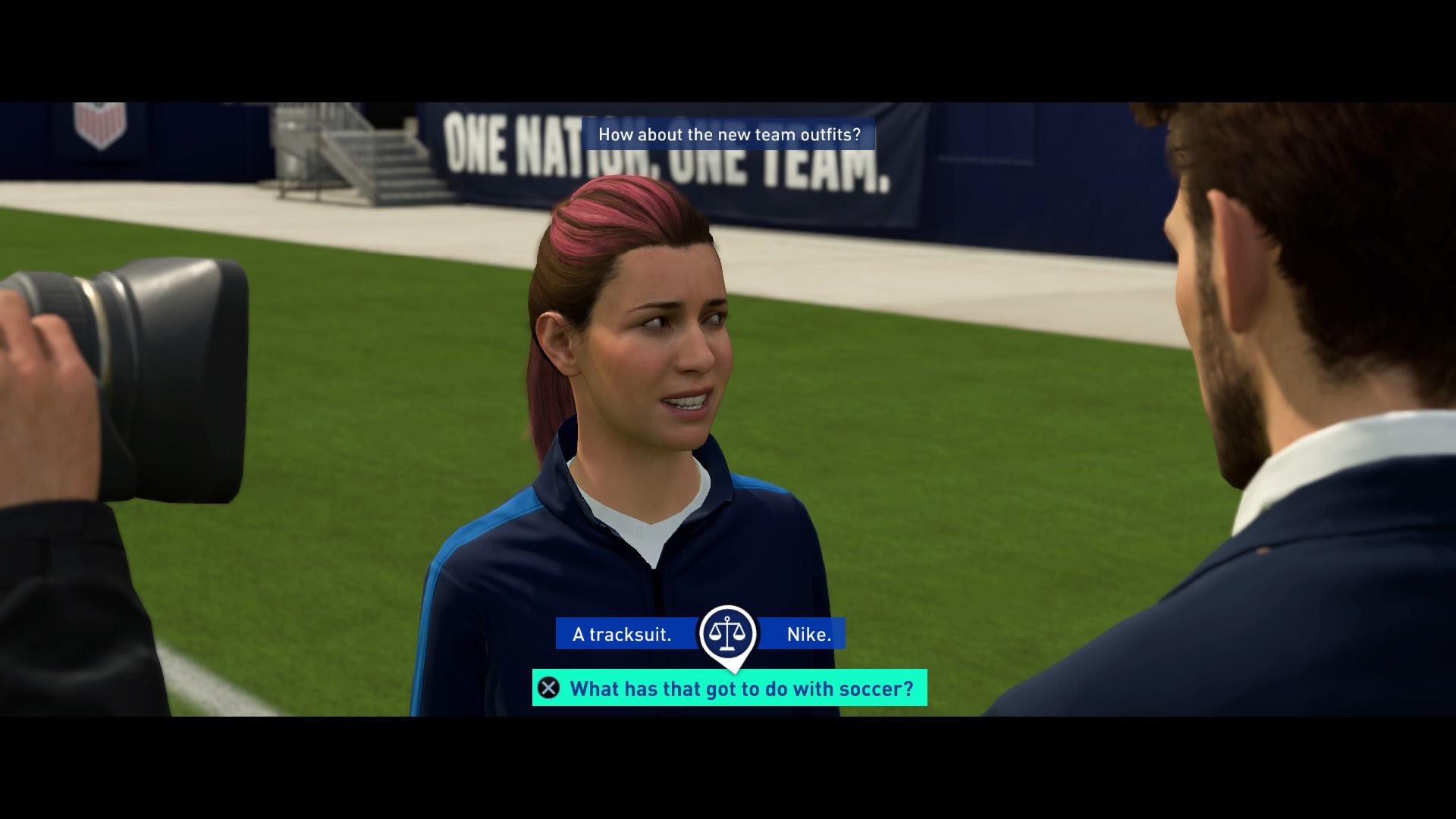 Cristiano Ronaldo isn't the only face that returns to FIFA 19. Alex Hunter, star of the scripted-reality style mode The Journey, is back with his entourage for a third chapter, subtitled Champions.
While there is a 'previously on The Journey' intro sequence, it won't help much if you haven't played the previous two. Starting your relationship with Alex Hunter here is a bit like starting The Sopranos on season four, just with fewer people being sent to 'witness protection'.
After a brilliant playable flashback that includes a real mud bath of a pitch and John Motson on commentary, The Journey's pre-season period sees you playing as three different characters: Hunter, now on the books at Bayern Munich, PSG or Atletico Madrid; his mate Danny Williams, who sounds like a mediocre Reading full-back but can be placed at a Premier League club of your choice; and Alex's 16-year-old half-sister Kim, a rising star of the women's game based in Los Angeles.
When the season starts you can choose who to focus on, although the game will suggest which player to switch to when something big's about to go down. Just like before, you do spend a lot of time watching cutscenes, but the production values are pretty high, even if the storyline and voice acting is a bit Hollyoaks.
Still, it's nice to see Kim's career featured so prominently, even if the lack of women's club teams in the game means it focuses entirely on her role in the US national side, which is a little odd.
Can I kick it?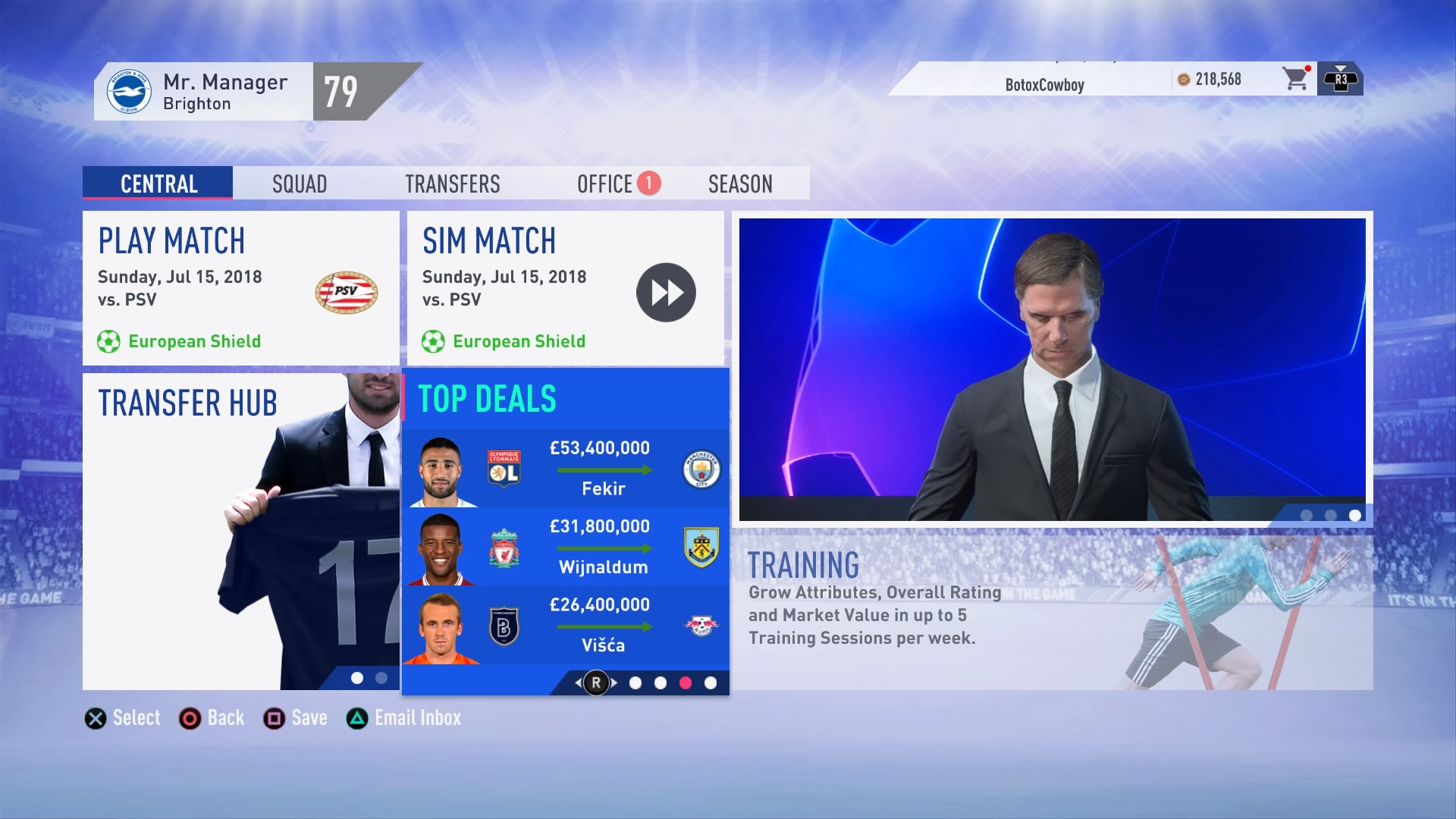 Ultimate Team might be where all the money is but there's a real forgotten charm about sitting next to the person you've just thrashed 5-0, although you might not feel quite the same if the boot's on the other foot.
That's what makes the changes to FIFA's long-neglected Kick-Off mode so welcome. It's still entirely offline but you can now use a unique Kick-Off Name to more easily track your record against IRL opponents. Playing on somebody else's console? You can tie your Kick-Off Name to your PSN ID and take your record with you.
EA knows that there's only so many friendlies you can play against each other in one night, though, so has added a few new modes to spice things up. They vary from the simple (first to X goals wins) to the slightly absurd (no rules at all) but the most entertaining is probably Survival Mode, which sees a random outfield player ejected (up to a maximum of three per game) every time you score a goal. While you can play these new Kick-Off modes on your own, they're not half as much fun without a human opponent, which might limit their appeal given that they're offline only.
Career Mode returns in almost entirely unchanged form, so expect the same bizarre transfer activity (Gini Wijnaldum to Burnley for £32m, anyone?) and unreasonable game-time requests from youth teamers, but as fully playable management sims go, the addition of the Champions League licence is the last nail in the coffin of Pro Evo's Master League.
Ultimate Team is its old, hopelessly addictive self, showering you with rewards at every opportunity to keep you playing. Packs now display the odds of getting each type of card, though, which really drives home the unreasonable amount of time or real cash you'd have to spend to have any chance of filling your squad with bonafide superstars.
Seasons is similarly familiar, with games against human opponents all too often descending into relentless sprint-a-thons and defending very much an afterthought. If you can accept that, it's every bit as compelling as ever, but some might find it a little tiring.
Initial verdict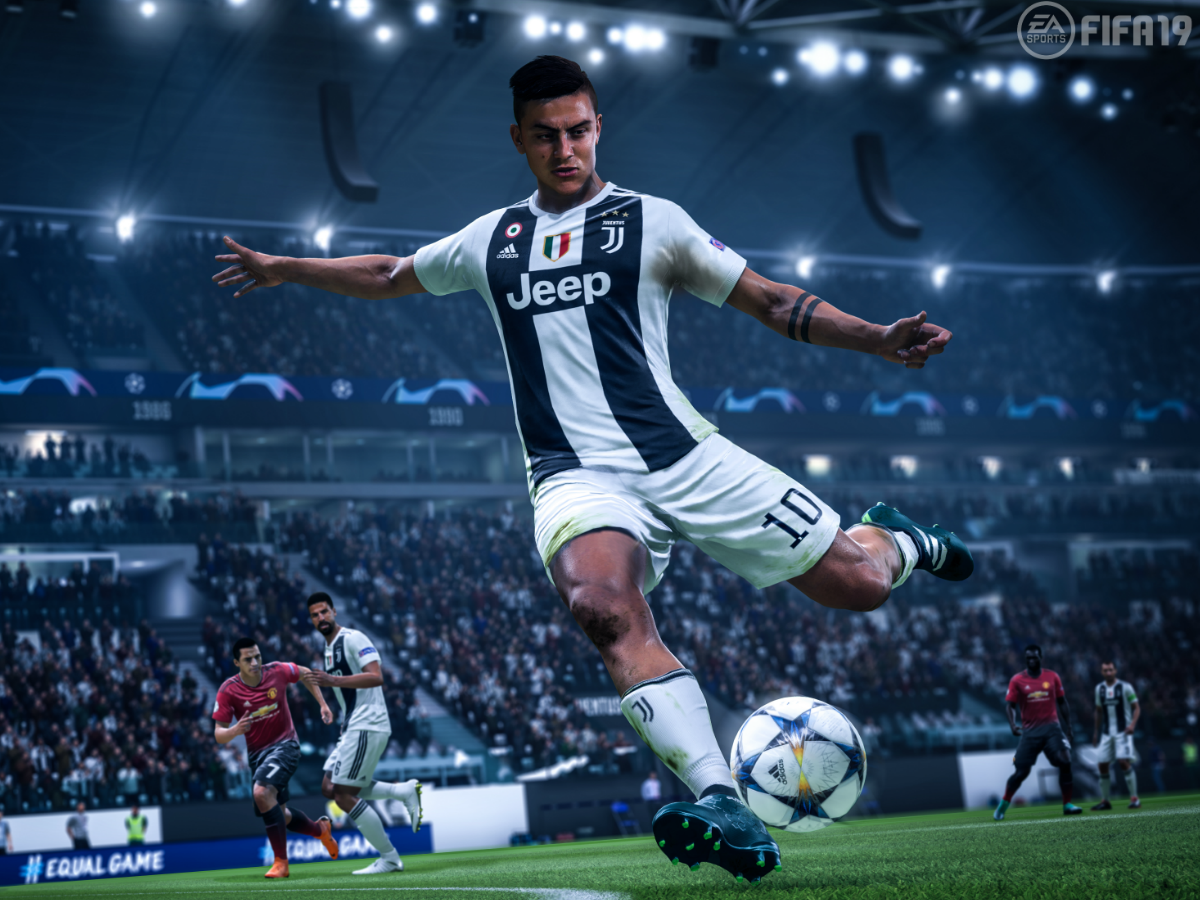 With its Champions League licence to add to all the others, FIFA 19's presentation is more authentic than it's ever been.
Crowds still look a bit too regimented and player movement can still sometimes be slightly wonky if you really study it, but in terms of translating the sights and sounds of professional football, no other game comes close. The slightly less frantic gameplay might even convince a few PES players to change allegiance, although online play is still overly frenetic.
FIFA 19 might not reinvent football games but it's still a winner – and to most people, that's all that really matters.
Stuff Says…
Defensively suspect but full of moments that'll get you out of your seat. Just like real football, then.
Good Stuff
Champions League licence completes the package
Timed Finishing adds another dimension to attacking play
Slick, flowing passing moves are more devastating than ever
Ultimate Team exposed as the money hole it is
Bad Stuff
Ultimate Team exposed as the money hole it is
Online play is often too frenetic
Games can easily get scrappy