Fire TV Cube review
The best Fire TV device yet, and now it controls your TV too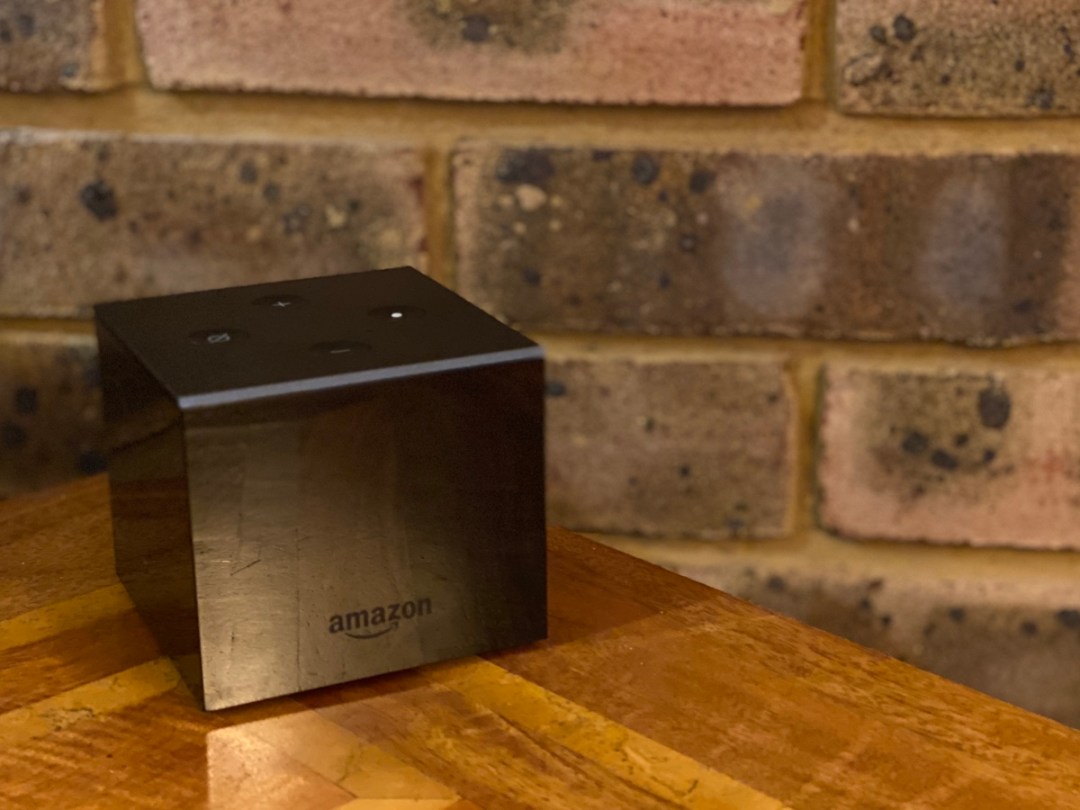 Alexa is a woman on a mission. That mission? To help us control as much of our home stuff with our voice as possible. First it was lights, then security cameras and even robot vacuums. Now, finally, it's your telly.
Yes, the new Fire TV Cube not only delivers 4K HDR streaming services and Alexa smarts to your living room, but it also aims to give you almost total hands-free voice control of your TV.
This is the second generation of the device, but the first model to be available in the UK, and Amazon has taken that as an opportunity to fine tune some of the specs too. 
That means this model has two times more power and four times the speed compared to the previous generation, thanks to local voice processing. That makes it the most powerful Fire TV device yet.
But how does it do as a boxset-binging companion? We settled down for a night of it to see.
Fire TV Cube design and features: Not actually a cube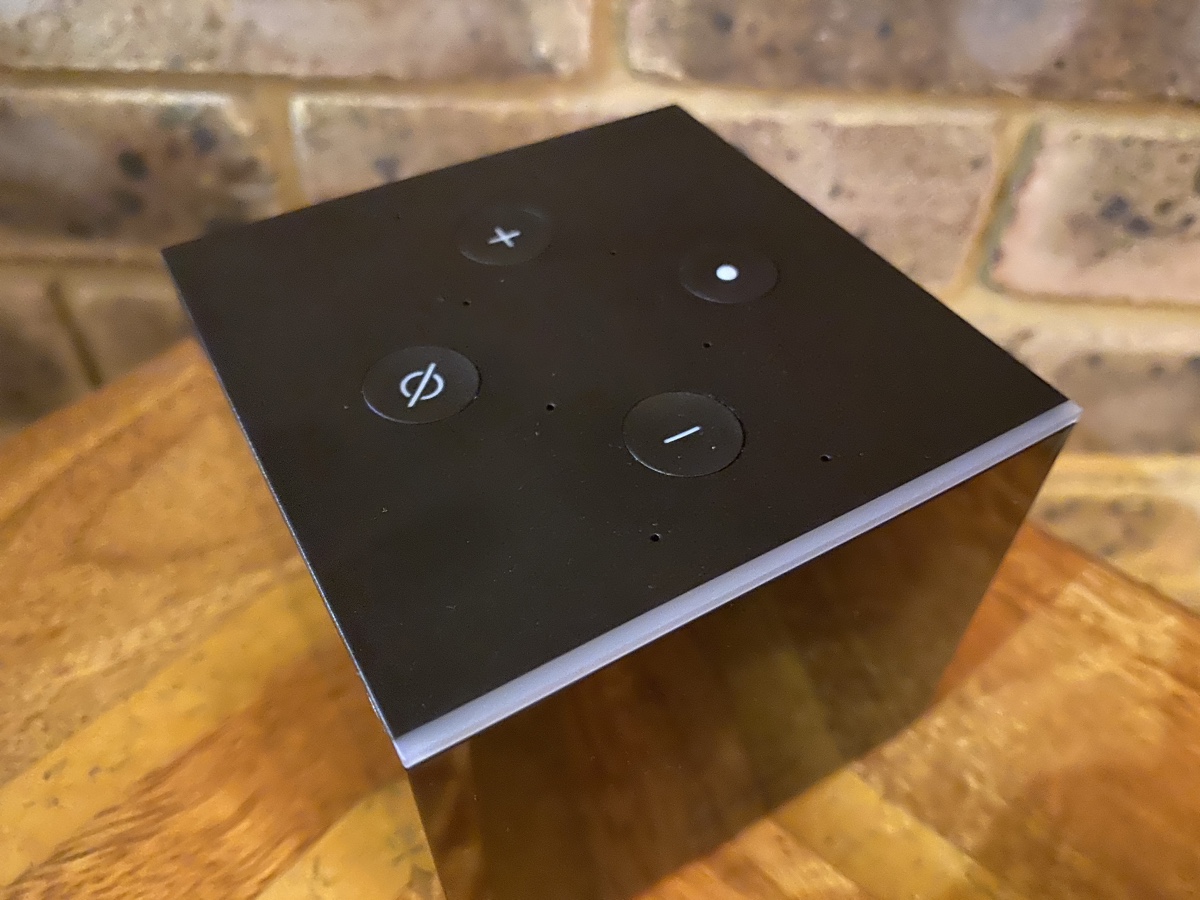 As you might expect, the Fire TV Cube is – well – a cube. Fact fans will tell you it's actually a cuboid because it's not equal on all sides, but hey, it aspires to be a cube and that's what counts.
From a design perspective, it's fairly straightforward. Raised slightly off the ground to allow for ventilation, it has four glossy sides sides with the top section in a less fingerprint-y matte finish, a smart choice considering this is where the buttons are. And there are four buttons in total – two for volume, one to mute the mics and a physical Alexa button to summon her manually – though the idea is that you'll never have to use them.
Instead of the ring on Echo products, the blue Alexa light appears along the Fire TV Cube's front top edge when you say your chosen wake word. It will remain on while it carries out your request, and also light up in orange or red to tell you if something is wrong with your connection.
On the back there is an HDMI port (but a bit annoyingly, no HDMI cable in the box), a micro USB port, which can be used for connecting the included Ethernet adapter and an input for hooking up the also-included IR extender.
The latter you'll need to use if you plan on putting your Fire TV into a closed TV cupboard, as it needs line of sight of you and your other equipment in order to work.
It also asks that you place it at least 30cm away from any speakers, to ensure it can hear your commands loud and clear over any background noise.
It should do pretty well on that from though, thanks to eight far-field microphones on the top of the box. And should you have any issues, the Alexa remote is bundled with this generation of Fire TV Cube (it wasn't previously), so you can speak into the remote instead.
There's also that all-new hexacore processor and extra RAM under the hood promising twice the amount of power. This gives the Fire TV Cube the extra oomph to be able to process more commands locally, rather than sending them to the cloud. This means voice control should be faster, but also offer a more contextual Alexa experience.
As far as the Fire TV interface is concerned, it's the same as you might have tried on any other Fire TV product, and is well laid out and easy to use. App selection is great too, with all four of the UK's catch up services available, plus Netflix, the recently added Apple TV and of course, Prime Video.
As ever with a Fire TV product, you really need to be a Prime customer for it to make sense, as Amazon content is understandably placed front and centre.
While that used to feel limiting, with so much great stuff on Prime Video now, not to mention the benefits of the wider Prime package, it's a very different story. Plus Amazon isn't quite so jumpy in its promotion of competitor content, which helps its cause too.
In fact, if you have a Netflix account and are signed in, Fire TV will offer you suggested Netflix content on the homepage.
Amazon Fire TV Cube setup: Testing, testing…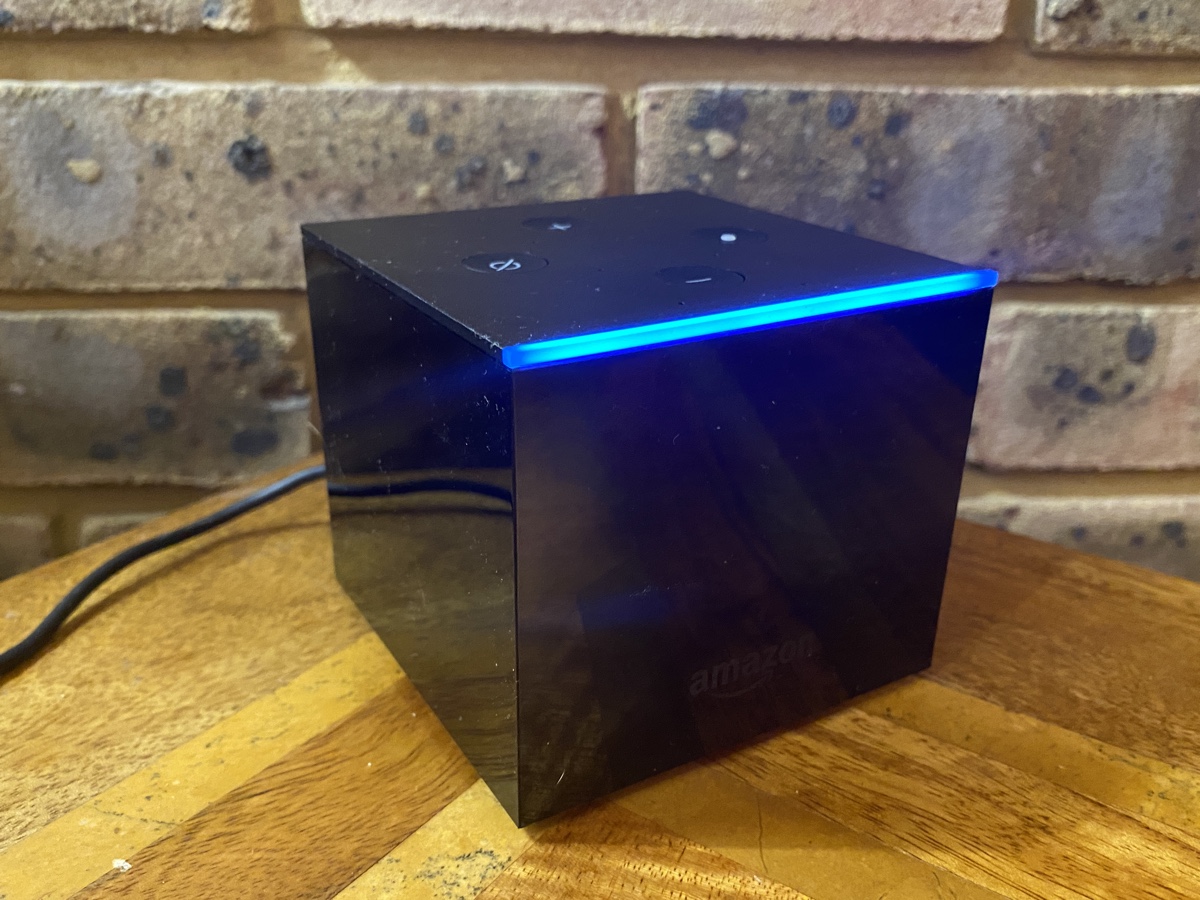 Getting the Fire TV Cube set up is pretty straight forward, and consists of signing in to your Amazon account and downloading the apps that you'd like to see on your Fire TV home screen. If you've ever set up a Fire TV device before, this will all be familiar territory. What's new is the next part.
To help with its extra functionality, Fire TV Cube now runs through your equipment set up with you, to learn as much as it can. It knew that the TV I had connected was a Philips set, and also when I tested it with a Samsung TV. If it doesn't recognise it automatically though, you simply choose the brand from a list.
It will then ask you whether you use a soundbar, AV receiver or just your TV for sound, and once again, ask you to choose the brand from a list.
Fire TV Cube will then take over to go through a series of tests, turning your TV (and any other equipment you said you had) on and off, muting and raising the volume and switching inputs. It will ask you to confirm if it worked correctly at each step, and will retry if it didn't.
While the core controls of power and volume worked just fine with the Philips TV (the OLED+ 984 if you're asking), it was unable to set up input switching, and yet it worked fine on the Samsung TV. There is a compatibility checker on the website so you can see exactly what functionality will work with your telly before you buy.
To get my Sky Q box set up with Alexa, I had to dig separately into settings to go through a similar process. Once completed, the Fire TV Cube was also able to control my TV watching away from the Fire TV interface, including changing the Sky channel and adjusting volume. At the moment only Sky is supported for this kind of control though, so Virgin Media and BT customers will have to do without for now.
Finally, due to the possibility of evoking more than one Alexa-packing device with the "Alexa" command, Amazon recommends moving any Echo devices into another room. If that isn't possible, you can change the wake word on one of them, so you won't rile up both at the same time and cause confusion.
That is, unless you've also invested in an Echo Studio or two. If you have, you can pair it/them with the Fire TV Cube and have Fire TV audio play through these speakers instead of the speaker you use for your regular telly watching.
This will allow you to take full advantage of the Echo Studio's upwards firing speaker, and the increasing number of Dolby Atmos soundtracks available on Fire TV's streamed content.
Fire TV Cube performance: On fire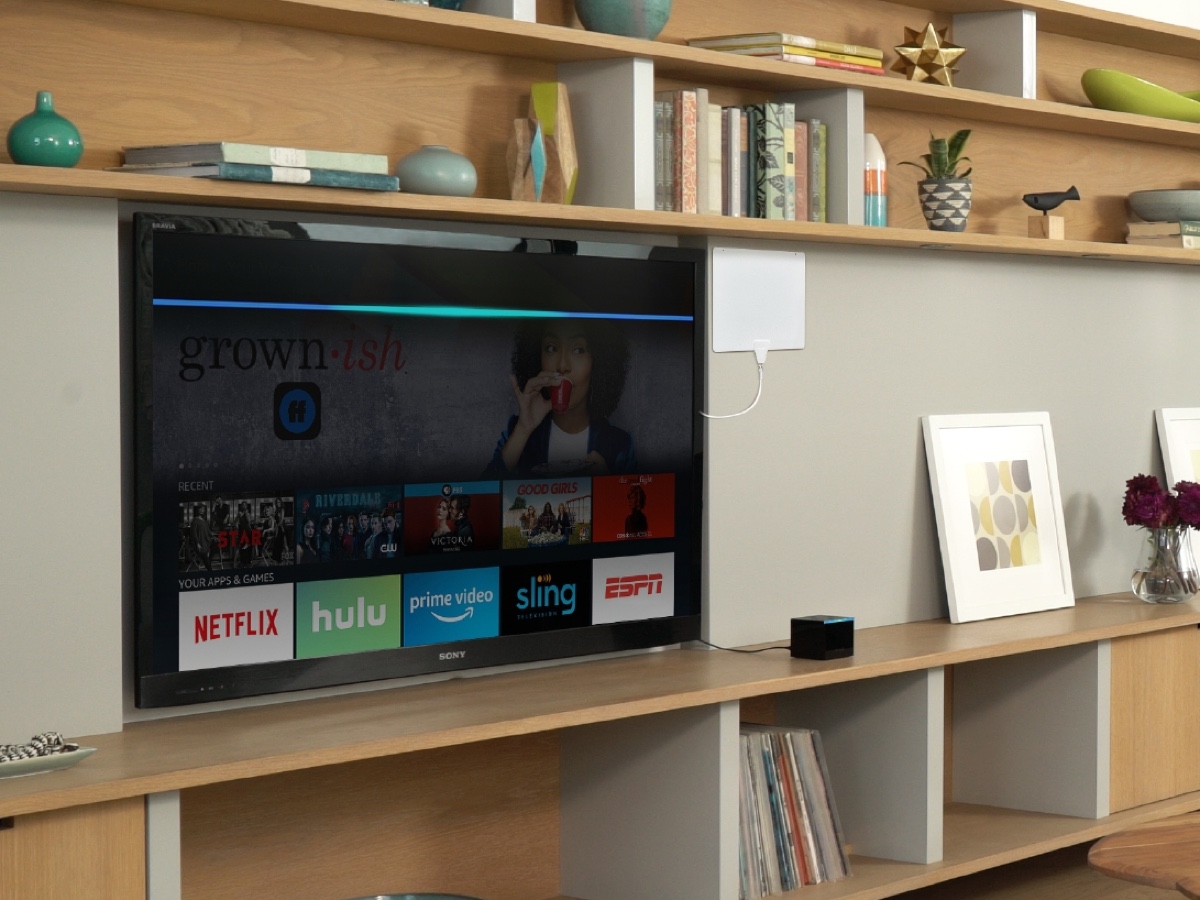 I don't know about anyone else, but one of the most uttered phrases in my house is "where's the ****** remote?". But it wasn't until I really started using the Fire TV Cube that I realised how helpful voice control for my telly would be.
It works brilliantly. Say "Alexa" and Fire TV Cube will mute your TV so it gets a good chance of hearing what you're saying, before turning it back on when you've finished yapping. When set up correctly, Fire TV Cube had very few missteps. To begin with, it was placed a little close to my TV's speaker, so I moved it a little further way and had a much better experience.
It's really quick too, it feels quicker than the Fire TV Stick 4K at pulling up and buffering content, and my Alexa commands are seen to with minimal delay too.
It's a shame that the input switching wouldn't work with the Philips TV. With the Samsung it worked a treat, and we were able to ask Alexa to switch between Sky, our Blu-ray player and the Fire TV Cube without issue.
Of course, it's not ideal that not everyone will have the same experience with the Fire TV Cube, so it's definitely worth checking exactly what your kit can do so you're not disappointed.
As far as the control within Fire TV itself, Alexa does a great job here and you can literally control the whole experience with your voice if you want to. Except you probably wouldn't. Saying "scroll down, scroll down, scroll left, scroll left, select" isn't exactly the most time-effective way of browsing through a menu, but it is possible if you really can't lay your hands on your Fire TV Cube remote.
The voice control is much more effective if you know what it is you're looking for, and can say, "Alexa, play Stranger Things on Netflix" or "Alexa, show me drama movies", for example.
When you ask a more generic question like the latter, Fire TV will number the selections it suggests, so you can say "Play number 3". If you've allowed Follow Up Mode within the Fire TV Cube's settings you won't need to say "Alexa" before it either.
You can also use Alexa to load up other apps, like BBC iPlayer or ITV Hub, however Alexa can't dig out content from there as part of a voice search, or be used to navigate within it.
No matter what you're watching, picture quality is fantastic, but as you'd expect, it does the best, with the best. The Fire TV Cube supports both Dolby Vision and HDR10+ for the most up-to-date HDR content, and assuming you have a decent enough wi-fi connection to support it, the 4K material streamed from Netflix or Amazon Prime Video looks gorgeous.
It might not be quite the level of detail you'll see from a 4K Blu-ray, but considering this is the way a lot of people consume 4K HDR content now, it's absolutely a fair representation of the benefits the technology offers.
Fire TV Cube verdict
The Fire TV Cube is not only the best, most powerful Fire TV device yet, it is also the last piece of the puzzle of controlling your whole living room with the help of Alexa. And it works brilliantly.
The only problem is the difference in experiences that different people will get, depending on the equipment that they own. While the performance of Alexa within Fire TV itself won't change, the other voice control functionality is what really makes the Fire TV Cube worth the extra outlay, compared with the Fire TV Stick 4K.
Still, if your kit plays ball, this is a seriously slick way to control everything you're watching on TV with your voice. Who needs remotes anyway?
Stuff Says…
As long as your equipment plays ball, the Fire TV Cube offers a slick way to control your TV with your voice, while serving up the best streaming services and all the smarts of Alexa in one clever package.
Good Stuff
Alexa can now control your TV
4K HDR content is superb
Great app selection
Fastest Fire TV device yet
Bad Stuff
Some equipment doesn't offer full functionality
No HDMI cable included