Fitbit Inspire HR review
A very fine fitness tracker with smartwatch aspirations
Fitbits are the Coca Cola of the fitness tracker world. Garmin-owning types who run marathons at the weekend for fun may look down on the things, but the public loves them.
The Fitbit Inspire HR is part of its brand new range. And it does just about everything 95% of us need.
It logs your sleep, snags notifications from your phone and thanks to Connected GPS is the perfect partner for a couch-to-5K programme. The Inspire HR is not just a step counter for recovering couch potatoes.
There's only one glaring bad bit. Three to four days of battery life isn't good for a tracker like the Fitbit Inspire HR.
Design and build: Ready to sweat
Most Fitbits are the kind of tracker you wear 24/7, and so is the Fitbit Inspire HR. It's small, it's light, and so comfortable you could forget you're wearing the thing.
You get a silicone strap as standard, two of them in different sizes actually, but you can trade up too. Fitbit makes a leather strap, a steel strap and silicone ones with funky patterns. You just flick a lever on the back of each end of the underside to replace the strap.
Unlike the standard Inspire, the Inspire HR also has a "proper" watch-style strap.
Don't fancy spending an extra wedge for a new look? The Fitbit Inspire HR comes in all-black and lilac as well as the two tone look you see here.
It is ready for just about anything too. Like the hardiest of bands, the Fitbit Inspire HR is 5ATM water resistant. You can wear it in the shower, or the swimming pool. And give it a rinse after a particularly gruelling, sweaty run.
This isn't a hardcore tracker, mind. The screen covering is plastic rather than toughened glass, so be careful not to scrape it along any brick walls when flailing like Phoebe from Friends when going for a "PB" run time.
Screen and interface: Smooth sailing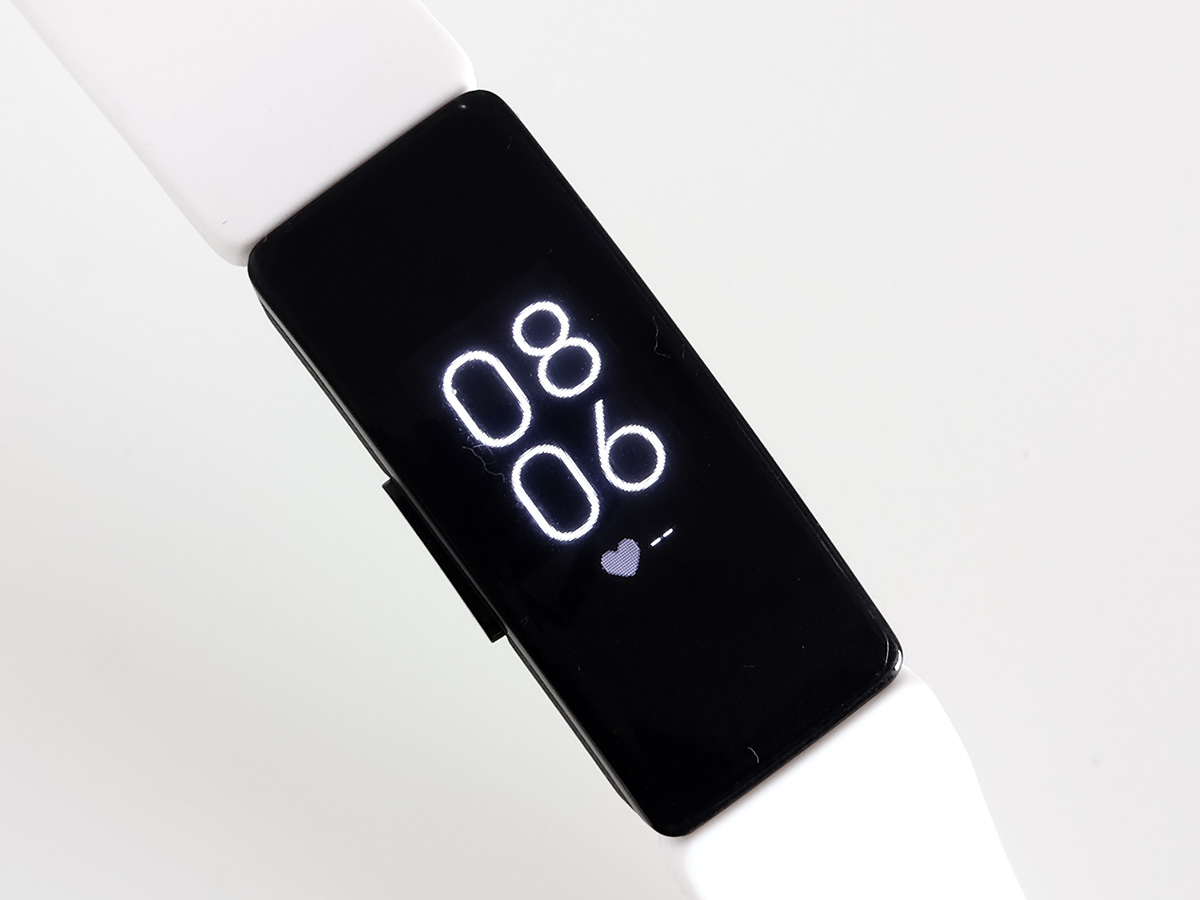 The Fitbit Inspire HR has a dinky little monochrome screen. It's not fancy next to the bolder, colourful Honor Band 4, but it is clear. And thanks to the OLED panel each pixel is a dot of bright light in a sea of perfect black. Lovely.
There are only a handful of clock faces and all but one is digital. But there's only so much you can do with a low-res black and white screen anyway.
Where Fitbit claws some cred back from a colour rival is the interface. The Fitbit Inspire HR is, like just about every Fitbit ever, nice to use. That may sound a compliment so vague as to be meaningless, but it's important. There are no weird laggy bits, no badly designed parts to the interface or features that seem too ambitious to work properly. Such things are common in price-gouging budget bands.
For the most part, you just flick up and down on the screen to get to the various features and info pages. Each bounces onto the screen with a charmingly animated transition. Not too plain, not too desperate to inject a thoroughly distinct personality.
It's nice, see?
Features: Smarty rants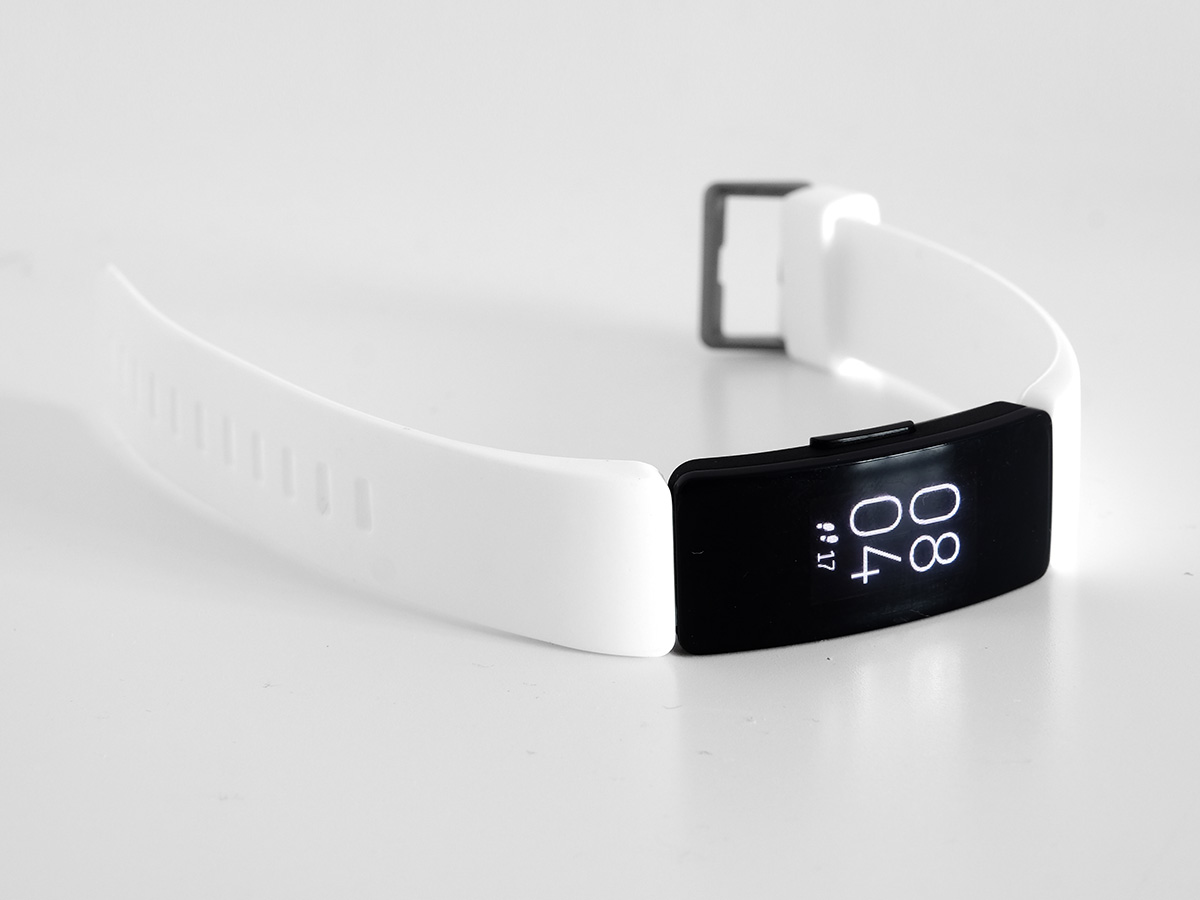 Basic Fitbit bands like this have often been quite restrictive. You might be able to track steps, but not runs. Some only had very basic notifications support, if any at all.
The Fitbit Inspire HR is not a revelation in terms of its features. But it does have just about everything we want in a low-maintenance tracker.
There are two killer parts here. The Fitbit Inspire HR supports notifications from any app you like, not just the SMSs no-one sends anymore and the calendar we forget to keep up-to-date.
WhatsApp and Gmail are the real winners, for us at least. You can read a chunk of messages and email headlines, to tell whether you need to dig out the phone or not. The Fitbit Inspire HR vibrates when these come in, for a veneer of smartwatch-like functionality.
You can read ultra-long messages. You can't reply to them. You can't even dig into the notifications you've received earlier. It's just the basics, but perhaps that's good enough.
Connected GPS is the other biggie, and this is not present in the version of the Fitbit Inspire without a heart rate sensor. This means it's radically better for runners and gym fans.
The normal Inspire uses activity detection to log runs, walks, swims and cycles automatically. You only get the most basic of stats from these.
Fitbit's Inspire HR is in a completely different league. It does the same kind of auto exercise tracking, but you can also manually log exercise. Do this and the band hooks onto your phone's GPS signal to fully map your runs and walks, just like a fancy Garmin runner's watch.
As there's a heart rate sensor on the back too, you really do get just about all the same data as such a fitness obsessed tracker. Of course, this only works if you run with your phone. If you don't, the Fitbit Inspire HR isn't anywhere near as useful. But most of us run with music or a podcast playing, right?
GPS tracking is accurate, and the heart rate readings are good too. You can make the Fitbit Inspire HR record your heart rate all day and all night, letting you keep an eye on your resting heart rate.
There's more too. The Fitbit Inspire HR's heart stats feed into sleep tracking. You see, with the non-HR model you see only the most basic of info: when you were asleep and when you wake up, whether that's at 2am after a nightmare, or 6am after a nightmarish alarm. This one breaks down each night into the various sleep stages. Those are REM, deep and light sleep. You can really see the difference in sleep quality between a night when you go to bed at a sensible hour, and after a night at the pub. Booze is bad for you: who'd have thought it?
Software and Battery Life: Don't burn out
There are a few little extras too. The Fitbit Inspire HR's vibrate motor is used for alarms and timers, handy if you want to keep your day extra-organised.
You can set these from the watch itself too.
All the other bits of data end up in the Fitbit app. And this part really needs an overhaul to keep up with these new devices.
The Fitbit app is more fun than most. There's an adventures section that maps your daily steps onto real-world hikes. And, if you pay for it, you can unlock video workouts in the Coach section.
However, the home screen looks pretty dated at this point. The good news? Fitbit says overhauled software is "coming soon", so let's not dwell on the slightly fusty look too much.
Battery life is something a software spruce-up won't fix, and the Fitbit Inspire HR's is only passable. Fitbit says it should last up to five days. Switch on features life notifications and track a run or two and you're looking at 3-4 days.
It's much better than a Wear OS watch, of course, but just don't look too closely at the Honor Band 4 or you'll be put off altogether. Honor's tracker lasts up to two weeks, with notifications, and it has a colour screen.
This feels like the kind of tracker that should last about a week. It really doesn't. And it's the one part of the Fitbit Inspire HR we don't like much. To recharge you just plop the onto a little magnetised dock, so at least charging is simple.
Fitbit Inspire HR verdict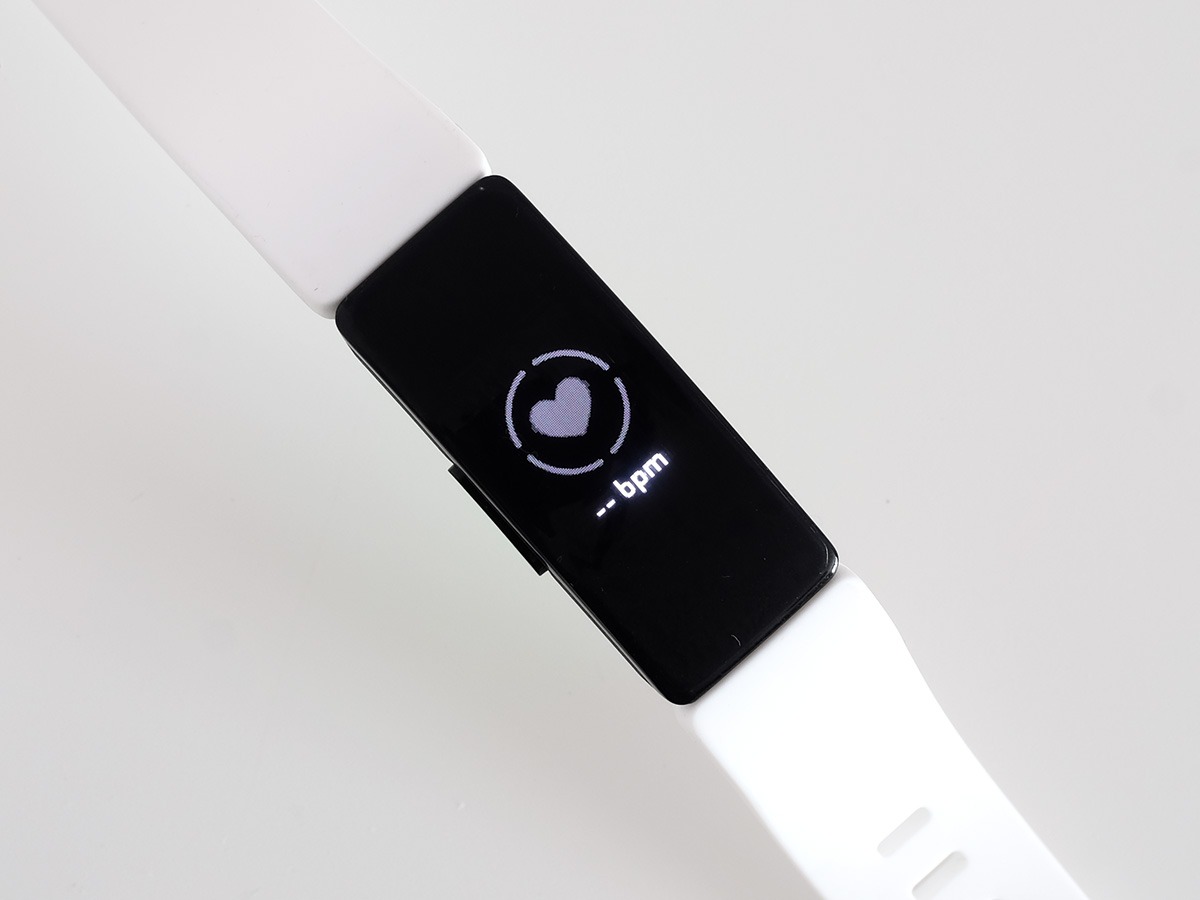 The Fitbit Inspire HR is a great little fitness tracker. As well as the Fitbit staple of step counting, it's surprisingly good for proper run tracking if you do so with a phone in your pocket. Add notifications and, well, that's just about everything we want in a low-key band.
Battery life is one part you'll need to consider. 3-4 days of use with all the good stuff turned on is not a great result. But it's almost the lone black mark on what is a truly likeable Fitbit that's good for much more than just step counting.
If you're weighing up whether to buy this or the basic Inspire, get the Inspire HR. It's much better.
Stuff Says…
More than just a step counter, the Fitbit Inspire HR has all the fitness tracking skills most people need
Good Stuff
Connected GPS means real run tracking
Easy to use
Much more advanced than the standard Inspire
Bad Stuff
Battery life isn't great