Fujifilm GFX 50S review
Medium format, big appeal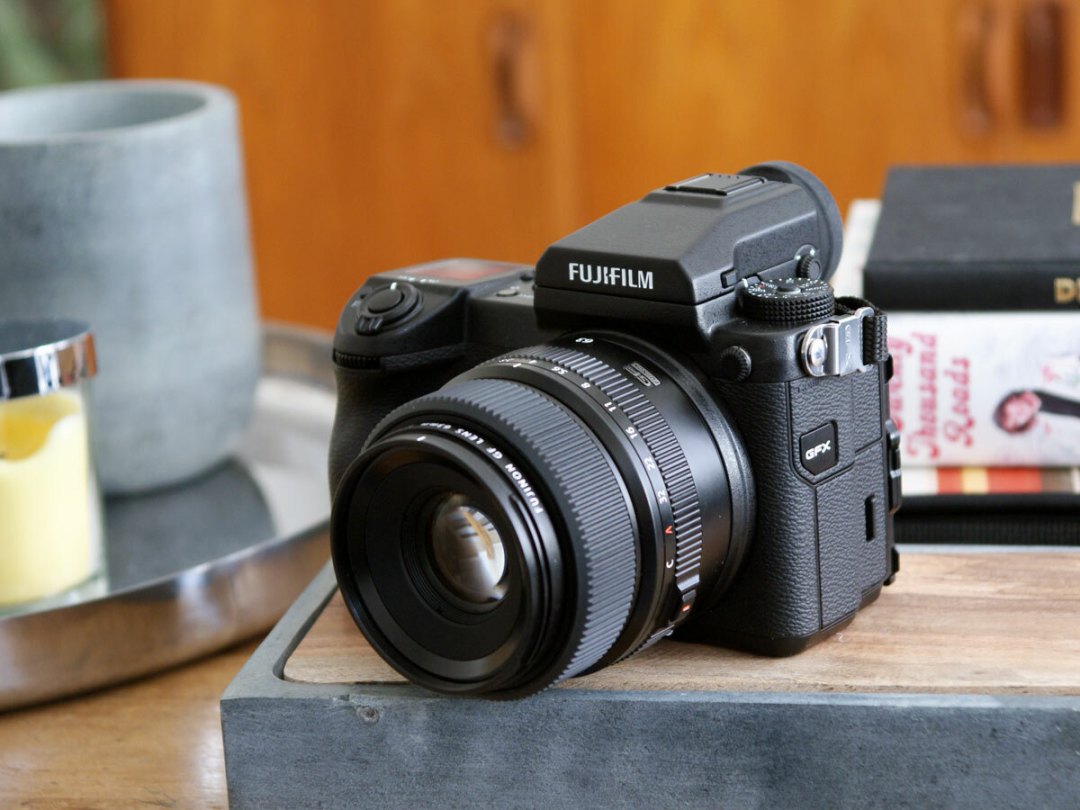 Medium format. That's the stuffy, studio-centric camera tech that costs tens of thousands of pounds, right?
Not any more. The GFX 50S is unique; a professional-grade camera that's as comfortable in the studio as it is in the wilderness.
There are few questions you need to ask yourself before buying one. Most obviously, can I afford to spend £6,000 on a camera and at least £1,350 on a lens? But also, how vital is detail to your photography? How many megapixels do you need? And how much sharpness can you handle?
Because this is a camera that, thanks to its giant 51MP medium format sensor, is a dream tool for any serious photographer who wants to capture the world around them in finer detail.
Yes, it's frighteningly expensive, and yes, it might initially feel a little unusual for those more used to DSLRs and compact system cameras. But it produces astoundingly detailed photographs, and does so in a surprisingly user-friendly package.
Full-frame photographers watch out – there's a new high-end champion to get jealous over…
What's medium format?
Camera junkies might be a bit puzzled as to why Fuji went for medium format instead of full frame, the oversized sensor of choice for the likes of Canon and Nikon.
Apparently, the jump in quality from the X-T2's APS-C sensor to a full frame one just wouldn't have been enough – especially as it would majorly irk anyone that had just bought an X-series camera.
So here we are – a camera no bigger than a DSLR, but packing a sensor that's almost twice the size of full frame. With no mirror mechanism, Fuji has managed to keep the dimensions trim, the package light, and eliminate vibrations from mirror shock – tiny shakes that could ruin a carefully framed shot with camera blur.
Spread across 51.4 megapixels, the amount of detail you can capture with every squeeze of the shutter button is, quite frankly, ridiculous. With the right lighting and camera settings, you'll get billboard-quality shots right off your memory card – especially as the GFX shoots in 14-bit RAW, which is perfect for capturing wide dynamic range.
Design: small, sturdy, sort-of stylish
Tradition holds that medium format cameras are large, unwieldy beasts, but the GFX50S bucks the trend – largely down to the fact that it's a mirrorless model that doesn't have to make room for a giant moving mirror and pentaprism.
Remove the electronic viewfinder module, fit one of the smaller lenses and this thing's not much bulkier or heavier than a premium DSLR.
That's not to say it's small, per se. The body needs to accommodate that huge sensor, and as a consequence there's a large bulge on the back, onto which Fujifilm has bolted a 3.2in LCD screen; the whole thing protrudes an inch or so from the rest of the body. If you're used to hauling round a dinky, lightweight compact system camera, you'll need some time to adjust to the GFX50S' heft.
Thankfully, the package includes a high-quality padded neck strap, which helps distribute the bulk quite comfortably. The body is constructed from tough magnesium alloy and weatherproofed at no fewer than 58 points, so it's built to take a beating from the elements.
Rubberised material wraps the midriff, and a large grip for your right hand ensure it'll stay steady in your mitt while shooting. Styling-wise, you'd probably call it functional rather than fashionable, but it exudes a handsome utilitarian charm that's somewhat reminiscent of Fujifilm's X series.
Controls: buttons galore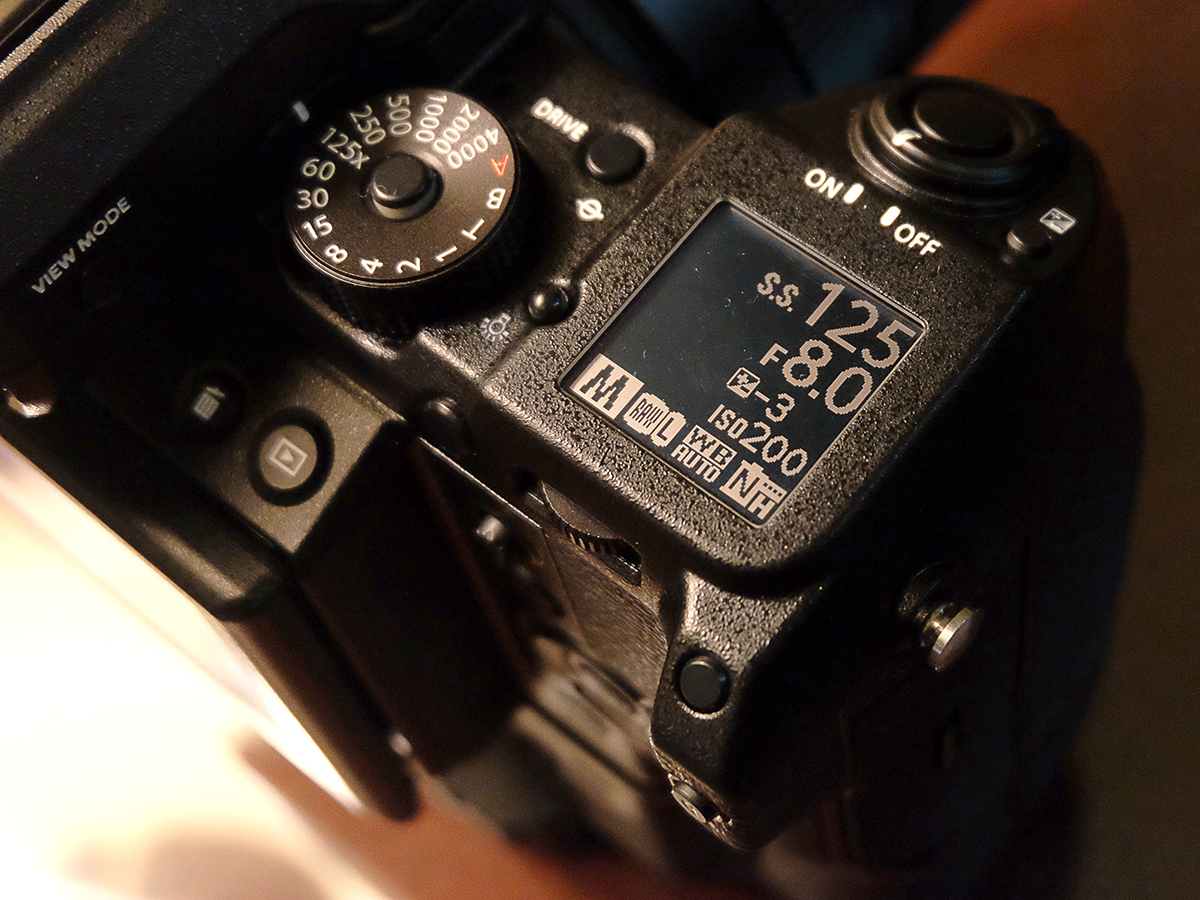 Another holdover from the X series is the menu setup and control system. Fujifilm has peppered the exterior with enough dials, joysticks and buttons to keep the most enthusiast control freak contented.
There are dedicated dials on top for shutter speed and ISO, aperture can usually be changed via a lens dial, and various other buttons can be customised to fulfil whatever function you'd like. If you've used an X series camera recently, or have a good handle on general CSC/DSLR control layouts, there's nothing here that'll scare you away; you'll pick it up in no time.
In a another welcome nod to control inclusivity (and a move likely to dismay photography purists), the rear display is a touchscreen. That means you can swipe through photos and video clips you've taken, pinch to zoom and tap on-screen to change settings in the Q menu.
You can also touch to set an autofocus area. It's a good, restrained example of how touch controls can enhance an advanced camera without getting in the way – and those purists can easily avoid them if they feel the need.
While not technically a "control", the LCD display on the top plate deserves a mention here. This remains on even when the camera itself is powered off to give a quick indication of battery life and remaining SD card capacity, and when you flick the power switch it displays general shooting settings information like aperture, shutter speed and exposure compensation. Another useful addition.
Fuji has put a lot of thought into keeping studio snappers happy too, which is why there's a vertical battery grip available at launch. This adds a significant amount of extra bulk to the camera, but duplicates the shutter button, command dials and most-used buttons for portrait shooting. It'll double battery life, too, raising the number of shots between charges from around 400 to over 800. Easily enough for an entire photo shoot.
Combine it with the optional tilting EVF adapter, and you've got one seriously flexible camera. It lets you move the viewfinder up to 90° when shooting landscape, and 45° in each direction when shooting portrait. The GFX 50S will do tethered shooting with Adobe Lightroom, too – as long as you buy the optional Pro plugin.
Features: focused on the important things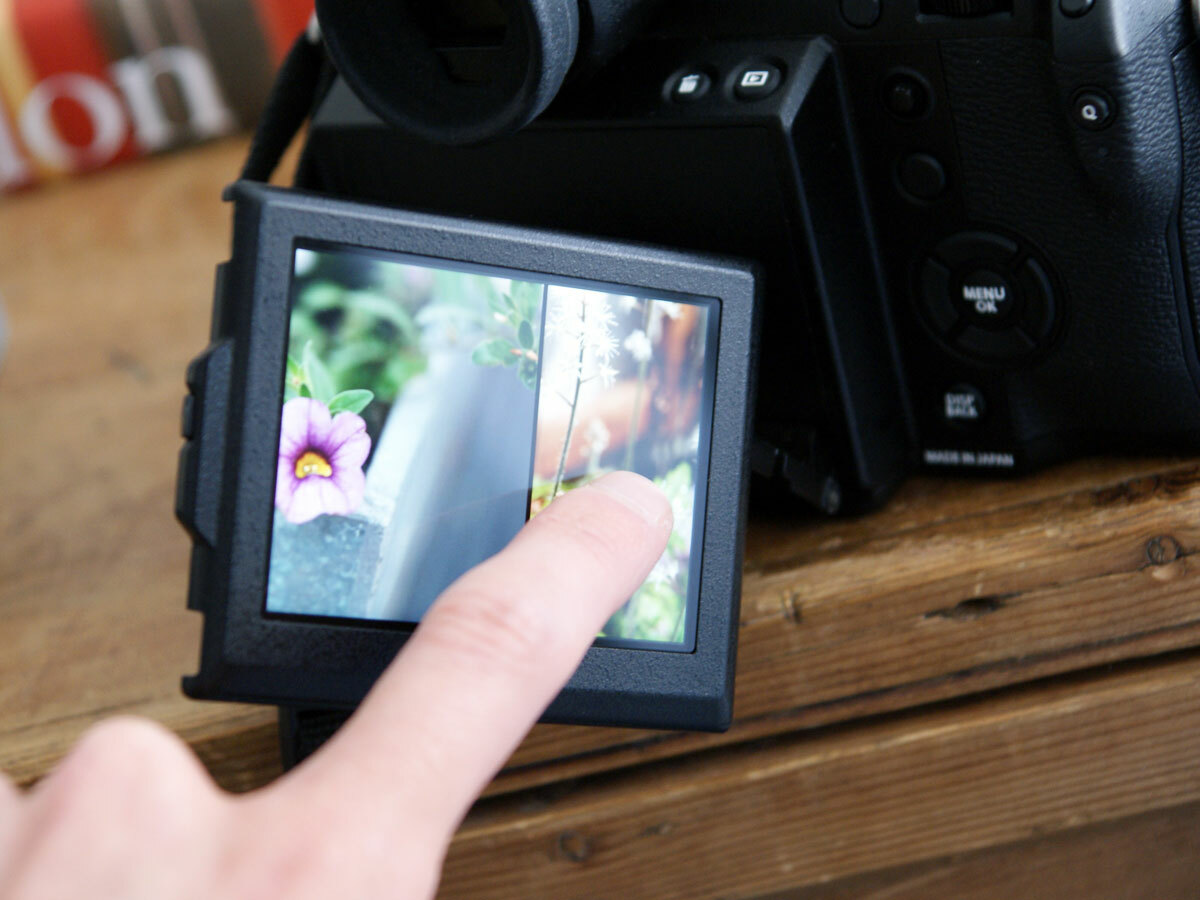 By medium format standards, the GFX50S is daring and different, but that's not to say it's festooned with gimmicky features. This really is a camera designed to nail the basics.
There's optical image stabilisation, but in-lens rather than in-body. The fastest continuous shooting speed is a treacle-like 3fps. And the video options are limited to Full HD quality at 30fps.
That said, it's hard to be disappointed by what's on offer here. Medium format cameras aren't famed for autofocus speed or accuracy, but the GFX50S is impressive on both counts. It's not the perfect choice if you're planning to shoot sport or wildlife (that's more like the Sony A6500's domain), but it's by no means bad at all.
Fuji has also added a whopping 117 autofocus points, and the same convenient focus selector joystick from the X-Pro 2, so you can really dial down and get pin-sharp results every time. That's a world away from the one or two focus points you'd get on a traditional medium format camera, and puts the GFX 50s on par with the pro-level full frame cameras you'll spot at any football match, or in the photo pit at any concert.
There are lots of other handy features. The screen tilts and flips. There's built-in Wi-Fi. The (included) electronic viewfinder add-on has a large, natural-looking and sharp OLED screen with millions of pixels.
And you get plenty of pro-level features like dual SD card slots (which not only double your storage capabilities but can be set up so that, say, RAW files to go one card while processed JPEGs go to the other) and in-camera RAW conversion.
I'd say the GFX50S is short on "pioneering" features, but strong when it comes to the things it needs to deliver a pleasant and powerful user experience.
Image quality: a devil for the details
As you might expect from camera with a huge 51MP sensor, the GFX50S has a facility with detail that'll be quite astounding to anyone used to smaller sensor DSLRs or CSCs.
Open up a photo taken with this thing on your computer screen, zoom into the 1:1 view and, where most digital cameras would show soft, ill-defined edges, there'll be genuinely sharp detail there. Just check out images five and six in the gallery above – incredibly, the original wasn't even taken on a tripod.
This means you have plenty of scope to crop images down, or to make huge poster-sized prints for wall-mounting. This means the file sizes are large (around 25MB for a JPG and 100MB plus for a RAW file) so you'll need some high capacity SD cards to avoid running out of storage space.
The GFX50S also offers great colour reproduction, with huge potential for editing and RAW processing for diehard enthusiasts, as well as punchy JPGs straight out of the camera. Fujifilm's "film simulation" modes – basically a bunch of built-in filters designed to give photos the look of classic analogue film types – are all present and correct here, so if you want to get images popping without fiddling around in Lightroom afterwards, there are options.
RAW conversion is also built into the camera, which I found handy as none of my Mac photo editing apps support Fujifilm's RAW formats. While RAW conversion is clearly better performed on a computer with a large monitor than on a camera with a 3.2in screen, it's useful to have.
Another consequence of the huge sensor size is depth of field. If you like to shoot images with a shallow depth of field and out-of-focus backgrounds, a medium format camera is a dream. Opening up the aperture on the 63mm, I could easily shoot full-body portraits with the subject in sharp focus and the background blurred.
The large sensor size helps with low light photography too. With a steady hand, you can achieve lovely low-noise images in the gloom. The max ISO setting of 102400 is probably best avoided, but the wide range means you should be able to find a welcome balance between shutter speed and overall sharpness in anything but the murkiest of situations.
If it's an incredible camera for stills, it's less impressive where video is concerned. Despite the huge sensor, 4K capture is off the cards, and you're limited to 1080p at 30fps. The footage looks great, and you can hook up an external mic and headphones for a more professional sound recording option than the built-in mic, but there are cheaper full-frame cameras that offer a much more filmmaker-friendly set of options.
By all means, buy the GFX50S for its photography talents, but the video is best treated as a bonus feature.
What about lenses?
The G mount system is brand new, and there are currently only five lenses for it: a 23mm f/4, a 63mm f/2.8, a 110mm f/2, a 120mm f/4 macro and a 32-64mm f/4 zoom.
Due to the huge size of the sensor, those focal lengths are a bit wider than they sound (the 23mm is equivalent to an 18mm lens on a full-frame camera, for example). Stuff's review sample came with the 63mm and 120mm macro lenses, both of which seem excellent in terms of sharpness and build quality.
The latter has built-in optical image stabilisation too, which is helpful when shooting those ultra close-up macro photos. If you want to use more than the initial five, you'll need an adapter. Fujifilm makes an H mount to G mount adapter (£650), which is a big deal for anyone thinking of switching from Hasselblad, and third-party manufacturers are offering select others – you'll lose autofocus capabilities, though.
Fujifilm GFX 50S verdict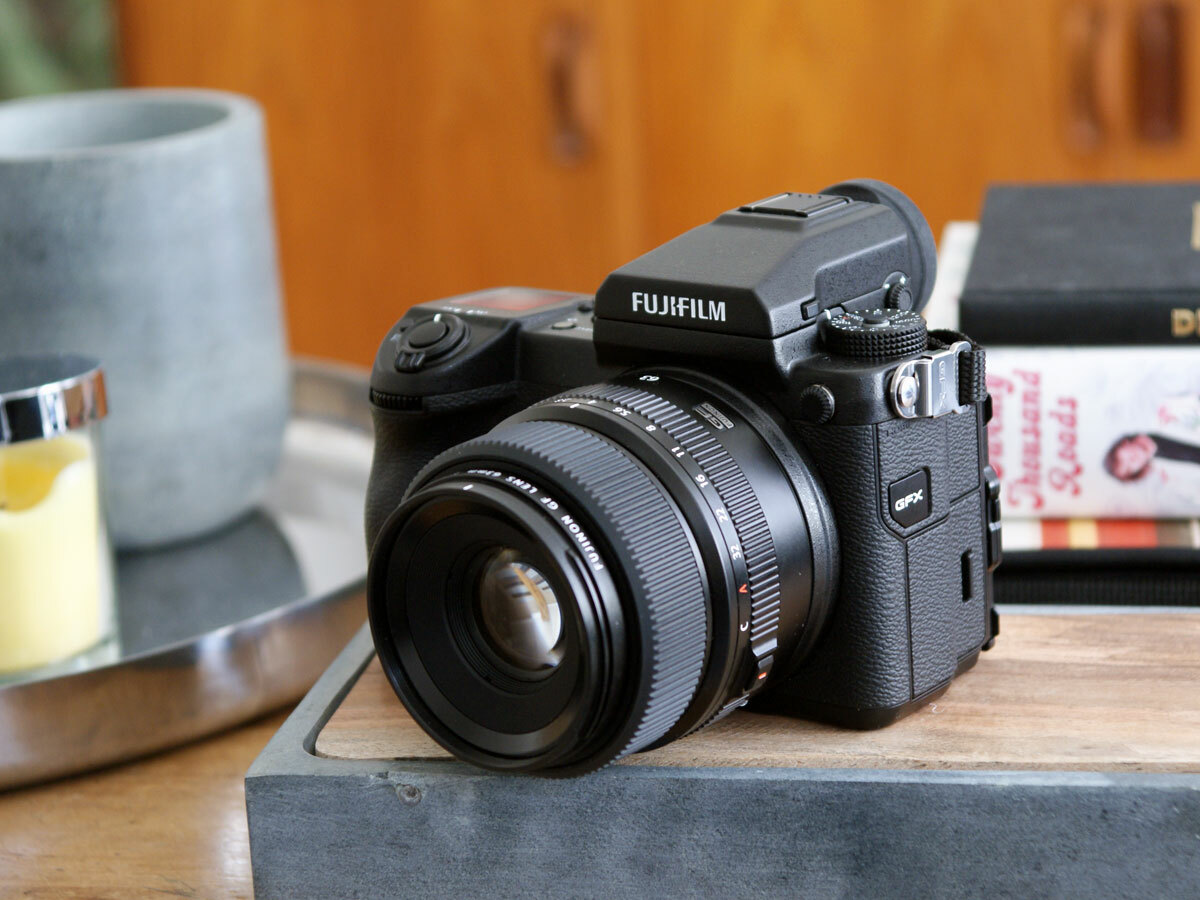 Unless you make your living from photography (or have a very big pot of savings), then there's no doubt this is a frightening amount to spend on a camera. On the other hand, most of the GFX 50S' rivals cost twice the amount, and it might just be the camera that pushes medium format towards the mainstream.
It's a camera for professionals, but that doesn't mean it isn't user-friendly. You don't need to be a technical master to take killer shots with this camera; anyone with a grasp of the photography basics will be shooting like Ansel Adams or Rankin in no time.
The GFX 50S is also smaller than full frame DSLRs from the likes of Nikon and Canon, but packs in a larger sensor, and is arguably easier to use. Fuji's fantastic control layout is easy enough for newcomers to learn, and instantly recognisable for anyone stepping up from an X-series camera.
The massive number of autofocus points is unheard of in a medium format camera too, and really opens up what's possible – both inside and outside a studio setting. One thing's for sure – we don't want to give ours back.
Stuff Says…
Not cheap, but no camera we've tested takes better photos than this
Good Stuff
Richly detailed shots
Weatherproof build
User-friendly
More compact than many MF cameras
Bad Stuff
That price tag
Limited video options and no 4K
Not built for speed