Fujifilm Instax Mini Link 2 review: more than a pocket printer
Colourful and compact prints, with a side of light painting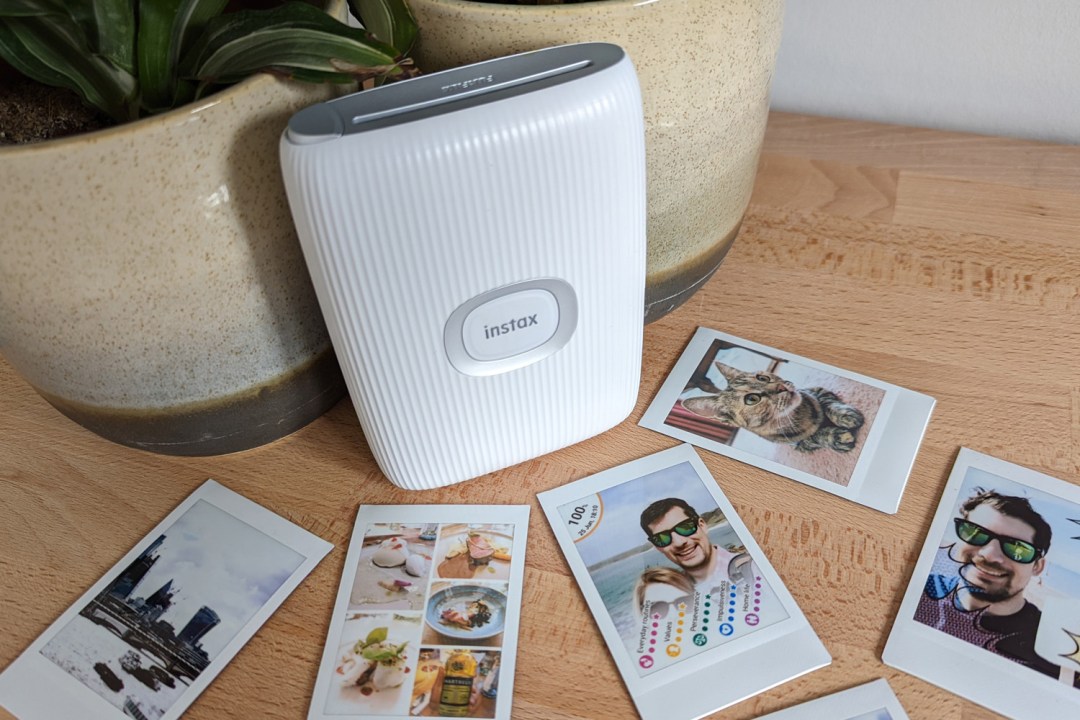 Fuji's portable Instax printers have been turning your smartphone snaps into physical photos for years, and are a great alternative to lugging a bulky yet basic instant camera around. They've not been the things to get your creative juices flowing, though – that was largely left up to your phone.
The Mini Link 2 aims to change that, having picked up a few app-enabled tricks of its own to bring a splash of fun to proceedings. Digital light painting and some playful gesture controls want to be the reason you pop the printer in your bag when heading out the house, rather than leaving it behind and printing your pics once you get home.
Some image quality improvements and an evolved companion app should also give it the edge over the more basic first-gen model. Are they also enough to make it a must buy for instant addicts?
Design & features: perfectly portable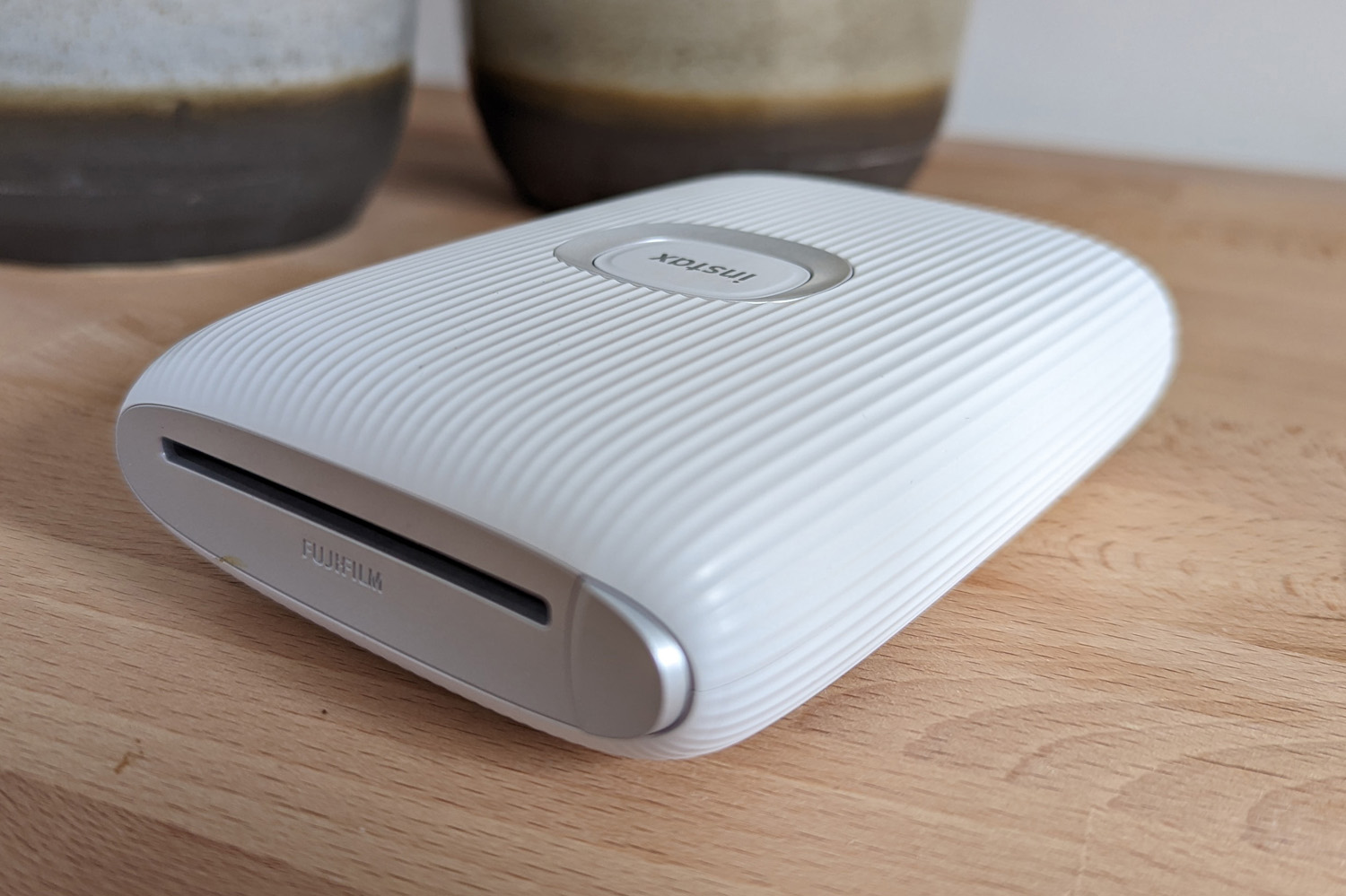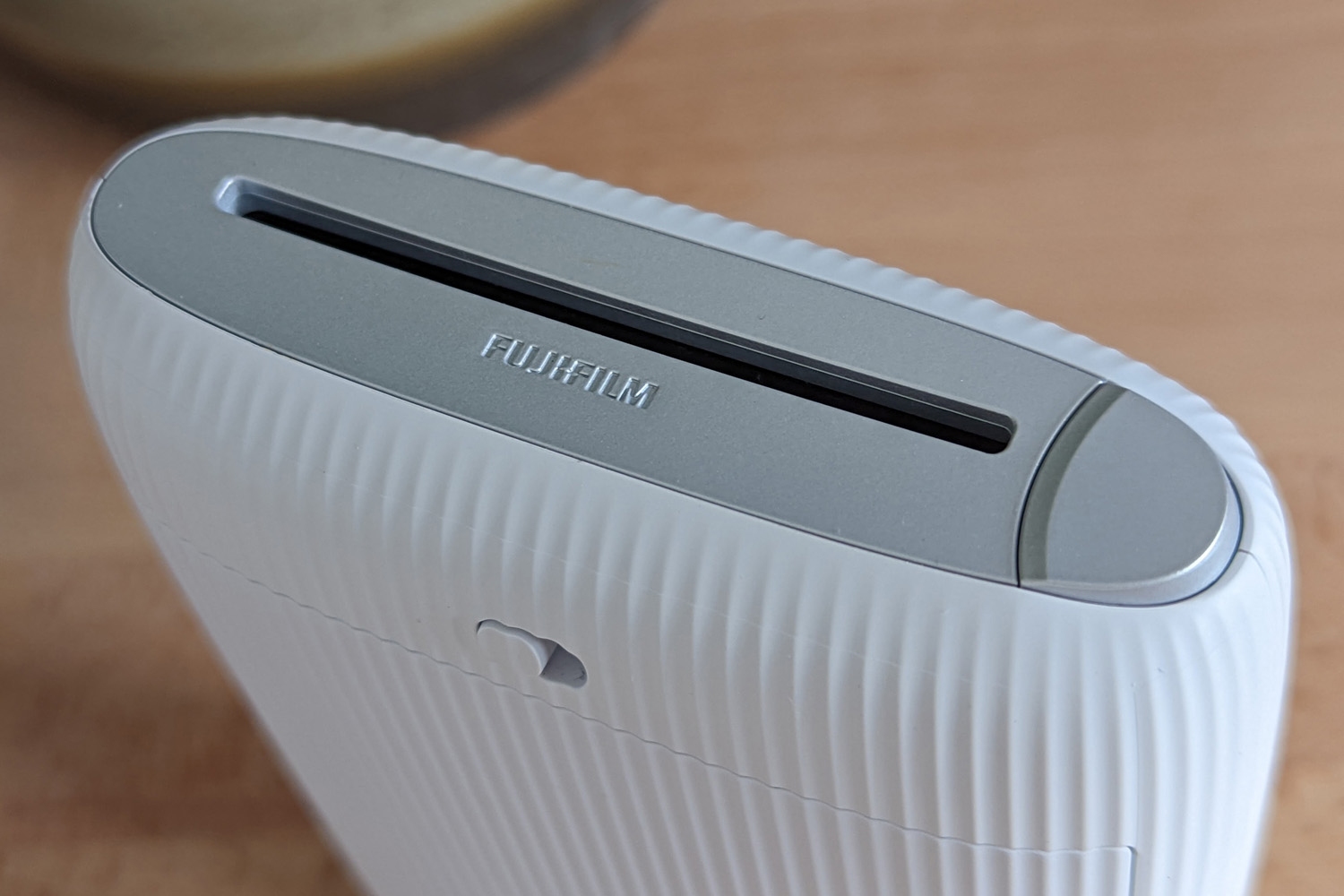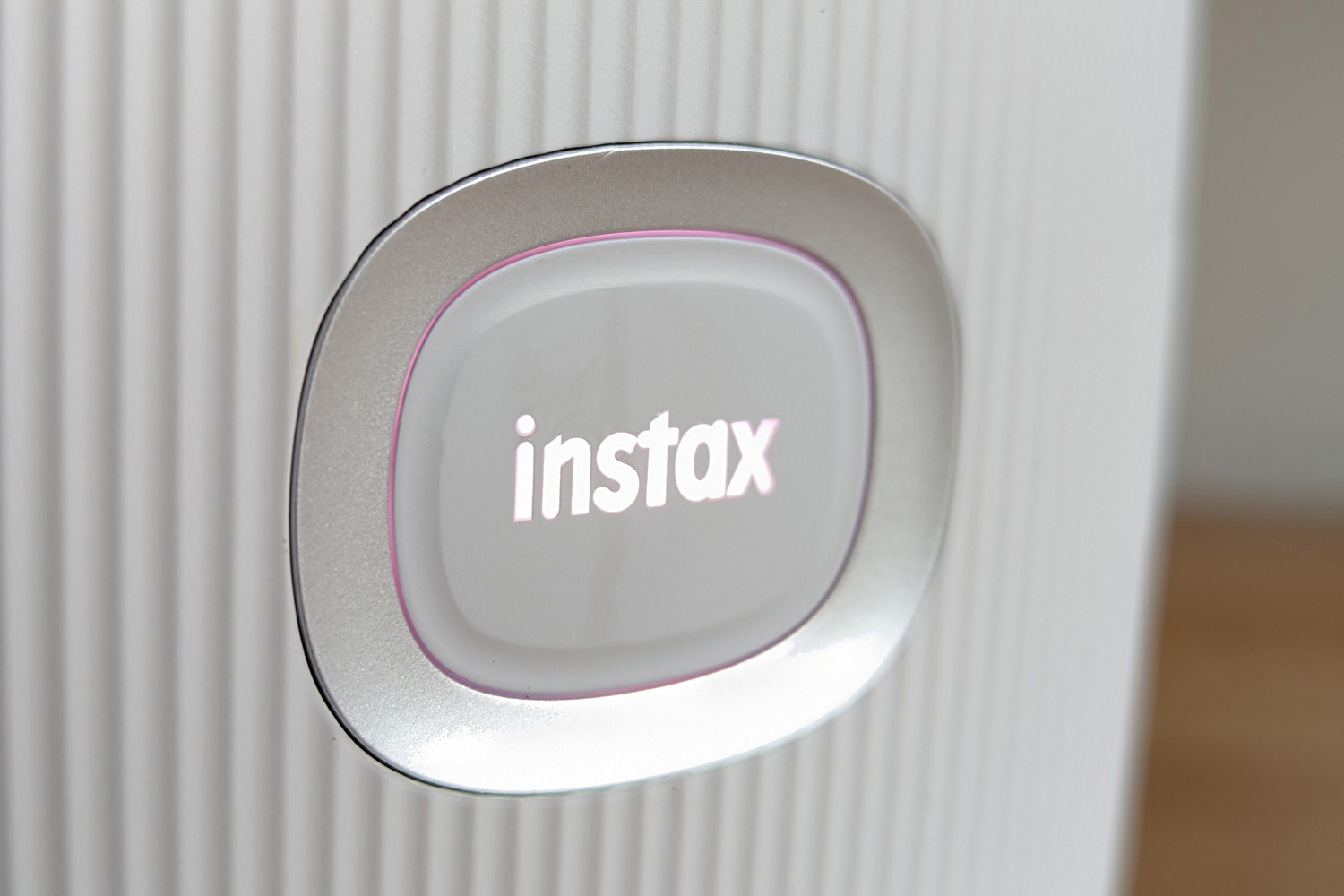 On the outside, not much has changed from the OG Instax Mini Link: there's the same simple yet sturdy plastic build, with ridges to give you something to grip on. It doesn't grab attention like Fuji's Instax cameras, whether you opt for the Clay White, Soft Pink, or Space Blue colour.
The Instax logo on the front still doubles as a power button, with a long-press also activating Bluetooth pairing, and photos still eject from the top. You load film packs at the back, behind a door held in place by a latch that's still just a bit too easy to knock accidentally in a bag. A lock would have been a handy addition. It's just about small enough to slip in a pocket, but not the same one you keep your phone in.
Fuji reckons you can manage up to 100 prints between charges of the built-in battery, but we found it was closer to half that. It also depends on how much you use the more advanced features. Charging takes around two hours. It's a shame the Mini Link 2 sticks to micro-USB, though: USB-C would be far more convenient now most other gadgets have made the jump to the newer standard.
New for '22 is the LED on the side and control button on the top, which are dedicated to the Instax Air mode. It's a twist on light painting that uses your phone to trace the position of the printer, digitally dusting your photos with neon, spray paint, bubbles, sakura blossoms or stars. This makes Fuji's Mini Link app even more of a must-download.
Companion app: breath of fresh Air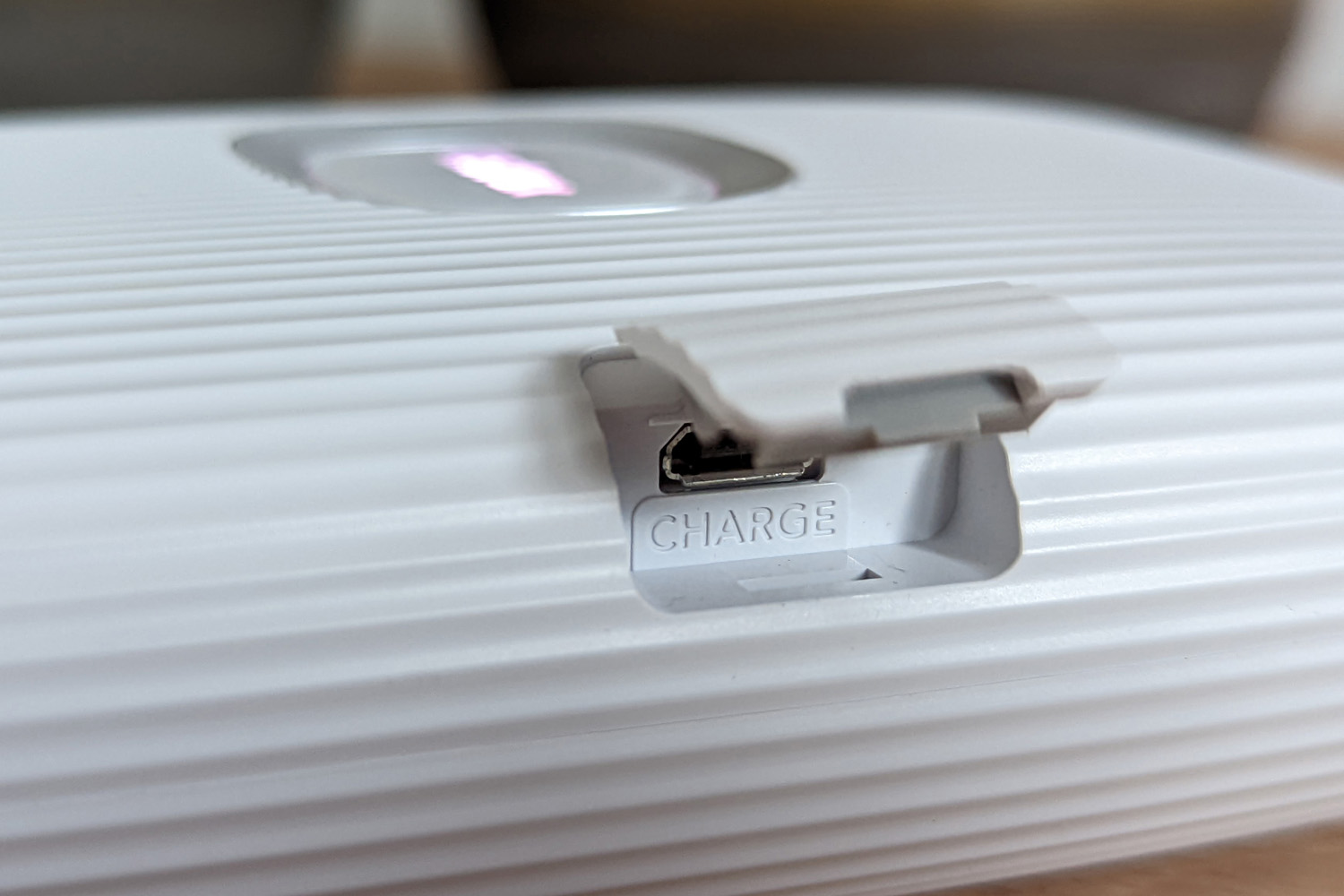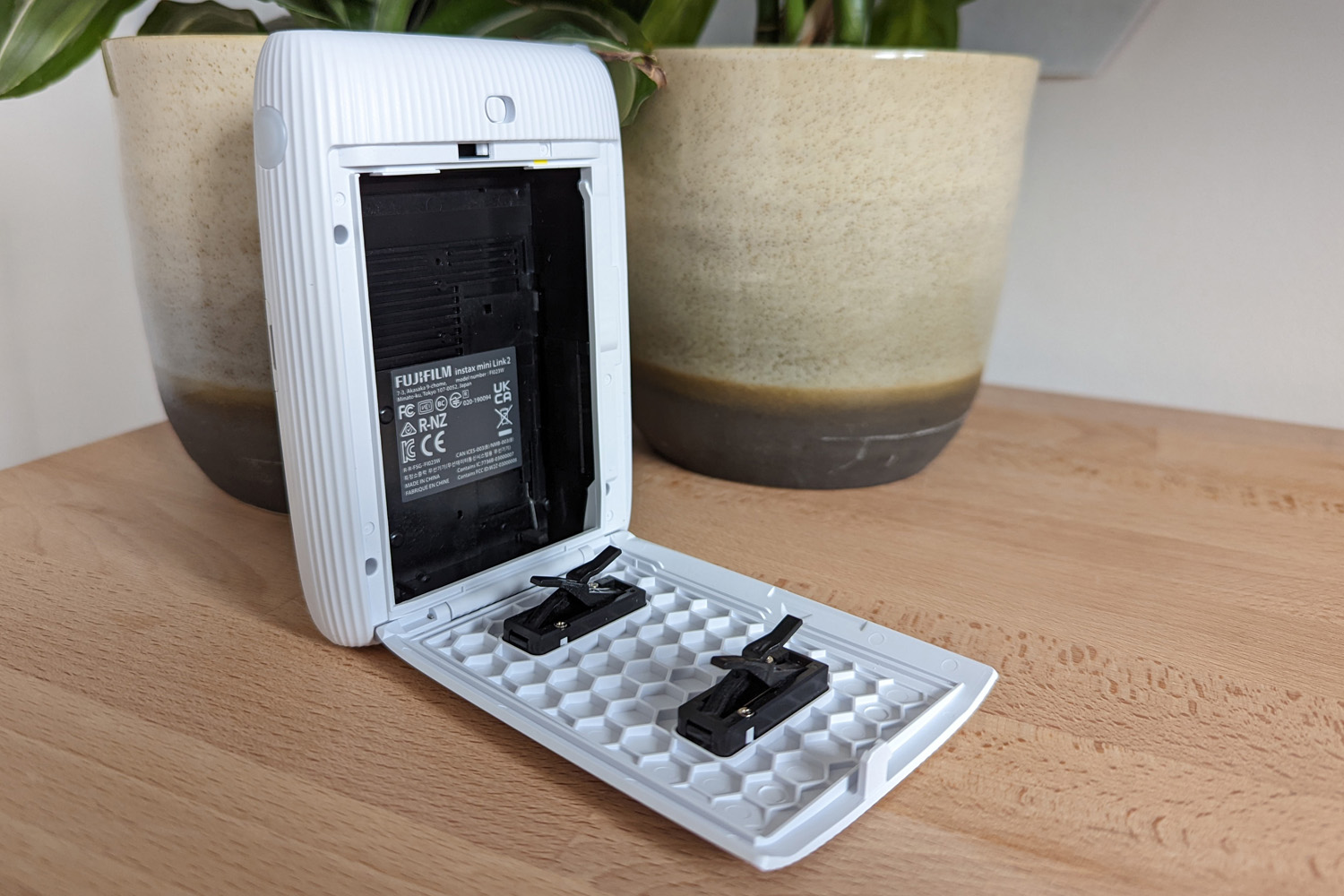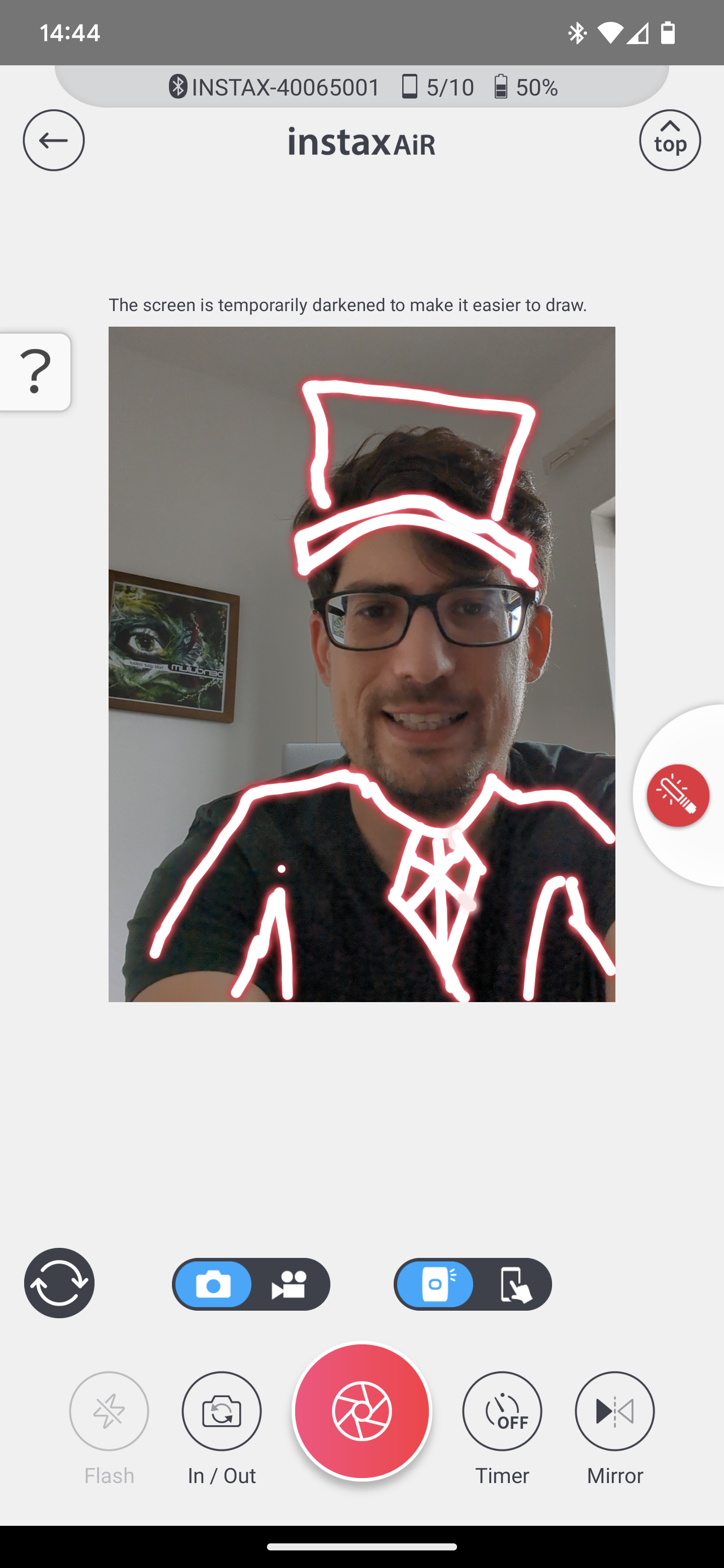 The app still pulls in pics from your phone's image gallery ready for printing, and has the usual brightness, contrast and saturation sliders to tweak before committing your pics to film. It also lets you quickly slap on filters, stickers and colourful frames, or 'embed' video clips into your photo with a QR code, which links to a cloud-hosted version of the footage. The fun, Blind Date-style Match Game also makes a return, scoring your compatibility with a partner based on a series of quickfire questions.
Collage mode has been improved, so as well as squeezing multiple shots on a single Instax print, you can split a single image across multiple prints. Embiggening your snaps like this quickly gets expensive, though, with packs of ten shots costing about £9 each.
Instax Air is where the action is, though. Activate it and the printer's LED lights up ready for drawing. Pointing it at your phone's camera with the button held down will 'sketch' onscreen, with the printer vibrating and the phone chipping in with sound effects to match the tool you're using.
It's a neat addition that's genuinely fun to play around with, as long as you aren't expecting Photoshop-quality doodles. They're much more of the MS Paint variety – but that's part of the charm. What you can't do is sketch over an exiting image; you've got to do it live. Also, because phone and printer must be paired via Bluetooth to track the LED (so it doesn't get confused by similarly-coloured lights) you can't bring a second Mini Link 2 into frame and double up on drawing.
Less useful is the Instax Camera mode. It's supposed to let you tilt the printer to zoom in and out, and press the button to take a photo, but is as gimmicky as it sounds. The button wouldn't trigger our phone's camera shutter, either.
Picture quality: instantly colourful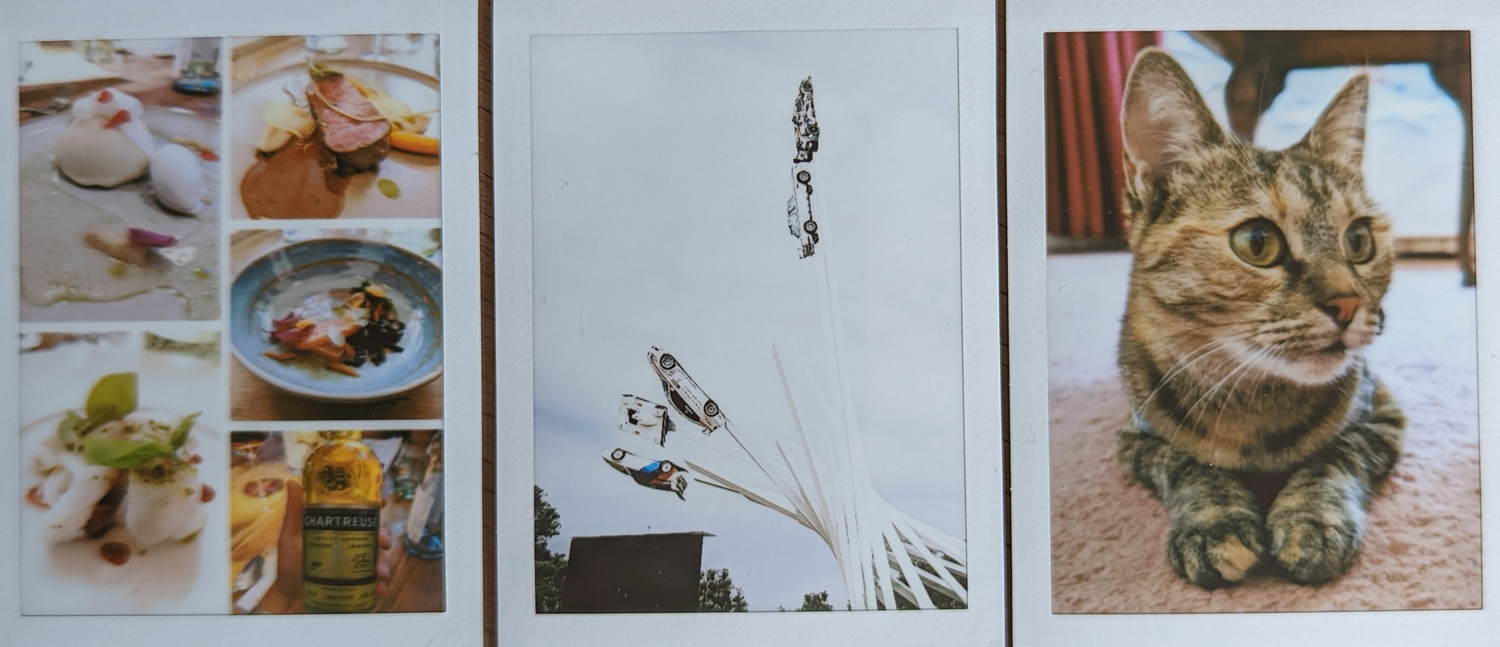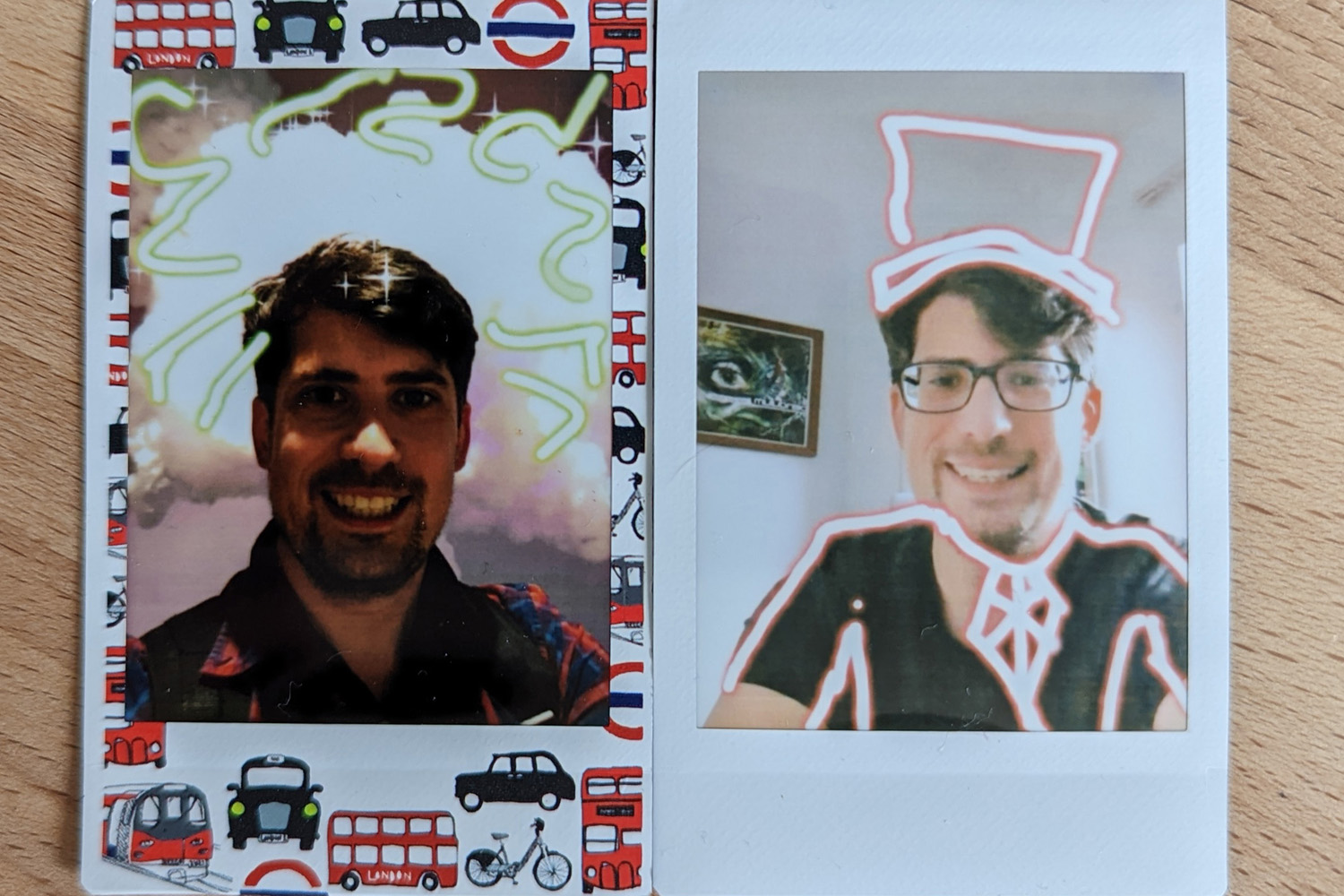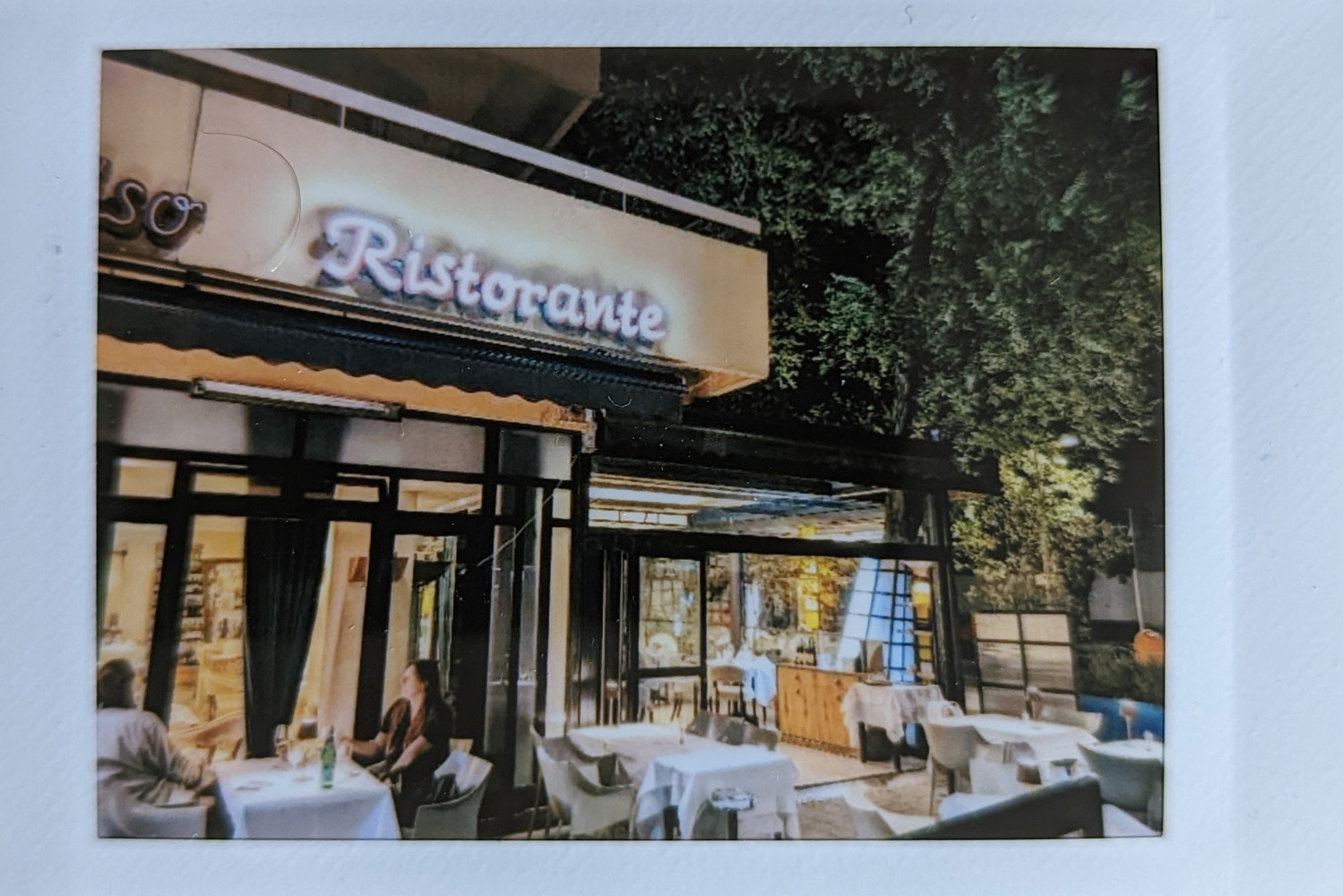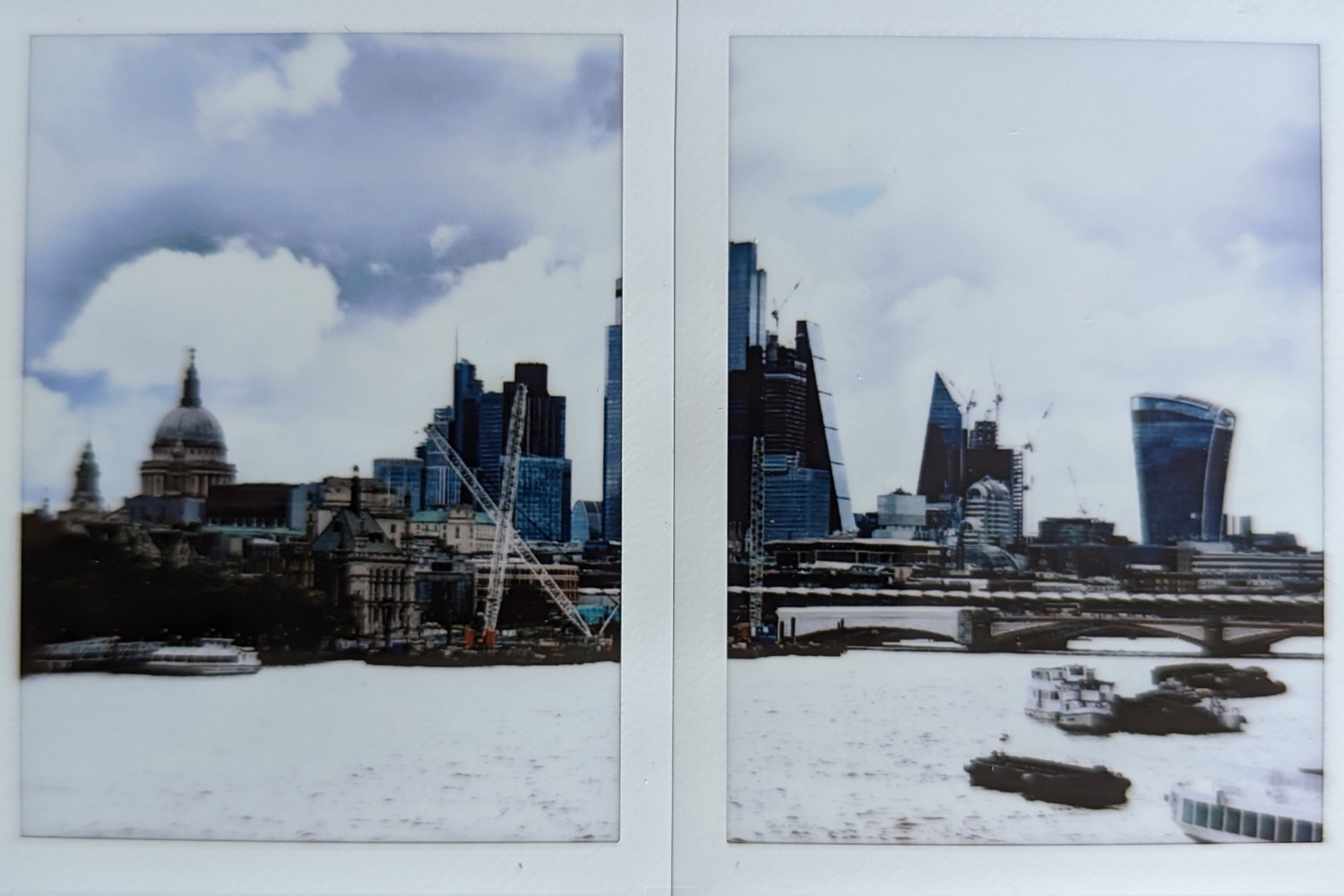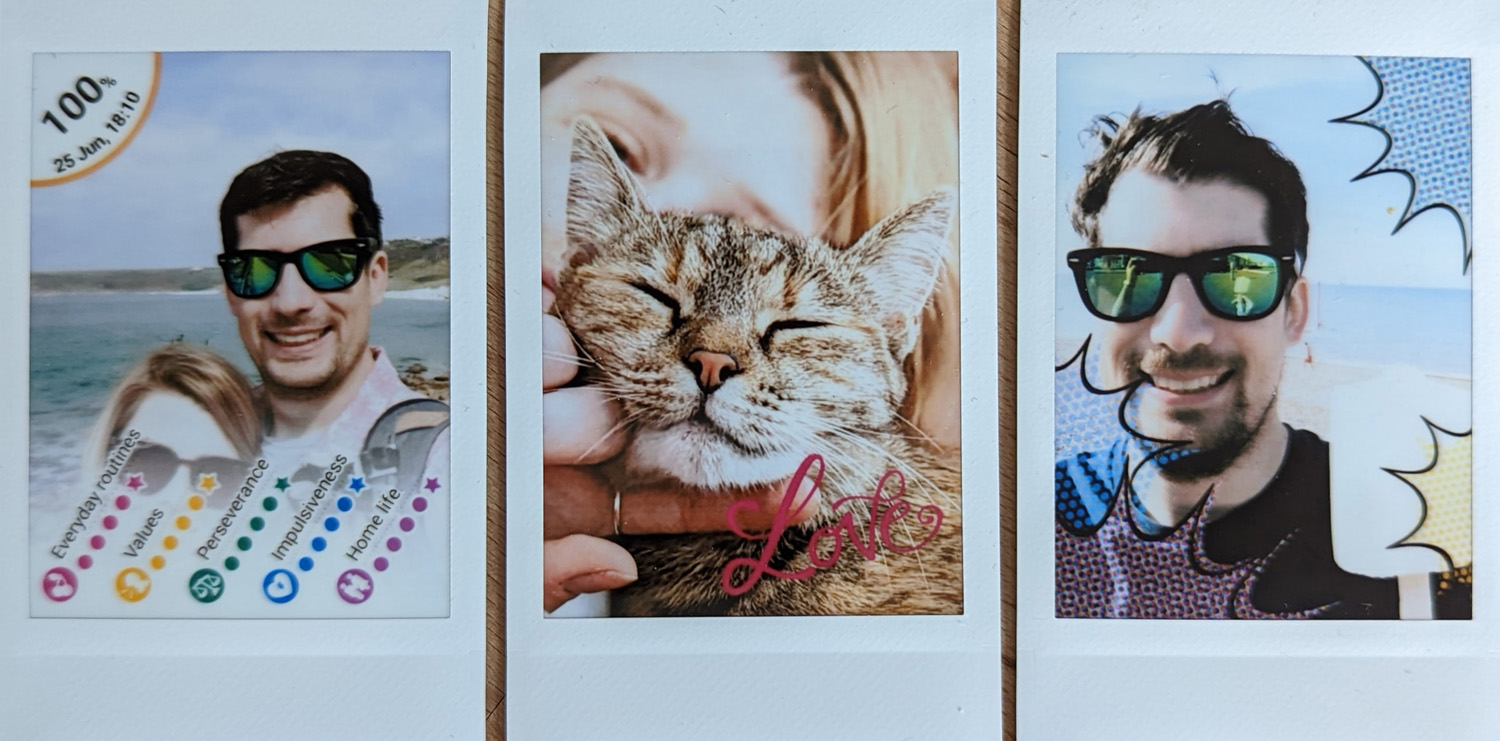 Each print takes around 15 seconds to transfer from smartphone to printer, then a further few minutes to develop.
Fuji's credit card-sized Instax Mini prints are proper instant film, not the heat-reactive paper you'll find on rivals like the Kodak Step printer. They use chemicals to react to light, which means colours have Fuji's signature blend of vibrant, punchy hues and softer, pastel-like shades.
You can dial these up by swapping from the 'Instax Natural' colour mode to 'Instax Rich', which boosts vibrancy and gives your pics more pop, pulling back highlights and often rescuing shots that would look blown out printed using the standard mode. It's a genuine step up for the most part, but is still picture-dependent – some look better with the more traditional, slightly blown-out effect. Having to jump into the menus to swap between the Rich and Natural colour modes can also be a bit of a faff.
Compared to what you'd get straight from an instant camera, which typically have basic lens elements and manual focus, prints of snaps taken with a phone are far sharper and more detailed. There's no light bleed like you'll find in cheaper, 'toy'-style instant cameras, either.
The end results aren't going to challenge a good inkjet photo printer, but then have you ever tried to lug one of those down to the beach or the park? The charm of being able to hand a snap straight to your friends is why you accept instant's other compromises.
Fujifilm Instax Mini Link 2 verdict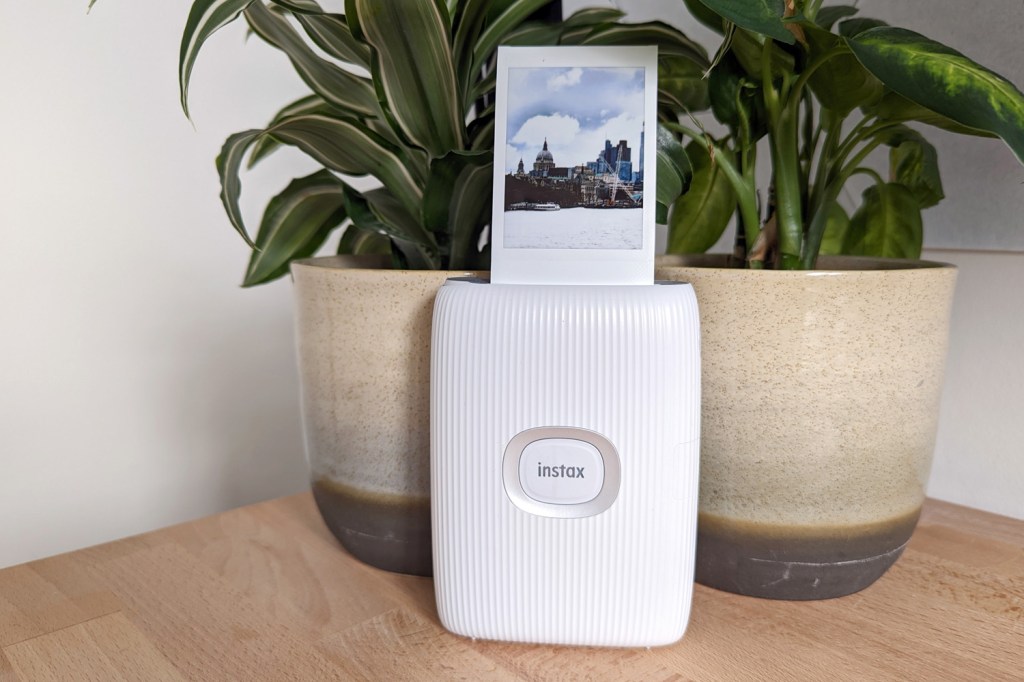 The original Instax Mini Link was slick, but unless you wanted a physical photo at that exact moment, there wasn't much incentive to carry it around with you all the time. The Mini Link 2's app-enhanced creative modes change that. Adding virtual scribbles to your snaps is a fun addition, which should go down well with younger audiences.
We still reckon the Instax Link Wide is the better choice if you just want physical photos, given the larger format images it prints. Fuji could also have made a few more improvements like ditching the micro-USB charging to truly make this a must-have upgrade.
For compact convenience, though, nothing else comes close.
Stuff Says…
Adds a new creative angle to Fuji's pocket-friendly printer, without diluting what we loved about the original. Don't take it too seriously and there's plenty of fun to be had here
Good Stuff
Quick and fun way to print pocket-sized photos
Instax Air a great creative addition
Bad Stuff
Gesture controls not much cop
Micro-USB charging
Fujifilm Instax Mini Link 2 technical specifications
| | |
| --- | --- |
| Film format | Fujifilm Instax Mini |
| Image size | 62x46mm |
| Connectivity | Bluetooth 4.2 BLE, micro-USB (charging only) |
| Battery life | Up to 100 prints per charge |
| Dimensions | 92x36x125mm, 210g (excluding film pack) |