Fujifilm X-E3 review
Fuji's hot streak continues with this ravishing rangefinder...
If you've already been struggling to decide on a mid-range compact system camera, well, there's bad news – your decision just got a bit tougher.
Fujifilm's X-T20 has long been our best all-round CSC, but now it's been joined by snazzy, retro alternative in the form of the X-E3.
Both share the same 24.3MP APS-C sensor found in many DSLRs (as well as Fuji's X-Pro2 and X100F), with the differences mainly in design and styling.
The X-E3 has classic rangefinder looks (rather than mini DSLR styling) and wears its viewfinder on the far left, making it ideal for street or documentary shooting.
The question is, are its little compromises too high a price to pay for its charming, 'everyday camera' size?
Design: built for street snapping
If you're a fan of Fuji's X series, you'll generally fall into one of two camps – those who like the flatter rangefinder style design, and those who prefer the boxier, larger, DSLR type shape. The X-E3 is one of the former, with the viewfinder found on the far left of the camera.
One of the advantages of this design is that you can use the viewfinder while keeping an eye on the scene with your left eye (that is, assuming you're a right eye shooter). That makes it great for street style photography, or indeed anything where the scene is prone to changing.
Impressively, the X-E3 has seen a reduction in size from its X-E2S predecessor, though it can take the same battery. It's also lighter (body only) than the compact X100F.
There's a rubberised grip on the front of the camera that helps it feel secure in the hand, though it'd be fair to say it feels a tad imbalanced with larger lenses (even the supplied 18-55mm f/2.8-4 kit lenses) than it does with smaller prime optics, such as the 23mm f/2.0 lens.
There's been a bit of a reshuffle on the back of the camera, with the removal of the four way navigation pad found on the X-E2S, and the lack of any buttons found on the left hand side of the screen.
Instead, you've got a navigation joystick, which is very handy for setting the AF point when holding the camera to your eye, along with a set of three buttons along the right-hand side of the screen. The joystick is also used to move around menu settings, depressing it inwards to make a selection.
The quick menu button has been moved onto the protruding thumb rest, while a couple of the other buttons can now be found running along the top of the screen.
Overall, the back of the camera is a little cleaner and simpler.
The top of the camera, meanwhile, hasn't changed all that much. There's still a shutter speed dial, an exposure compensation dial, the shutter release and a customisable function button.
A new addition for the X-E3 is the ability to flick to "Auto" mode, which suggests that Fuji is aiming at more casual users who want great photos without the complication of changing settings.
If you've ever used a Fuji X series camera before, you'll know that there's no mode dial. Instead, if you want to shoot in, say, aperture priority, you'll need to set the shutter speed dial to automatic, leaving you free to control the aperture dial (either on the lens itself with some lenses, or via the dial at the back for those without a dedicated aperture dial).
It's a very quick way to work, giving you speedy access to key settings exactly when you want to change them.
Another new feature for the X-E3 is touch-sensitivity for the screen. This means you can use it to set the autofocus point, as well as tapping various options in the quick menu.
You can't use it in the main menu though – which seems like a bit of a shame, if not exactly a deal-breaker.
Features: impressively swift autofocus
Under its retro bonnet, the X-E3 has very similar snapping powers to the other X-Series cameras, which can only be a good thing.
Not only does it have the same sensor and processor as the X-T2 and X-Pro 2, it also boasts the same fast shooting speeds – giving you up to 14fps if you use the electronic shutter option.
There's also an improved AF system, with focus tracking getting a significant boost. It's now very good at tracking small subjects entering and moving around in the frame. The same AF update will also be available to X-T2 and X-Pro2 users via a firmware upgrade.
While the X-E3 is probably not going to be a sports or action photographer's camera of choice, thanks to its body size and handling, the fact that it's capable of producing good shots in these conditions is good news for all-rounders who like to shoot a bit of everything.
The X-E3 is also the first X series camera to feature both Bluetooth and Wi-Fi connectivity. In theory, this means you can create an always-on, low-powered Bluetooth connection for automatically transferring your shots across to your smartphone.
In reality, this feature is a little hit and miss – sometimes working really well, and other times not working at all. Still, connecting via Wi-Fi is very quick and the accompanying app very easy to work with.
A key difference between the X-Pro2 and the X-E3 is the fact that it only has a single memory card slot.
Unfortunately, that single slot is also the slower UHS-I type, so you won't have quite the same speed performance you can enjoy with the X Pro2.
The X-E3 is capable of recording 4K video, but it is limited to creating clips of ten minutes at a time. You can shoot in Full HD, but only for 15 minutes. To get to 30 minute clips, you need to shoot in 720p HD – it seems unlikely that any keen videographers would look towards the X-E3 as their camera of choice.
Image quality: X-tra fine snaps
With the same image sensor and processing engine as other X series cameras in the range, it comes as no surprise that the X-E3 produces superb images.
Colours are vibrant and peppy, without going too far into unrealistic territory when using the "Standard" film simulation setting.
You can choose from a variety of different simulation modes, depending on your subject. Most Fuji users have their favourites – it's certainly worth experimenting with the different options. Velvia for example produces very vibrant images, while Classic Chrome has a typical filmic look to it.
The X-E3's 256-zone metering system does a good job of producing accurate exposures in most situations. The exposure compensation dial comes into play when you're photographing a high contrast situation, but for most everyday scenes you can pretty much leave the camera to it.
It's a similar story with auto white balance, which delivers pleasing and natural results most of the time. Noise is well controlled throughout the X-E3's native range of 200 to 12,800.
You'll want to stick to the lower settings for utmost image quality, but for producing prints of up to A4 size and sharing files online, ISO 6400 and ISO 12800 produce perfectly acceptable images.
Fujifilm X-E3 verdict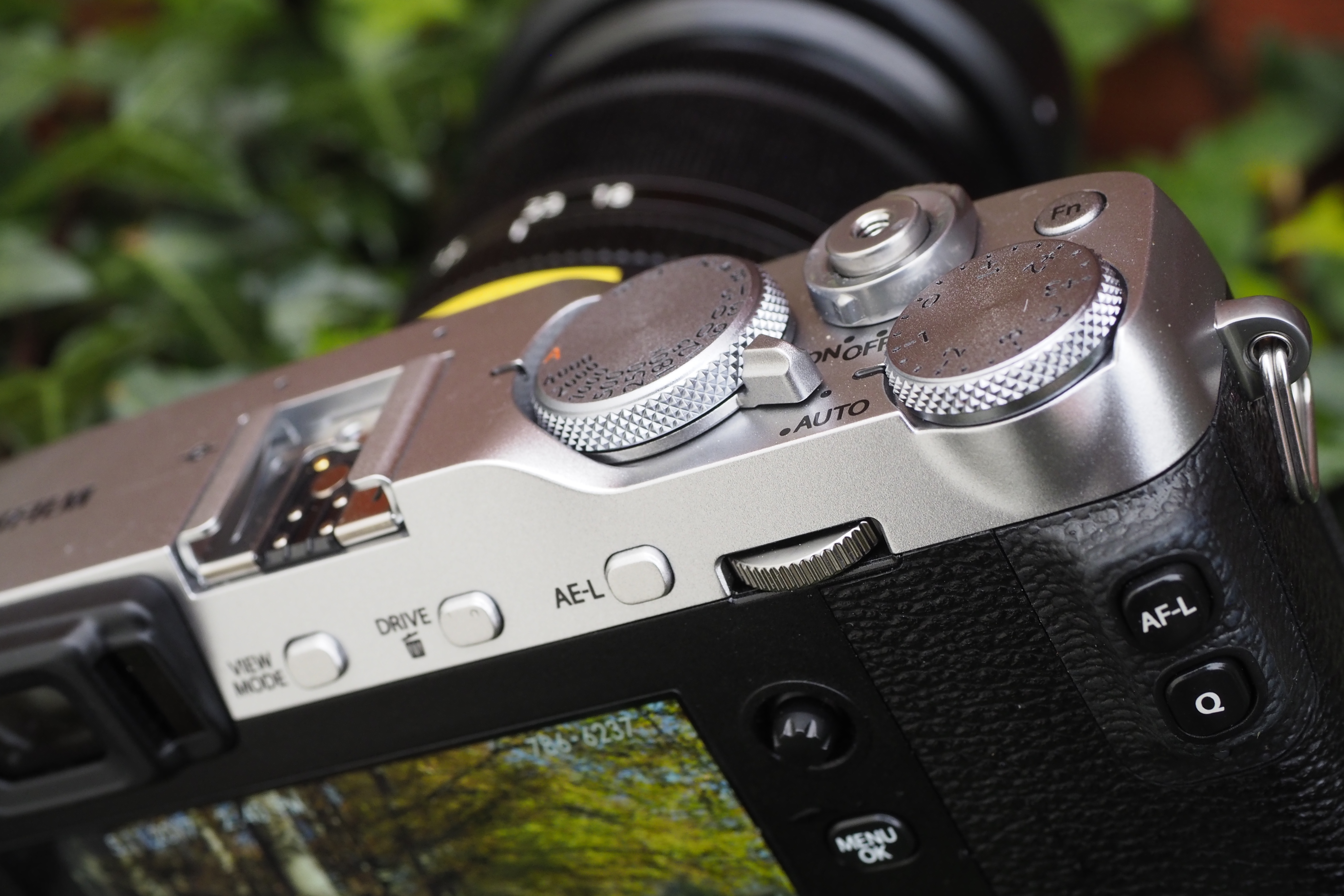 It'd be easy to dismiss the X-E3 as just another also-ran, when you consider how good the rest of the X series is. In this respect, Fuji is pretty much a victim of its own success.
The X-E3 is basically a pared down version of the X-Pro2, which is great news if you want something similar, but don't have a budget that stretches upwards of £1400.
Naturally, there are some small compromises to be made – the lack of a moveable screen is a big one, while the X-E3 feels pretty unbalanced with larger lenses.
But if you're looking for something to shoot street or documentary shots, or just want a capable 'everyday' shooter to walk around with, it's a real cracker. You probably won't want to use it for sports or action stuff, but the fact that it's still capable in those situations is a big bonus.
Overall, the X-E3 is a very tempting proposition. It might be pricier than lots of other rival compact system cameras, but it's also more affordable than the premium end of Fuji's X Series offerings.
If you prefer its rangefinder styling to the more DSLR-inspired X-T20, it might just be the CSC for you.
Stuff Says…
A smaller, lighter and cheaper X-Pro2, the X-E3 delivers some excellent results with very few compromises
Good Stuff
Small and lightweight
Great autofocus
Cracking image quality
Bad Stuff
Screen is fixed rather than tilt-able
Can feel a bit imbalanced with larger lenses