Fujifilm X-T20 review
Is this the best pound-for-pound camera in the world?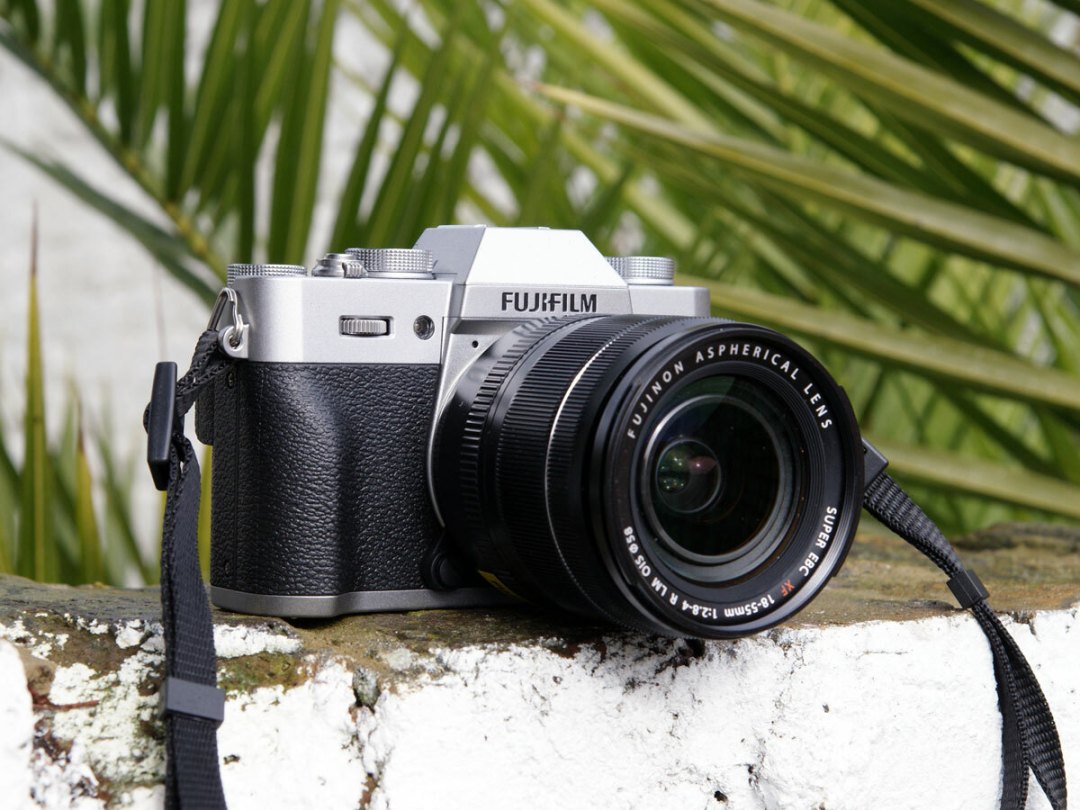 The Fujifilm X-T2 is pretty much the best all-round camera on the planet – a mirrorless mélange of wonderful photo quality, sparklingly sharp 4K video, rugged design and pro-friendly handling.
That's all well and good, but it also costs £1,400 without a single lens; a daunting sum for anybody who's not totally invested in that shutterbug life. How great would it be, then, if you could take the bulk of the X-T2's charms and put them in a camera that's roughly half the price?
Enter the freshly-released Fujifilm X-T20. Coming with the same 24.3MP APS-C sensor and processor as the X-T2 plus a touchscreen (which its sibling lacks), the X-T20 will leave you with a lot more spare cash in your account. I spent a few days in its company to see how it measures up to its pricier big brother.
Fujifilm X-T20 design and build: solid, but not rugged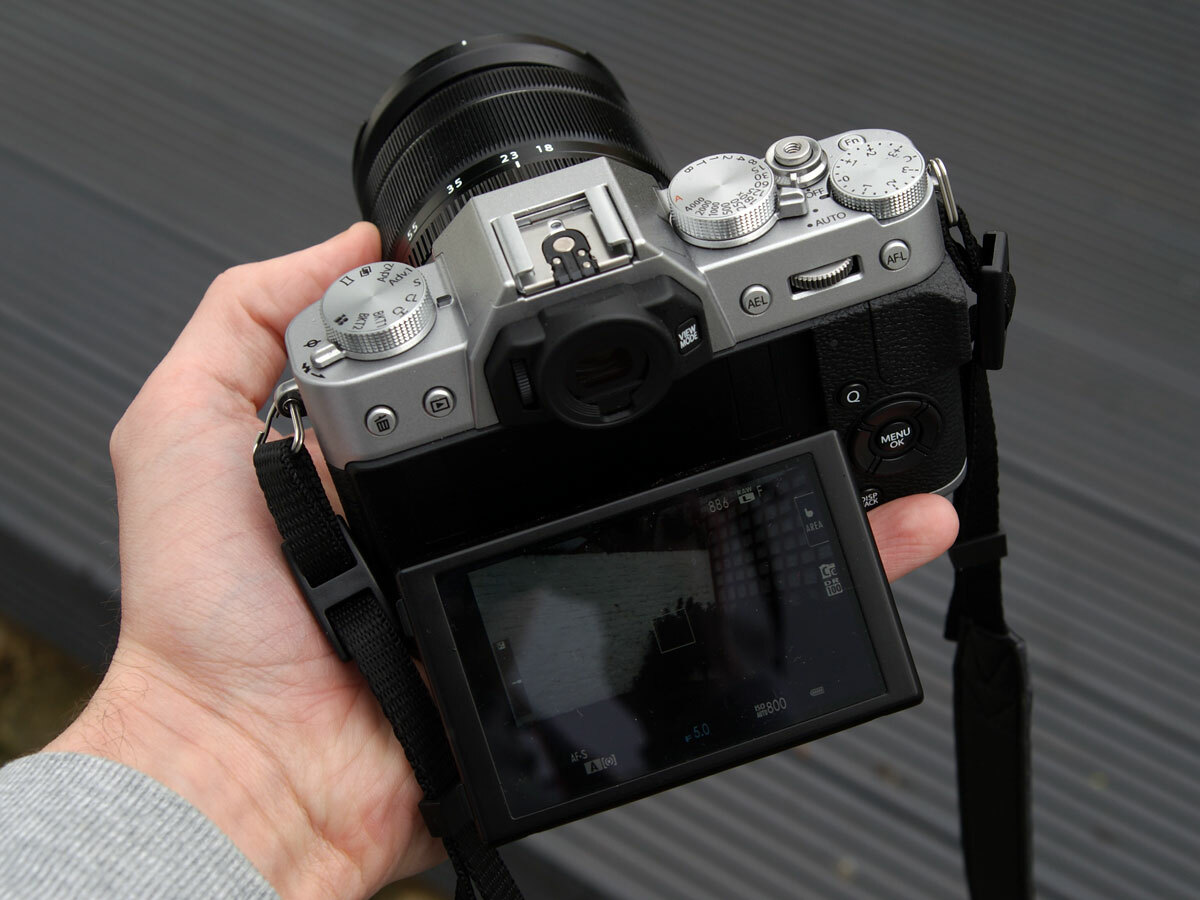 At first glance, the X-T20 looks a lot like a slightly scaled-down version of the X-T2 – there's the same dial-heavy "little DSLR" design, for instance. But there are two key differences: the X-T20 lacks its siblings rugged weatherproof build, but gains a new 3in tilting LCD touchscreen.
Firstly, that build quality. Thanks to the seals around its buttons, dials and ports, the X-T2 can be used in a full-on rain- or sandstorm, and it's built around a tough magnesium alloy frame to help it withstand minor drops and other rough handling. The X-T20 doesn't match that, so if you do pull it out to do some snapping during a downpour, you do so at your own risk (on the plus side, it's quite a bit lighter in weight).
It's no plasticky slab of cheapness, mind; the X-T20 feels solidly put together and won't fall to bits if you toss it into a bag and lug it around all day. So unless you're the type with chronic butterfingers or a love of taking selfies in the middle of tropical storms, there's no need to worry too much.
That new 3in touchscreen is also a real boon in certain situations too. While it doesn't face forward (sure to disappoint selfie addicts, but not a big deal for the rest of us), it does tilt up and down a fair amount, which helps in shooting situations where you're holding the camera above or below head height. The touch controls are also genuinely useful in certain situations too: just tap an area on the screen to set the focus point, or to set the focus point and instantly take a shot.
There are plenty of other design touches in common with other Fuji cameras, including a large, bright and detailed OLED electronic viewfinder that is albeit smaller than the X-T2's.
Electronic viewfinders are among the most valuable features a compact system camera can have, allowing you to compose images while previewing the result in real-time (changing settings will alter the preview, cutting down the need for creative guesswork) and to hold the camera up to your face while taking photos, which aids stability.
Fujifilm X-T20 controls: dials aplenty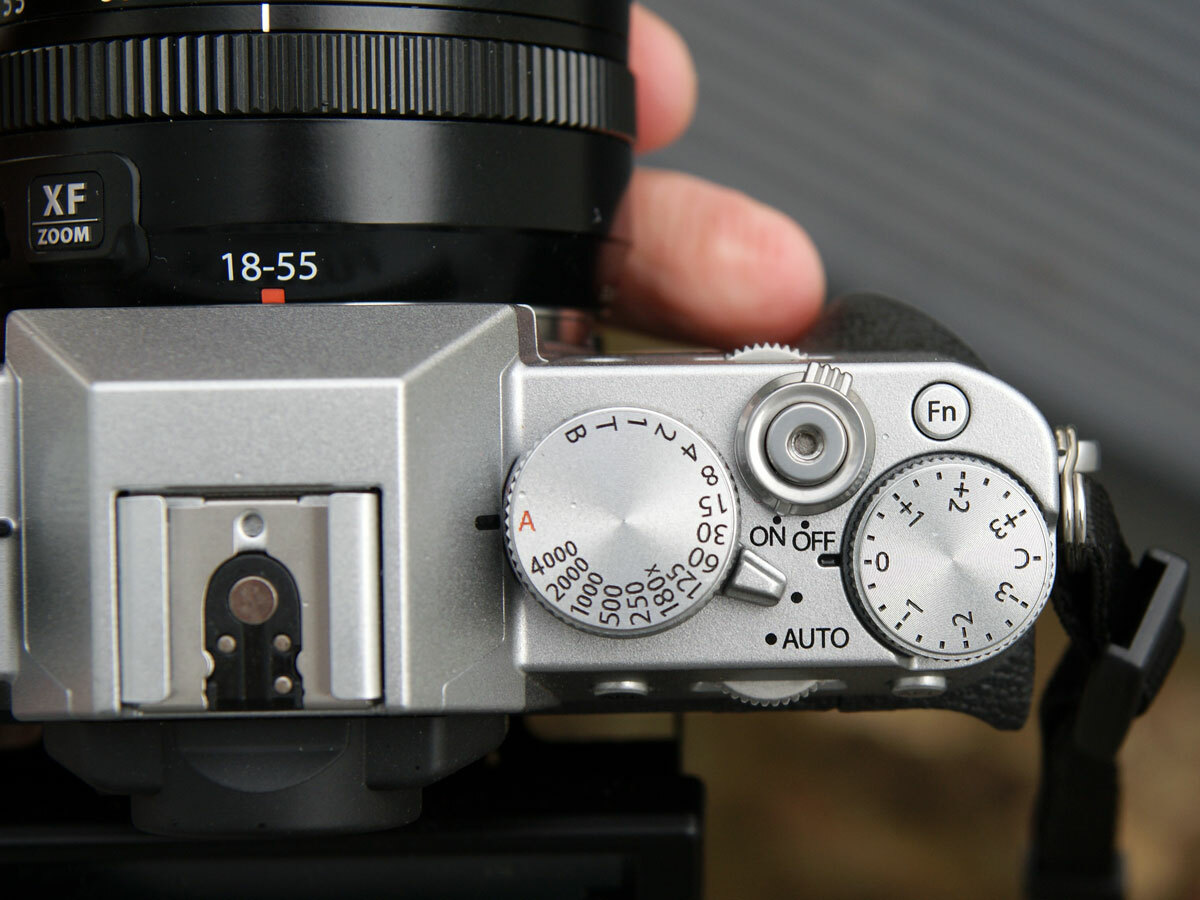 Speaking of controls, the X-T20 has plenty of them – but they don't include a mode dial. Most "serious" cameras come with a dial that lets you quickly switch between various shooting modes like Manual, Aperture Priority, Shutter Priority, Program and automatic, but Fujifilm has dropped this in favour of a narrower choice: Auto or Control.
The former requires little more than pointing and shooting on your part, while the latter lets you go wild with the various buttons and dials for full creative control over aperture, shutter speed, ISO and the like. So the loss of the "standard" mode dial isn't a problem. In fact, it frees up room for a replacement mode dial that lets you quickly switch to various shooting settings, like a video mode and specialist continuous and bracketing modes.
On the other side of the camera's top plate there are dedicated dials for shutter speed and exposure compensation, and these, paired with the various buttons, allow you to swiftly alter settings when required. Many of these buttons are helpfully customisable, so you can configure the camera to your requirements. Suffice to say, the X-T20 offers enthusiast photographers plenty to get their teeth into, control-wise.
Fujfilm X-T20 photo quality: sharp, clean and punchy
As I mentioned earlier, the X-T20 uses the same 23.4MP APS-C sensor and X-Processor Pro image processor as the X-T2 (and the X-Pro2, for that matter). In other words, this £800 camera comes with the same raw photo and video-making hardware as Fuji's two mirrorless flagships.
That's a lot of megapixels for a camera in this price range. While I'd always caution prospective buyers not to focus on megapixels alone as a measure of a camera's quality, it's definitely an important spec to consider.
Why? Well, more megapixels means more potential detail in your shots, allowing you to print images at larger sizes, or crop sections out of photos without losing sharpness and definition. And that definition isn't affected too much by noise. Fuji's cameras have a reputation for solid noise control, and as with the X-Pro2 and X-T2, you can shoot at up to ISO 1600 here without having to worry about excessive graininess messing up your photos.
Photos are superb. I can't say for certain that they're the equal of the X-T2 (without one here to take the same shots) but I feel you'd need to be an extreme, pixel-peeping zoomer to find any noticeable differences. When viewed at "normal" sizes, the X-T20's stills display a winning combination of sharp edges, clean, vibrant colours and punchy contrast. Seriously, there's nothing I can really moan about here.
Autofocus is also fast and accurate, with a swathe of impressive tracking modes at your disposal. Spec-wise, it's exactly the same as the lightning fast, laser-accurate hybrid AF system used on the X-T2.
This means you'll find loads more focusing points (it's up from 49 to 91 in Zone or Tracking mode, and 325 points in the fully manual Single-point option), which gives you much more control and makes all the difference for rapid shooting. Like its brother, the X-T20 is also faster at locking onto its targets than Léon Montana.
What about the lenses?
Fujifilm sent its review sample of the X-T20 with an 18-55mm f2.8-4 zoom lens, and it's a very good piece of glass for general purpose shooting. It generally retails for around £500 though, so it's not exactly a cheap option. You can buy the camera bundled with the less impressive 16-50mm zoom for just £100 more than the body only price, though.
If you want to really see what this camera can do, though, invest in one or more of the XF range's prime lenses: the 16mm f1.4 wide angle, 35mm f1.4 standard and 56mm f1.2 portrait are just fantastically sharp and fast (it'll cost you £2,000 if you want all three, mind).
Fujifilm XT-20 video quality: 4K and highly tweakable
4K video has almost become a standard feature on mid-level and above compact system cameras, so it's not a huge surprise that the X-T20 can record footage at a pixel-packed 3840×2180 resolution, at either 30, 25 or 24fps.
What is surprising, though, is that you get a pretty strong measure of control over how that video is recorded, being able to adjust aperture, focus and exposure compensation while the video is rolling.
4K recordings are limited to 10 minutes apiece, and require a fast SD card – but other than that and a spot of rolling shutter juddering at times, it's hard to find fault in it. Viewing my footage back on a 4K TV, I was impressed by the depth and detail on show. You can also record at 720p or 1080p HD quality, should you want a smoother frame rate (up to 60fps).
If you want to view your movies or stills remotely, there's also Wi-Fi on board for hooking it up to the Fujifilm Camera Remote app. This lets you control the X-T20 from afar or download images to your smartphone and tablet. It connects in about 20 seconds and does the job nicely, though you don't get full control of the camera – for example, you can't set it to bulb mode, which would be handy. It's not a major issue, but hopefully the app will get another refresh soon.
Fujifilm X-T20 verdict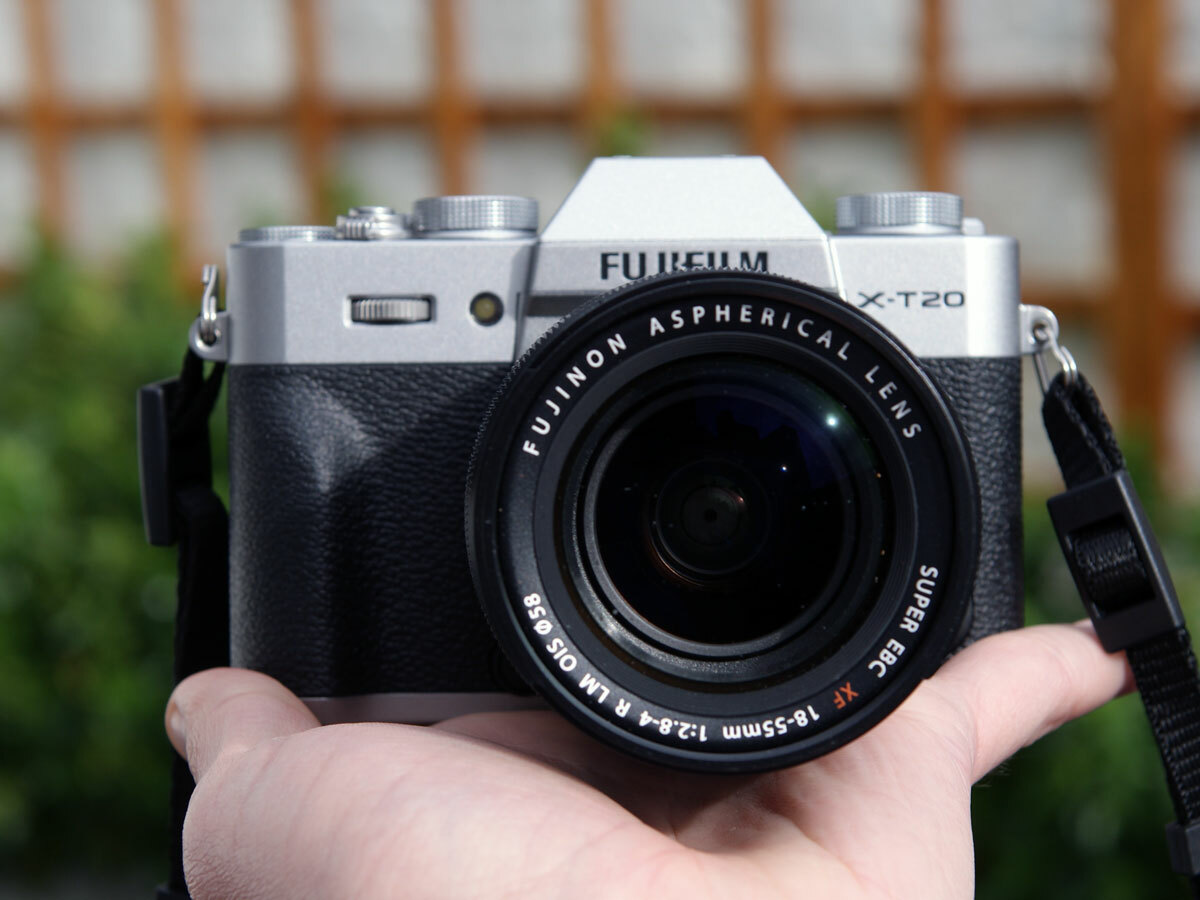 So, is the X-T20 a cheaper edition of the X-T2 that retains all the same benefits? Not quite – there's a step down in build quality, as well as a few minor differences here and there. But for most people, the new £800 model will deliver results that are just as good as its £1,400 big brother's, in a body that's just as easy to live with.
With well laid-out controls, a huge viewfinder, excellent autofocus, a top class sensor and access to some superb lenses, the X-T20 is just one more fantastic mirrorless camera from Fujifilm, and come the end of 2017 it's sure to be strong contender for Stuff's system camera of the year.
Tech specs
| | |
| --- | --- |
| Sensor | 24.3MP APS-C CMOS |
| Lens mount | Fuji XF |
| ISO range | 200 to 12800 (100 to 51200 extended) |
| Max. continuous shooting | 14fps |
| Video modes | 4K at 30fps, 1080p at 60fps |
| Connectivity | Wi-Fi, micro USB 2.0, micro HDMI, 3.5mm mic |
| Battery life | 350 shots |
| Dimensions/weight | 118.4 x 82.8 x 41.4mm/383g |
Stuff Says…
The X-T20 nails the sweet spot between price and performance, and might just be the camera bargain of 2017
Good Stuff
Superb image quality
Fast autofocus and good handling
Reasonably affordable
Touchscreen a nice new addition
Bad Stuff
Not weatherproof