Garmin Fenix 5 review
Brilliant multi-sport tracker? Yes. Overkill? Almost certainly.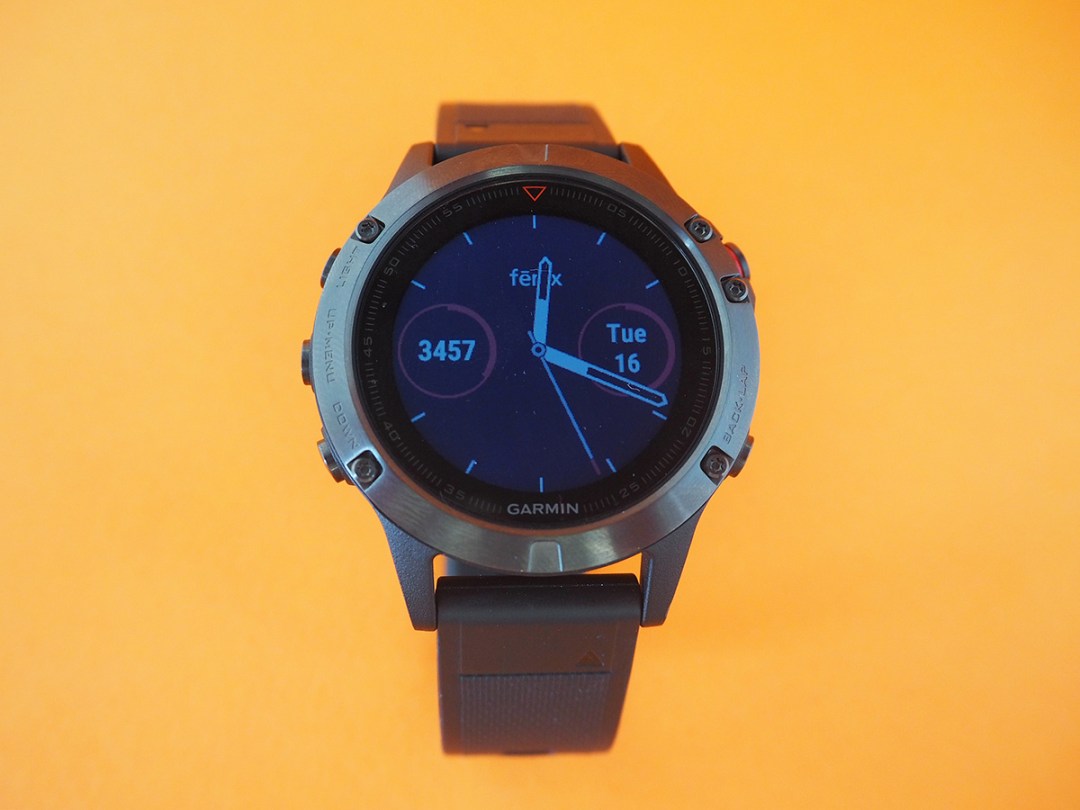 There are two types of people in this world: those who are happy to track their daily step counts with a Fitbit, and those who must. Track. Everything.
For the latter, a run-of-the-gym wearable just won't do. For those people, a wearable must be built like a proverbial outhouse, measure every activity, statistic and variable known to humankind, and look ruddy good doing it. For those people, Garmin has built the Fenix 5.
Taking the already capable Forerunner 935 as its foundation, the Fenix 5 wraps a comprehensive suite of fitness tracking abilities, connected smarts and general usefulness in a stunning shell that you'll be happy to wear every single day.
At £500, though, you'll be paying for the privilege. Can the Fenix 5 justify its price tag? I spent the last few weeks getting wet and sweaty to answer that very question.
Garmin Fenix 5 design: the Porsche of multi-sport tracking
Unbox the Fenix 5 and you'll rapidly realise just how gorgeous this thing is. Clad in just enough bulk to make it feel sturdy, it steers away from the overzealous chunk of many a go-anywhere watch, instead opting for a subtler (albeit decidedly rugged) steel frontage. It all feels properly premium and appropriately strong.
Happily, while you won't forget you're wearing it – the Fenix 5 is a fair bit chunkier than its Forerunner 935 cousin – it also doesn't sit too high on the wrist (measuring in at 15.5mm deep), meaning it'll just slip beneath a shirt cuff. Which is good, because you'll want to wear this baby all the time.
Once you've looked past the body and bezel (available in 42mm, 47mm and 51mm case sizes), you'll spot the 1.2-inch fully circular display that fronts the Fenix 5. At 30.5mm across, it makes for a natural watch face and, while the 240 by 240 pixel resolution sounds low, in practice it's clear and readable – even in direct sunlight.
You'll probably spend a day prodding it, mind: much as it looks like it should be, the Fenix 5's display isn't touch-enabled. That might sound like a killer omission, but it actually turns out to be one the 5's best features: besides saving battery life, using the physical lug buttons to control the watch gives it a high-end feeling – and offers much more control during activities over touch inputs (especially when swimming).
Admittedly, the various functions of the individual buttons (there are five) will take a little while to get used to – in particular, what each one does in specific menu and activity situations. Once mastered, though, you'll wonder why you ever thought a touchscreen was the future.
Garmin Fenix 5 features: le rock sportif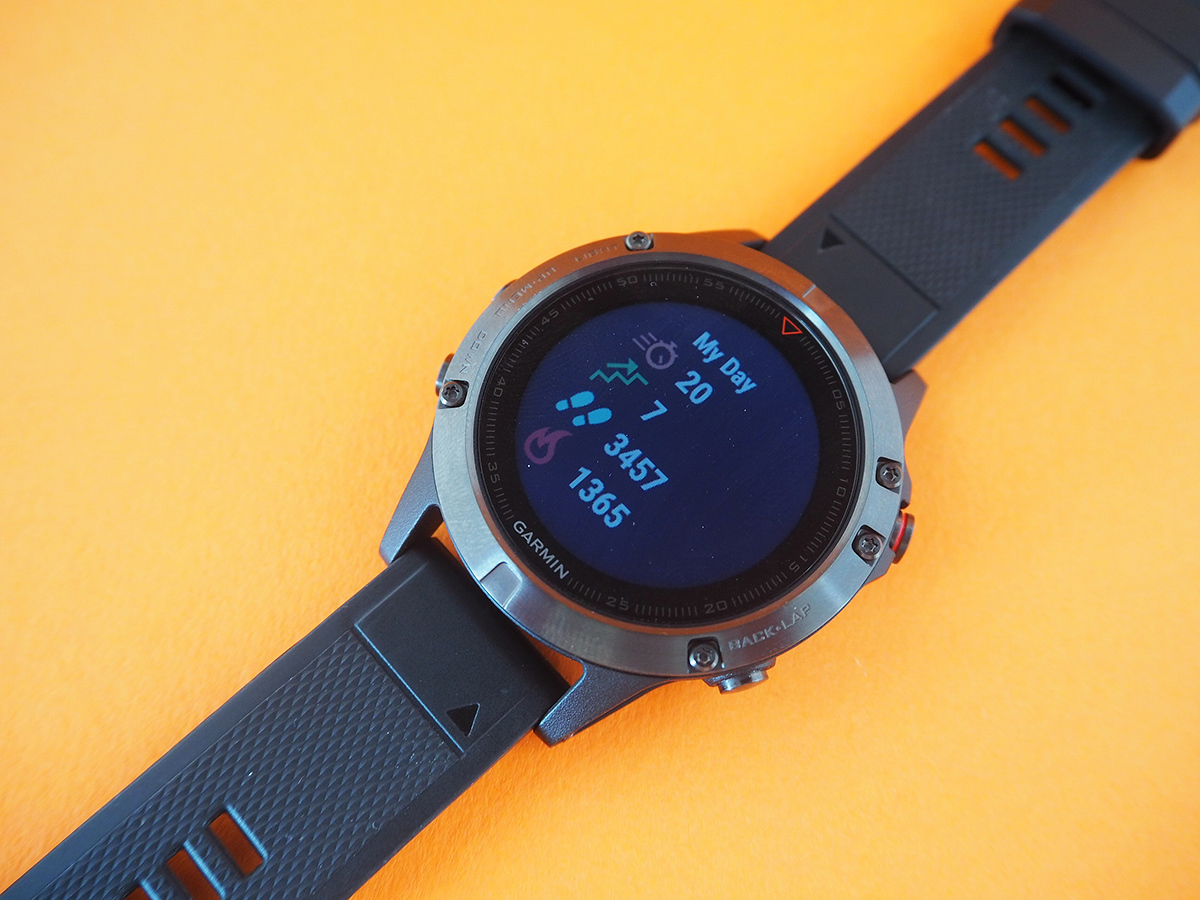 Set up and good to stroll, I found the Fenix 5 to be every bit the consummate day-to-day companion. It'll do all the usual bits, namely step tracking, sleep monitoring and active minutes, as well as floors climbed (an unexpected motivator) and, because of the in-built heart-rate monitor, accurate calorie burn counts.
Over a fortnight, tracking was both accurate and usefully accessible, with the one-touch summary screen offering useful updates, while move reminders (dismissed by strolling far enough to clear the bar) were subtle but genuinely motivating.
That same usefulness goes for mainstream exercise. Press the top-right lug and you'll get a customisable list of favourites, from which activity tracking can be started. It's all straightforward, easy to follow and clear.
As a running companion, the Fenix 5 is brilliant in its simplicity and reliability. Wait for GPS signal (which generally took less than thirty seconds), hit start and it'll go with you every step of the way. Only once, beneath heavy trees, did it lose satellite signal but, once I re-emerged, it figured out where I'd been and adjusted my distance accordingly.
During an activity, there are four screens to scroll through and this clarity, paired with the physical buttons, is welcome when running or cycling. Data, such as distance, time, pace and heart-rate zone are all one scroll away, with digits large and crisp. In short, it's a joy to use.
Garmin Fenix 5 accuracy: tracking like a pro
Thing is, using the Fenix 5 as a standard daily tracker is a bit like flying all the way to Argentina just to get a Burger King. While it'll happily count your strides, what it really wants is to go hard, fast and far across almost every activity you can think of.
Swimming is a good place to start and, once again, the Fenix 5 proved its worth, tracking my indoor strokes with brilliant accuracy and delivering more data than I'd ever actually need.
In fact, that's something you'll come across a lot when using Garmin's top-end tracker: it's packed with stats and features only really useful if you're following a proper training plan. After a run, for example, you'll have the chance to delve into stride length, cadence, plus aerobic and anaerobic training effect. The latter is particularly handy for PB hunters, as you'll need a bit of both in your training to see any gains. But for the average jogger, it might just be some befuddling numbers.
If you do happen to be a part-time athlete, mind, then the training features are fantastic: the automatic recovery time suggestions (though a little on the safe side) help you understand how much you're working (or overworking) your body through exercise, with training status updates offered to help steer the direction of your exercise. It's very much a cut above your standard tracker and, provided you actually have use for it, makes that £500 price tag seem a little more reasonable.
And if you're training for Superstars, you'll have no trouble getting the Fenix 5 to log whatever it is you happen to be doing that day. As a sample of its dedicated modes, you can track skiing, triathlon, rowing, mountain biking, golf and – wait for it – skydiving.
Admittedly, I wasn't able to test all of the above but, if the sample of disciplines I did try is anything to go by, the Fenix 5 will be a reliable and informed aid to your activities.
Garmin Fenix 5 connectivity: surprisingly smart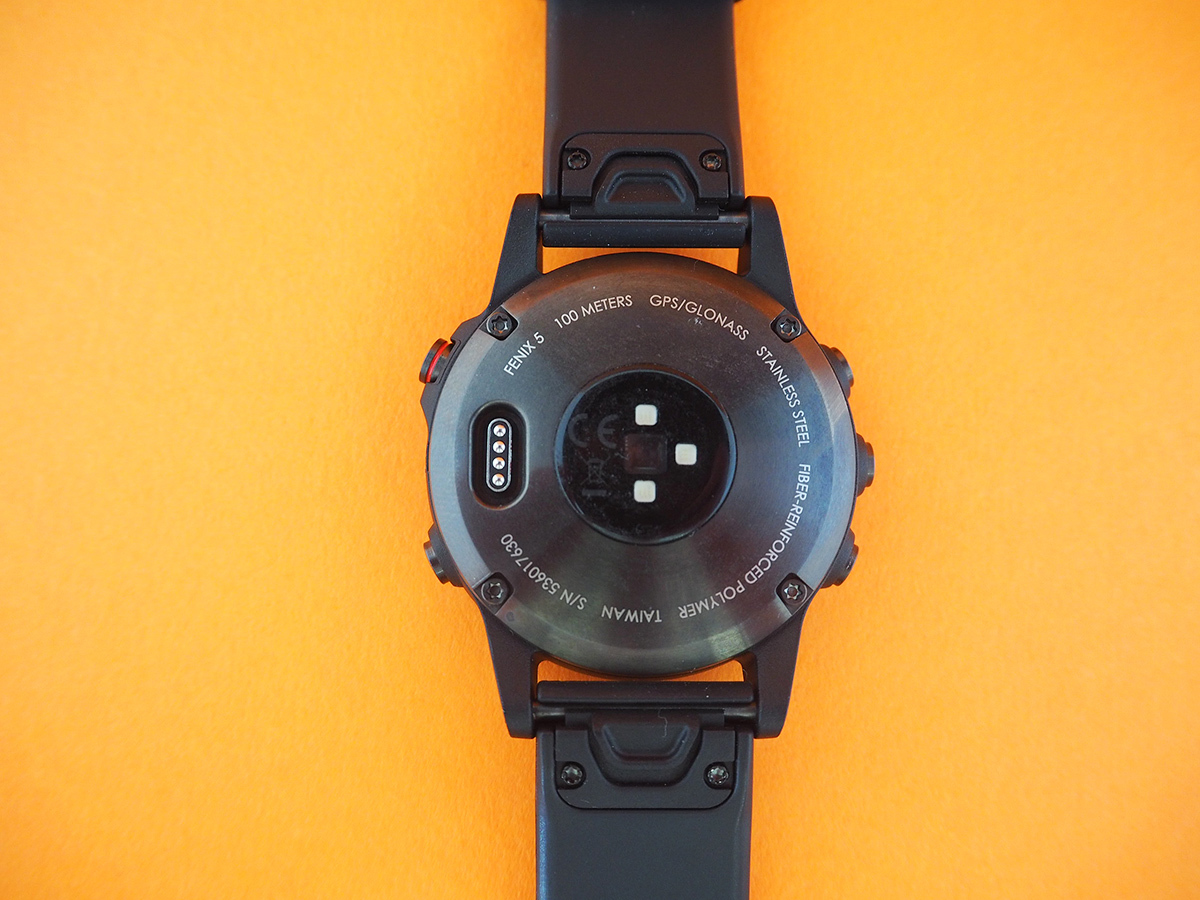 Helpfully, while you're recovering, the Fenix 5 will also keep you in the loop, courtesy of a Bluetooth connection to your smartphone. There's no way to actually respond to notifications (given the push-button input method), but simple notifications are clear and useful, showing up as they happen and in a list of the most recent alerts.
There's calendar integration, too, showing at a glance the next two events you've planned, with further info available by hitting the start/stop button and scrolling through.
Despite the Fenix 5 being clearly sports-focussed, these smart features don't feel like an unnecessary add-on. In fact, they feel like Garmin kept things very much under control, as if a conscious decision was made to offer basic integration of notifications and productivity features, without over-complicating the situation.
And, when it comes to it, that's all I wanted it to do. Notifications looked good on its display, offering enough detail for me to decide whether to pick up my phone or not, without detracting from the Fenix 5's premium feel and active bent. A reliable Bluetooth connection and range helped, too, meaning I could exercise in the garden with my phone inside and not worry about missing a call.
That reliability extends to battery life, too: like a marathon runner, this thing goes and goes. Through mixed usage (running every other day, a few swims, cycles, workouts and a constant Bluetooth connection), I had managed ten days on a single charge.
That's phenomenal, considering that involved heart-rate tracking, GPS logging, constant counting and notification alerts. It also means the Fenix 5 doesn't interrupt your life: charge it on a rest day or at the weekend, and you'll soon have it good for another fortnight.
Garmim Fenix 5 app: a statto's dream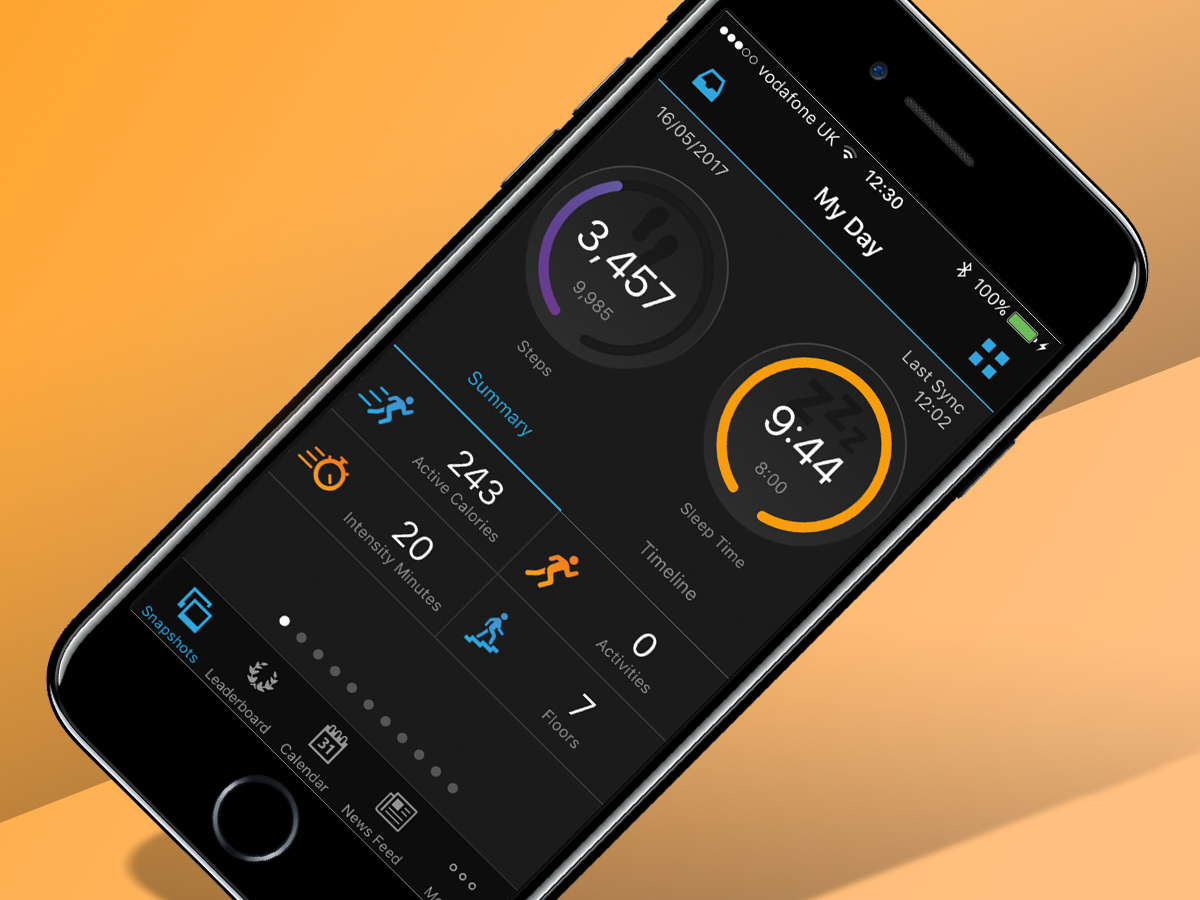 And, over that time, you'll gather a whole lot of data. You can view this on the watch itself in surprising and welcome detail, from heart rate info to your logged exercises (delving into all sorts of specifics). Getting serious, though, means firing up the Garmin Connect app.
At first it can feel a little clunky compared to slicker offerings from the likes of Fitbit, but it's still thoroughly accessible and displays all the data in an easy format. 'Snapshots', for example, put detailed graphs, charts and timings under your fingertips, without looking terrifyingly detailed.
Summaries hit you first when you fire up the app, but diving deeper means swiping through screens and tapping on what takes your interest. Alternatively, you can scroll through the news feed to pinpoint specific activities with ease. It's all there, but it can take a little while to find, and the whole experience doesn't come over as the most intuitive.
It's not my favourite app, then, and it's perhaps the one chink in an otherwise near-flawless chain but, given that it's possible to export data to Apple Health, Strava and MyFitnessPal, it really didn't spoil my experience with the Fenix 5. If anything, I tended to review activity on the watch itself, turning to the app only when I wanted export options and full stats.
Garmin Fenix 5 verdict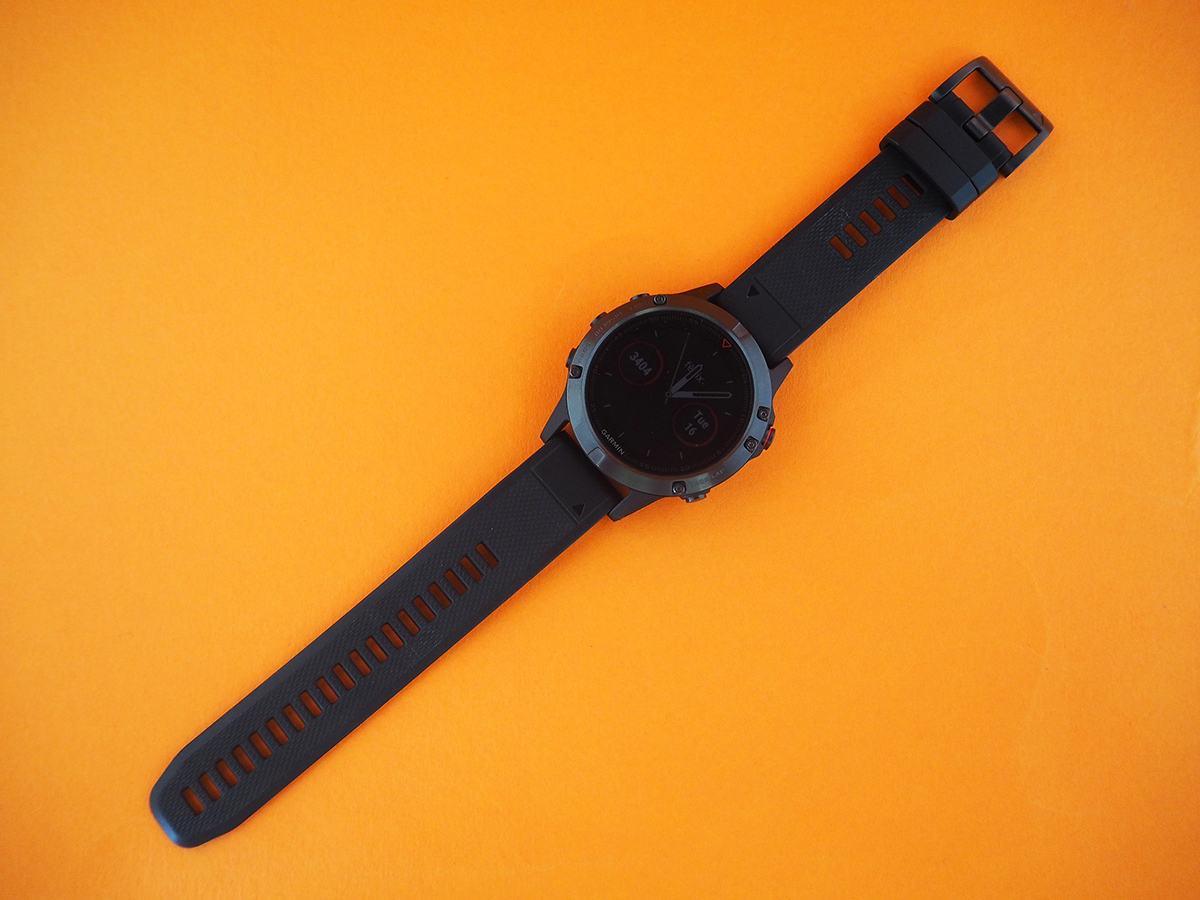 Garmin's Fenix 5, then, is the undeniable champion of multi-sport trackers. Not least because it can track almost every discipline that's out there.
It also manages to be tough without looking ungainly, and carries a real sense of premium build quality that's not undermined by a shoddy interface. Those physical buttons actually add to the experience, especially during exercise, while strong Bluetooth and battery performance polish things into a complete tracking package that's also comfortable on smartwatch duty.
For most people, it's also probably overkill. Overkill that you'll pay £500 for. Unless you're an Ironman, wearing the Fenix 5 means knowing you'll never truly test its full feature set.
It'll be like owning an Aston Martin in the centre of london: it looks ruddy lovely, turns heads and has the potential to make a lot of noise, but only occasionally get to stretch its legs to the fullest extent.
This is a five-star product, then, but one that should, arguably, only be bought by those who eat triathlons for breakfast – or those who don't mind paying big bucks for the smartest, and smartest-looking, multisports watch around.
Tech specs
| | |
| --- | --- |
| Sensors | GPS, GLONASS, barometer, compass, gyroscope, accelerometer, thermometer |
| Battery life | Two weeks in smartwatch mode, 24 hours in GPS mode |
| Dimensions/weight | 47x47x15.5mm/85g (with band) |
Stuff Says…
A super-powerful sports tracker with a side of smartwatch, this is close to wearable perfection – and you'll pay for it
Good Stuff
Able to track almost anything
Full training companion
Astounding build quality
Excellent battery life
Bad Stuff
Physical button inputs can be confusing
Amount of data can actually confound
Connect partner app isn't the clearest
Expensive